Jump to Recipe
Tossed with melted butter, maple syrup, and a touch of cinnamon, these oven roasted carrots are a great side dish worthy of being served at any holiday feast. They're fork tender and melt-in-your-mouth good!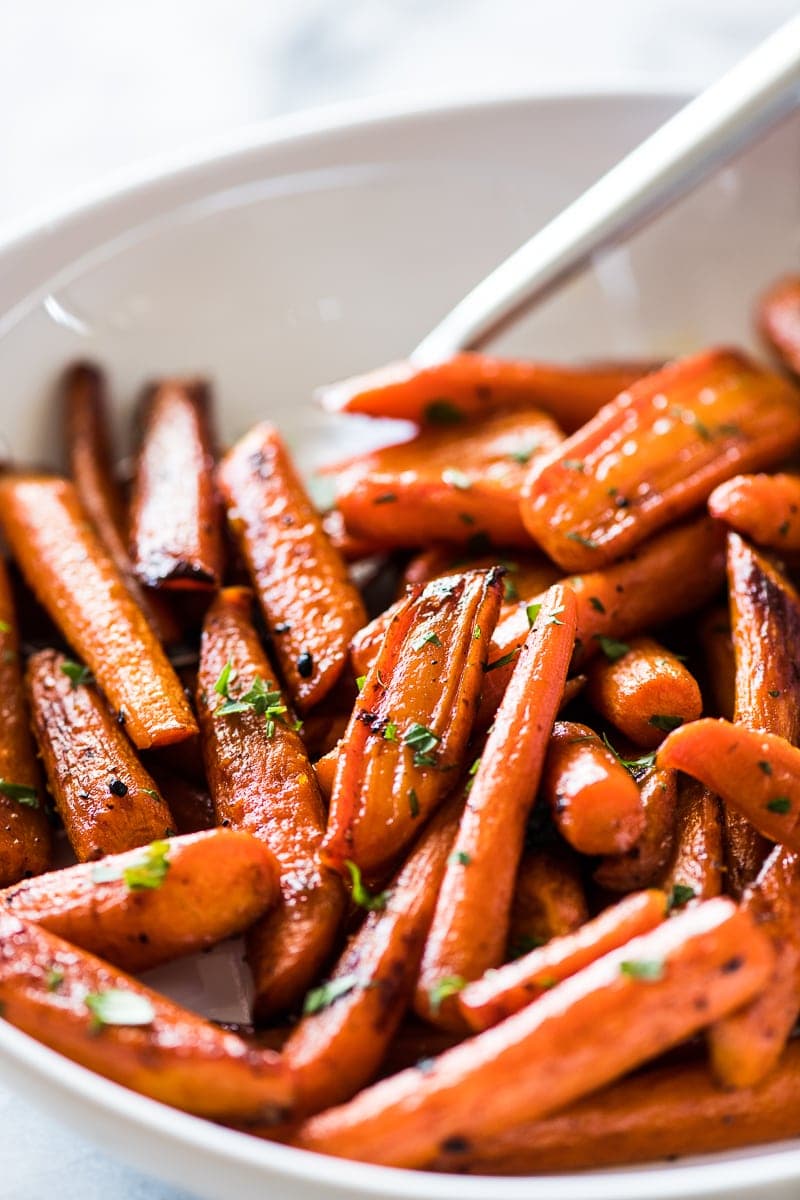 I'm all about the side dishes on Thanksgiving and one of my easy go-tos are oven roasted carrots! They're inexpensive, perfect for feeding a crowd and can be made sweet or savory depending on what you like.
For this recipe, I'm going the slightly sweet route and roasting the carrots in a delicious butter, maple syrup, ground cinnamon and garlic concoction.
The butter and garlic really balances out the sweetness of the maple syrup so the final result is a buttery rich roasted carrot that's not too sweet and perfect for the holidays.
How to roast carrots in the oven
Cut your carrots so they're all about the same size and thickness. I cut my whole carrots into thirds and the larger pieces at an angle to try to even everything out.
Then, toss them in the melted butter and maple syrup mixture and spread them out onto a large baking sheet in one single layer. You may need to spread the carrots out onto two baking sheets if they don't fit on one.
Roast the carrots in a 425°F oven for 20-30 minutes, flipping them over halfway through, until they're fork tender. Cook time can vary depending on the thickness of the carrots. I recommend checking them at 20 minutes to see if they're cooked through and tender.
Transfer the roasted carrots to a large platter or bowl and garnish chopped parsley or cilantro.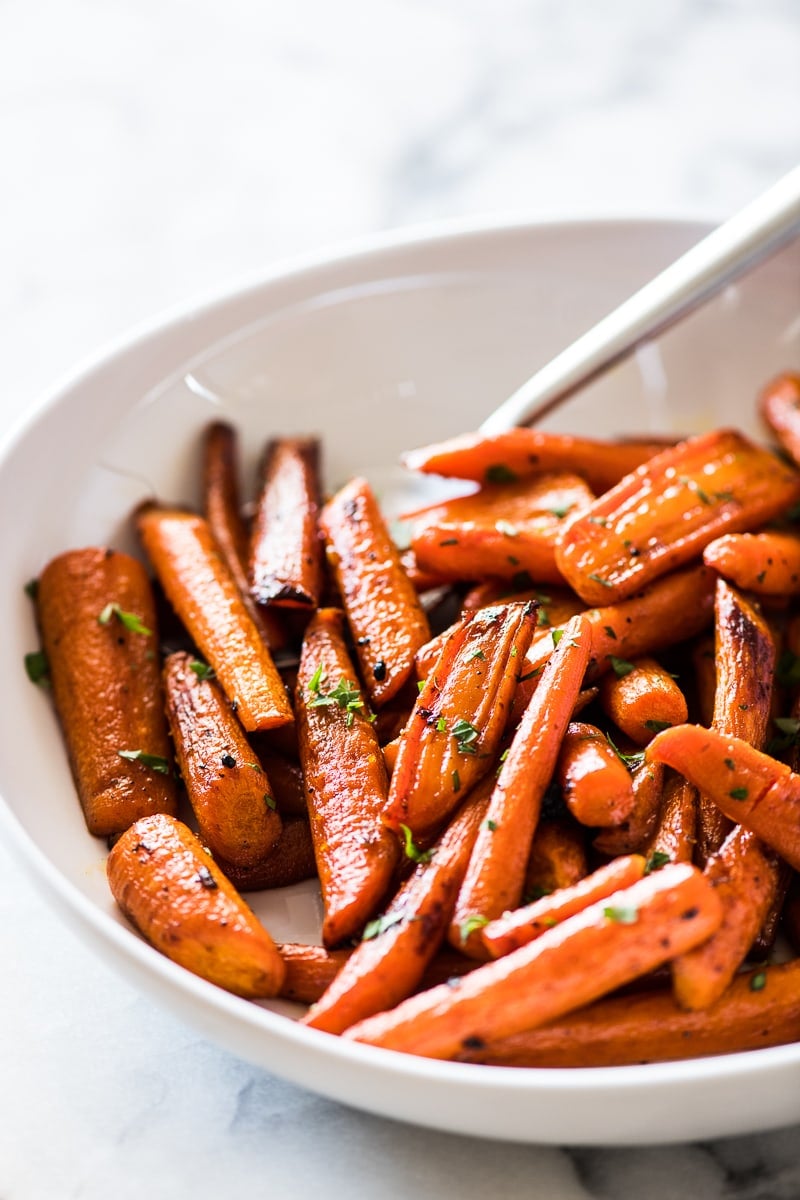 Do you peel carrots before roasting?
You can, but you don't have to. I prefer to peel my carrots because I can't always get them completely clean if I leave the skin on, but it's completely personal preference. If you leave the skin on make sure to wash them really well to remove any dirt on the outside.
Can you roast baby carrots?
Yes! You can use baby carrots in this recipe if you prefer to make things super easy and convenient. Since baby carrots are often skinnier and smaller, the cook time will need to be reduced a bit. See recipe below for more information.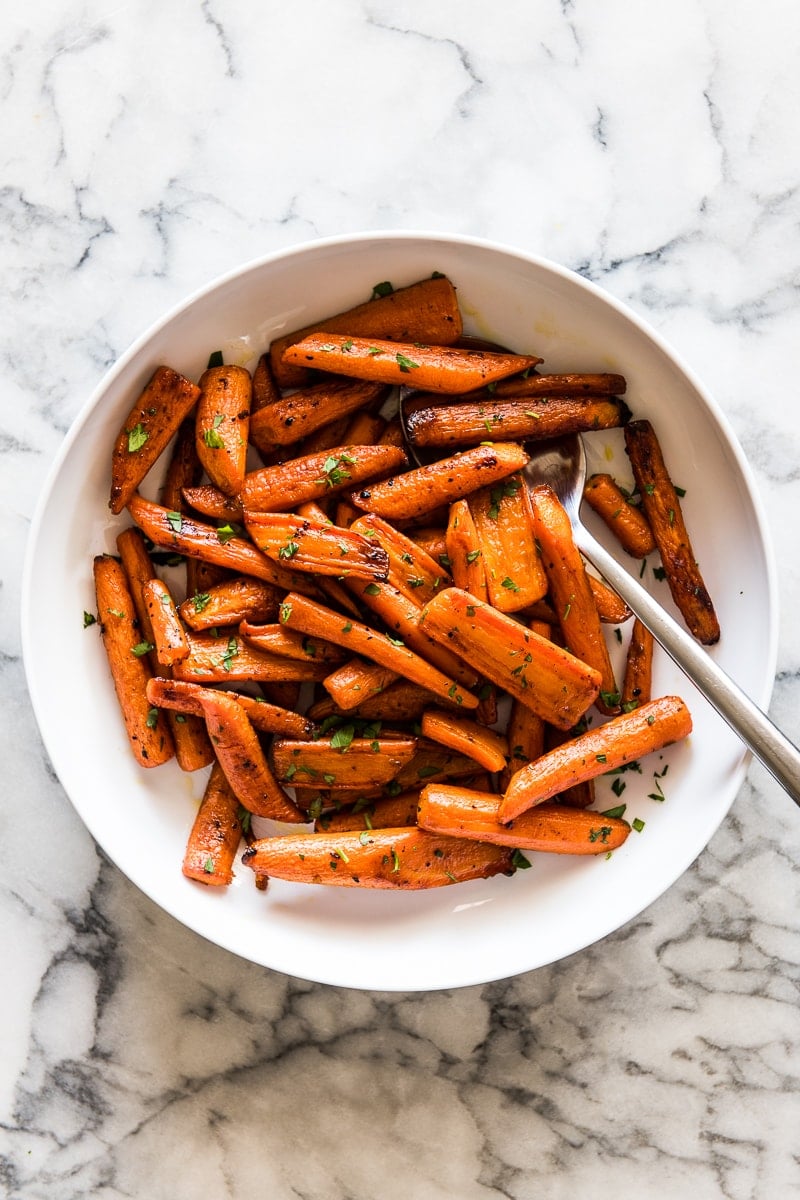 More side dishes to try
I hope you love this recipe – be sure to give it a review below! To get more easy recipes delivered straight to your inbox, sign up for my weekly email newsletter. You can also follow Isabel Eats on Facebook, Instagram and Pinterest!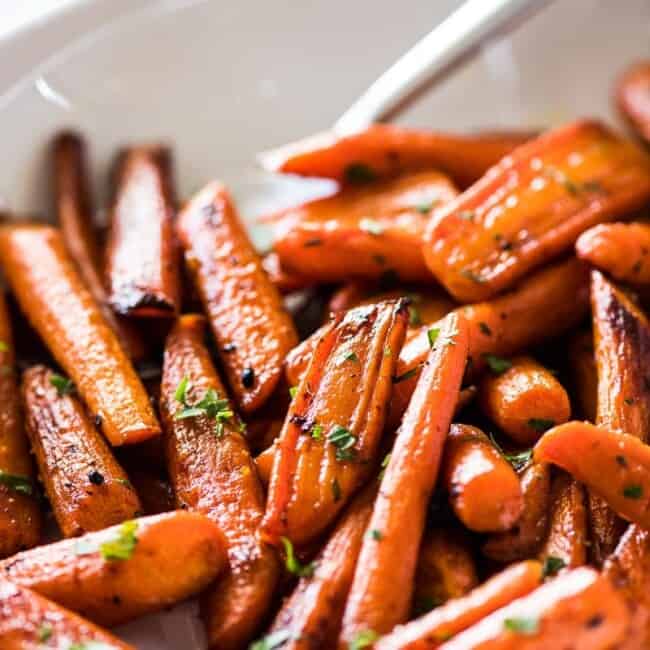 Prep: 5 minutes
Cook: 25 minutes
Total : 30 minutes
Tossed with melted butter, maple syrup, and a touch of cinnamon, these oven roasted carrots are a great side dish worthy at any holiday feast!
Ingredients
4 tablespoons unsalted butter
3 tablespoons maple syrup
1 teaspoon minced garlic (about 2 cloves)
1/2 teaspoon ground cinnamon
2 pounds carrots, peeled and cut into thirds (or 2 pounds baby carrots)
salt, to taste
freshly ground black pepper to taste
chopped parsley or cilantro, for garnish
Instructions
Preheat oven to 425°F.

In a small pot over medium-high heat, add butter and stir until completely melted. Add maple syrup, garlic and cinnamon. Stir together for about 30 seconds and remove from heat.

In a large mixing bowl, add carrots and melted butter mixture. Toss together until the carrots are completely coated.

Transfer seasoned carrots to a large baking sheet (or two small baking sheets) and spread them out evenly in a single layer.

Roast in oven for 20-30 minutes, flipping halfway through, until the carrots are fork tender. Cooking time depends on the size of the carrots. Thicker carrots will be closer to 30 minutes, while skinnier carrots (or baby carrots) will be closer to 20 minutes.

Taste and season with a pinch of salt and black pepper if desired. Garnish with chopped parsley or cilantro and serve.
Nutrition Information
Serving: 1/6th of recipe Calories: 149kcal (7%) Carbohydrates: 20g (7%) Protein: 1g (2%) Fat: 8g (12%) Saturated Fat: 5g (25%) Cholesterol: 20mg (7%) Sodium: 120mg (5%) Potassium: 386mg (11%) Fiber: 4g (16%) Sugar: 14g (16%) Vitamin A: 20000IU (400%) Vitamin C: 7mg (8%) Calcium: 160mg (16%) Iron: 1mg (6%)