Jump to Recipe
This Roasted Butternut Squash recipe is melt-in-your-mouth good! Tasty enough for a special occasion and easy enough for a weeknight meal, this side dish will steal the show. Get ready because you're going to fall in love!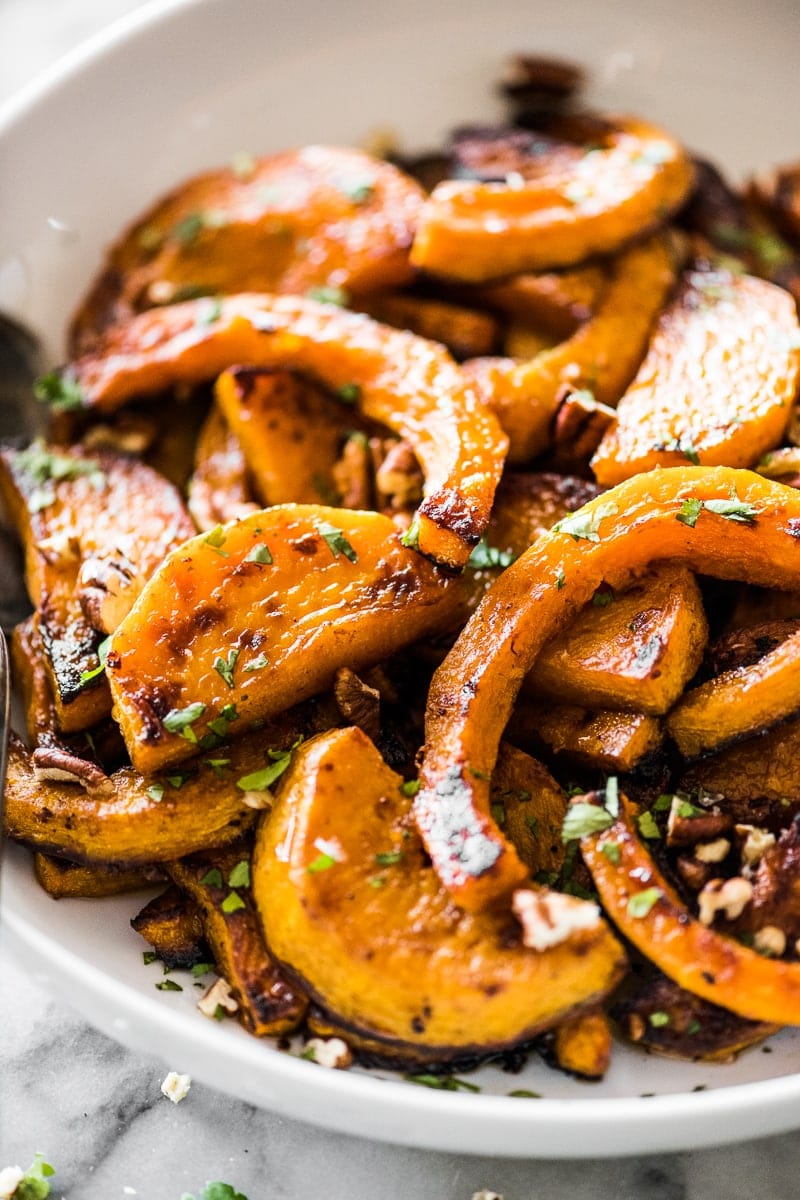 Roasted veggies are a staple in my house. They're super easy to make and are a great side dish to add to pretty much any meal! But this roasted butternut squash recipe in particular? Let's just say I really outdid myself with this one.
Roasted Butternut Squash ingredients
The squash is tossed with melted butter, cumin, coriander, cinnamon and honey, then baked to golden perfection.
As if that wasn't delicious enough, everything is drizzled with a tiny bit of maple syrup for added sweetness and squeeze of lime juice to help cut through some of that rich flavor.
The result is quite literally THE BEST roasted butternut squash I've ever had.
How to cut butternut squash
For this recipe, I'm cutting my butternut squash into sliced half moons instead of cubes. Not only does it cut down on the total time you'll spend prepping the squash, but I personally love having bigger chunks of butternut squash on my plate instead of smaller square pieces.
To cut butternut squash into half moons, first peel your squash with a vegetable peeler. Then slice the squash in half lengthwise and cut off both ends.
Scrape out the seeds with a spoon and discard them along with the cut ends.
Next, turn the squash cut side down onto a cutting board and slice into half moons about 1/2 to 3/4-inch thick. Try to cut the slices as evenly thick as possible to make sure they cook at the same rate.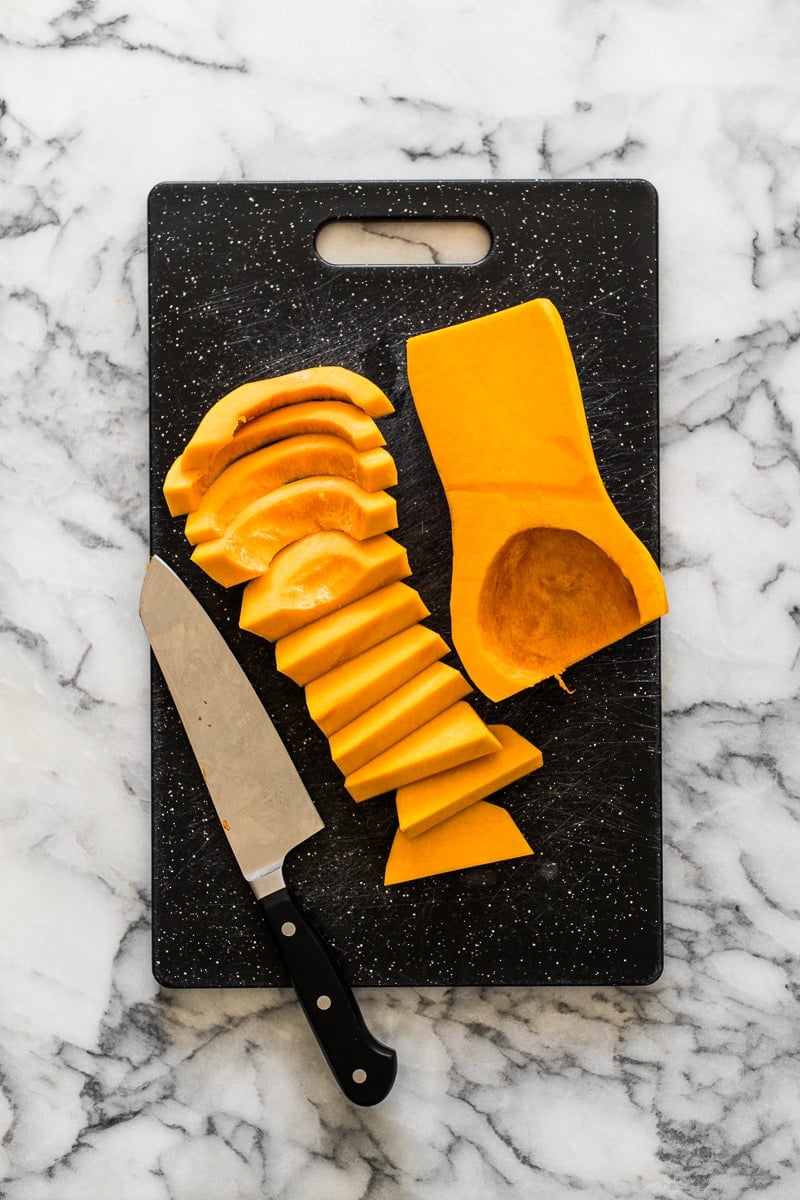 Can I cut my butternut squash into cubes instead of slices?
Yes. Feel free to cut the squash into cubes if you prefer. Because cubes are smaller than half-moon slices, the roasting time will also be a little different. I've added a note in the recipe card below with the suggested roasting time.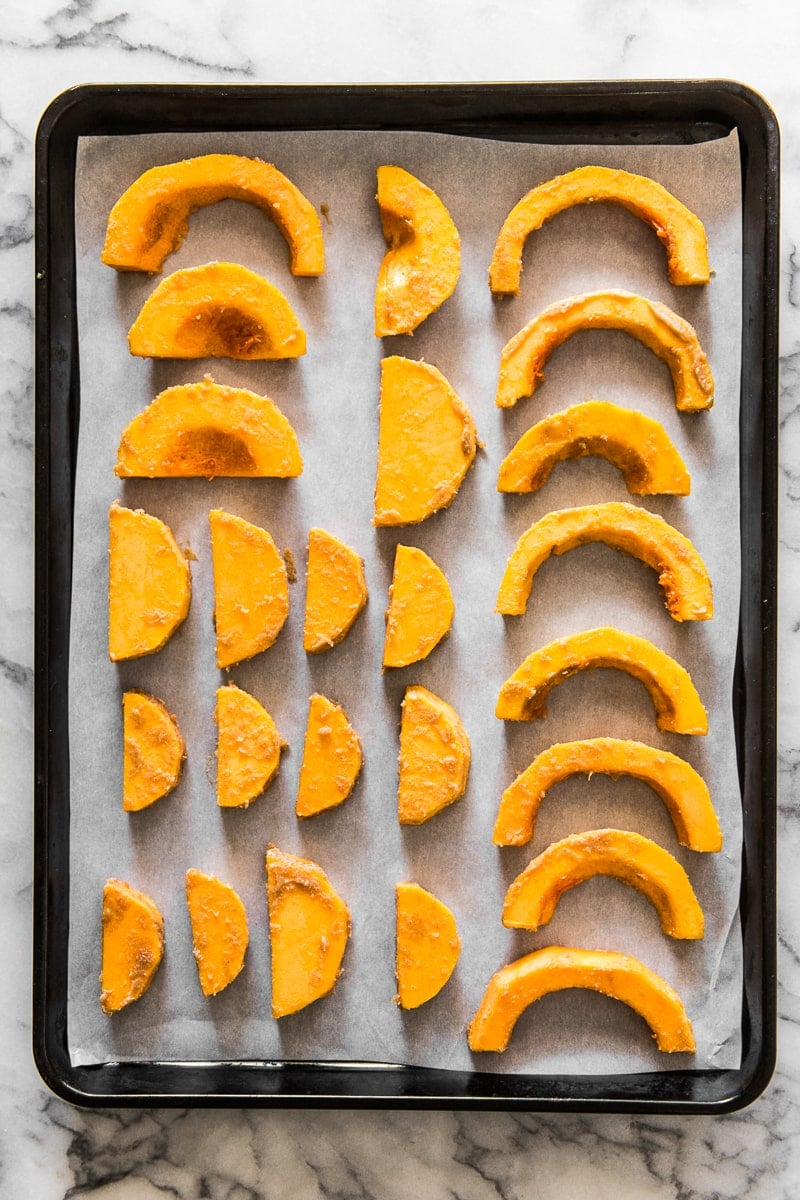 Once you've got your butternut squash peeled and cut, toss all the pieces with some melted butter, cumin, coriander, cinnamon and honey. Make sure you use unsalted butter so the squash's natural sweetness really shines through.
Place the squash slices onto two large baking sheets lined with parchment paper and roast in the oven for 40 minutes, flipping the pieces over and rotating the baking sheets halfway through the cooking time.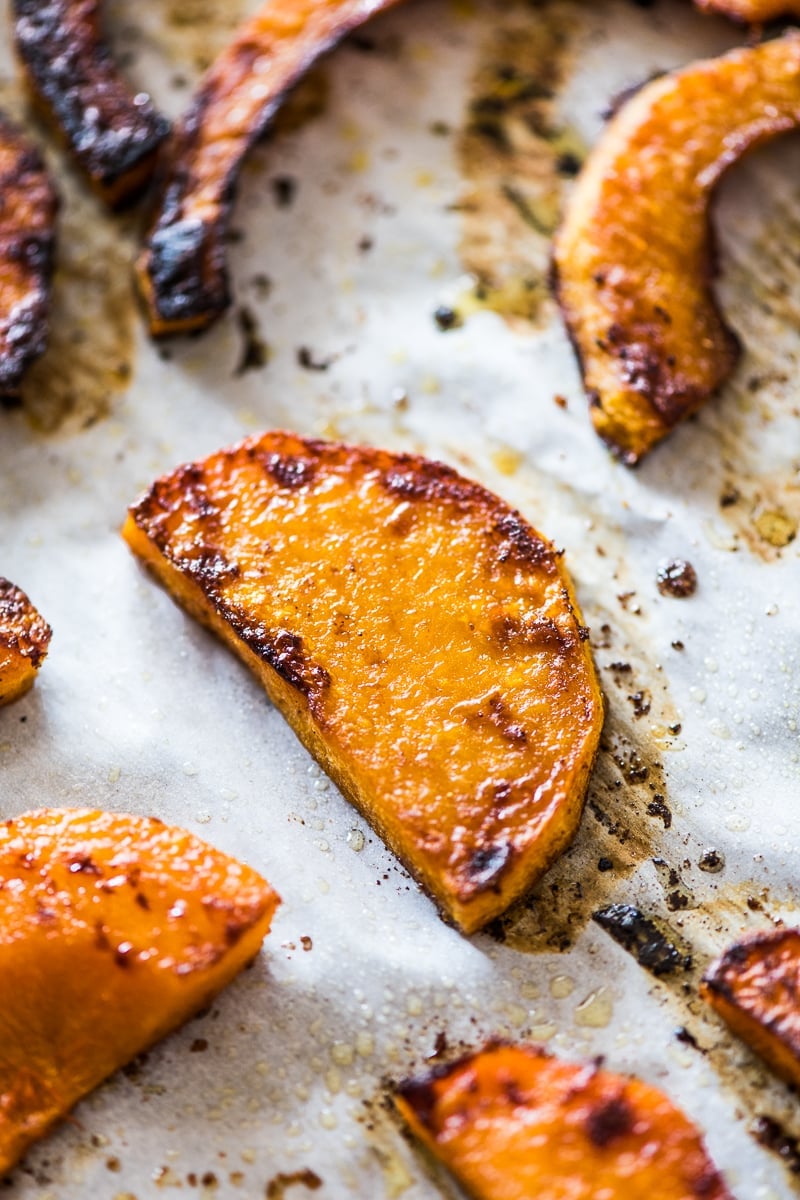 Last but not least, place your squash in a serving dish and drizzle it with a little maple syrup and some lime juice. This combination really takes the squash to a whole melt-in-your-mouth new level!
I garnished it all with some chopped nuts (I used pecans) and some chopped cilantro for a little color. If you're not a fan of cilantro, you can completely leave that out or substitute it with chopped parsley instead.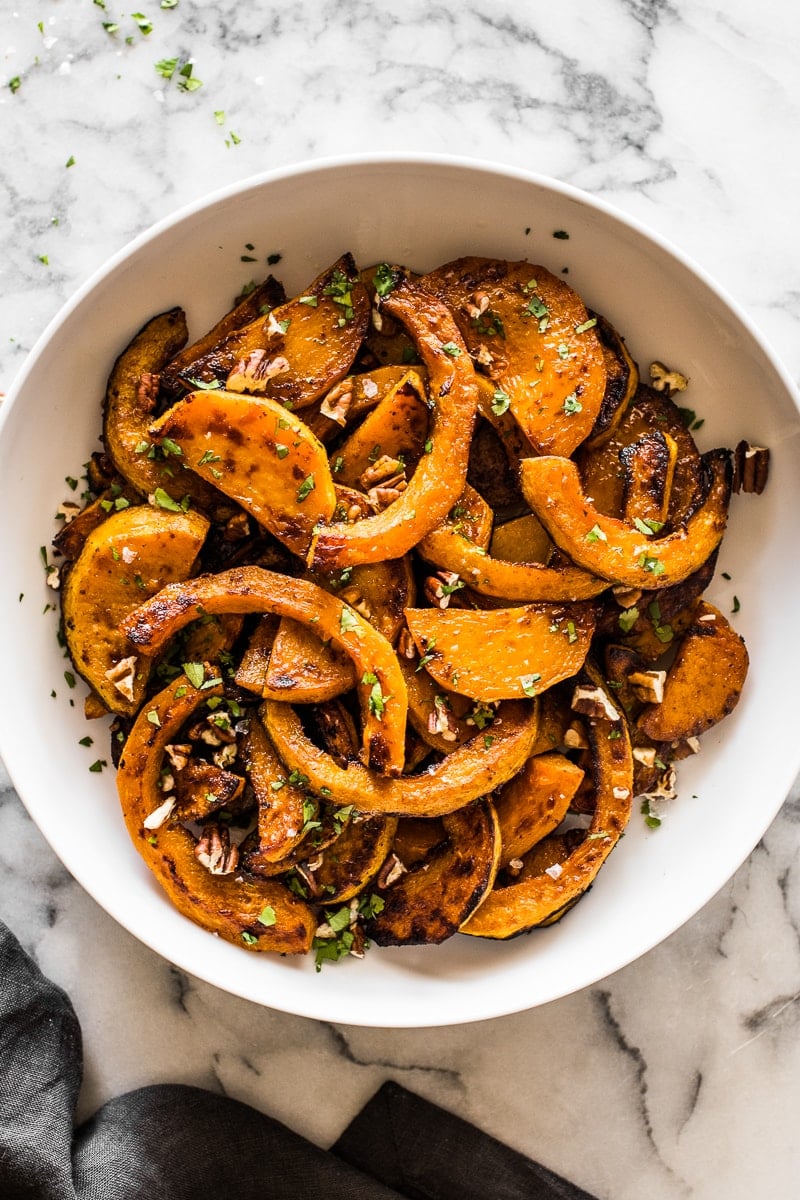 I hope you love this recipe as much as I do! Let me know if you try it in the comments below.
More side dishes to serve with butternut squash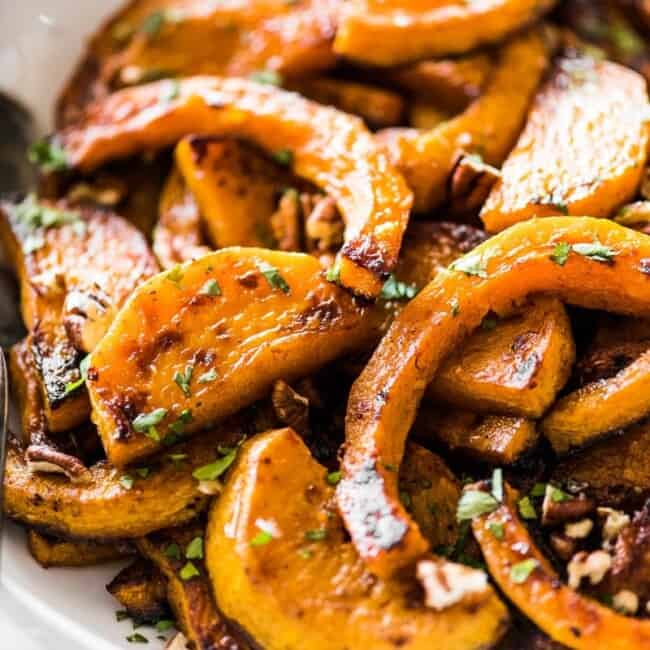 Prep: 15 minutes
Cook: 40 minutes
Total : 55 minutes
This Oven Roasted Butternut Squash recipe is melt-in-your-mouth good! Made with maple syrup, honey and melted butter, it's tasty enough for a special occasion like Thanksgiving and Christmas holidays, yet easy enough for a weeknight meal!
Ingredients
For drizzle and topping
1 tablespoon maple syrup
1 tablespoon lime juice (about the juice of 1/2 lime)
chopped pecans, for garnish
chopped cilantro for garnish
Instructions
Preheat oven to 400°F. Line two large baking sheets with parchment paper and set aside.

Remove and discard seeds from butternut squash. Place butternut squash onto a cutting board cut side down and slice into evenly thick half-moon slices (see photos above)*. Place in a large mixing bowl.

In a small bowl, whisk together melted butter, cumin, coriander, cinnamon and honey. Pour onto the sliced butternut squash and toss together until all the pieces are coated.

Place butternut squash on prepared baking sheets in a single layer. Bake for 20 minutes.

Flip squash over and bake for another 20 minutes, making sure to rotate the baking sheets in the oven.

While squash is baking, whisk together maple syrup and lime juice in a small bowl.

Transfer squash to a serving dish and drizzle with maple syrup mixture. Garnish with chopped pecans, cilantro and serve.
Isabel's Tips:
To save some time, you can buy pre-peeled and cubed butternut squash at your grocery store! The average butternut squash weighs about 2 lbs, so you'll need about 4 lbs total.
If using cubed butternut squash, the cook time will need to be reduced since the pieces are much smaller and cook faster. Try roasting for 15 minutes on one side, flip the pieces over and roast for another 15.
Nutrition Information
Serving: 1/8th of recipe Calories: 169kcal (8%) Carbohydrates: 31g (10%) Protein: 2g (4%) Fat: 6g (9%) Saturated Fat: 4g (20%) Cholesterol: 15mg (5%) Sodium: 11mg Potassium: 829mg (24%) Fiber: 5g (20%) Sugar: 8g (9%) Vitamin A: 24000IU (480%) Vitamin C: 70mg (85%) Calcium: 140mg (14%) Iron: 2mg (11%)