This Peach Strawberry Salsa is super fresh, sweet yet savory and tastes great with chips and salsa. Also makes a great topping for tacos, salads and grilled meats!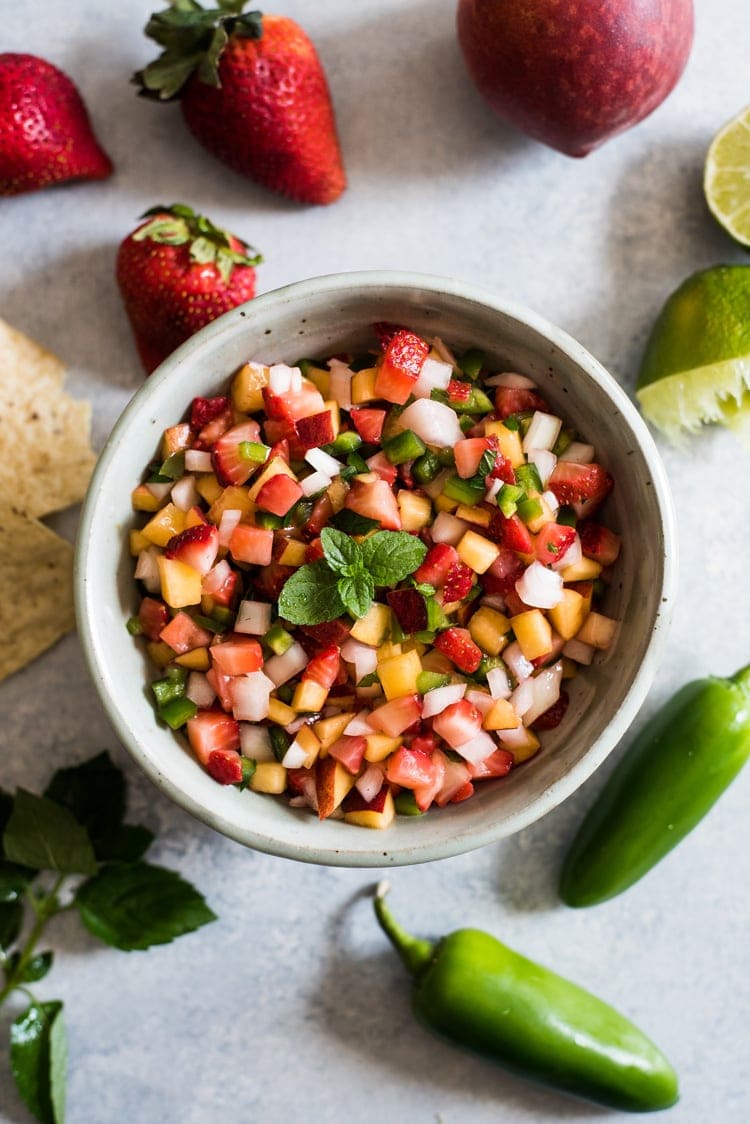 I can't get enough of all the fresh fruit this summer! Especially all the berries. They're nature's candy, so it's totally okay for me to eat entire pints of them. At least that's what I'm telling myself. If you happen to hear about a berry shortage in the Pittsburgh area right around now, you'll know what that's about.
This Peach Strawberry Salsa is super fresh, sweet yet savory and tastes great with chips and salsa or pairs beautifully as a topping for other foods (I'm looking at you, tacos). Bonus points – it's extremely easy to make. I threw it together one night for dinner to pair with some pork I had in the slow cooker and it was on. point.
One of my favorite things about making salsas is getting to use some fresh herbs from my garden. I know, super hippie dippy over here, but it's true! There's just something really satisfying about using an ingredient that I actually grew, in this case the mint. So what if mint is easy to grow, I still made it! Well, I didn't make it, but I watered it and cared for it and helped it grow and flourish.
And now I'm going to eat it.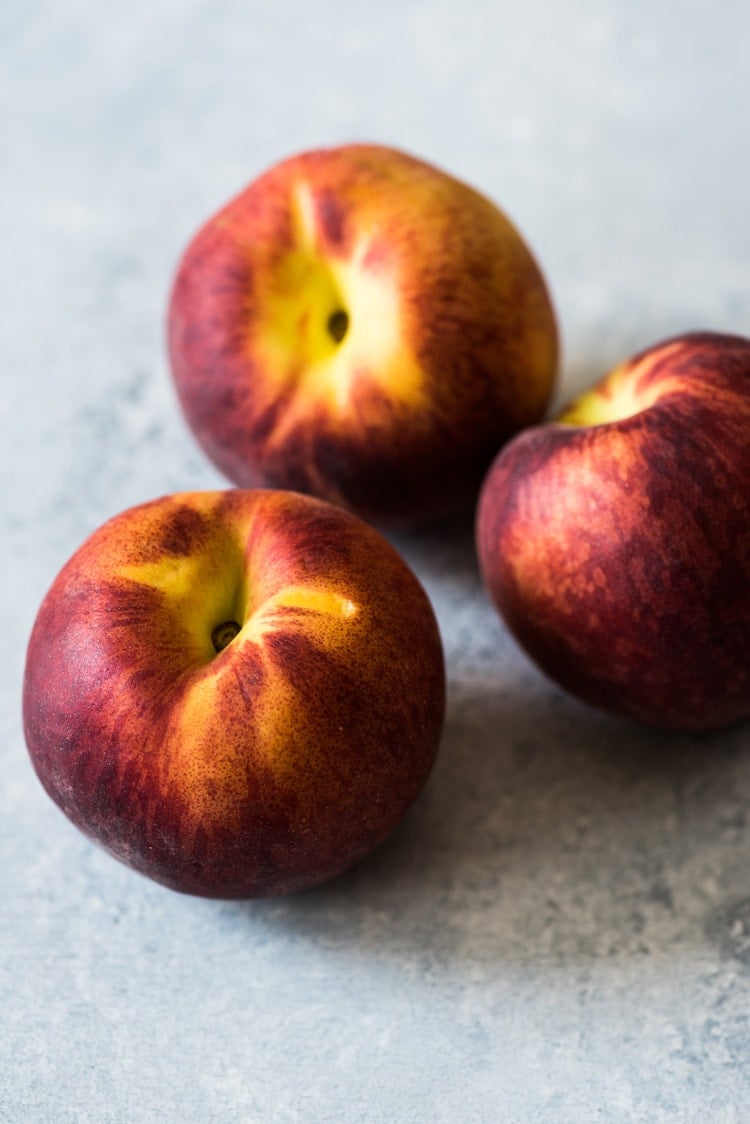 I've been feeling a lot of summer vibes lately. As in just wanting to sit on the porch while drinking some white wine, working on the garden and not doing any actual work.
Those kind of summer vibes.
And this past weekend, my summer vibe dreams came true. I spent a couple of days in Surf City, NJ (Long Beach Island) with some friends and it was everything I wanted it to be. We literally stuffed our faces pretty much all day and laid in the sun as much as possible. I got a nice little tan, ate a TON of seafood and just relaxed for a couple of days. It was perfect, especially after a stressful couple of weeks.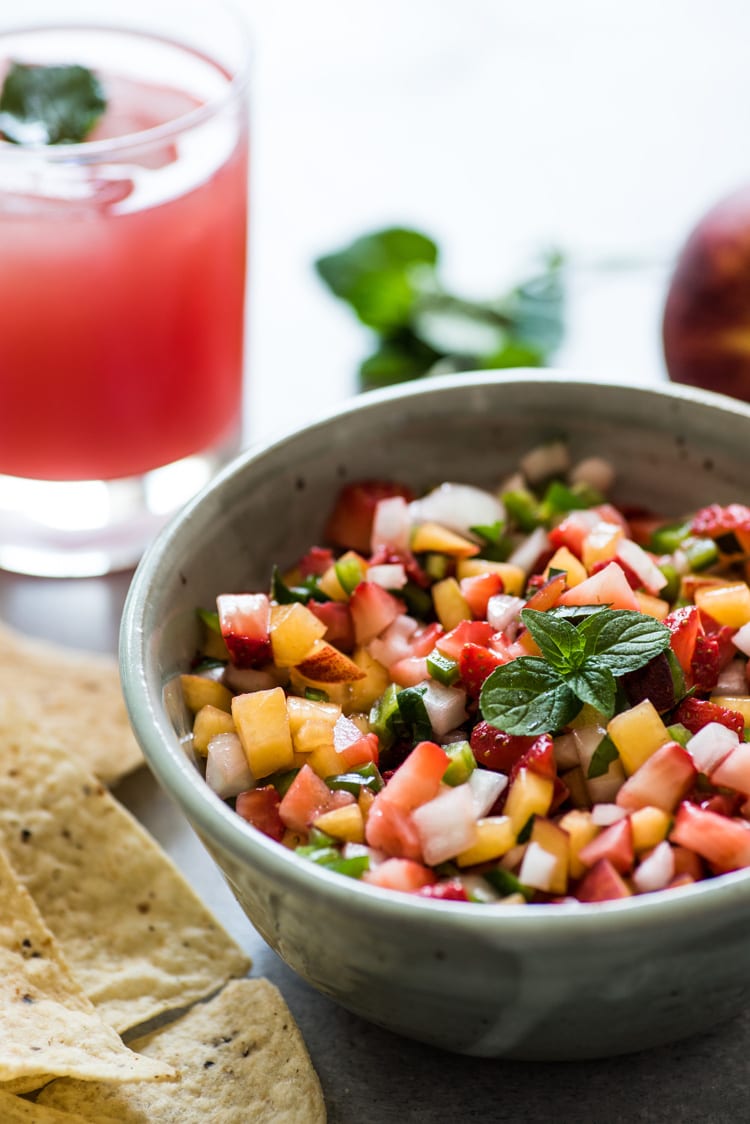 Since I mentioned it, let's talk about this stress for a second. But just a second because I'm not looking to get all sad and mopey right now. I'm not sure if it's normal to feel like this after getting married, but I'm still not back into the groove of things. It's been a month since the big day and I'm still feeling a little stressed. What is that about?! Sure, there are some non-wedding related things going on that aren't helping, but my pre- and post-wedding stress levels are pretty much exactly the same.
It has to stop.
Maybe spending every weekend at the beach is the answer? Yeah, probably not, but it sure does sound fabulous.
All I know is that this blog and taking photographs and making delicious food helps me cope with all of life's stressful moments, so for now, I'll continue doing what I know works, and that's sharing all of the things with you.
It's really a win-win for everyone.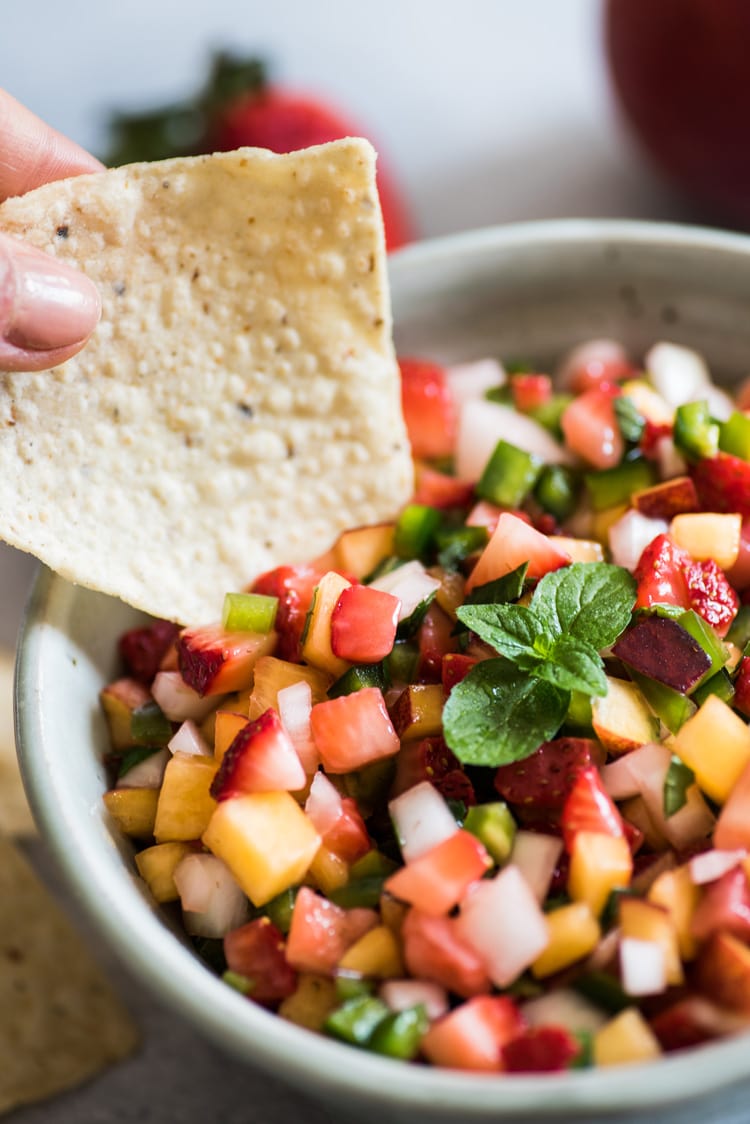 So that little tangent was more than a second, but oh well, it happens. Let's get back to this salsa.
In case you didn't know, I am the condiment queen. If you took every single condiment bottle/jar out of my fridge and put them in a grocery bag, you'd easily have two full bags. Most of my condiments are different kinds of hot sauce and salsa, because let's be honest, I eat that stuff with everything, and I have my parents to thank for that. Aside from pinto beans, my parents always had some sort of salsa in the fridge, whether it be homemade or store bought.
But interestingly, salsas made with fruit like this Peach Strawberry Salsa was never their thing. They prefer the really hot stuff. So to make up for my lack of summer salsas in my childhood, I plan on making a few batches of them this year.
Thanks Mom and Dad for my salsa hoarding problem.
More Mexican recipes to try
Ingredients
12

large

strawberries,

diced (about 1 pint)

1

large

peach,

diced

2

large

jalapeños,

diced

1/3

cup

diced onion

(about 1/4 of a large onion)

1

tablespoon

lime juice

(about 1/2 of a lime)

10

mint leaves,

chopped

salt,

to taste
Instructions
In large bowl, strawberries, peaches, jalapenos, onions, lime juice, mint leaves. Toss together to combine.


Season with salt to taste. Serve on tacos, lettuce wraps, salads, fish or any dish that needs a hint of sweetness and brightness!
Nutrition
Calories:
37
kcal
Carbohydrates:
9
g
Protein:
1
g
Potassium:
177
mg
Fiber:
3
g
Vitamin A:
150
IU
Vitamin C:
33.8
mg
Calcium:
10
mg
Iron:
0.2
mg
Did you make this recipe?
Leave a comment below and tag @isabeleats on social media!