Jump to Recipe
This Carne Asada Fries recipe features crispy baked fries topped with shredded cheese, tender carne asada, guacamole, sour cream and other delicious Mexican toppings!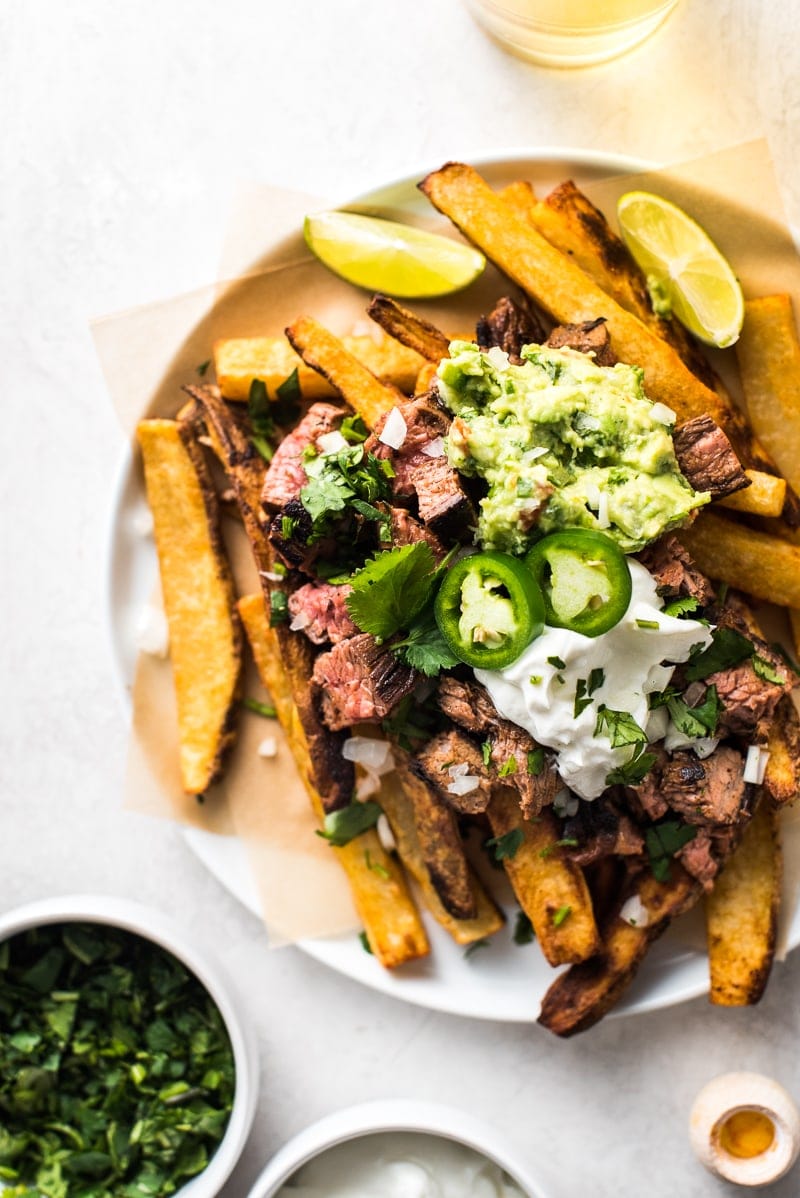 Hey, oh! Get ready for the most epic Carne Asada Fries recipe ever!
I came across this fabulous dish when my husband and I went on a California road trip for our honeymoon a few years ago. Waiters would bring out trays of freshly made fries topped with shredded cheese, grilled carne asada, and all my favorite Mexican toppings like homemade guacamole, sour cream, cilantro and so much more.
As soon as I saw it, I knew I had to go home and make it so I could share it with you. So here we are! Are you ready? Let's do this.
The best seasoned fries ever
To have amazing carne asada fries, you've got to start with a good base. For this, I'm using 4 medium-to-large russet potatoes because they're the perfect potato for baking. They crisp up nicely while staying fluffy on the inside, and you can find them pretty much everywhere! If you're baking fries, russet is the way to go.
Be sure to cut and slice the potatoes into even sized sticks or wedges. This will help them cook evenly and avoid having some that are burnt while others are still undercooked.
If you do have some fries that are larger than others, I recommend putting all the larger ones on one baking sheet and the smaller ones on a different baking sheet. That way if you find that the smaller fries are done way before the larger ones, you can just pull out the entire baking sheet instead of having to pick them out individually.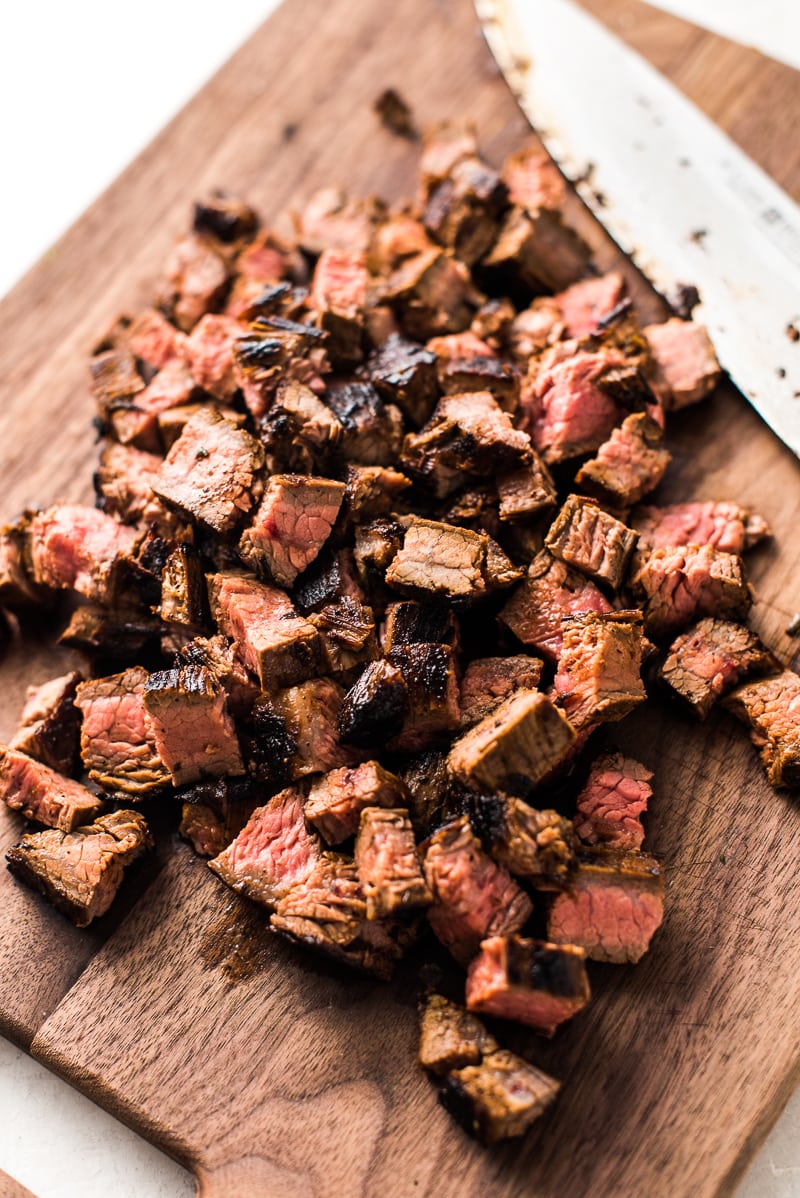 The best carne asada
Juicy, flavorful and authentic carne asada is part of what makes carne asada fries so good! To make delicious carne asada, you'll need to marinate some flank steak in a mixture of olive oil, lime juice, orange juice, garlic, cumin, chili powder and few other ingredients for 2 hours.
Then grill it or cook it in a skillet for about 8 minutes per side while the fries are baking. Let it rest for about 5 minutes and slice it into bite-size chunks. That's it!
If you're short on time and don't want to marinate the steak, you can go ahead and simply grill it with a little olive oil, salt and black pepper. The flavor won't be authentic carne asada, but it'll still be a delicious grilled steak!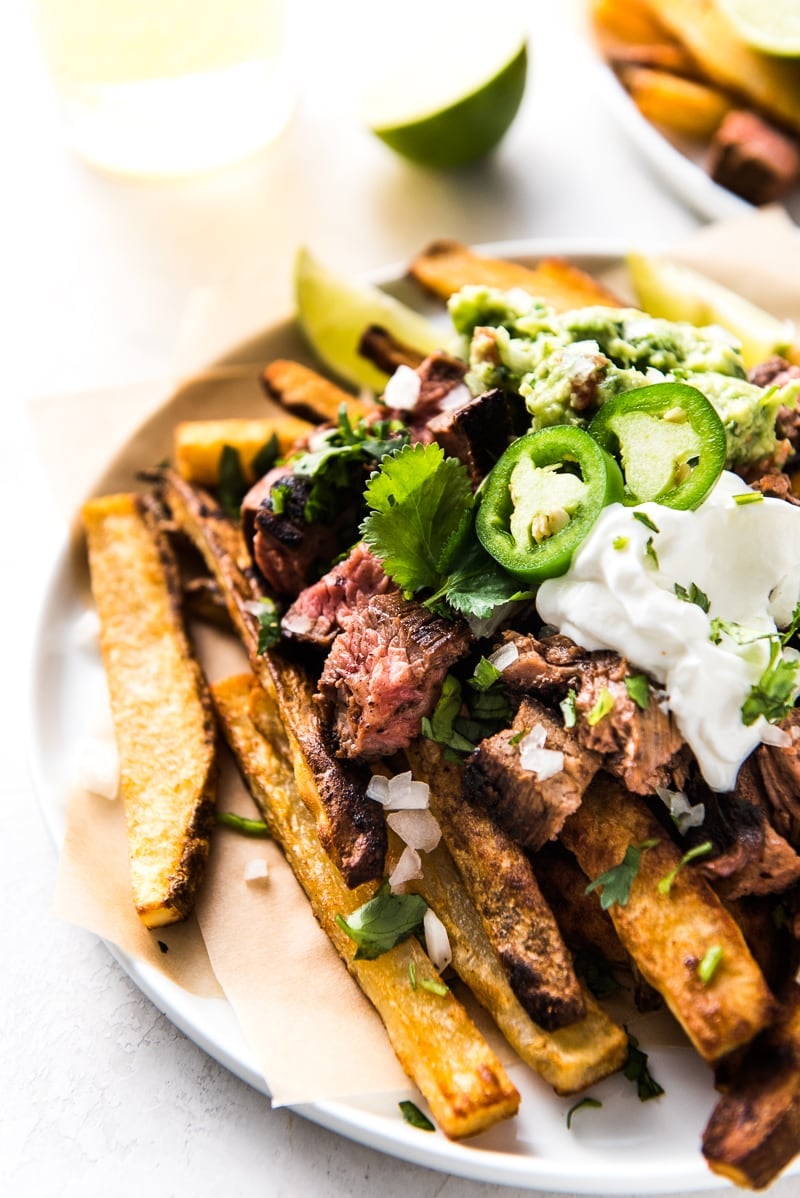 Don't forget the toppings!
Now comes the fun part – putting it all together! I like layering everything in the following order: fries, shredded cheese, carne asada, guacamole and sour cream.
If I'm trying to keep things a teeny bit healthier, I leave out the shredded cheese like in these photos. But for me, guac and sour cream are an absolute must!
Some other toppings I love are finely diced onions, chopped cilantro, fresh lime wedges for spritzing on everything, diced tomatoes, cotija cheese and a little spicy hot sauce (my favorite is this chile de arbol salsa).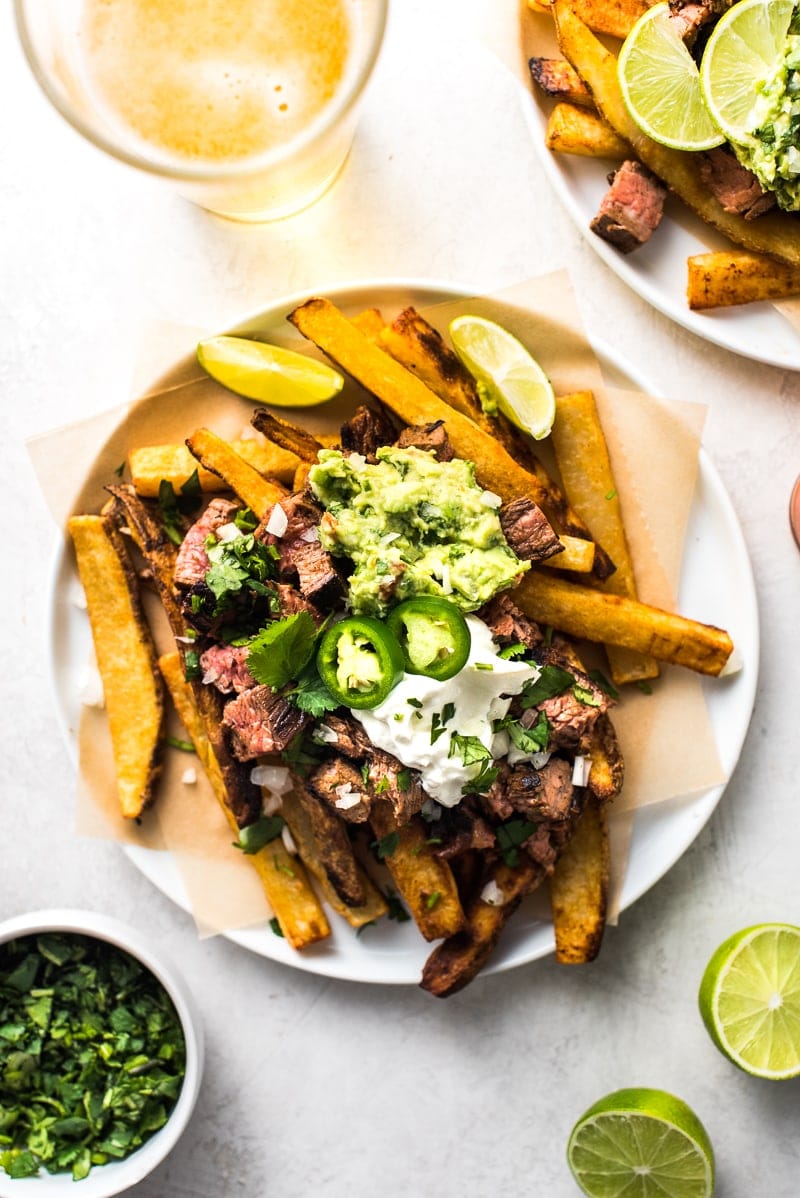 I hope you love this recipe as much as I do! Let me know what you think in the comments below!
More Mexican recipes you'll love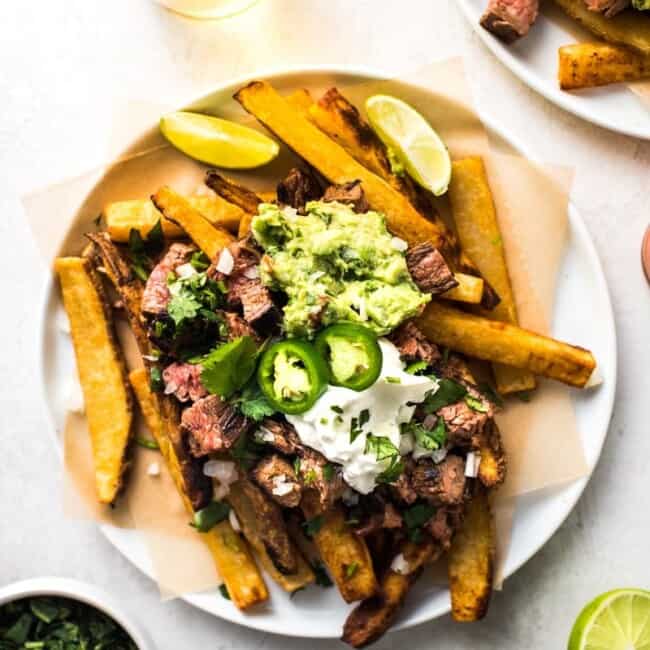 Prep: 15 minutes
Cook: 30 minutes
Total : 45 minutes
This Carne Asada Fries recipe is a San Diego classic featuring crispy baked fries topped with shredded cheese, tender carne asada, guacamole and sour cream!
Ingredients
For the carne asada
1/4 cup chopped cilantro
1/4 cup olive oil
juice of 1/2 orange
juice of 1/2 lime
1 tablespoon white wine vinegar
1 teaspoon minced garlic (about 2 cloves)
1 teaspoon chili powder
1/2 teaspoon coarse kosher salt
1/2 teaspoon ground cumin
1/2 teaspoon dried oregano
1/2 teaspoon ancho chili powder
1/4 teaspoon black pepper
1 pound flank steak
For the fries
4 russet potatoes, scrubbed and rinsed
4 tablespoons olive oil
2 teaspoons coarse kosher salt
2 teaspoons garlic powder
1 teaspoon smoked paprika
For the toppings
1 cup shredded Monterey Jack cheese (optional)
1/4 cup guacamole
1/4 cup sour cream
other optional toppings: chopped cilantro, minced onions, diced tomatoes
Instructions
In a medium bowl, whisk together all of the ingredients for the carne asada except for the steak.

Place the steak in the bowl and toss to coat with the marinade. Cover and refrigerate for 2 hours. (Read the notes section below if you don't have time to marinate the meat.)

When marinating time is up, prepare the oven to 450°F. Line two large baking sheets with parchment paper and set aside.

Slice the potatoes in equal-sized wedges/strips and place in a large mixing bowl. Add olive oil, salt, garlic powder and smoked paprika. Toss to coat.

Place the fries in a single layer on the prepared baking sheets. Bake for 25-30 minutes, flipping halfway through. While the fries are baking, prepare the carne asada.

Remove flank steak from marinade and pat dry with paper towels. Drizzle with a touch of olive oil, enough to coat each side, and season lightly with coarse salt and black pepper.

Preheat grill or large skillet over medium-high heat. Grill steak for 8 minutes per side, turning once, depending on the thickness. Remove steak and allow to rest for 5 minutes. Dice into bite sized pieces.

Assemble the carne asada fries on one large serving tray (I like to use a baking sheet to eat them family-style) or on 4 smaller plates by layering the ingredients as follows: fries, shredded cheese, diced carne asada, guacamole, sour cream and other desired toppings.
Isabel's Tips:
If you don't want to marinate the meat for carne asada, you can season the flank steak with a simple mixture of olive oil, coarse kosher salt and black pepper right before cooking. It won't have all the flavor that carne asada does, but it'll still be grilled steak which is delicious! Simply skip the marinating process and prepare the fries.
Leftover carne asada can be used for making tacos, tostadas or simply served with Mexican rice and refried beans!
Nutrition Information
Serving: 1serving - 1/4th of recipe Calories: 553kcal (28%) Carbohydrates: 40g (13%) Protein: 30g (60%) Fat: 31g (48%) Saturated Fat: 9g (45%) Polyunsaturated Fat: 2g Monounsaturated Fat: 13g Trans Fat: 0g Cholesterol: 81mg (27%) Sodium: 722mg (30%) Potassium: 1067mg (30%) Fiber: 5g (20%) Sugar: 2g (2%) Vitamin A: 200IU (4%) Vitamin C: 23.1mg (28%) Calcium: 50mg (5%) Iron: 4.1mg (23%)