Jump to Recipe
These chocolate covered almond butter balls are made with only 3 ingredients and are the perfect healthy dessert! (gluten free, paleo, vegetarian, vegan)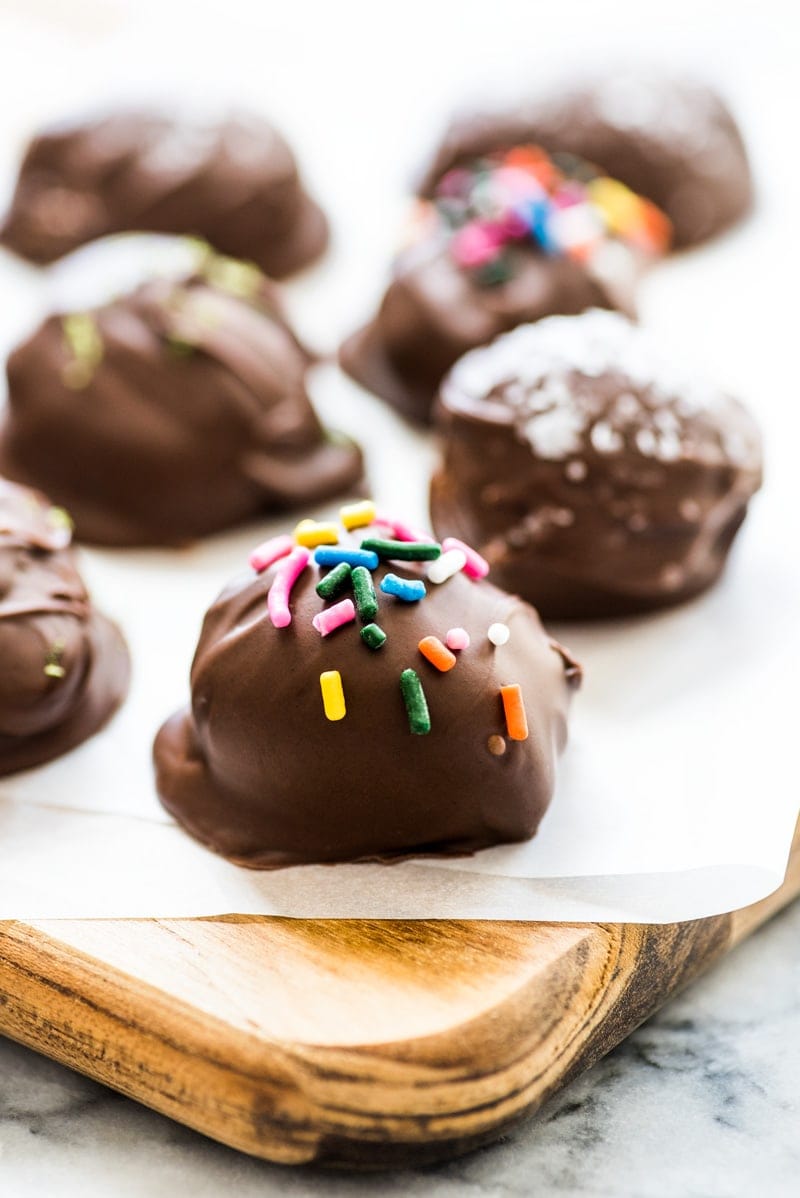 This recipe was originally published in March 2016. It was retested, rephotographed, rewritten, and republished based on reader feedback in May 2018.
Is there anything better than hearing the words 'almond butter balls' together in a sentence? Actually, yes, there is! How about chocolate covered almond butter balls? See – told ya!
I'm always looking for easy healthy dessert recipes to make and this is pretty much the ultimate of all the easy and healthy desserts. Made with only 3 ingredients, these nut butter balls are gluten free, grain free, paleo, vegetarian, vegan and contain no added sugar. And did I mention they require no baking?!
These balls just get better and better.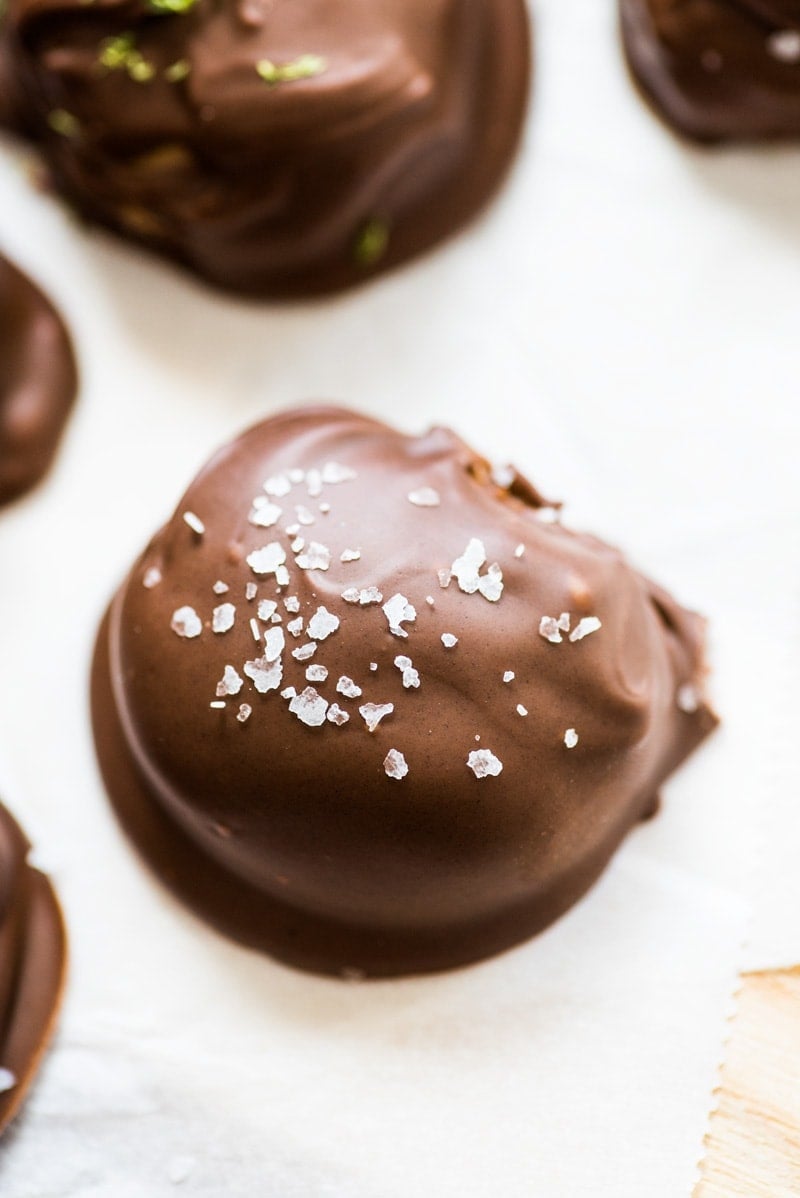 I find that no bake recipes involving peanut butter or almond butter in the center often contain added sugar in the form of powdered sugar to help thicken the nut butter mixture. But while many people find that really delicious, I tend to think it's too sweet. So naturally, I went to my pantry to see what I could use instead and this recipe was born.
Ingredients for Chocolate Covered Almond Butter Balls
almond butter
coconut flour
chocolate chips
That's it! Just mix together the almond butter and coconut flour until a thick almond butter paste forms and you're two thirds of the way there!  No need for powdered sugar or butter.
After making a few trial batches trying to get the coconut flour to almond butter ratio correct, I finally got a stamp of approval from my husband, the chocolate/nut butter fanatic in the house. That's how I know these are good.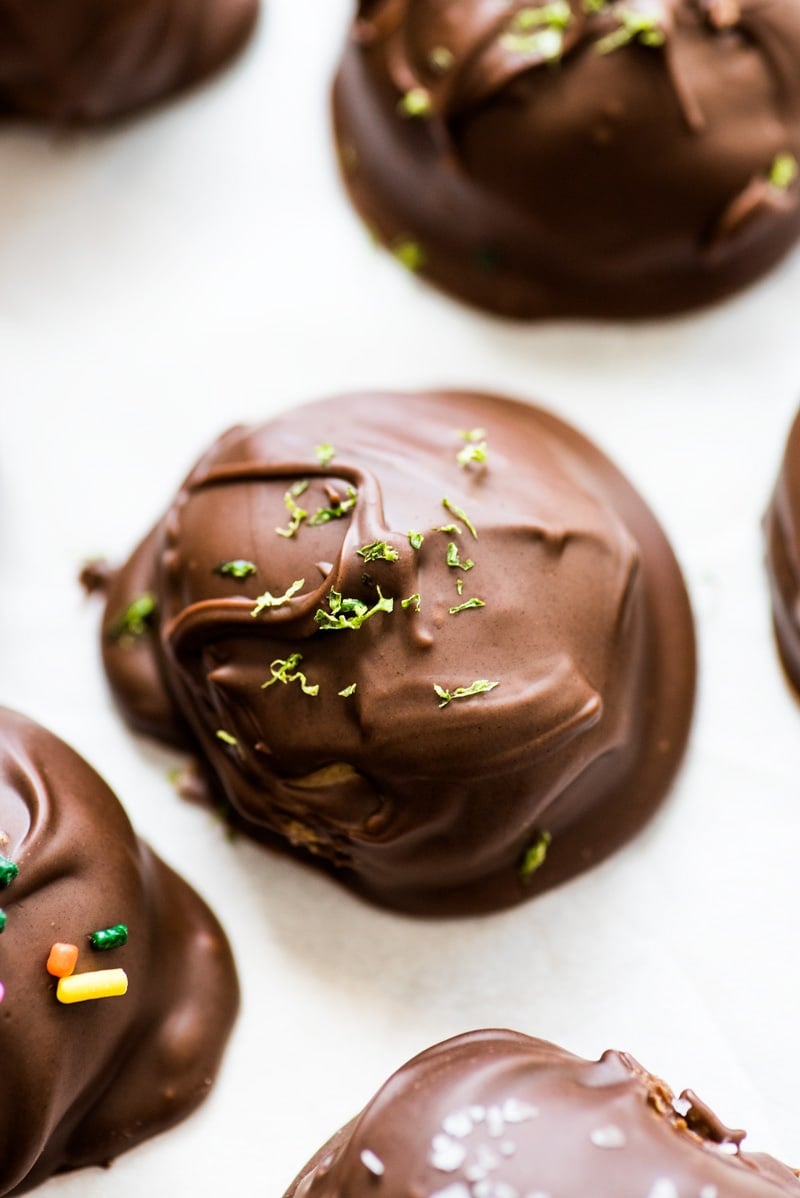 One of my favorite things about the almond butter balls are the toppings! My personal favorite is sea salt, but John loves his sprinkles. There are so many possibilities, here's a few to give you some inspiration.
lime zest
orange zest
espresso powder
 shredded coconut
crushed up cookies (like oreos!)
chopped almonds
dried fruit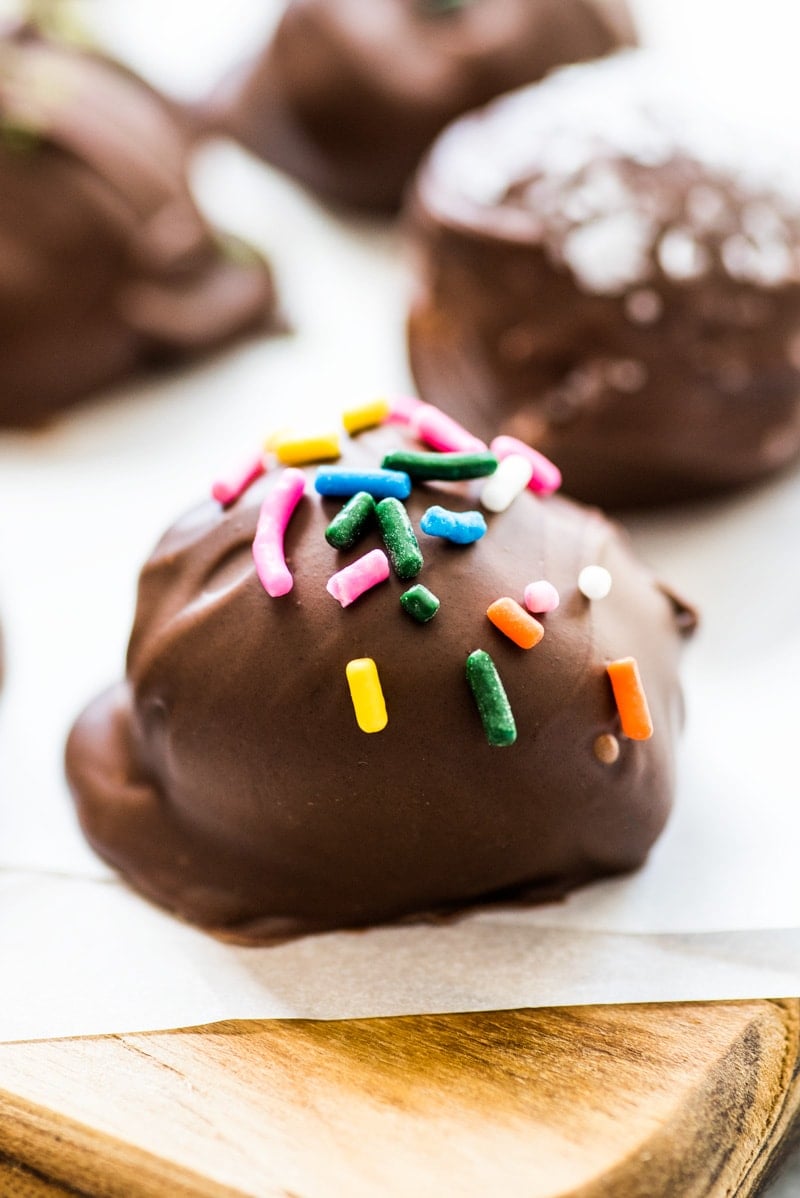 More recipes you'll love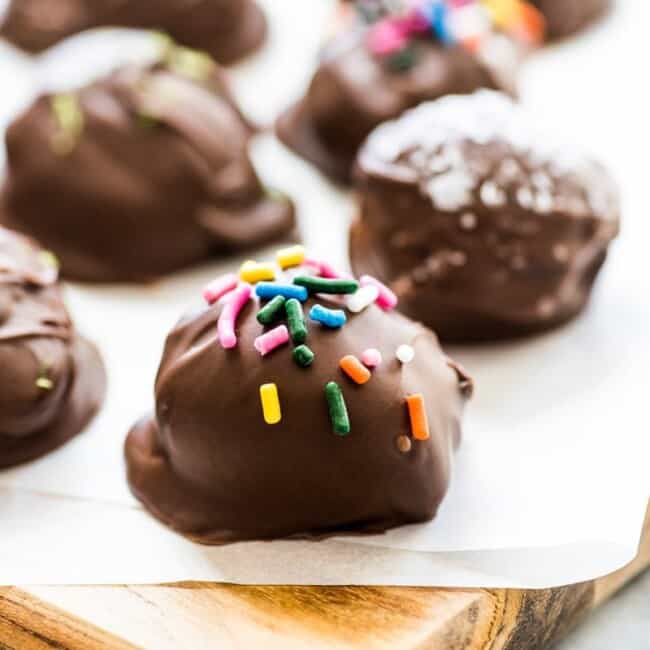 Prep: 30 minutes
Total : 30 minutes
These chocolate covered almond butter balls are made with only 3 ingredients and are the perfect healthy dessert! (gluten free, grain free, paleo, vegetarian, vegan)
Ingredients
3/4 cup almond butter
1/4 cup coconut flour
1 cup chocolate chips
optional toppings: sea salt, lime zest, sprinkles
Instructions
Line a large baking sheet with parchment paper and set aside.

In a medium bowl, mix together almond butter and coconut flour until a thick paste forms.

Scoop a heaping teaspoon of the mixture onto a baking sheet covered with parchment paper or form the mixture into a ball using your hands. I used a small cookie scoop like this one. Continue until all the mixture is used.*

Place the baking sheet in the freezer for 15 minutes.

Melt the chocolate chips in a microwave-safe bowl in 30 second increments until the chocolate is completely melted.

Using a spoon or fork, dunk the cold almond butter balls into the melted chocolate, making sure to fully cover every side.

Place the chocolate covered balls back onto the parchment paper and top with desired toppings.

Place the balls back into the freezer for 10 minutes or until chocolate has set.
Isabel's Tips:
You may need to add more coconut flour if the mixture isn't staying in the ball shape or more almond butter if the mixture is too stiff and dry. I find that almond butter that is made with only almonds and nothing else tends to be a little more oily than other almond butters because of the natural separation that can happen. If that's the case, simply add in 1 more teaspoon of coconut flour at a time until the mixture isn't too soft.
Nutrition Information
Serving: 1ball Calories: 185kcal (9%) Carbohydrates: 13g (4%) Protein: 5g (10%) Fat: 13g (20%) Saturated Fat: 4g (20%) Polyunsaturated Fat: 0g Monounsaturated Fat: 0g Trans Fat: 0g Cholesterol: 5mg (2%) Sodium: 10mg Fiber: 4g (16%) Sugar: 9g (10%) Calcium: 60mg (6%) Iron: 0.9mg (5%)
This page contains affiliate links. If you make a purchase on Amazon after clicking one of my links, I may receive a small commission. The price of the item stays the same and any money I make goes to supporting this blog. I only endorse products and services that I fully believe in. Thanks for your support!