Jump to Recipe
If you're looking for a refreshing drink perfect for a lazy day and a fun party, this sangria recipe is just what you need! With only six simple ingredients, it's incredibly easy to make and so delicious.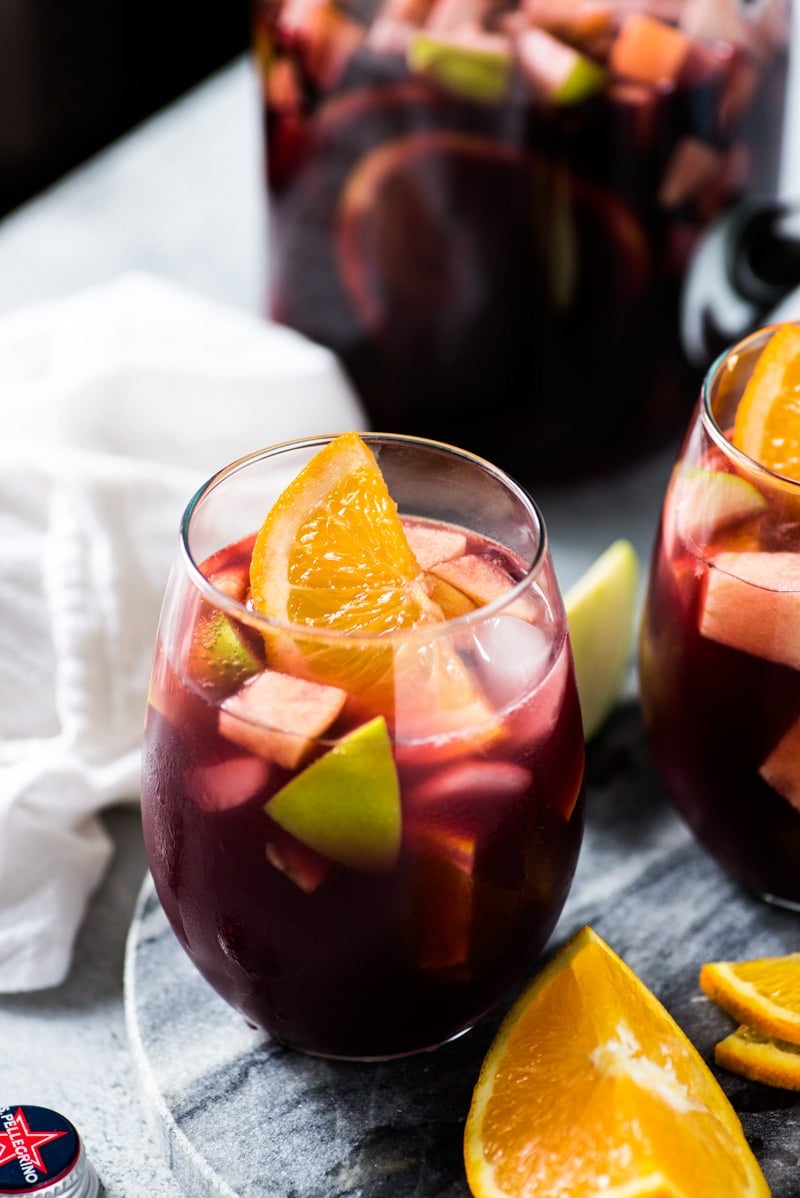 Tis the season for making big pitchers of delicious and refreshing sangria! It's perfect for entertaining and easily customizable with your favorite fruits and wine.
I've always had a special love of drinks with chunks of fruit in them (like my family's Mexican ponche). I love scooping out pieces of fruit and biting into them so it releases all the juices it's soaked up. It's like a drink and a snack in one!
And this sangria is no different. There's plenty of fruit to serve with each glass. Plus, the longer you let it sit in the liquid, the more it absorbs all the great flavors.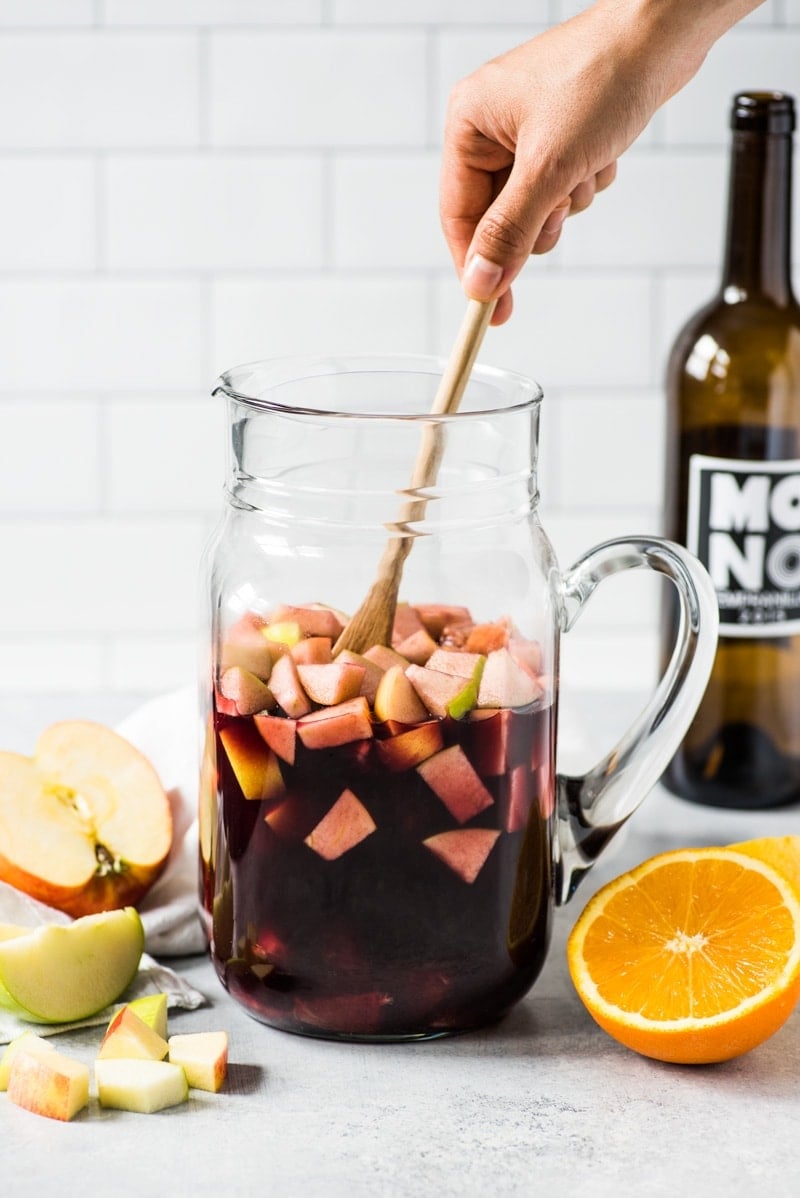 What is sangria?
Sangria is an alcoholic wine drink that originated in Spain and is traditionally made with red wine, chopped fruits, and brandy or orange juice. Modern versions can be made with white wine, sparkling water, and sweeteners.
What Wine Is Best for Red Sangria?
A medium-bodied Spanish red wine like a Tempranillo or Garnacha makes for a delicious red sangria. You want a fruity red wine that's lower in tannins and fairly inexpensive. Of course, you want to make sure the wine you use for sangria is something you'd drink by itself, but there's no need to spend $30 on a bottle. Something in the $10 to $15 price range will work just fine.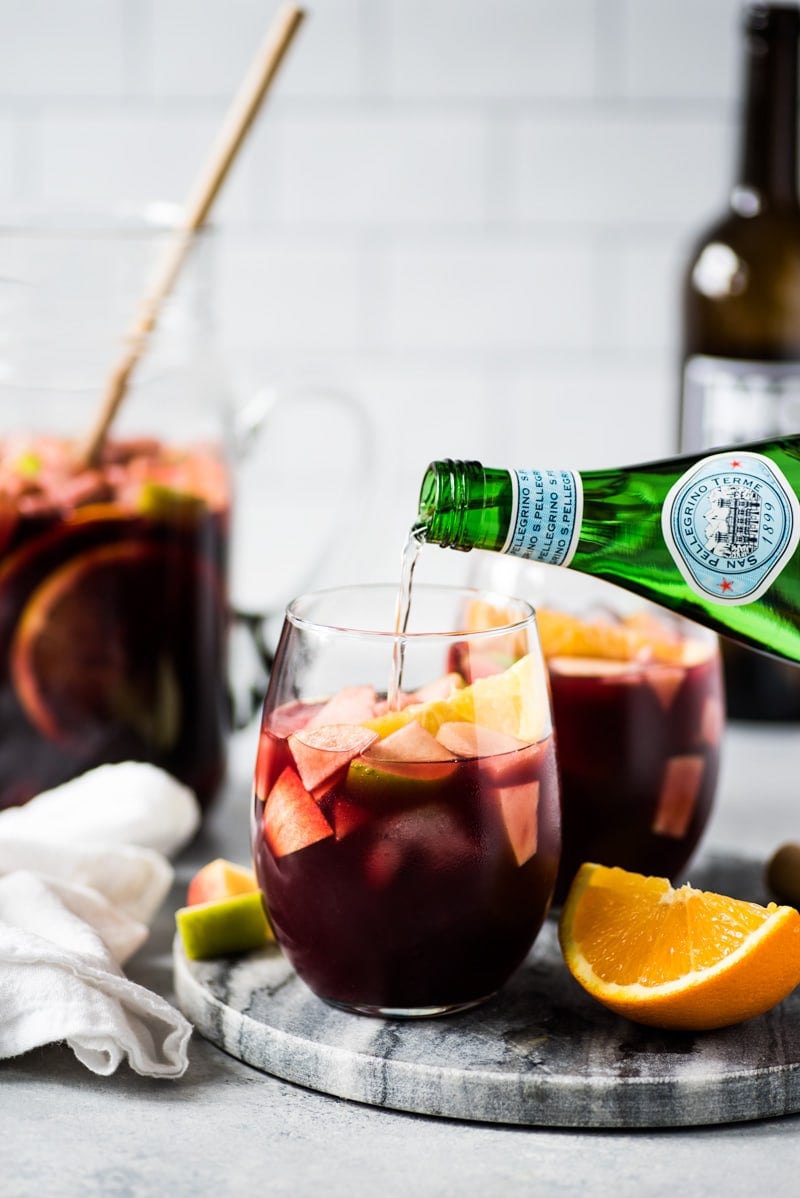 Ingredients in Sangria
This sangria recipe is made from 6 simple ingredients you probably already have in your kitchen:
Red wine: No need to splurge here! An inexpensive dry red Spanish wine, like Garnacha, Tempranillo, Cabernet Sauvignon, or Merlot is all you need.
Brandy: Brandy is a spirit made from fermented fruit juice, which makes it an excellent addition to sangria.
Fresh chopped fruit: Chunks of fresh fruit are not only a colorful garnish, but also lend plenty of fruity flavors. Use fruits like apples and oranges.
Orange juice: A splash of fresh orange juice will help this red sangria pop.
How to Make Sangria
Place all ingredients in a pitcher: Add diced apples, oranges, lemon juice, red wine, brandy, and orange juice, and stir all the ingredients together.
Refrigerate: Let the mixture chill in the fridge for 3 to 4 hours, up to overnight, before serving.
Serve: Give it a good stir and pour sangria over a glass of ice. Top with sparkling water, if desired.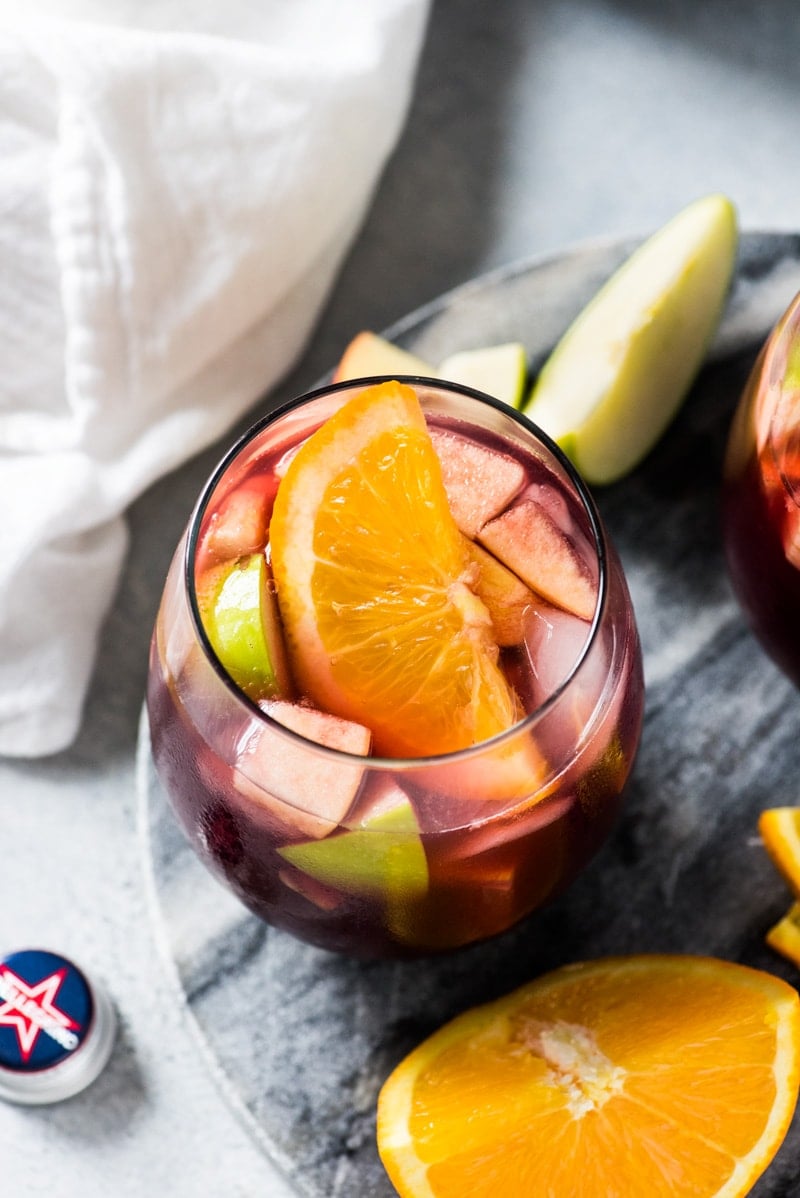 Helpful Tips
The longer the sangria can rest in the fridge (up to overnight), the better the flavor. The least amount of time I recommend letting it rest is 3 to 4 hours.
To add more fruits, use seasonal options like strawberries, limes, pears, or plums.
To add spice, I've even seen a few recipes add a cinnamon stick.
Don't waste the fruit! Grab a spoon and scoop out the chunks of fruit from the bottom of your glass for a snack. The fruit soaks up all of the juices from the sangria, making them extra tasty. It's my favorite thing about sangria!
Recommended Tools
Pitcher. Here's a great glass pitcher with a lid that fits perfectly in the fridge.
Measuring cup set. This set of 3 glass measuring cups is perfect for all recipes.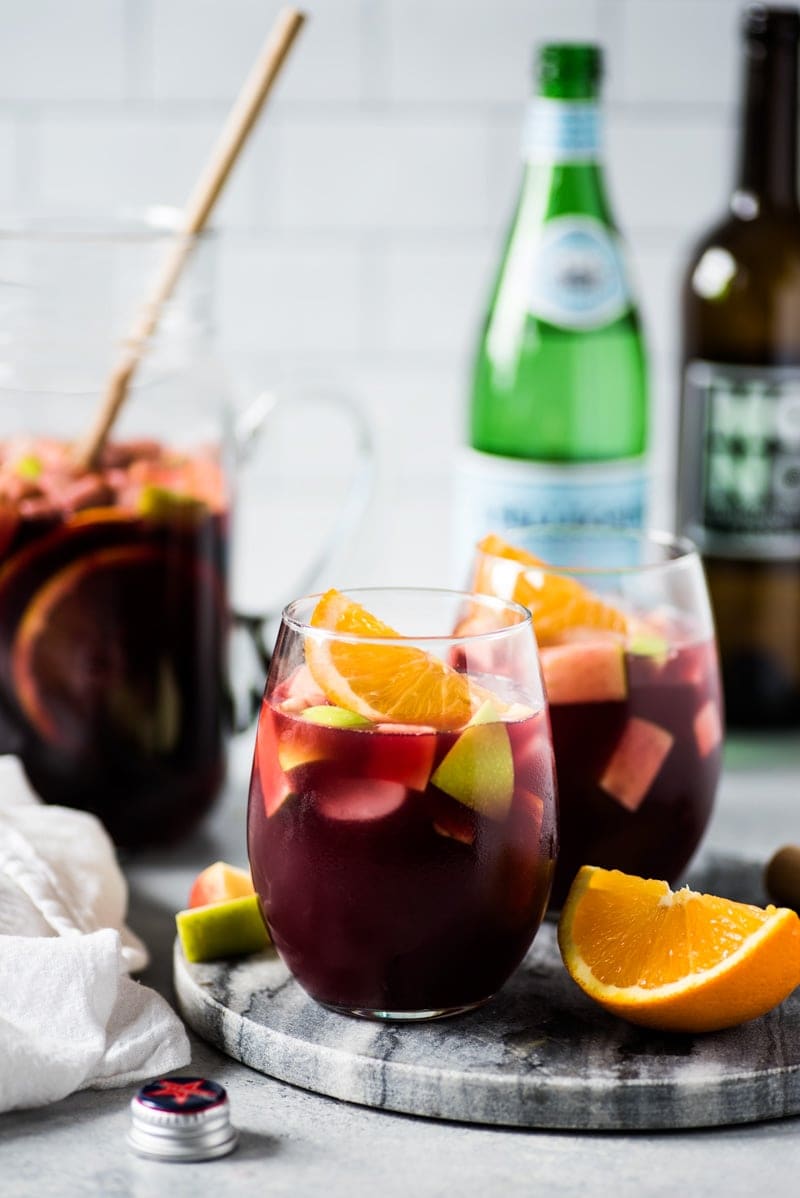 Storage
To store, place leftover sangria in a pitcher with a lid in the refrigerator for up to 5 days.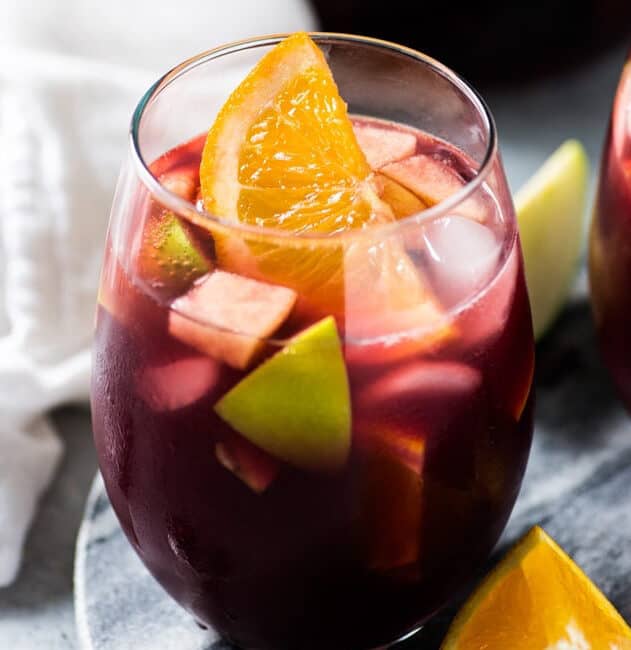 Prep: 10 minutes
Total : 3 hours 10 minutes
An easy and refreshing sangria recipe made with only 6 ingredients, including diced apples, oranges, and red wine. So delicious!
Ingredients
2 apples, diced into chunks
1 orange, rind removed and diced into chunks
2 tablespoons lemon juice (about 1 lemon, juiced)
1 (750ml) standard bottle medium-bodied red wine* (see notes)
½ cup orange juice
¼ cup brandy
For serving: sparkling water (optional)
Instructions
Place all the ingredients, except the sparkling water, in a large pitcher and stir to combine.

Refrigerate sangria for 3 to 4 hours, up to overnight, before serving.

When ready to serve, give the sangria one last stir and pour over a glass of ice. Top with sparkling water for some bubbles if desired.
Isabel's Tips:
Wine: A medium-bodied red wine like a Spanish Tempranillo or Garnacha is perfect. You could also use a bottle of cabernet sauvignon or a merlot. There's no need to spend $30 on a bottle. Something in the $10 to $15 price range will work just fine.
Nutrition Information
Serving: 1/6th of recipe Calories: 179kcal (9%) Carbohydrates: 15g (5%) Protein: 1g (2%) Fat: 0g Saturated Fat: 0g Polyunsaturated Fat: 0g Monounsaturated Fat: 0g Trans Fat: 0g Cholesterol: 0mg Sodium: 1mg Potassium: 159mg (5%) Fiber: 2g (8%) Sugar: 12g (13%) Vitamin A: 300IU (6%) Vitamin C: 40.4mg (49%) Calcium: 10mg (1%) Iron: 0.2mg (1%)