Jump to Recipe
This Classic Mojito Recipe is one of the most refreshing cocktails you'll ever have! Made with white rum, lime juice and fresh mint leaves, this easy drink is a definite crowd pleaser.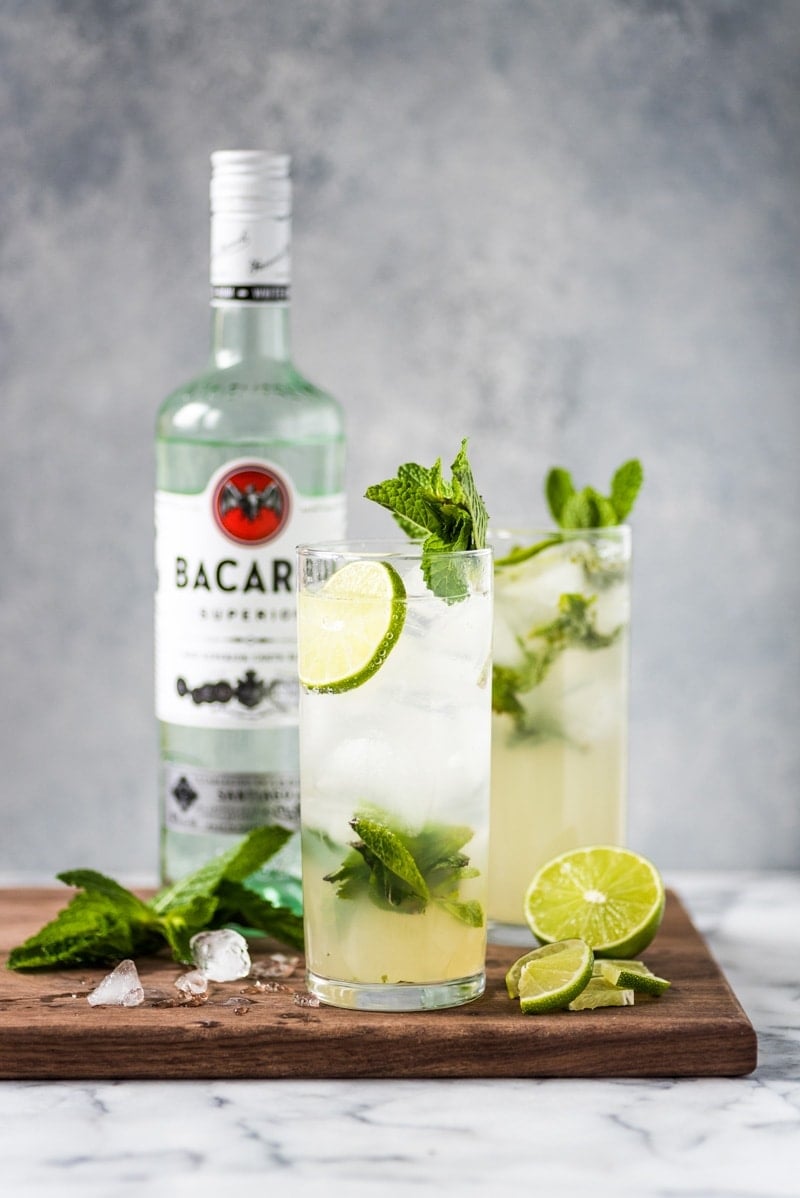 I'm super excited to be sharing this classic mojito recipe because I've been obsessed with this cocktail for the longest time.
I have no idea how my love for them started, but I just remember asking for them at every single bar I went to while I was in college. Just ask my friends – I'm pretty sure I annoyed them because of how often I asked for this drink.
Sadly, 9 times out of 10, the bar couldn't make it for me because they didn't have fresh mint. What the what?! Yeah, it was always a bummer, but I think that's what made me want them even more.
And the moment when I finally did get one? GLORIOUS.
What makes this Mojito recipe so great
It's super simple to make! Just combine the drink ingredients together, muddle the mint, shake, and pour over ice!
It's so light and refreshing – a great drink for a warm day.
It's really versatile – add more or less sugar, mint, or rum to customize it to your liking!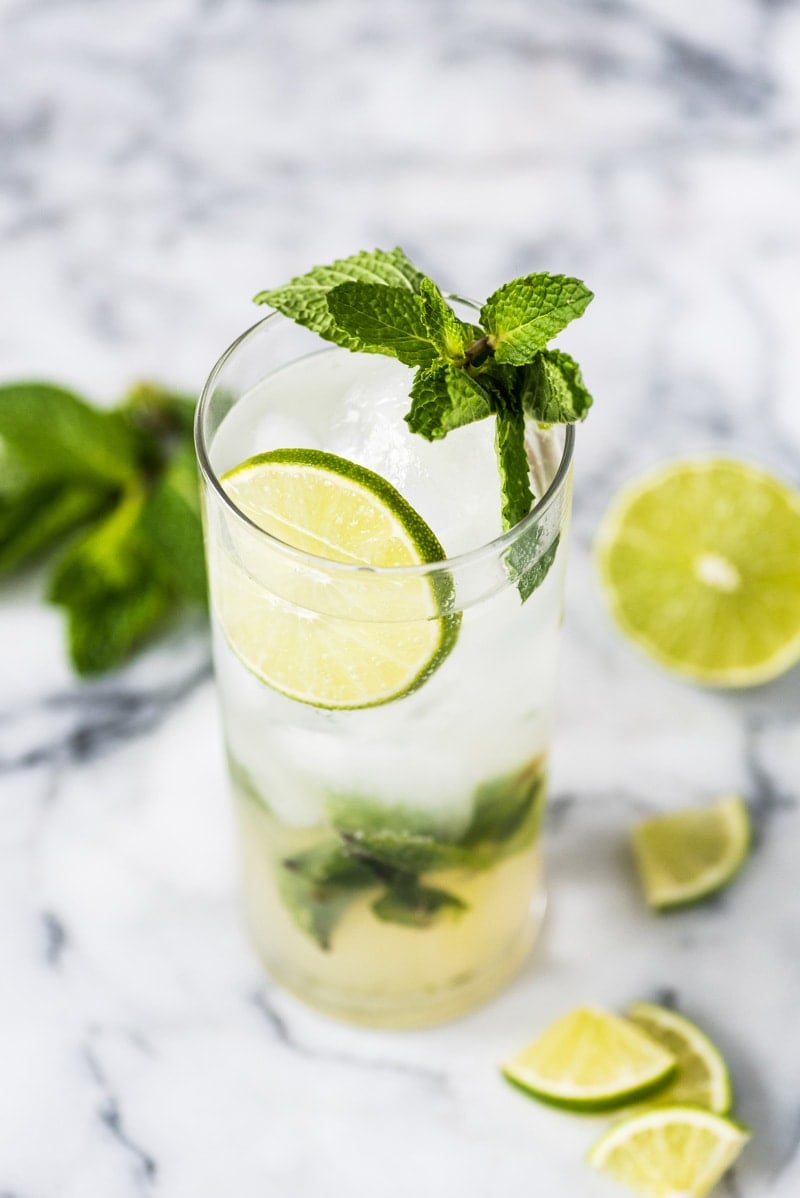 Even though this mojito recipe is so simple, people often have loads of questions. Here are some of the more common ones.
Where are Mojitos from?
Mojitos are traditionally a Cuban drink. While they're not Mexican, I love them so much I couldn't help but share!
What's in a Mojito?
Mojitos are made with the following ingredients:
fresh mint
white rum
lime juice
club soda
a little sugar
ice
What Kind Of Mint Goes In A Mojito?
There is actually a plant called Mojito Mint that is traditionally used in a mojito recipe. It's a more mild mint than other mints typically found in North America (like peppermint and spearmint). But don't worry if you don't have Mojito Mint! Any mint will do.
And a quick sidenote – mint is super healthy! While I'm not trying to make this drink sound healthy at all, when I was doing a little research on writing this post I came across so many resources that talked about the countless benefits of mint.
helps with gas and indigestion
no more nausea
goodbye bad breath!
boosts immunity
natural stimulant that can help you feel more energized
All of those things sound good to me!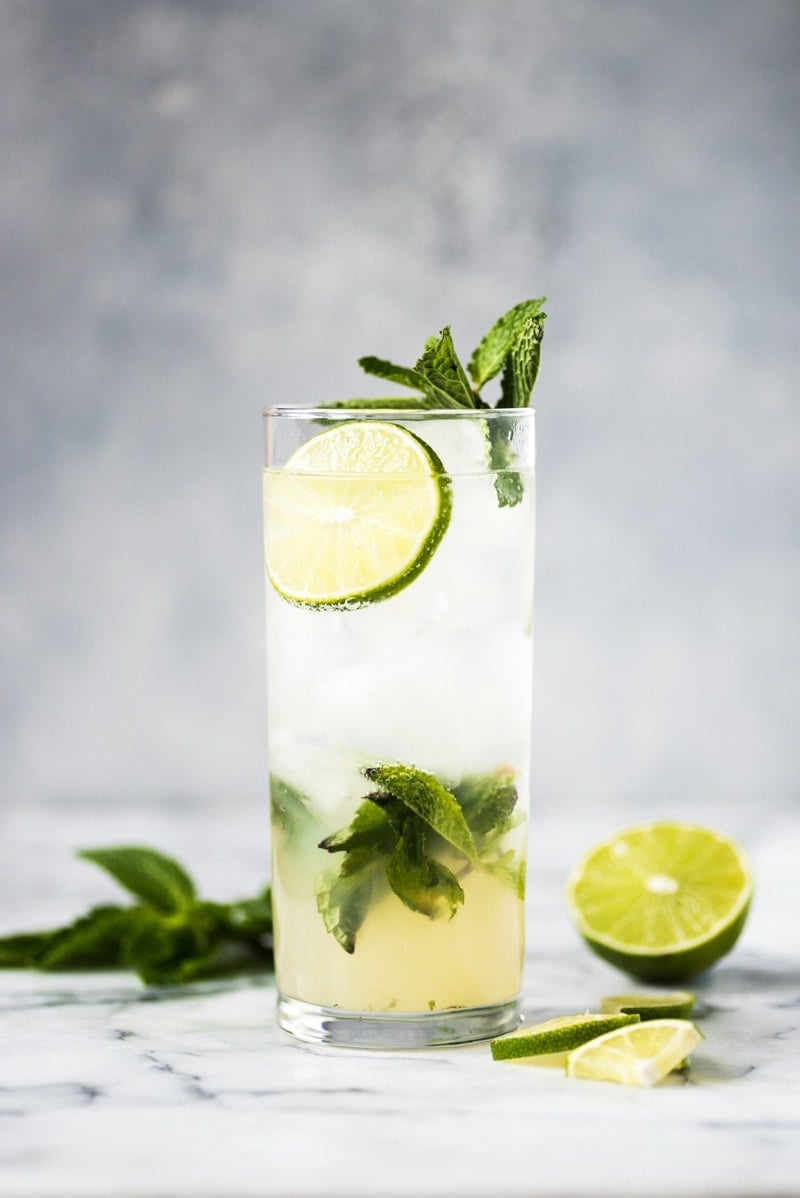 How to make a Mojito
First, you'll want to fill your glass with ice. Then, add the mint, rum, lime juice and sugar to a cocktail shaker (or a large glass if you don't have one).
Next comes the most important part – releasing all the minty fresh flavor! To do this, grab a cocktail muddler like this and firmly press down on the leaves and twist a little. Do this a few times until the leaves are super fragrant, but make sure not to totally tear apart the leaves. You don't want them turning into mush.
Once that's done, shake all the ingredients together and pour into the glass full of ice. Fill it up the rest of the way with some club soda and drink up!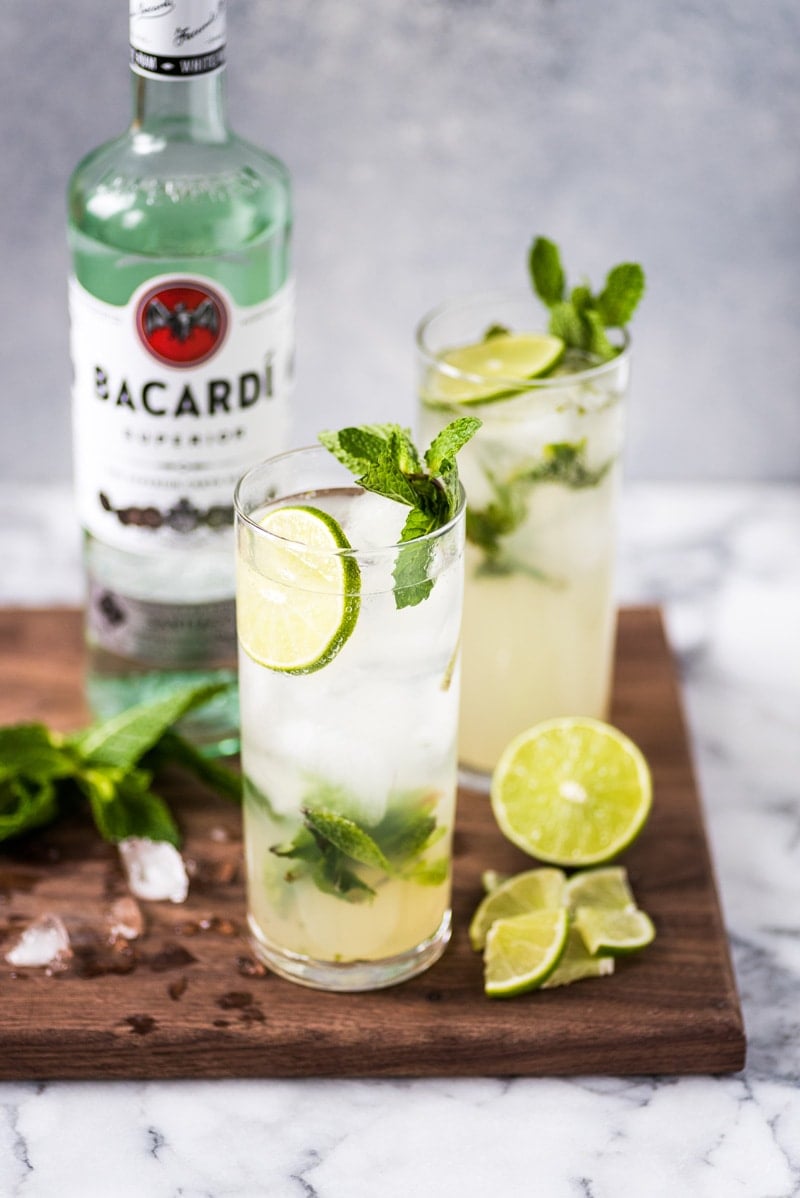 That's it! So easy, so refreshing, and so good! I promise you're going to want to make this all the time.
Tips and Tricks for making this Mojito recipe
While the best mint for this recipe is the Mojito Mint, any mint will still taste great!
Don't muddle the mint too much! You want to break it down to release the flavor, but not turn it into a pulp.
If you don't have a cocktail shaker, just use a large glass. Instead of shaking after muddling, stir the ingredients together vigorously with a utensil.
Mojito recipe variations
Try adding a little fruity flavor to your mojito! Put some strawberries, blueberries, or peaches in with the mint and muddle everything together.
While rum is the best option for this drink, if you're all out you can substitute the rum with gin.
Turn this mojito recipe into a frozen drink! Combine everything except the ice in a blender, blending until smooth. Then add the ice (about 1 cup per drink) and blend until it reaches your desired consistency!
This mojito recipe is so easy to make, incredibly refreshing and instantly puts me in a better mood. Maybe it's the white rum? Could be, though I'm going to say it's the mint.
More cocktails you'll love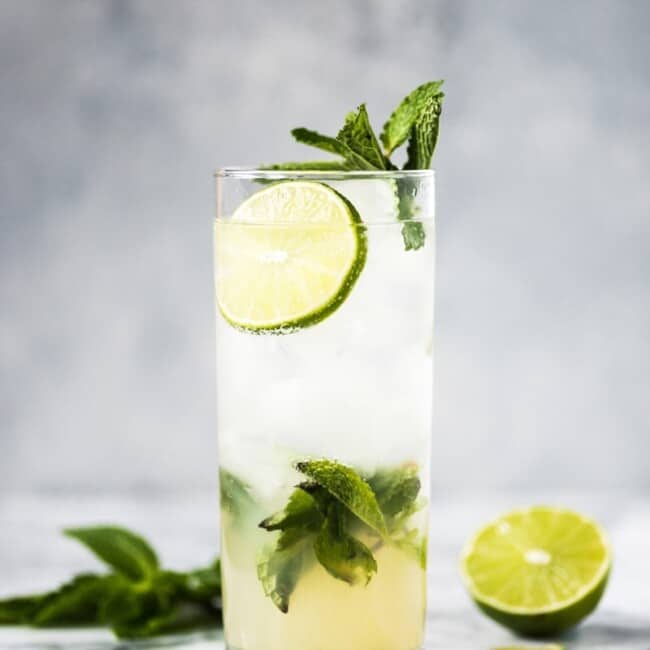 Prep: 5 minutes
Total : 5 minutes
This Classic Mojito Recipe is one of the most refreshing cocktails you'll ever have! Made with white rum, lime juice and fresh mint leaves, this easy drink is a definite crowd pleaser.
Ingredients
ice
1 1/2 ounces white rum (about 3 tablespoons)
2 tablespoons lime juice (about 1 lime)
2 teaspoons granulated sugar
8 fresh mint leaves
club soda
Instructions
Fill a 12-ounce highball glass with ice and set aside.

In a cocktail shaker, add the rum, lime juice, sugar and mint leaves.

Using a cocktail muddler or the back of a spoon, lightly press on the mint leaves to release some of the oils until fragrant. Be careful not to overmuddle and completely tear the leaves to little pieces – just keep pressing on them with the muddler until the drink is super fragrant.

Cover and shake to combine. Pour into the prepared glass and top it off with a splash of club soda.

Garnish with fresh lime slices and a sprig of mint.
Nutrition Information
Serving: 1drink Calories: 168kcal (8%) Carbohydrates: 18g (6%) Sodium: 8mg Potassium: 37mg (1%) Sugar: 13g (14%) Vitamin C: 12.4mg (15%) Calcium: 10mg (1%)