Piloncillo is a staple in Mexican cooking and baking. We'll explain what it is and how to use it in your favorite recipes, baked goods and other sweet treats!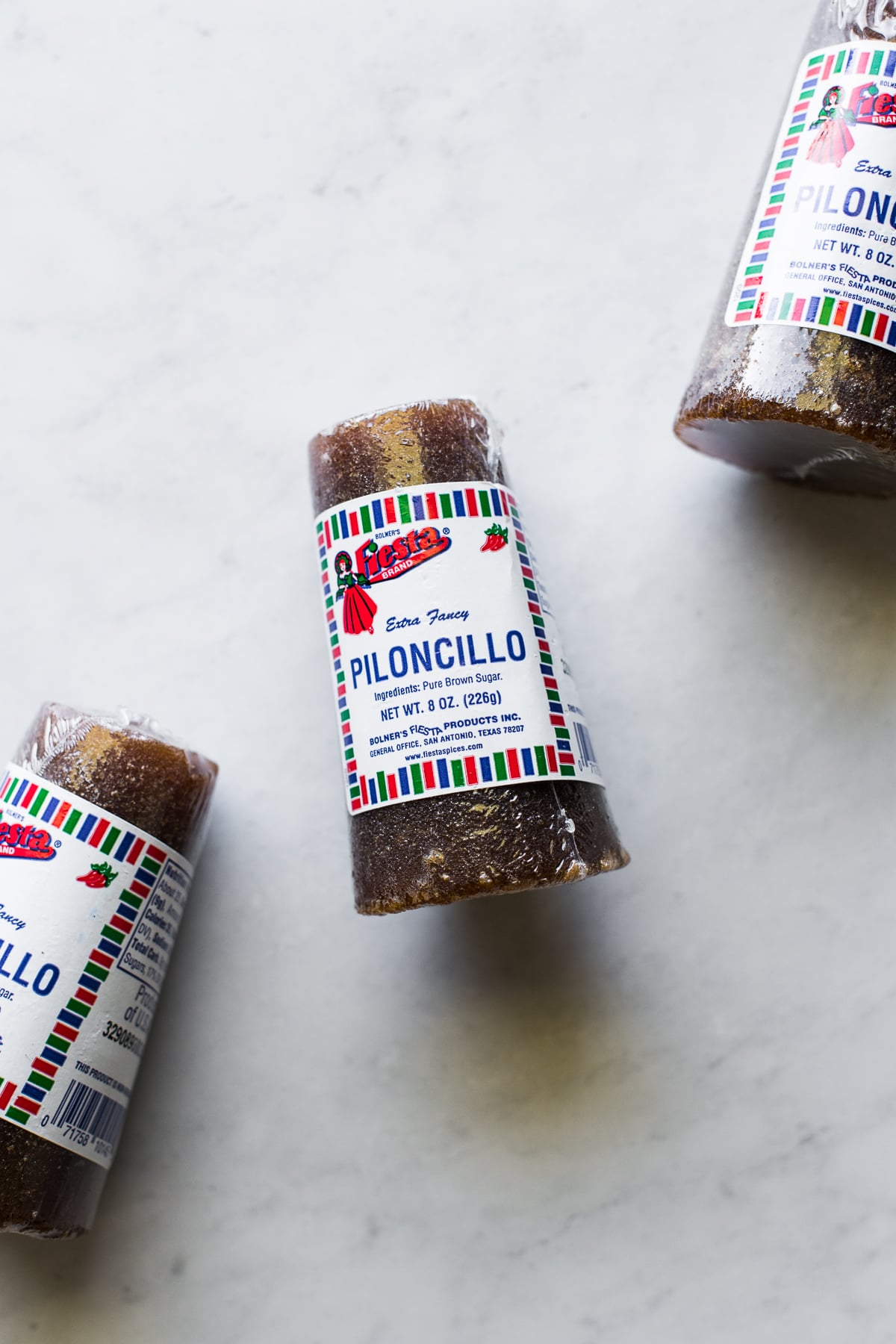 What is piloncillo?
Piloncillo is an unrefined whole cane sugar, mainly found in Mexico, where it has been around for at least 500 years.
It has an earthy, caramel-like taste. Some describe it as similar to a very intense brown sugar or molasses. It can usually be found at Mexican markets pressed into blocks, cones, or loaves. It's very easy to store and transport, and is usually inexpensive.
Is piloncillo the same as brown sugar?
Although piloncillo has a similar taste and look to brown sugar and is sometimes called "Mexican brown sugar", it is not the same thing.
While brown sugar is usually just white sugar with a small bit of molasses added to it, piloncillo is unprocessed cane sugar. As a result, it has a natural golden brown color without the addition of molasses.
Like brown sugar, piloncillo can be found in two varieties:
blanco – a lighter piloncillo
oscuro – a darker piloncillo
How is it made?
Piloncillo is made by crushing sugar cane and collecting the juice. The sugar cane juice is then boiled and reduced to a thick syrup (similar to molasses).
Then, the syrup is poured into molds and dried. The word piloncillo means "little loaf", which is a traditional shape in which the sugar is molded.
In the U.S., piloncillo is often found in cone shapes.
Is piloncillo the same as panela?
Yes. Panela, also known as rapadura, is popular in Central and Latin America, where it is known by several different names depending on the location. In Mexico, panela is more commonly known as piloncillo.
Panela can be found in several forms, including liquid, granulated and solid blocks.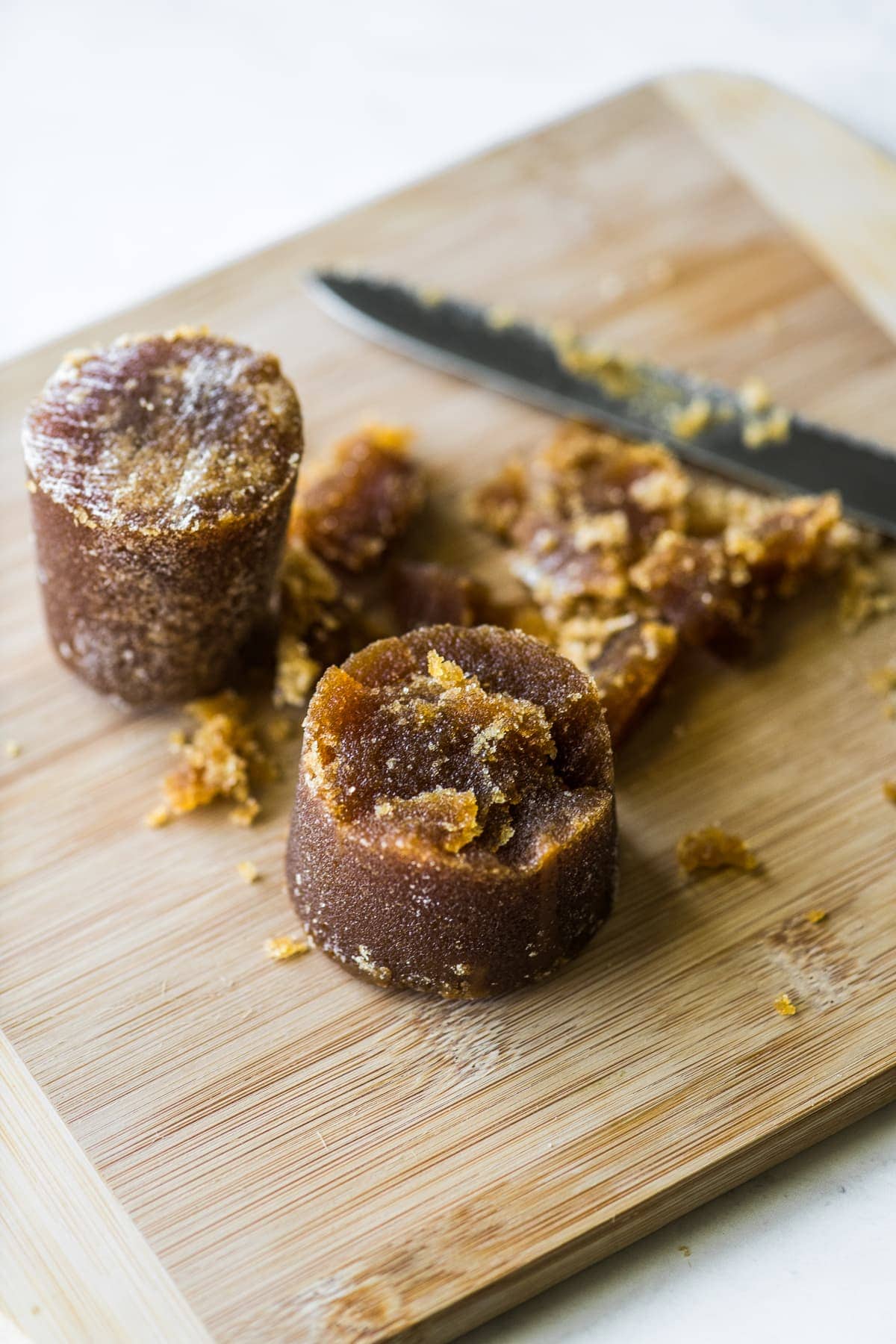 How do you use it?
Piloncillo is popular as both a sweetener and a spice. Since it melts very easily when heated, it is easy to incorporate into beverages, baking and cooking.
At home, you can use it to replace white or brown sugar in baking, desserts and ice creams. Many Mexican recipes call for it, including beverages. It's often used in the following recipes:
In Mexico, it is also often found blended with spices such as anise or cayenne, or mixed into Mexican chocolate.
Commercially, piloncillo is used in candy-making, soft drinks and baking!
How can I break up a piloncillo cone?
Piloncillo cones are very solid and hard. As a result, you will need to break it apart before you can use it.
There are a few ways to break down a cone, depending on how fine you want your sugar:
A knife. Slice or chop piloncillo into small chunks or slivers. This is the simplest way to add it to coffee, hot chocolate or other hot drinks.
A large cheese grater. Used to quickly break the sugar down into a texture similar to brown sugar.
A microplane grater. Used to create a super fine sugar.
Alternatively, you could lightly heat the piloncillo in the microwave for about 10-15 seconds. This will soften the cone a bit and allow you to easily break off off pieces with your hands.
Storage
Piloncillo can be stored in a cool, dry place for 1 year.
More articles you may like