Jump to Recipe
Capirotada, or Mexican Bread Pudding, is made with layers of crusty bread, raisins, bananas, almonds and cheese all soaked in sweetened cinnamon milk! This dessert is traditionally served during Lent and is very popular in Mexico!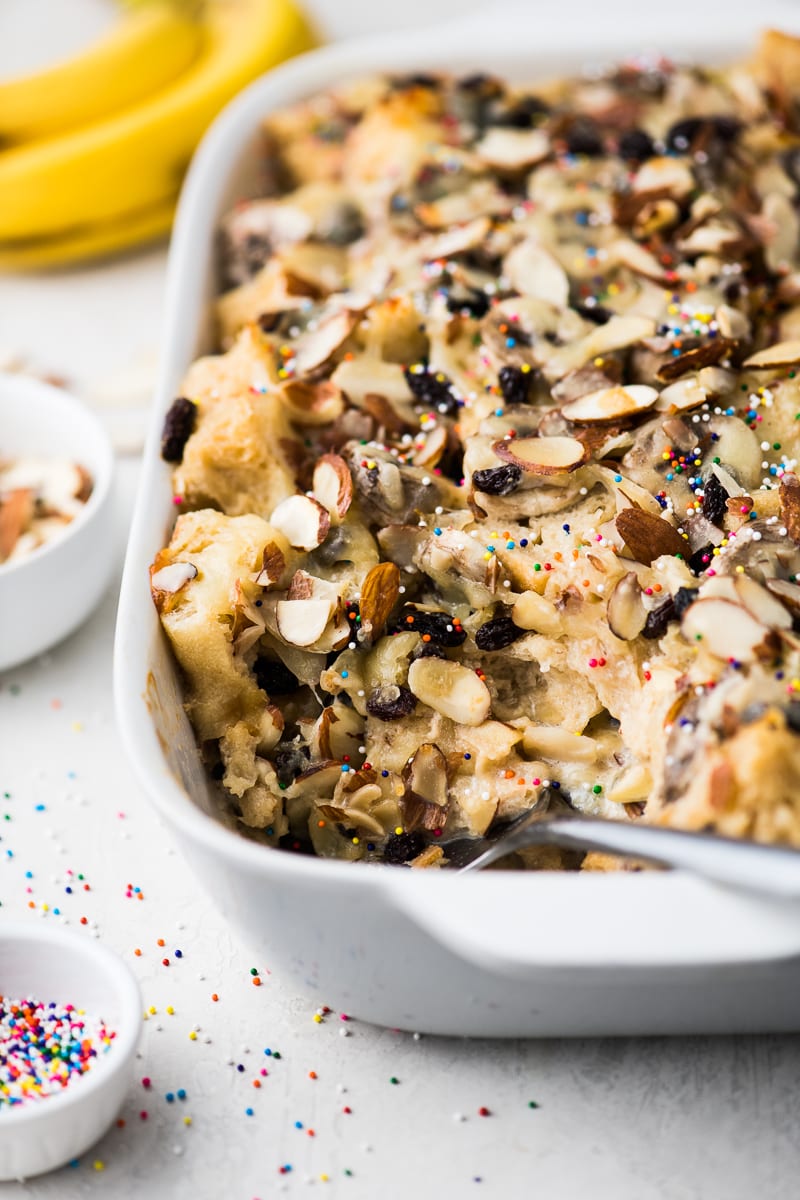 It's the time of year to start eating Capirotada again, and I couldn't be more excited!
There's nothing better than an extra-large helping of this Mexican bread pudding during Lent, especially since my family only makes it once or twice a year. I grew up eating Capirotada so it's always been a normal Mexican dessert for me, but I know that many people have never heard of it at all. It's time to change that. Once people get their first bite of this sweet dessert, I know it will become an instant hit.
What is Capirotada?
Capirotada is a traditional Mexican bread pudding that's served during Lent. There are many variations of this dish throughout the U.S. and Mexico, but it's typically made with layers of bolillo bread (or french bread), raisins, bananas, nuts, cheese and sweetened milk or syrup.
It can be eaten warm right out of the oven or chilled for a tasty after-dinner treat.
If you're ready to try out this Mexican staple, follow along and let's get started!
(This is the exact recipe I grew up eating, so special shout out to my mom and sister for helping me put this together!)
How to make Capirotada
First, prepare the sweetened milk mixture by simmering some milk, dark brown sugar, cinnamon sticks and cloves in a Dutch oven or pot. The milk is traditionally sweetened with a Mexican piloncillo cone, but I know that it's not always available at all grocery stores. Dark brown sugar works just as well. Learn more about piloncillo here.
Next, make two layers of bread, raisins, banana slices, sliced almonds and cheese in a greased 9×13 inch baking dish. For the bread, I recommend using a crusty french baguette. I find that it's crispier and doesn't tend to get super mushy to the point of disintegration when soaked in the milk like bolillo rolls can.
If you do use bolillos or any other french bread that doesn't have a nice crust, I recommend leaving it out overnight to harden slightly and get a little stale. Don't worry if you think the bread is too hard – it will soften once it soaks up all sweet milk.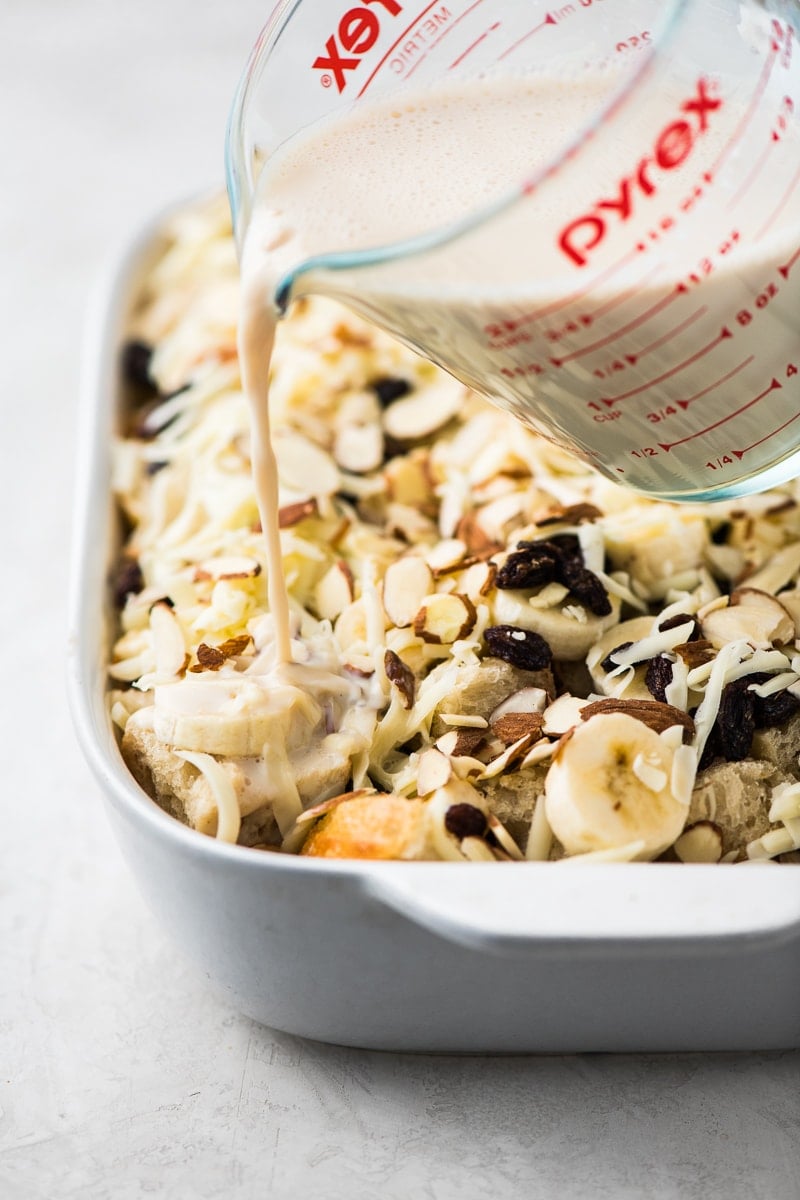 Once the layers are in the dish, pour the sweetened milk all over the bread and let it soak on the counter for 15 minutes. When pouring the milk, pay close attention to the bread along the edges of the baking dish as I find that those pieces don't tend to get as much milk as others.
Right before baking the Capirotada, I like to tilt the baking dish from side to side to help the top layer of bread and the edges soak up as much milk as possible.
Bake the bread pudding in a 350°F oven for 30 minutes, loosely placing a sheet of aluminum foil over the top halfway through baking. Let the dessert cool for 15 minutes before digging in. Serve warm or chilled.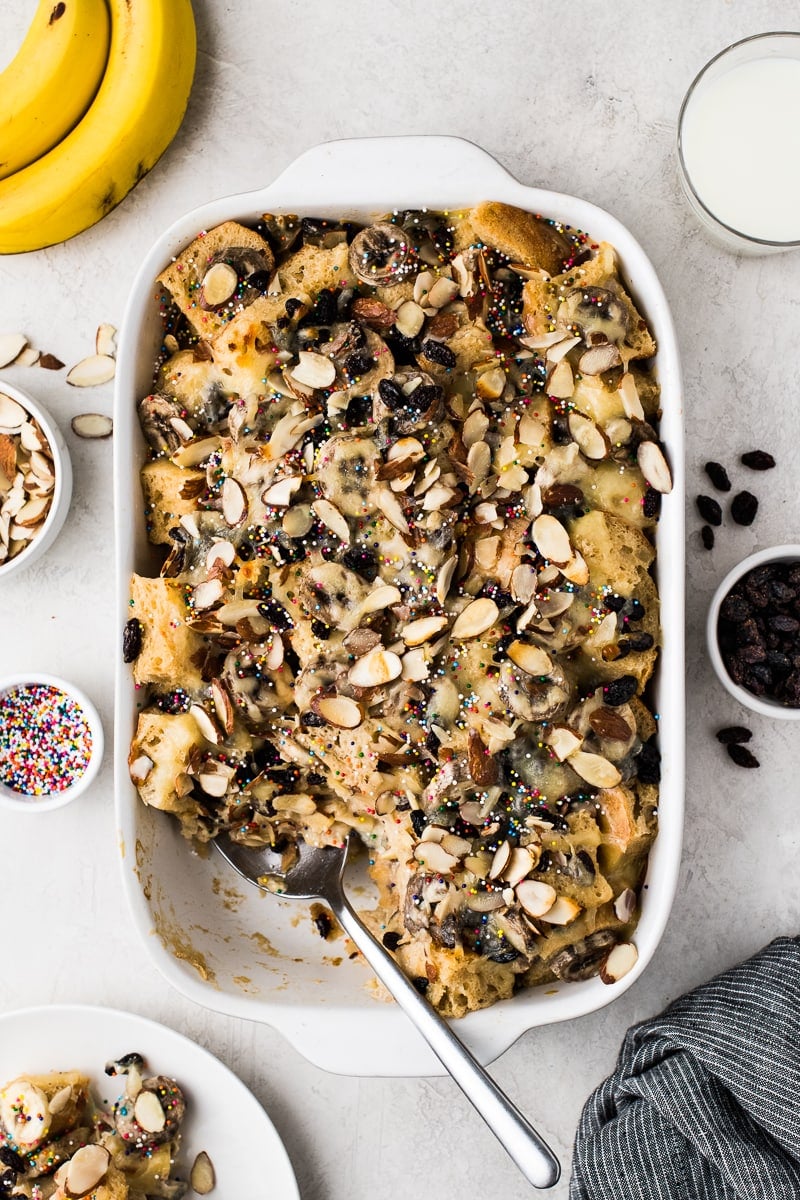 Now comes the fun part – topping it with round sprinkles! It's totally optional, but it's the way my family always served it and I think it adds such a fun pop of color. After all, I really only make this about once a year so what better way to celebrate than with sprinkles!
I hope you love this Capirotada recipe as much as I do. Happy eating!
More Mexican desserts you'll love
Prep: 10 minutes
Cook: 50 minutes
Total : 1 hour
Capirotada, or Mexican Bread Pudding, is made with layers of crusty bread, raisins, bananas, almonds and cheese all soaked in sweetened cinnamon milk!
Ingredients
nonstick cooking spray
6 cups nonfat milk
1 1/4 cup dark brown sugar
3 cinnamon sticks
2 whole cloves
12 ounces crusty french bread , cut into 1-inch cubes (about 10 cups)
4 bananas, sliced into rounds
1 cup raisins
3/4 cup sliced almonds
2 cups shredded asadero cheese, or any mild tasting melty white cheese like Monterey Jack, Provolone or Mozzarella
round rainbow sprinkles, optional
Instructions
Grease a 3-quart 9x13 inch baking dish with nonstick cooking spray.

In a large pot or Dutch oven over medium-high heat, add milk, dark brown sugar, cinnamon sticks and cloves. Whisk together and bring to a gentle boil.

Reduce heat to low and simmer for 10 minutes, whisking occasionally. Remove from heat and discard the cinnamon sticks and cloves.


Spread half of the bread in a single layer in the prepared baking dish. Top with half of the banana slices, half of the raisins, half of the sliced almonds and half of the shredded cheese. Repeat the process to make one more layer.

Preheat oven to 350°F. Pour the sweetened milk all over the Capirotada, paying close attention to the edges.

Let the bread pudding sit on the counter for 15 minutes to make sure it absorbs as much of the milk as possible.


Bake uncovered for 15 minutes, then loosely cover the dish with aluminum foil and bake for another 15 minutes.

Remove from oven, let cool for 15 minutes and top with sprinkles if desired. Serve warm or cold.
Isabel's Tips:
To store, cover baking dish with plastic wrap or transfer Capirotada to an airtight container and refrigerate for up to 5 days. Serve chilled or reheat in the microwave.
Nutrition Information
Serving: 1serving Calories: 413kcal (21%)
This page contains affiliate links. If you make a purchase on Amazon after clicking one of my links, I may receive a small commission. The price of the item stays the same and any money I make goes to supporting this blog. I only endorse products and services that I fully believe in.