You've probably heard of cotija cheese and queso fresco, but have you ever tried Oaxaca cheese?
Oaxaca cheese is the best creamy, stretchy, and meltable Mexican cheese ever! It's similar to mozzarella, and great in enchiladas, chile rellenos, nachos, and quesadillas!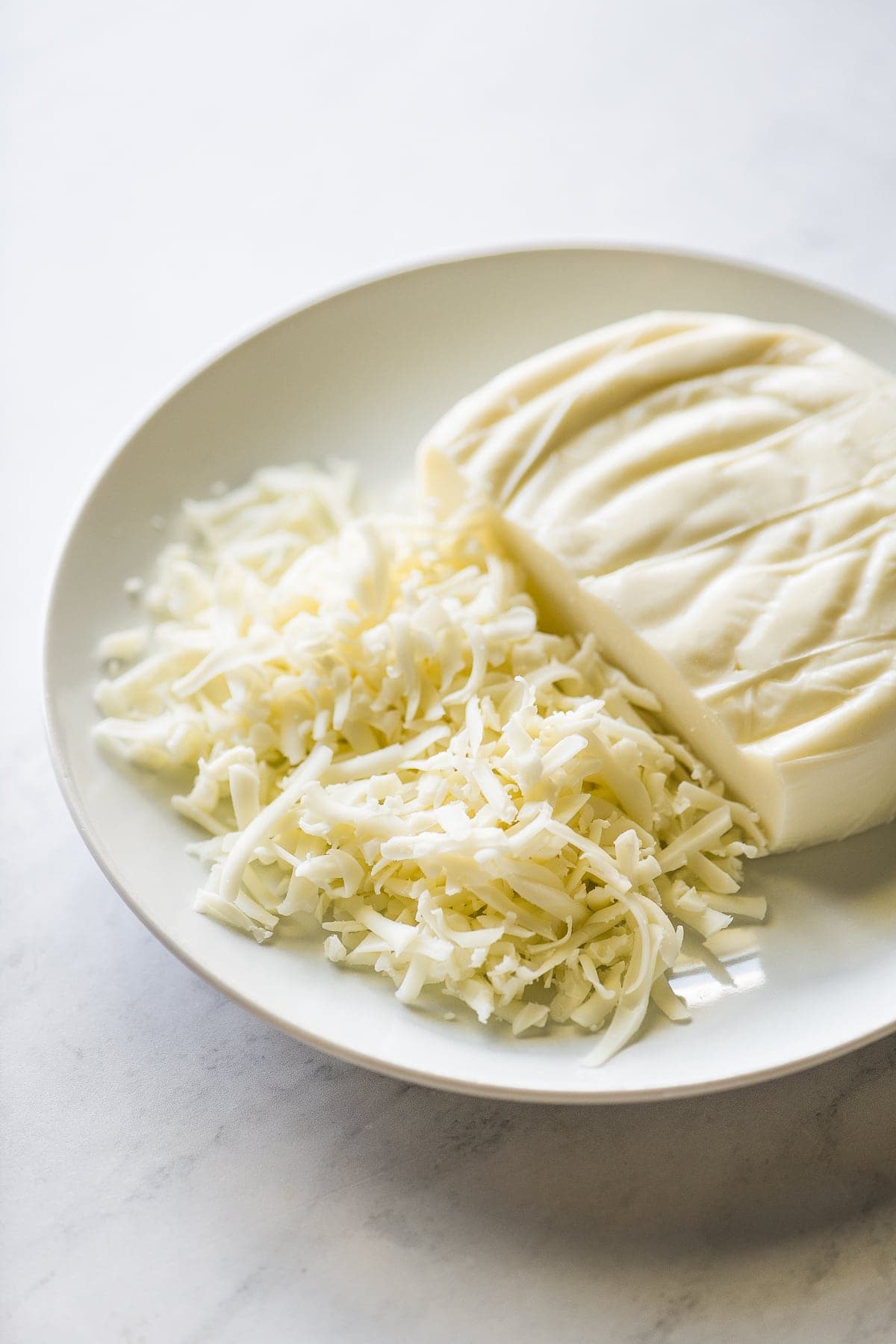 What is Oaxaca cheese?
Oaxaca cheese [pronounced wah-ha-kah] is a white, semi-soft cow's milk cheese from Mexico. The flavor is mellow and buttery, similar to a string cheese, with a creamy texture and a slight saltiness to it. It's perfect for melting and is similar to mozzarella or unaged Monterey jack cheese.
The taste is mild, providing a nice balance to the spicy and highly flavorful Mexican foods with which it's often paired.
Considered a fresh cheese, it's traditionally made by kneading the curd in hot water and then stretching it. Thin strips form from the cheese, which are cooled in salted water and cut into rope-like segments.
The segments are then gently braided or wound into a knot resembling a ball of yarn. The presentation is unusual, and you can cut off little pieces as you need them, which is kind of fun.
Where is it from?
It comes from the state of the same name, Oaxaca, in southern Mexico, where it was first produced. Sometimes it's referred to as Mexican mozzarella, quesillo ("rope cheese"), Queso Oaxaca, or Oaxacan-Style String Cheese.
The pasta filata or string cheese making process, originally from Italy, was brought to Mexico by Dominican friars that settled in the state of Oaxaca.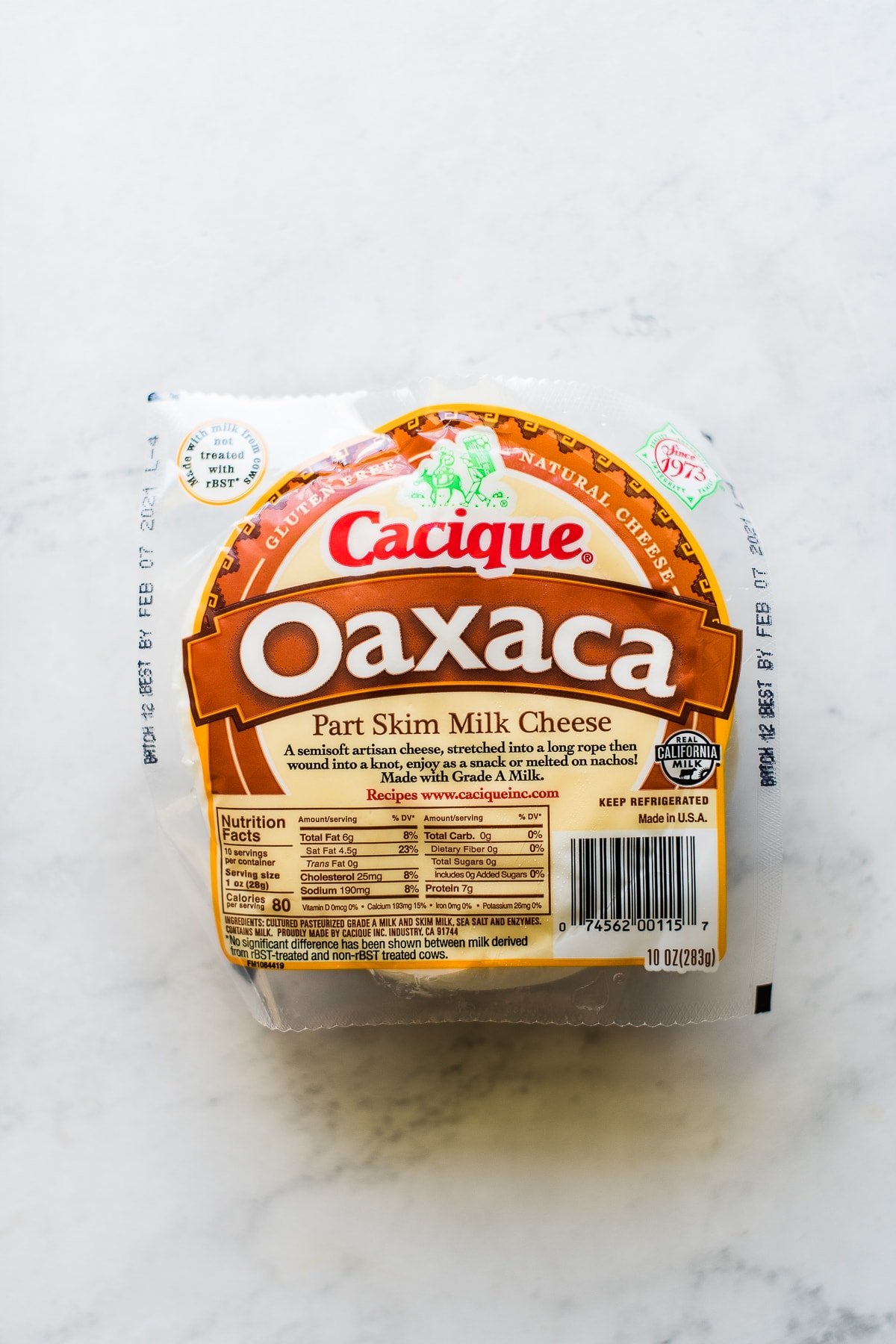 Serving Suggestions
Oaxaca cheese shreds just like mozzarella does. Because it melts easily and holds its shape generally well, it's often the go-to cheese for baked dishes.
It's commonly used for making chile rellenos, cheese quesadillas, nachos, and chicken enchiladas. You can use it instead of mozzarella in most dishes and in any recipe that calls for a melty and stretchy cheese.
It's also a common choice in cheese dips. If you've ever ordered queso fundido at a Mexican restaurant, chances are you've encountered this cheese!
Because of its mild flavor, it's very kid-friendly cheese and makes a great option for snacking.
For the ultimate gooey cheese pull experience, try using it on pizza or in a grilled cheese sandwich.
Where to Find it
Because of its popularity, Oaxaca cheese can now be found in many large grocery store chains and smaller hispanic specialty grocers here in the U.S.

You can usually find in the specialty cheese section or in the refrigerated cheese aisle.
Though it's typically sold in a ball form, you may also find it pre-shredded in bags.
Substitutes for Oaxaca cheese
A common substitute is asadero cheese which is from the northern part of Mexico in the state of Chihuahua.
If you can't find asadero, other good substitutes are mozzarella, Monterey jack, or Muenster which are all widely available in the U.S..