Jump to Recipe
These Mexican Chorizo Cotija Stuffed Pretzel Bites are the ultimate irresistible appetizer and salty snack for your next party and get-together.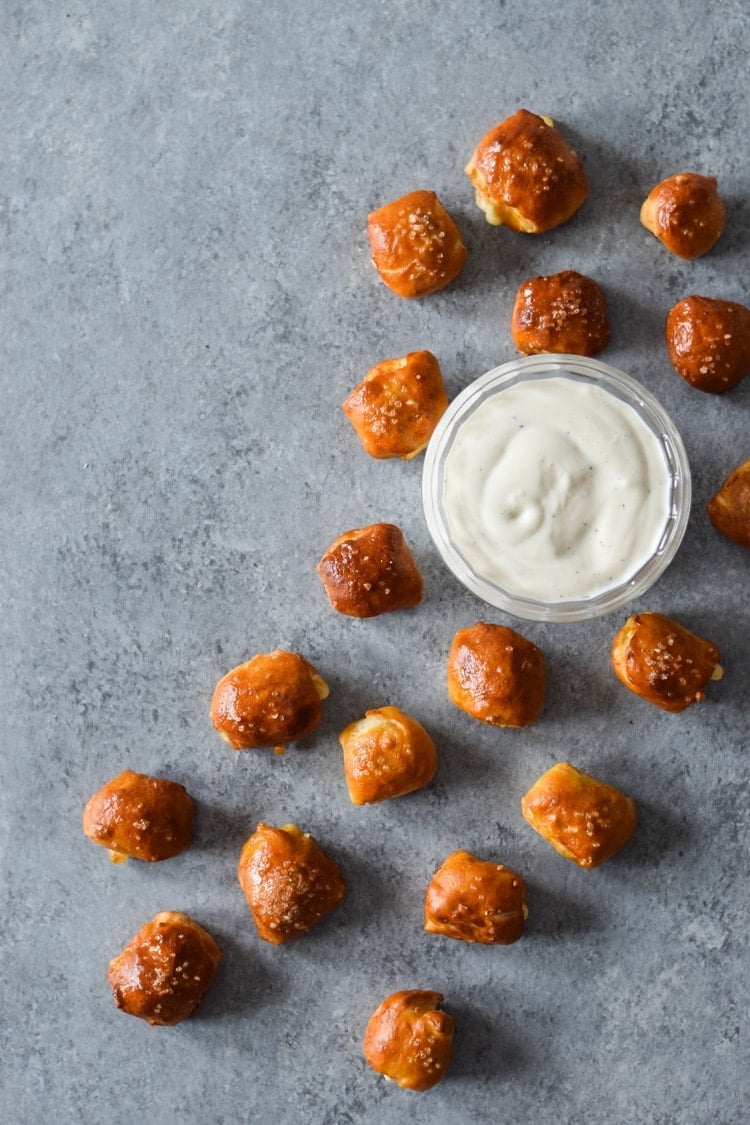 It's true what they say – once you pop, you seriously can't stop.
Before you scroll down and decide that you need these in your life like right this second, you've got to be prepared to make a couple batches of these pretzel bites. Stuffed with salty cotija cheese and crumbled Mexican chorizo, I promise you these babies will be gone in the blink of an eye.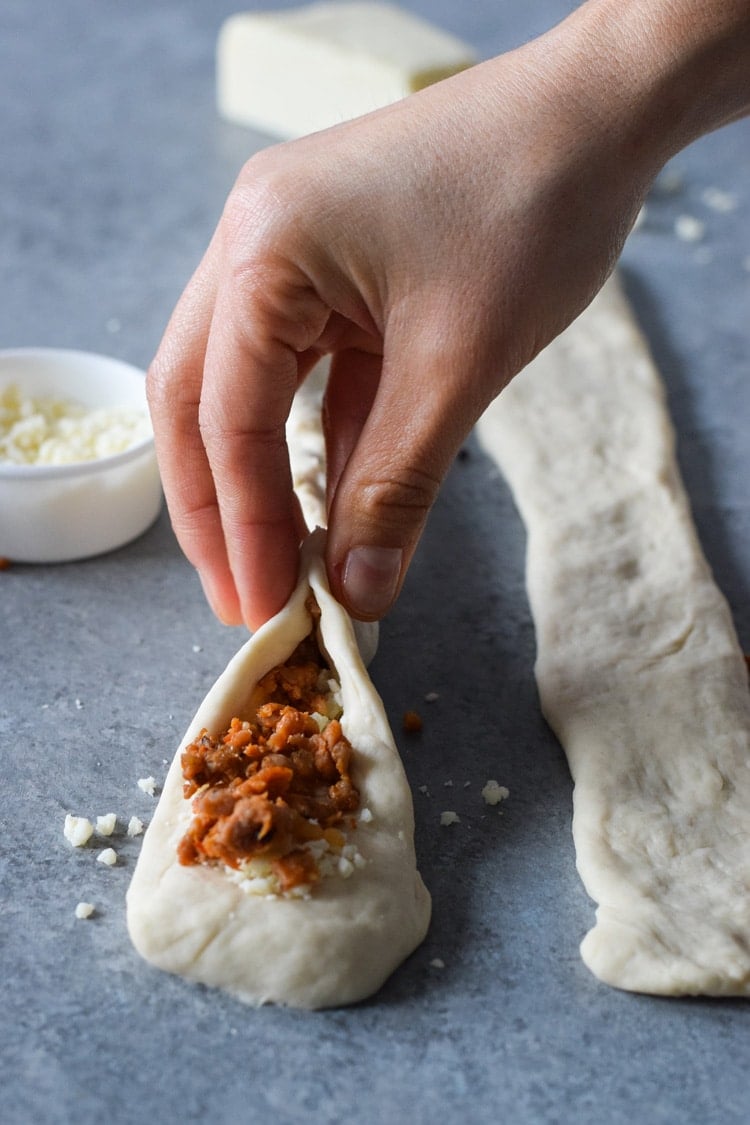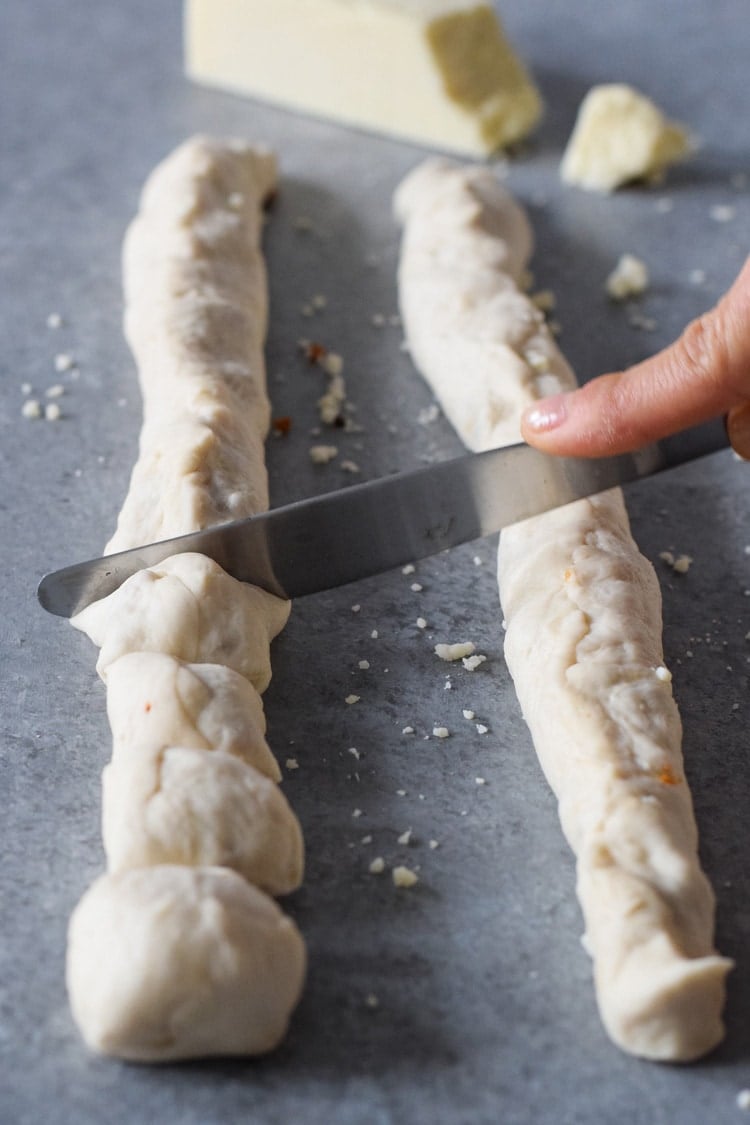 First thing's first – they're easy to make. They do require a lot of steps, but it's not anything too difficult. And surprisingly, making them is actually kind of fun! This is my first time making my own pretzels, and the only knowledge I really had came from my experience of staring at the pretzel makers behind the counter at Auntie Anne's.
Those guys are seriously talented! They swing that pretzel dough around like it's nobody's business. And they're super quick, too. I don't know how they do it, but they sure are inspiring. I was definitely channeling my inner Auntie Anne's pretzel maker while working on this recipe.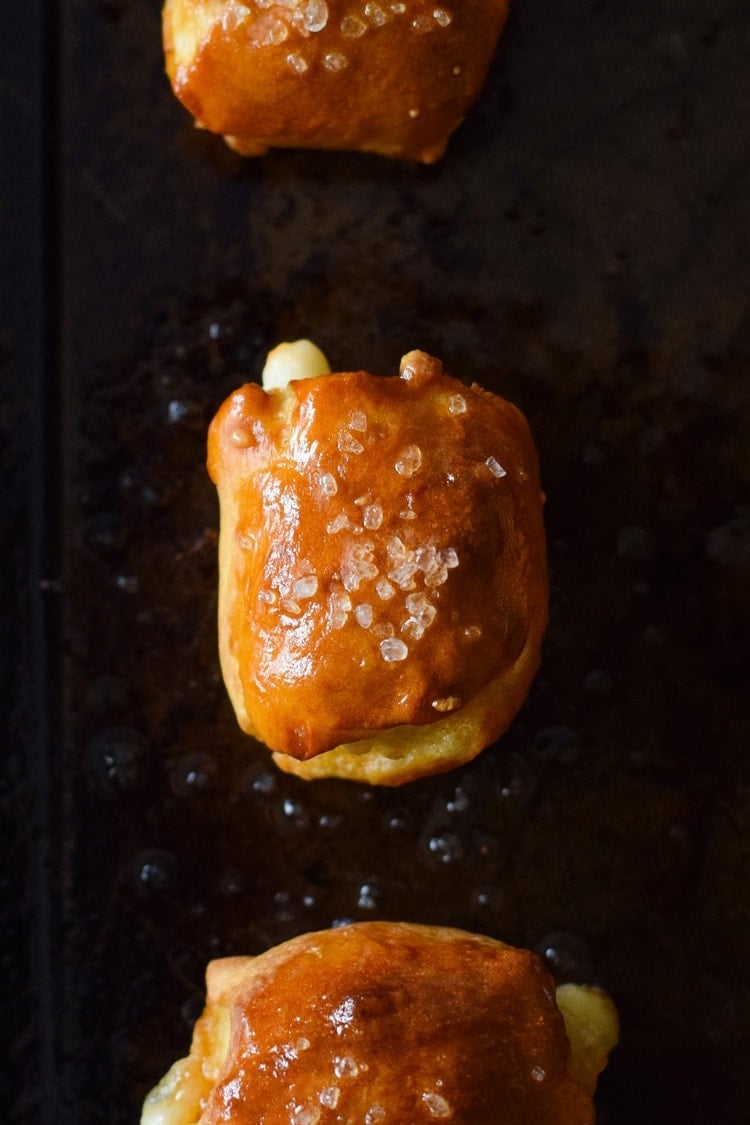 The only part of the process that you really need to pay attention to is pinching together the pretzel dough and properly securing the filling so that it doesn't accidentally rip open and fall out.
The trick is to use your index finger and thumb to firmly press together the two sides of the dough until there's no longer a seam.
Two doughs become one. A marriage of sorts.
(John and I went to our first pre-marriage class last night and I've got random marriage clichés on the brain. I can't help myself.)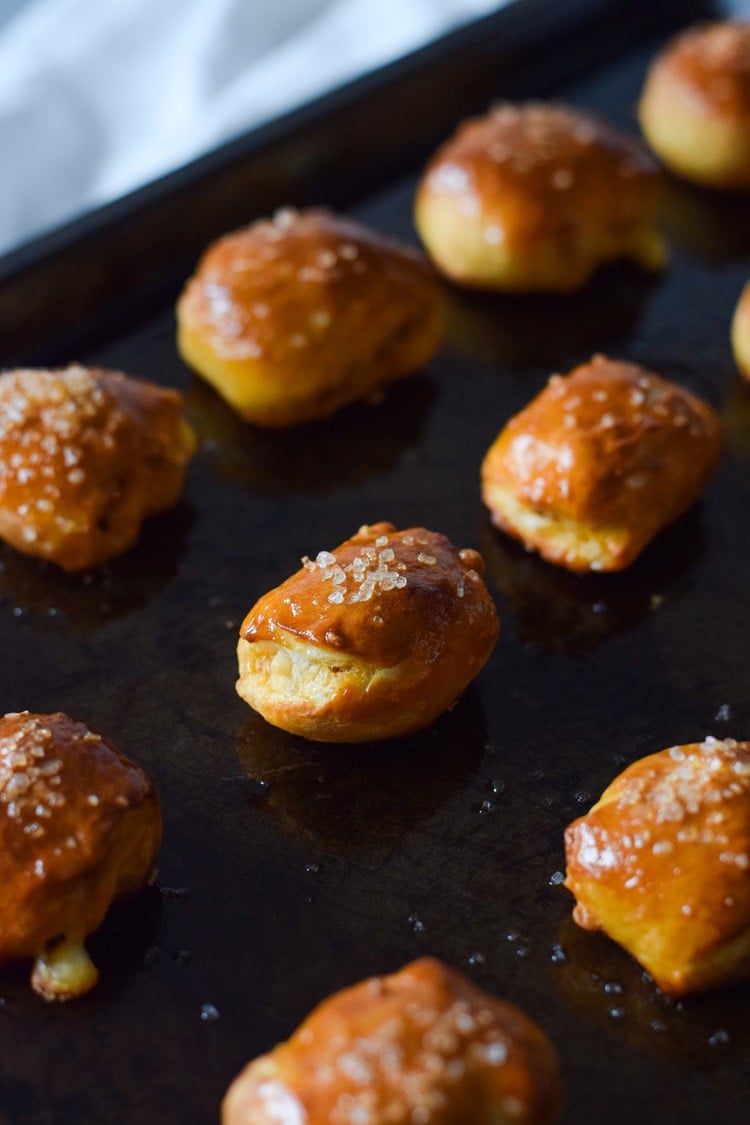 One of my favorite things about these stuffed pretzel bites? They're perfect for dipping!
When I made them, I dipped them in some ranch dressing. I'm obsessed with the stuff, but I know that everybody isn't. If you're not, I highly recommend eating it with a cheese sauce like this slow cooker Salsa Verde Queso Dip recipe or this Jalapeno Beer Cheese Soup!
A match made in heaven.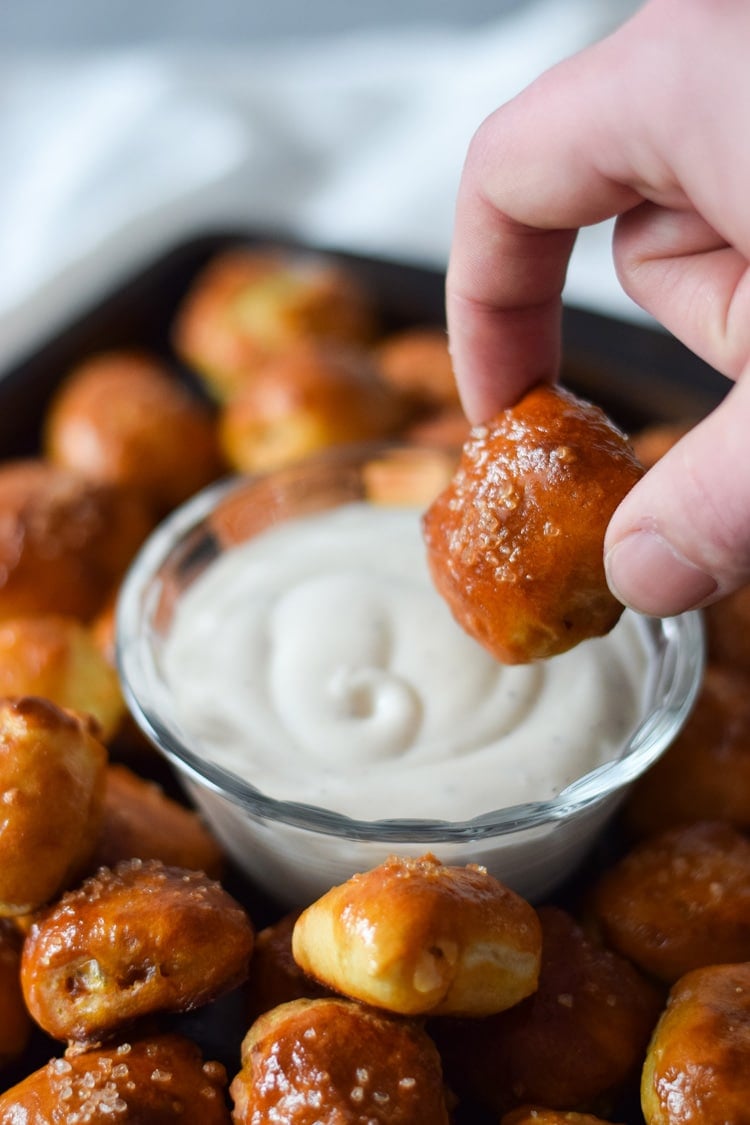 More recipes you'll love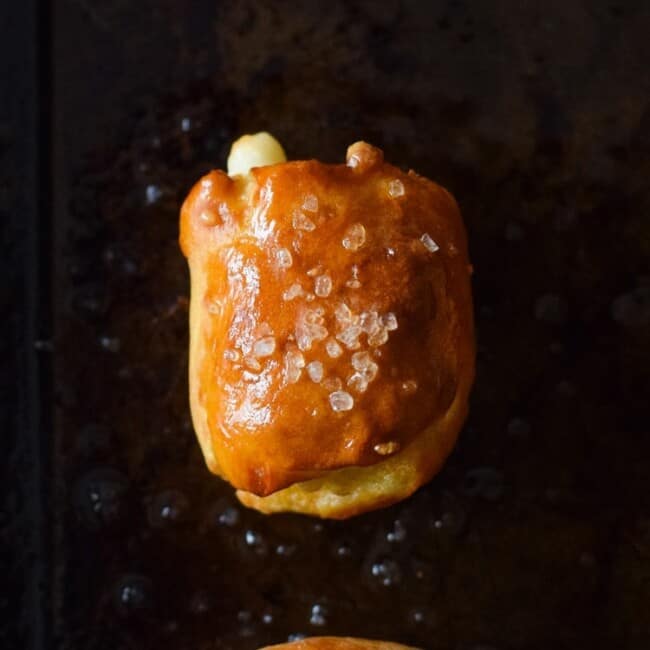 Prep: 50 minutes
Cook: 15 minutes
Total : 1 hour 5 minutes
These Mexican Chorizo Cotija Stuffed Pretzel Bites are the ultimate irresistible appetizer and salty snack for your next party and get-together.
Ingredients
For the topping
1 cup boiling water
2 tablespoons baking soda
2 tablespoons unsalted butter, melted
Instructions
For the dough
Place all of the ingredients for the dough into a bowl and mix until well-combined. Knead the dough by hand for about 5 minutes, until it's soft, smooth, and slightly sticky. If dough is too sticky, add in a tablespoon of flour and mix until it gets to the right consistency.

Place the dough in a large bowl and cover it with a clean cloth napkin. Let it rest for 30 minutes. While it's resting, prepare the filling and the topping.

After the dough is finished resting, preheat the oven to 400 degrees. Line 2 large baking sheets with parchment paper and set aside. Transfer the dough onto a lightly greased work surface and divide it into two equal pieces.

Roll the pieces of dough into long ropes about 3 inches wide and thick enough that it can withstand the weight of some filling, about a little less than 1/4th of an inch thick.

Layer the crumbled cotija cheese and the chorizo into the middle of each long rope of dough, leaving some room on the edges.

Carefully pinch together the sides of the rope using your fingers. Make sure the sides are completely secure and as closed as possible. Some filling may fall out. That's okay! Just stuff it back in or let it fall out and keep going.

When both ropes of dough have been pinched together, carefully cut each rope into 14-16 bites. Then pinch together the ends of all the pretzel bites to make sure all of the filling is secured.

Transfer the pretzel bites into a large bowl or pan. Pour the baking soda solution on top of the bites and let them sit in the solution for about 15 seconds. Carefully remove them from the solution and place them onto the baking sheets. Lightly sprinkle pretzels with coarse sea salt.

Bake the pretzel bites for 12 to 15 minutes, until golden brown. Remove them from the oven, and brush the tops with melted butter. Sprinkle with more coarse sea salt if desired and enjoy!
For the filling
While the dough is resting, prepare the filling: remove casing from chorizo link and cook in small frying pan over medium-high heat.

Crumble into ground meat and transfer it into a small bowl lined with a paper towel to soak up any excess fat. Set aside.
For the topping
While the dough is resting, prepare the topping: combine the boiling water and baking soda. Stir until the baking soda is totally dissolved and set aside.