Jump to Recipe
These Cilantro Lime Roasted Chickpeas are a healthy and addicting salty snack with plenty of crunch to satisfy your snack cravings! (gluten free, vegetarian, vegan)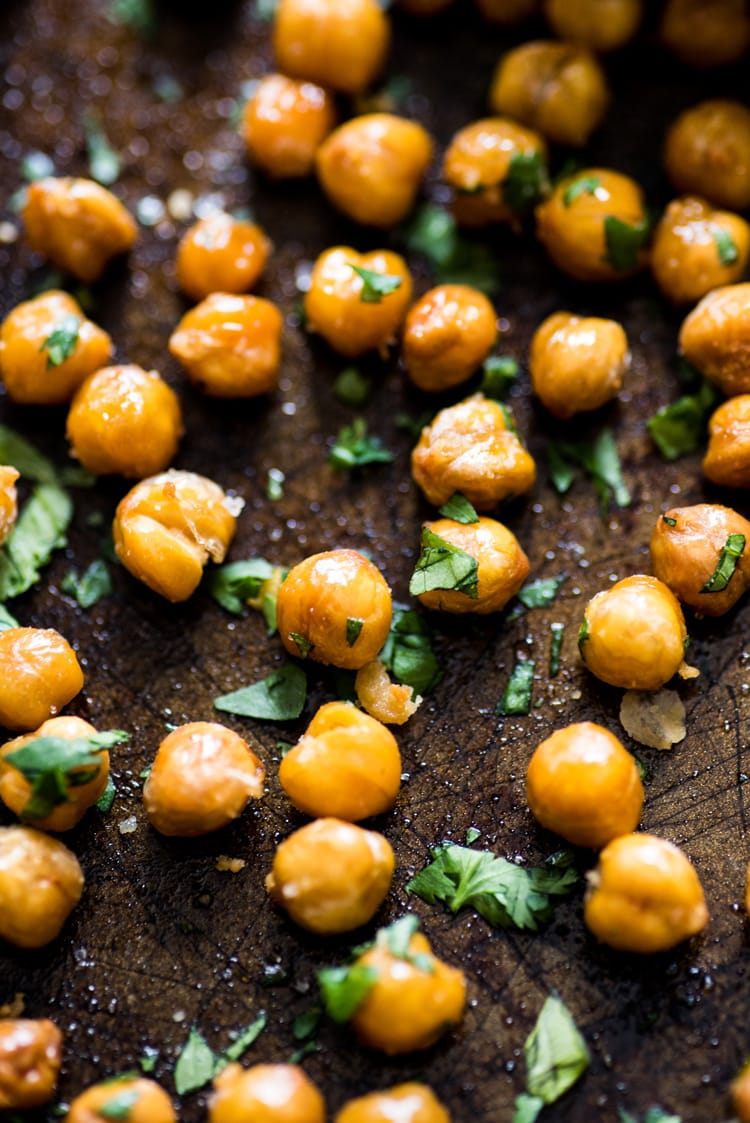 I am the queen of snacking. I'm a "no need for dinner, this bag of tortilla chips and salsa will do" kinda girl. Give me a bowl, a big bag of chips and I'll see you tomorrow. Buh-bye.
My kryptonite? Anything crunchy and carby. And fatty. And super salty. Basically all the salt.
But I just can't hang like I used to. I don't know if it's because I'm getting older (almost 30, baby!), if it's because I haven't been as active as I'd like to be, or a combination of the two, but I have seriously been feeling the effects of food and alcohol on my body like I never have before.
An extra glass of wine on a Wednesday? Only one serving of veggies for the entire day? One too many handfuls of Cheetos (aka the entire bag)? I totally feel all of those the next day. I'm sluggish, I feel puffy, I may have a headache or I may be ravenous the next day.
I can't be doing that anymore, at least not as often.
My solution? Find an alternative that still satisfies all the things I want, but is just a better option for me.
*Hint* These Cilantro Lime Roasted Chickpeas fit the bill.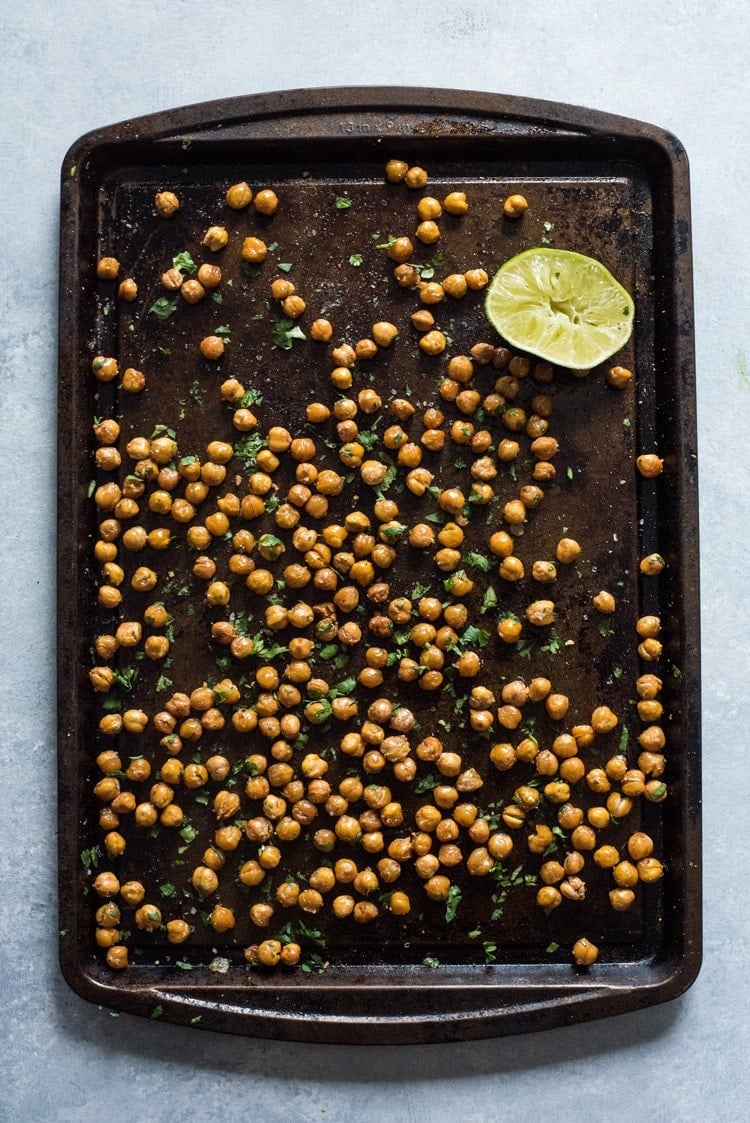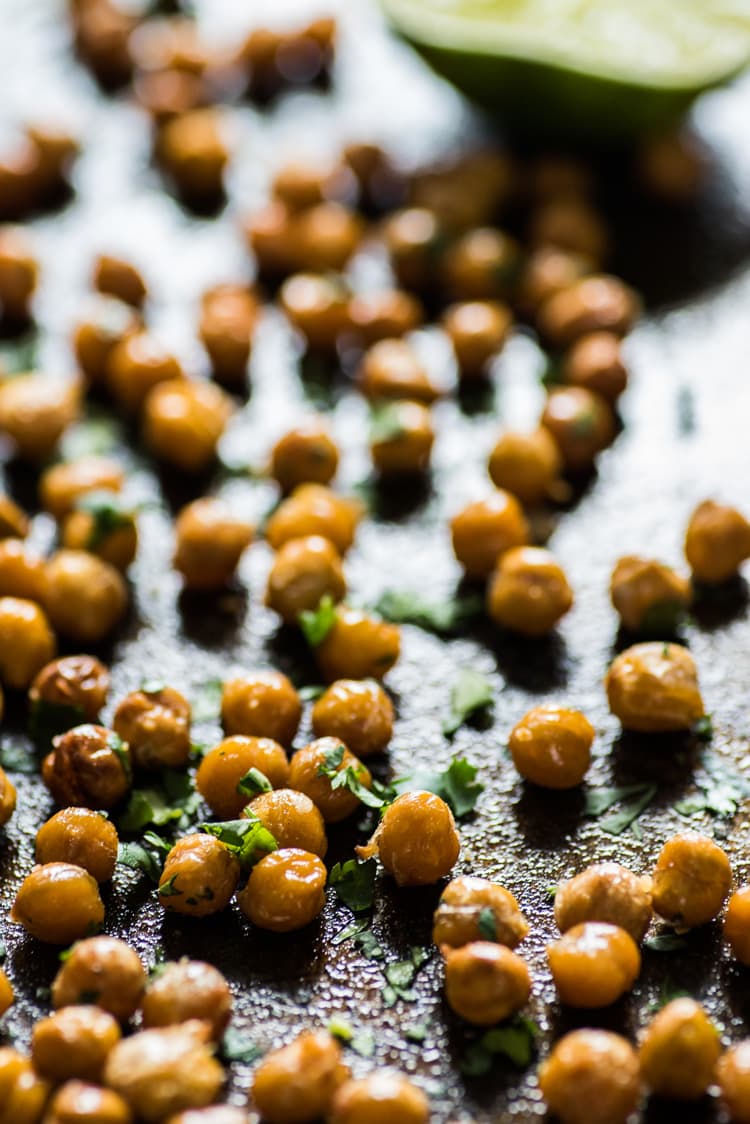 They're crunchy, they're salty, they're packed full of bright and tangy flavor thanks to the freshly squeezed lime juice and chopped cilantro and most importantly, they satisfy all my chip cravings. Impressive.
All of that AND they're freakin' easy to make.
Video: Cilantro Lime Roasted Chickpeas
I do have to give a word of warning, though – they're pretty darn addictive.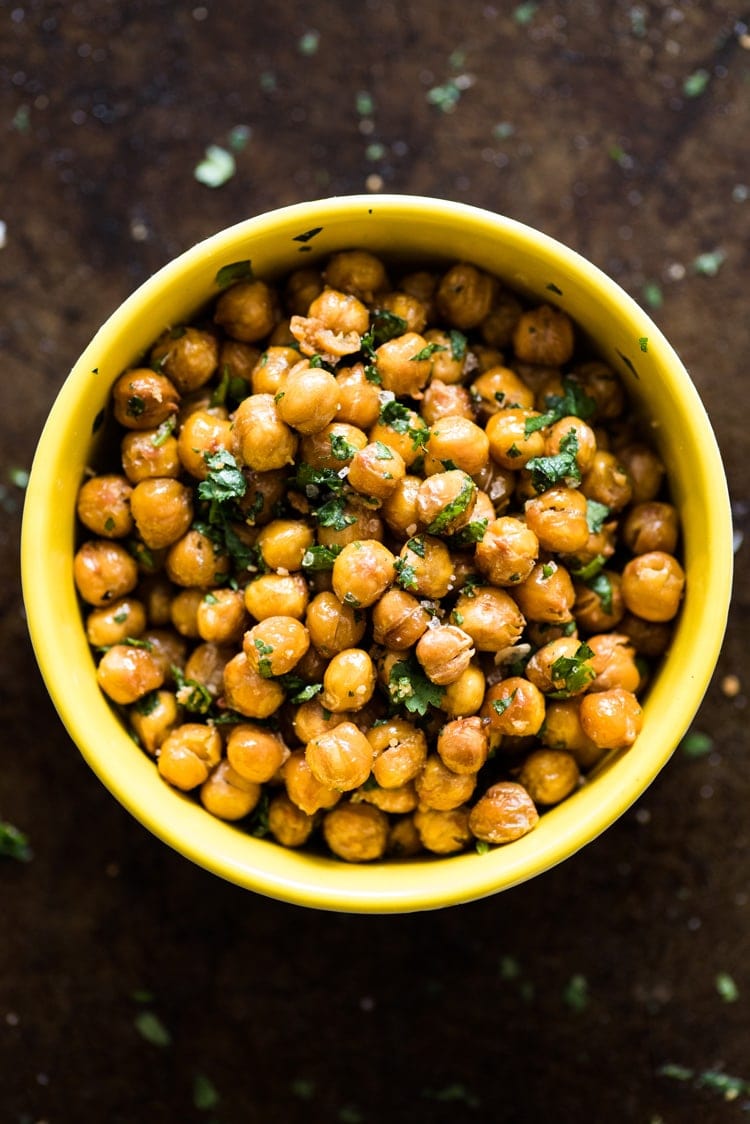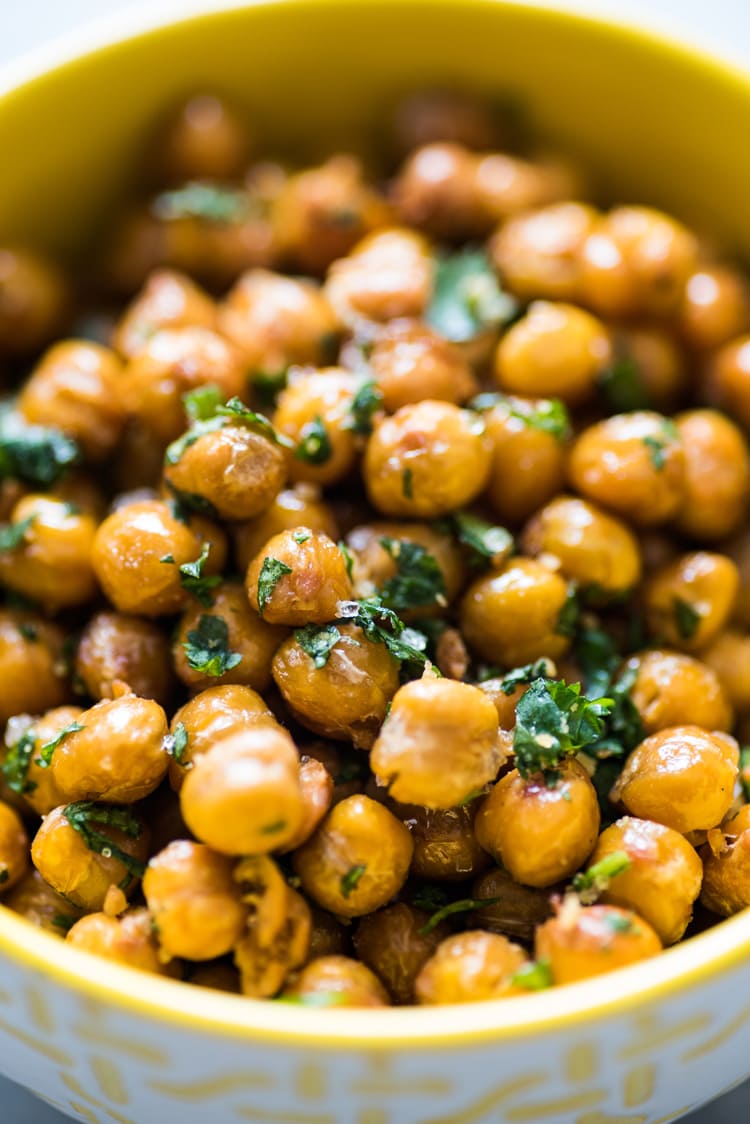 Life update: I went go kart racing for the first time ever this past weekend and I was terrible. Okay, maybe I'm slightly exaggerating, but not really because I was last in both of the races I was in.  And it wasn't like I was close behind anyone. I was laasstt. I think I got lapped 3 or 4 times. Needless to say, I don't think there's a career for me in racing anytime soon.
Maybe I'm just a safe driver and like to take it slow?
Says the girl who was in a rollover car accident in college.
I think I'll just stick to food blogging for now.
Looking for other snack recipes? Try these!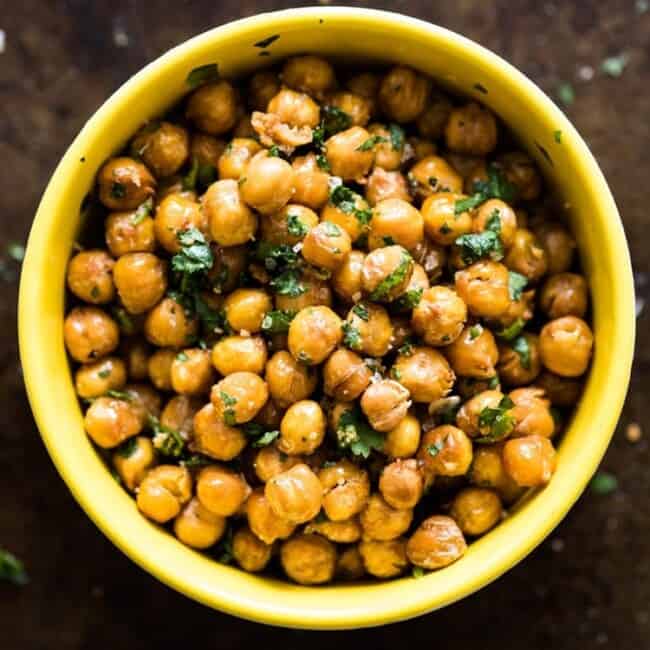 Prep: 10 minutes
Cook: 30 minutes
Total : 40 minutes
These Cilantro Lime Roasted Chickpeas are a healthy and addicting salty snack with plenty of crunch to satisfy your snack cravings! (gluten free, vegetarian, vegan)
Ingredients
1 15-ounce can chickpeas, drained and rinsed
1 tablespoon olive oil
salt, to taste
2 tablespoons finely chopped cilantro
1/2 lime, juiced
Instructions
Preheat the oven to 400°F. Thoroughly dry rinsed chickpeas by patting them dry with a dish towel or thick paper towel. Remove and discard any chickpea shells that become loose.

Spread chickpeas evenly onto a baking sheet. Add olive oil and mix using fingers until chickpeas are thoroughly coated. Sprinkle chickpeas with a pinch of salt.

Bake for 30 to 40 minutes, checking every 15 minutes to make sure chickpeas are browning evenly. Remove from oven when chickpeas are a light golden brown.

Let roasted chickpeas cool for 5 minutes. Add cilantro, lime juice and mix together. Add more salt if necessary.
Isabel's Tips:
Leftovers can be stored in an airtight container in your pantry.
Nutrition Information
Calories: 257kcal (13%) Carbohydrates: 37g (12%) Protein: 12g (24%) Fat: 9g (14%) Potassium: 22mg (1%) Fiber: 11g (44%) Vitamin A: 50IU (1%) Vitamin C: 9.9mg (12%) Calcium: 80mg (8%) Iron: 3.2mg (18%)