These Homemade Lime Tortilla Chips are crunchy, salty, easy to make and are baked with a hint of lime for a nice little zesty kick. They've taken my chips and salsa game to a whole new level! Perfect on their own as a snack or with some guac or salsa as an appetizer.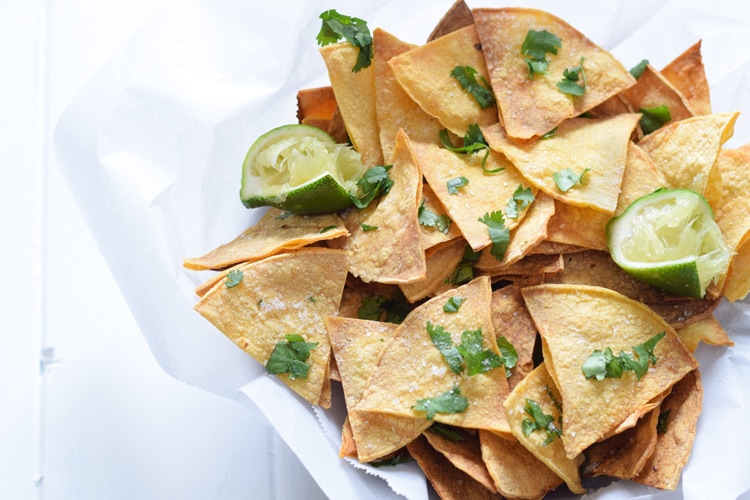 These Homemade Lime Tortilla Chips have taken my chips and salsa game to a whole new level. These crunchy, salty goodies are easy to make and are baked with a hint of lime for a nice little zesty kick. I love serving them with some freshly chopped cilantro and a bowl of my easy guacamole for a perfect appetizer.
I like to call myself the chip queen.
Partly because I love trying new chips whenever I see a brand or flavor I've never had, but mostly because I'm addicted to them. It takes a significant amount of willpower for me to not finish an entire bag in one sitting, which I'm sure many of you can relate to.
They're just so freaking good!
But instead of fighting my desire for my favorite snack, I'm embracing it. Hell, we only live once! Plus, it's true what they say – the more you try to restrict or resist something, the more you want it. So I say bring it. I'm diving in mouth first.
Here's how to easily make your own Homemade Lime Tortilla Chips.
First you're going to need some corn tortillas. I prefer the yellow corn variety, but white corn works just as well. For this recipe, I used these store bought Mission yellow corn tortillas I purchased at my local grocery store, but if you want everything to be 100% homemade, go for it! Here's a recipe for my easy 3-Ingredient Authentic Mexican Corn Tortillas.
Once you have your tortillas, cut them into sixths to make little triangle wedges.
Place them on a baking sheet sprayed with olive oil, lightly spray the tops with more olive oil and season with salt and the juice of 1/4 of a lime.
If you're not a fan of using the store bought oil spray bottles, I highly recommend getting a refillable oil sprayer that you can use with your favorite high quality olive oil. The Misto and the Evo are two really great options.
Bake in a 350 degree oven for 10 to 15 minutes, rotating the baking sheets halfway through, until the tortilla chips are beautifully brown and crunchy.
Once they're baked, sprinkle some more juice from a 1/4 of a lime and top with chopped cilantro and salt as needed.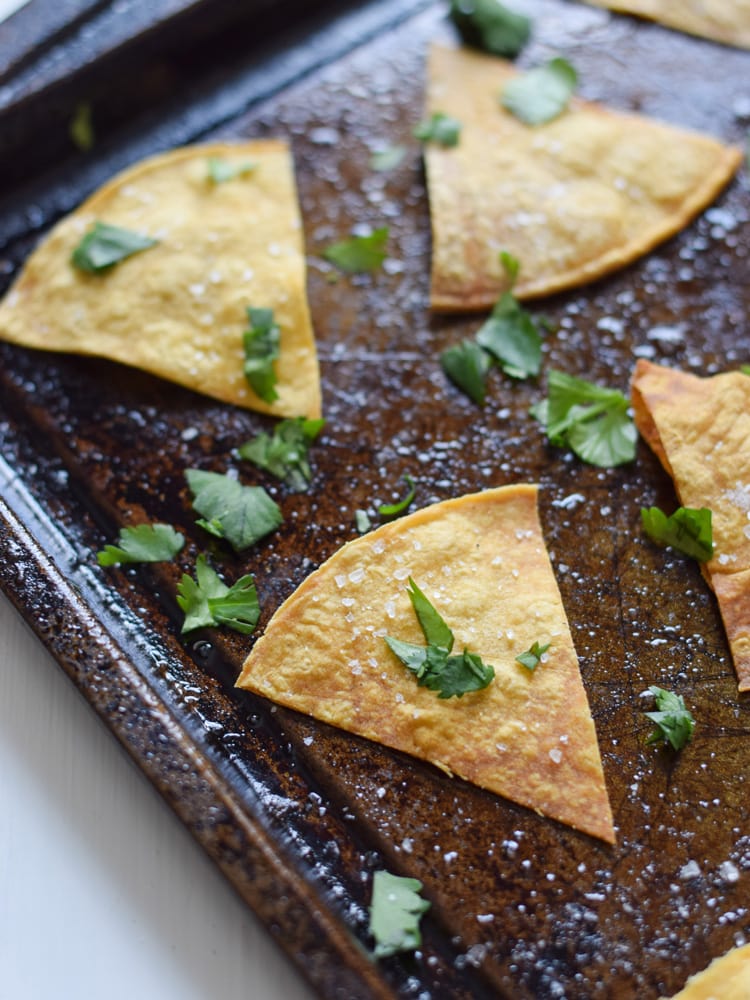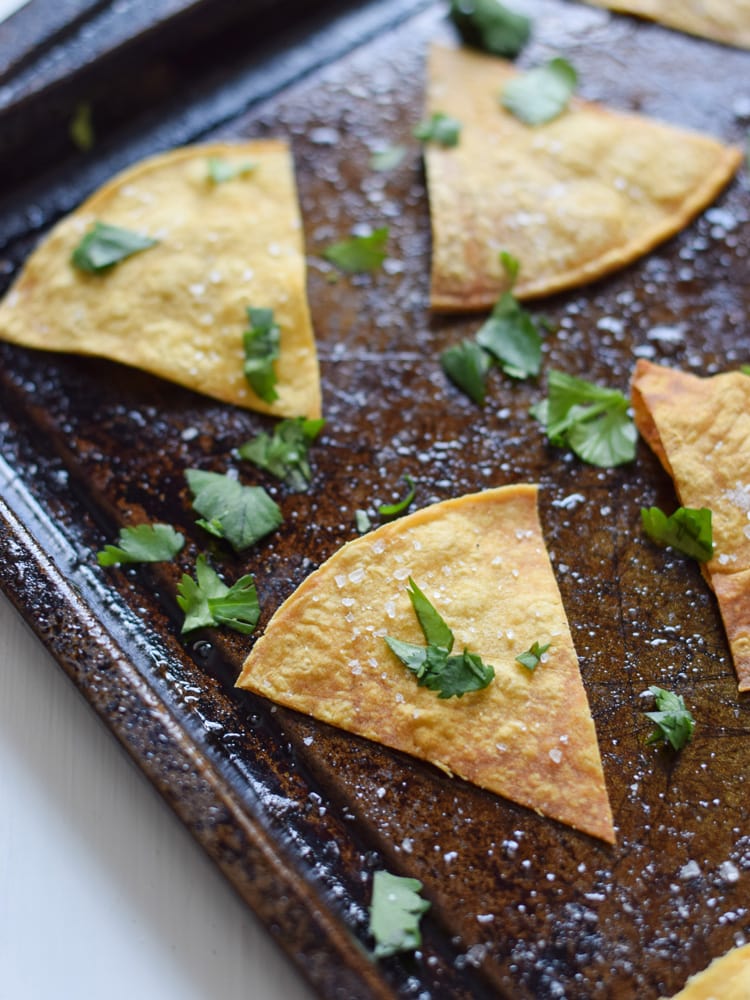 These tortilla chips didn't last very long in my house.
John and I demolished them pretty quickly.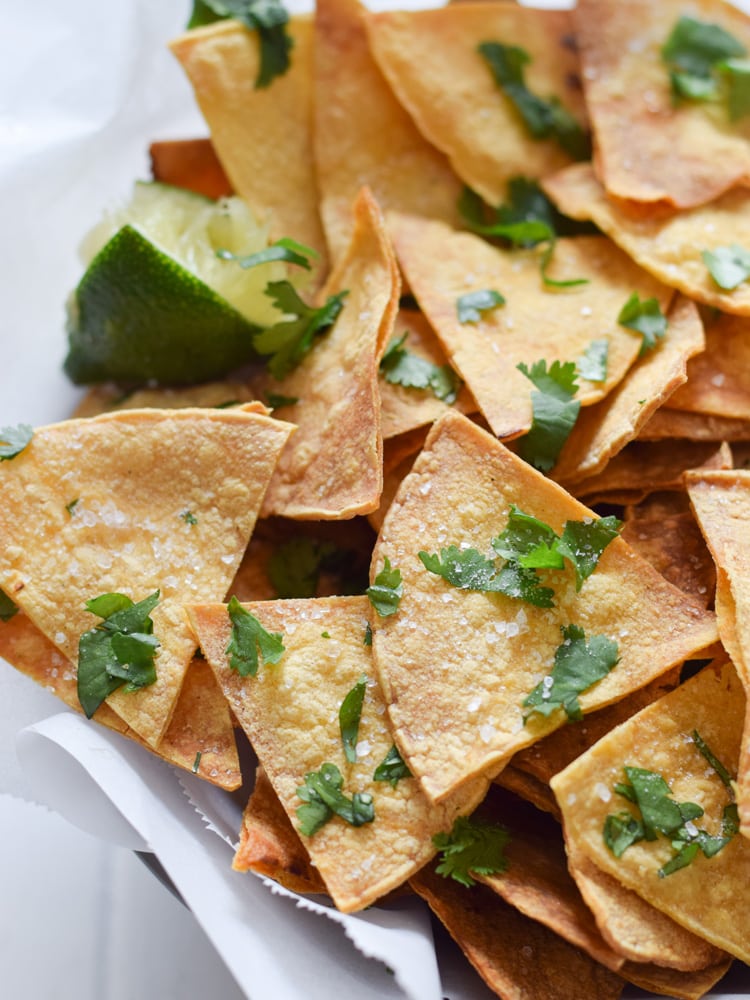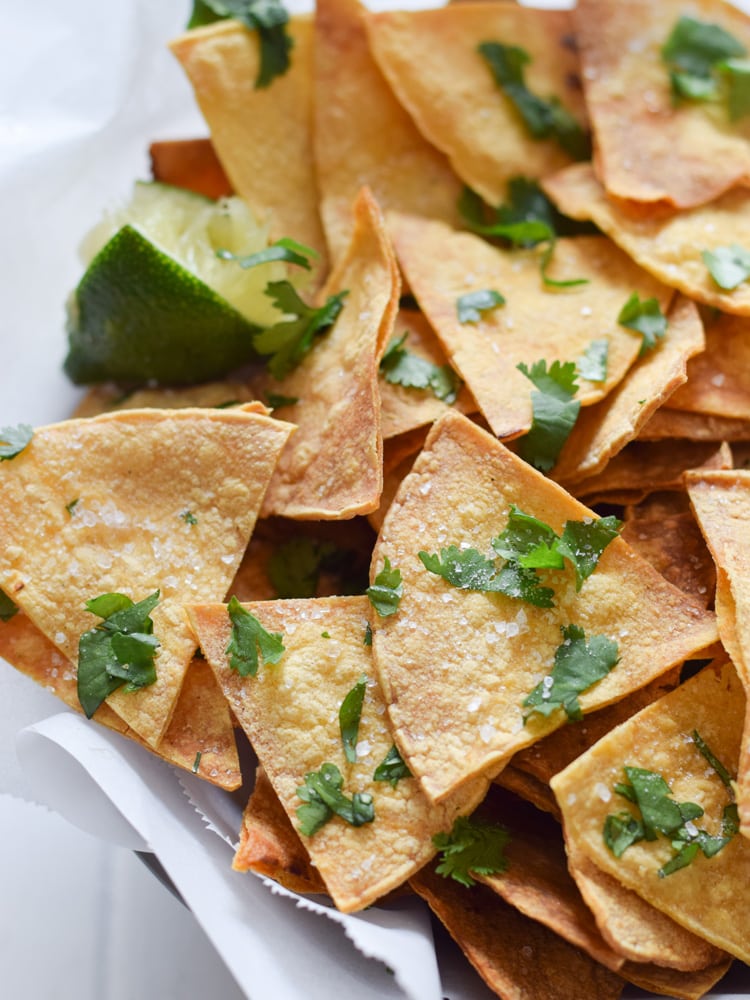 If you're looking for some ideas on what to serve these with, here are a few options from the blog.
Or you could also eat them all by themselves like I did. The lime juice and cilantro add enough flavor to make them shine with or without anything else.
Also, I had no self control.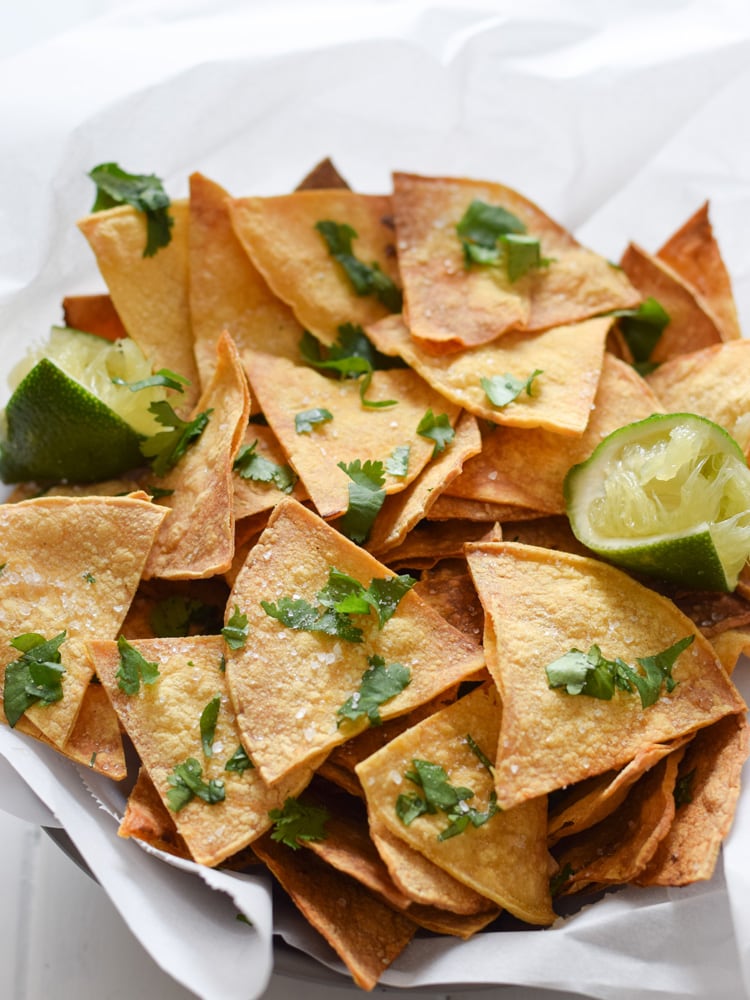 If you make this recipe, let me know in the comments below or snap a photo and tag me @isabeleats on Instagram!
Ingredients
12

thin corn tortillas

yellow or white corn

1/2

Lime

Cilantro

finely chopped

Coarse sea salt

Olive oil spray or olive oil
Instructions
Preheat oven to 350°F. Set out two to four large baking sheets and spray with olive oil cooking spray (or grease with olive oil).

Make two stacks of tortillas and cut each stack into 6 wedges.

Spread tortilla wedges in a single layer on baking sheets, lightly spray with olive oil cooking spray (or brush with olive oil), sprinkle juice of 1/4 lime and top with coarse sea salt.

Bake until golden brown, about 10 to 15 minutes, rotating baking sheets halfway through baking time.

Remove from oven and sprinkle with remaining juice of 1/4 lime and more sea salt if desired. Serve immediately and enjoy!
Notes
Baked tortilla chips can be stored in an airtight bag for three to five days.
LIKE THIS HOMEMADE LIME TORTILLA CHIPS RECIPE? LET ME KNOW IN THE COMMENTS BELOW!
This page contains affiliate links. If you make a purchase on Amazon after clicking one of my links, I may receive a small commission. The price of the item stays the same and any money I make goes to supporting this blog. I only endorse products and services that I fully believe in.
Get my most popular recipes sent to you for FREE!
Sign up for the weekly newsletter and receive this free ebook featuring the most viewed Isabel Eats recipes of 2017! Sign up and download the free ebook today.