Jump to Recipe
These Easy Pumpkin Empanadas are the perfect handheld fall and winter treat stuffed with a delicious pumpkin filling and wrapped in a sweet pastry dough.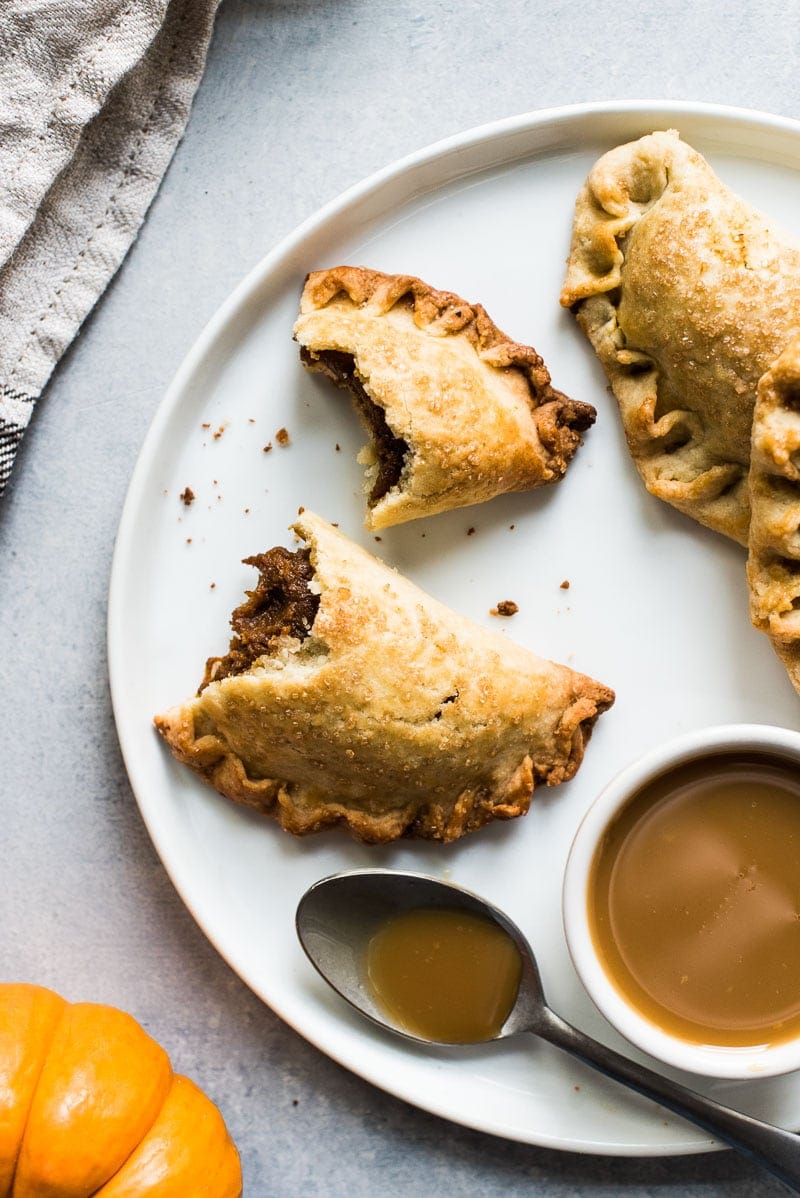 Pumpkin season is still going strong and I'm keeping it going with these pumpkin empanadas! I grew up eating empanadas around the holidays and they're one of my favorite things to make every year. Typically my family makes savory empanadas that are fried, but I decided to go a different route and make dessert empanadas instead! (Check out my baked apple empanadas, too!)
Since this recipe makes 16 empanadas, I gave my husband half of them to take to his work office and everybody loved them. These little babies were an absolute hit!
What are empanadas?
Empanadas are a Latin-American dish made from baked or fried dough that's stuffed with a savory or sweet filling. They're sometimes called turnovers or pasties.
Pumpkin Empanada filling
The filling is a sweet and spiced pumpkin filling made from canned pumpkin puree, dark brown sugar and holiday spices like cinnamon and cloves. To add a little more depth of flavor to the filling, I mixed in some fresh orange juice and orange zest to help cut some of the sweetness.
The filling can be made up to one week ahead of time and kept in an airtight container until you're ready to use it.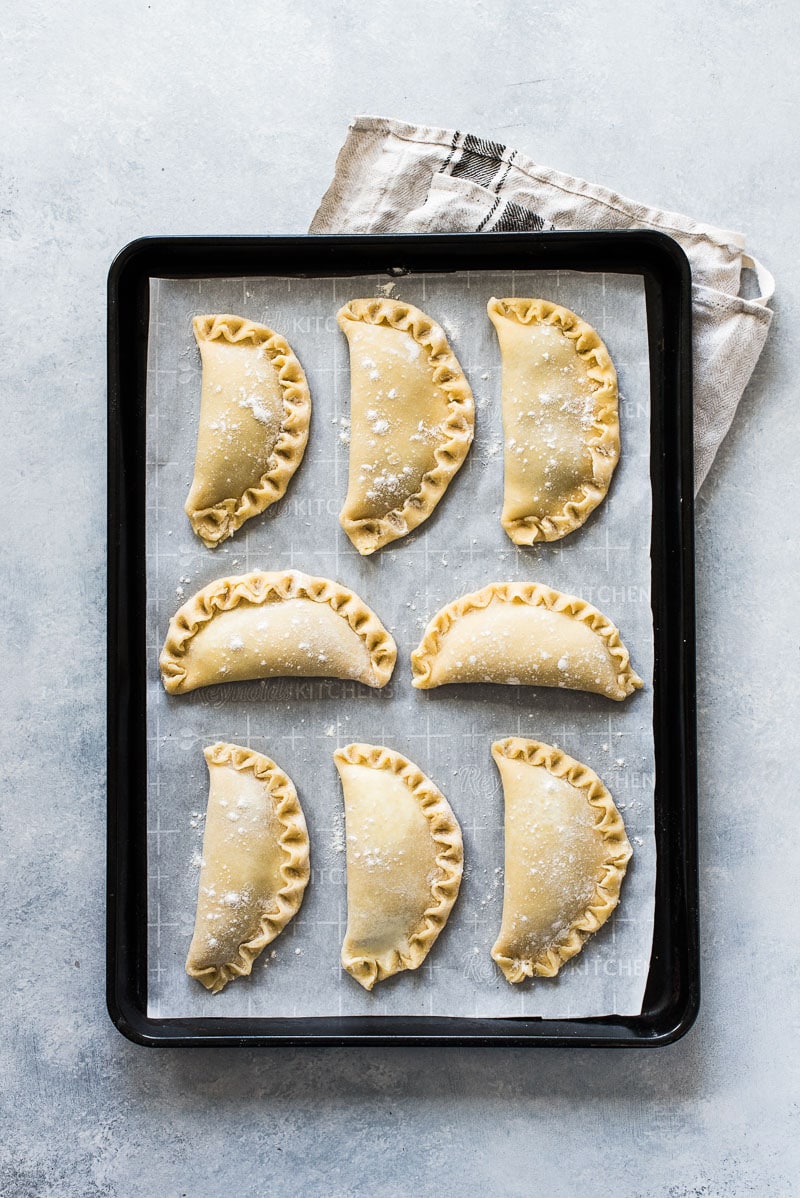 Sweet empanada dough
The empanada dough is a sweet, buttery pastry dough made from flour, eggs, butter and sugar. It comes together easily in a food processor and then is kneaded into a big ball on a floured work surface. Next, you'll need to separate the dough into 16 pieces, roll each piece into a flat disk and then chill in the fridge for 15 minutes.
Luckily, the dough can also be made ahead of time and kept in the fridge overnight or in the freezer for up to a month. Then, when you're ready to use it, simply remove it and let it thaw. Making the dough ahead of time can be especially helpful if you're making more than one batch for a party or family gathering.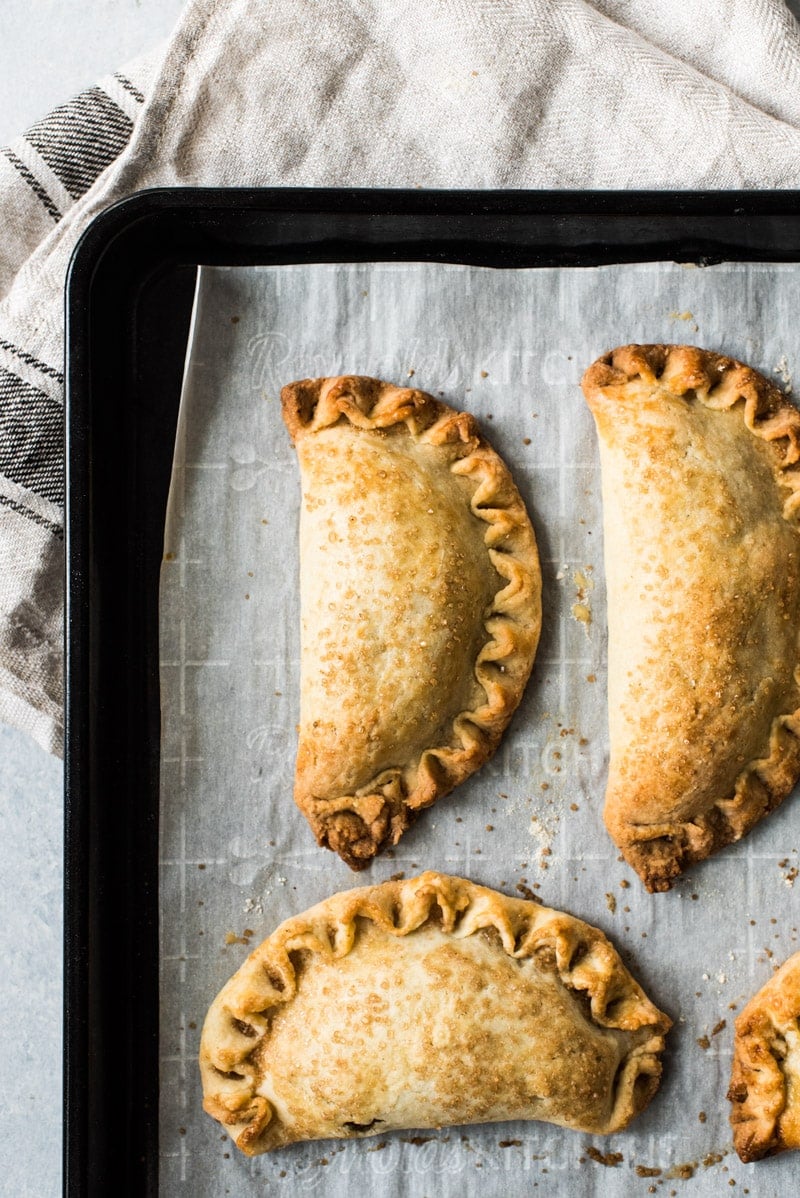 My favorite way to enjoy these baked empanadas are with a big glass of milk and a drizzle of cajeta or dulce de leche. Talk about indulging for the holidays!
But I don't regret a second of it. 🙂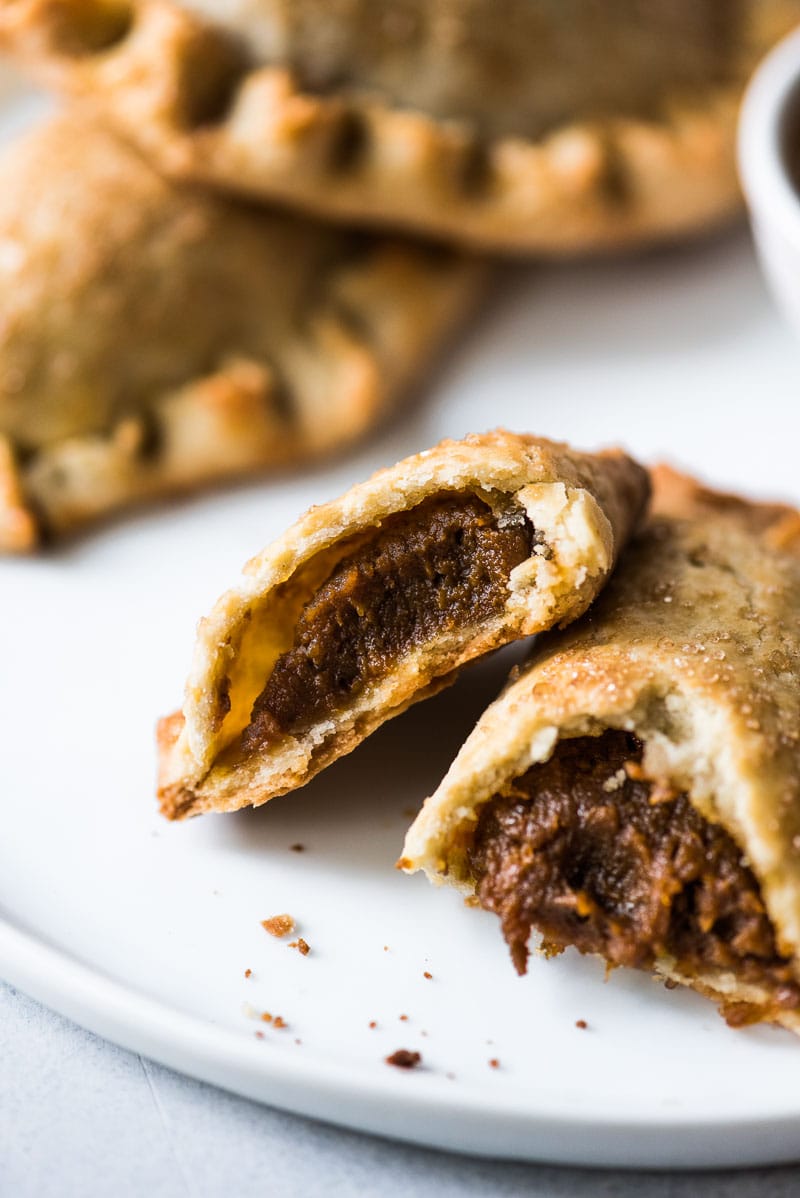 Like these pumpkin empanadas? Here are more pumpkin recipes you might like!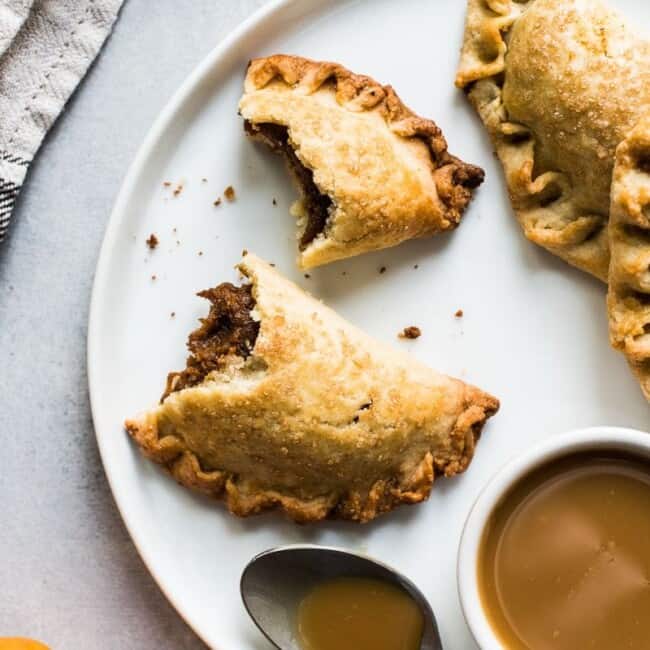 Prep: 1 hour 15 minutes
Cook: 40 minutes
Total : 1 hour 55 minutes
These Easy Pumpkin Empanadas are the perfect handheld fall and winter treat stuffed with a delicious pumpkin filling and wrapped in a sweet pastry dough. They're baked, not fried!
Ingredients
For the filling:
1 tablespoon butter
3/4 cup dark brown sugar
1 cup pure pumpkin puree (not pumpkin filling)
1 teaspoon vanilla extract
1 teaspoon ground cinnamon
1/8 teaspoon ground cloves
1 orange, zested plus juice of 1/2 orange
For the dough
3 cups all-purpose flour
1/2 cup sugar
1 pinch coarse kosher salt
2 sticks cold butter, grated using a cheese grater
2 large eggs
2 tablespoons cold water
1 large egg white
4 tablespoons turbinado sugar
Instructions
For the filling
Melt the butter in a small pot over medium-high heat. Add the brown sugar. Cook for 3 minutes, stirring often.

Add the pumpkin puree, vanilla extract, ground cinnamon, ground cloves, orange zest and orange juice. Stir together to combine and cook for 3 minutes, stirring occasionally.

Remove from heat and stir in orange zest and orange juice. Transfer filling to a medium bowl and let cool completely in the refrigerator. While the filling is cooling down, prepare the dough.
For the dough
In a food processor, mix together the flour, sugar and salt. Add the butter, eggs and water and pulse together until a clumpy dough forms. If not using a food processor, mix dry ingredients in a large bowl with a fork and use a

pastry cutter like this one

to incorporate the butter, eggs and water.

Transfer dough onto a floured work surface and knead into a ball. Cut into a total of 16 pieces. Roll each piece into a ball using the palm of your hands.

Working on your floured work surface, roll each ball into a flat disk about 6 to 7 inches in diameter using a rolling pin. Place disks onto a baking sheet covered in parchment paper.

To save room, I placed about 3 disks onto the parchment paper, placed another layer of parchment paper on top, and continued stacking disks onto the same baking sheet, making sure there's always parchment paper in between each layer so they don't stick together. Once all the disks are formed, cover baking sheet with plastic wrap and chill in the refrigerator for about 15 minutes.*

Preheat oven to 375°F. Continuing to work on a floured surface, place a heaping spoonful of filling onto each flattened dough disk. Fold one side over and pinch the sides together using your index finger until the empanada is fully sealed. You can also press the edges together using the tines of a fork instead of your fingers. As long as the empanadas are sealed, you're good to go.

Placed the filled and sealed empanadas onto 2 large baking sheets lined with parchment paper.

Brush the tops of the empanadas with the egg white and sprinkle with turbinado sugar. Bake for 25-30 minutes, until the pastry is lightly browned.
Isabel's Tips:
*Prepared filling can stored in an airtight container in the fridge for up to a week. Prepared dough disks can be stored in the fridge overnight or in the freezer for up to a month.
To save time, you can use store-bought frozen empanada disks like these found in the baking freezer aisle instead of making your own dough.
Nutrition Information
Serving: 1empanada Calories: 278kcal (14%) Carbohydrates: 37g (12%) Protein: 3g (6%) Fat: 13g (20%) Saturated Fat: 1g (5%) Polyunsaturated Fat: 0g Monounsaturated Fat: 0g Trans Fat: 0g Cholesterol: 25mg (8%) Sodium: 25mg (1%) Potassium: 21mg (1%) Fiber: 1g (4%) Sugar: 19g (21%) Vitamin A: 500IU (10%) Vitamin C: 1.7mg (2%) Calcium: 10mg (1%) Iron: 0.2mg (1%)