Jump to Recipe
These Easy Pumpkin Empanadas are the perfect handheld fall and winter treat stuffed with a delicious pumpkin filling and wrapped in a sweet and fluffy dough! Just like from your favorite Mexican panaderia, but at home!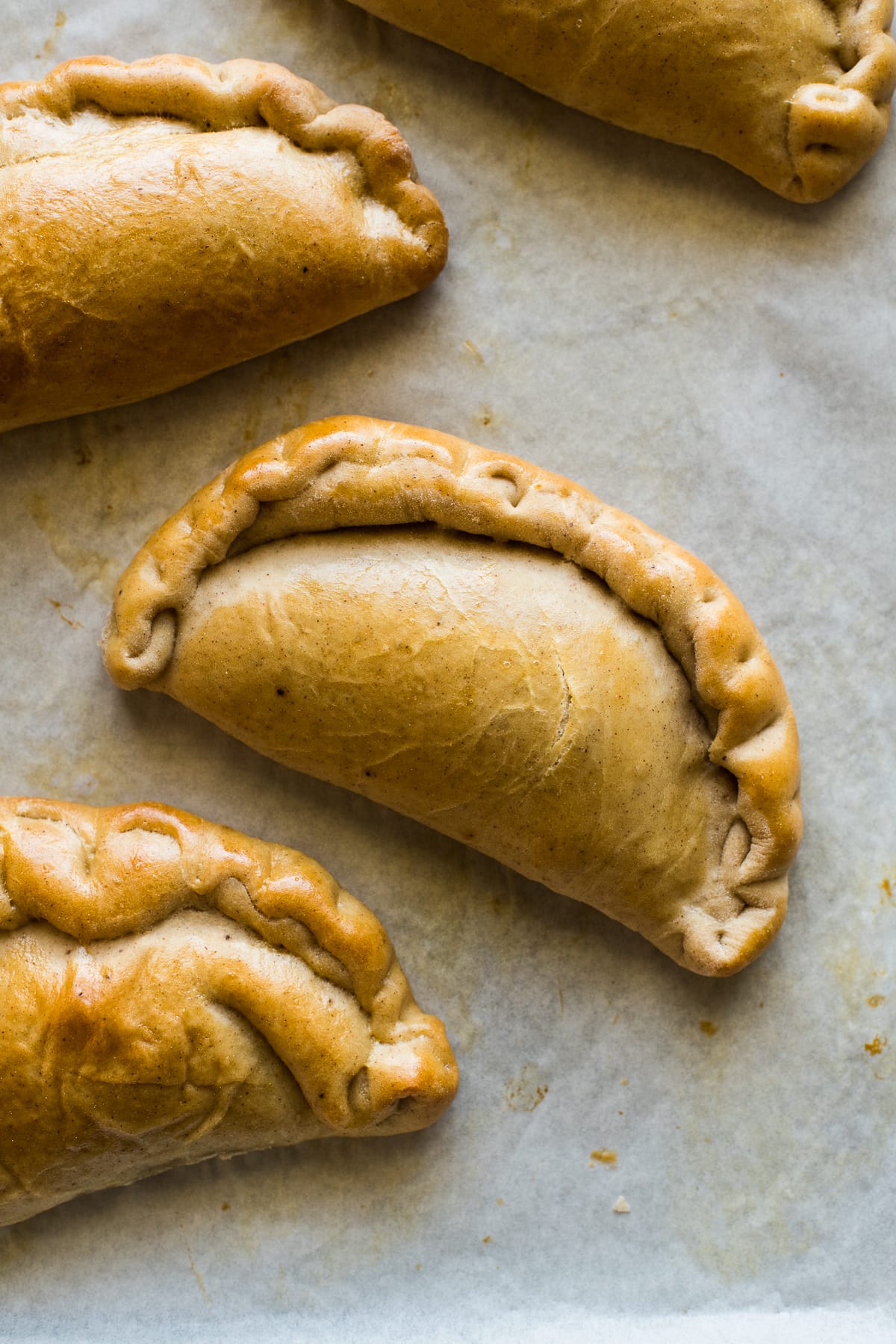 Pumpkin season is still going strong and I'm keeping it going with these pumpkin empanadas! I grew up eating empanadas around the holidays and they're one of my favorite things to make every year. Typically my family makes their famous sweet and savory empanadas and I recently posted a recipe for air fryer beef empanadas, so I decided to go a different route and make dessert empanadas instead!
What are empanadas?
Empanadas are a Latin-American dish made from baked or fried dough that's stuffed with a savory or sweet filling.
They're sometimes called turnovers or pasties and vary depending on where they're made.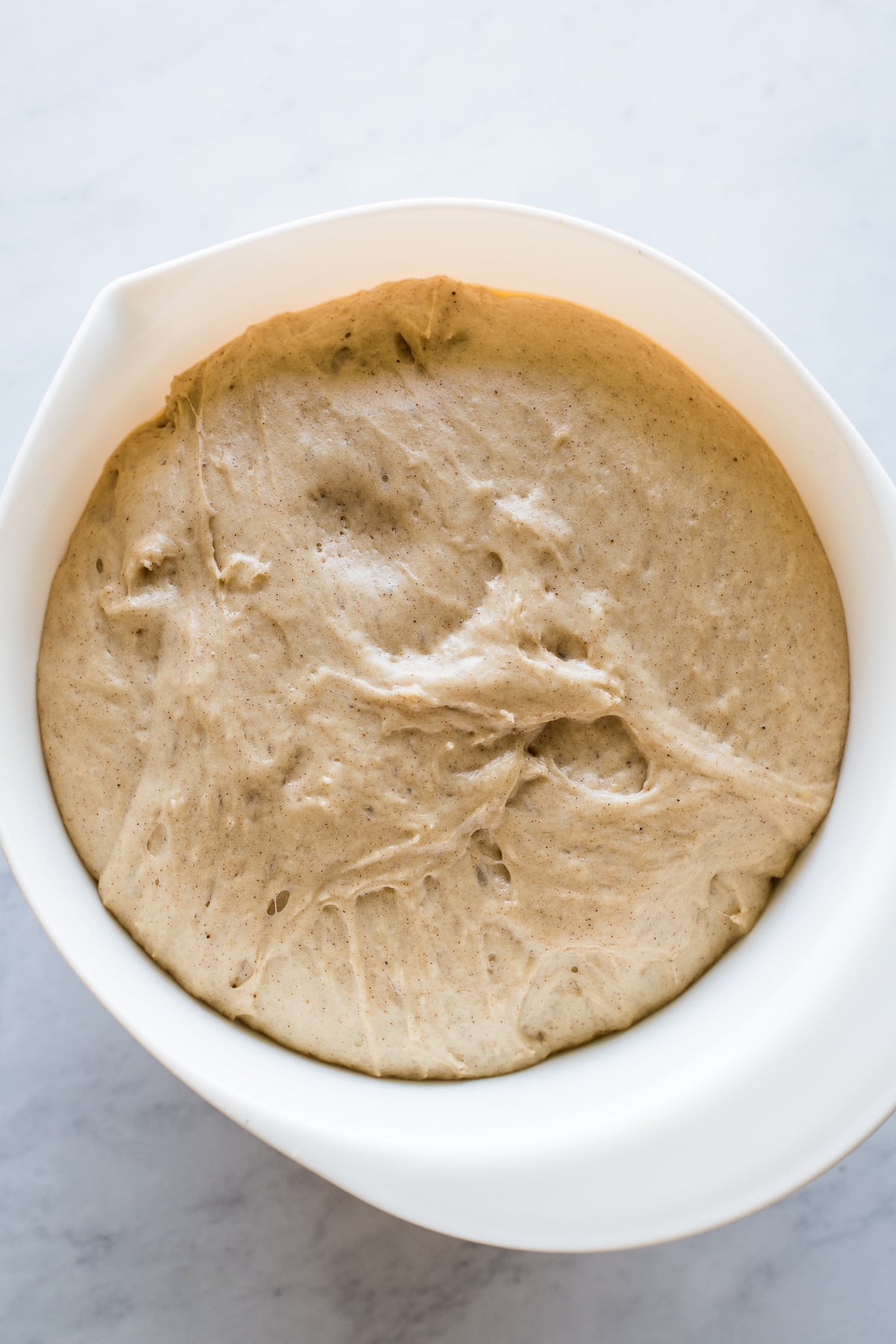 Soft empanada dough
This empanada dough is sweet and fluffy bready dough just like you would find at your local Mexican panaderia (or bakery in English). It's not a pastry or pie-like dough. It's made from flour, eggs, butter, sugar and a pinch of pumpkin pie spice for extra flavor.
It also uses yeast to create a beautiful light and fluffy texture. To make sure the yeast blooms correctly, keep the water temperature between 105°F-110°F, then add the sugar to help feed the yeast and give it the full 5 minutes to bloom.
If the dough is still stick after mixing, add 1 tbsp of flour at a time until it becomes a more tacky consistency.
To help the dough rise, a good trick is to place it in a warm place like on top of your fridge.I like to start my oven for about a minute or so and then turn it off and place the bowl inside to rise for 2 hours.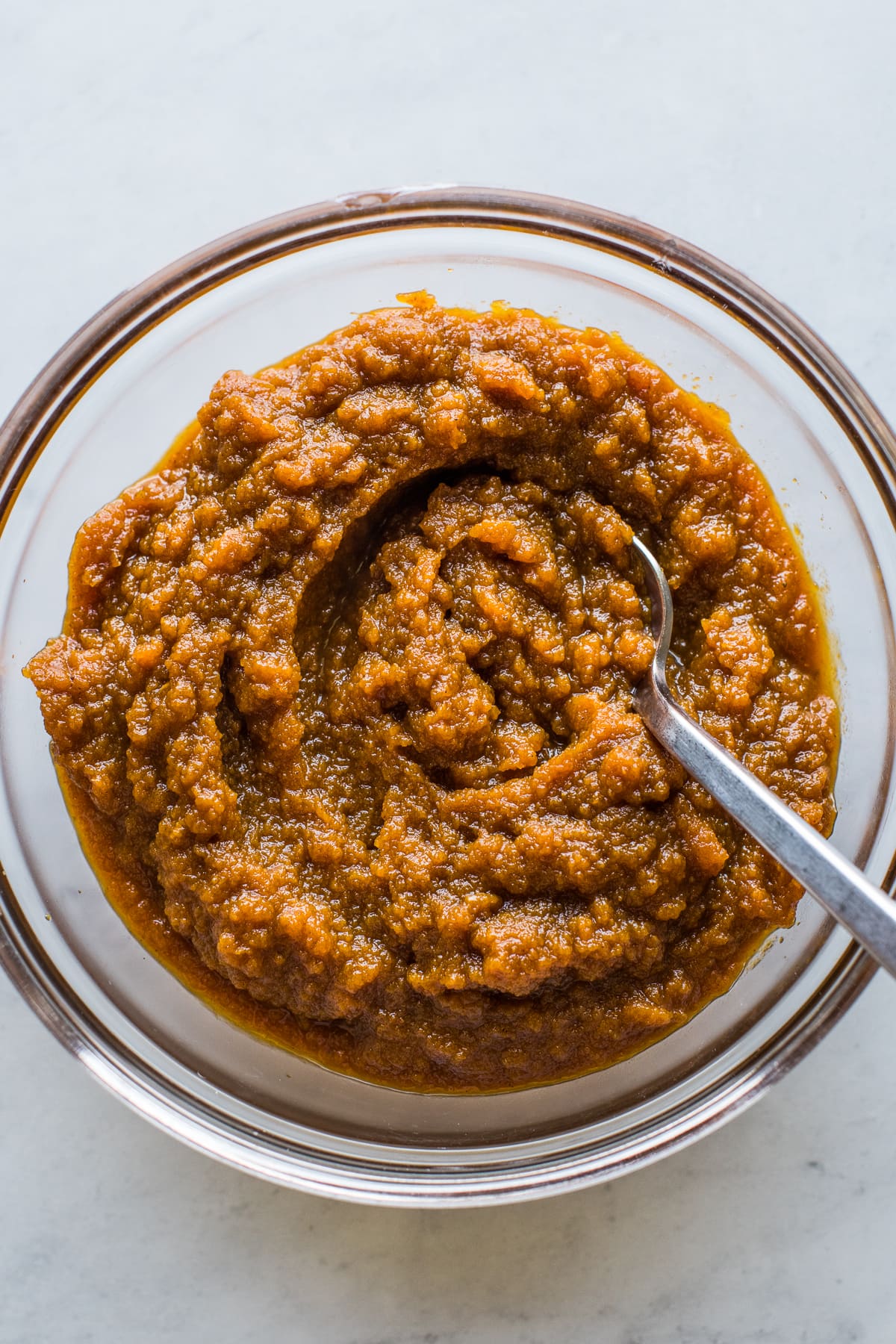 Pumpkin Empanada filling
The filling is a sweet and spiced pumpkin filling made from canned pure pumpkin puree (NOT pumpkin pie filling), dark brown sugar and pumpkin pie spice. Cook all these ingredients in a small saucepan over medium heat for about 3 minutes to really meld all the flavors together.
The filling can be made up to one week ahead of time and kept in an airtight container until you're ready to use it.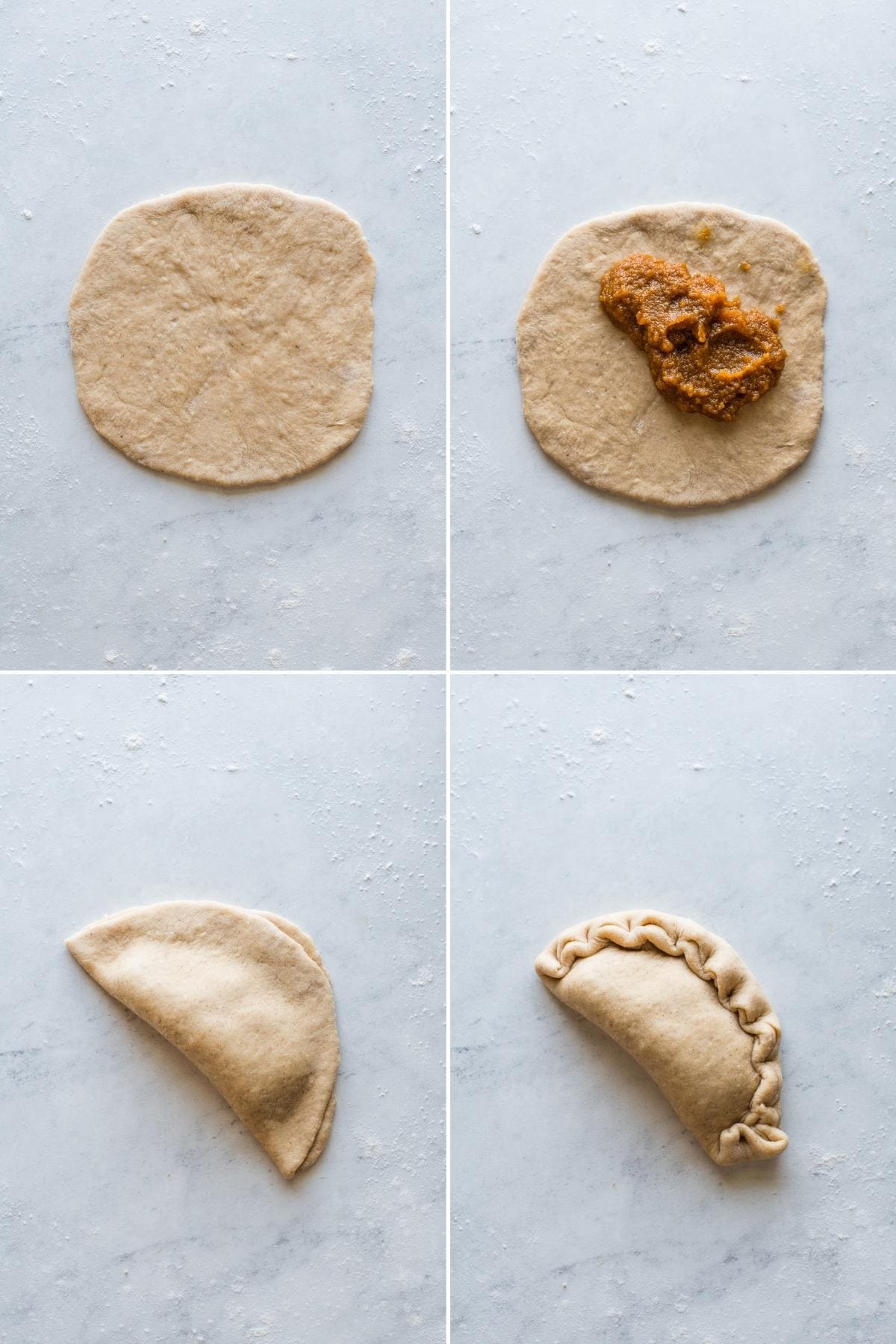 How to seal empanadas
Folding empanadas is probably a little intimidating if you've never done it before. But I promise that it's not very difficult!
Then to seal them closed, I like using the finger technique.
First, fold over the empanada dough and try to line up the edges if possible.
Then, using your index finger, fold the edge in a little and push your finger down to pinch it closed.
Continue moving down the edge and pinching it closed every half an inch or so until the entire empanada is sealed.
If you find this technique too difficult, you could also use the tines of and press down on the edges to seal them shut.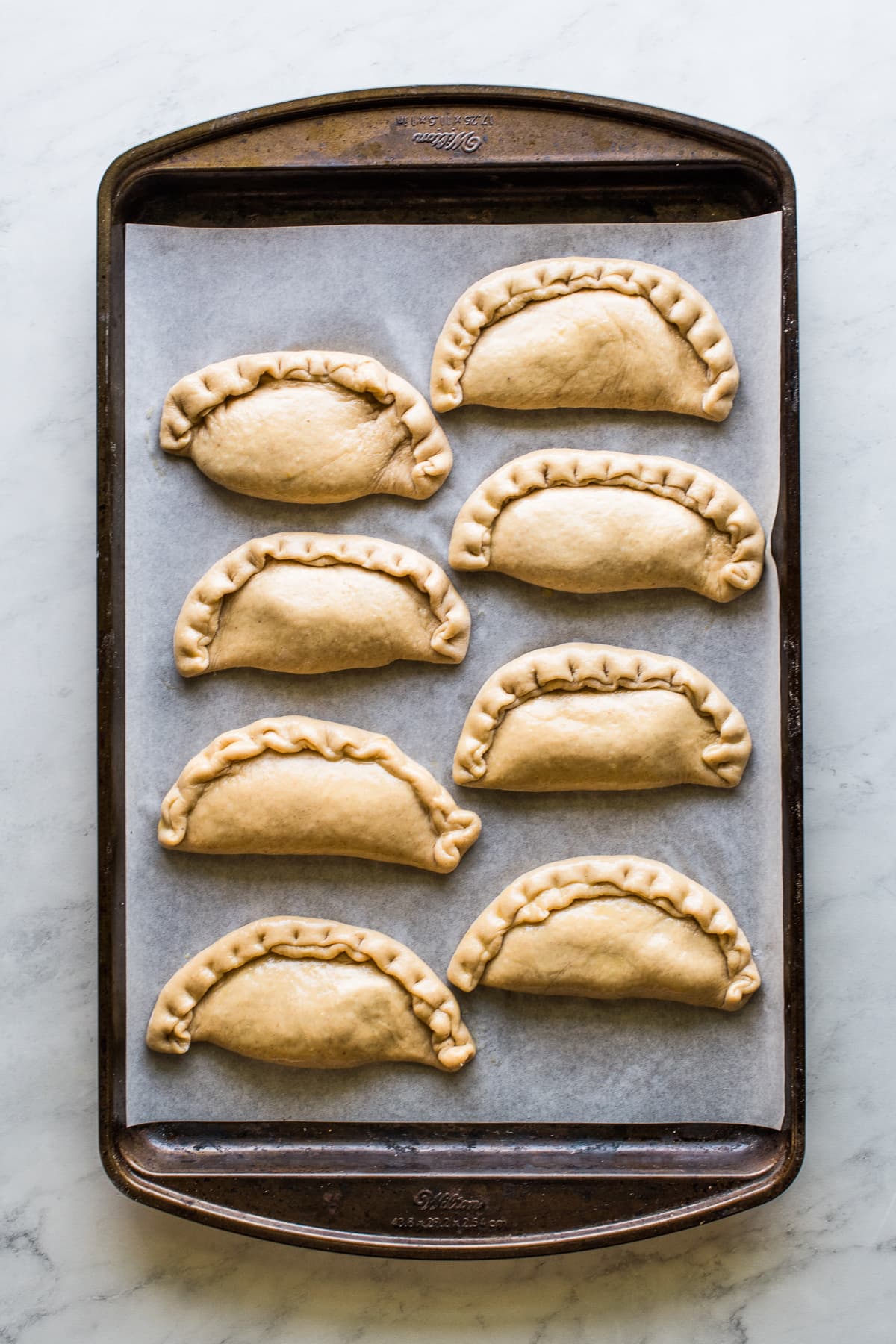 Once they're all sealed, transfer them onto a baking sheet lined with parchment paper and brush the tops with an egg wash. This will give them a shiny golden brown color!
Bake for 23-25 minutes at 350°F, until golden brown. Once they're done, let them cool on a cooling rack for up to 30 minutes to help set the filling and make them easier to handle.
Making Ahead and Storing
These empanadas are great to make ahead and keep well for up to a week in an airtight container.
You can store them covered on the counter or in the pantry for up to 2 days, or in the refrigerator for up to a week.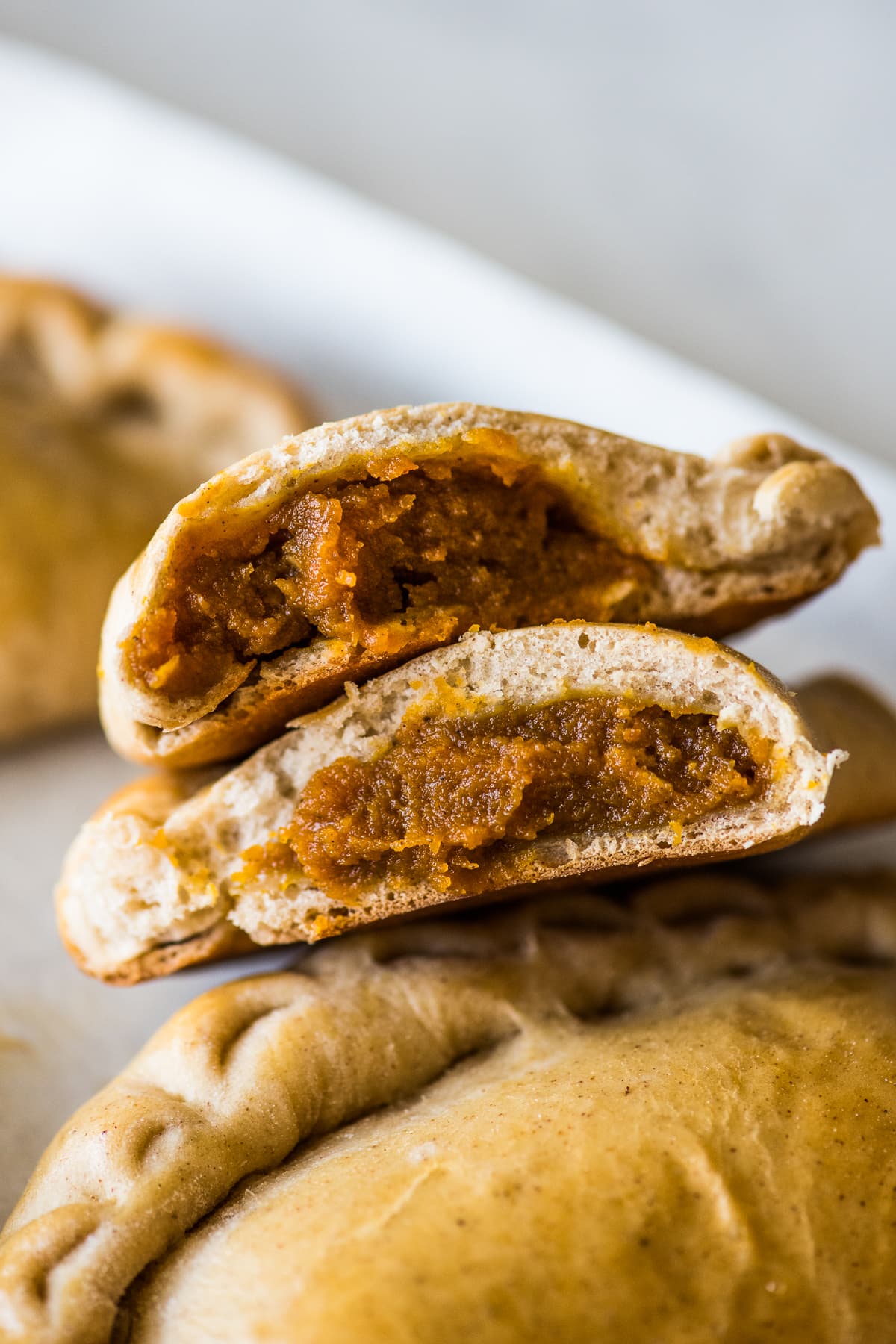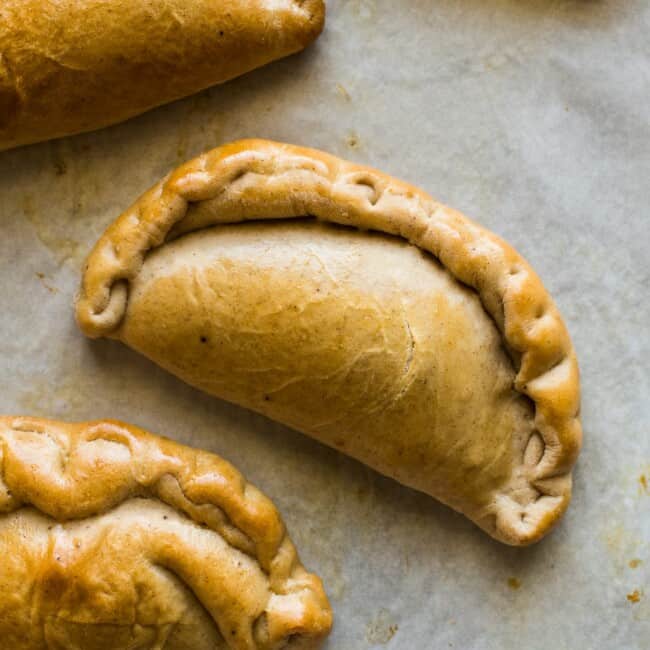 Prep: 2 hours 20 minutes
Cook: 25 minutes
Total : 2 hours 45 minutes
Pumpkin empanadas stuffed with a pumpkin filling and wrapped in a sweet and fluffy bread dough, just like from the Mexican panaderia!
Ingredients
For the filling
1 (15-oz) can pure pumpkin puree
¾ cup dark brown sugar (or piloncillo)
1 teaspoon vanilla extract
1 teaspoon pumpkin spice
Instructions
Grease the inside of a large bowl with butter or oil, and line 2 large baking sheets with parchment paper. Set aside.

Heat water in a small bowl or cup for 10-20 seconds until it reaches 105°F-110°F. Mix in yeast, 1 tablespoon sugar and loosely cover bowl with plastic wrap. Let it sit for 5 minutes. If the mixture is bubbly or frothy, that means the yeast is alive and thriving. Continue to the next step. If the mixture hasn't really changed at all, throw the mixture out and start again with a new packet of yeast. (I recommend using a thermometer to make sure your water isn't too hot, otherwise it could kill the yeast.)

In the bowl of a stand mixer (or a regular large bowl), add the flour, remaining sugar, pumpkin spice, and salt. Mix together to combine.

Add the melted butter and 1 egg. Mix together again to lightly combine.

Add in the yeast mixture and knead in the stand mixture using the dough hook for 6-8 minutes (or by hand), until the dough is smooth and elastic. The dough should be slightly tacky, but not completely sticky. If it is sticky, add in more flour 1 tablespoon at a time until the dough is no longer completely sticky.

Place the dough in the prepared bowl, cover loosely with a sheet of plastic wrap, and let it rise in a warm place for 2 hours, or until the dough has about doubled in size. (I like to let mine rise on top of the fridge.)

While the dough is rising, make the filling: Add the pumpkin puree, dark brown sugar, vanilla extract, and pumpkin spice to a small saucepan over medium-high heat. Stir together to combine and cook for 3 minutes, stirring occasionally.

Remove from heat, transfer to a bowl, and set aside until ready to use.

Preheat the oven to 350°F. Divide the dough into 16 equal pieces and shape into balls.

On a lightly floured surface, roll each ball into a 6-7 inch circle. Place a heaping tablespoon of the pumpkin filling onto each flattened dough circle. Fold one side over and pinch the sides together using your index finger until the empanada is fully sealed (see photos in blog post for example). You can also press the edges together using the tines of a fork instead of your fingers. As long as the empanadas are sealed, you're good to go.

Transfer the empanadas to the prepared baking sheets. In a small bowl, whisk the remaining 1 egg. Using a pastry brush, brush the tops of the empanadas with the egg wash.

Place in the oven and bake for 23-25 minutes, until the tops are golden brown.

Transfer to a wire rack and let sit for 30 minutes to cool before serving.
Nutrition Information
Serving: 1empanada Calories: 249kcal (12%) Carbohydrates: 49g (16%) Protein: 5g (10%) Fat: 4g (6%) Saturated Fat: 1g (5%) Polyunsaturated Fat: 1g Monounsaturated Fat: 2g Trans Fat: 0.002g Cholesterol: 20mg (7%) Sodium: 120mg (5%) Potassium: 130mg (4%) Fiber: 2g (8%) Sugar: 21g (23%) Vitamin A: 4291IU (86%) Vitamin C: 1mg (1%) Calcium: 26mg (3%) Iron: 2mg (11%)