Jump to Recipe
Air fryer beef empanadas made from flaky puff pastry wrapped around a Mexican ground beef picadillo filling. They cook in only 8 minutes in the air fryer and are easy to make!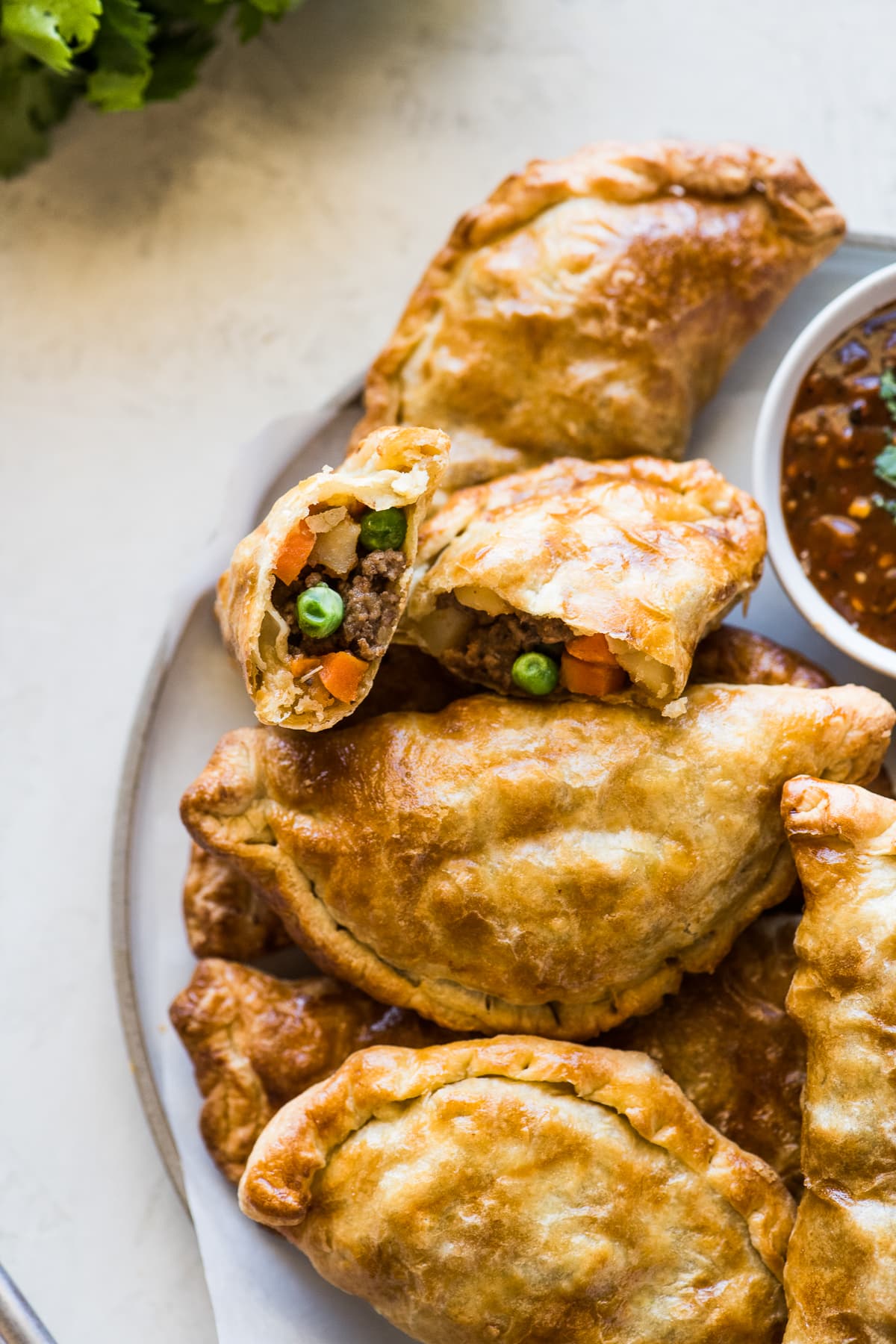 This recipe is sponsored by the Oklahoma Beef Council. All opinions expressed here are my own.
Air fryer beef empanadas have been a huge hit with my family since the first time I made them, and we can't get enough! They're perfect for weeknight dinners and make great leftovers to enjoy throughout the week. They're a quick and easy alternative to these regular homemade beef empanadas.
These flaky little turnovers are made from premade puff pastry dough to make things as easy as possible. My family's Mexican picadillo recipe inspired the filling from seasoned ground beef, potatoes, carrots, and peas.
Because they're made in the air fryer, there's no deep frying involved, and they cook up in only 8 minutes!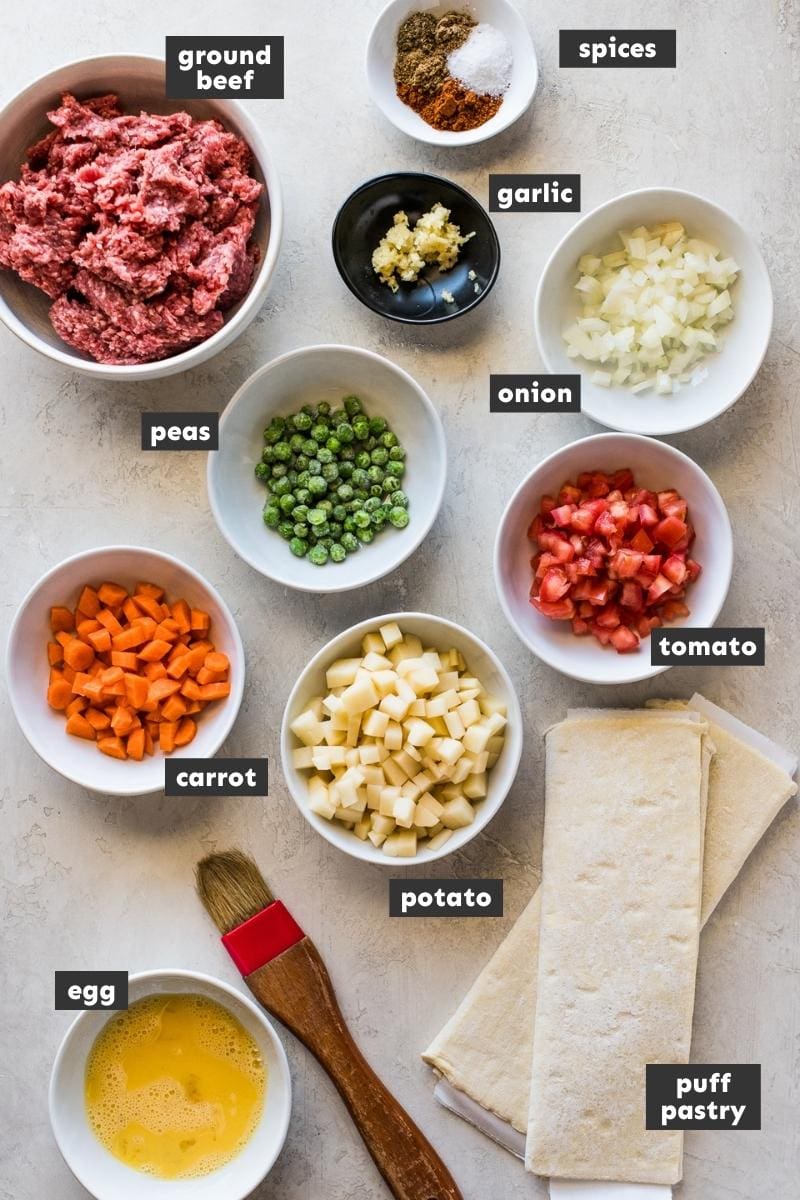 When it comes to these beef empanadas, there are two main stars of the show: the filling and the dough.
The Beef Filling
The filling is super simple to make, yet flavorful, comforting, and pretty much has everything you need in one bite!
I used 93% lean ground beef to keep the filling flavorful and moist without being too greasy. It provides 10 essential nutrients and is a really nutritious combination paired with starchy potatoes as well as carrots, peas, onions, and tomatoes.
Both my daughter and husband love this ground beef picadillo filling. It's truly what comfort food is made of, and never gets old!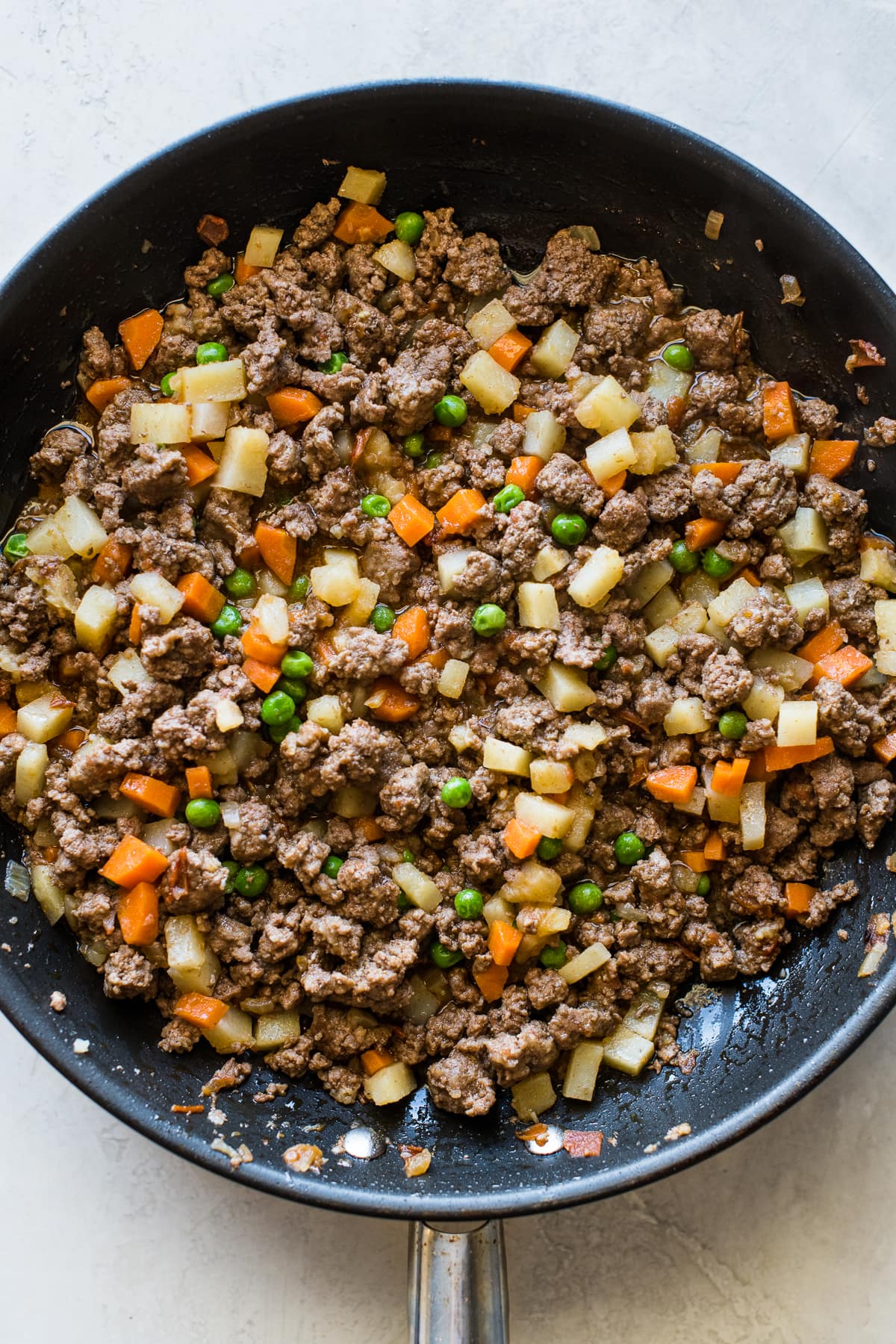 The Dough
To keep this recipe as easy as possible (which is extremely important for this busy mom), I used 2 sheets of premade frozen puff pastry that's widely available in most grocery stores.
To prep the dough, remove the pastry from the packaging and let it thaw while you make the ground beef filling. The pastry should be thawed enough by the time it's done.
Then simply roll it out into a large rectangle about 19×14 inches and cut out a total of 12 large circles. I was able to cut out 6 circles per sheet that measured about 7.5 inches in diameter.
To make things easy, I used a large lid from a storage container that I had in the kitchen as a template to cut out the large circles. Feel free to use a lid that's slightly larger or smaller – it doesn't have to be exactly the same size!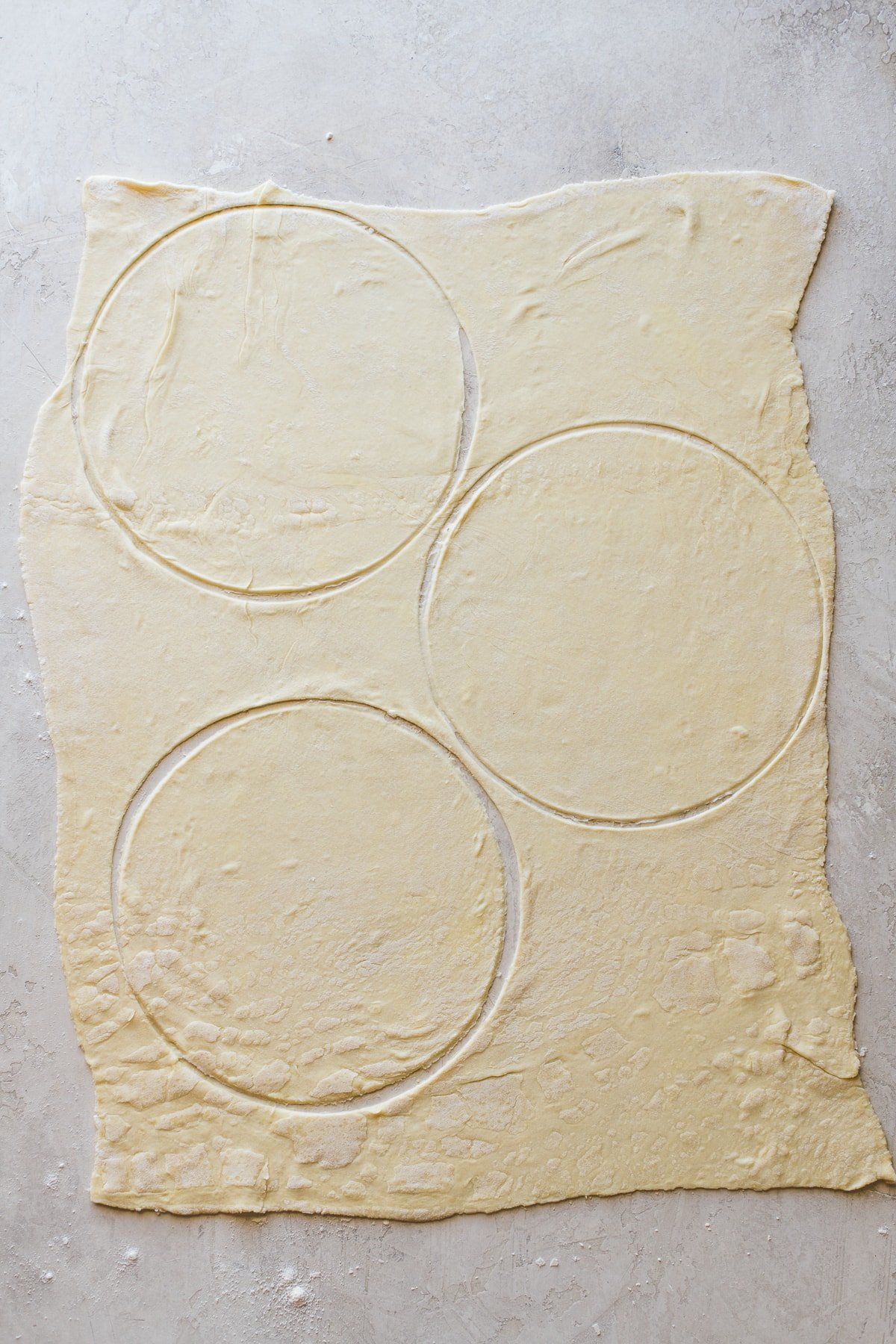 How to Make Air Fryer Beef Empanadas
Once you've got the dough and filling ready to go, it's time to start assembling the empanadas!
Add a heaping 1/4 cup of ground beef filling on top of one half of the empanada disc, then fold over the dough in half over the filling.
It may seem like a lot of filling at first, but I like to pack as much in there as possible!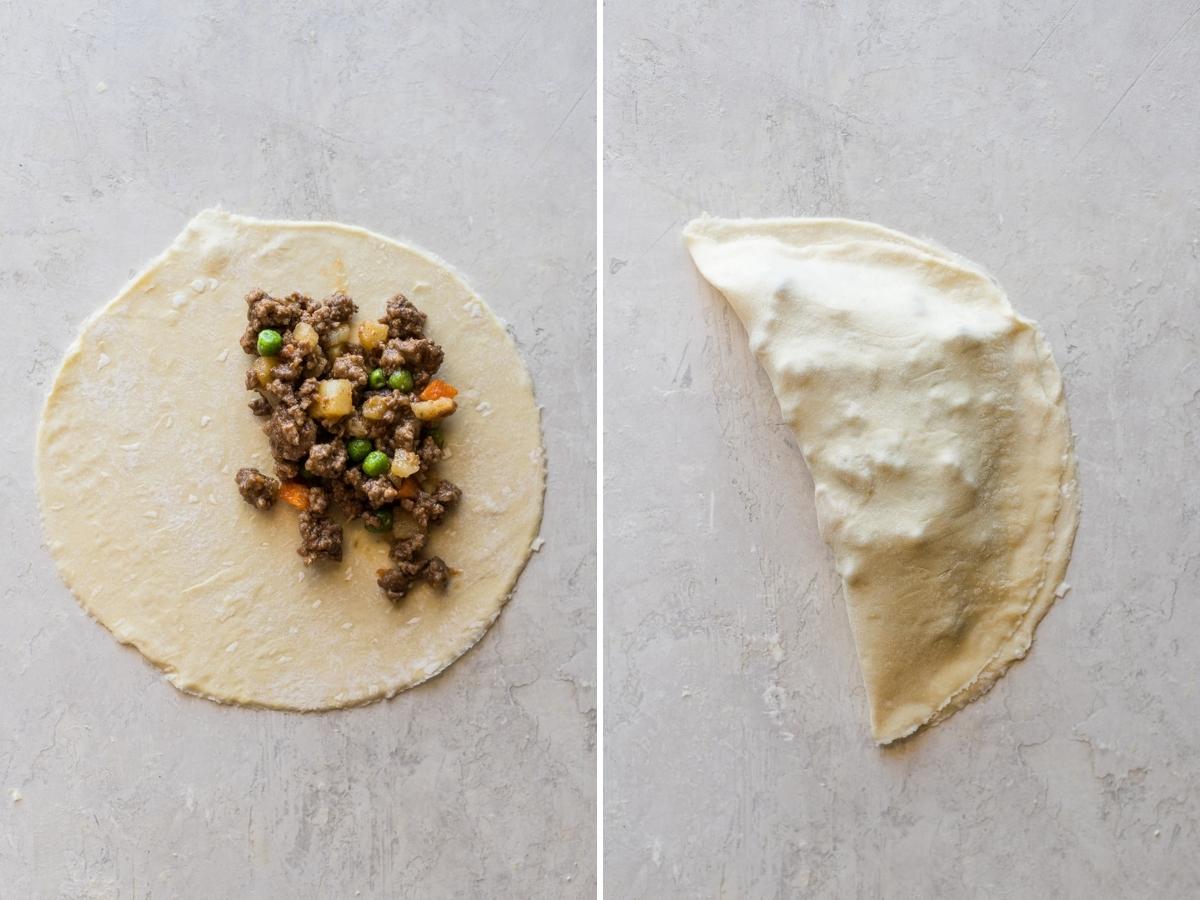 Next, seal the empanada by crimping together the edges with your fingers. You could also use the tines of a fork if you prefer. Whatever is easiest!
Lastly, brush some whisked egg on top to give the empanada that shiny look we all know and love.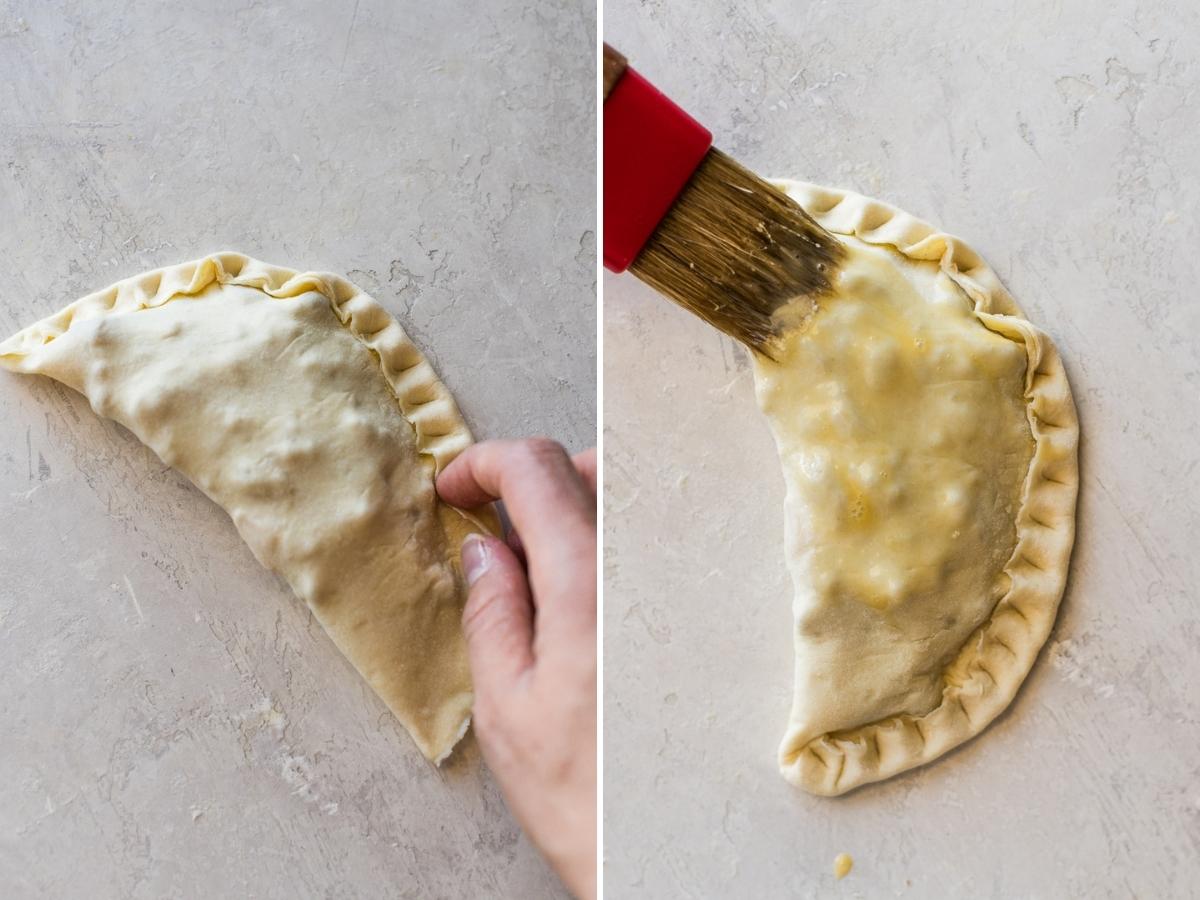 Once they're assembled, cook them in the air fryer at 400°F for 8 minutes, making sure to flip them over halfway through so they brown evenly.
Serving Suggestions
I love serving these air fryer beef empanadas with a good salsa, chimichurri, sour cream, or guacamole.
You could also serve it with a simple green salad on the side dressed with a little olive oil, lemon juice, salt, and black pepper.
Storing and Reheating
These empanadas should be stored in an airtight container in the fridge for up to 1 week.
To keep the flaky texture of these empanadas, I recommend reheating them in an air fryer for about 4 minutes at 350°F until warmed through. You could also reheat them in the microwave, but keep in mind that they may be a little soggy.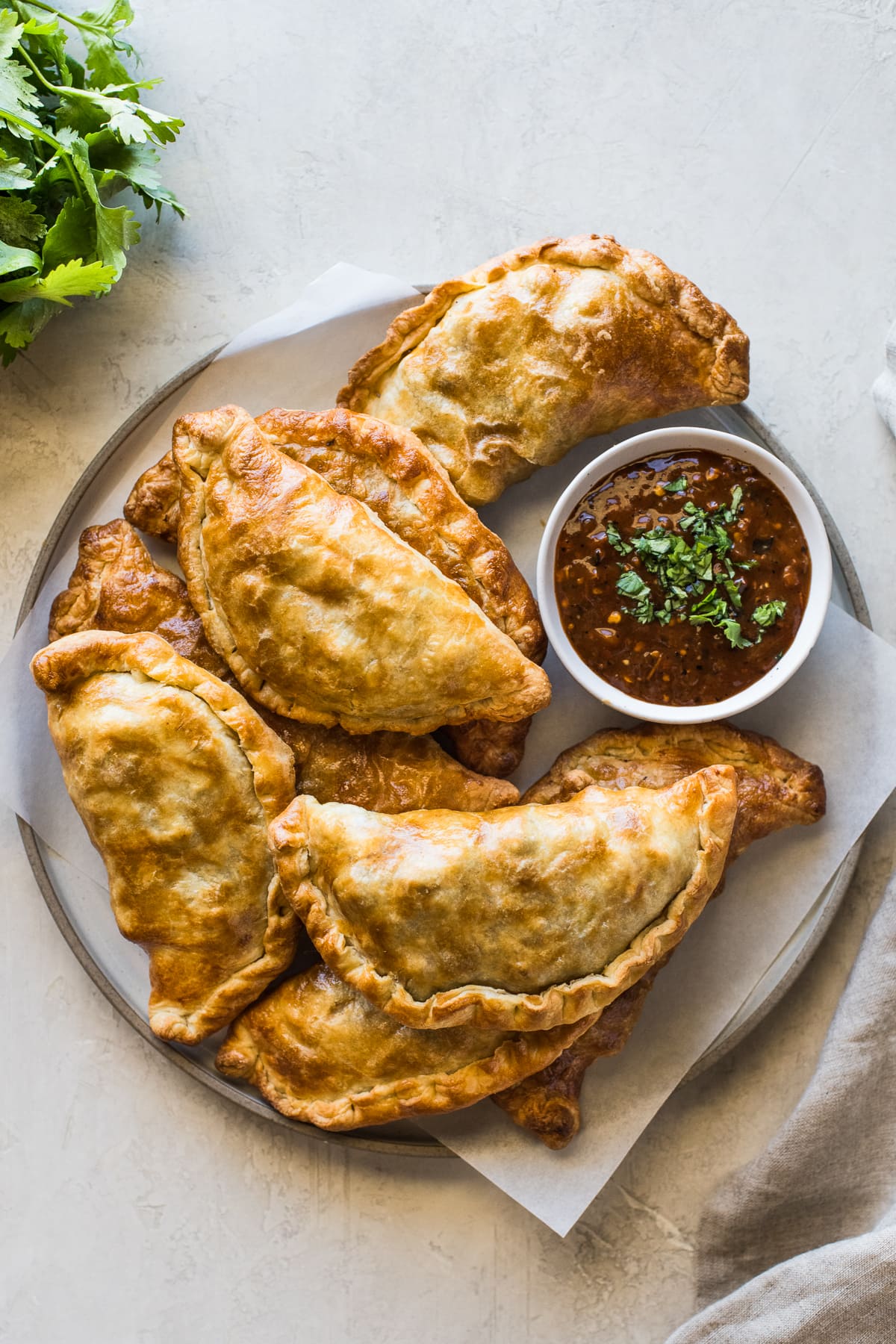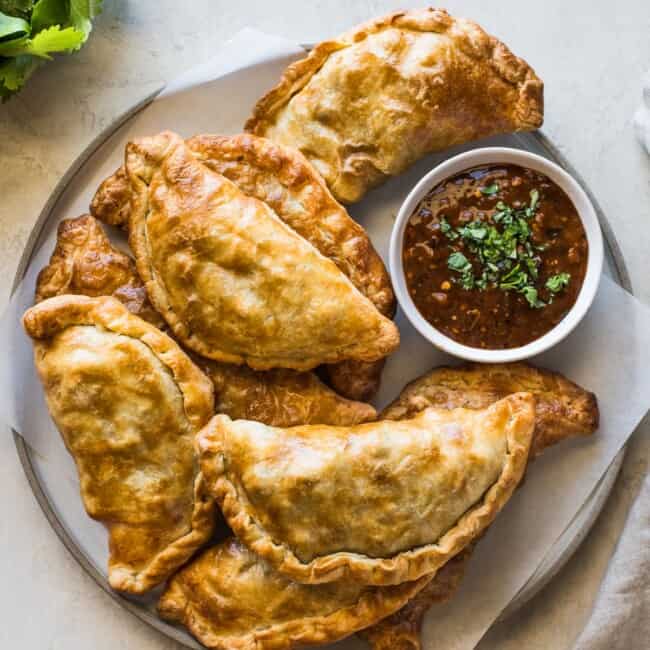 Prep: 30 minutes
Cook: 32 minutes
Total : 1 hour 2 minutes
Air fryer beef empanadas made from flaky puff pastry wrapped around a ground beef picadillo filling. They cook in only 8 minutes!
Ingredients
1 tablespoon olive oil
1 plum tomato, diced
1/4 medium yellow onion, diced
2 cloves garlic, minced
1 pound 93% lean ground beef
1 teaspoon chili powder
1 teaspoon kosher salt, plus more to taste
1/2 teaspoon ground cumin
1/4 teaspoon dried oregano
1/4 teaspoon ground coriander
1 small potato, diced
1 medium carrot, diced
1/2 cup water
1/4 cup frozen peas
2 sheets frozen puff pastry dough, thawed
1 egg, whisked
Instructions
Heat olive oil in a large skillet over medium-high heat. Add tomato and onion and cook for 5 minutes, stirring occasionally.

Add garlic and cook for 30 seconds, until fragrant.

Add ground beef, chili powder, salt, ground cumin, dried oregano, and ground coriander, and cook for 6-8 minutes, using a spoon to break up the meat into smaller pieces and stir occasionally.

Add potato, carrot, and water. Stir to combine, lower heat to medium-low, cover, and cook for 10 minutes until the potatoes and carrots are soft and tender.

Remove skillet from heat, taste, and season with more salt if desired.

Add frozen peas, mix together, and set aside. (The frozen peas will thaw and warm up with the residual heat.)

Roll out puff pastry into two large rectangles, roughly 19×14-inches, then cut the dough into 7.5-inch rounds. (I used the lid of a storage container I had in the pantry as a template.) Repeat this process with the remaining scraps of dough until you get a total of 12 rounds.

Place a heaping 1/4 cup of the ground beef mixture into the center of each round.

Fold the dough in half over the filling and crimp the edges together with your fingers or the tines of a fork.

Brush the tops of each empanada with the whisked egg.

Preheat the air fryer to 400°F.

Spray the air fryer basket with olive oil or nonstick cooking spray, and carefully add as many empanadas that will fit in the basket without touching.

Cook for 8 minutes, flipping halfway through. Remove from the air fryer, and repeat with the remaining empanadas.

Let the empanadas cool for 3 minutes before eating. Serve with your favorite salsa and some sour cream.
Video
Nutrition Information
Serving: 1empanada Calories: 326kcal (16%) Carbohydrates: 23g (8%) Protein: 12g (24%) Fat: 21g (32%) Saturated Fat: 6g (30%) Polyunsaturated Fat: 2g Monounsaturated Fat: 11g Trans Fat: 1g Cholesterol: 38mg (13%) Sodium: 334mg (14%) Potassium: 258mg (7%) Fiber: 1g (4%) Sugar: 1g (1%) Vitamin A: 987IU (20%) Vitamin C: 5mg (6%) Calcium: 19mg (2%) Iron: 2mg (11%)