Jump to Recipe
How to make empanadas from start to finish! This family recipe features a savory meat filling and a fluffy, irresistible dough that's lightly fried and covered in sugar. They're the best empanadas you'll ever eat!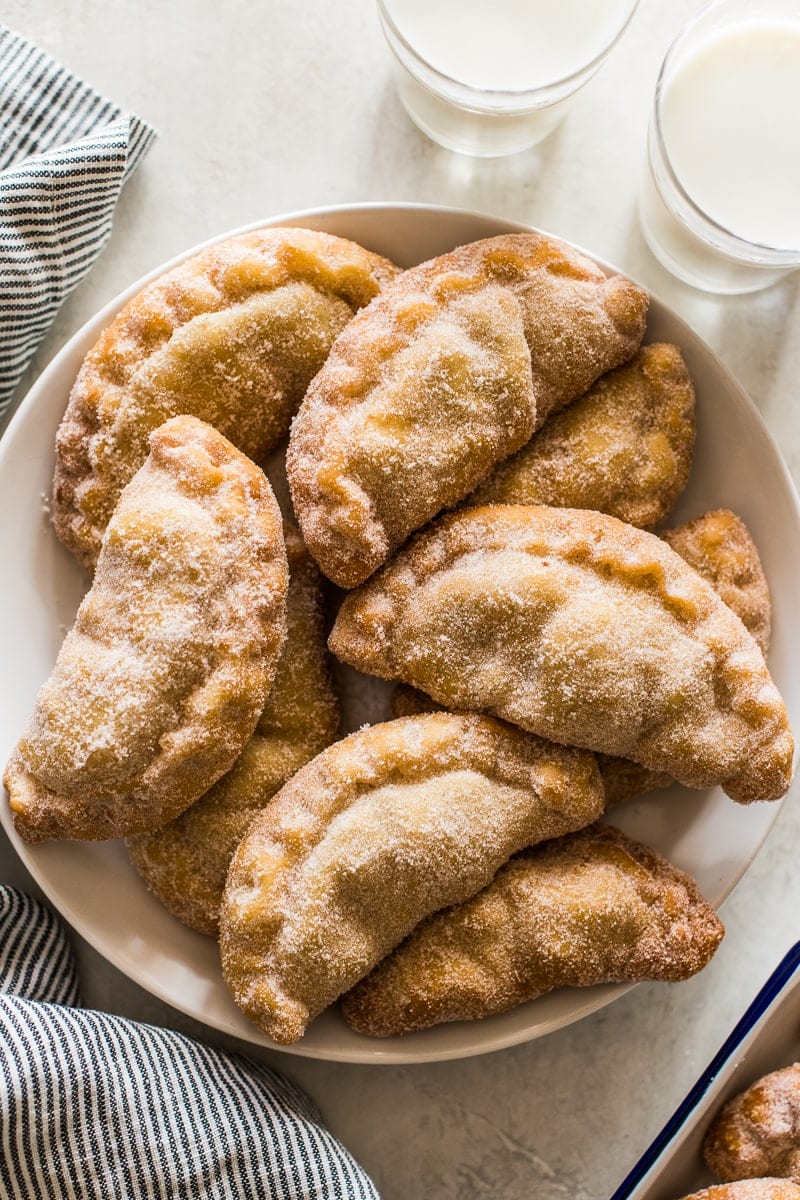 I'm jumping with joy right now because I'm finally sharing my family's secret recipe for empanadas! I've posted sweet versions like these pumpkin empanadas and apple empanadas, but I've never shared my family's savory version…until now.
What are empanadas?
Empanadas are a popular Latin-American dish (originating from Spain) made from baked or fried dough that's stuffed with a savory or sweet filling.
These little pockets are sometimes called turnovers, pasties, or meat pies. Many cultures have their own version of empanadas, and the fillings and dough can vary greatly depending on where they're made!
The Best Empanadas Recipe!
Filled with seasoned pork, tomatoes, and onions, these empanadas are fried and then covered in a mixture of sugar and cinnamon. They're savory and are served as an entree or appetizer. The bit of sugar on top may sound a bit strange, but it compliments the filling so well and makes these empanadas one of the most addicting recipes I've ever made!
If you've made empanadas before, you may notice that these are a little different than other recipes you'll find on the internet. In fact, I've never seen a recipe like my family's to date! This leads me to believe that this version is very regional and is mostly made in my family's little town in Mexico. For reference, my family is from the central/north part of Mexico in the state of Zacatecas, near the town of Sombrerete.
All I can say is you need to make this recipe! I've made these for several people and have not met one person who didn't love them. Like tamales, there are a few steps involved, but I'm breaking it down with everything you need to know so you can make them right the first time.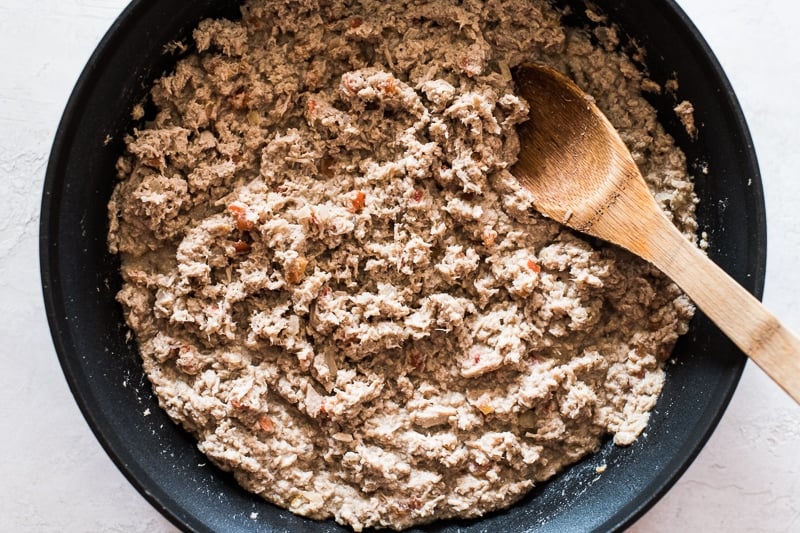 Empanada Filling
This savory empanada filling can be made up to three days in advance which can save you some time in the kitchen. Here's what you'll need:
Pork Loin Roast: The meat is cut into 2-inch cubes and cooked in a broth of water, salt, black pepper, onion, garlic, and bay leaves on the stove until tender. Make sure to use pork loin roast and not pork tenderloin!
Tomato and Onion: These are minced and then sauteed in some oil until the onions begin to caramelize.
Seasonings: The cooked pork is seasoned with ground cumin, garlic powder, salt, dried oregano, and nutmeg to give it the ultimate savory flavor.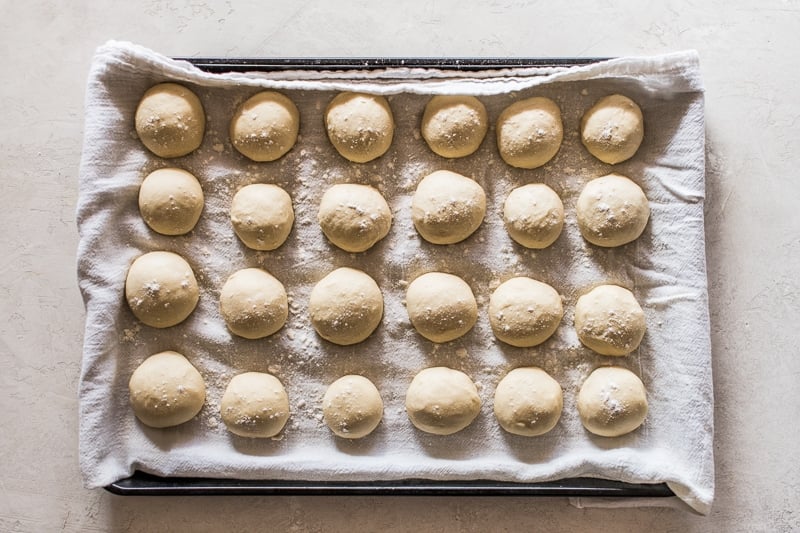 Empanada Dough
Unlike many empanada recipes out there that are made from pastry dough, this recipe uses a simple yeast bread dough. Almost like a flour tortilla but with yeast! It produces a light, airy and fluffy dough instead of one that's crunchy or flaky. Here's what you need:
Active Dry Yeast: This helps to make the dough light, airy and fluffy. Once kneaded, the dough needs to rest for 30 minutes.
Canola Oil: You could also use a different neutral-tasting oil like corn oil or even avocado oil.
All-Purpose Flour
Baking Powder
Table Salt + Water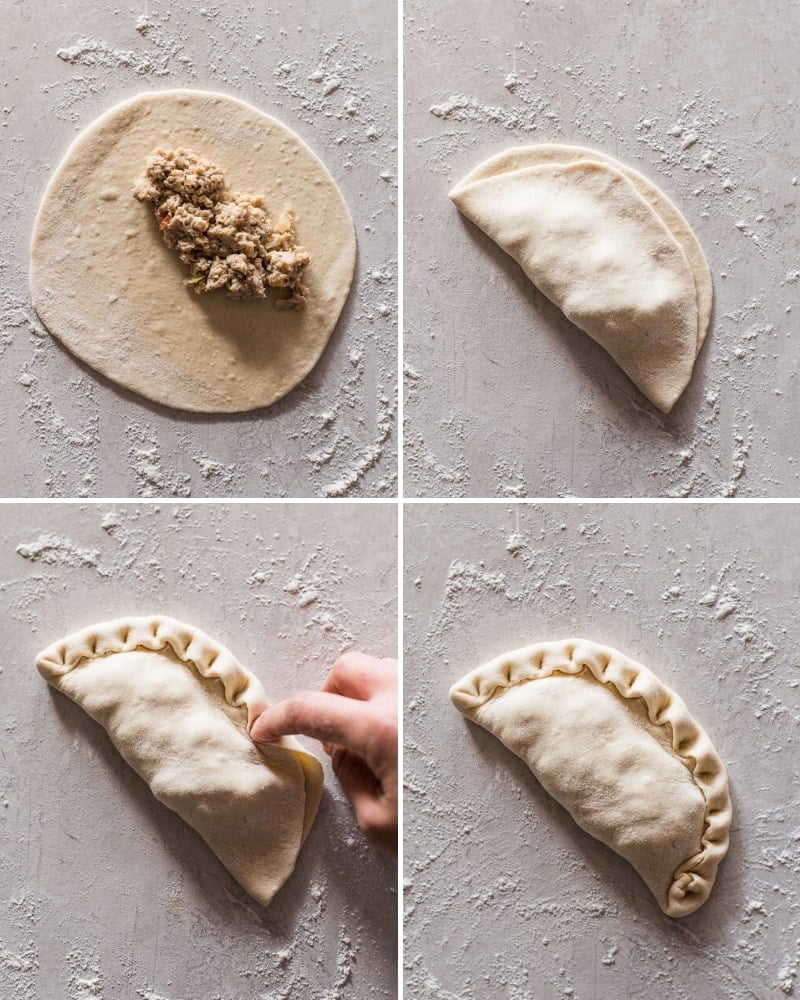 How to Fill and Fold Empanadas
The most intimidating thing for most people is learning how to fold and securely close empanadas. But I'm here to tell you that it's actually not that difficult!
I like using the finger technique to close and seal them up. All you do is fold over the empanada dough and try to line up the edges if possible. Then, using your index finger, fold the edge in a little and push your finger down to pinch it closed. Continue moving down the edge and pinching it closed every half an inch or so until the entire empanada is sealed.
If you find this technique too difficult, you could also use the tines of and press down on the edges to seal them shut.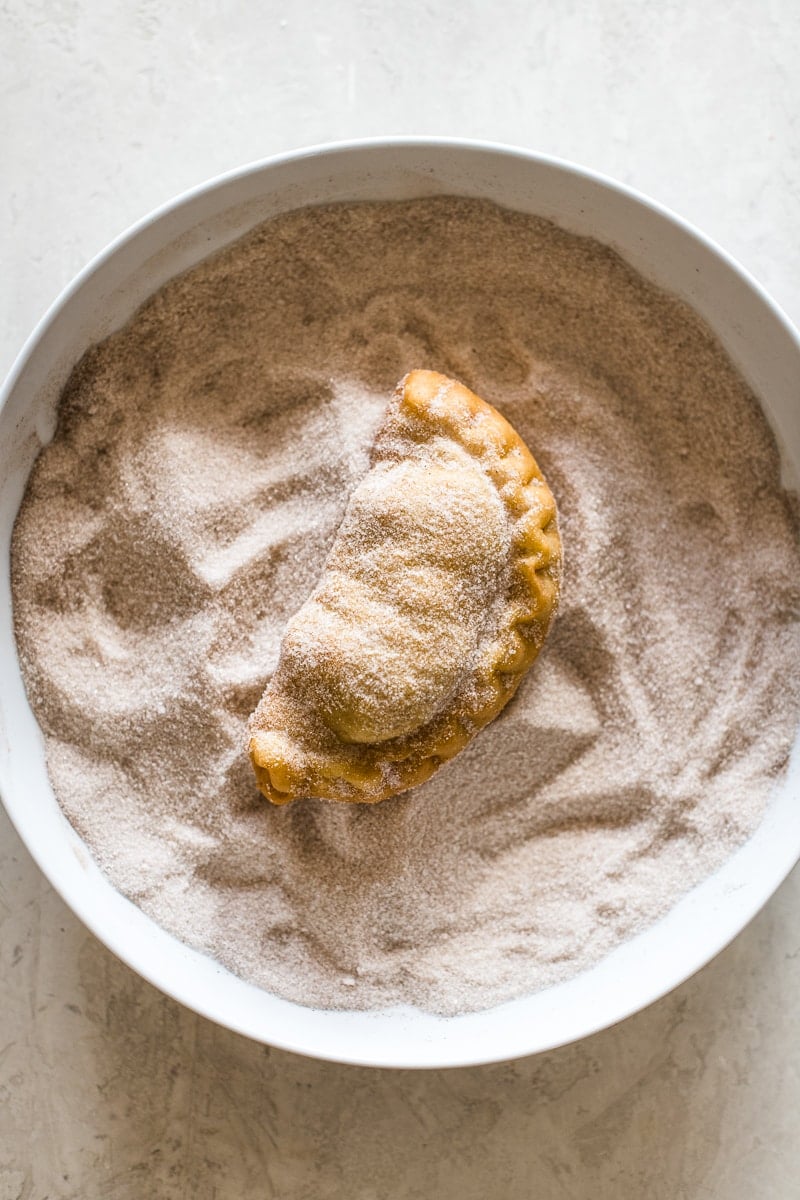 Last but not least, you can't forget the sugar and cinnamon topping! Once the empanadas are finished frying and golden brown, I recommend placing them on a plate covered with paper towels. This will help get rid of any excess frying oil before transferring them to the cinnamon sugar bowl.
If you don't have any ground cinnamon, you can omit it and just cover the outside with plain sugar. In fact, many members of my family swear that my grandmother never put cinnamon in her topping!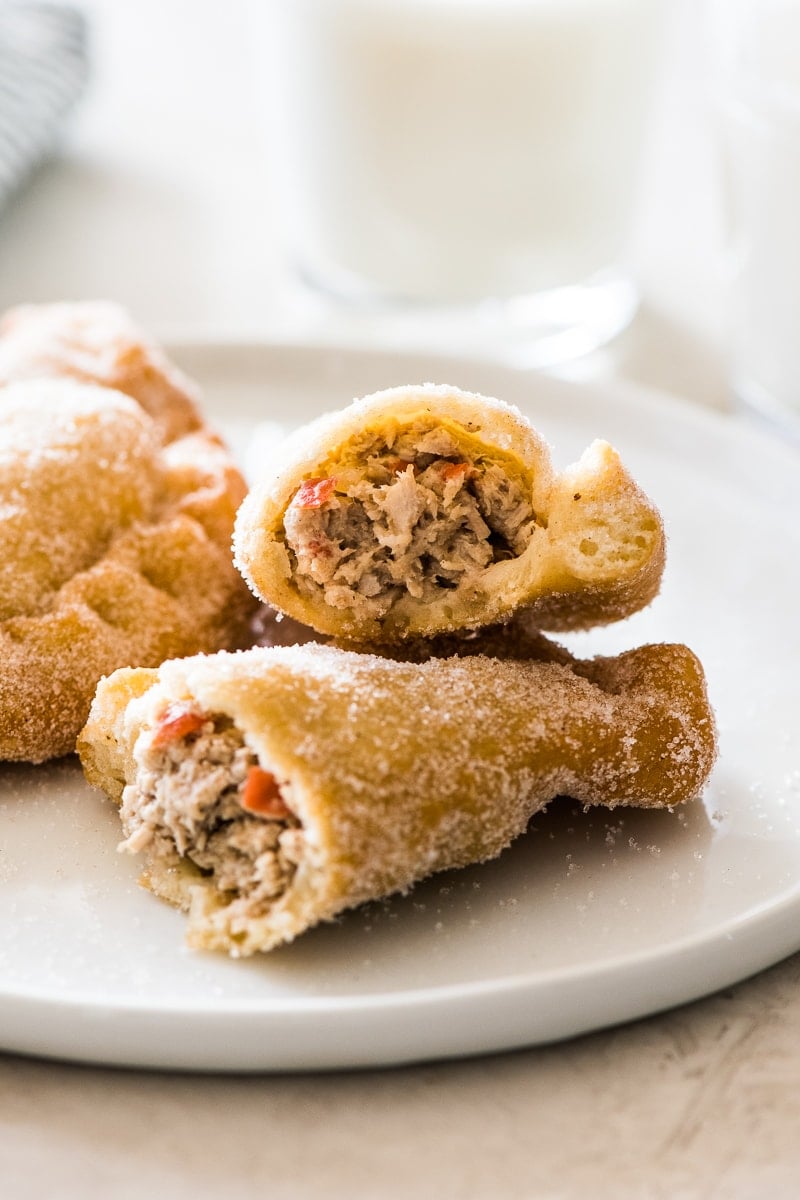 I hope you give this recipe a try and love it as much as my family and I do! If you have any questions, leave me a comment below, and I'll be sure to get back to you as soon as possible!
Prep: 1 hour 40 minutes
Cook: 2 hours 40 minutes
Total : 4 hours 20 minutes
How to make empanadas from start to finish! This family empanadas recipe features a savory meat filling and a fluffy, irresistible dough.
Ingredients
Instructions
Season the meat: Place the cubed pork in a large Dutch oven or pot. Season with salt and pepper on all sides. Add the onion, garlic cloves and bay leaves.

Cook the meat: Fill the pot with water (about 1 inch above the ingredients) and bring to a boil over high heat. Reduce heat to simmer and carefully remove the white foam that has formed at the top with a spoon. Cover and simmer for 2 hours, or until the pork is fall apart tender.

Shred the meat: Remove the pork using a slotted spoon and transfer to a large plate. Let it sit for 10 minutes to cool slightly. Shred with two forks or your hands.

Reserve the broth: Carefully pour the broth through a strainer and into a large measuring cup until you've collected a total of 2 cups.

Mix the meat: In a large blender or food processor, add the shredded meat and 2 cups of broth. Cover and pulse the mixture 5-10 times, until the meat is no longer in shredded chunks and is somewhat pureed, almost like the texture of a tuna salad. See photo in blog post for reference. You may need to do this in 2 batches depending on how big your blender is. (I know this sounds weird and it won't look very pretty, but it's the texture we want for the filling! Trust me.)

Saute the vegetables: Heat olive oil in a large nonstick saute pan over medium-high heat. Add minced tomatoes and onions and saute for 5 minutes, stirring occasionally, until onions start to caramelize.

Saute the meat: Add the minced/blended meat to the pan and season with cumin, garlic powder, salt, oregano and nutmeg. Mix together with the tomatoes and onions and cook for 5 more minutes. Remove from heat and set aside.

Prepare the yeast for the dough: In a medium bowl, mix together the warm water and yeast. Lightly cover with a kitchen towel and let the mixture sit for 5 minutes. The mixture should be somewhat bubbly or frothy, which means the yeast is alive. If it's not, throw the mixture out and try again using a different packet of yeast. Meanwhile, grease the inside of a large mixing bowl with oil and set aside.

Mix the dry ingredients: In a large mixing bowl, add 6 1/4 cups all-purpose flour, baking powder and salt. Mix together with a fork until combined.

Add the wet ingredients: Add the yeast mixture, oil and mix together with a fork until the dough comes together. The dough should be slightly sticky but not too much. If the dough is still too wet, add in a tablespoon of more flour at a time until it fully unsticks from the bowl.

Mix the dough: Transfer the dough onto a floured working surface. Knead the dough for 8 to 10 minutes until it's smooth and elastic. If the dough becomes too sticky while kneading, sprinkle in a bit more flour. The final dough should be tacky, but not so much that it completely sticks to your fingers and hands.

Rest the dough: Form the dough into a ball and place it in the prepared greased bowl. Cover the bowl with a kitchen towel and let it rest for 30 minutes. Meanwhile, cover two large baking sheets with 2 clean kitchen towels and set aside.

Make into balls: Transfer the rested dough onto a floured working surface and divide the dough into 45 pieces. (I like to divide the dough into thirds so that I know each third should yield about 15 pieces.) Roll each piece into a ball using the palm of your hands and fingers and place on the prepared baking sheets.

Roll out the balls: On a lightly floured surface, roll each dough ball into an small 5 to 6-inch circle using a rolling pin. (While you're rolling out each ball, you can place the rolled dough in a single layer on top of a clean kitchen towel or lightly-floured parchment paper.)

Fill and fold: Continuing to work on a floured surface, place a spoonful of the mix mixture onto each flattened dough circle. Fold one side over and pinch the sides together using your index finger until the empanada is fully sealed (see photos in blog post for example). You can also press the edges together using the tines of a fork instead of your fingers. As long as the empanadas are sealed, you're good to go. Placed the filled and sealed empanadas onto the large baking sheets or a kitchen towel.

Prepare the topping: In a wide bowl or large plate, mix together sugar and cinnamon. Set aside.

Prepare the frying oil: In a large saute pan over medium-high heat, add enough vegetable oil to reach a depth of 1 1/2 inches. (I used about 5 cups of oil.) Heat the oil until a thermometer reaches 350ºF. Meanwhile, line a large plate with paper towels. Set next to the stovetop.

Fry the empanadas: Working in batches, carefully place 3 or 4 empanadas in the hot oil. Fry until golden brown, about 2 minutes per side. Transfer the empanadas to the plate covered with paper towels to drain off any excess oil.

Cover with cinnamon sugar: Place the empanadas on the plate with the cinnamon sugar mixture and cover them with the mixture on both sides. Transfer the empanadas to a serving platter and enjoy!
Isabel's Tips:
The empanada filling can be made up to 3 days in advance. Store it in an airtight container in the fridge until ready to use.
Nutrition Information
Serving: 1empanada Calories: 184kcal (9%) Carbohydrates: 17g (6%) Protein: 9g (18%) Fat: 8g (12%) Saturated Fat: 2g (10%) Polyunsaturated Fat: 1g Monounsaturated Fat: 4g Trans Fat: 0g Cholesterol: 21mg (7%) Sodium: 126mg (5%) Potassium: 114mg (3%) Fiber: 1g (4%) Sugar: 4g (4%) Vitamin A: 1IU Vitamin C: 1mg (1%) Calcium: 19mg (2%) Iron: 2mg (11%)