Jump to Recipe
This Grilled Pork Tenderloin is an all-time grilling favorite! Rubbed with a blend of smoky spices like chipotle powder, ground cumin and smoked paprika, this recipe makes unbelievably juicy pork every single time.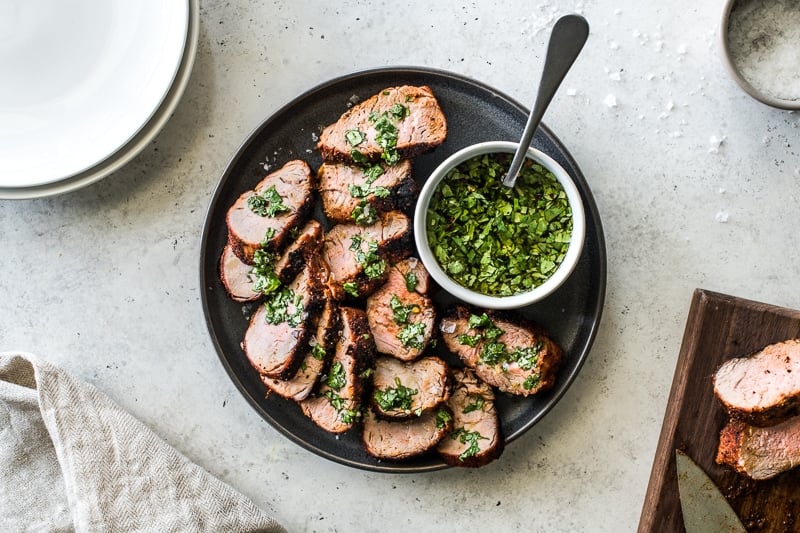 This recipe is sponsored by my friends at Char-Griller.
This is likely the last weekend of the year where the temps outside can truly be considered "shorts weather." To say goodbye and farewell to the sunny 80 and 90 degree weather, I'm making one of my favorite easy and healthy recipes – grilled pork tenderloin!
Because pork tenderloin is a lean cut of meat, it can get dry and rubbery if overcooked. That's no bueno, friends. Take a look at how I grill my pork tenderloin and get juicy results every time!
How to grill pork tenderloin
Start by removing the silver skin from the pork by running a sharp knife down tenderloins and pulling up on the silver skin at the same time. Try to remove as much of it as possible without removing any meat.
Unlike other connective tissues in meat, silver skin doesn't break down during the cooking process. By removing this tough and chewy tissue, we're making sure the meat cooks up as tender and juicy as possible.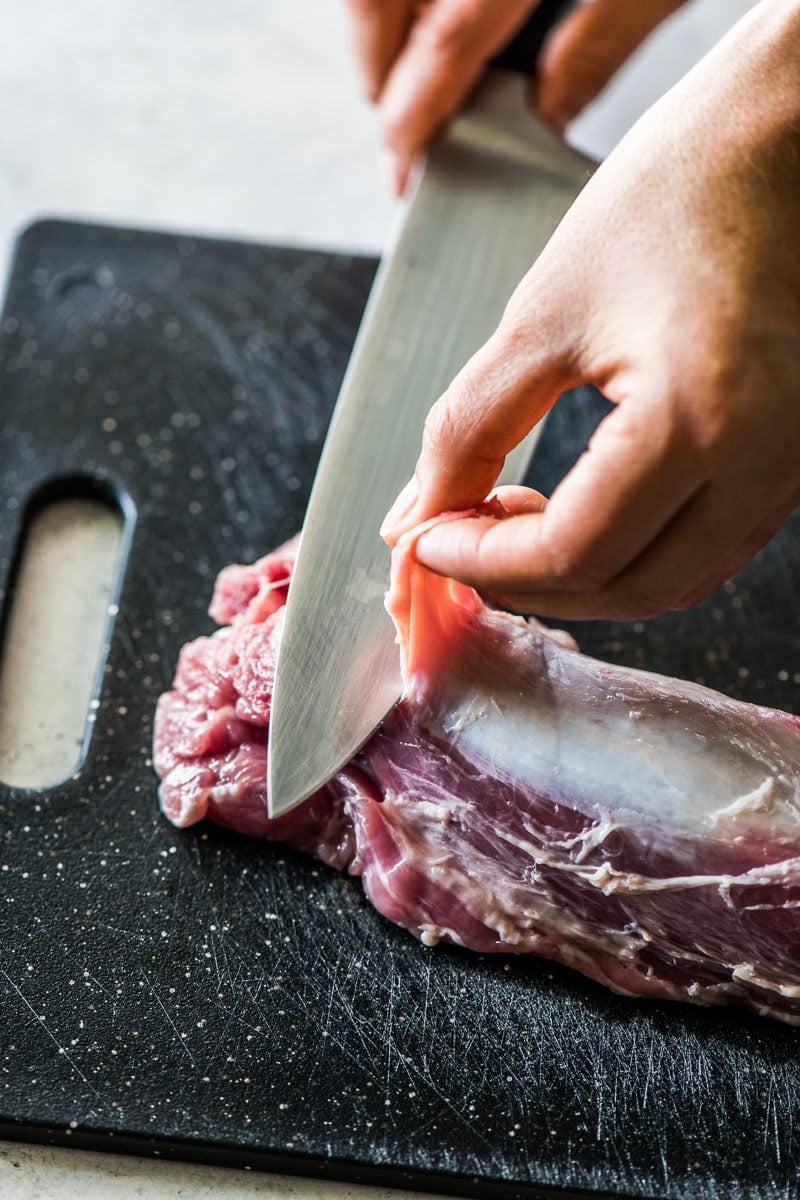 Now you're ready to season! I love a good spice rub, and this one has some of my favorite smoky Mexican-inspired flavors mixed in like chipotle powder, smoked paprika and ground cumin.
Drizzle the tenderloins with a little olive oil and generously rub the dry seasoning mixture all over.
Next, grill the tenderloins for 8-10 minutes per side over medium heat (about 350°F-400°F).
I grilled mine using the gas side of my Char-Griller Texas Trio Gas & Charcoal Grill for easy cleanup, but you could grill it over charcoal as well to get an even more pronounced smoky flavor!
(Never used a charcoal grill before? Here's a quick blog post and step-by-step video all about how to start a charcoal grill.)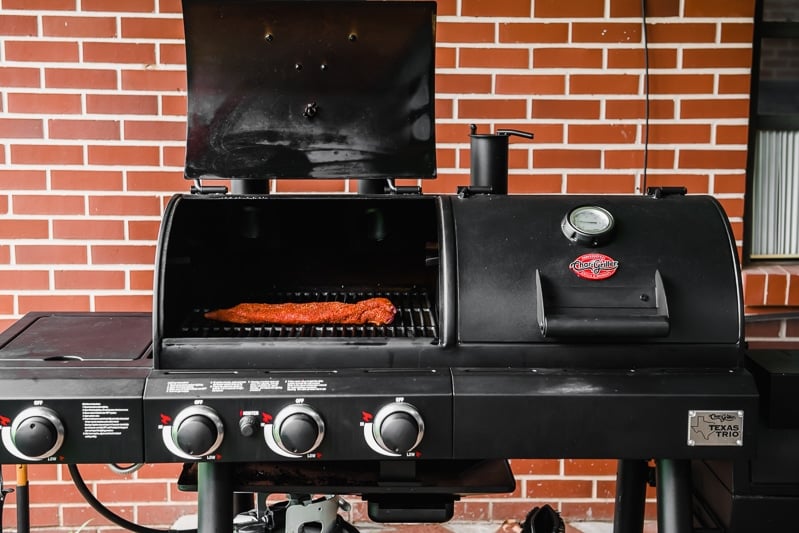 Remove the tenderloins from the grill and let them rest for 5 minutes.
At this point, I recommend checking the internal temperature with a meat thermometer like this one to make sure the meat has reached 145°F. This number is the sweet spot and ensures the pork is fully cooked through but still as juicy as can be!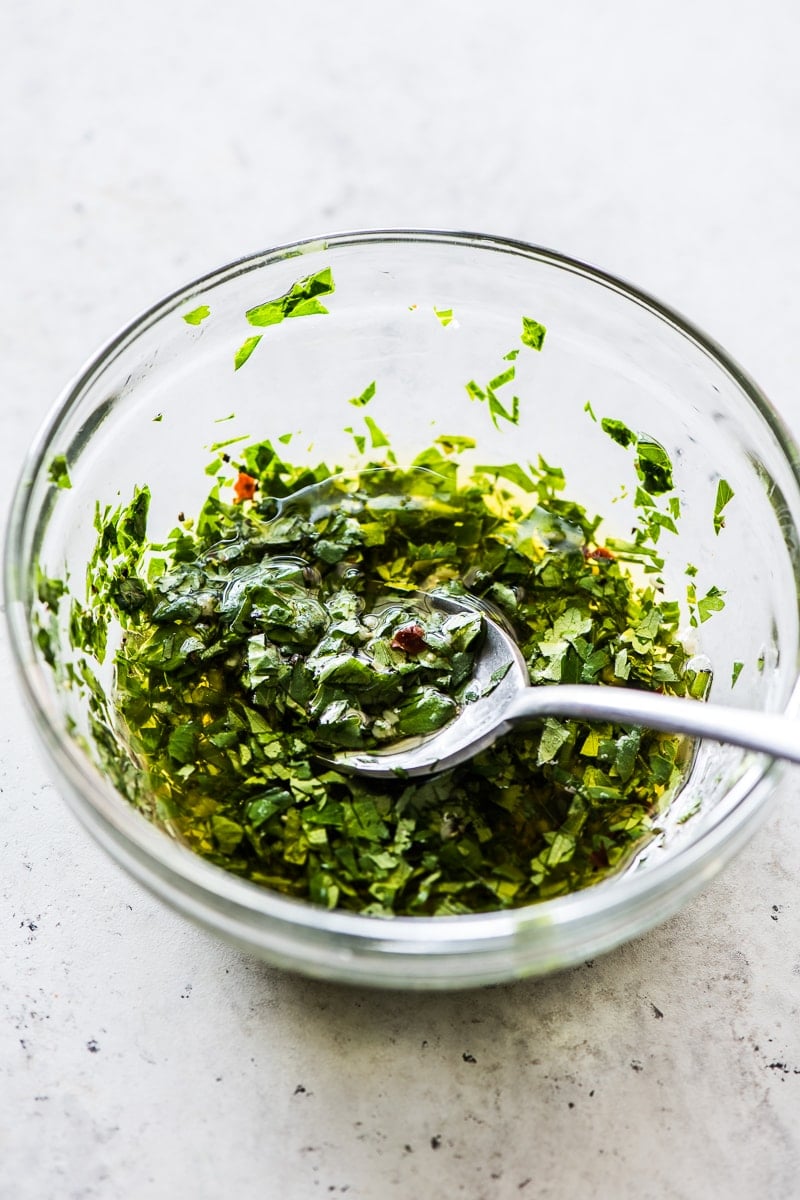 While the meat rests, make the quick herb sauce my mixing together some chopped cilantro and parsley, olive oil, white wine vinegar, garlic, red pepper flakes and salt and pepper.
Or you could skip this sauce and serve it with your favorite bbq sauce if you prefer! Here's a recipe for my favorite homemade sugar free bbq sauce.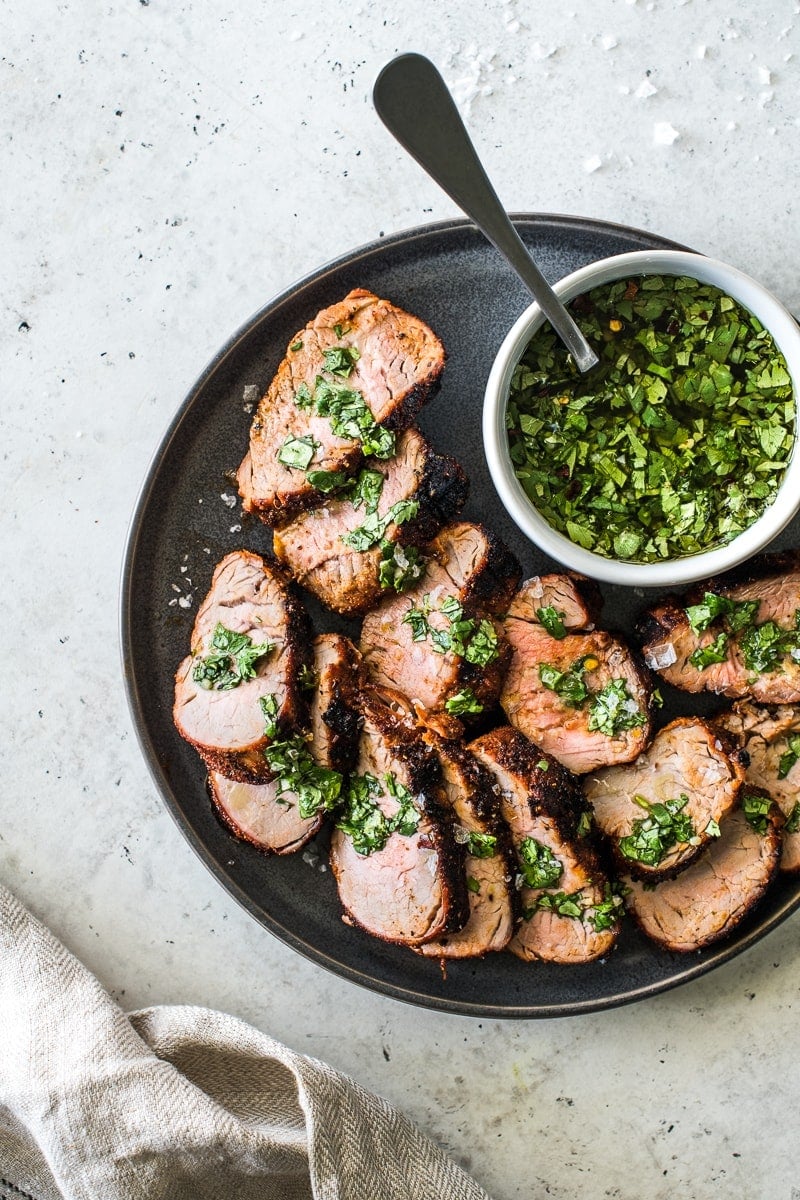 Sides to serve with Grilled Pork Tenderloin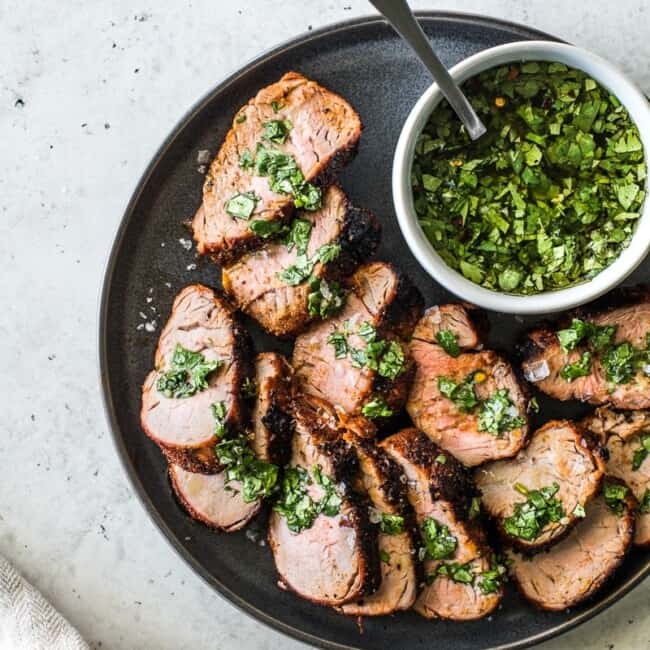 Prep: 15 minutes
Cook: 20 minutes
Total : 35 minutes
This Grilled Pork Tenderloin is an all-time grilling favorite! Rubbed with a blend of smoky spices like chipotle powder, ground cumin and smoked paprika, this recipe makes unbelievably juicy pork every single time.
Ingredients
For the pork tenderloins
2 pork tenderloins (about 2 pounds total)
1 teaspoon light brown sugar
1 teaspoon kosher salt
2 teaspoon smoked paprika
1/2 teaspoon chipotle powder
1/2 teaspoon onion powder
1/2 teaspoon garlic powder
1/2 teaspoon ground coriander
1/2 teaspoon coarsely ground black pepper
1/4 teaspoon ground cumin
2 teaspoons oil, for drizzling on pork
For the quick herb sauce
1/4 cup olive oil
1/4 cup cilantro
1/4 cup parsley
2 tablespoons white wine vinegar
2 teaspoons minced garlic
1/2 teaspoon coarse kosher salt
1/4 teaspoon black pepper
1 pinch red pepper flakes
Instructions
For the pork tenderloins
Pat the pork tenderloins dry with paper towels. Using a sharp knife, trim the tenderloins of their connective tissue (also called silver skin) by sliding the tip of the knife under the skin and slicing it away from the meat.

In a small bowl, combine the brown sugar, salt, smoked paprika, chipotle powder, onion powder, garlic powder, ground coriander, black pepper and ground cumin. Mix well.

Drizzle both tenderloins with oil and rub it evenly all over the pork

Sprinkle the spice rub all over both of the tenderloins and pat it in so it sticks.

Preheat grill to medium heat (about 350°F-400°F) for direct-heat grilling.(For gas grilling, simply light all the burners on high, close the lid and let the grill heat up for 5-10 minutes. For charcoal grilling, the process is a bit more involved. Here's a super-quick read and step-by-step video showing you how to start a charcoal grill.)

Grill the tenderloin for 8 to 10 minutes per side, depending on the thickness of the tenderloin, with the lid closed.

Transfer the tenderloins to a cutting board and let rest for 5 minutes. The internal temperature should reach 145°F. (I like pulling the meat off around 140-143°F as it will continue to cook slightly because of the residual heat. Make sure it has reached 145°F before you slice it.)

Slice tenderloins into ½ inch thick slices and serve as is or with quick herb sauce.
For the quick herb sauce
Add all ingredients to a small bowl and stir together to combine. Drizzle on grilled pork tenderloin slices.
Isabel's Tips:
To make ahead – The tenderloins can be trimmed and rubbed with seasoning up to 1 day in advance. Remove from the refrigerator 30 minutes before grilling to let it come to room temperature.
Storage – Store leftovers in an airtight container in the refrigerator for up to 3 days.
Nutrition Information
Serving: 1/6th of recipe Calories: 277kcal (14%) Carbohydrates: 4g (1%) Protein: 31g (62%) Fat: 15g (23%) Saturated Fat: 3g (15%) Polyunsaturated Fat: 2g Monounsaturated Fat: 10g Trans Fat: 0g Cholesterol: 80mg (27%) Sodium: 273mg (11%) Potassium: 44mg (1%) Fiber: 0g Sugar: 2g (2%) Vitamin A: 9IU Vitamin C: 6mg (7%) Calcium: 2mg Iron: 13mg (72%)