Jump to Recipe
These crispy roasted Mexican Potatoes seasoned with chili powder, garlic, sea salt and Parmesan cheese are baked, not fried and are the perfect side to weekday meals. (gluten free, vegetarian)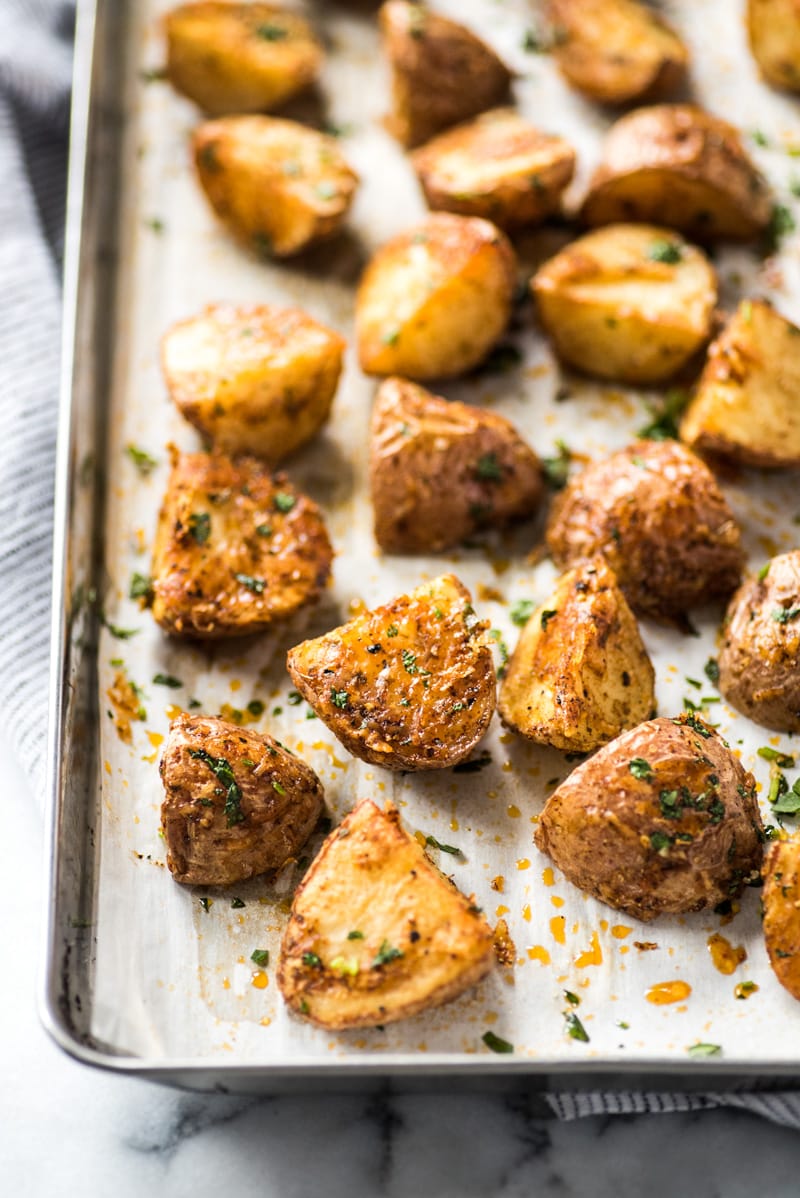 Is there anything better than crispy roasted Mexican potatoes that are baked to golden perfection, so crispy that they almost border on crunchy, all topped with salty delicious Parmesan cheese?!
Yeaahh, doubt it. These puppies are pretty much the best side dish ever, if they even make it to your dinner plate. And that's a big if.
Roasted potatoes are one of those sides that everyone loves. They're like fries, but a little fancier and somehow more acceptable for weeknight family dinners. Maybe it's because they're roasted and not fried? I'm not sure, but I love it and am totally running with it.
How to get your Mexican Potatoes crispy!
The secret to how to make crispy roasted potatoes actually, well, crispy is dependent on a few key factors:
the amount of oil
the oven temperature
the baking time
For this 1 1/2 pound batch of quartered potatoes, I used 2 tablespoons of oil as well as some parchment paper to prevent any sticking. This ensures maximum crispness without all the oil needed for frying.
You also need a very hot oven. I cranked up the heat to 400 degrees, which is actually a bit less than what other recipes call for. But since these red petite potatoes are a little less starchy than your usual Yukon Gold, 400 degrees is just right.
To get the potatoes and the Parmesan cheese super crispy and perfect, I recommend baking them for 20 minutes, flipping them over and then baking them again for another 20. Roasted potatoes are all about texture, so make sure to flip them to get ever inch as crisp as possible.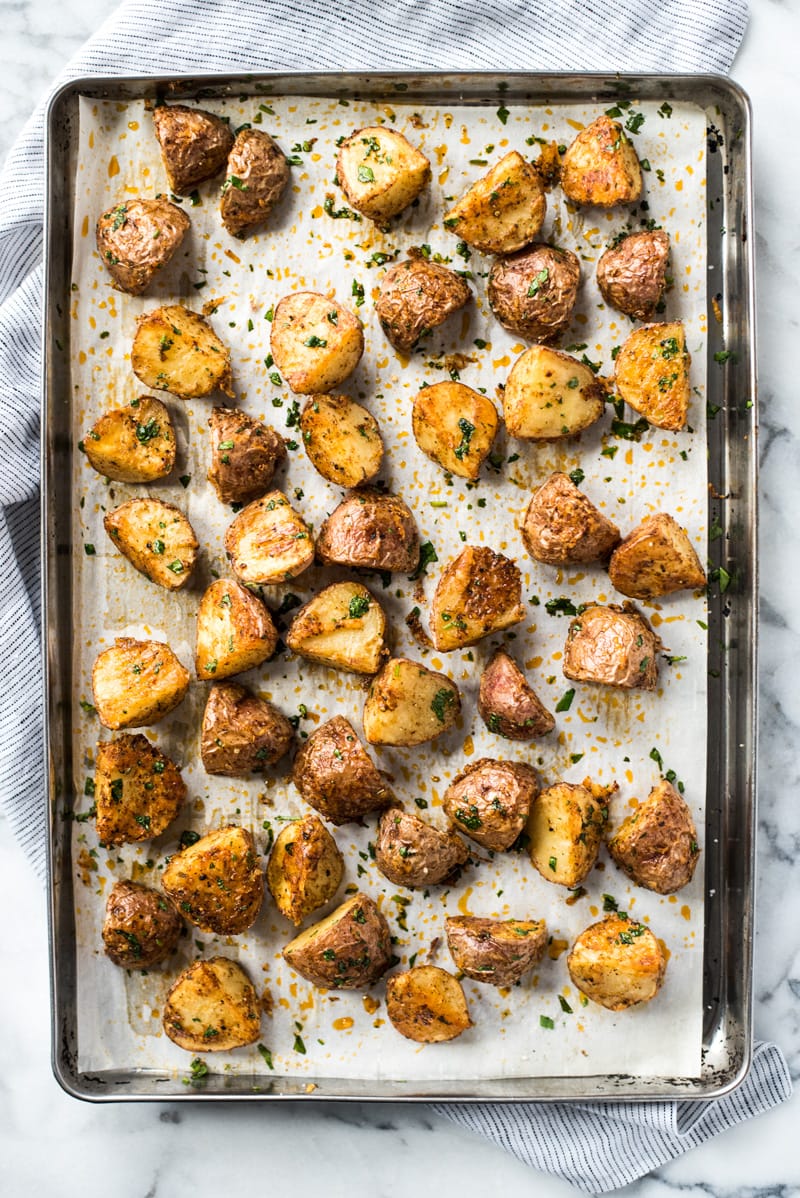 For the final touch, I topped everything with a little sea salt and some finely chopped cilantro. All that's left to do is to serve them up with your favorite veggies and protein for the best weeknight meal ever! Here's a few ideas just in case.
Serving suggestions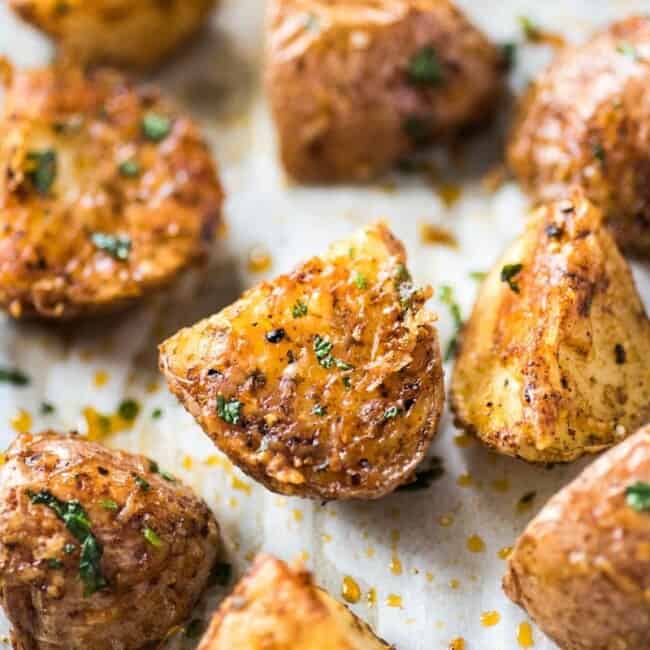 Prep: 10 minutes
Cook: 40 minutes
Total : 50 minutes
These Mexican Crispy Roasted Potatoes seasoned with chili powder, garlic, sea salt and Parmesan cheese are baked, not fried and are the perfect side to weekday meals. (gluten free, vegetarian)
Ingredients
1 1/2 pounds petite red potatoes, washed and quartered
2 tablespoons olive oil
1 1/2 teaspoons salt
1/2 teaspoon ancho chili powder
1/2 teaspoon dried oregano
1/4 teaspoon coriander
1/4 teaspoon garlic powder
1/4 teaspoon freshly ground black pepper
1 pinch cayenne pepper
1/2 cup freshly grated Parmesan cheese
4 tablespoons finely chopped cilantro
Instructions
Preheat oven to 400 degrees. Line a baking sheet with parchment paper or spray with non stick cooking spray.

In a large bowl, add the olive oil, salt, chili powder, oregano, coriander, garlic powder, black pepper and cayenne. Toss together until potatoes are fully coated with spices. Transfer to baking sheet.Be careful not to overcrowd the potatoes. They should have plenty of room to breathe. If they don't, divide them onto two baking sheets.

Sprinkle potatoes with Parmesan cheese and bake for 20 minutes. Remove from oven, flip over the potatoes and bake for another 20 minutes, until crispy.

Sprinkle potatoes with cilantro, more salt if desired and serve.
Nutrition Information
Serving: 1/4th of recipe Calories: 256kcal (13%) Carbohydrates: 29g (10%) Protein: 8g (16%) Fat: 12g (18%) Saturated Fat: 4g (20%) Polyunsaturated Fat: 1g Monounsaturated Fat: 5g Cholesterol: 10mg (3%) Sodium: 1452mg (61%) Potassium: 11mg Fiber: 3g (12%) Sugar: 3g (3%) Vitamin A: 450IU (9%) Vitamin C: 18.2mg (22%) Calcium: 200mg (20%) Iron: 1.3mg (7%)