Jump to Recipe
These crunchy hard shell tacos are a Tex-Mex classic filled with ground beef, lettuce, cheese and all your favorite toppings! Homemade yet still as delicious as the fast-food version, they make a great taco night recipe the whole family will love.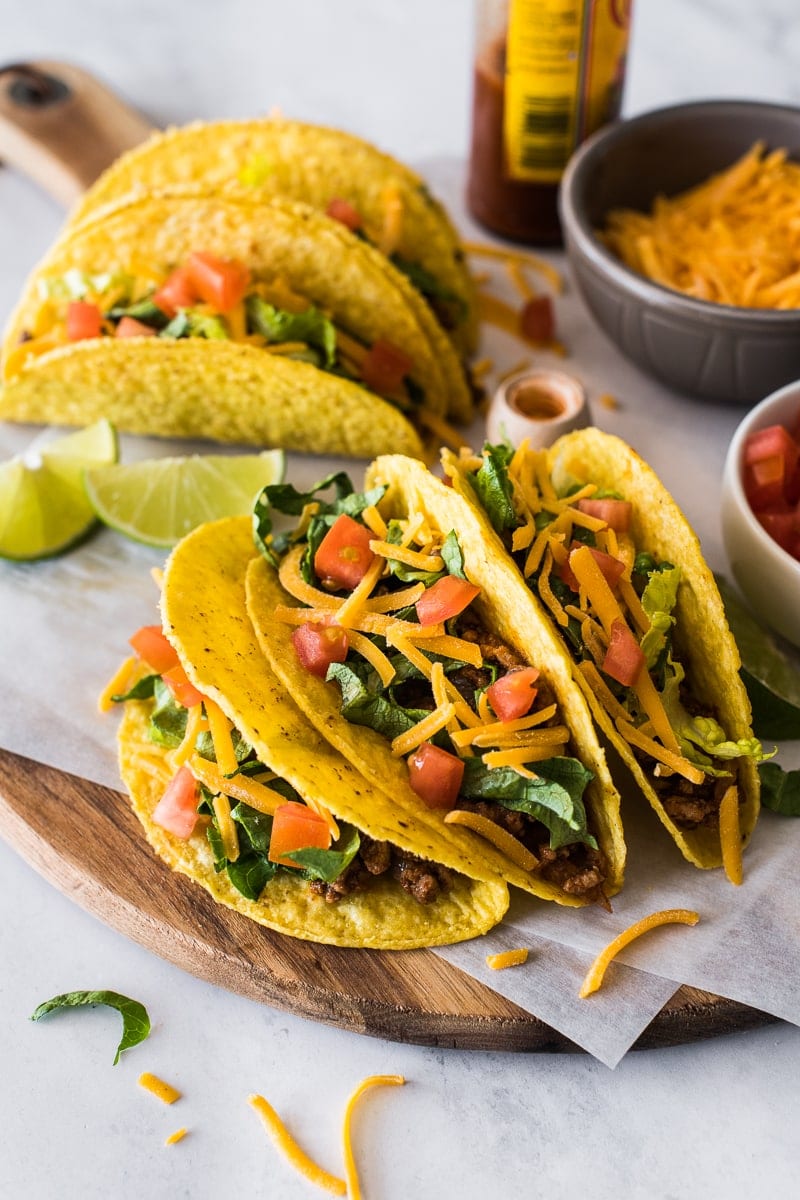 I just can't resist a crunchy hard shell taco! Filled with saucy and highly seasoned ground beef, these tacos remind me of the classic Taco Bell version that I grew up eating. Nothing beats the crunch you get in every single bite, am I right?
In an effort to make them a little bit healthier (with real unprocessed ingredients), I decided to make them at home with my own taco seasoning and some tomato paste to get that saucy consistency I know and love.
They're ready in 30 minutes or less, these are the ultimate crowd pleaser so you may even want to double the recipe! Don't say I didn't warn you.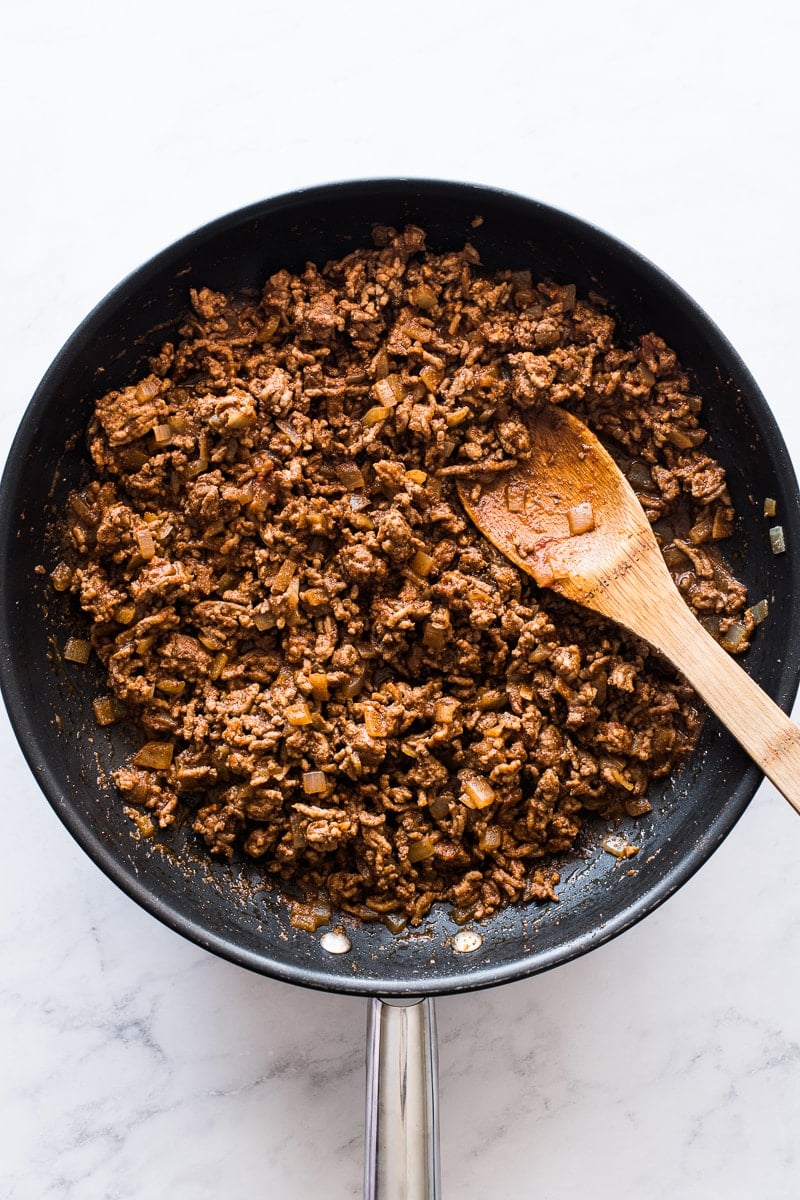 Ingredients in Hard Shell Tacos
For the taco seasoning, I combined chili powder, ground cumin, salt, garlic powder, onion powder, paprika and dried oregano. It's actually the same recipe as my Homemade Taco Seasoning, but just scaled down so there's none leftover. If you make ground beef tacos often, I highly recommend making an entire batch of seasoning so you can have that on hand for whenever the mood strikes!
For the filling, I sauteed some diced onions in olive oil until they became soft and translucent. Then add and cook the ground beef until browned and no longer pink. Once it's cooked, the secret to getting the beef delicious and saucy is adding in some tomato paste and water.
I prefer using tomato paste instead of tomato sauce or diced tomatoes because you can easily control how "watery" everything is while still having that rich and thick tomato flavor.
Last but not least, you'll also need some store-bought hard taco shells. I've tried making hard taco shells at home, but they never come out quite as good as store bought which is why I recommend just going ahead and buying them. Nowadays, there are lots of options and brands out there that aren't made with bad ingredients. The shorter the ingredient list, the better!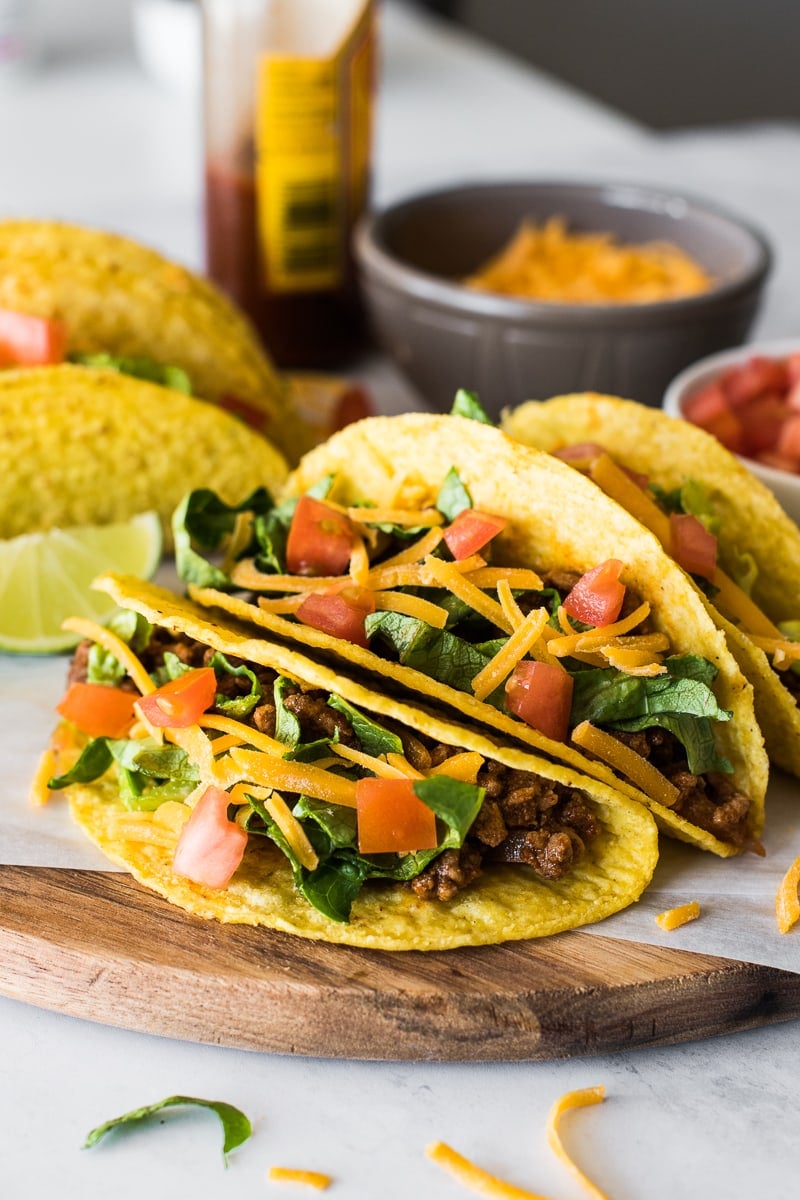 The essential toppings
Hard shell tacos aren't complete without the right toppings! Some of the must-haves include:
shredded cheese
shredded lettuce
diced tomatoes
sour cream
hot sauce
Some other good ones are guacamole, pickled jalapenos, mexican crema, pickled onions and even a spoonful of queso dip!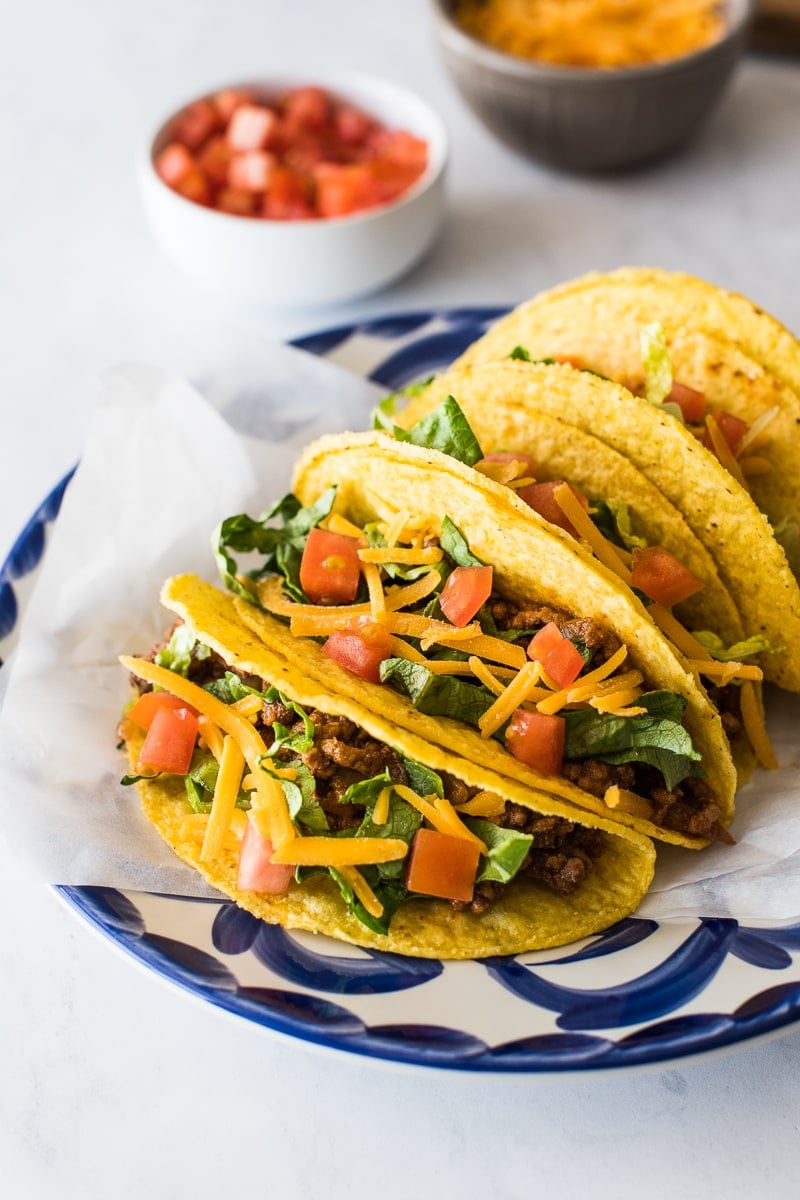 More taco recipes
I hope you love this recipe – be sure to give it a review below! To get more easy Mexican recipes delivered straight to your inbox, sign up for my email newsletter. You can also follow Isabel Eats on Facebook,  Instagram and Pinterest!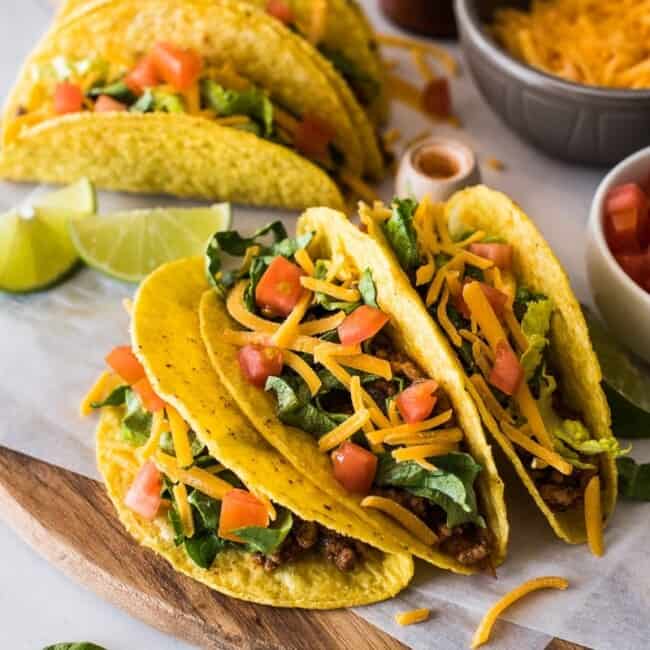 Prep: 6 minutes
Cook: 24 minutes
Total : 30 minutes
These crunchy hard shell tacos are a Tex-Mex classic filled with ground beef, cheese and more! Homemade yet still as delicious as the fast-food version.
Ingredients
For the taco seasoning
1 tablespoon chili powder
1 teaspoon ground cumin
1 teaspoon coarse kosher salt
1/2 teaspoon garlic powder
1/2 teaspoon onion powder
1/2 teaspoon paprika
1/4 teaspoon dried oregano
For the tacos
1 tablespoon olive oil
1 small onion, diced
1 pound lean ground beef
2 tablespoons tomato paste
1/4 cup water
12 -14 hard taco shells
2 1/2 cups shredded cheddar cheese
Optional toppings
shredded lettuce
diced tomatoes
sour cream
salsa
Instructions
In a small bowl, combine chili powder, cumin, salt, garlic powder, onion powder, paprika and dried oregano. Set aside.

Heat olive oil in a large nonstick skillet over medium-high heat.

Add onions and saute for 5 minutes, stirring occasionally, until softened and translucent.

Add ground beef and break up into smaller chunks using a wooden spoon. Cook, stirring occasionally, until the beef is completely browned, about 6 to 8 minutes.

Add small bowl of taco seasoning and tomato paste. Mix thoroughly until tomato paste is completely combined with all the meat.

Add water, mix to combine and remove the taco meat from the heat.

Heat up hard taco shells according to package instructions.

Divide meat mixture into taco shells and top with shredded cheese, lettuce, diced tomatoes, sour cream and salsa. Serve immediately.
Nutrition Information
Serving: 2tacos Calories: 335kcal (17%) Carbohydrates: 12g (4%) Protein: 27g (54%) Fat: 24g (37%) Saturated Fat: 11g (55%) Polyunsaturated Fat: 0g Monounsaturated Fat: 2g Trans Fat: 0g Cholesterol: 90mg (30%) Sodium: 707mg (29%) Potassium: 164mg (5%) Fiber: 2g (8%) Sugar: 1g (1%)