Jump to Recipe
These homemade taquitos are stuffed with seasoned shredded chicken and cheese, and then baked or fried until crispy, crunchy and golden brown. Serve with shredded lettuce and your favorite Mexican toppings for an easy dinner recipe or appetizer ready in only 30 minutes!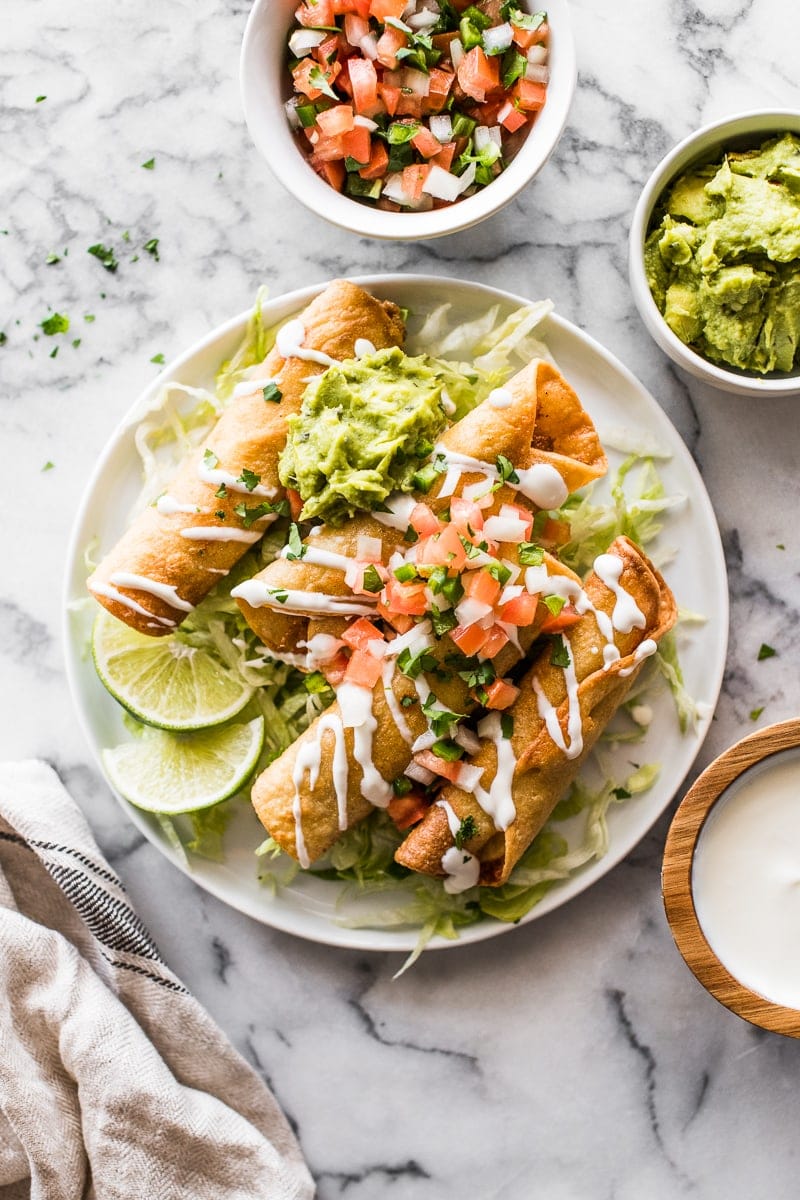 Let's talk about one of my favorite Mexican dishes – taquitos! They're one of those meals that everyone in my family is always excited to eat. They're crispy and crunchy, filled with flavorful chicken (or beef) and best of all they're quick and easy to make. My husband never says no to taquitos and there never seems to be any leftovers!
What are taquitos?
Taquitos (also called tacos dorados, rolled tacos, or flautas) are a popular Mexican dish made from small rolled-up corn tortillas filled with meat, cheese, or beans. The tortillas are secured and closed with a toothpick and then baked or fried. Taquitos are typically served with shredded lettuce and various condiments like Mexican crema and pico de gallo.
How To Make Chicken Taquitos
To make chicken taquitos, you'll need some cooked shredded chicken. You can use any leftover chicken you have in the fridge, use a store-bought rotisserie chicken, or you can make your own shredded chicken at home.
To season the shredded chicken, toss it in a mixing bowl with some easy-to-find Mexican spices like chili powder, ground cumin and a few others. Then comes the fun part – assembling the taquitos!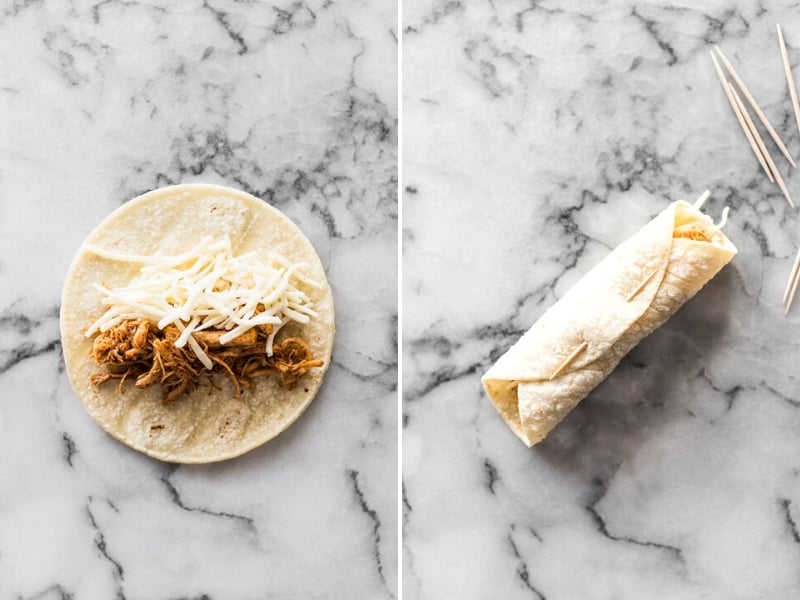 To assemble, place a heaping spoonful of shredded chicken and shredded cheese onto a warm tortilla. Fold one side over the filling and tuck it in as tight as you can. Roll up the rest of the tortilla and secure the seams together with a toothpick like the photo above.
How to keep your tortillas from cracking
The trick to keeping corn tortillas from cracking when making taquitos is warming them up until they're very soft and pliable. The easiest way to do this is by wrapping the tortillas in some damp paper towels and microwaving them for 1-2 minutes to help create some steam. The steam created by the moist paper towels helps to keep them from drying out and makes them foldable.
Once all the tortillas are warm and pliable, I like to put them in a tortilla warmer or wrap them in a clean kitchen towel and place them inside a large gallon-sized Ziploc bag to help them retain heat and moisture.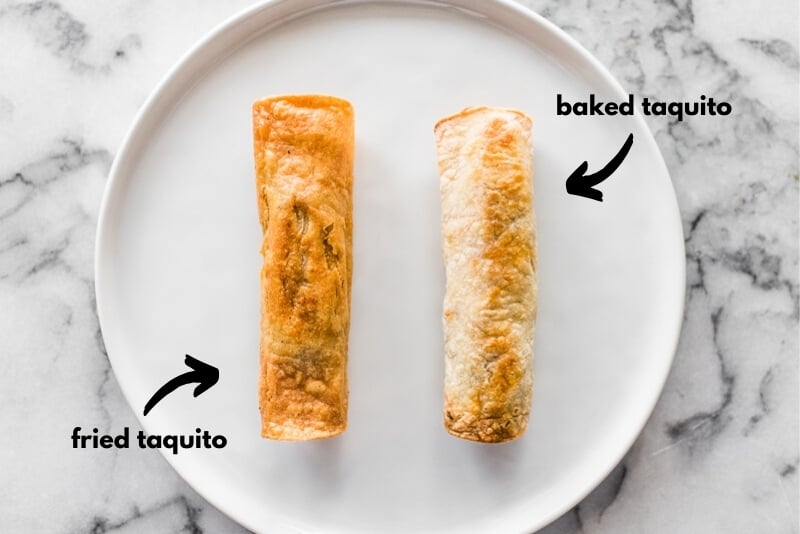 Homemade taquitos: Baked or Fried
One of my favorite things about making taquitos at home is having the option of baking them or frying them. Typically the taquitos you order at a Mexican restaurant will be fried, but baking them is a great option if you're looking for a lighter weeknight dinner or simply don't have any frying oil on hand.
How to bake taquitos
To bake, brush a little olive oil or cooking spray on the tops of each taquito. Place them in a single layer on a large baking sheet covered with parchment paper and bake for 15-20 minutes at 425°F. I recommend checking them at 15 minutes to see if they're crispy and golden brown. If not, put them back in for a few more minutes.
How to fry taquitos
To fry, you'll need some canola oil or other vegetable oil. You don't need a lot – just enough to cover about halfway up the taquito when frying. Fry in a large skillet for 1-2 minutes per side, until crispy and golden brown. To remove any excess oil, place the taquitos on a large plate or baking sheet covered with paper towels.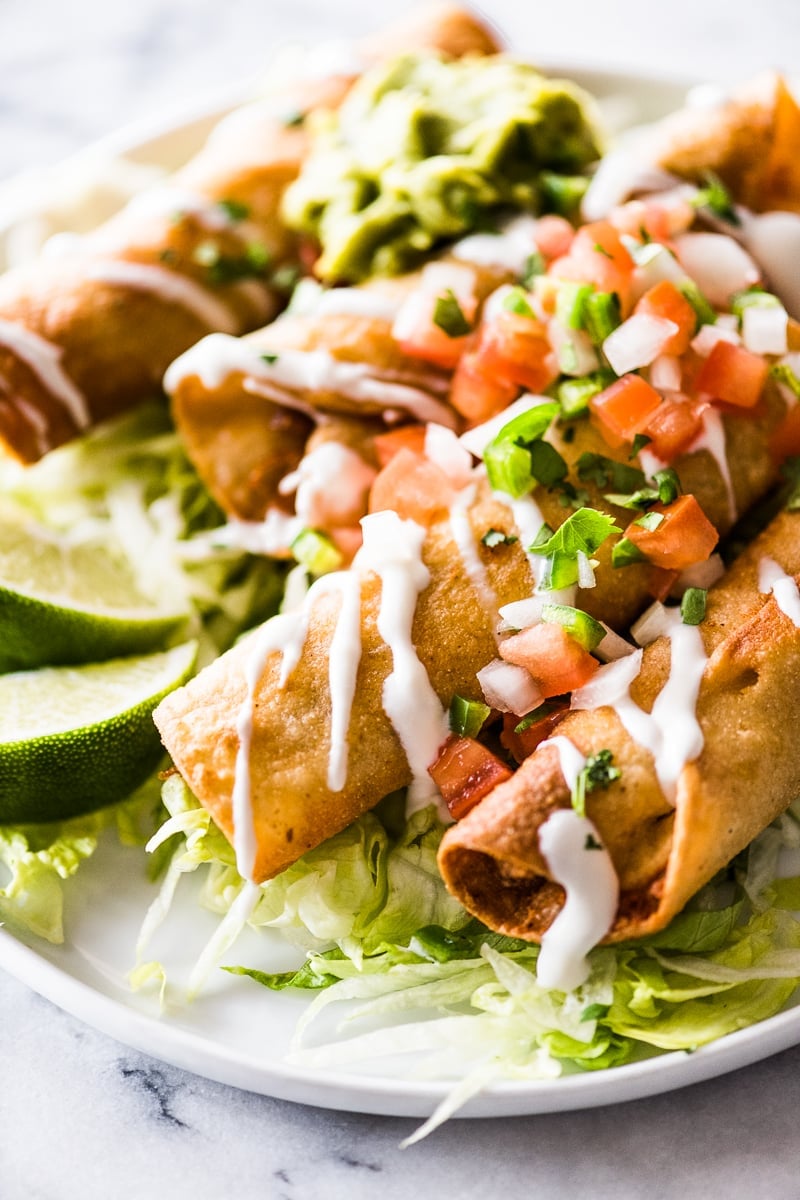 Thes best Taquito Toppings
To complete the taquito eating experience, you're going to want to serve them with all the best Mexican toppings! Here are a few of my favorites:
shredded lettuce
chopped cilantro
mexican crema (or sour cream)
pico de gallo
guacamole
cotija cheese (or more shredded cheese)
hot sauce
Prep: 15 minutes
Cook: 15 minutes
Total : 30 minutes
Chicken taquitos stuffed with shredded chicken and cheese, and then baked or fried until crispy and golden brown. Ready in 30 minutes!
Ingredients
2 ½ cups cooked shredded chicken (or shredded beef)
1 tablespoon chili powder
½ teaspoon garlic powder
½ teaspoon ground cumin
½ teaspoon onion powder
salt, to taste
1 ½ cups shredded cheese (Monterey Jack or a Mexican blend)
18 small corn tortillas
oil, about 2-3 cups for frying or 1-2 tablespoons for baking
Instructions
In a medium bowl, add the shredded chicken, chili powder, garlic powder, ground cumin, onion powder and salt in a bowl. Toss together to combine. Taste and season with more salt if necessary.

Wrap the tortillas in a damp paper towel and heat them in the microwave for 1-2 minutes, flipping the tortillas halfway through until all of them are warm and pliable.

Place a heaping spoonful of shredded chicken and shredded cheese onto each tortilla. Tightly roll up the tortillas and secure it closed by threading a toothpick along the seam (see photo in blog post).

To fry the taquitos: Pour enough oil into the bottom of a deep skillet or frying pan so that the oil reaches halfway up the taquitos. Heat oil over medium-high heat to 350°F (To test, drop a small piece of tortilla in the oil. If it sizzles, it's ready.) Cooking in batches, add 3-4 taquitos and fry for about 1 1/2-2 minutes per side until golden brown. Transfer taquitos to a large plate or baking sheet lined with paper towels to soak up any excess oil.

To bake the taquitos: Preheat the oven to 425°F. Place the taquitos on a large baking sheet covered with parchment paper. Lightly brush or spray the tops of the taquitos with cooking oil. Bake for 15-20 minutes or until they're crispy and golden brown.

Remove the toothpicks from the taquitos and serve with shredded lettuce, pico de gallo, mexican crema and guacamole.
Isabel's Tips:
Want it spicy? Add in 1 or 2 minced chipotle peppers in adobo sauce to the shredded chicken mixture.
To freeze – Allow the taquitos to cool completely. Place them in a freezer-safe container or zip-top bag and freeze for up to 3 months. Thaw overnight in the refrigerator.
To reheat – Place taquitos on a baking sheet covered with parchment paper and bake in a 350°F for 10 minutes, until warmed through.
Nutrition Information
Serving: 1taquito Calories: 130kcal (7%) Carbohydrates: 12g (4%) Protein: 9g (18%) Fat: 4g (6%) Saturated Fat: 2g (10%) Cholesterol: 22mg (7%) Sodium: 92mg (4%) Potassium: 109mg (3%) Fiber: 2g (8%) Sugar: 1g (1%) Vitamin A: 203IU (4%) Calcium: 72mg (7%) Iron: 1mg (6%)