Cilantro is an herb that's used in many dishes to add a bright, almost citrus-like flavor. It compliments many ingredients used in Mexican cuisine, and is often used as a garnish on tacos, rice, and enchiladas as well as in marinades like carne asada.
It's one of my favorite herbs to use on Isabel Eats and I learned this method of chopping cilantro from my Mexican parents!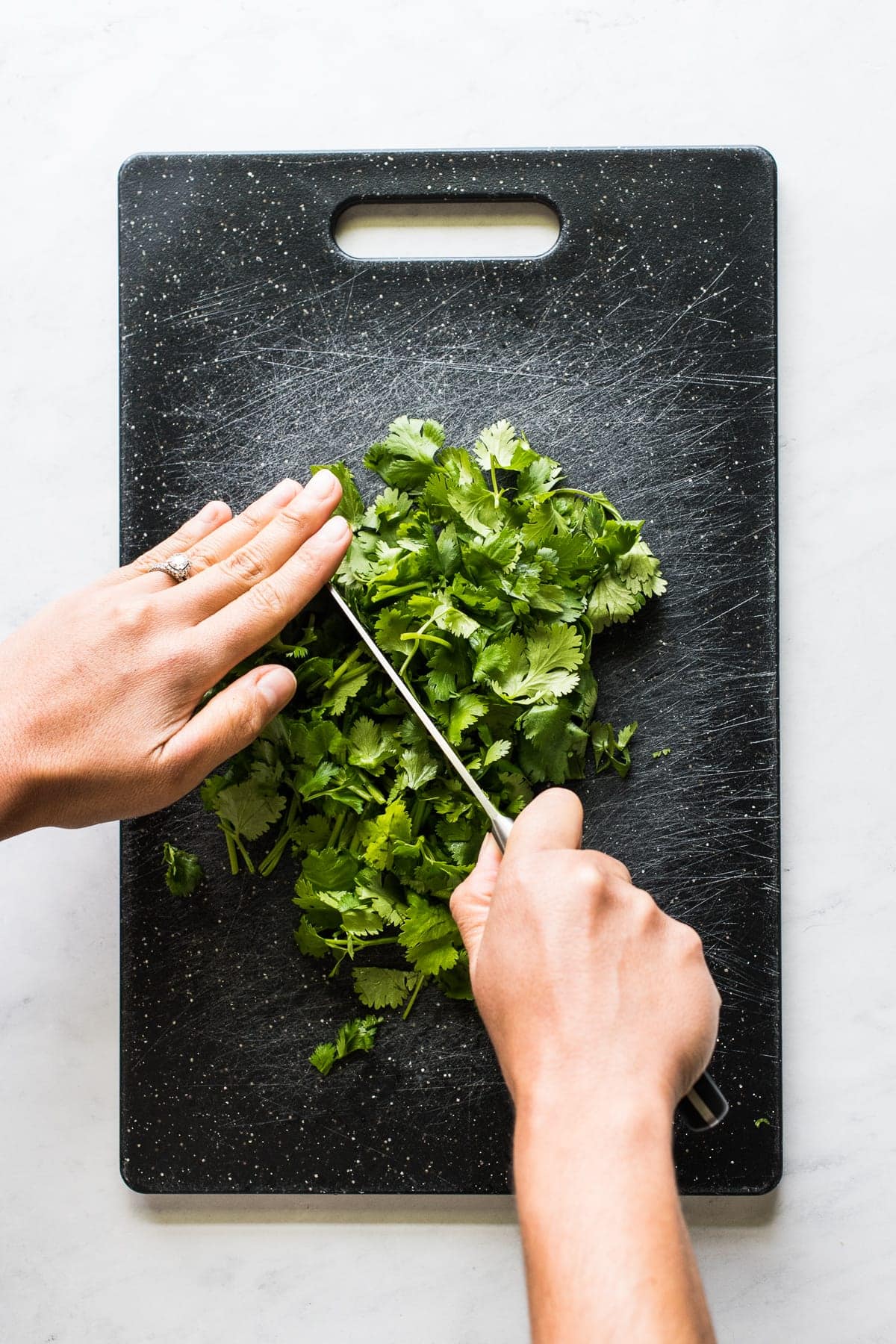 How to Chop Cilantro
If you've never used cilantro before, you may be wondering, "What's the right way to chop cilantro?" Below is the best method (and my personal favorite way) to cut cilantro. No need to pluck off the leaves individually!
Place cilantro bunch on cutting board.

Grab a handful of freshly washed cilantro and pinch the stems together like you would a bouquet of flowers. Lay it on a cutting board.

Slice off long stems.

Cut off the large woody stems, right after where the leaves start to grow, and discard.

Chop cilantro.

Cut the cilantro from one end of the bunch to other using a rocking motion with a knife.

Stop when you reach desired consistency.

When the cilantro is chopped to your liking (either roughly chopped or finely chopped), it's ready to use!

Tips and FAQs
Make sure to use a sharp knife.
When chopping cilantro (and other herbs), be sure to use a sharp knife. Because cilantro leaves are particularly tender, using a sharp knife ensures that you're actually slicing and chopping the cilantro and not accidentally mushing it together.
Can I eat the long woody stems?
Yes, but I find that that they don't have as much flavor as the thinner upper stems with leaves.
What can I do with the discarded stems?
You can place the long woody stems in your compost bin!
Recipes to make with cilantro
Now that you know how to cut cilantro, here are some recipes to make with this flavorful herb!