Jump to Recipe
This Creamy Cilantro Lime Chicken is a creamy low carb and gluten free dish perfect for any night of the week!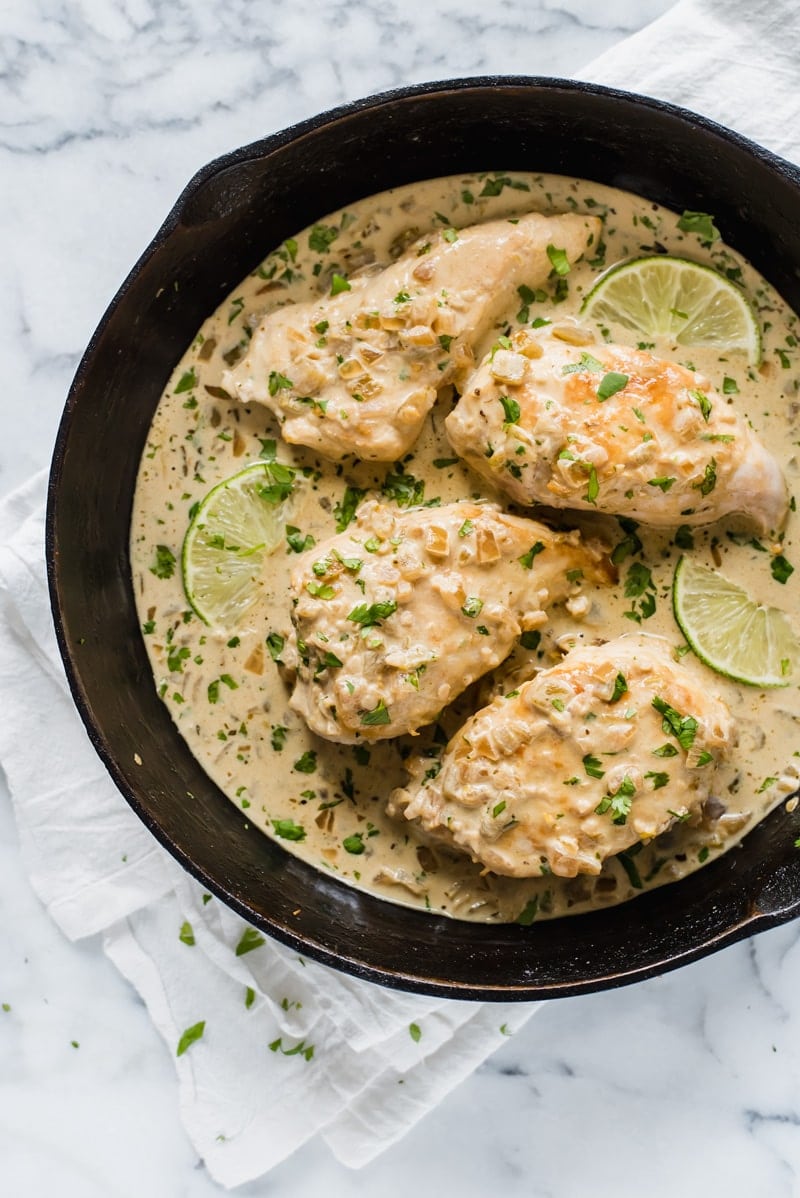 I'm taking a little break from all the holiday food and sharing this Creamy Cilantro Lime Chicken recipe that's good any time of the year.
Like tonight, for example. Tonight would be a great night to make this chicken skillet, don't you think? 😉
Covered in a creamy and flavorful sauce made with diced green chiles, lime juice, oregano, cumin and coriander, this cilantro lime chicken is gluten free and low carb. It requires only one skillet and pairs perfectly with many side dishes (sauteed green beans, cauliflower rice, roasted broccoli, noodles)!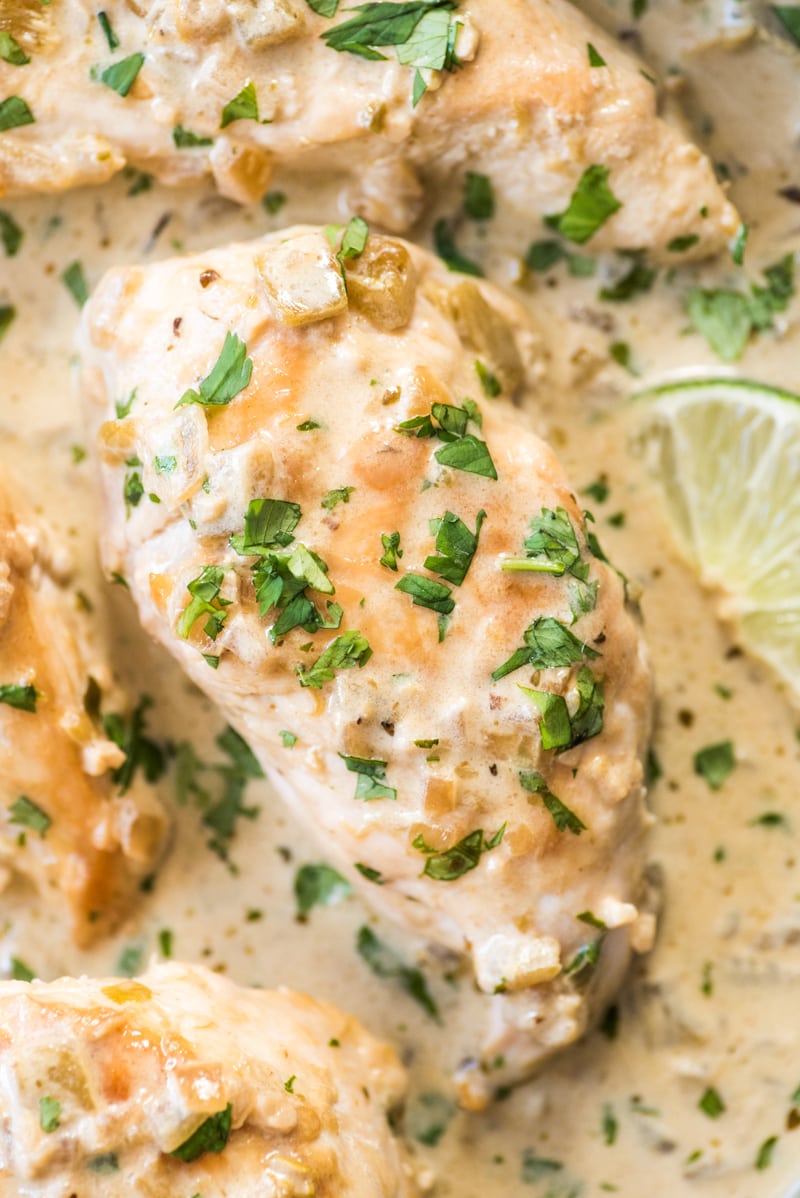 How to make creamy cilantro lime chicken
To make this Creamy Cilantro Lime Chicken, you'll need an oven-safe skillet. I used one of my favorite cast iron skillets that I got at a thrift shop, but you can use anything you have.
If you don't have a cast-iron skillet and are looking to get one, you can't go wrong with this 13-inch pre-seasoned skillet from Lodge. It's big enough to make one-skillet meals (which I LOVE), it's inexpensive on Amazon and it will last you for pretty much your entire life.
It's a must-have for any foodie.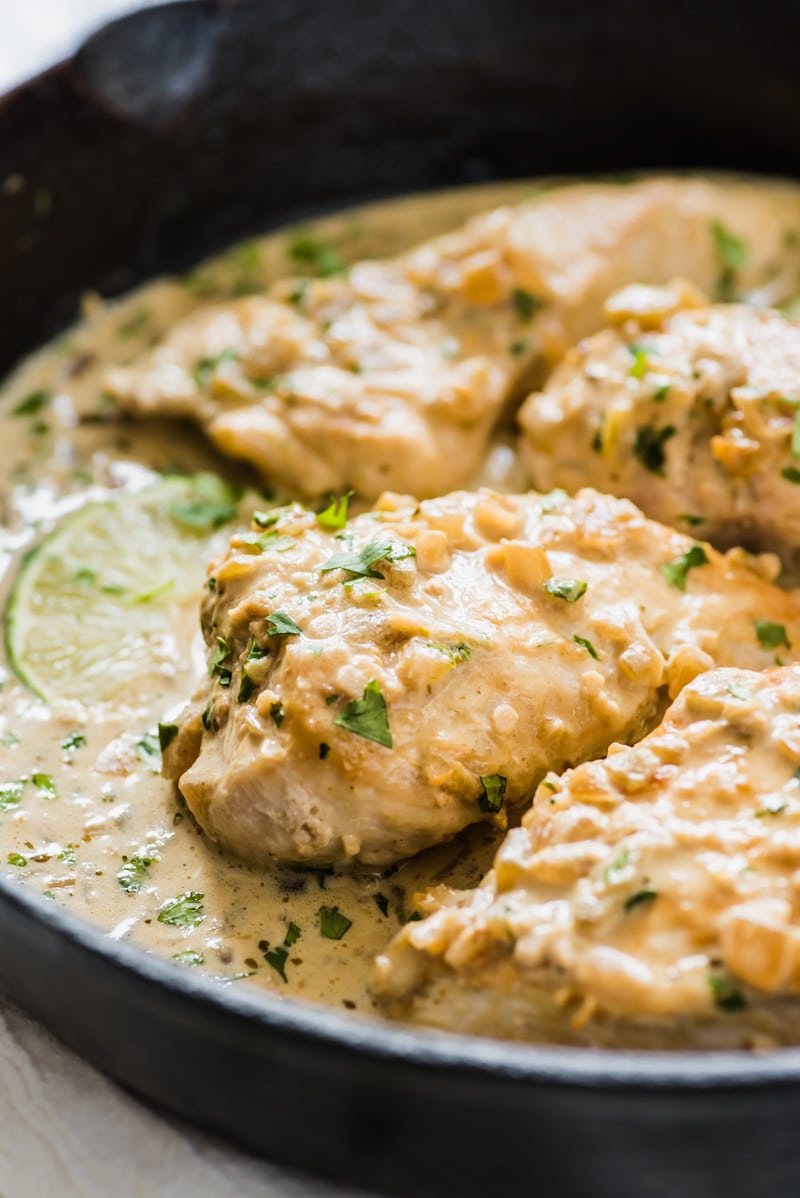 To cook the chicken, I browned it in the skillet over medium-high heat on both sides, and then placed the skillet in the oven for about 10 to 12 minutes, until the chicken was fully cooked through.
Because chicken breasts are usually uneven thicknesses when you buy them, I recommend using a meat tenderizer like this one (or even just your heavy cast iron skillet) to pound out the chicken until the breasts are all about the same thickness. This will help them cook evenly when they're in the oven and save you from cutting into a breast and finding out that it's not fully cooked through. That's happened to me before many times and it's so frustrating.
John and I finally got smart and bought an in-oven meat thermometer. Guys, it's been SUCH A LIFESAVER! I highly recommend buying one. We get a ton of use out of ours, from using it in recipes like this one to roasts, steaks and even baking. Here's the exact thermometer that we have. We absolutely love it.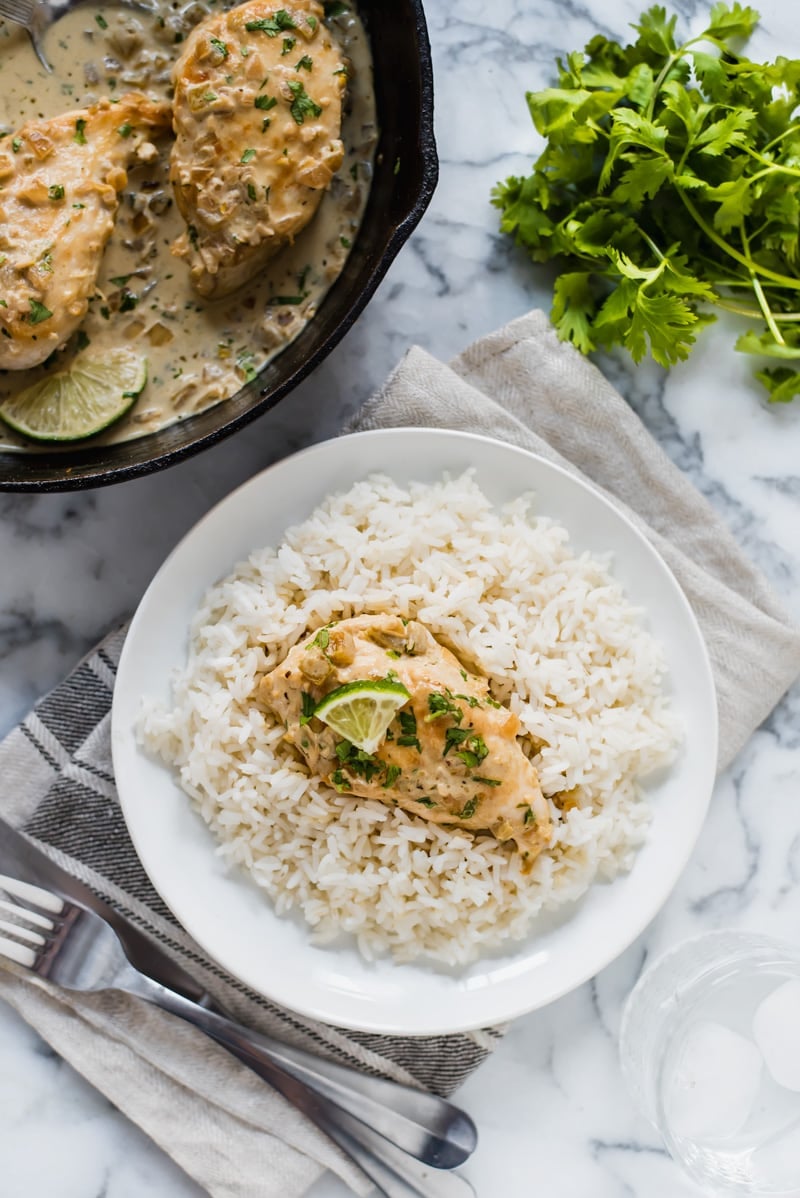 Once the chicken cooked through in the oven, I made the creamy sauce. First, I removed the skillet from the oven, placed the chicken on a plate and covered it with foil to keep it warm.
Then, in that same skillet with all the delicious brown bits, I cooked the onions, green chiles, garlic, chicken broth and the rest of the ingredients over medium heat until the liquid reduced and concentrated.
Finally, remove the skillet from the heat, mix in a little cream and cilantro, add the chicken back into the pan and that's it! Serve up this cilantro chicken with your favorite side and dinner is served.
More Low Carb recipes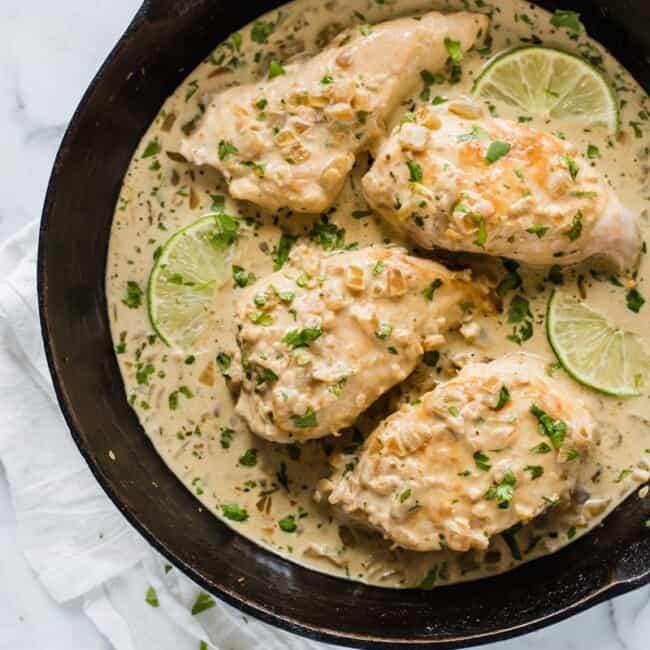 Prep: 10 minutes
Cook: 35 minutes
Total : 45 minutes
This Cilantro Lime Chicken is a creamy low carb and gluten free dish perfect for any night of the week!

Instructions
Preheat oven to 375 degrees F. If the chicken breasts are all an uneven thickness, use a meat tenderizer like this one or a heavy pan and pound out the breasts until they're all the same thickness. Season chicken with salt and pepper.

In a large oven-safe skillet over medium-high heat, add olive oil. Place chicken breasts in skillet and cook for 5 minutes on each side, or until both sides are browned.

Place skillet in oven and bake for 10 to 12 minutes, until chicken is fully cooked through and the internal temperature has reached 165 degrees F.

Remove the skillet from the oven and transfer the cooked chicken to a large plate. Cover with foil to keep warm.

Place the same hot skillet over medium heat and add the onions. Cook for 2 minutes, scraping the bottom of the skillet to get the brown bits off the pan. The skillet should still be very hot so be careful.

Add the green chiles and garlic. Cook for 2 minutes. Add the chicken broth, lime juice, cumin, oregano and coriander.

Mix together and bring to a gentle boil for 10 minutes or until liquid has greatly reduced.

Remove the skillet from the heat and mix in the cream and cilantro. Place the cooked chicken in the sauce and serve.
Nutrition Information
Serving: 1/4th of recipe Calories: 320kcal (16%) Carbohydrates: 4g (1%) Protein: 35g (70%) Fat: 18g (28%) Saturated Fat: 6g (30%) Polyunsaturated Fat: 1g Monounsaturated Fat: 8g Cholesterol: 112mg (37%) Potassium: 370mg (11%) Sugar: 2g (2%) Vitamin A: 450IU (9%) Vitamin C: 12.4mg (15%) Calcium: 50mg (5%) Iron: 1.6mg (9%)