Jump to Recipe
These quick and easy Jalapeno Corn Cakes make the perfect Mexican side dish and are gluten free and vegetarian!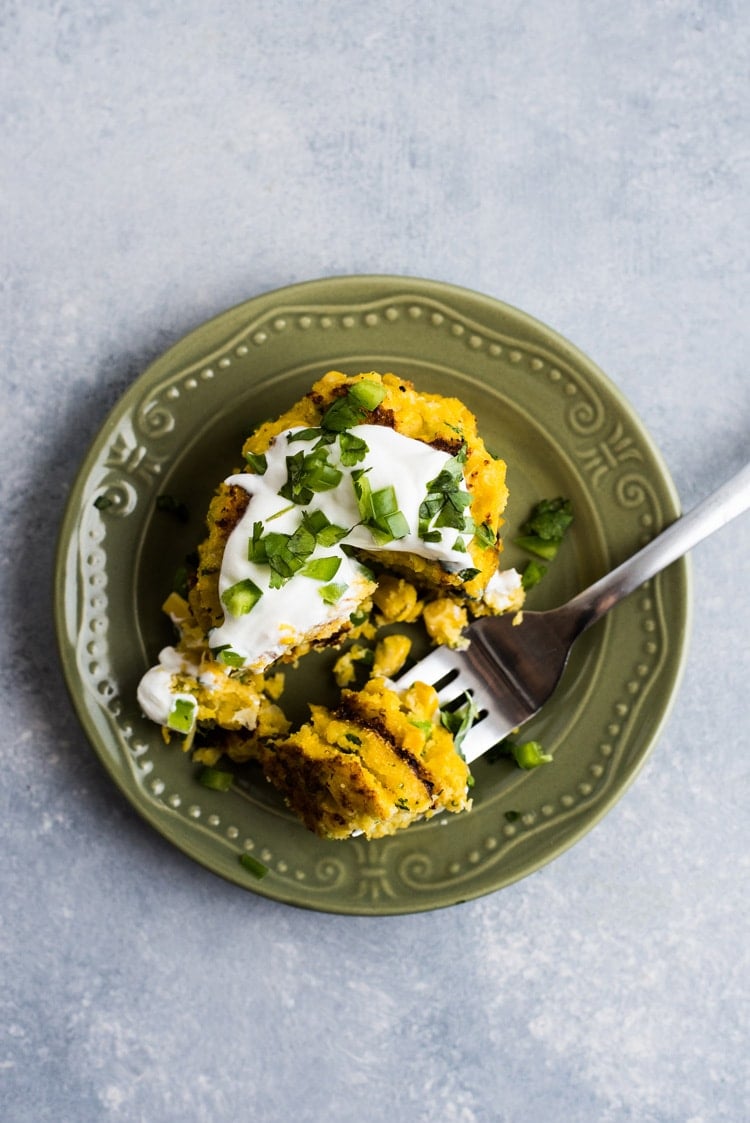 There's something about summer that makes me want to eat all the corn. First of all, it's just so freaking beautiful! I can't be the only one who gets excited to pull back corn husks and reveal perfect little corn on the cob specimens, right?
Please tell me I'm not alone. Gah, I'm such a loser.
Other (better) reasons why I love corn: it's in season this time of year, it delicious, especially when grilled and it's inexpensive.
But don't let your wallet fool you – just because corn is inexpensive doesn't mean it can't be elevated to be just a teeny tiny bit fancier. These Jalapeno Corn Cakes are proof.
Ingredients in Jalapeno Corn Cakes
To make these little corn fritters, you'll need yellow corn, corn meal, an onion, eggs, jalapenos, cilantro and other herbs and spices. Once all the ingredients are mixed together, use an ice cream scoop to easily measure out the little patties pan-fry them on both sides until golden brown.
It's okay if some of the corn kernels on the sides don't stick to the corn cakes – that's completely normal and to be expected.
Now here comes the part that takes these corn cakes to a whole new level – the toppings. Two great options are crème fraîche or sour cream. Crème fraîche is rich and buttery in flavor whereas sour cream is tangy and cooling. Both are great choices that don't require you to make your own sauce.
But if you have an extra 3 minutes and want to pair these corn cakes with a spicy dipping sauce, try this Easy Chipotle Sauce.
I originally used it as a sauce in my Baja Fish Tacos, but I have found myself constantly using it in other recipes. Because it's so easy to make, it's my go-to when I don't have a ton of time.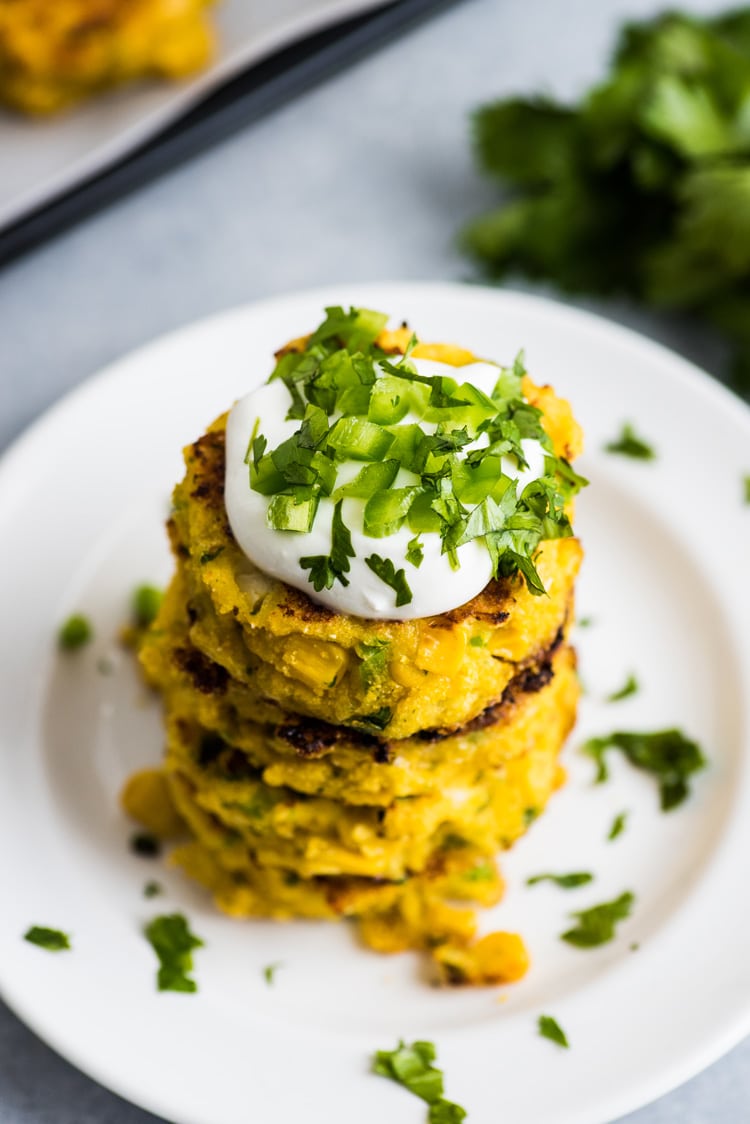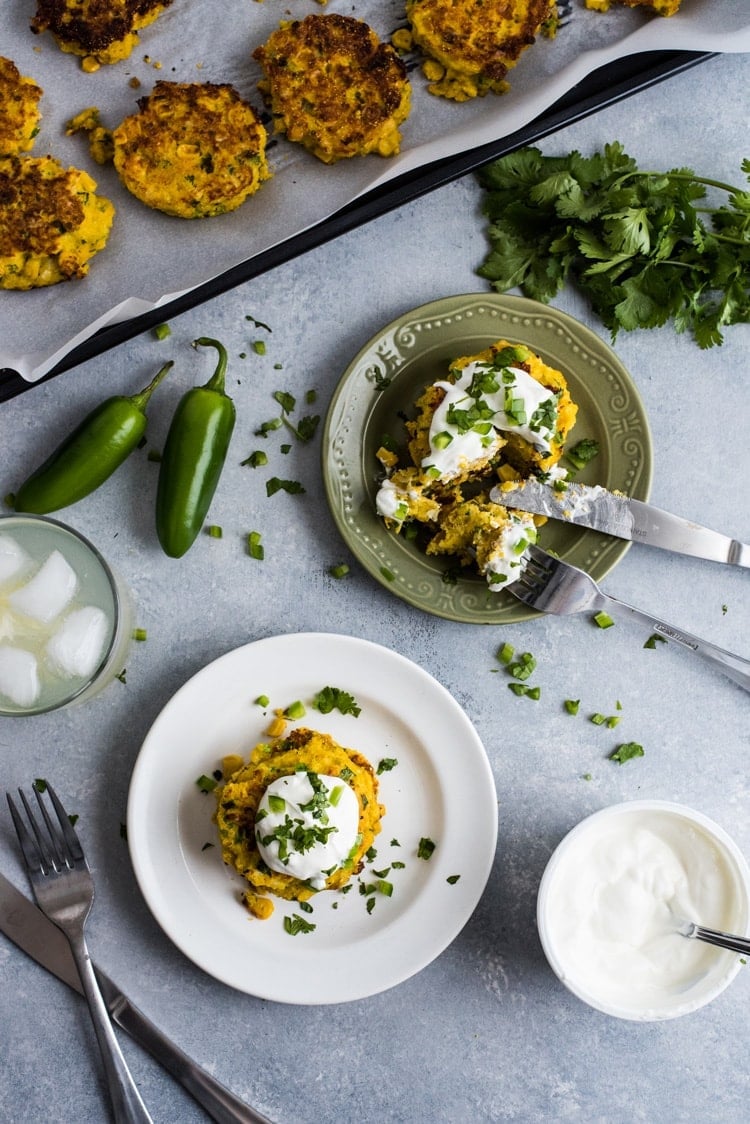 Quick and easy Jalapeno Corn Cakes that are gluten free and vegetarian. The perfect Mexican side dish!
Ingredients
3 cups cooked yellow corn (or 2 15-ounce cans of whole kernel corn)
1 small yellow onion, diced (about 3/4 cup)
2 large eggs
1/4 cup chopped cilantro lightly packed
1 1/2 teaspoons salt
1/2 teaspoons garlic powder
1 pinch freshly ground black pepper
1 1/4 cup yellow corn meal
1 teaspoon baking powder
2 large jalapeño peppers deviened and finely diced
3 tablespoons olive oil
Instructions
In a large bowl, combine 2 cups of yellow corn, onion, eggs, cilantro, salt, garlic powder and black pepper. Blend using an immersion blender (or regular stand blender) until the mixture is mostly smooth.

Add in remaining yellow corn, yellow corn meal, baking powder and jalapenos. Stir until fully combined.

Heat 1 tablespoon olive oil in large frying pan over medium-high heat. Using an ice cream scoop, drop scoops of the mixture into the pan and pan fry until golden brown, about 3 minutes per side. (If you don't have an ice cream scoop, measure out about 3 heaping tablespoons per corn cake.)

Season corn fritters with more salt and pepper, if necessary, and serve with crème fraîche or sour cream, freshly diced jalapenos and cilantro.
Nutrition Information
Calories: 132kcal (7%) Carbohydrates: 19g (6%) Protein: 3g (6%) Fat: 5g (8%) Potassium: 123mg (4%) Fiber: 3g (12%) Vitamin A: 150IU (3%) Vitamin C: 7.4mg (9%) Calcium: 10mg (1%) Iron: 0.9mg (5%)