Made with crispy corn tortillas, eggs, tomatoes, bell peppers and onions, Migas (Mexican Egg Tortilla Breakfast Skillet) is an easy morning meal that's sure to please the whole family! (gluten free + vegetarian)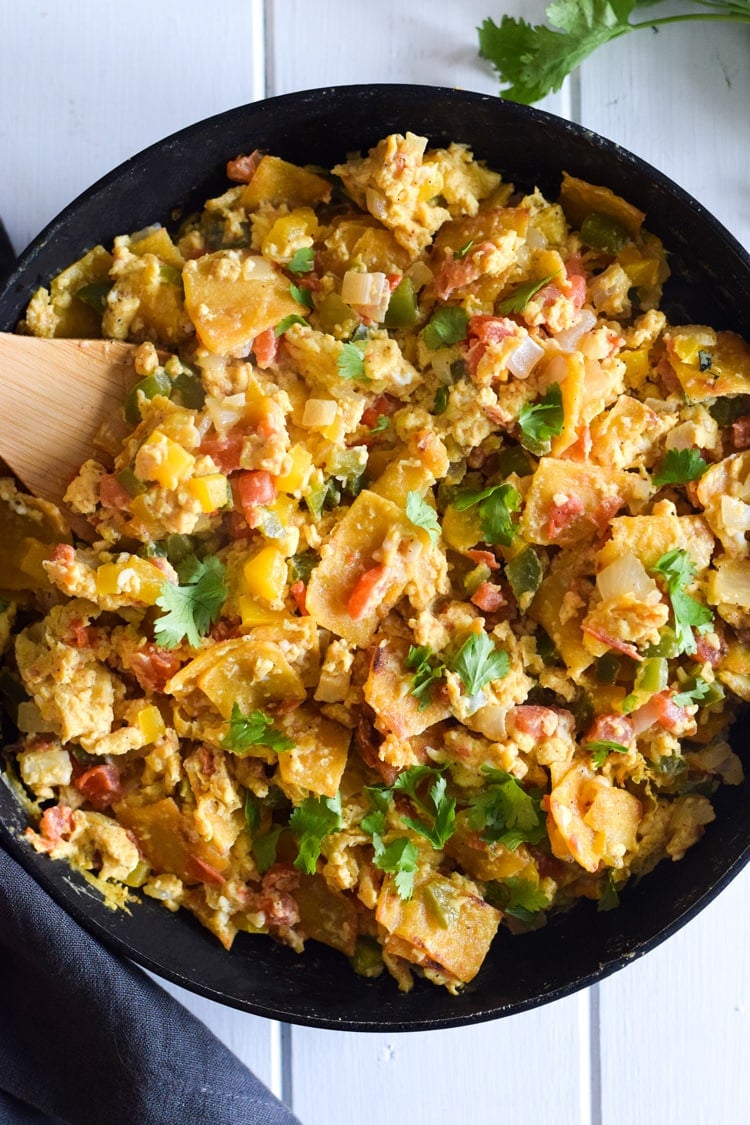 Update: This recipe was originally published in November 2015. I've since then decided to revisit the recipe and tweak the ingredients just a bit. I'm happy to say this recipe is better than ever! I've also updated the photos and let me tell you, this was not an easy shoot! Migas aren't exactly photogenic but they are damn good!
Mexican food for breakfast? Yep, it's real and oh-so delicious. Also known as "migas" in Spanish, this one-pot Mexican Egg & Tortilla Breakfast Skillet is made with crispy corn tortillas, eggs, tomatoes, bell peppers and onions. It's an easy morning meal that's perfect for a big brunch and even makes great leftovers.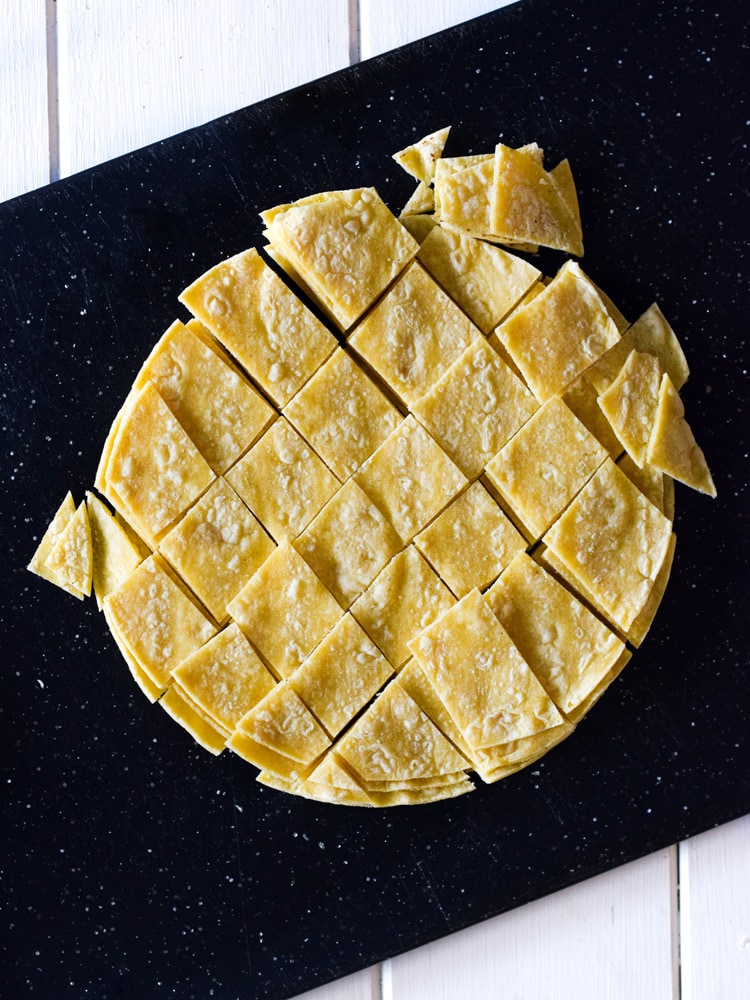 Corn tortillas are ALWAYS in stock at my house. They're so versatile and can be eaten with any meal of the day. But though people can easily picture possible lunch and dinner options that incorporate corn tortillas (tacos, burritos or quesadillas), most find it a bit more difficult to find ways of eating them at breakfast time. Today, we're going to fix that.
If you've never eaten corn tortillas and eggs together, you are missing out. The nuttiness and corniness of the tortilla perfectly balances the richness and creaminess of the egg. Add some crunchy, fried texture and Mexican spices and what's not to love?
Also, weirdo alert, what's not to love about the word "corniness" when actually referring to the taste of corn, am I right? That word just puts a smile on my face every time.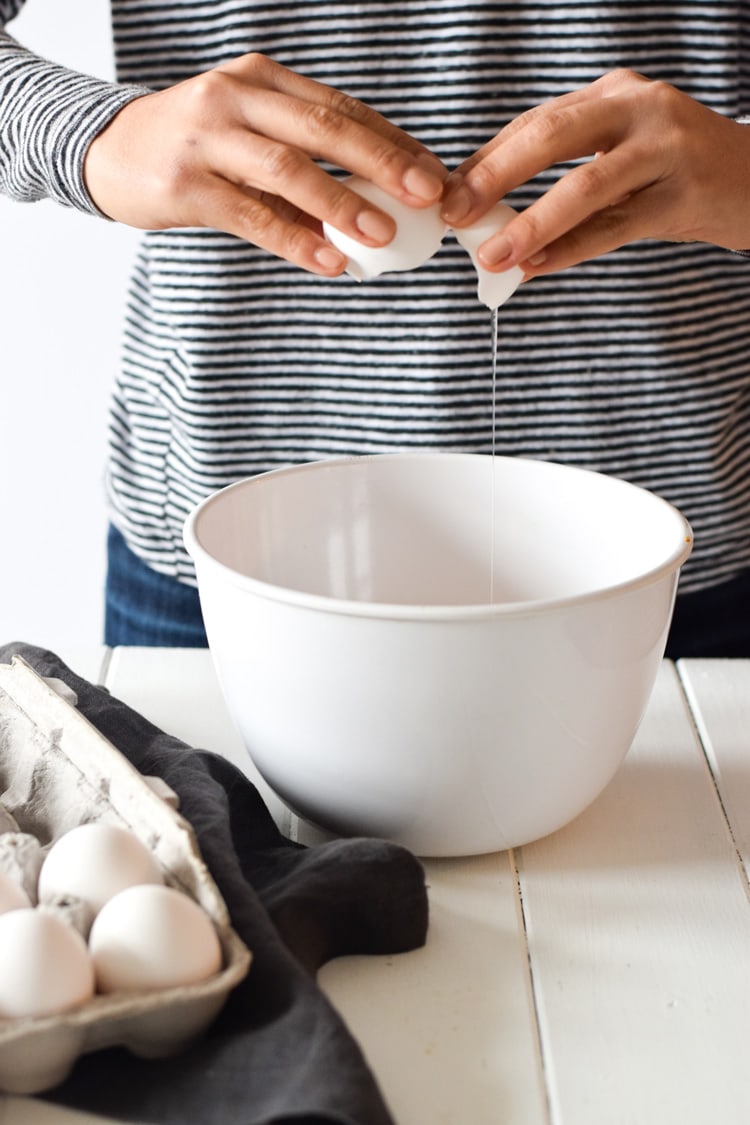 While this dish is very easy to make, there are two things you want to pay attention to when cooking this meal – the tortillas and the tomatoes.
One of the best things about this breakfast skillet is the texture provided by the crispy, fried tortillas. So make sure you fry them really well! When you're frying them up (step 2 in the instructions below), be sure to make them as crispy as possible without burning them. They may seem too crispy at first, but remember that you are going to be adding veggies and eggs later. Once you add the other ingredients, the tortillas will soak in some of the added moisture and soften up a bit.
In addition to making sure your tortillas are super crispy, you also want to reduce any excess moisture that the tomatoes may add. Too much moisture means soggy tortillas and after you did the hard work of frying them up, that's the last thing you want. You can draw out some of the moisture by placing your diced tomatoes in a strainer and sprinkling them with a little salt right before you start to cook. When it's time to add the tomatoes to the pan (step 4 in the instructions below), just shake them a bit in the strainer and they're good to go.
While the above may look like a lot, it's simple. Promise. Just make sure your tortillas are crispy and you're tomatoes aren't too wet.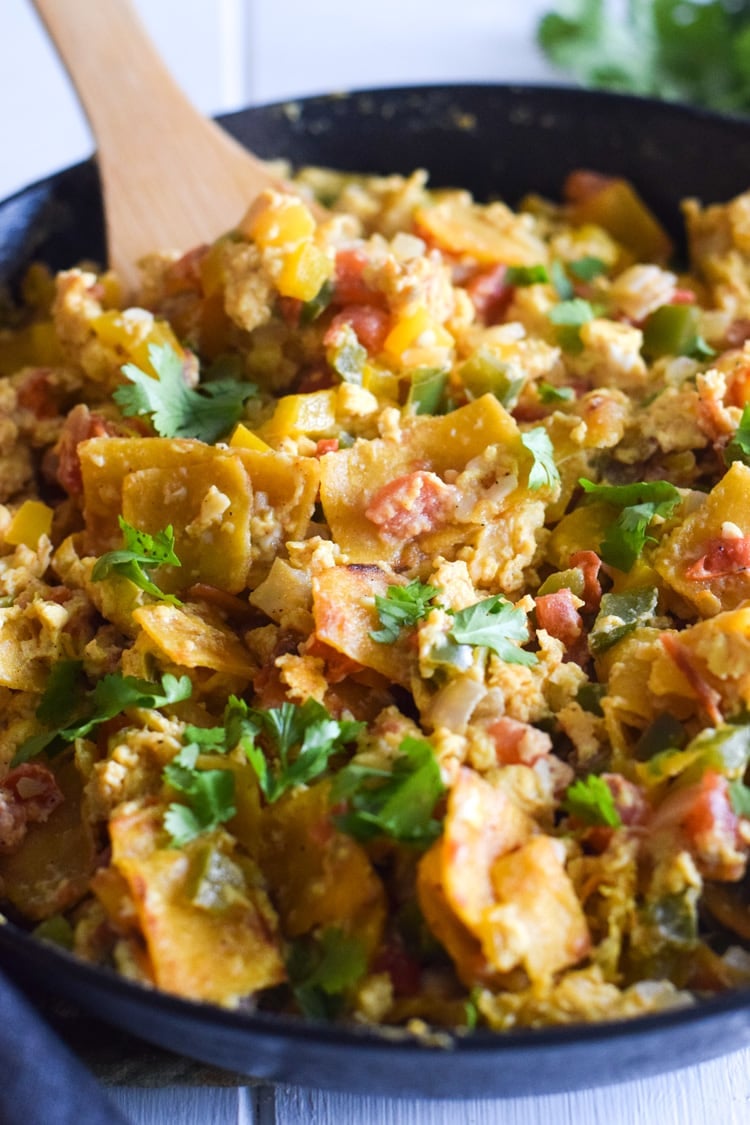 I like to think of myself as a tortilla connoisseur. Hands down, homemade tortillas have the best flavor and texture. You just CAN'T beat 'em. Lucky for you, I've written a post about how to make your own corn tortillas that includes a link to the ingredients necessary to make them just in case the ethnic section in your local grocery store doesn't carry them.
If you just don't have the time nor the desire to make your own tortillas, that's perfectly okay. When picking out packaged corn tortillas at the grocery store, I recommend looking at the the back of the package and picking out the one with the least number of ingredients. Corn tortillas are made from ground corn meal, water, and salt. That's all you need. Most of the ones you'll find in your local grocery store will also have some preservatives to help keep them fresh – that's okay. But if you see a package that lists 7, 8 or even 10 or more ingredients, stay away. It's just not necessary. Most of the time, your best bet will be to look for tortillas that are in the refrigerated section, usually by the dairy and eggs.
If you just can't find a brand you like or if you love online shopping like I do, here's a brand I recommend that can be purchased on Amazon. Ingredients? Corn meal, water and salt.
As for packaged flour tortillas, I have yet to find any that I love. The flavor is just not the same. I recommend making your own. Here's a link to my post on how to make white and whole wheat flour tortillas.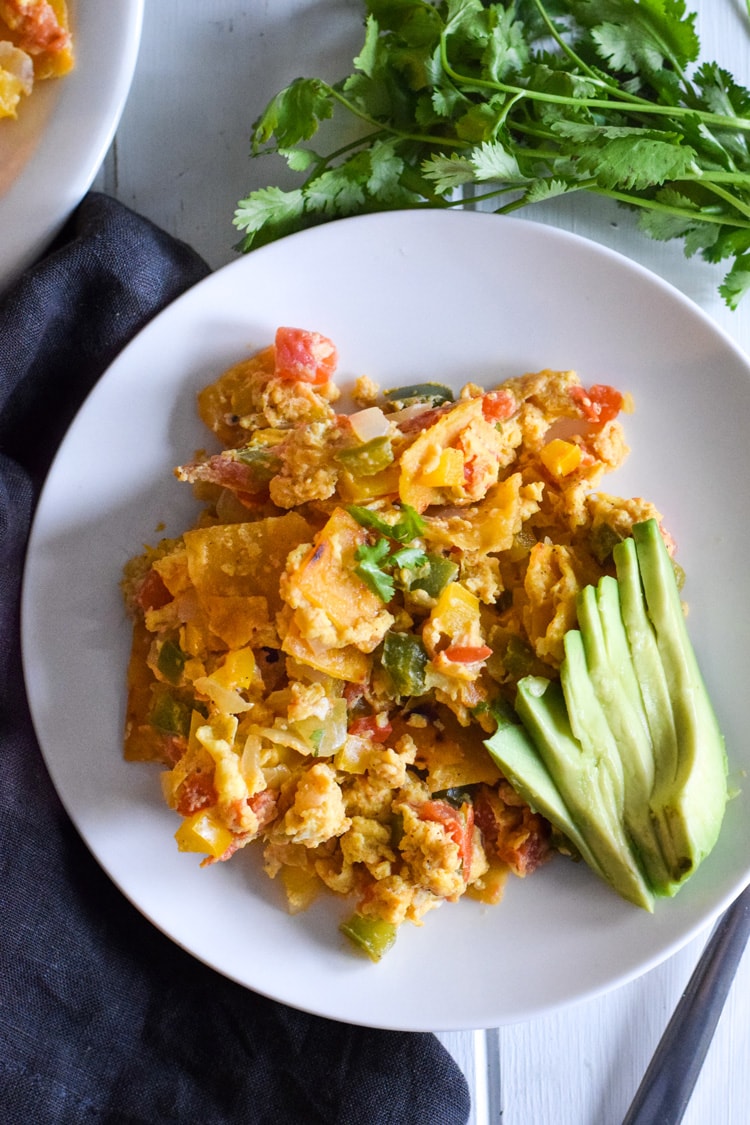 I hope you enjoy this recipe as much as I do!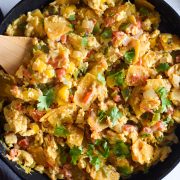 Migas (Mexican Egg Tortilla Breakfast Skillet)
Made with crispy corn tortillas and veggies, Migas (Mexican Egg Tortilla Breakfast Skillet) is an easy morning meal that's sure to please the whole family! (gluten free + vegetarian)

Ingredients
2.5

tbsp

olive oil

or other cooking fat

8

eggs

1/2

tsp

coarse sea salt

4

corn tortillas

cut into squares

1

medium

green bell pepper,

diced

1/2

medium

red bell pepper,

diced

1/2

medium

yellow onion,

diced

2

tsp

minced garlic

2

medium

roma tomatoes,

diced

1/4

tsp

chili powder

1/4

tsp

cumin

1

pinch

black pepper
Instructions
Heat 2 tbsp olive oil in a large frying pan over medium-high heat. While oil is heating up, whisk the eggs in a medium bowl and set aside.

Add the cut corn tortillas into the pan and cook until crispy, about 6 to 8 minutes. Season with the remaining 1/4 tsp of salt. Using a slotted spoon or spatula, remove the crispy fried tortillas from the pan and place on plate covered in paper towels. Set aside.

Add the remaining 1/2 tbsp olive oil to the frying pan and add the diced bell peppers, onions and garlic and sauté, mixing often, for about 6 to 8 minutes or until peppers are soft and beginning to blister.

Add the diced tomatoes, chili powder, cumin, black pepper and cook for another 5 minutes.

Add the whisked eggs to the pan and cook for about 30 seconds to 1 minute. Quickly add in the crispy fried tortillas and fold into the eggs. Cook for about 2 to 4 minutes or until the eggs are fully cooked and no longer runny.

Remove from heat and top with cotija or feta cheese, cilantro and hot sauce if desired. Enjoy!
LIKE THIS MIGAS RECIPE? LET ME KNOW IN THE COMMENTS BELOW!
This page contains affiliate links. If you make a purchase on Amazon after clicking one of my links, I may receive a small commission. The price of the item stays the same and any money I make goes to supporting this blog. I only endorse products and services that I fully believe in.
Breakfast To-Go
A month's worth of gluten free on-the-go breakfast recipes to help make your morning breakfast routine a little easier.