Jump to Recipe
This Easy Huevos Rancheros recipe features crispy corn tortillas topped with fried eggs covered in a spicy tomato jalapeno salsa. (vegetarian, gluten free)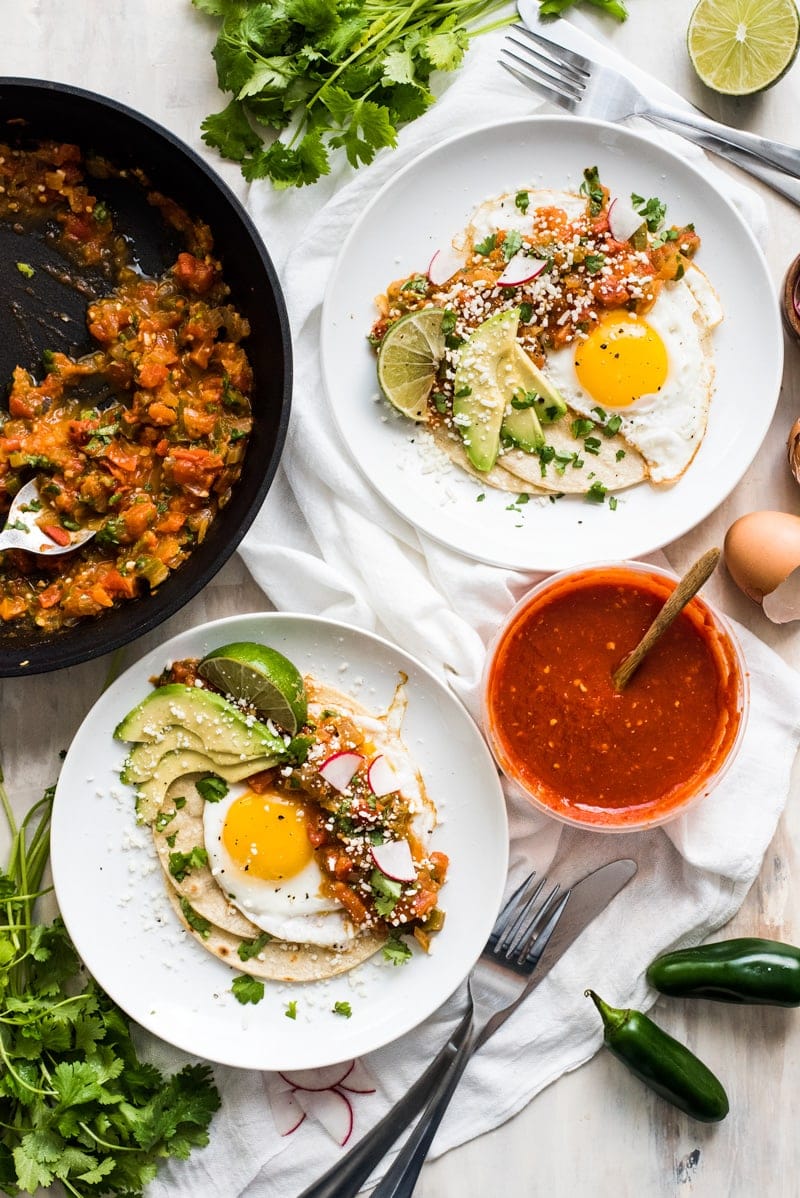 Can we talk about how much I love delicious breakfast recipes like these Easy Huevos Rancheros? It's got all the components of a satisfying meal – protein from the eggs, carbs from the tortillas and good veggies from the homemade salsa. Dress it up with some sliced avocados and cotija cheese and you've got one beautiful plate of food!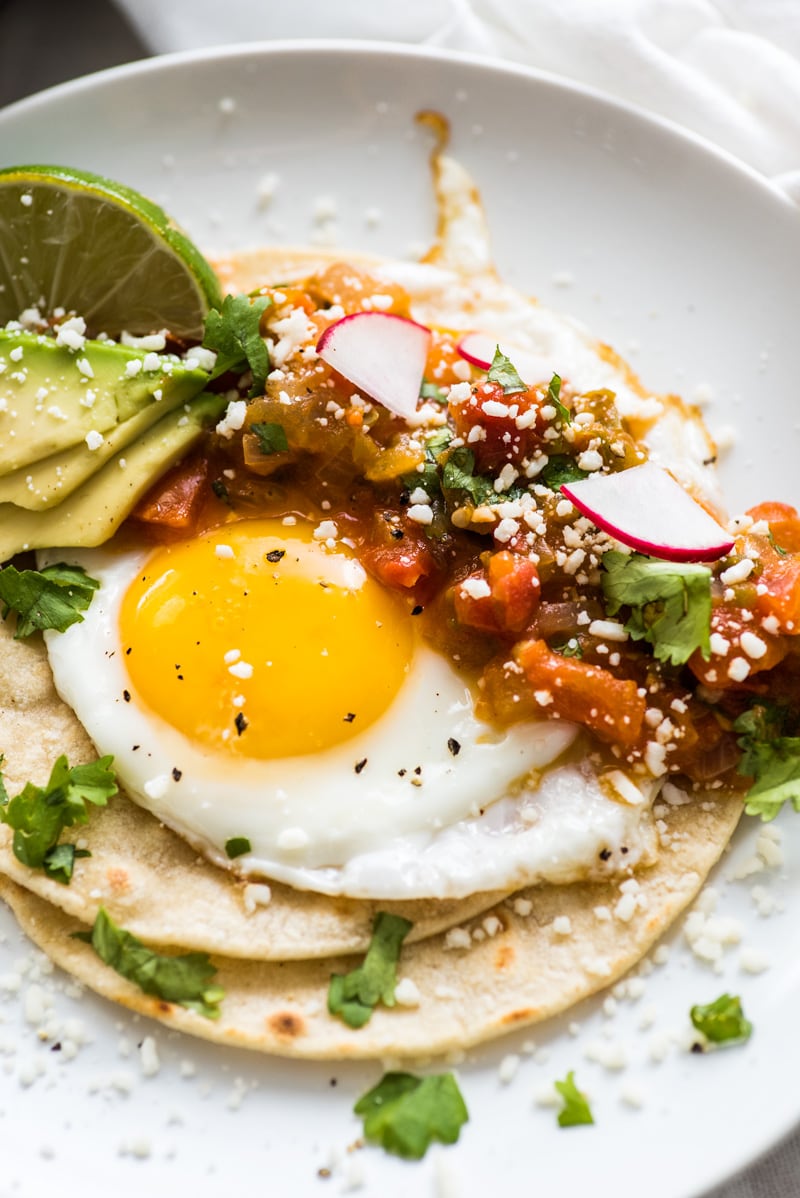 The first thing you'll need to do is make the salsa. While you may think it's easier to use canned or store-bought salsa, I don't recommend it. As much as it can be a time saver, the flavor is just never the same as when you use fresh ingredients.
The good thing is that making this salsa is easy, so no excuses – you can do it! You'll need a jalapeno, half an onion, plum tomatoes, some garlic and some herbs and spices.
Just saute everything in a pot or skillet with a bit of cooking oil until all the ingredients start to soften (about 5 minutes) and then add some chicken stock or water. Cook for another 5 minutes and that's it.
You can serve the salsa as is or you can blend it up a little using an immersion blender or regular blender.
I like my salsa slightly chunky so I only blended it slightly, but lots of people like their salsa smooth. It's totally up to you – feel free to blend it until you get the texture you want.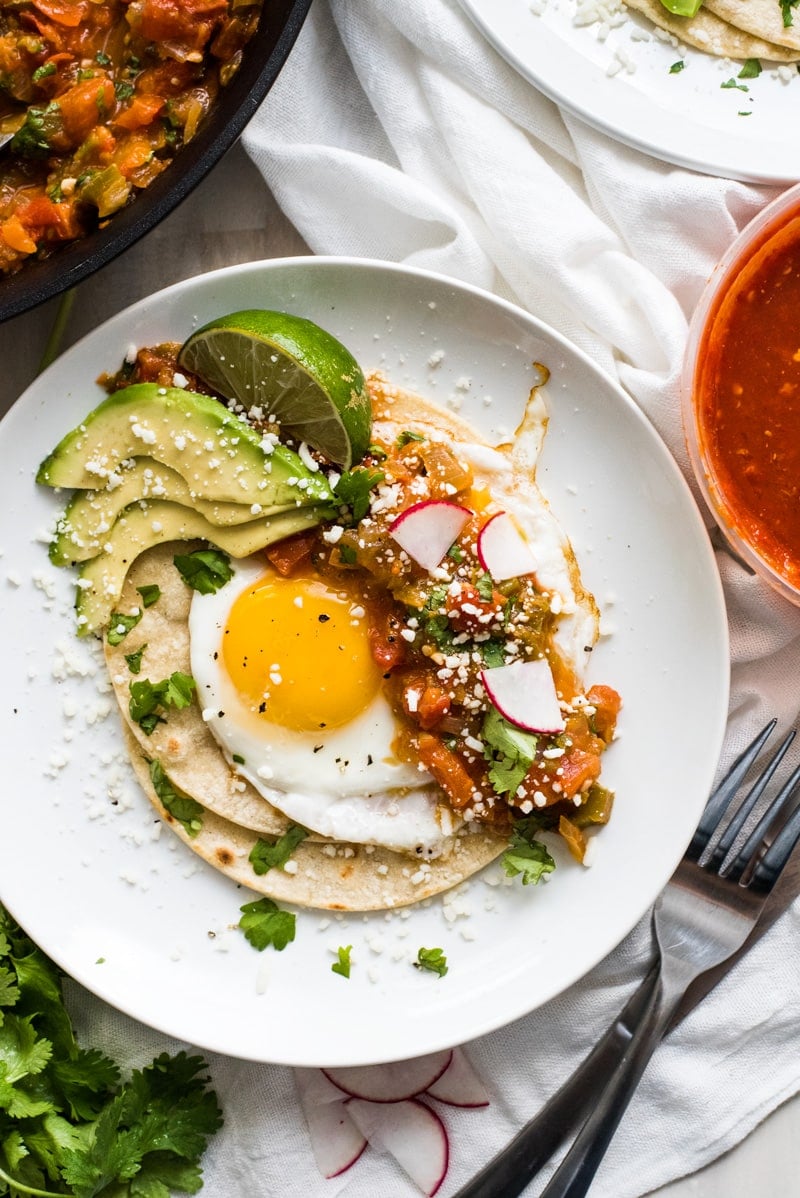 Once you have the salsa, the next thing to do is to prepare the tortillas. I recommend making your own (here's a recipe that's super easy to follow and only requires 3 ingredients), but store bought is perfectly acceptable.
To prepare, add 3 tablespoons frying oil into a skillet and heat over medium-high heat. Fry each tortilla for about 15 seconds per side until the tortillas start to get a little crispy but are still somewhat soft and pliable. Transfer to a baking sheet and blot the tortillas with a paper towel to remove any excess oil.
Frying is an important step because it really helps to bring out the toasty corn flavor of the tortillas. It truly adds a depth to the dish that you can't get without frying.
However, if you don't want to fry the tortillas, you don't have to. You can omit frying and just use warm tortillas instead. The overall flavor and texture won't quite be the same, but it still works.
I recommend lightly spraying or brushing the tortillas with olive oil and heating them in a skillet or griddle until they've crisped up a bit. You'll still get some of the toasty flavor without fully covering them in oil.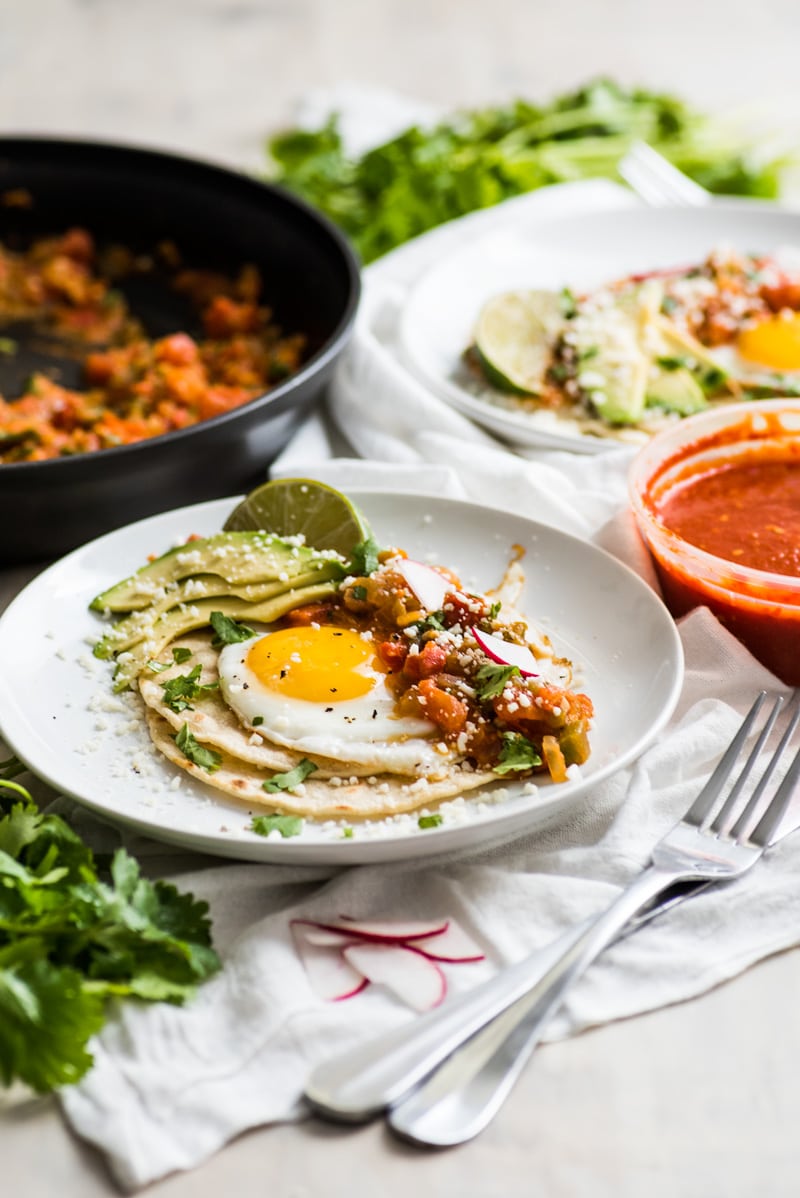 The final step is fry up some eggs! Be sure to leave a runny egg yolk, though. That's one of the best parts!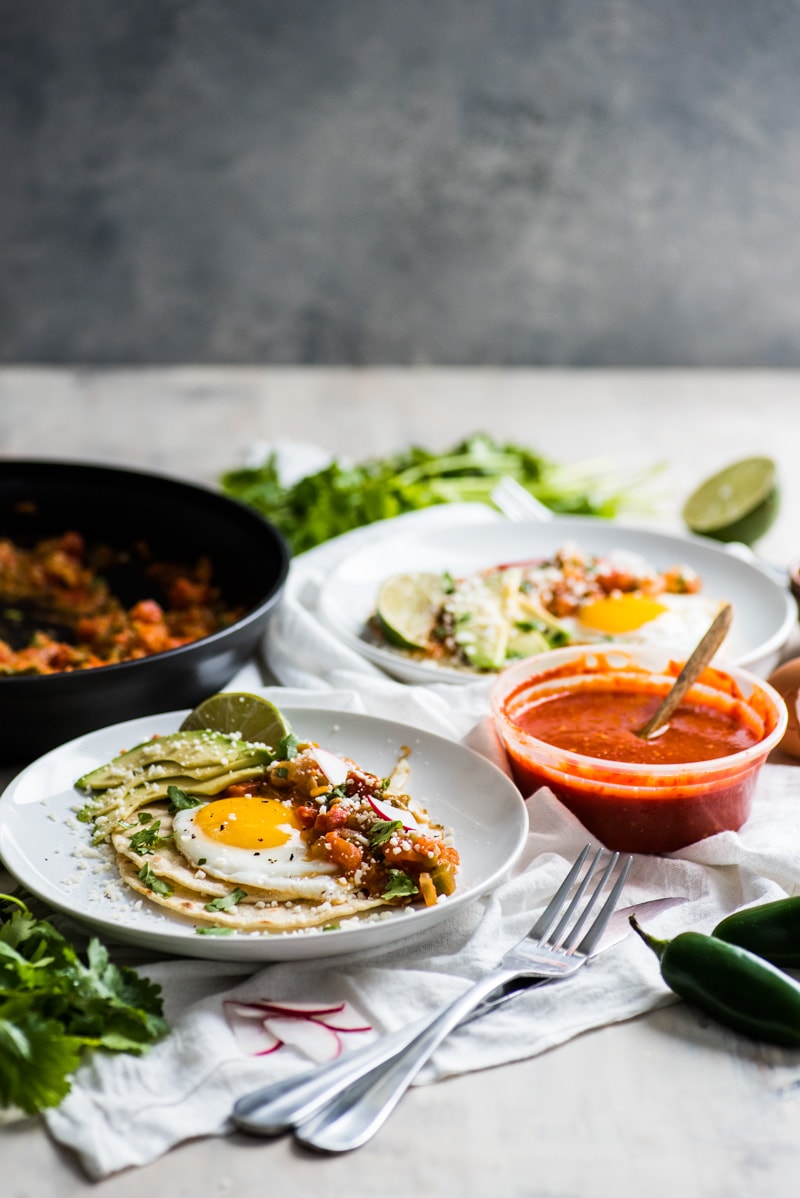 Breakfast is by far my favorite meal of the day. My second-favorite? Brinner. That's right – breakfast for dinner.
These Easy Huevos Rancheros would make an amazing brinner meal. Serve it up with a side of refried beans and you're good to go!
Looking for more breakfast recipes? Try these!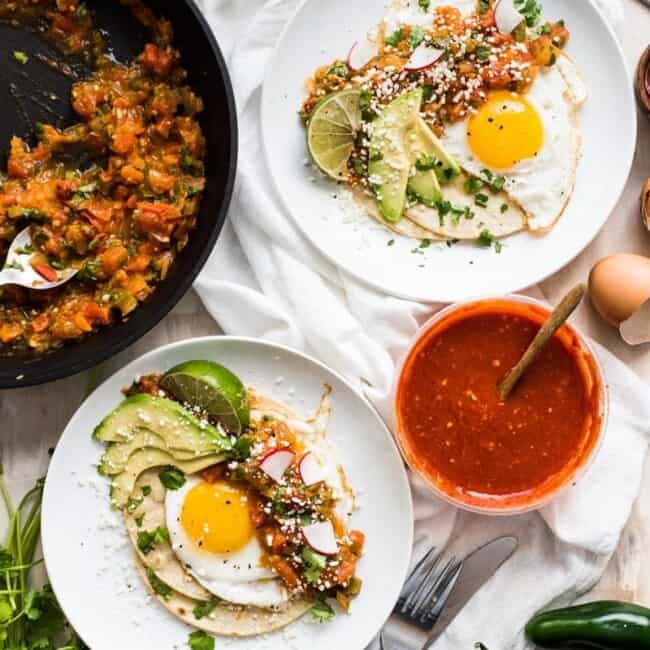 Prep: 10 minutes
Cook: 25 minutes
Total : 35 minutes
This Easy Huevos Rancheros recipe features crispy corn tortillas topped with fried eggs covered in a spicy tomato jalapeno salsa. (vegetarian, gluten free)
Ingredients
For the salsa
1 tablespoon cooking oil
1 jalapeño pepper seeded and diced
1/2 large white onion, diced
3 plum tomatoes
2 cloves garlic, minced (about 1 teaspoon)
1/4 teaspoon salt
1/2 teaspoon paprika
1/2 teaspoon dried oregano
1/4 cup chicken stock, or water
1/4 cup chopped cilantro
2 tablespoons fresh lime juice (about 1 lime)
For the eggs + tortillas
3 tablespoons frying oil
8 fried eggs
for serving: cotija cheese, avocados, radishes, hot sauce
Instructions
For the salsa
In a medium pot or skillet, heat oil over medium-high heat. Add in jalapenos, onions, tomatoes, garlic, salt, paprika and dried oregano. Cook for 5 minutes, stirring occasionally until onions and peppers soften.

Add chicken stock and cook for another 10 minutes. Remove from heat.

Using an immersion blender (or regular blender), blend the mixture until it reaches the consistency you like. I prefer it slightly chunky, but many people like it completely smooth, so blend it however you'd like!

Stir in the cilantro and lime juice, taste and season with more salt if necessary. Cover and set aside.
For the eggs + tortillas
Preheat oven to 250 degrees F. This is to keep the eggs and tortillas warm since you'll likely be working in batches. If you're making this recipe for only 1 or 2 people, preheating the oven isn't really necessary.

In a small or medium skillet, heat oil over medium-high heat. Working in batches, lightly fry the tortillas for about 15 seconds per side until they've softened and are beginning to get some crispy edges. Transfer to a baking sheet, blot tortillas with a paper towel to remove any excess oil and place in oven to keep warm. Repeat until all tortillas have been softened and lightly fried.

In the same skillet, fry the eggs using the leftover oil (add more if necessary) without flipping until the whites are set and the yolks are still runny. Transfer to baking sheet in oven and repeat until all eggs are cooked. Slide 1 egg over each tortilla; top with ranchero sauce and sprinkle with cheddar and Monterey Jack.

To assemble, place two tortillas on a large plate and top each with a fried egg. Top with salsa, cotija cheese (or other Mexican cheese), avocados, radishes and more hot sauce.
Isabel's Tips:
No frying method - You can omit frying and just use warm tortillas instead. The overall flavor and texture won't quite be the same, but it still works. I recommend heating the tortillas in a skillet or griddle until they've crisped up a bit. Then transfer them to a tortilla warmer or a zip lock plastic storage bag to keep them warm. The heat from the tortillas will produce some condensation in the warmer/bag which will in turn keep the tortillas soft and pliable until ready to eat.
Nutrition Information
Serving: 1/4th of recipe - 2 tortillas + 2 eggs with sauce Calories: 397kcal (20%) Carbohydrates: 28g (9%) Protein: 16g (32%) Fat: 25g (38%) Saturated Fat: 5g (25%) Polyunsaturated Fat: 4g Monounsaturated Fat: 14g Cholesterol: 372mg (124%) Sodium: 179mg (7%) Potassium: 375mg (11%) Fiber: 4g (16%) Sugar: 4g (4%) Vitamin A: 1250IU (25%) Vitamin C: 23.1mg (28%) Calcium: 100mg (10%) Iron: 3.1mg (17%)