A super easy, bright and fresh Mexican Fiesta Corn & Bean Salsa recipe that takes only 10 minutes to make! It's gluten free, vegetarian, vegan and perfect for the spring and summer months.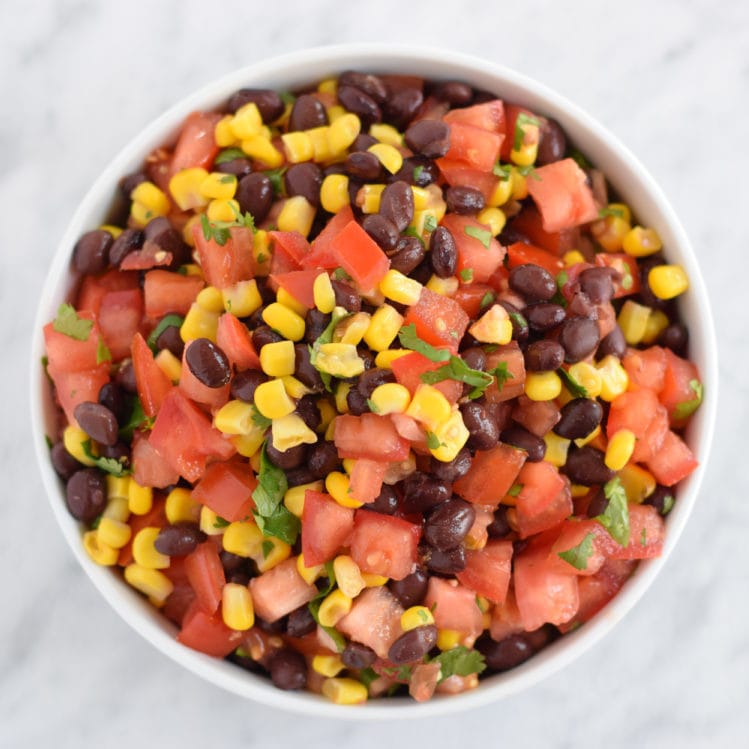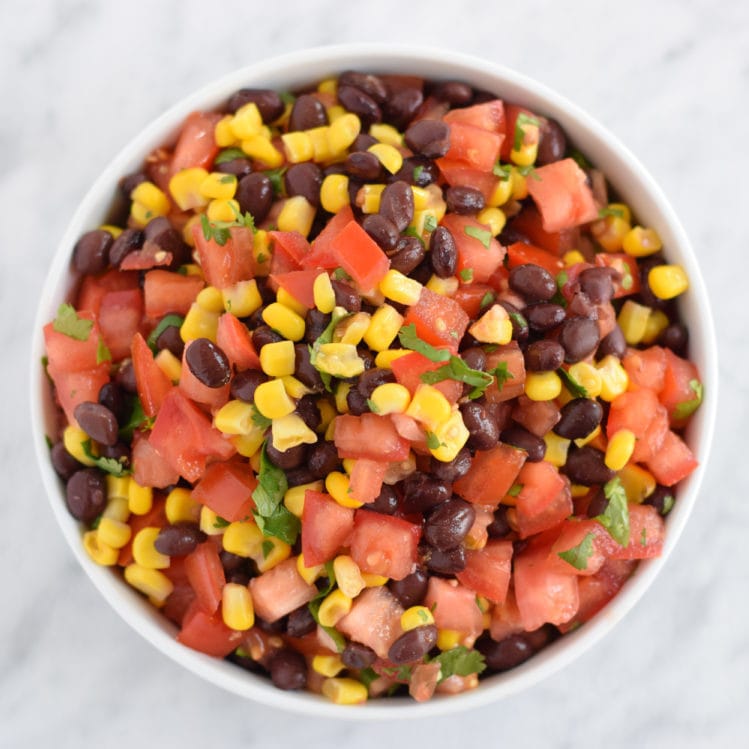 This 10-minute Mexican corn & bean salsa recipe showed up in my life right when I needed it last week.
It was born on one of those days that I wasn't in the mood to cook and all I wanted to do was eat leftovers…except I didn't have any.
Damn.
Don't you just hate when that happens? I'm sure I'm not the only one. 😉
But let's get real for a second – these past few days, I've been a bit anxious, worried and stressed.
Anxious because I had engagement photos taken last weekend, which I'm sure turned out just fine. (I really only need a couple of good ones, right?)
Worried because a few family things happened all at once.
Stressed because of some projects at my nine to five.
Hey, it's just been one of those weeks where it felt like things were piling up. But if you know me, you know I'm an optimist. I try to stay positive and surround myself with people and things that put a smile on my face. I like celebrating the good. And when something goes wrong, I try to look at it as a learning opportunity, a chance to grow.
So when I first made this salsa last week, on a night when I didn't feel like making ANYTHING, and the end result was absolutely delicious, you better as hell believe I was jumping up and down with joy, patting myself on the back!
In only 10 minutes, I made an insanely simple, bright and fresh salsa that John and I couldn't stop eating.
I don't know about you but that's a total win in my book.
So if you're ever feeling anxious, worried, stressed or just don't want to cook, take 10 measly minutes and make this corn & bean salsa. It may just make you do a little happy dance.
To make this salsa in only 10 minutes, we're taking a shortcut and using canned corn and canned black beans. But to keep this recipe fresh and bright, we're adding in some diced roma tomatoes, roughly chopped cilantro and freshly squeezed lime juice.
I absolutely love how colorful this is.
I guess it's true – you do eat with your eyes first.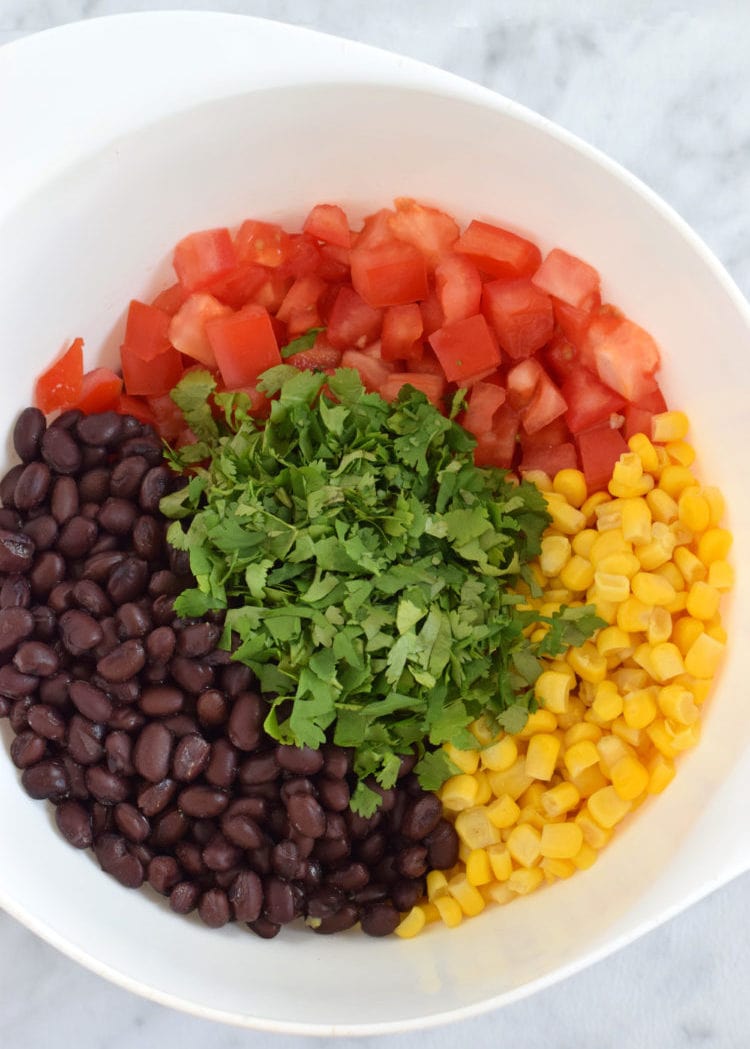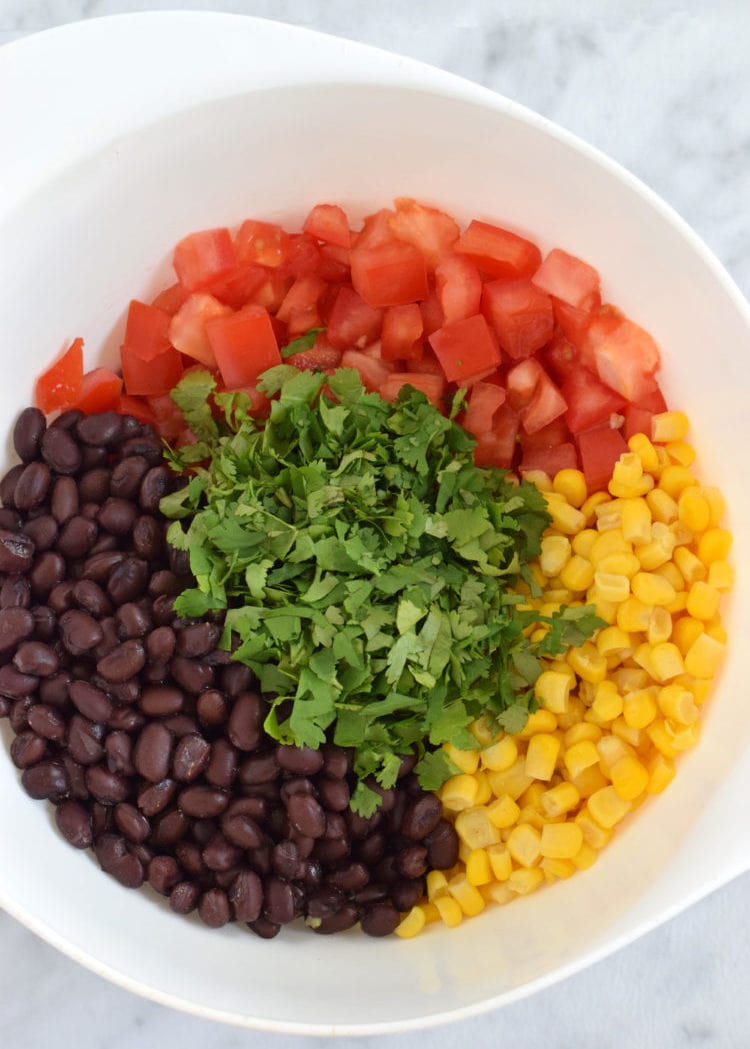 All you do is mix everything together, add generous pinch of salt and you're done.
BAM.
How easy is that?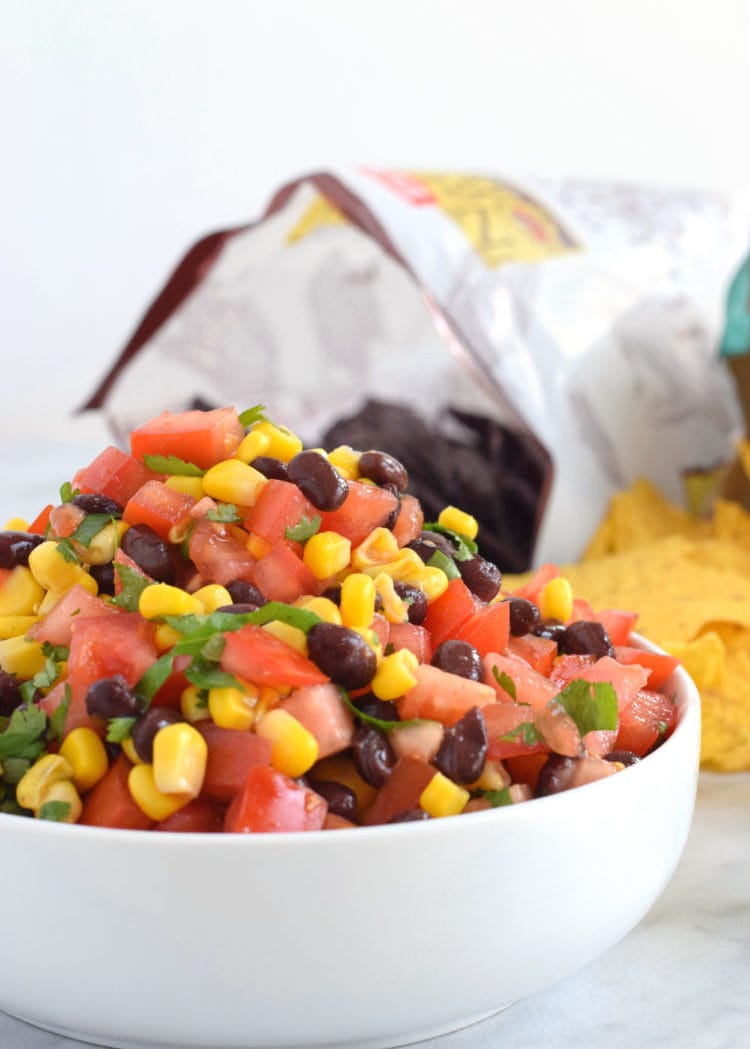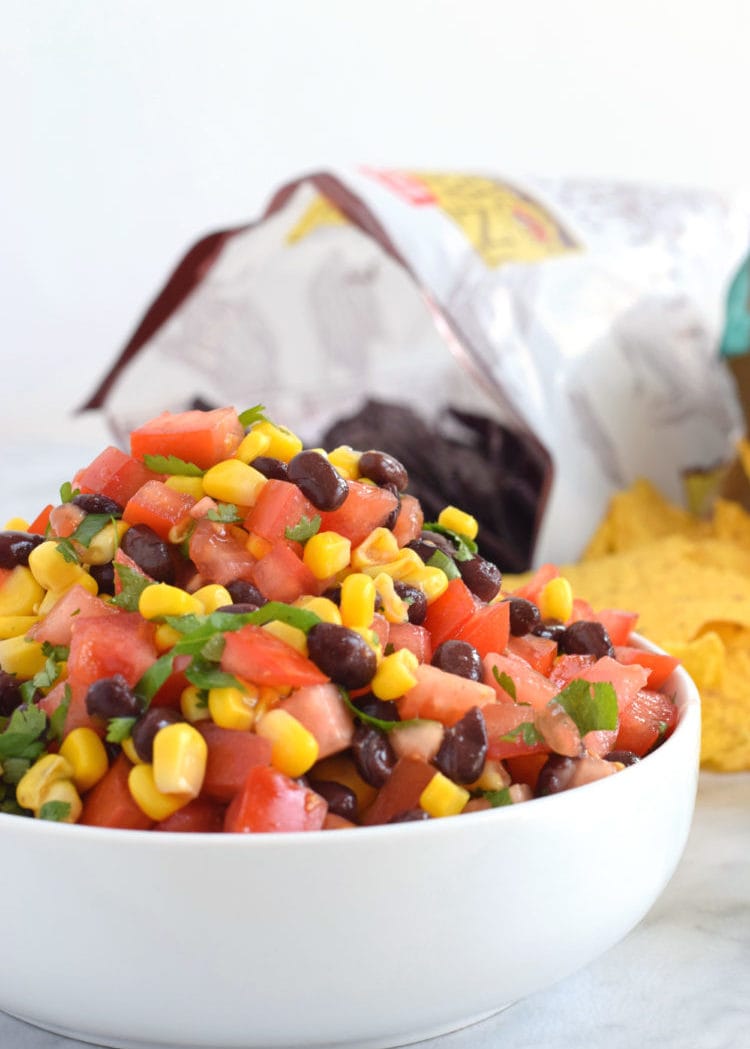 So far I've made two big batches of this salsa. It's good stuff.
I've eaten it alone by the spoonful and with tortilla chips, but you could also eat it on a "southwest" salad, on bruschetta, on some tacos or burritos, in some scrambled eggs, with a quesadilla, on top of grilled chicken or fish, with my 30-Minute Mexican Lime Chicken Fajitas & Guacamole and with so many other things!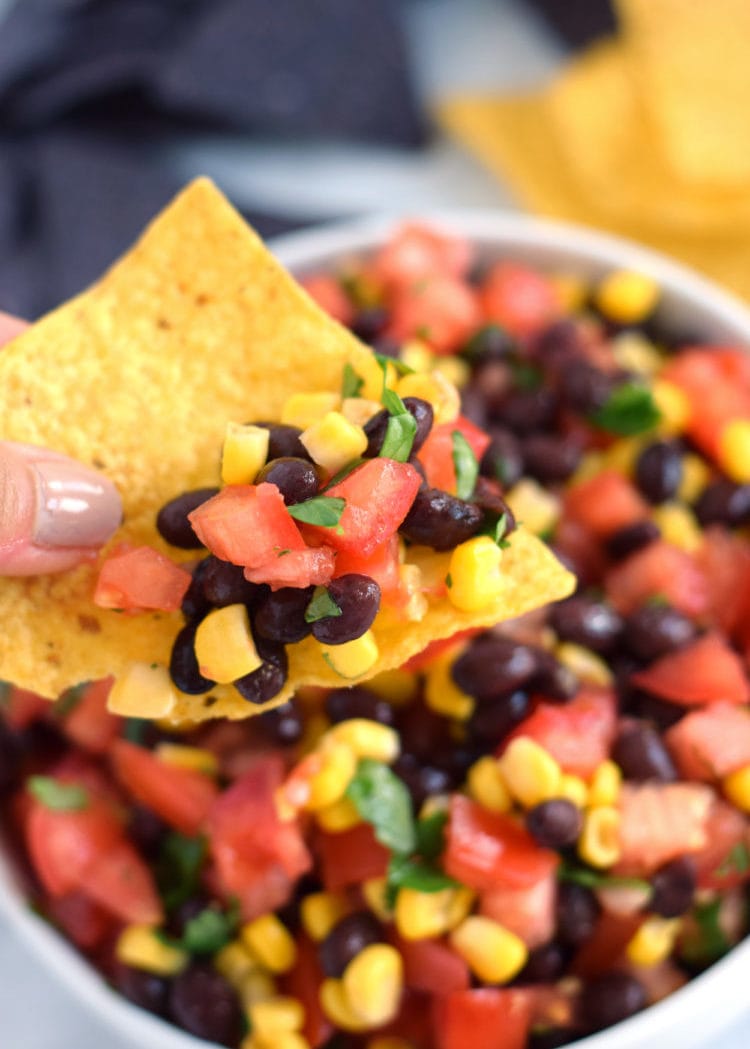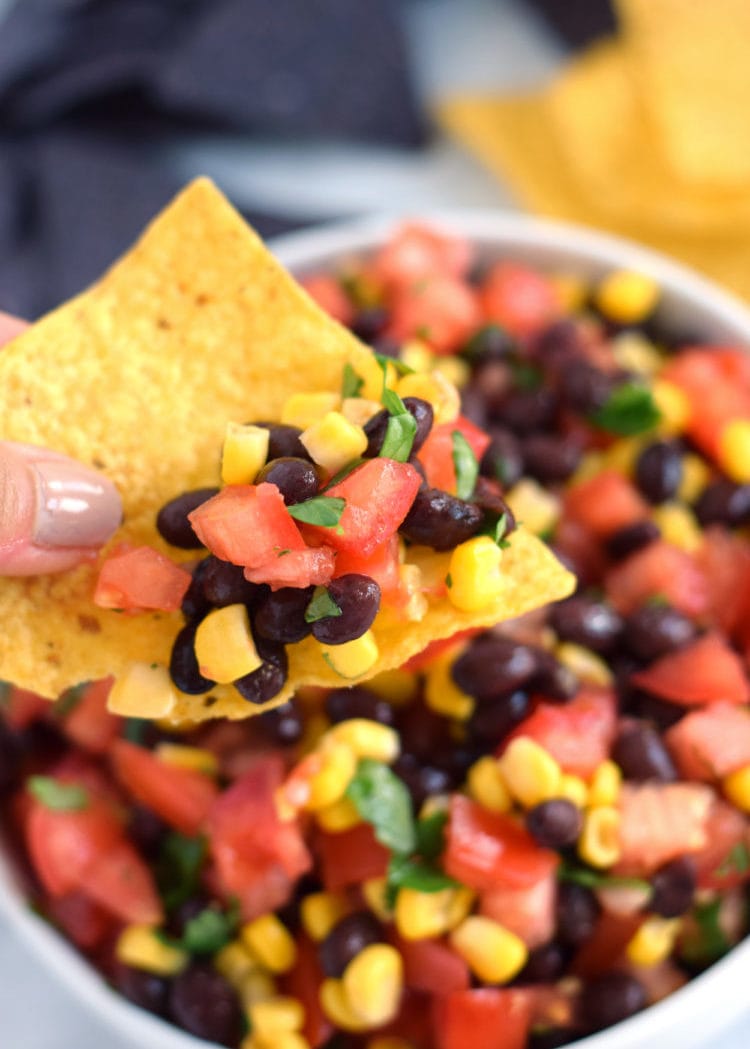 Tools used to make this recipe
INGREDIENTS
16

oz

whole kernel corn

canned

16

oz

black beans

canned

4

large Roma tomatoes

1/2

cup

cilantro leaves

1

lime

1

tsp

salt
INSTRUCTIONS
Empty canned corn and black beans into a large colander or strainer and thoroughly rinse with water. Place in a large mixing bowl.

Dice Roma tomatoes and roughly chop cilantro. Add to bowl.

Squeeze the juice of 1 lime into bowl, add salt and mix salsa together.

Eat immediately or let chill in the fridge for 20 minutes before serving. (Both are good choices!)
NOTES
Salsa can be kept for 7-10 days in the fridge.
Did you make this recipe?
Leave a comment below and tag @isabeleats on social media!
This page contains affiliate links. If you make a purchase on Amazon after clicking one of my links, I may receive a small commission. The price of the item stays the same and any money I make goes to supporting this blog. I only endorse products and services that I fully believe in.