Jump to Recipe
This Mexican Quinoa Salad with Farro and Barley is healthy, easy to make and makes a great vegetarian side dish or lunch in under 30 minutes.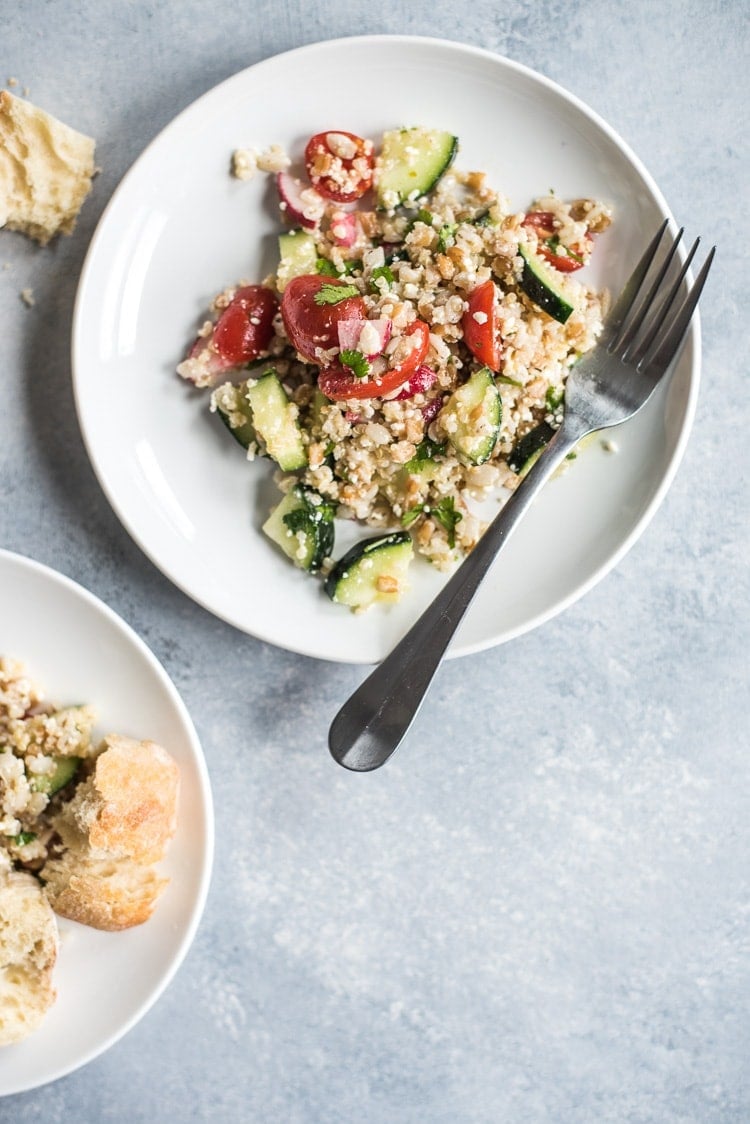 My countdown to Spring (March 20, 2017) starts right now with this Mexican quinoa salad with farro and barley. It's full of light and refreshing ingredients like cucumbers, tomatoes and radishes all mixed in with some of my favorite Mexican flavors like citrusy lime juice, bright cilantro and salty cotija cheese.
For the base, I incorporated three types of grains: quinoa, farro and barley.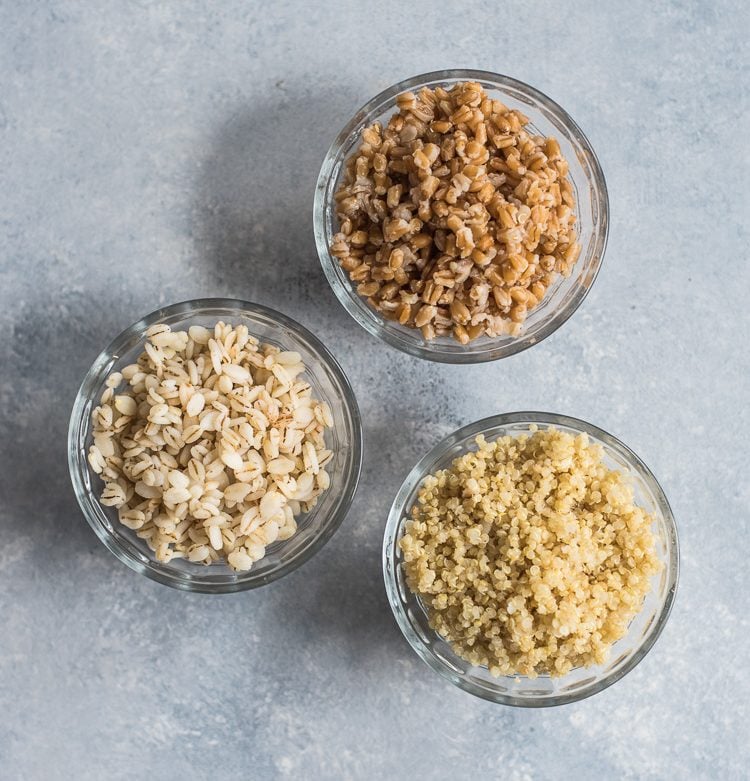 I decided to use all of these grains because I really like having the different textures in the dish.
I'm absolutely obsessed with the texture of farro. It looks a bit like brown rice, but it's thicker, chewier and has a slight nutty flavor. The texture reminds me of biting into some al dente pasta – chewy and so freaking delicious. It's easy to prepare – just boil it and then let it simmer for 30 minutes or so – and you can eat it cold or warm. I was able to find it at my local grocery store next to the bags of specialty grains, but if you can't find it, I recommend buying the Bob's Red Mill brand on Amazon.
The second grain I used was barley. It's actually the first time I've cooked barley and I was pleasantly surprised its soft texture that's similar to rice. It's easy to cook – just a stock pot and some water – and full of fiber that will keep you full for longer. You can find it at your grocery store next to the farro, or get it on Amazon here.
Last but not least, there's quinoa. Quinoa is actually a seed, but people think it's a grain so I'm just gonna go with it. It's a complete protein which makes it a great option for vegetarians looking to up their protein intake or people looking to cut back on the amount of meat they consume. It's fluffy like couscous but is slightly crunchy and nutty in flavor. It's also gluten free. Quinoa has been very popular for a few years now and you'll likely be able to find it at your local grocery store. You can also find it on Amazon here.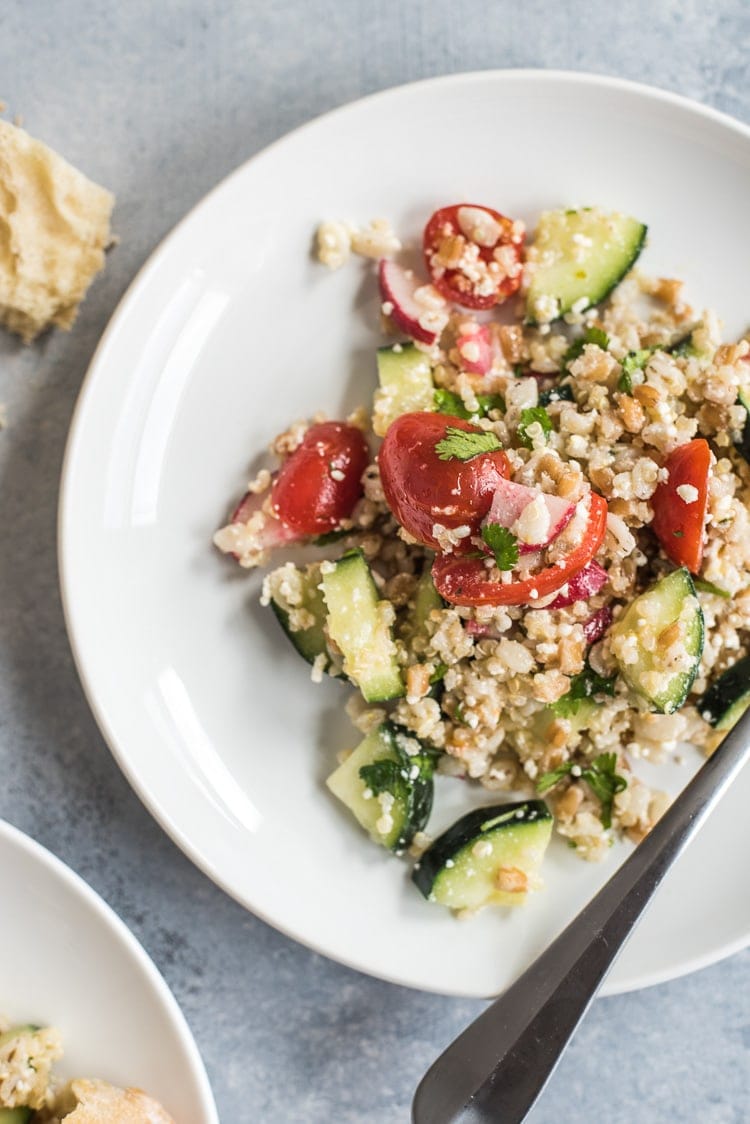 Serve this up with a piece of crusty french bread or pita for lunch, or make a big batch and take it as a side dish to your next cookout. There's never enough veggies at those things, anyways. 🙂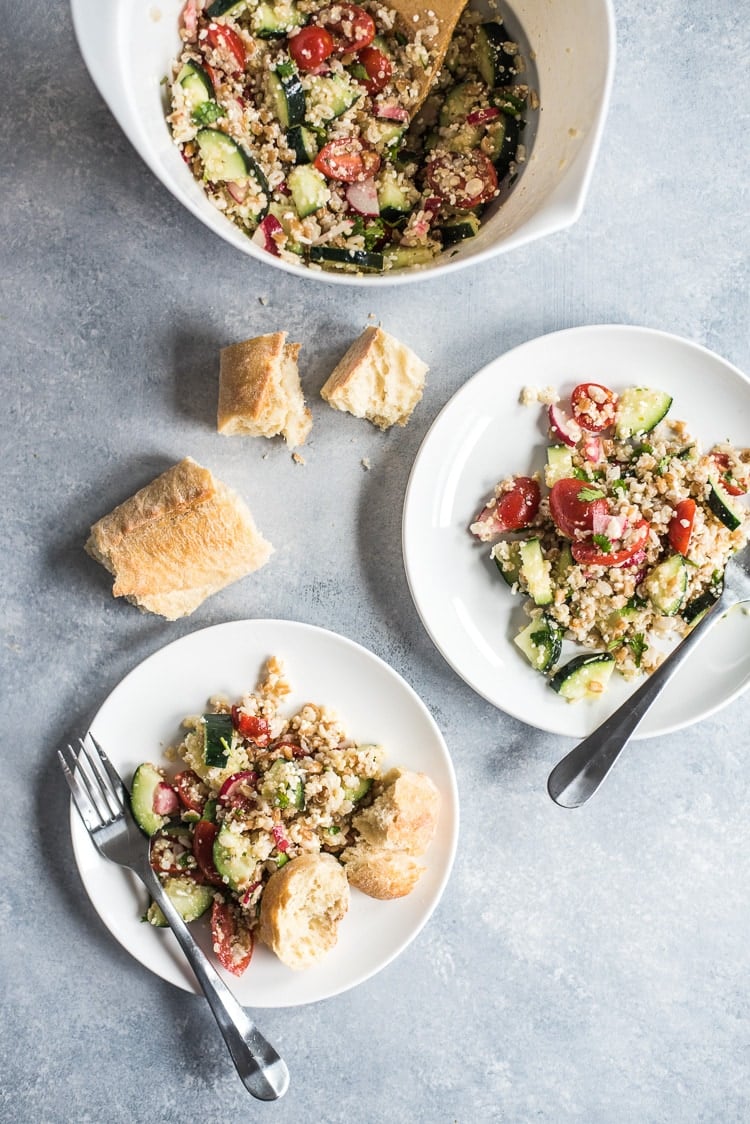 Serving Suggestions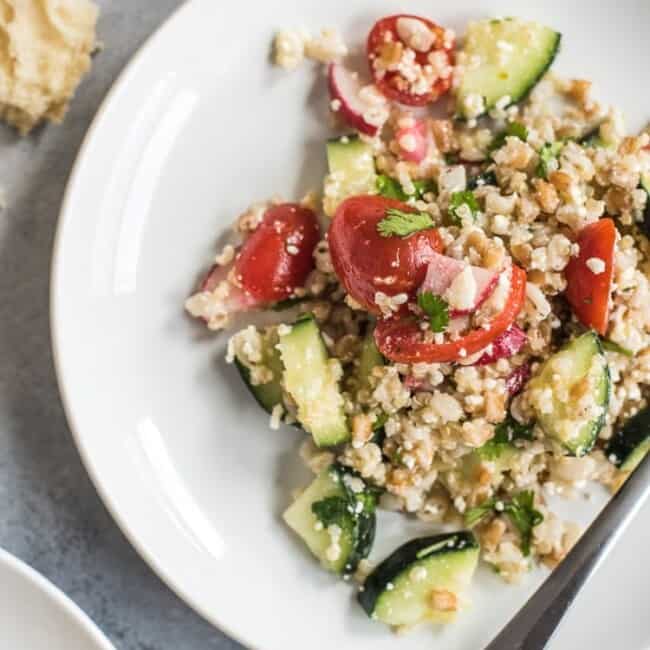 Prep: 25 minutes
Total : 25 minutes
This Mexican Quinoa Salad with Farro and Barley is healthy, easy to make and makes a great vegetarian side dish or lunch in under 30 minutes.

Ingredients
1 cup quinoa, cooked
1 cup farro, cooked
1 cup barley, cooked
1/2 large cucumber, chopped
1 cup baby tomatoes, halved
1/2 cup radishes, chopped
1/3 cup crumbled Cotija cheese
For the dressing
1/4 cup olive oil
1/4 cup white wine vinegar
1/2 teaspoon dried oregano
1/4 cup cilantro chopped
pinch of sea salt
pinch of ground black pepper
1 medium lime, juiced (about 2 tablespoons)
Instructions
In a large bowl, add quinoa, farro, barley, cucumbers, tomatoes, radishes and cotija cheese. Stir together and set aside.

For the dressing: in a small bowl, add olive oil, white wine vinegar, dried oregano, cilantro, sea salt, black pepper and lime juice. Whisk until combined.

Pour the dressing onto the mixed salad and stir to combine. Cover and refrigerate for 15 minutes until chilled, or enjoy immediately.
Nutrition Information
Calories: 168kcal (8%) Carbohydrates: 19g (6%) Protein: 5g (10%) Fat: 10g (15%) Fiber: 3g (12%)