Jump to Recipe
Perfect for sharing, this nacho baked potato wedges recipe features homemade baked potato wedges topped with ground meat, melted cheese, and nacho toppings like diced red onions, tomatoes, cilantro, sour cream, and guacamole.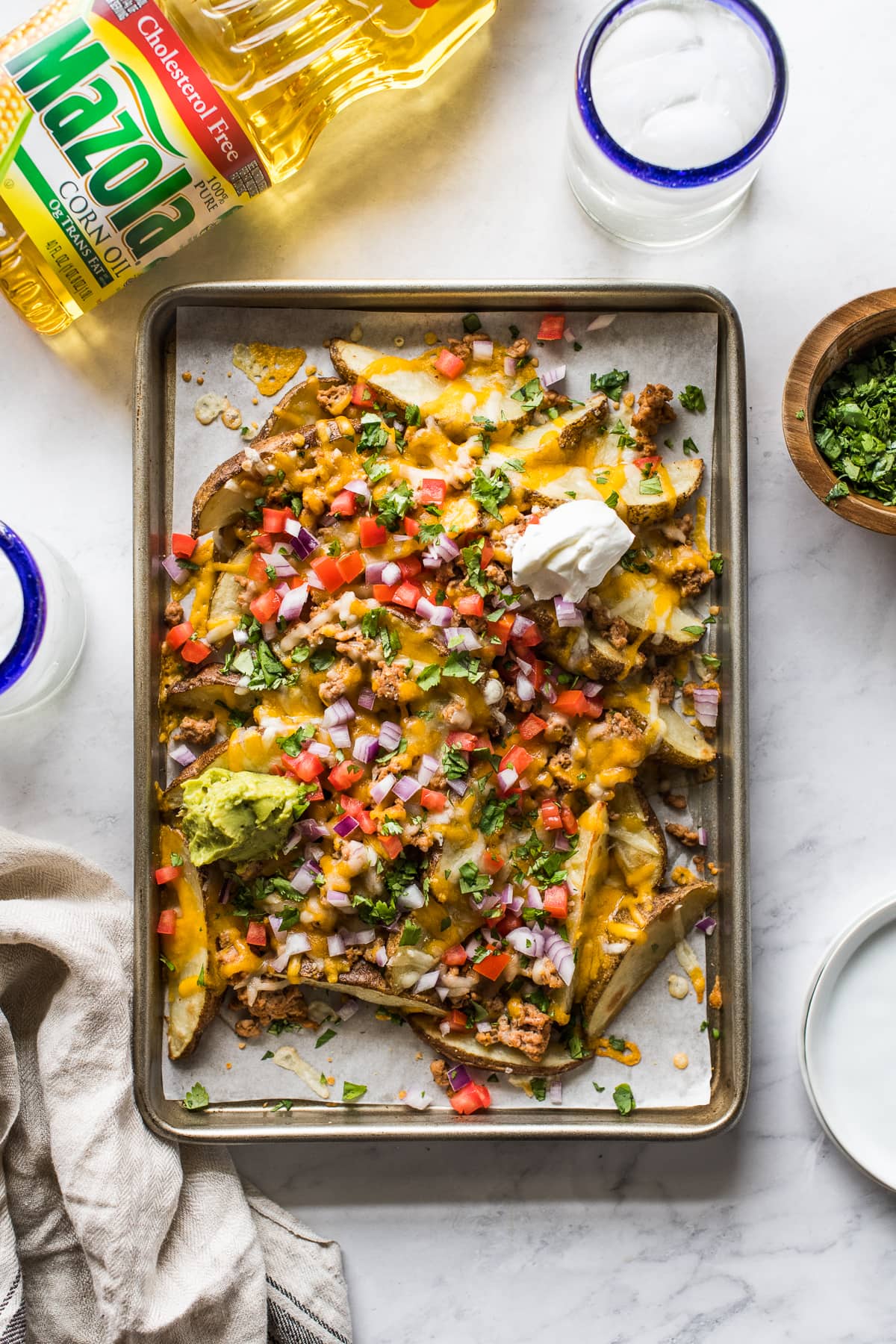 This post is sponsored by Mazola® Corn Oil. All opinions expressed here are my own.
Say hello to your new favorite appetizer, these nacho baked potato wedges! They're just like your favorite nachos, but made with potato wedges instead of tortilla chips.
They're a big crowd pleaser and perfect for serving on Cinco de Mayo, game day, or anytime you're looking for an easy lunch and dinner recipe that everyone can agree on.
After all, what's not to love about potatoes covered in cheese and topped with your favorite nacho toppings, right?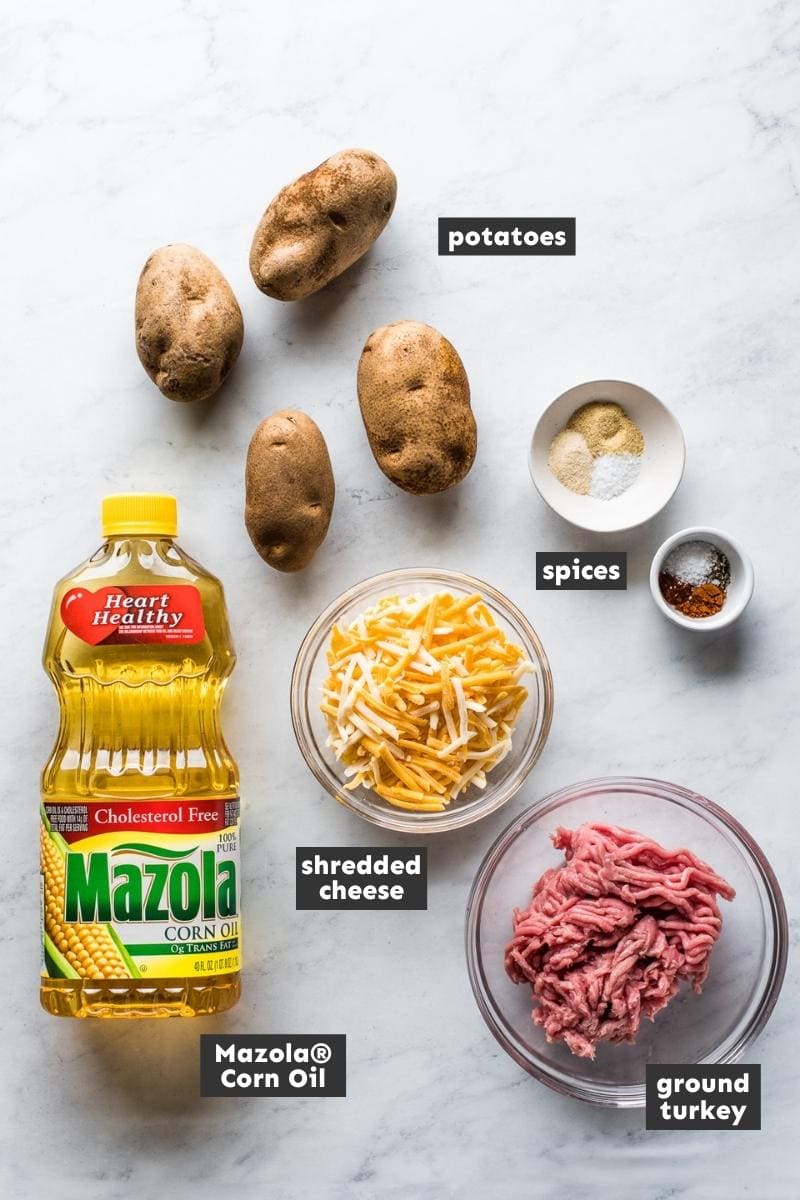 Ingredients in Baked Potato Wedges
The thing I love about these baked potato wedges is that they're super simple to make and easily customizable depending on your preferred toppings.
To make the base of this recipe, you'll need the following:
russet potatoes
Mazola® Corn Oil
ground turkey (or chicken or beef)
shredded cheese (I used a blend of mild cheddar and monterey jack)
spices and seasonings (salt, black pepper, garlic powder, onion powder, smoked paprika, and chili powder)
How to make nacho baked potato wedges
To prep the potatoes, I cut them into wedges, seasoned them with a few spices, tossed them in a little Mazola® Corn Oil before baking them on a baking sheet lined with parchment paper until golden brown on the outside and creamy on the inside.
Mazola® Corn Oil is an all-purpose cooking oil that's a heart-healthy* choice great for baking, sauteing, grilling, and stir-frying. Tossing the potatoes in a little Mazola® before baking helps to crisp them up without drying them out, and is a better-for-you option when compared to deep-frying.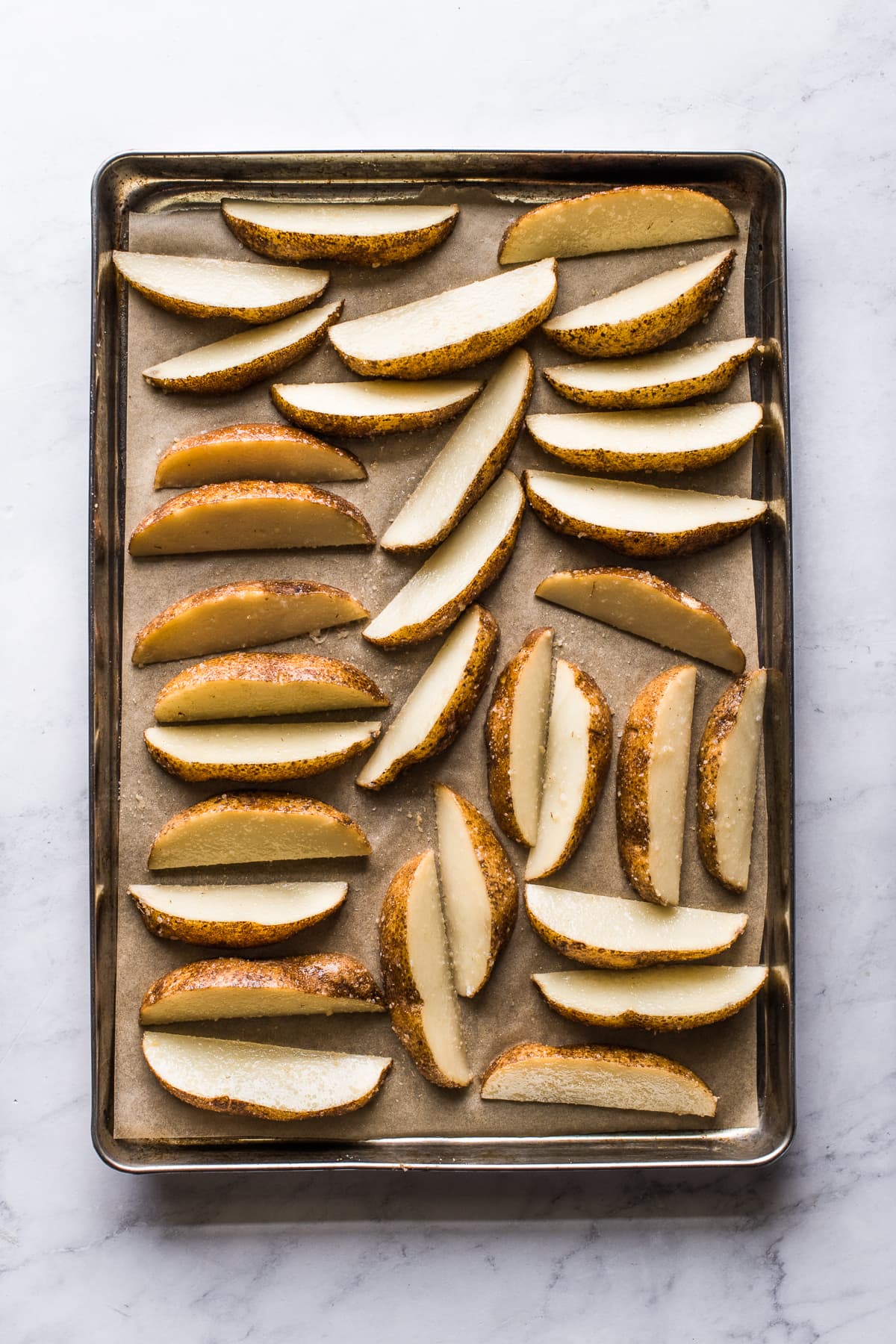 While the wedges baked in the oven, I cooked some ground turkey in a skillet with a little Mazola® Corn Oil and a few spices.
Then when the potatoes finished baking, I topped them with the cooked ground meat as well as some shredded cheese.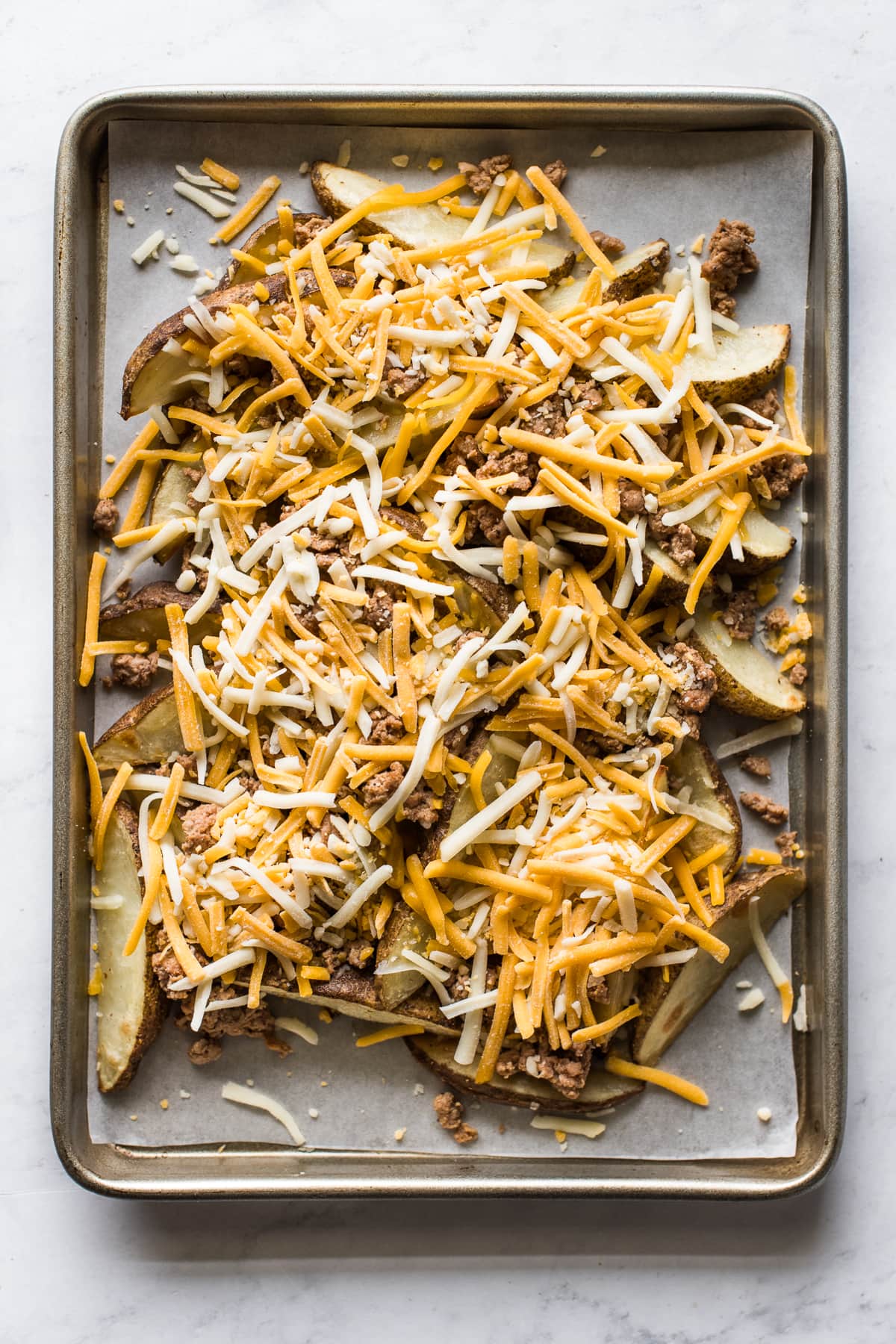 I put everything back in the oven for 3-5 minutes until the cheese fully melted, then topped everything with my favorite toppings!
Topping suggestions
The sky is truly the limit when it comes to topping your potato wedges. Here are some of my favorite toppings to use:
tomatoes
red onions
cilantro
sour cream
guacamole
chunky salsa
pickled jalapenos
olives
black beans or pinto beans
corn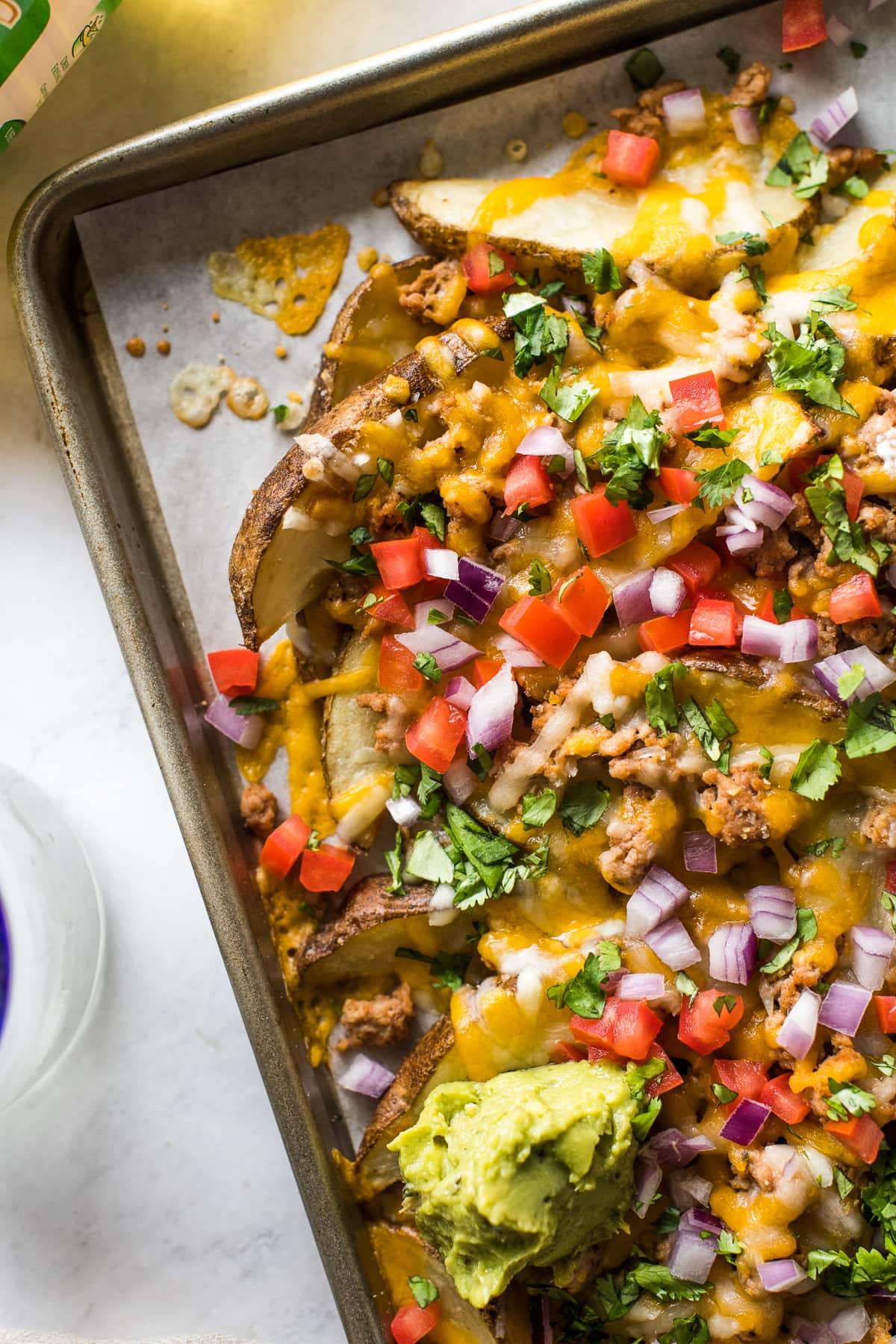 Reheating
If you happen to have any leftovers, you can reheat them in the oven the same way you baked them – about 5-8 minutes at 450ºF or until they're heated through.
You can also reheat them in an air fryer or the microwave if you prefer.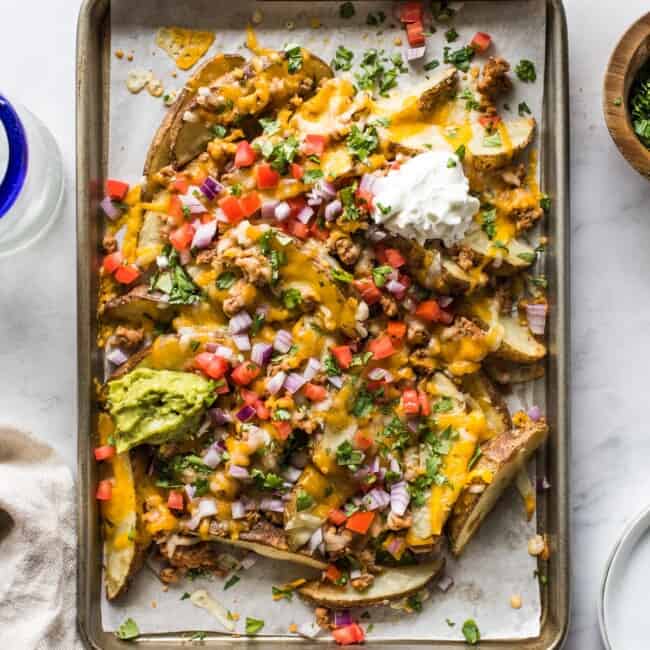 Prep: 10 minutes
Cook: 30 minutes
Total : 40 minutes
Perfect for sharing, this nacho baked potato wedges recipe features homemade potato wedges topped with melted cheese and nacho toppings.
Ingredients
Topping suggestions
diced red onions
diced tomatoes
chopped cilantro
sour cream
Instructions
Preheat oven to 450°F. Line a large baking sheet with parchment paper and set aside.

Cut potatoes into wedges by slicing each potato in half lengthwise, then slicing each of those halves in half again, and slicing those halves in half one last time. Each potato should yield 8 wedges.

Add potato wedges to a medium bowl and add 1 tablespoon Mazola® Corn Oil, 1/2 tablespoon kosher salt, 1/2 teaspoon garlic powder, and 1/2 teaspoon onion powder. Toss together to coat.

Place the wedges in a single layer on the prepared baking sheet. Bake for 25 minutes, flipping halfway through. While the potatoes are baking, prepare the ground turkey.

Heat remaining 1/2 tablespoon Mazola® Corn Oil in a large skillet over medium-high heat. Add ground chicken, the remaining 1/2 tablespoon kosher salt, the remaining 1/4 teaspoon garlic powder, 1/4 teaspoon smoked paprika, 1/4 teaspoon chili powder, and 1/4 teaspoon black pepper.

Cook for 8-10 minutes, stirring occasionally, until the chicken is completely cooked. Set aside until ready to use.

When the potato wedges are finished, remove them from the oven. Push the potatoes together into a pile in the middle of the baking sheet. Top with the cooked seasoned ground turkey and the shredded cheese.

Return to the oven and bake for 3-5 minutes, until the cheese completely melts.

Top with diced onions, chopped cilantro, diced tomatoes, sour cream, and any other nacho toppings you like. Serve immediately.
Nutrition Information
Serving: 1serving Calories: 387kcal (19%) Carbohydrates: 40g (13%) Protein: 26g (52%) Fat: 14g (22%) Saturated Fat: 5g (25%) Polyunsaturated Fat: 2g Monounsaturated Fat: 6g Trans Fat: 1g Cholesterol: 59mg (20%) Sodium: 843mg (35%) Potassium: 1098mg (31%) Fiber: 3g (12%) Sugar: 2g (2%) Vitamin A: 352IU (7%) Vitamin C: 12mg (15%) Calcium: 209mg (21%) Iron: 3mg (17%)
*Corn oil is a cholesterol-free food that contains 14g of total fat per serving. See nutrition information on product label or at Mazola.com for fat and saturated fat content. See www.mazola.com for information about the relationship between corn oil and heart disease.