Jump to Recipe
This Albondigas Soup, an authentic Mexican meatball soup, is served in a light and healthy broth full of vegetables and and lean protein! (gluten free, paleo)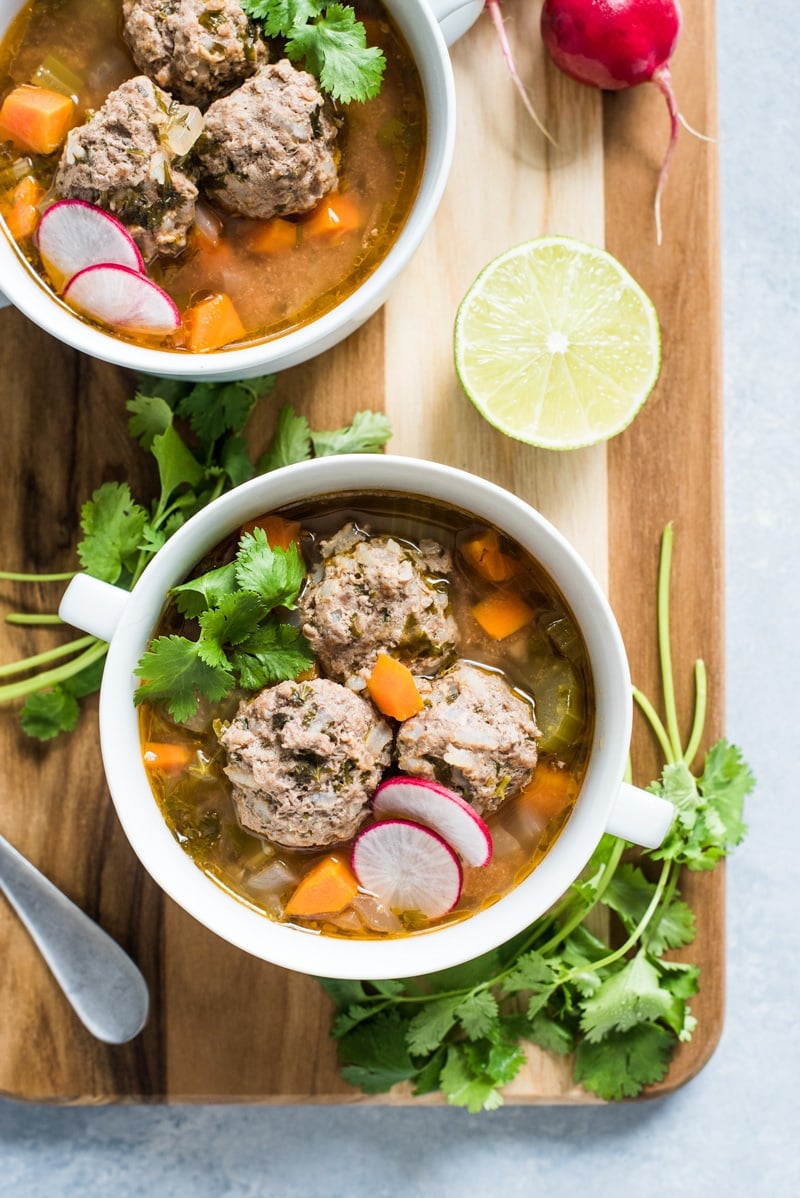 When I want a light, healthy and filling meal, this Albondigas soup is always the clear winner. Albondigas soup, or meatball soup, is the Mexican version of the classic meatball soup dish. It features beef meatballs cooked in a very light and flavorful broth full of my favorite veggies.
The broth
It's been quite hot and humid in Pittsburgh lately and this soup has been a godsend. The broth is light enough to enjoy on a hot, sweaty day yet filling without "weighing you down". I used a simple chicken broth for the base because I love the flavor, but since the meatballs are actually beef, some people may think that's a little weird. If that's you, feel free to use beef or vegetable broth – whatever you have on hand!
The soup is full of onions, carrots and celery (which are pretty much essential for most soups in my opinion), and layered with more flavor from some tomato paste, oregano and cumin.
In addition to those broth ingredients, there's a lot of variation that you can play with depending on the season. You can add squash and fresh corn in the summer months or diced potatoes and rice in the fall and winter. It's totally up to you!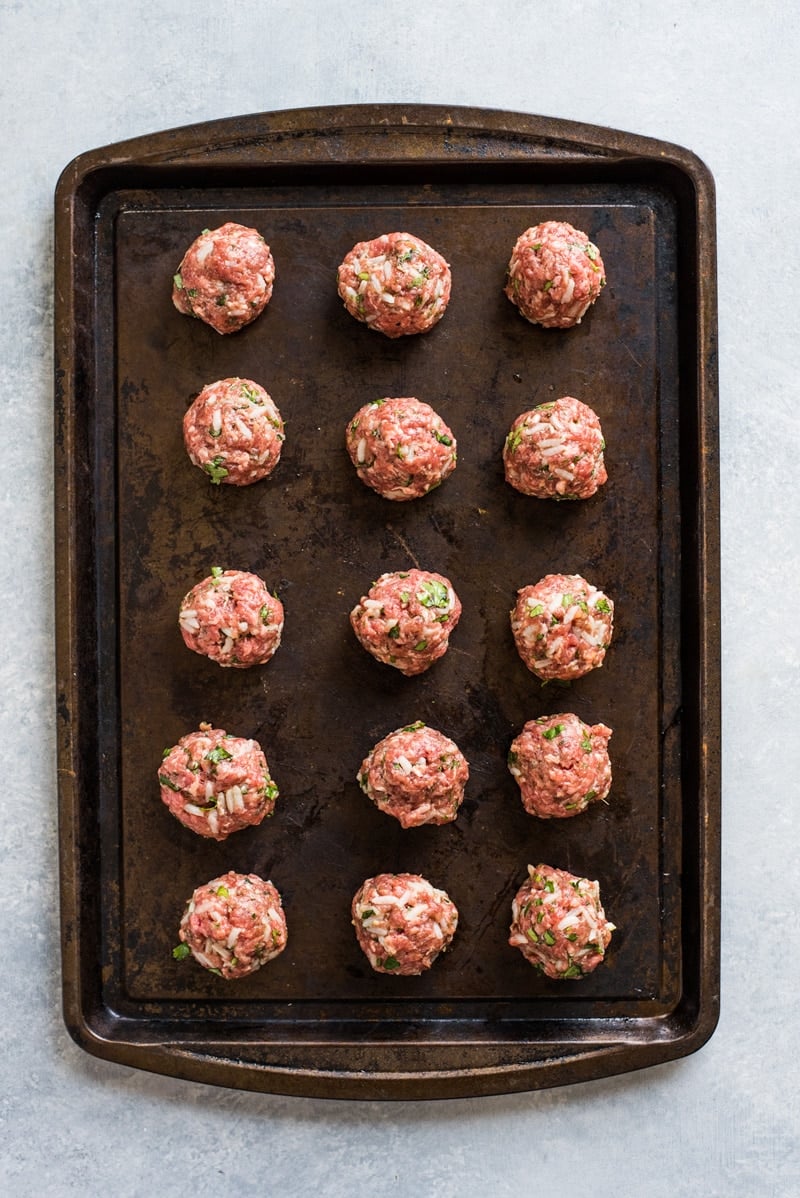 The albondigas
Now let's talk about second part of the soup – the albondigas! I made these meatballs with lean ground beef and seasoned them with a simple mixture of cilantro, garlic, cumin and salt and pepper. To help them stick together and retain a little moisture, I mixed in an egg and 1/2 a cup of cooked white rice.
If you're looking to keep the recipe lean and low in fat, use 90% lean ground beef as outlined in the recipe. Do not use extra lean ground beef because the albondigas have a tendency to fall apart in the cooking process and it doesn't make the soup as flavorful as it could be.
If you want to have the juiciest meatballs ever and don't really care about the fat content, I recommend going with a mixture of 1/2 lean ground beef and 1/2 pork chorizo. The chorizo adds an amazing rich and salty flavor that can't be beat!
If you're looking for a lower carb option (for all you keto lovers out there), you can use 1/2 cup of almond flour or about 1/4 cup of coconut flour.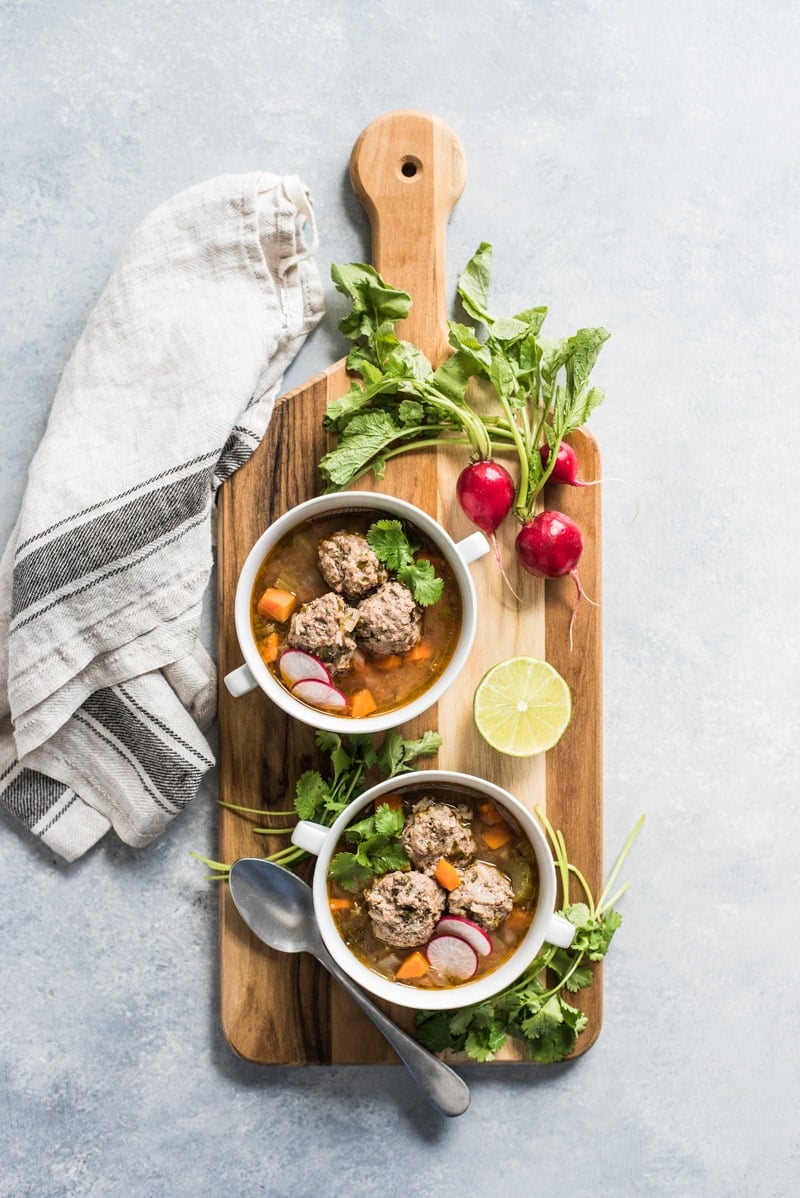 Tips for making Albondigas Soup recipe
Salt. Don't be afraid of salt. It brings out the flavor in food (especially soups) and is often that little something that makes the dish just perfect. Always start with a small amount and taste as you go.
If you don't like cilantro, I recommend using 1/4 cup of freshly chopped mint and 1/4 cup parsley instead. There are many traditional albondigas soup recipes out there that feature mint, so I say give it a shot!
Make sure the soup is lightly simmering when you go to add the meatballs. This will ensure that they start cooking immediately instead of just sitting in the broth.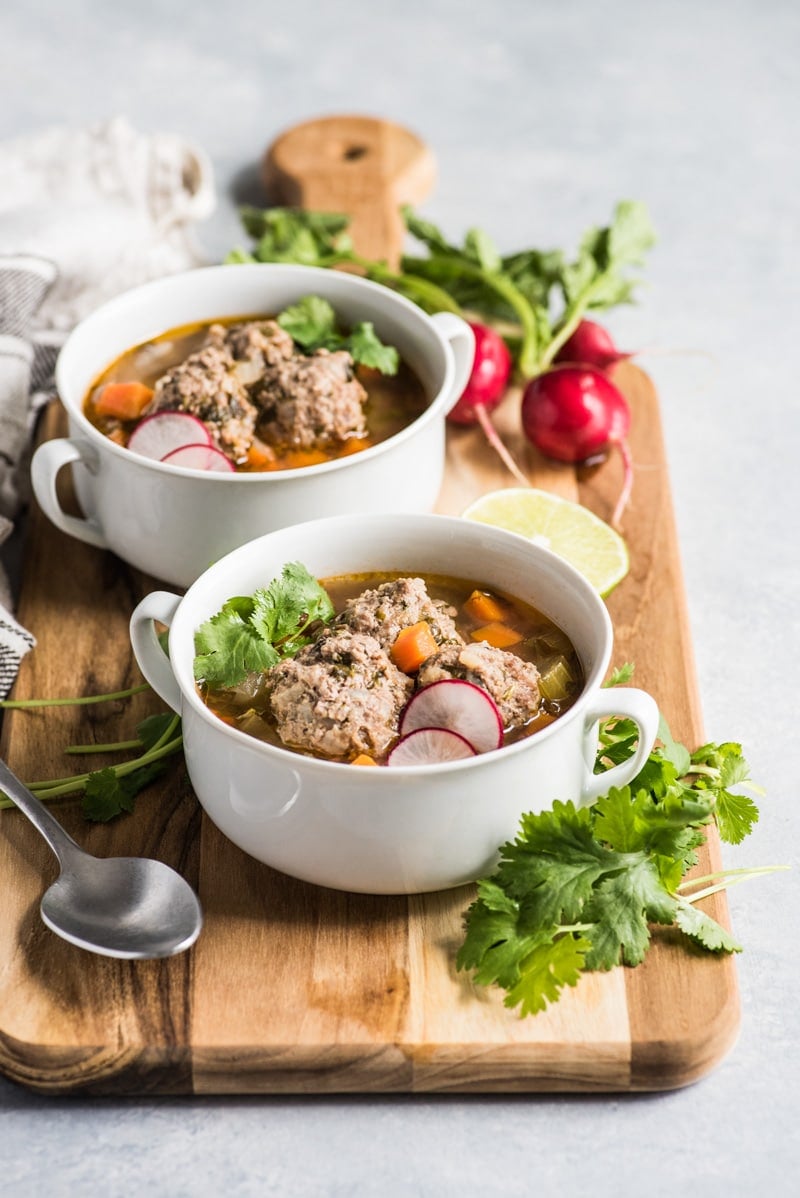 Like this Mexican soup recipe? You may also like these!
I hope you love this recipe as much as I do! To get more easy Mexican recipes delivered straight to your inbox, sign up for my weekly email newsletter. You can also follow me on Facebook, Instagram and Pinterest!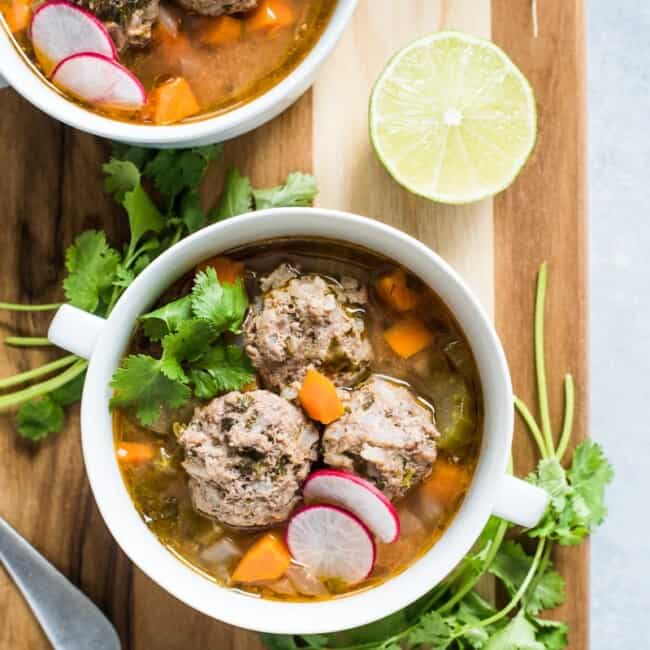 Prep: 15 minutes
Cook: 45 minutes
Total : 1 hour
This Albondigas Soup, an authentic Mexican meatball soup, is served in a light and healthy broth full of vegetables and and lean protein! (gluten free, paleo)
Ingredients
For the albondigas (meatballs)
1 pound lean ground beef (or 1/2 pound ground beef and 1/2 pound of fresh chorizo)
1 large egg
2 teaspons minced garlic (about 2 cloves)
1/2 cup cooked white rice
1/2 cup chopped cilantro
1 teaspoon ground cumin
1 teaspoon coarse sea salt
1/4 teaspoon black pepper
For the soup broth
2 teaspoons olive oil
3 celery stalks, sliced
2 large carrots, peeled and diced
1 medium onion, chopped
8 cups chicken broth (you could also use beef or vegetable broth)
1/2 cup chopped cilantro
3 tablespoons tomato paste
1 teaspoon oregano
1/2 teaspoon ground cumin
salt and black pepper, to taste
Instructions
In a large mixing bowl, add all the ingredients for the meatballs and mix together with your hands until just combined – try not to overwork the meat too much, just until you feel like all the ingredients have been evenly dispersed.

Roll the mixture into small meatballs – about 24 to 28 in total. Set aside.

Heat a large Dutch oven or pot over medium-high heat. Add the olive oil and the celery, carrots, onions and a pinch of salt. Saute for about 8 minutes, until the onions have softened.

Add the chicken broth, cilantro, tomato paste, oregano, cumin. Mix together until the tomato paste has fully dissolved and season with salt and pepper, to taste.

Bring the broth to a boil), reduce heat and simmer uncovered for 10 minutes.

While the broth is simmering, drop the meatballs into the pot one by one. Bring the soup back to a simmer and then cover and cook for 10 more minutes.

Uncover, taste the broth and season with more salt if desired.

Serve the soup in a bowl by itself or with some cooked white rice. Enjoy!
Nutrition Information
Serving: 1/6th of recipe Calories: 214kcal (11%) Carbohydrates: 9g (3%) Protein: 20g (40%) Fat: 10g (15%) Saturated Fat: 3g (15%) Polyunsaturated Fat: 0g Monounsaturated Fat: 2g Trans Fat: 0g Cholesterol: 81mg (27%) Sodium: 879mg (37%) Potassium: 434mg (12%) Fiber: 2g (8%) Sugar: 3g (3%) Vitamin A: 3650IU (73%) Vitamin C: 7.4mg (9%) Calcium: 40mg (4%) Iron: 2.9mg (16%)