Jump to Recipe
This Roasted Cauliflower Soup with Fried Jalapeños is thick, creamy and loaded with healthy veggies. It's also gluten free, paleo, vegetarian and vegan!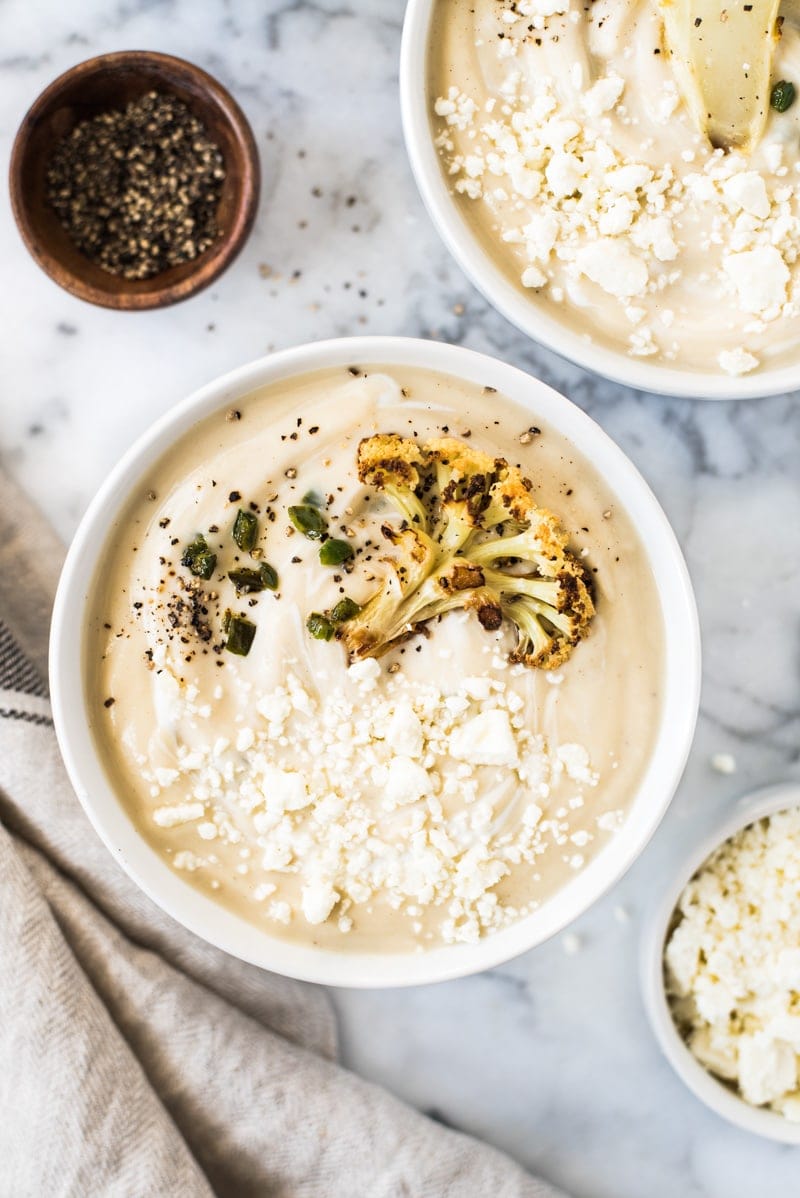 If you're looking to sneak in some vegetables into your diet, pureed soup recipes like this cauliflower soup are your best friend.
Made with two big 'ol heads of roasted cauliflower, onions, garlic, dried sage and more, a serving of this soup is full of fiber, vitamin C, vitamin A and all the good stuff we get through food. And to give it that little Mexican inspired touch, I just haaad to mix in some fried jalapeños. I couldn't help myself. 🙂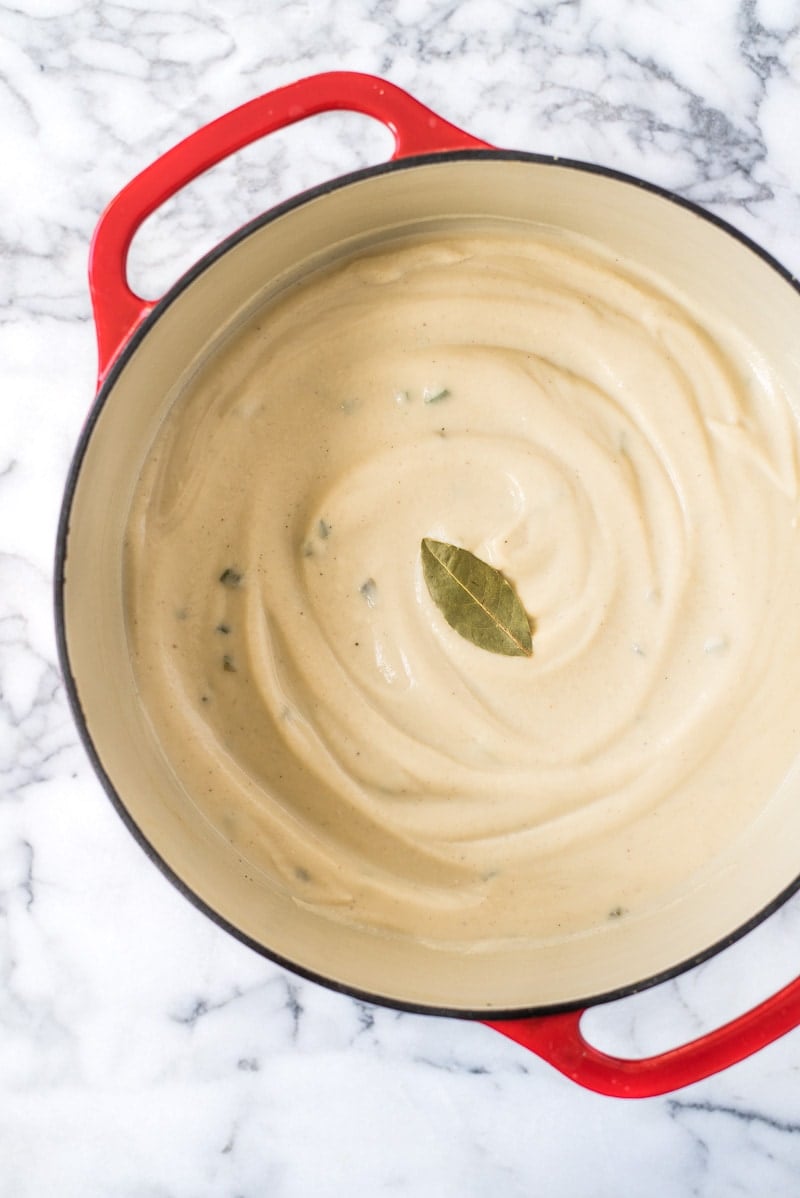 I have been absolutely obsessed with making pureed soups lately. Part of it is because they're super easy to make and another part is because they're often full of veggies and pretty healthy.
But let's be honest – it's mostly because it's cold outside and I like eating soups when it's freezing. Nothing to do with health, nothing to do with how easy it is, everything to do with wrapping my hands around a warm bowl of soup to keep them warm.
Does that make me a bad food blogger? 🙂
Luckily, this recipe is pretty damn healthy, full of veggies, warm and comforting AND freaking tasty. It's a win win!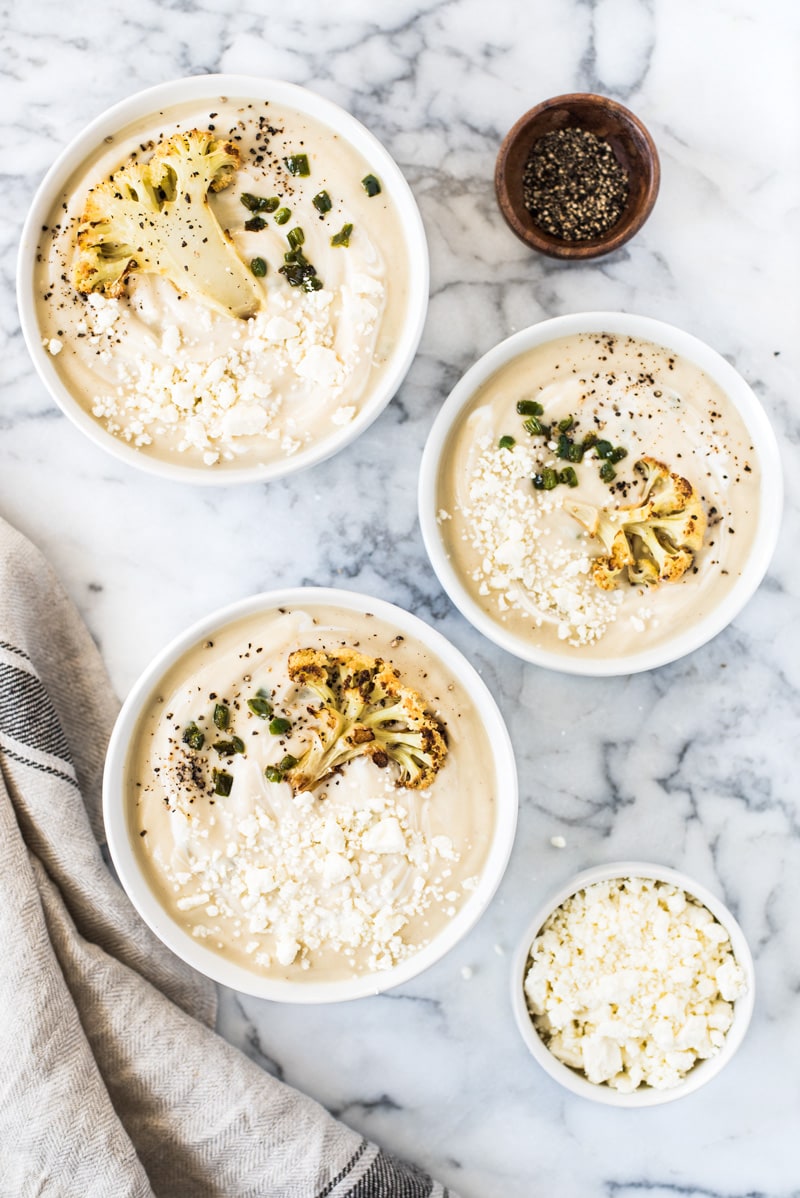 To get this soup thick and creamy, I used 2 full heads of cauliflower instead of using any common thickeners like cornstarch or arrowroot powder. Those things are bad at all, but I wanted to fit in as many veggies as possible.
To bring out the best cauliflower flavor, I roasted it in the oven until it softened and started to get all those juicy brown bits. Roasting cauliflower is my absolutely favorite way of eating the cruciferous veggie, and I highly recommend it. Just look at this spicy roasted cauliflower recipe!
Once you roast veggies, you'll never go back.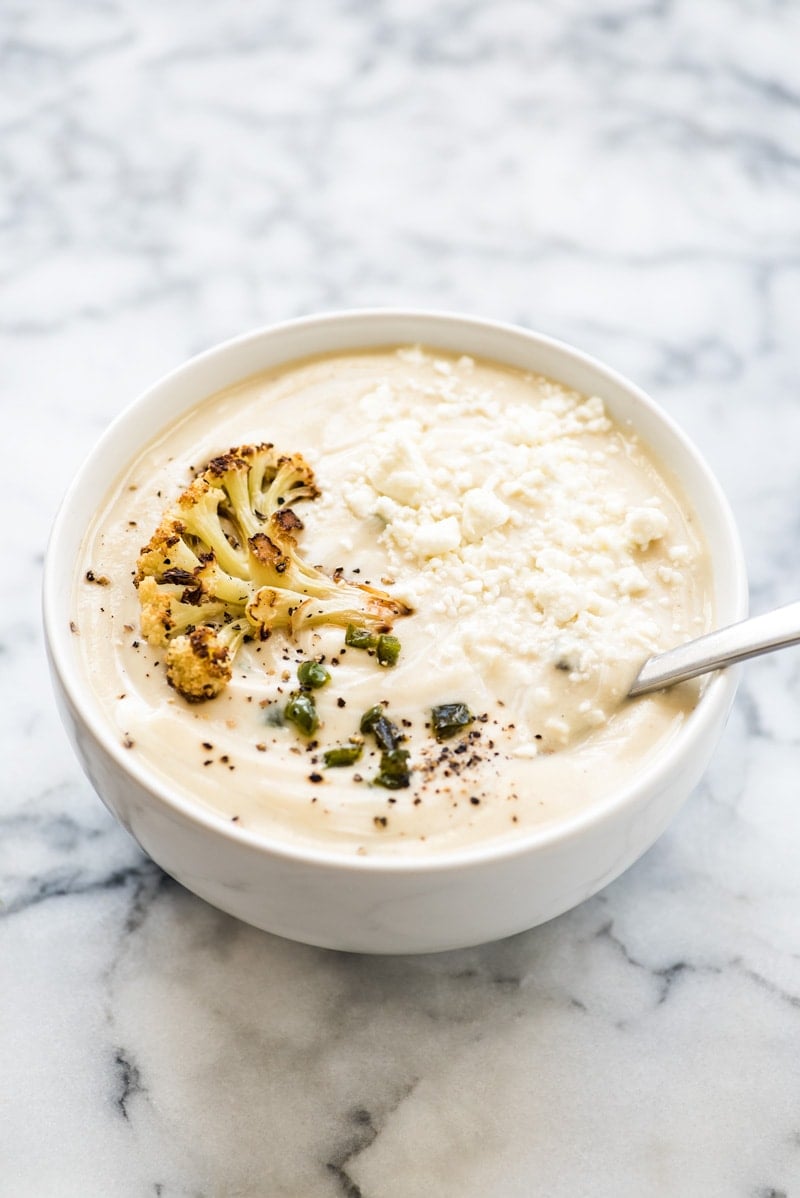 Once the cauliflower is nice and roasted, I sauteed some garlic and onions until beautifully fragrant and translucent. Then add in the cauliflower to the same pot along with some sage, broth and a bay leaf. Bring everything to a boil, cover and simmer for 5 minutes.
Then comes the fun part – pureeing everything! If you want everything as smooth as can be, I recommend transferring the soup to a blender and blending until smooth. You may have to do it in two batches because you don't want the soup to overfill and explode in the blender. That would not be good. Here is a link to the exact blender that I use and love. It gets everything silky smooth and isn't as expensive as a Vitamix.
If you want your soup more chunky, almost like a chowder, I recommend using an immersion blender like this one. I love using my immersion blender if I can because clean up is a breeze compared to all the other options. And I'm always looking for a way to reduce the amount of dishes I have to do!
Once everything is nice and blended, mix in some milk (I used almond milk to keep this recipe paleo and vegan, but you can use regular cow's milk if that's what you have) and some fried jalapeños. If you leave in some of the veins and a seeds when frying the jalapenos, they give the soup a nice little kick, but if you don't want anything spicy, you can leave them out. It's up to you.
Can this cauliflower soup be frozen?
It depends. I don't recommend freezing soups that have milk in them, even if it's almond milk. I find that the milk separates a little bit and becomes too "watery." However, if you plan on freezing it, you can leave out the almond milk, freeze it and mix it in when you're ready to eat.
Is this soup spicy?
No. If you devein and remove the seeds from the jalapeños, this soup isn't spicy at all. If you'd like it to have some heat (like me!), feel free to leave in some veins and seeds when frying.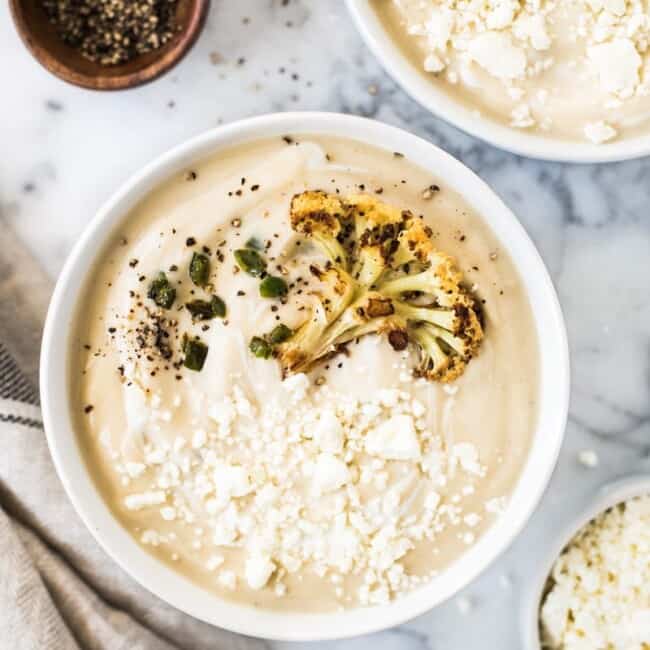 Prep: 15 minutes
Cook: 1 hour
Total : 1 hour 15 minutes
This Roasted Cauliflower Soup with Fried Jalapeños is thick, creamy and loaded with healthy veggies. It's also gluten free, paleo, vegetarian and vegan!
Ingredients
2 heads cauliflower, cut into florets
4 tablespoons olive oil divided
1 pinch salt
1 pinch freshly ground black pepper
3 jalapenos, diced (remove the seeds and veins for low spice, or leave them in for more heat)
1 large onion, diced (about 1 1/2 cups)
1 tablespoon minced garlic
2 1/2 cups broth (vegetable or chicken)
1/2 teaspoon dried sage
1 dried bay leaf
1 1/2 cups unsweetened plain almond milk
garnish: fried jalapenos, feta cheese, black pepper
Instructions
Preheat oven to 425 degrees F. Spray a baking sheet with cooking spray.

Place cauliflower onto the prepared baking sheet in a single layer. Add 2 tablespoons of olive oil and a pinch of salt and pepper. Mix together to combine and roast in the oven for 35 minutes.

In a large dutch oven or pot over medium-high heat, add 1 tablespoon of olive oil. And in jalapenos and fry for 3 to 5 minutes, until the edges start to get crispy. Transfer the jalapenos to a bowl and set aside.

In the same dutch oven or pot, add in the remaining 1 tablespoon of olive oil. Add the onion and garlic, Cook, stirring occasionally, for 5 minutes, until the onions starts to become translucent.

Add in the roasted cauliflower, broth, sage and bay leaf. Bring the soup to a boil, cover and simmer for 10 minutes.

Turn off the heat, remove the bay leaf and puree the soup with an immersion blender or regular blender until smooth.

Pour in the milk and 2/3 of the fried jalapenos. Mix everything together and season with more salt if needed. If the soup is too thick, feel free to add in more broth until it's just how you like it.

Serve in soup bowls and garnish with the remaining fried jalapenos and feta cheese.
Nutrition Information
Serving: 1.5cups Calories: 249kcal (12%) Carbohydrates: 25g (8%) Protein: 9g (18%) Fat: 15g (23%) Saturated Fat: 2g (10%) Polyunsaturated Fat: 2g Monounsaturated Fat: 11g Potassium: 876mg (25%) Fiber: 10g (40%) Sugar: 14g (16%) Vitamin A: 1050IU (21%) Vitamin C: 330mg (400%) Calcium: 270mg (27%) Iron: 2.3mg (13%)