These Roasted Poblano Chicken Burritos are an easy Mexican lunch or dinner recipe that's perfect for weekend meal prep. They're also freezer friendly!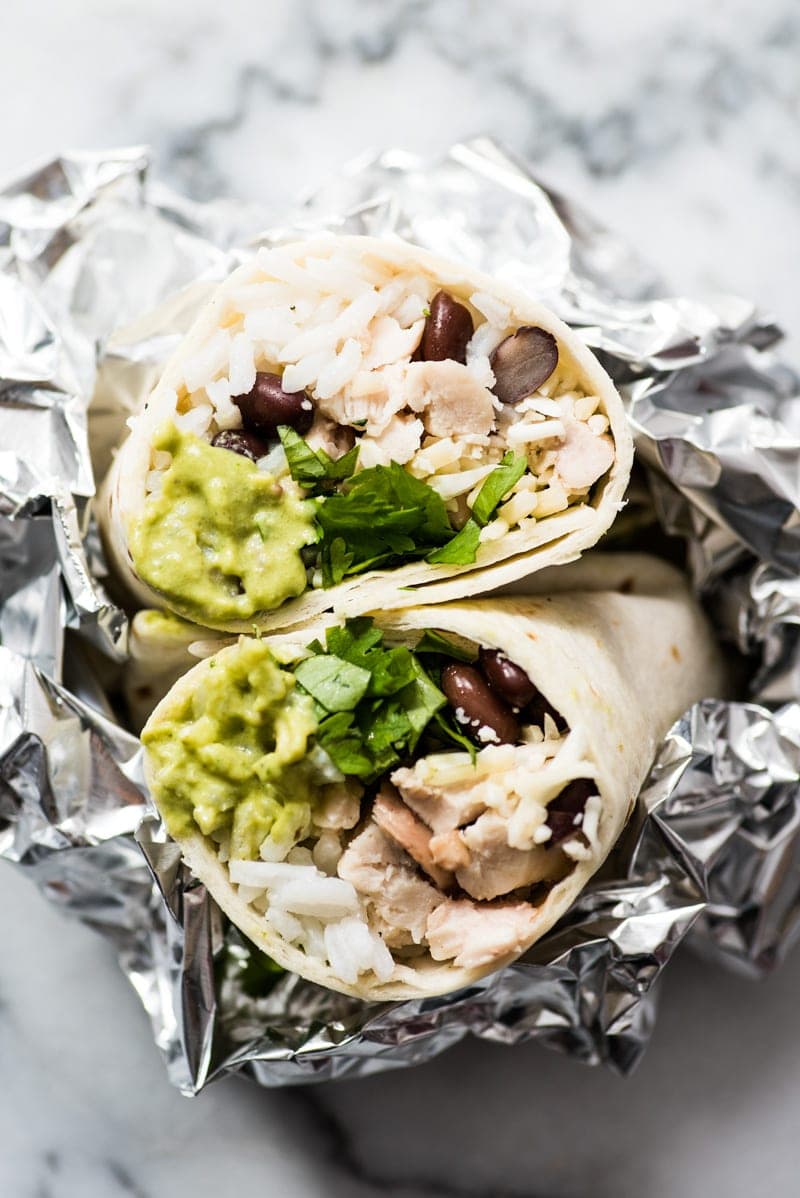 Burrito lovers, hold onto your hats – it's burrito day on Isabel Eats!
What exactly makes it burrito day, you ask? Since I'm sharing a recipe for chicken burritos today, I just thought it would be appropriate. That's pretty much it. Also, I like to think of every day as special, and attaching a fun name to each day just makes it a little bit more exciting.
So since I'm sharing burritos today, I'm going to call it burrito day! Tomorrow, if I eat tacos, I'm going to call it taco day. On the weekend, if I eat waffles, I'm going to call it waffle day. Doesn't that just sound a million times more fun?
The star of today is this Roasted Poblano Chicken Burrito recipe filled with tons of goodies like:
Move over, Chipotle. Isabel Eats is taking over. (Okay, not really, but that would be amazing.)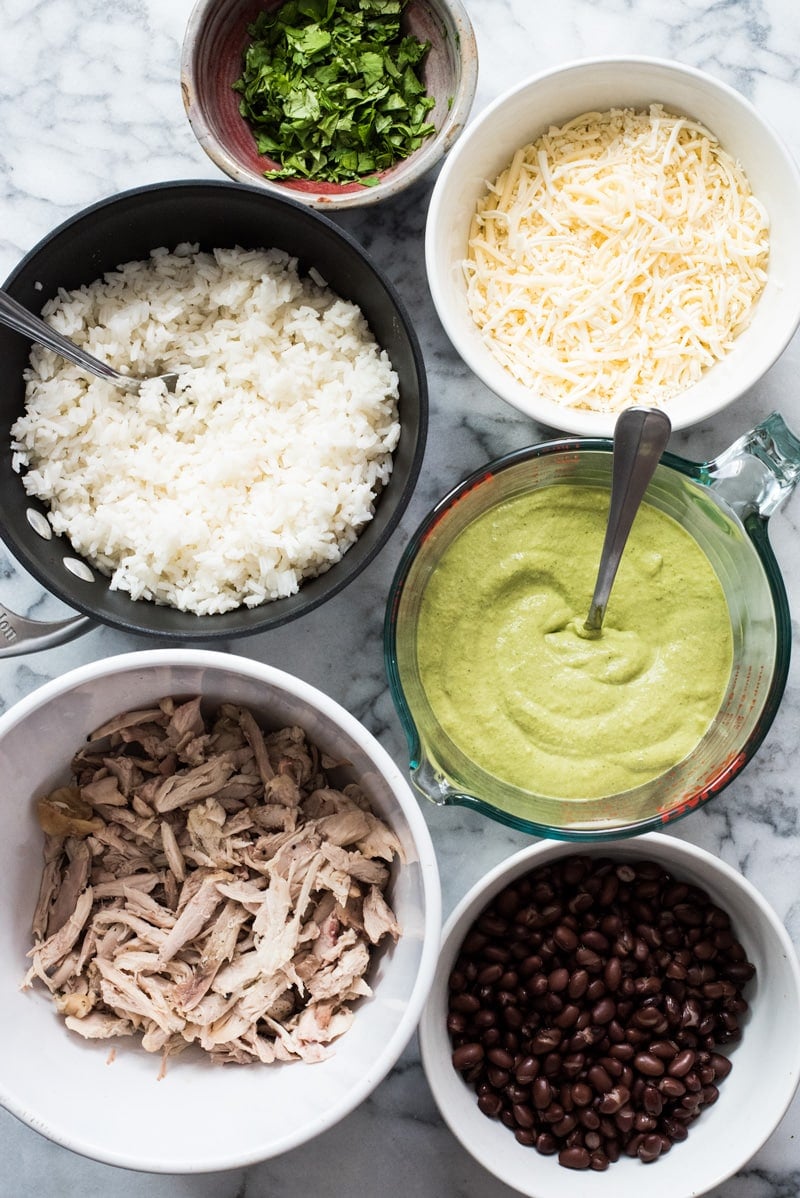 Though this recipe is pretty simple, there's two ingredients that take it from pretty good to freaking amazing.
1. The roasted poblano cream sauce. It's creamy, light, refreshing, has a slight little kick to it and has a great depth of flavor due to the roasted peppers. It's insanely easy to make and it's really what makes these burritos so delicious! Definitely don't skip this sauce.
2. The cilantro. It adds a bright, almost citrusy note to the burrito that just keeps you coming back for another bite. If you're one of those people that don't like cilantro, I would suggest substituting in some sort of really fresh salsa like this Fresh Cucumber Salsa or Pico de Gallo without the cilantro.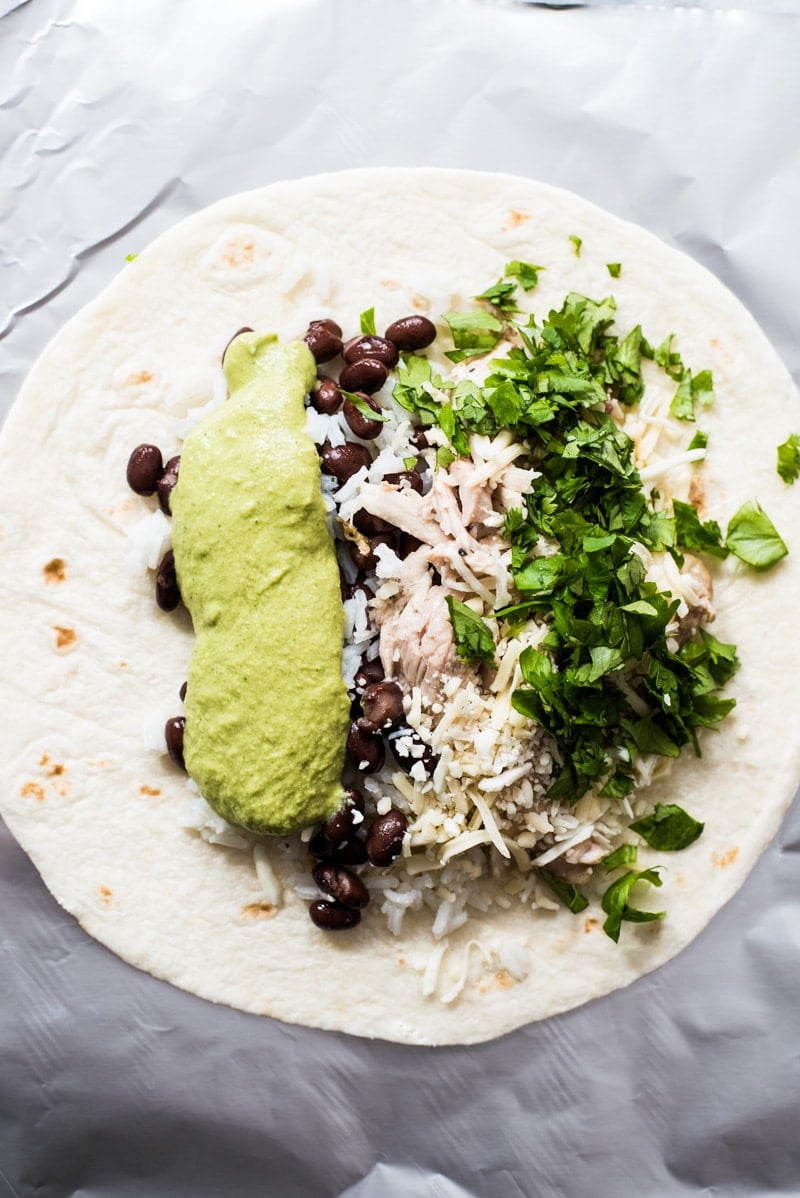 I made this recipe on a Sunday afternoon when John had a friend over to watch football. Since I don't really like football, I decided to do my own thing which naturally meant getting in the kitchen and doing some recipe development for the blog.
The final result? A creamy and healthy chicken burrito perfect for meal prep day.
The toughest part about making these burritos is rolling them up and keeping them from unraveling. Usually, when people make burritos at home, they don't stay rolled as nicely as the ones from Chipotle or whatever your preferred burrito place is. That's because restaurant burritos use HUGE tortillas that are meant for like 2 or 3 servings! So what about normal homemade burritos with regular soft-taco-sized flour tortillas? I've got a little trick.
Once the tortilla is rolled as securely as possible (fold the bottom of the tortilla over the filling, tuck in the sides, and then continue rolling the tortilla as tightly as you can), seal the burrito shut by place the burrito seam side down on a hot tortilla griddle or skillet and cook the burrito for 30-60 seconds. The tortilla will brown slightly and should be secure!
And that's how you make restaurant quality burritos at home. BOOM.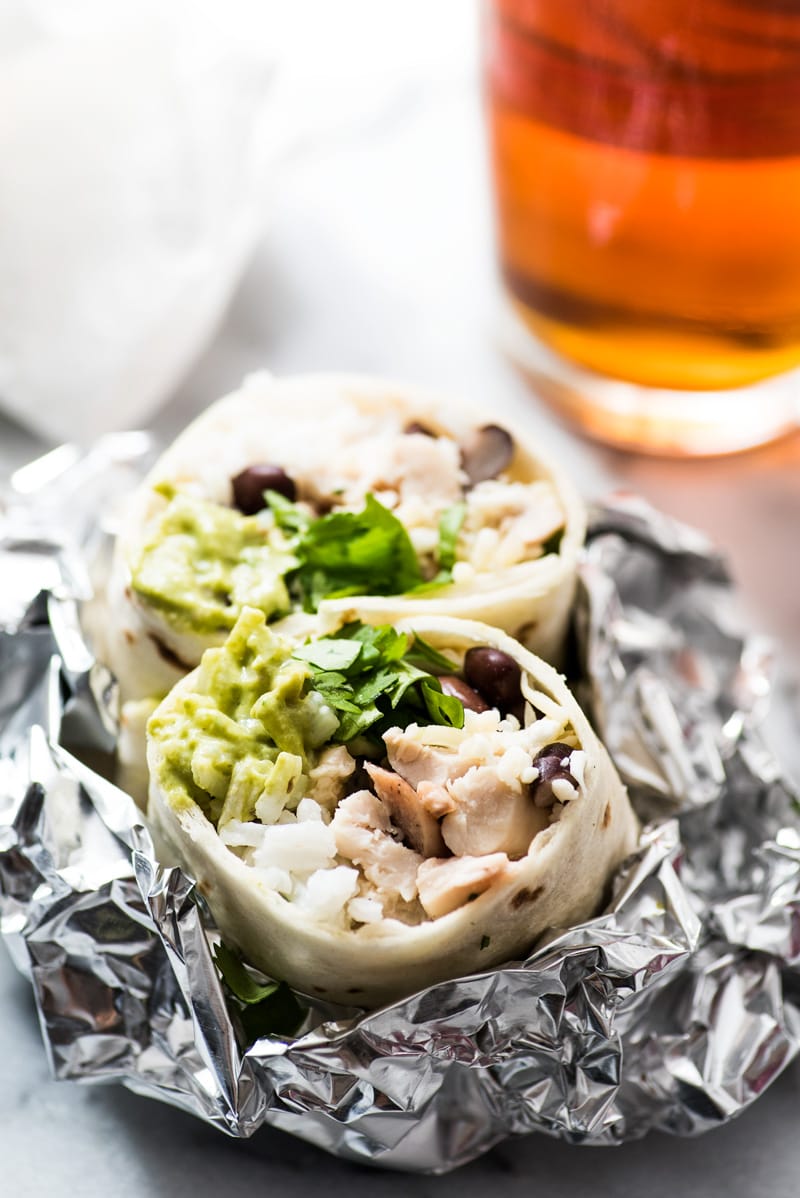 John and his friend acted as my official Burrito Taste Testers (such a tough job) and gave them two thumbs up. They even managed to say they were "really good" in between mouthfuls of food and beer.
That's a pretty successful recipe if you ask me.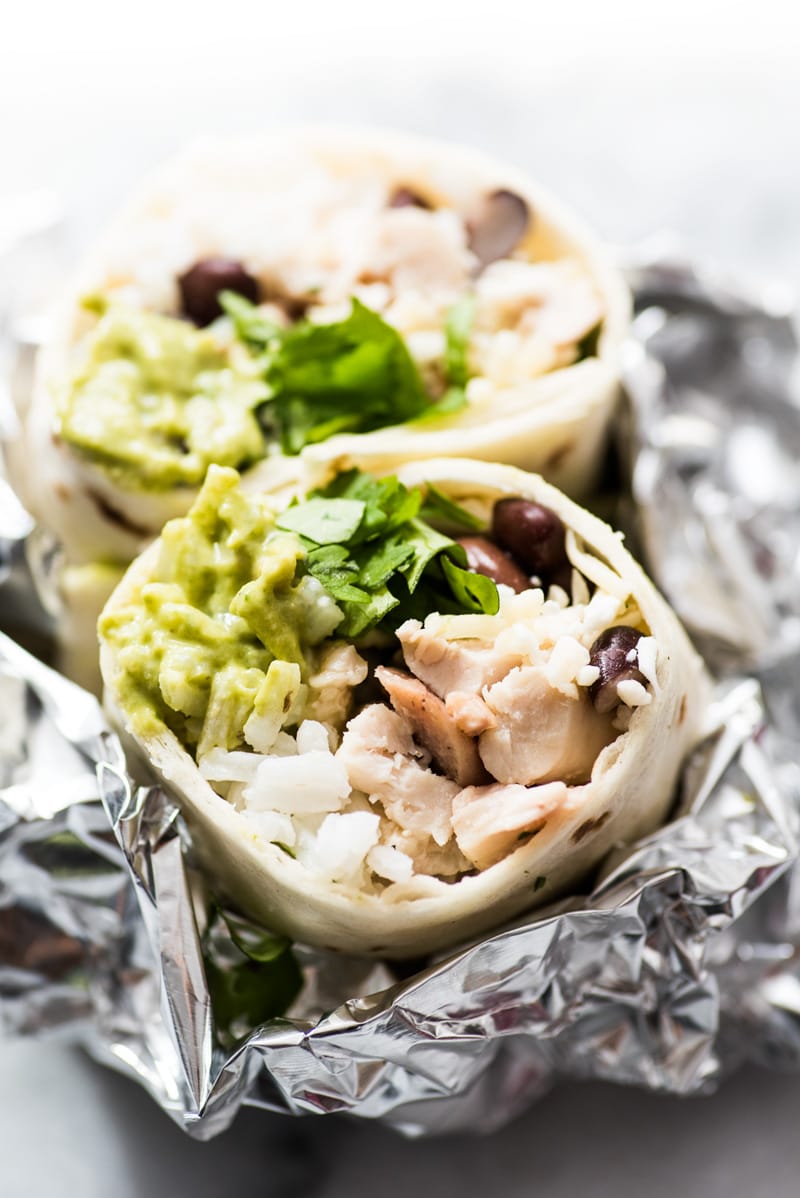 INGREDIENTS
12

soft taco size

flour tortillas

3

cup

cooked white rice

(1 cup uncooked)

1

15-ounce can

black beans,

drained and rinsed

1

pound

shredded chicken

(about 3 cups)

2

cups

shredded mexican blend cheese,

(8 ounces)

1/4

cup

chopped cilantro

1

batch

Easy Roasted Poblano Cream Sauce
INSTRUCTIONS
Preheat tortilla griddle or skillet over medium-high heat.

Begin assembling each burrito by placing a tortilla flat on a plate or a counter. Top with white rice, black beans, shredded chicken, shredded cheese, cilantro and 2 spoonfuls of the Easy Roasted Poblano Cream Sauce.

Carefully fold the bottom of the tortilla over the filling, tuck in the sides, and then continue rolling the tortilla as tightly as you can.

To seal the burrito shut, place the burrito seam side down on the tortilla griddle and cook the burrito for 30-60 seconds. Enjoy warm or wrap the burritos in tin foil and store in the fridge for up to 2 weeks.
ISABEL'S TIPS
---
To freeze: Wrap the burritos in tin foil, place in a freezer storage bag and freeze for up to 6 months.
To reheat: For best results, place tin-foil-wrapped burritos on a baking sheet and bake for 10-15 minutes in 350 degree oven. Or unwrap the burritos and heat in the microwave for 3-4 minutes. But let's be honest - burritos in the microwave are never as good as when crisped up in the oven. 🙂
Nutrition Facts
Roasted Poblano Chicken Burritos
Amount Per Serving (1 burrito)
Calories 403
Calories from Fat 153
% Daily Value*
Fat 17g26%
Cholesterol 60mg20%
Sodium 403mg17%
Potassium 111mg3%
Carbohydrates 40g13%
Protein 22g44%
Vitamin A 600IU12%
Vitamin C 42.9mg52%
Calcium 270mg27%
Iron 2mg11%
* Percent Daily Values are based on a 2000 calorie diet.
Did you make this recipe?
Leave a comment below and tag @isabeleats on social media!