Jump to Recipe
A quick and easy roasted tomato salsa made from tomatoes, onions, jalapenos, garlic, cilantro, and lime juice. Better than store-bought, this roasted salsa is delicious served with tortilla chips or in tacos and burritos.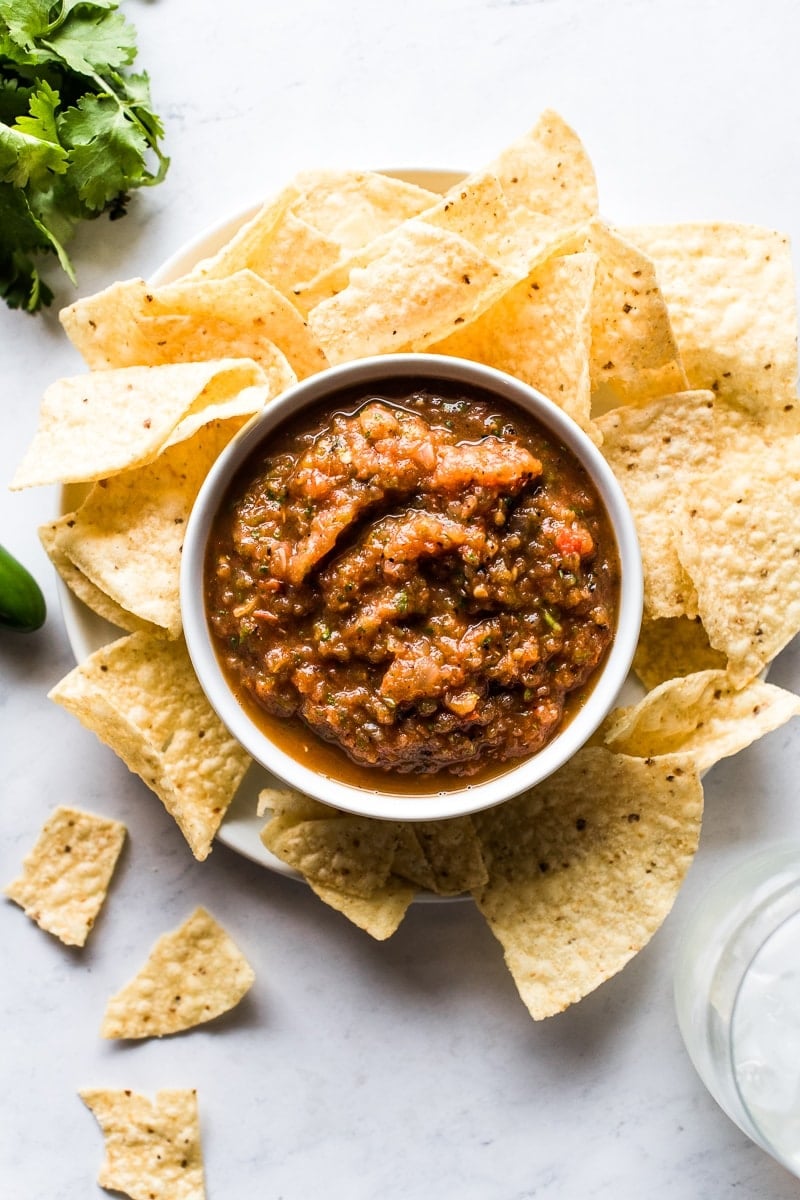 There's nothing better than a table filled with homemade tortilla chips, a frozen margarita, and a big bowl of homemade salsa. It's my go-to appetizer for any get-together with friends and family because everyone loves it, and it's so easy to make!
Like my fresh salsa recipe, this one is also made with tomatoes, onions, jalapenos, garlic, cilantro, and lime juice. The difference is that the ingredients in this recipe are roasted, which brings out some of the sweetness in the tomatoes and peppers while adding that delicious smoky char in every bite.
Roasting the ingredients only adds about 10 minutes to the total time and is well worth it! Whether you serve it with chips or eat it in burritos and tacos, I know you're going to love this recipe.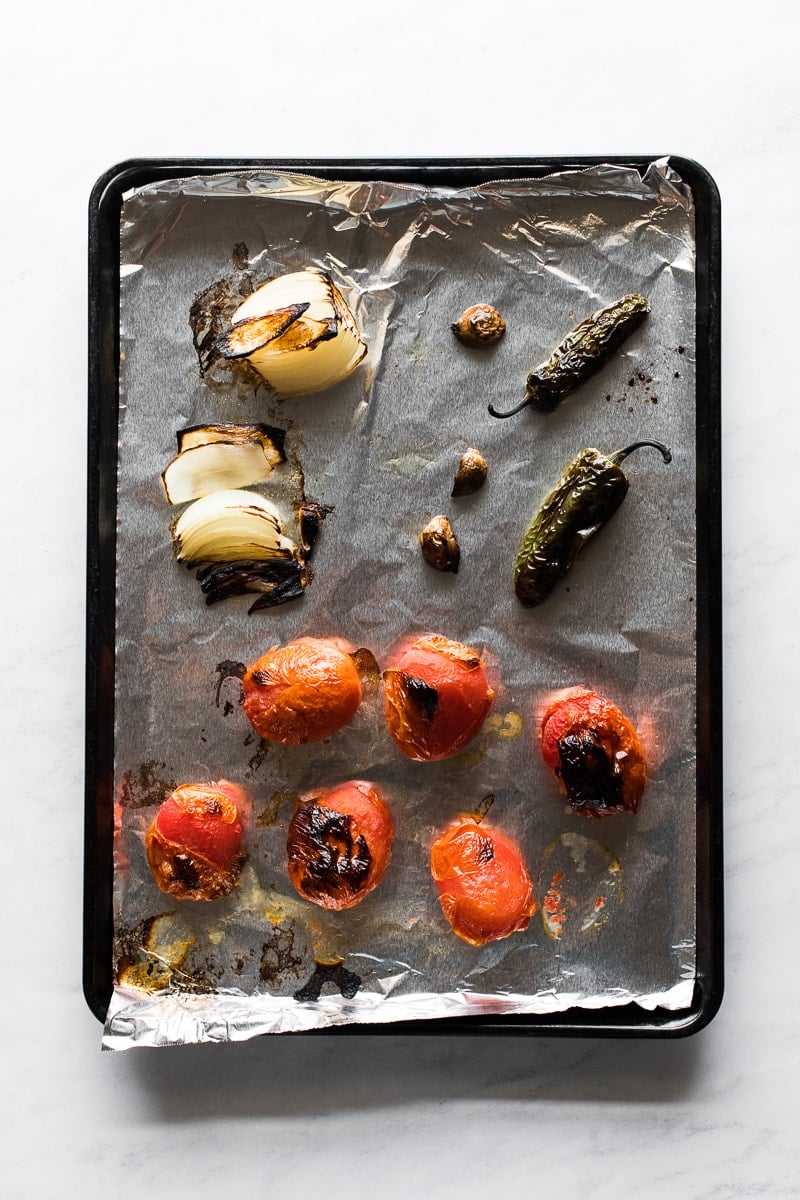 How to make roasted tomato salsa
First, roast the tomatoes, onion, jalapeños, and garlic. I like to drizzle a little olive oil over the vegetables first and then spread it out using my fingers so they're all nice and coated. Then place them on a baking sheet under the broiler for about 10-15 minutes, making sure to flip them over halfway through.
If you have a gas stove or a grill, you could roast them over the open flame until they're blackened and blistered on all sides instead of using the broiler. The roasting method is up to you – as long as they're charred, they're good to go.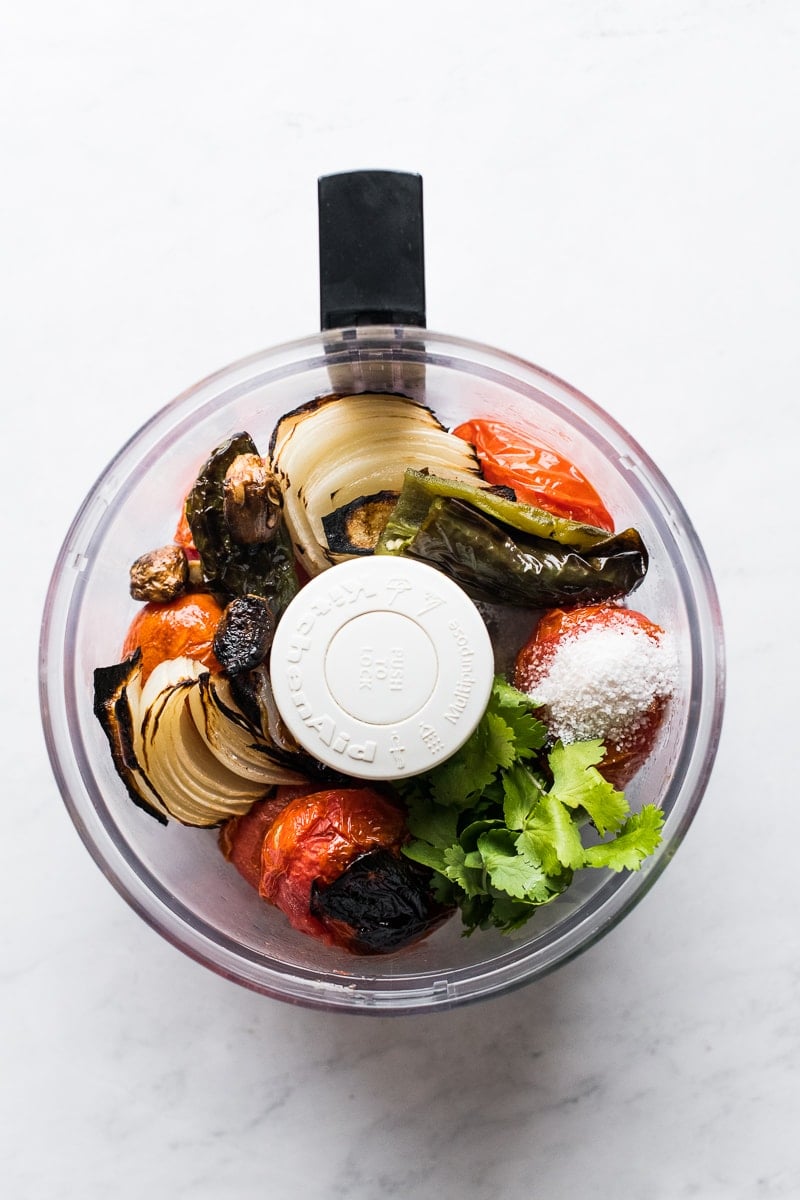 Next, remove the stems from the jalapeños and transfer everything to a food processor or a blender. Don't remove any of the charred and blackened skin. That's what gives this salsa so much depth and a subtle smoky flavor! If you don't want your salsa to be too spicy, you can remove and discard the seeds.
Add in some fresh sprigs of cilantro, a little salt, and some lime juice. If you're someone who doesn't like cilantro, you can completely omit it.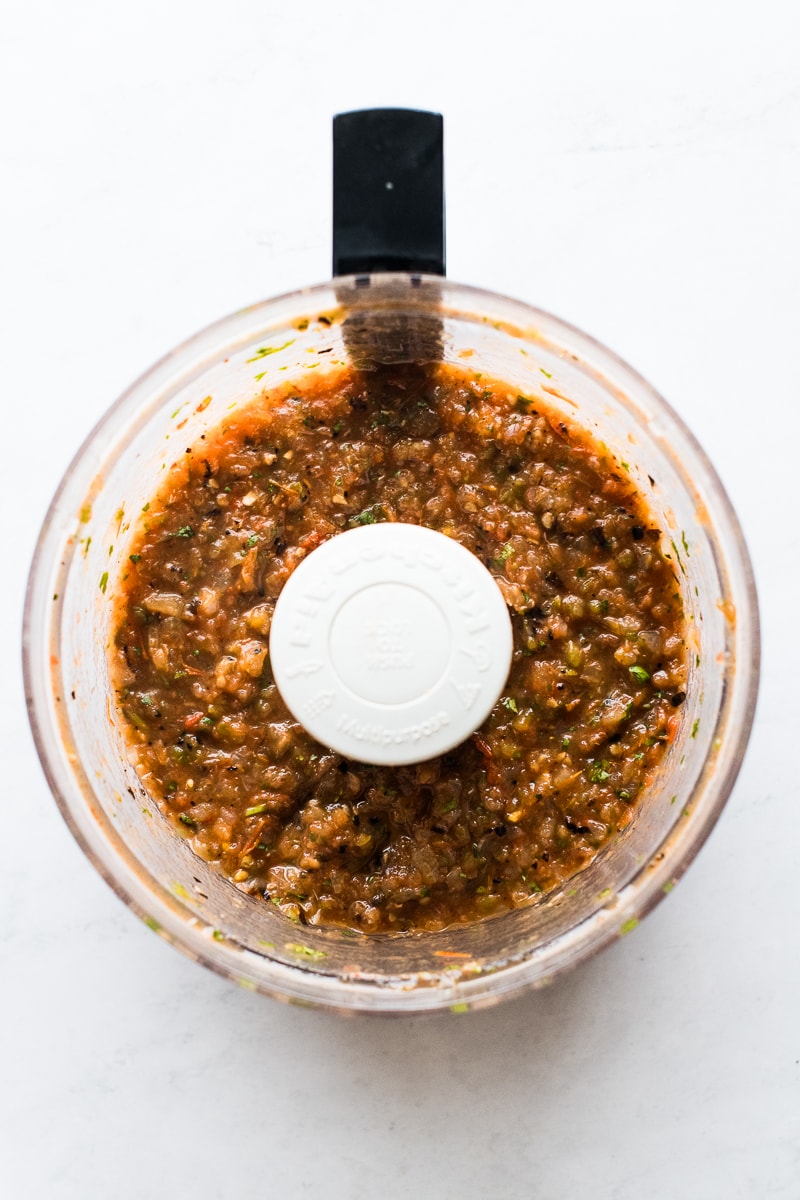 Lastly, pulse or blend until the salsa reaches your desired consistency. For a chunkier salsa, give the blender a few pulses. For a smooth salsa, blend it for a full minute.
Don't forget to give the salsa a taste and add more salt if necessary. I often find that I'll add more salt if the tortilla chips I serve them with are on the salty side. If the chips aren't very salty, I'll add more to the salsa.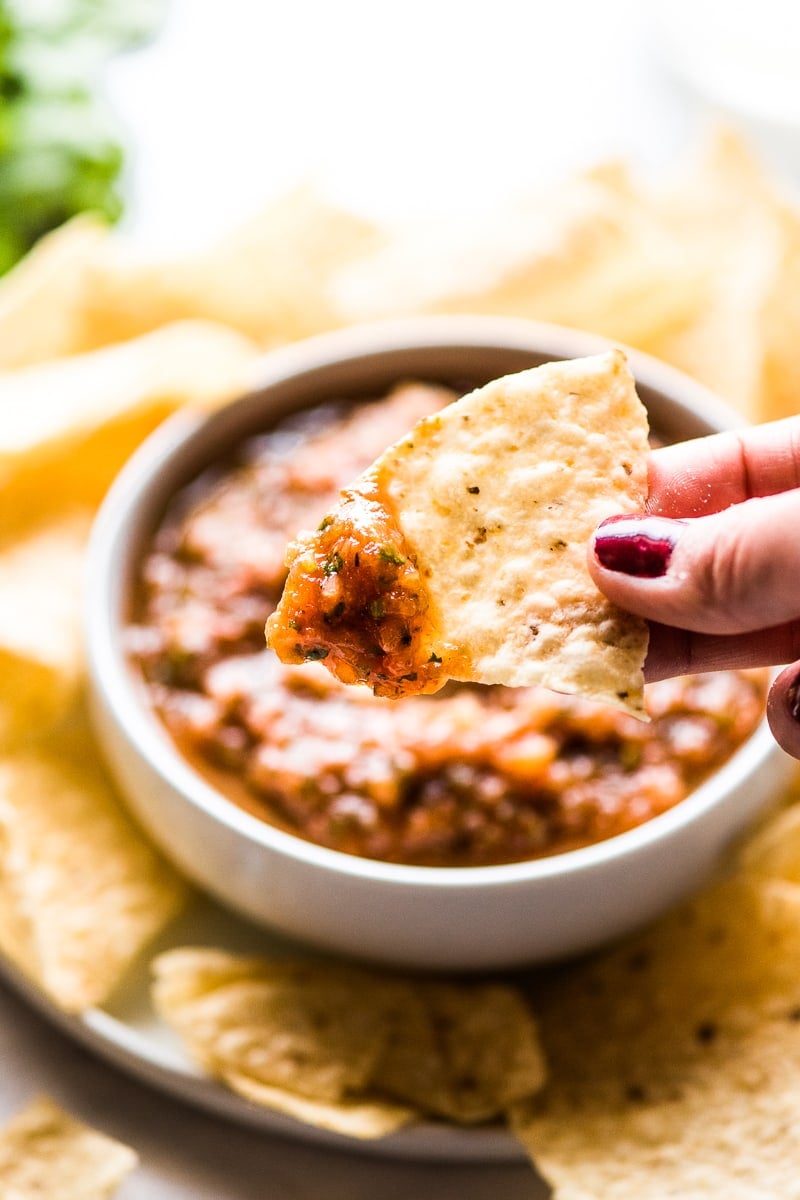 Storing
Once the flavor is just right, you can serve the salsa immediately or transfer it to an airtight container and refrigerate it until ready to eat. I like eating this salsa warm or at room temperature, but you can also eat it chilled.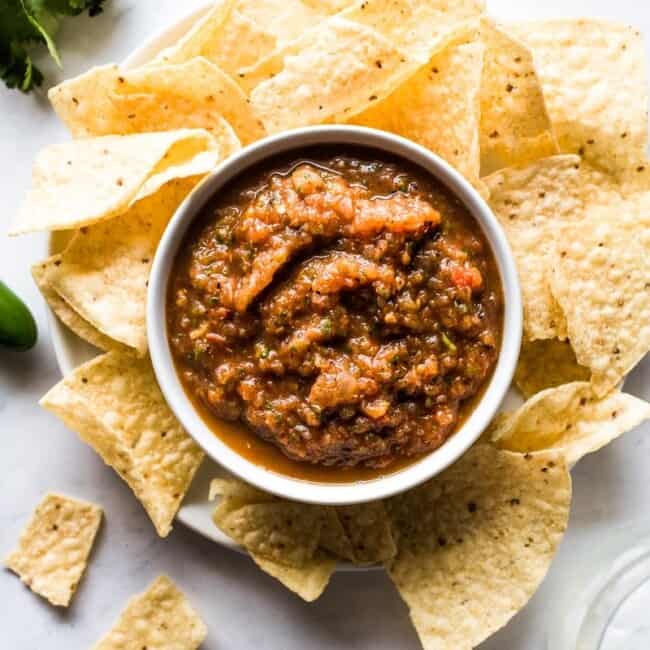 Prep: 5 minutes
Cook: 10 minutes
Total : 15 minutes
A quick and easy roasted tomato salsa made from tomatoes, onions, jalapenos, garlic, cilantro, and lime juice. Ready in minutes!
Ingredients
1 teaspoon olive oil
6 Roma tomatoes (or plum tomatoes)
1 small onion, halved (yellow or white)
2 jalapeños
3 cloves garlic
10 sprigs cilantro
1 tablespoon lime juice (about 1/2 lime)
1 teaspoon kosher salt, plus more to taste
Instructions
Preheat broiler to high. Line a large baking sheet with aluminum foil for easy cleanup.

Place the tomatoes, onion halves, jalapenos and garlic on the baking sheet. Drizzle with olive oil and rub it all over the vegetables to coat.

Place the baking sheet in oven and broil for 10-15 minutes, flipping the vegetables halfway through, until the skins have blistered and blackened.

Carefully remove and discard the stems of the jalapeños. If you don't want the salsa too spicy, you can also remove and discard the seeds.

Transfer everything to a food processor or blender and add the cilantro sprigs, lime juice and salt.

Pulse a few times for a chunky salsa or blend for one minute for a smooth salsa. Taste and season with more salt if needed.
Video
Isabel's Tips:
Have a gas stove or a grill? Instead of using the broiler, you can also carefully roast the vegetables directly over the burner or grill grates until blackened and blistered.
Storage – This salsa can be stored in an airtight container in the fridge for up to 1 week.
Nutrition Information
Serving: 0.25cup Calories: 23kcal (1%) Carbohydrates: 4g (1%) Protein: 1g (2%) Fat: 1g (2%) Saturated Fat: 1g (5%) Sodium: 337mg (14%) Potassium: 175mg (5%) Fiber: 1g (4%) Sugar: 2g (2%) Vitamin A: 695IU (14%) Vitamin C: 15mg (18%) Calcium: 12mg (1%) Iron: 1mg (6%)