Jump to Recipe
These Slow Cooker Pork Rib Tacos are seasoned with Mexican spices and cooked in orange juice for a delicious and easy weeknight meal! (gluten free)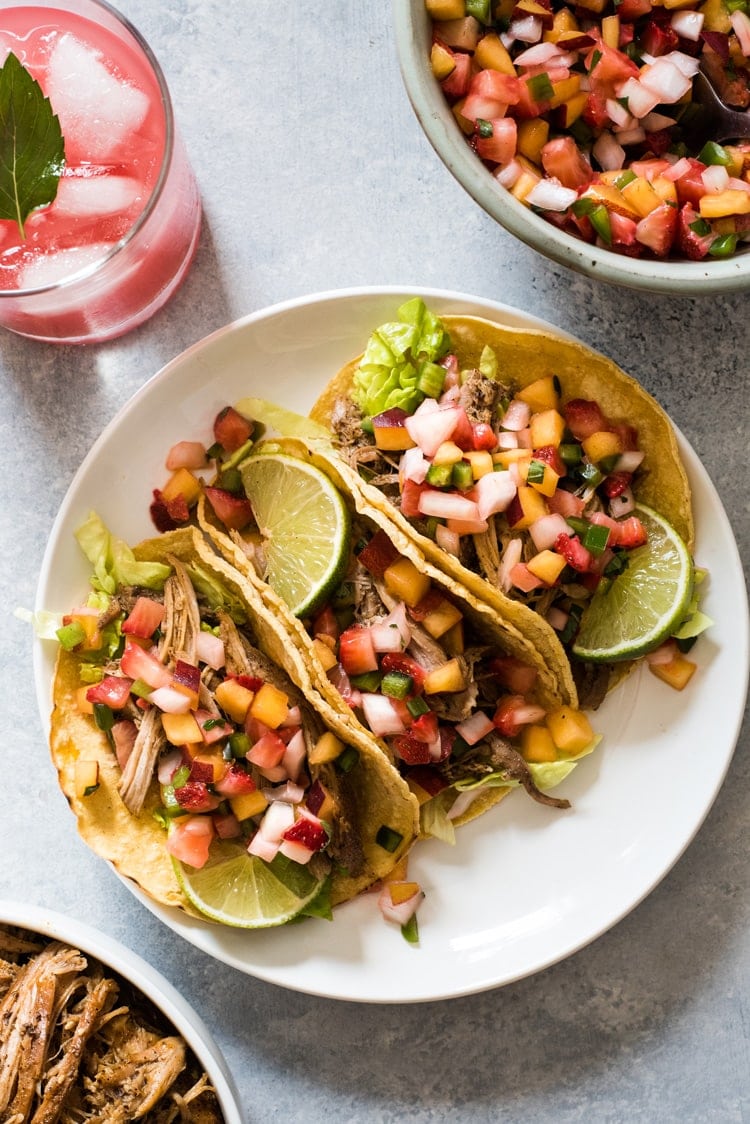 Remember that time I shared this recipe for Peach Strawberry Salsa? Well good news! It finally has a life partner and its name is Slow Cooker Pork Rib Tacos.
Maybe it's the Mexican in me, but I could seriously eat tacos every day. Breakfast tacos with scrambled eggs and bacon. Lunch tacos with grilled zucchini and sauteed greens. Dinner tacos with spice-rubbed pulled pork ribs and summer salsa. Yep. Sounds like a pretty easy thing to me.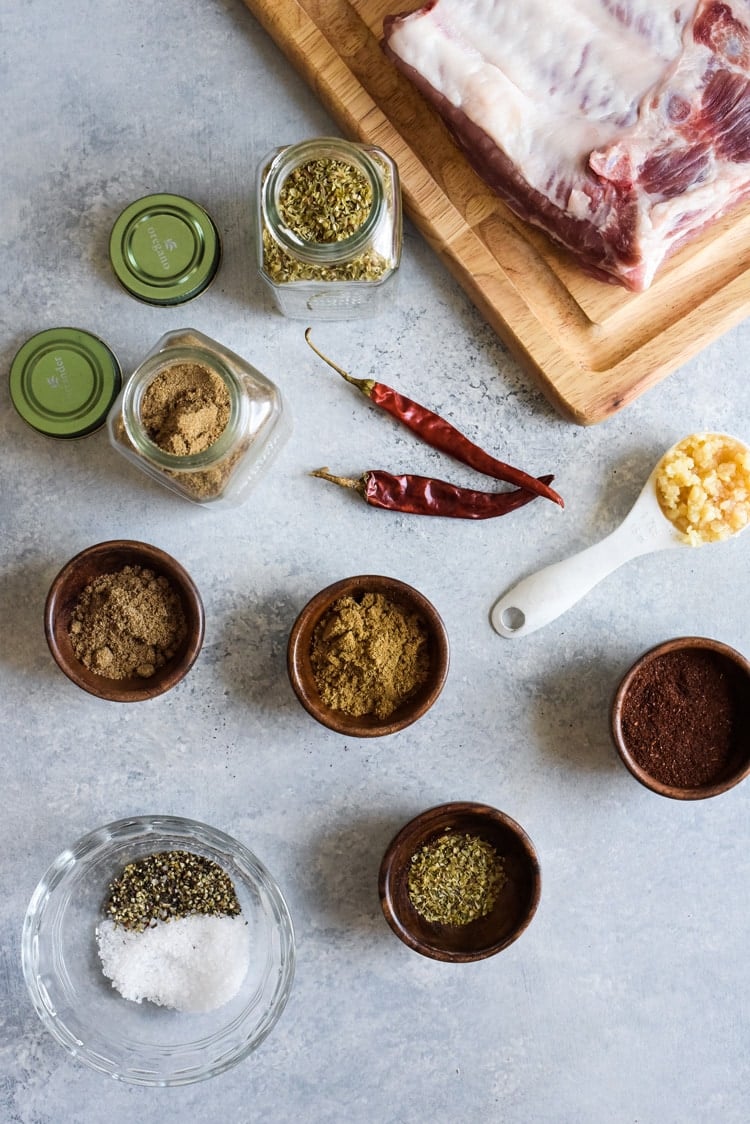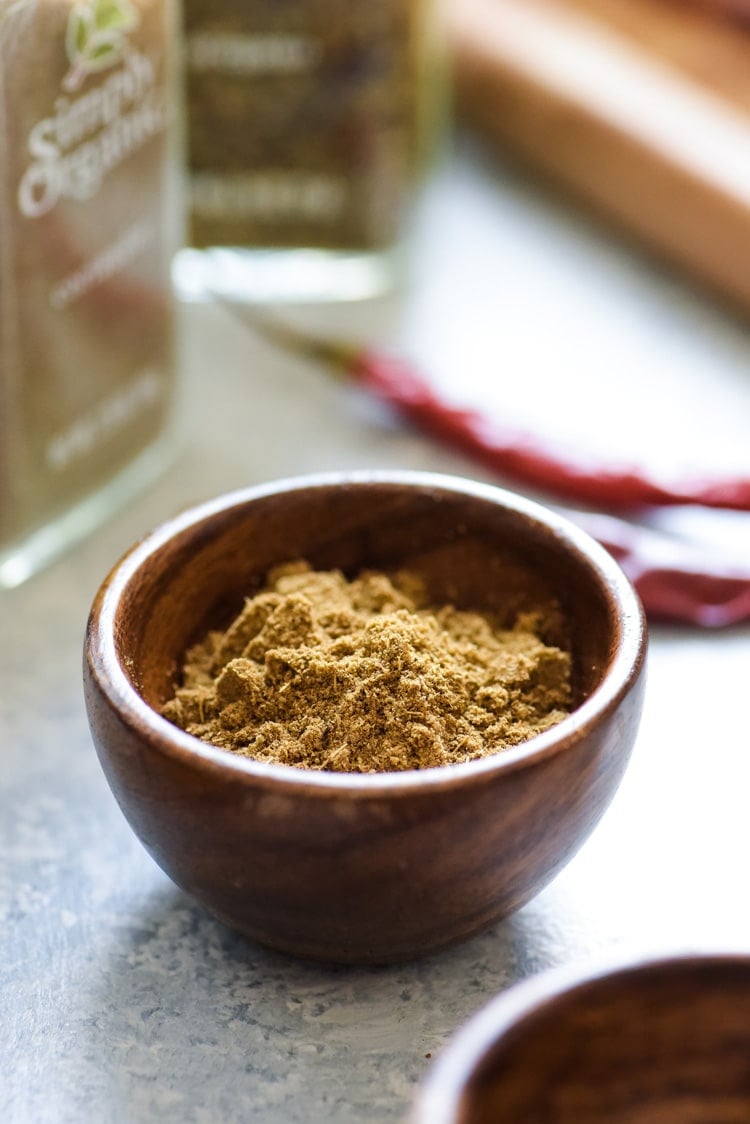 Friends, It's been so hot lately, the last thing I've wanted to do is turn my oven on to do some cooking. Since John and I live in a super old and drafty Pittsburgh row house that was built in 1910 with no central air conditioning, it can get pretty steamy inside. No matter how much cold air we blast from our a/c window unit, it's still pretty damn hot in our living room.
Definitely avoiding the oven as much as I can right now.
Thankfully, I own two slow cookers that are great for times like these that are absolute life savers. I've got a small 3-quart one like this that I use for smaller recipes like my Salsa Verde Queso Dip. I also have a larger 8-quart one like this that I use for recipes like my Mexican Slow Cooker Chicken Posole and anything that has a large surface area.
They key to making out-of-this-world food in the slow cooker? Infusing flavor with spices and herbs, which is perfect for me because I'm a huuuge a spice-aholic. My spice cabinet is so jam packed with bottles and bottles of spices, it's pretty ridiculous. And the funny thing is I actually use them all! I like to add a little bit of this, a little bit of that and experiment with different flavors.
Since I use so many spices and herbs in my everyday life, I've started paying close attention to the quality and flavor of all the different brands. You'd be surprised how many of the really inexpensive brands sell spices and herbs that are flavorless and old. So after a few years of trying them all, I've come to find some favorites, including Simply Organic and Frontier Co-op. All of their products are high quality and are sustainably grown. I absolutely love them.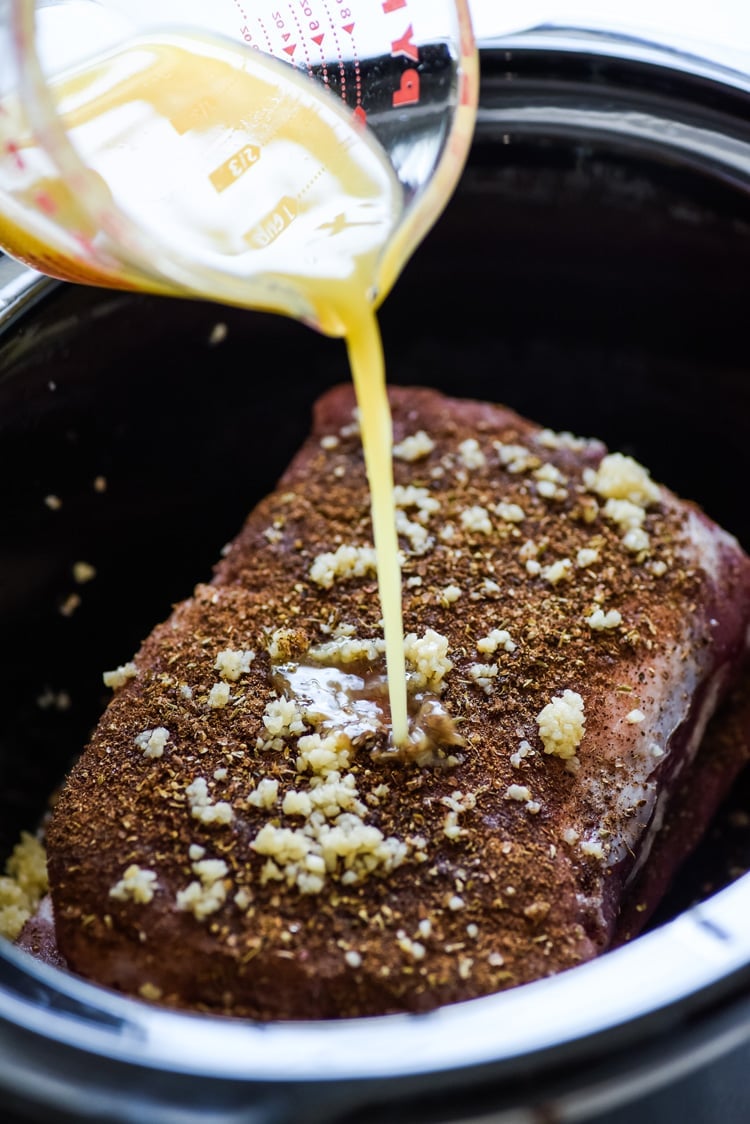 For this dish, I made a dry rub of Simply Organic chili powder, cumin, oregano, coriander, salt and pepper. I also added some minced garlic, dried arbol chiles and some orange juice for a little citrus. I cut the rack of ribs in half and stacked them on top of each other in my large slow cooker, but if you only have a smaller one, you could cut your rack into thirds or even fourths, just as long as you can fit in inside the pot and close the lid.
Cook on low for 8 hours or on high for 4 to 5 hours and that's it!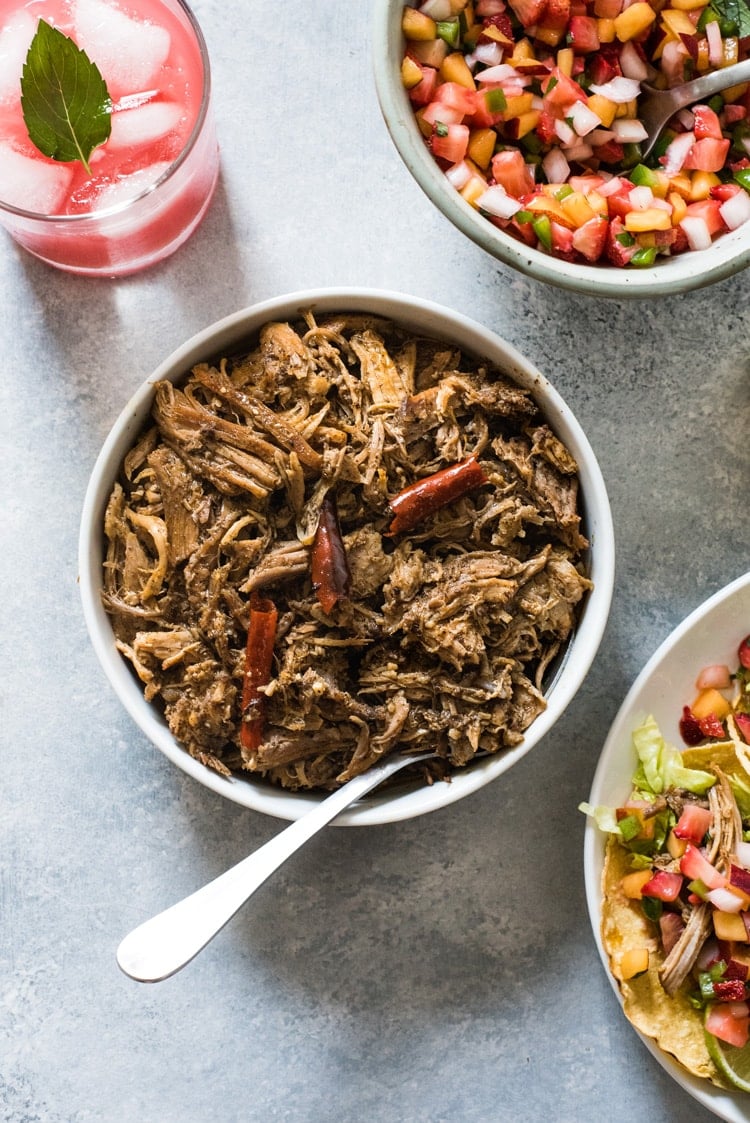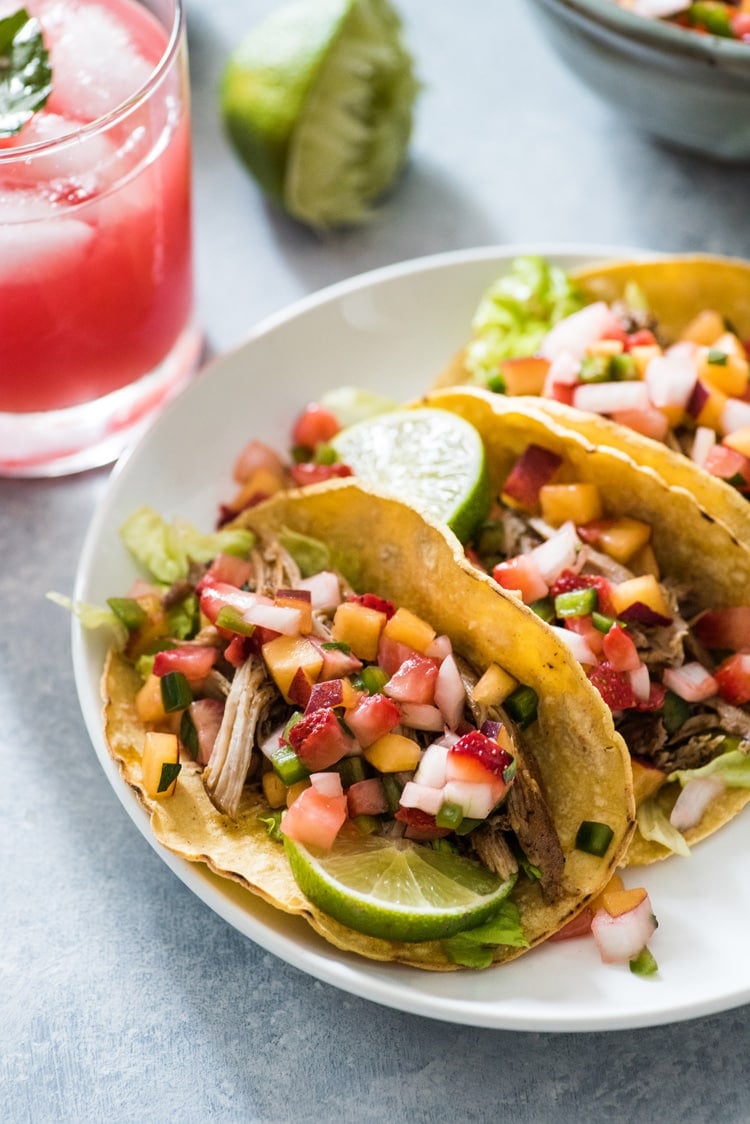 I served the pork in corn tortillas and topped it with some salsa, but you can also serve it in lettuce cups, on slider buns or in a salad. The sky's the limit!
Prep: 10 minutes
Cook: 8 hours
Total : 18 minutes
These Slow Cooker Pork Rib Tacos are seasoned with Mexican spices and cooked in orange juice for a delicious and easy weeknight meal! (gluten free)
Ingredients
1 rack St. Louis style ribs (cut in half or thirds so it can fit in the slow cooker)
1 tablespoon chili powder
2 teaspoons dried cumin
1 teaspoon dried oregano
1.5 teaspoons coriander
2 teaspoons kosher salt
1 teaspoons freshly ground black pepper
1 tablespoon minced garlic
1/2 cup orange juice
For serving (optional)
corn tortillas, lettuce cups or buns
Instructions
In a small bowl, mix together chili powder, cumin, oregano, coriander, salt and black pepper.

Rub spices onto ribs and place in the slow cooker. Cover ribs with any remaining spice mix and add in garlic, dried chiles and orange juice.

Cover and cook on low for 8 hours or on high for 4 to 5 hours until fall-apart tender.

Remove bones and shred/pull apart meat using a fork. Serve in corn tortillas (or lettuce cups or buns) and top with peach strawberry salsa.
Isabel's Tips:
Nutritional information is only for the slow cooked meat.
Nutrition Information
Calories: 253kcal (13%) Carbohydrates: 13g (4%) Protein: 14g (28%) Fat: 14g (22%) Vitamin A: 550IU (11%) Vitamin C: 14.9mg (18%) Calcium: 20mg (2%) Iron: 0.9mg (5%)
This page contains affiliate links. If you make a purchase on Amazon after clicking one of my links, I may receive a small commission. The price of the item stays the same and any money I make goes to supporting this blog. I only endorse products and services that I fully believe in.