Jump to Recipe
Made with shredded chicken and hominy in a comforting red chile broth, this Slow Cooker Chicken Posole is easy to make and full of authentic Mexican flavors to warm you up! (gluten free)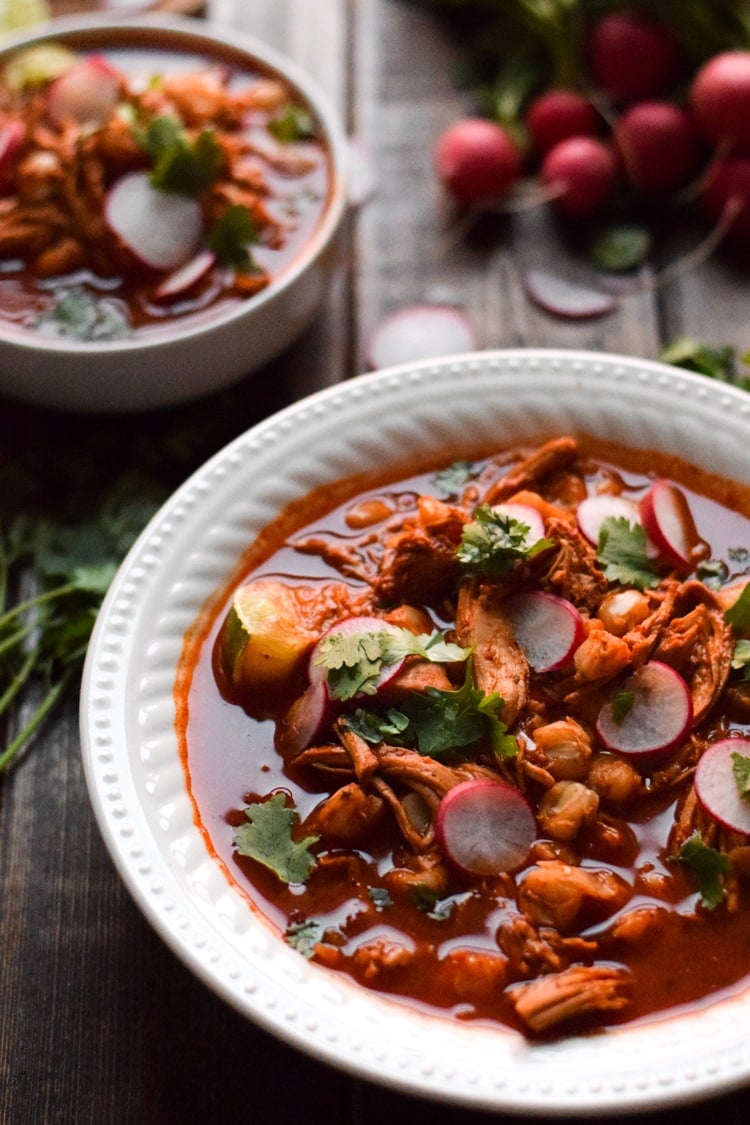 It finally happened. I made a dish that I never thought I would make without the step-by-step instructions from my parents. I made posole!
If you've never heard of posole, you're not alone. It's not a dish that is normally found at Mexican restaurants, at least not in the United States. and definitely not in Pittsburgh.
What is posole?
Posole (which translates to hominy in English) is a Mexican chile soup or stew traditionally made with pork and hominy covered in a chile broth. There are countless variations of this dish, such as:
some made in a red chile broth
some with green chiles and tomatillos as the base (like this Chicken Pozole Verde)
some with no chiles at all (why, God, why?!)
some made with pork (like this traditional Red Posole)
some with chicken
some with no meat at all
And just so you know, I plan on making ALL those variations for you at some point. This is only the beginning. I'm getting excited just talking about it.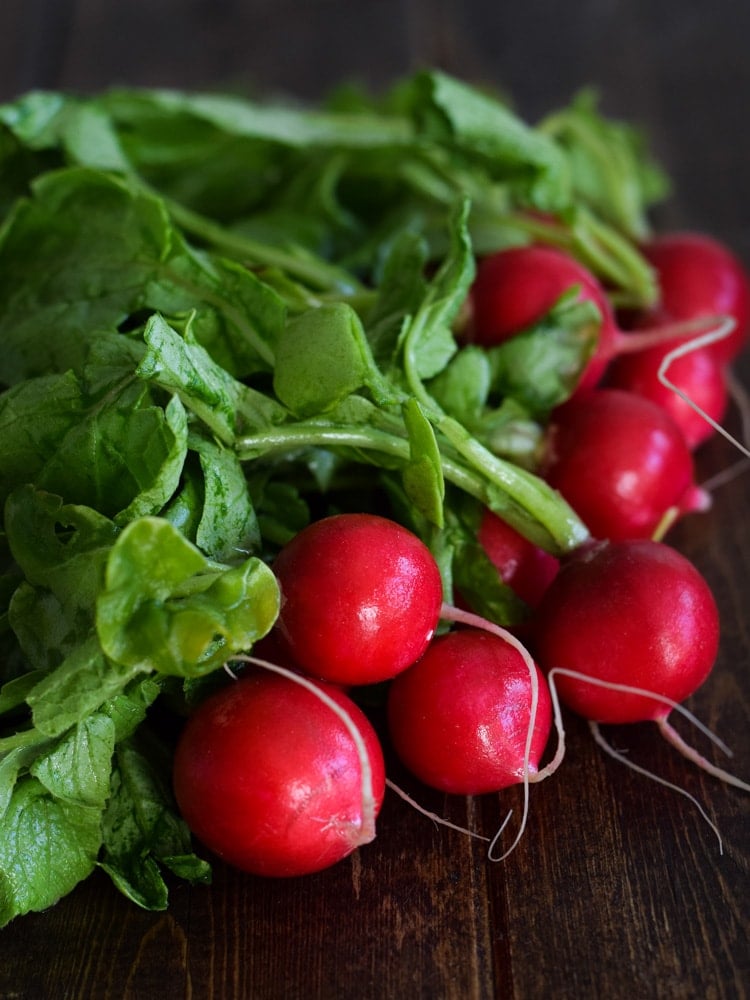 Posole is kind of a big deal in my house. My parents don't make it every day, every week or even every month. It's usually made on special occasions when the whole family is together, like birthdays and holidays so my Mom or Dad can make a huge batch and feed everyone for days. And I mean dayyyysss.
And while I've seen my parents make this soup probably hundreds of times by now, I had never attempted to make it myself…until now.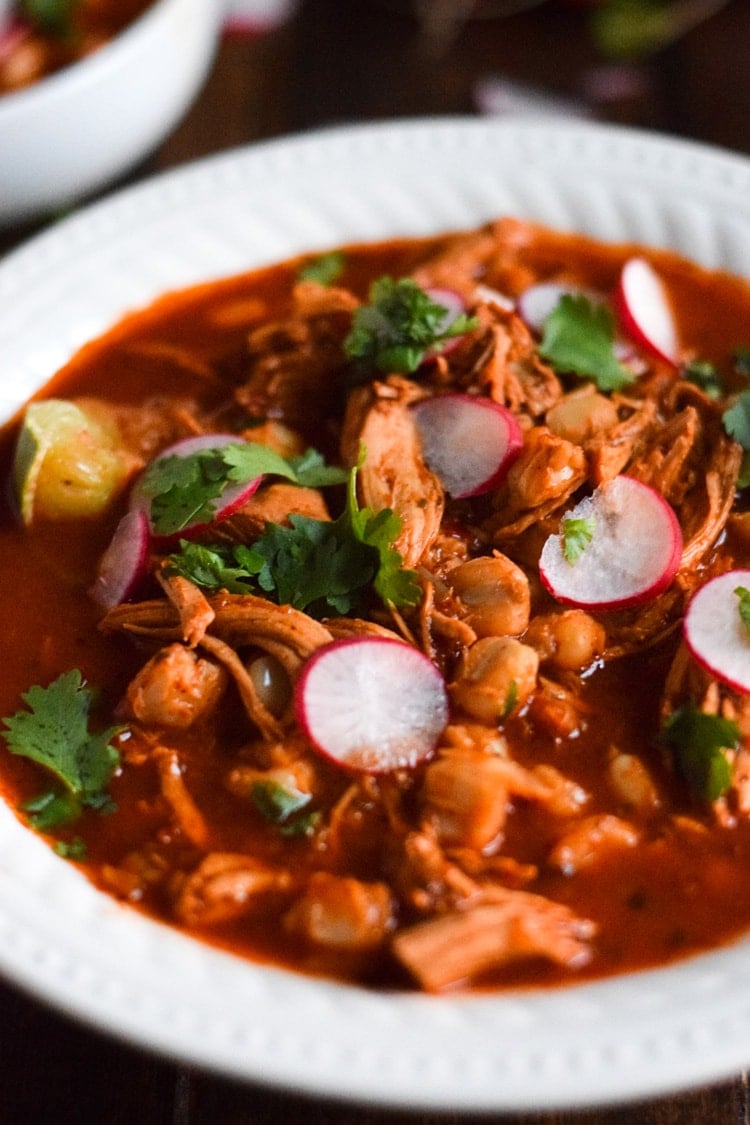 I must say that I've definitely taken some liberties with my parents' recipe.
First of all, they've never made posole in the slow cooker. I, on the other hand, wanted to create this dish as easily as possible and so I knew the crock pot would be perfect for the job.
Second, my parents' usually make the red chile base specifically for their posole. But not me. Again, because I'm lazy, I used a batch of my Red Enchilada Sauce that I had in the fridge. My sauce is still homemade, it's insanely easy to make and most importantly, it's still has all the same flavors of the red chile broth that are in my parents' posole.
But a word of caution – while you could certainly use store-bought enchilada sauce instead of my enchilada sauce recipe, I don't recommend it. It truly doesn't have the same depth of flavor and just isn't as tasty as the real stuff. If you're hesitant to make enchilada sauce just for this recipe, I suggest making a double or even triple batch and storing it in the freezer so you can use it again for future recipes like these:
The right sauce makes a huge difference.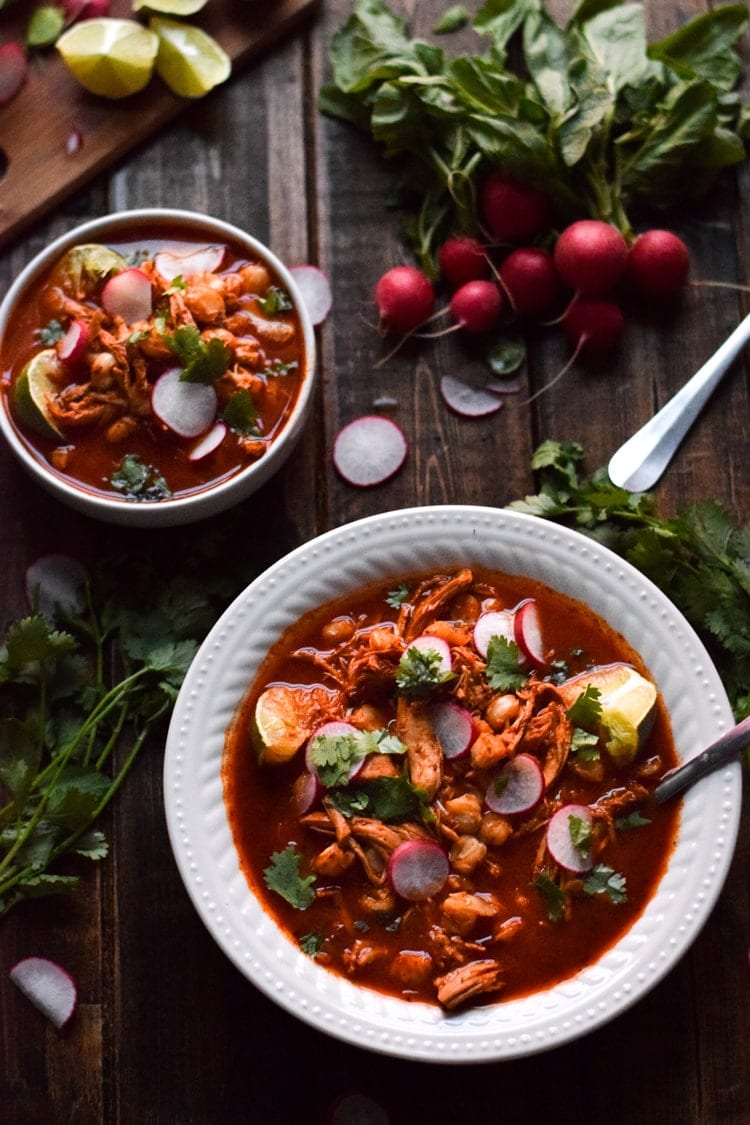 How to serve slow cooker posole
Once the crock pot posole is ready to go, it's usually served with radishes, cilantro, finely shredded cabbage, limes, dried oregano, red chile flakes, white onions and even avocados.
For these photos, I just used radishes, limes and cilantro, but I frequently also top it with shredded cabbage. It's adds a nice crunch that is just delightful.
I truly hope you enjoy this recipe as much as I do.
More Mexican recipes you'll love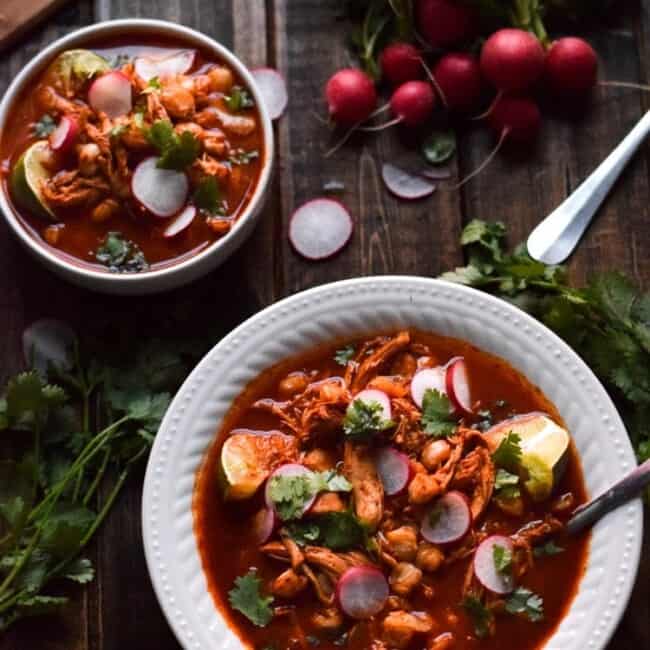 Prep: 10 minutes
Cook: 4 hours
Total : 4 hours 10 minutes
Made with shredded chicken and hominy in a comforting red chile broth, this Slow Cooker Posole is easy to make and full of authentic Mexican flavors. (gluten free)
Ingredients
For the posole
2 pounds boneless skinless chicken breasts, cut into large chunks
4 cups chicken broth
1 batch Red Enchilada Sauce (or 2 1/2 cups store-bought red enchilada sauce)
1 shallot, finely diced
1 tablespoon chili powder
2 teaspoons minced garlic (about 4 cloves)
2 teaspoons ground cumin
1 teaspoon kosher salt
2 25-ounce cans white hominy, drained and rinsed
1 tablespoon dried oregano
salt and black pepper, to taste
For the toppings and mix-ins (optional)
finely shredded cabbage, lime juice, sliced radishes, cilantro
Instructions
Add the chicken, chicken broth, enchilada sauce, shallot, chili power, minced garlic, cumin powder, and salt to the slow cooker. Mix until well combined.

Cover and cook for 7 1/2 hours on low or 3 1/2 hours on high.


Using a slotted spoon, remove chicken from slow cooker and place onto a large plate or cutting board. Shred using two forks.


Add in the shredded chicken, hominy and oregano. Cover and cook for another 30 minutes.


Serve posole in bowls with lime juice, radishes, cilantro, finely shredded cabbage and other toppings.
Nutrition Information
Serving: 1serving Calories: 239kcal (12%) Carbohydrates: 25g (8%) Protein: 26g (52%) Fat: 5g (8%) Saturated Fat: 1g (5%) Polyunsaturated Fat: 1g Monounsaturated Fat: 1g Trans Fat: 0g Cholesterol: 55mg (18%) Sodium: 1547mg (64%) Potassium: 251mg (7%) Fiber: 5g (20%) Sugar: 4g (4%) Vitamin A: 750IU (15%) Vitamin C: 8.3mg (10%) Calcium: 60mg (6%) Iron: 2.5mg (14%)