Jump to Recipe
This taco soup recipe is hearty, healthy and ready in only 1 hour! Made with ground beef, taco seasoning, canned beans, corn and other veggies, it's perfect served with your favorite taco toppings and tortilla chips for a little crunch! (gluten free, freezer friendly)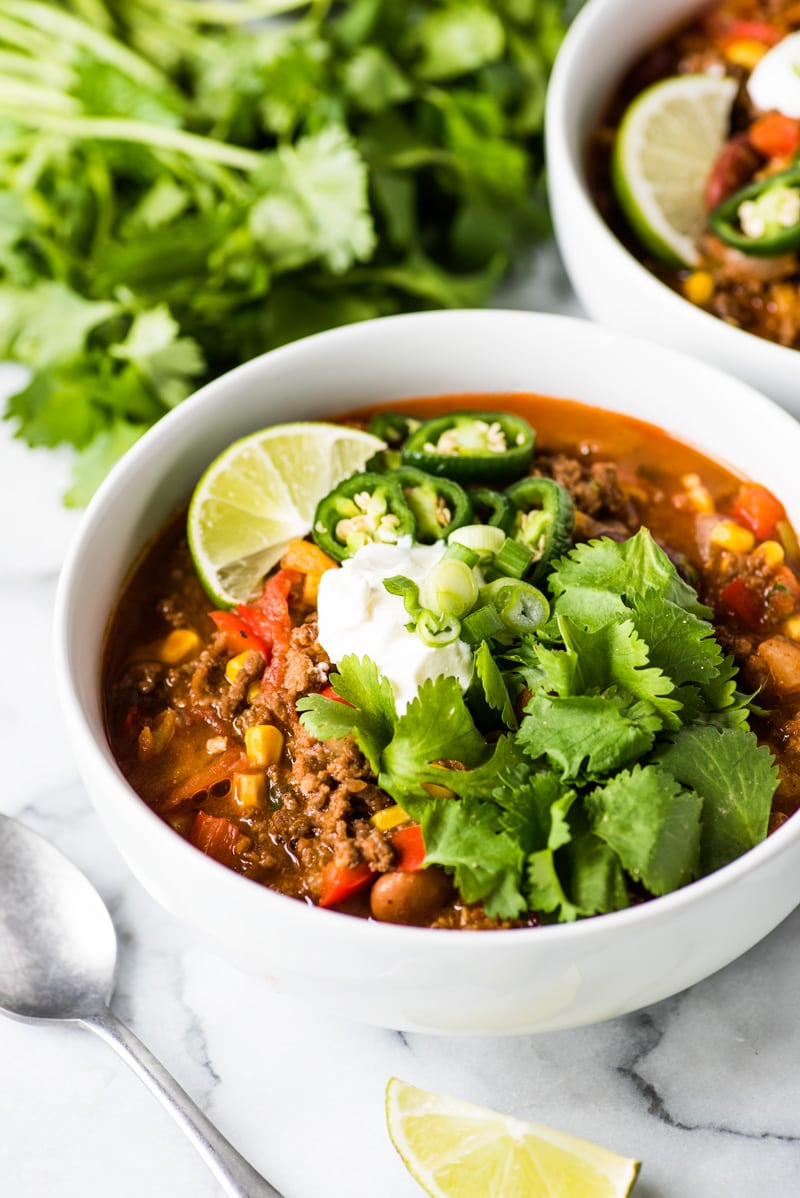 There's something amazing about a big helping of taco soup served with all your favorite toppings in one convenient little bowl, don't you think?
You get all the best taco flavors without the mess, and it's great for reheating and enjoying throughout the week. It's a superstar in the lunch and dinner category for people who don't have a lot of time to spend in the kitchen, plus it's also a healthy meal option!
The inspiration for this taco soup was my Easy Ground Beef Tacos recipe I posted earlier this year. I wanted to achieve the same salty and bold flavors and put it in a soup! The end result was perfect and exactly what I was looking for.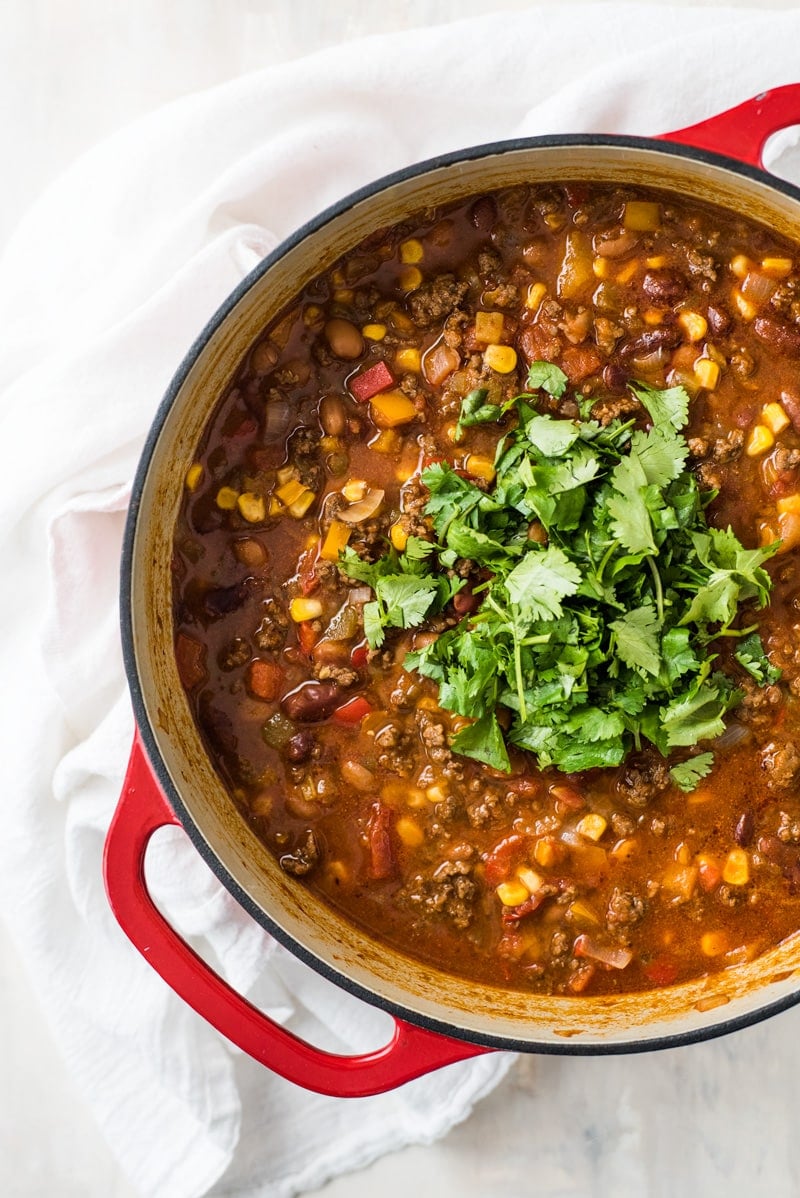 Taco Soup Ingredients
One of my favorite things about this soup is that all of the ingredients are easy to find. In fact, you probably already have most of them in your pantry! Here's what you need:
Ground beef: I used ground beef but you could also use ground turkey or ground chicken!
Herbs + spices: All my Mexican favorites are in here like chili powder, ancho chili powder, cumin, oregano and smoked paprika.
Vegetables: I used a mixture of fresh veggies like onions and bell peppers with a mixture of canned goods liked diced green chiles, corn and diced tomatoes.
Beans: We love our beans here at Isabel Eats, so I couldn't help but add them to this soup! I used pinto and light red kidney beans. You could also use black bean if you'd like.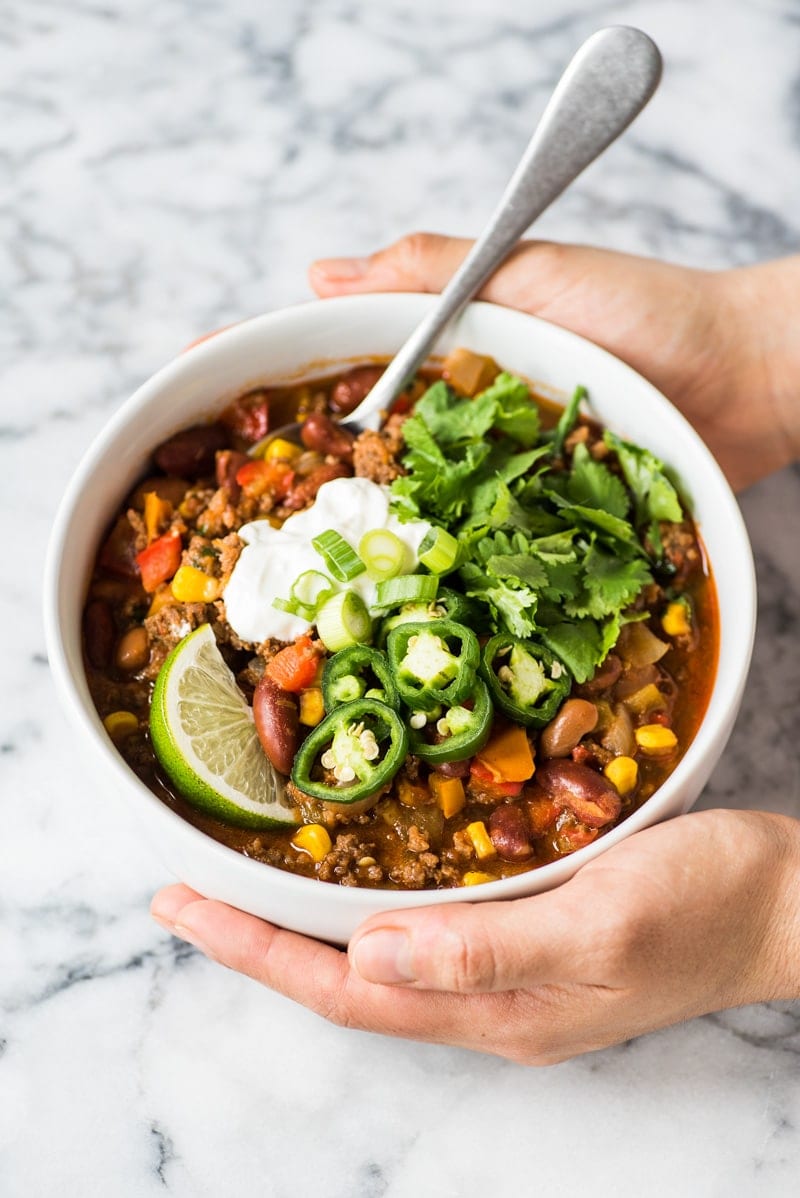 Taco Soup Toppings
Pretty much any of your favorite taco toppings go well with this soup. The possibilities are endless! Here are a few of my favorites:
Taco Soup Tips and Variations
Switch up the types of beans you use. Black beans, kidney beans, white beans – they'll all work!
Add a little more heat to this dish with some cayenne pepper. I suggest starting out with 1/2 a teaspoon and tasting it, then adding more if you want.
Don't have ground beef? Substitute it with ground turkey or ground chicken.
If your ground beef releases a lot of fat, feel free to drain some of it if you prefer.
This recipe makes a big batch so you can have leftovers. If you're cooking for one and don't think you'll eat the entire batch within a week, you can also freeze it!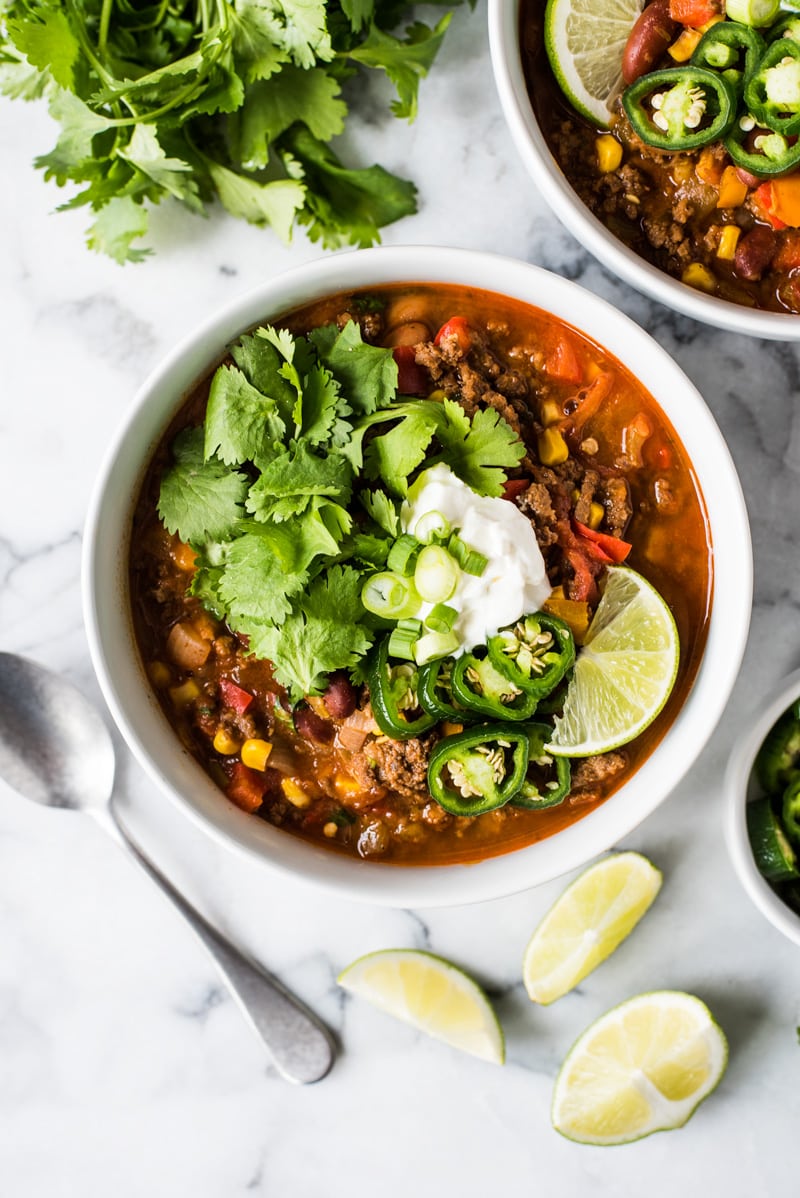 Worried about leftovers? You can freeze them! To freeze, first cool the soup down in the fridge. Once chilled, scoop into freezer safe zip lock bags or containers and freeze.
When ready to eat, let the frozen container thaw completely in the fridge or defrost in the microwave. Reheat on the stove or in the microwave until completely warm.
To maintain the best quality according to food safety standards, the soup can be frozen for 2-3 months.
More soup recipes to try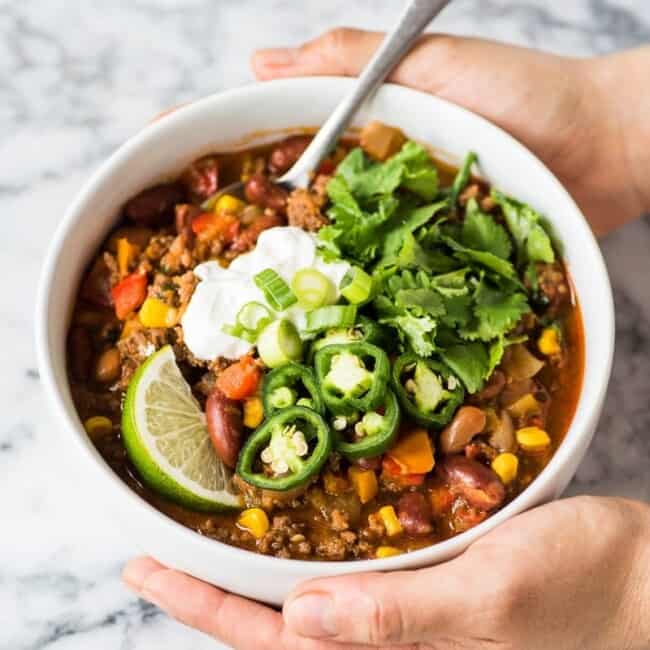 Prep: 10 minutes
Cook: 55 minutes
Total : 1 hour 5 minutes
This taco soup recipe is hearty, healthy and ready in only 1 hour! Made with ground beef, taco seasoning, canned beans and corn.
Ingredients
2 pounds lean ground beef
1 tablespoon chili powder
1 tablespoon ancho chili powder
1 1/2 teaspoons ground cumin
2 teaspoons coarse sea salt
1 teaspoon garlic powder
1 teaspoon dried minced onion
1 teaspoon smoked paprika
1/2 teaspoon dried oregano
1 tablespoon olive oil
1 large onion, diced
2 large bell peppers, diced (any color)
1 15-ounce can pinto beans, drained and rinsed
1 15-ounce can light red kidney beans, drained and rinsed
1 15-ounce can whole kernel corn, drained and rinsed
2 4-ounce cans diced green chiles
2 15-ounce cans diced tomatoes, divided
1 1/2 cups broth (beef, vegetable or chicken – you could even use water if you don't have broth)
Instructions
In a large mixing bowl, add the ground beef, chili powders, cumin, sea salt, garlic powder, minced onion, paprika and oregano. Mix together until fully combined. Set aside.

Heat a large dutch oven or stockpot over medium-high heat. Add the cooking oil, diced onion and diced bell peppers. Saute for about 5 minutes, until veggies start to soften.

Add the seasoned ground beef and cook, crumbling with the spatula or spoon, for about 10 minutes.

Add the pinto and red kidney beans, corn, green chiles, diced tomatoes and broth. Mix together, cover and cook for 20 minutes.

Uncover and cook for another 20 minutes to reduce some of the liquid. Season with salt to taste.

Serve with your favorite taco garnishes like sour cream, sliced green onions, shredded cheese, cilantro, jalapenos and more!
Isabel's Tips:
To freeze, first, cool the soup down completely by placing it in the fridge. Once chilled, store in freezer-safe zip-top bags or containers and freeze. When ready to eat, let frozen container thaw completely in the fridge or defrost in the microwave. Reheat on the stove or in the microwave until completely warm.
Nutrition Information
Serving: 1/8th of recipe Calories: 372kcal (19%) Carbohydrates: 36g (12%) Protein: 32g (64%) Fat: 11g (17%) Saturated Fat: 4g (20%) Polyunsaturated Fat: 1g Monounsaturated Fat: 1g Trans Fat: 0g Cholesterol: 70mg (23%) Sodium: 1360mg (57%) Potassium: 586mg (17%) Fiber: 10g (40%) Sugar: 8g (9%) Vitamin A: 1050IU (21%) Vitamin C: 116.3mg (141%) Calcium: 70mg (7%) Iron: 5.4mg (30%)