Jump to Recipe
Caldo de Pollo, or Mexican chicken soup, is a healthy and flavorful soup made from a homemade chicken broth, chicken thighs and lots of vegetables including carrots, zucchini, corn, cabbage and potatoes. It's an easy and hearty soup that will warm you up from the inside out!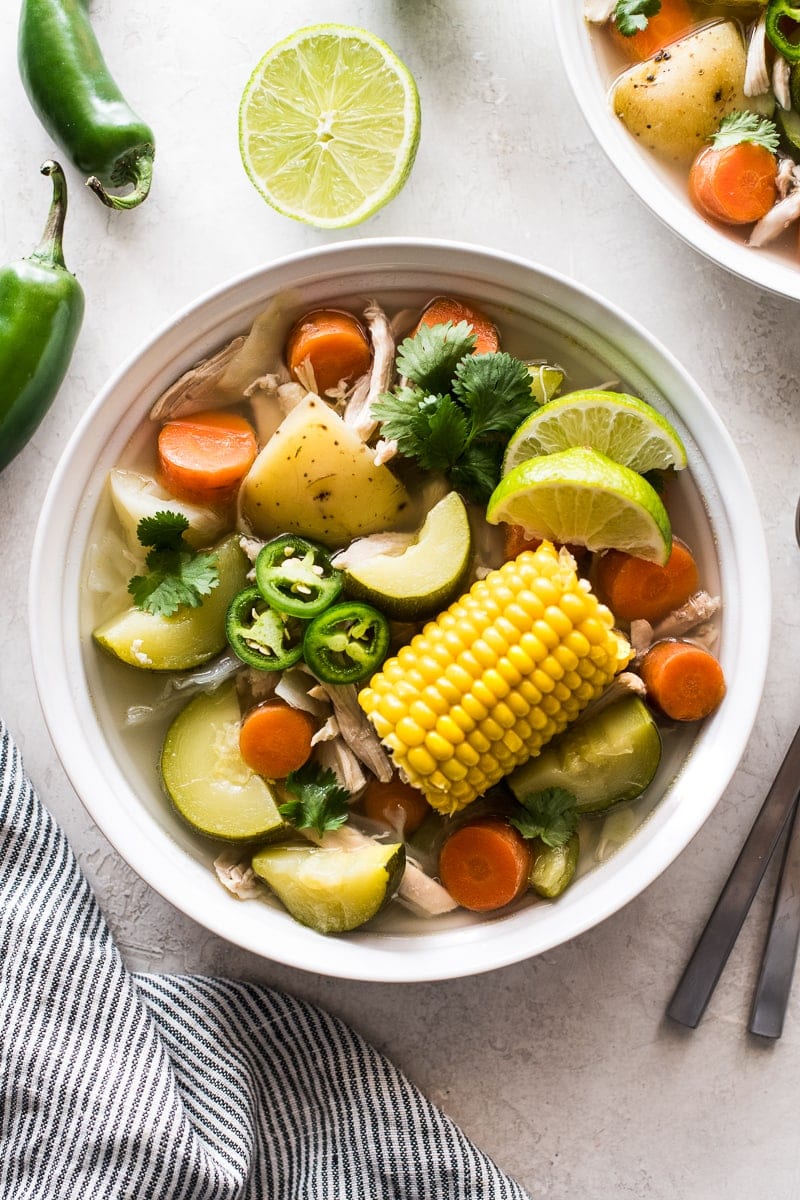 There's nothing better that a warm bowl of Caldo de Pollo to make you feel better when you're under the weather. This soup is exactly like the one my mom used to make for me as a kid when I got sick. It always made me feel better and just so comfy and loved.
When I posted the recipe for my family's Caldo de Res a while back, I knew I had to share the chicken version soon. Well today is the day, friends! Let's make some Caldo de Pollo.
What is Caldo de Pollo?
Caldo de Pollo is a Mexican chicken soup made with a flavorful chicken broth and lots of vegetables like zucchini squash, carrots, corn, green cabbage and potatoes. The types of vegetables that are used varies from region to region in Mexico, but the way the broth is prepared is always the same – by cooking whole chicken pieces in water and seasonings to create a flavorful and healthy homemade broth that's better than any of the store-bought stuff.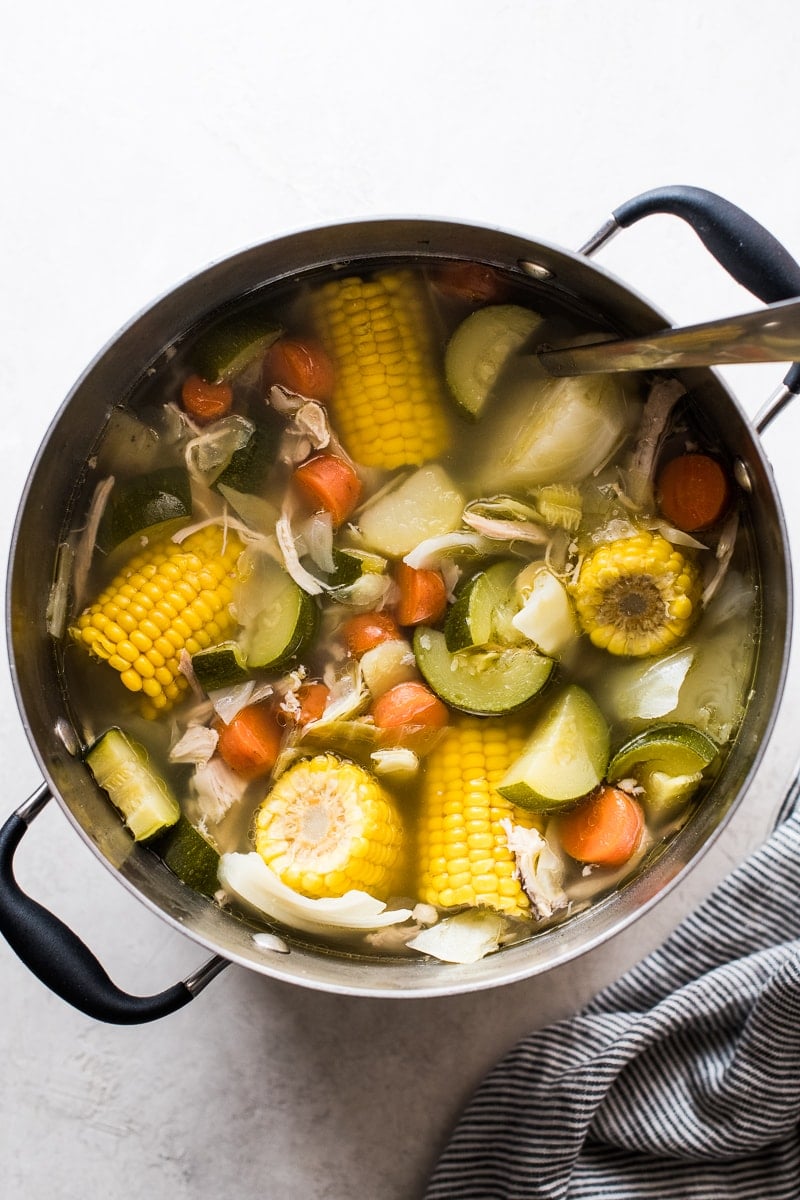 Ingredients in Caldo de Pollo
To make this Mexican chicken soup, you'll need the following ingredients:
Water: Used to make the homemade chicken broth.
Bone-In Chicken Thighs: Using bone-in thighs really gives the broth a ton more flavor than if you used boneless. I also remove the skin before placing the thighs in the water so the broth isn't overly greasy. You could also use other bone-in chicken pieces like drumsticks or even a whole chicken!
Garlic + Bay Leaves: Helps infuse more flavor in the broth.
Potatoes: You can leave the skin on or peel it off – that's totally up to personal preference. Idaho, Russet and Yukon potato varieties all work.
Mini Ears of Corn: I used frozen mini corn because I wasn't able to find fresh, but you can use 3 large ears of corn if you prefer.
Zucchini Squash: Traditionally, chayote squash is used to make caldo de pollo, but that's not available in some places. Zucchini squash is a great option. You could also use yellow squash if that's what you have.
Carrots: A staple in any homemade chicken soup!
Green Cabbage: This is one of my favorite ingredients in the soup. The cabbage gets super tender and flavorful!
Cilantro + Lime Juice: This is mixed in to the soup at the very end right before serving. It adds a nice touch of acidity and brightness that helps to elevate the chicken broth.
How to Make Caldo de Pollo
Start by cooking the chicken in water with garlic cloves, bay leaves and some salt. This will create the most important part of the soup – the broth. Once the chicken is cooked and tender, carefully remove it from the pot and set it aside to cool slightly. Discard the garlic cloves and bay leaves, and skim off any white foam that has collected on the surface of the broth.
At this point, you can either leave the chicken thighs as is or you can remove the meat off the bone and shred for easy serving. Traditionally, the chicken pieces are served bone-in, but I personally find it easier to eat when the meat is shredded.
All that's left to do is all the remaining veggies and cook until tender. Then add the shredded chicken to the pot, mix in some cilantro and lime juice and it's ready to serve!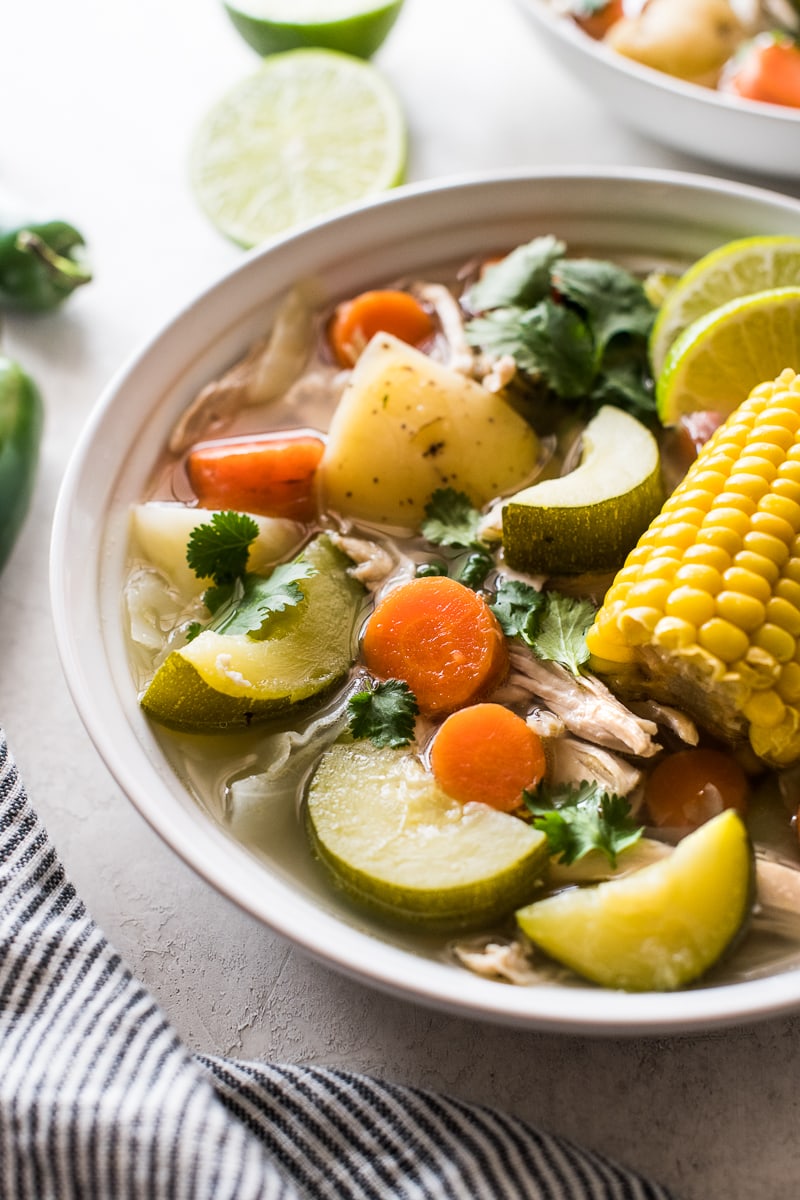 How to Serve Caldo do Pollo
When serving caldo de pollo, I recommend using big bowls because all the vegetables in the soup take up a lot of space. Make sure to get a little bit of everything, including an ear of corn. If you'd like to make it easier to serve, you can remove the corn from the soup, cut the kernels off the cob and place the kernels back into the soup.
Just like with caldo de res, I like adding in a few dashes of Tobasco hot sauce, which I'm not usually a fan of but it totally works in this. It completely transforms the broth and gives it a little acidic spice that's perfect!
Here are a few other sides, toppings and mix-in that are typically served with this soup:
white rice or mexican rice
diced avocados
diced white or yellow onions
chopped cilantro
lime juice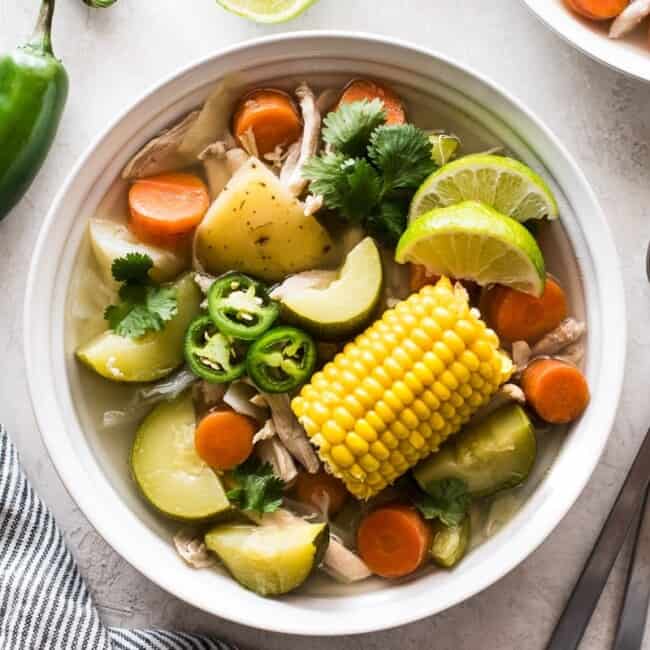 Prep: 25 minutes
Cook: 1 hour 45 minutes
Total : 2 hours 10 minutes
Caldo de Pollo, or Mexican chicken soup, is a healthy soup made from chicken thighs and vegetables like carrots, zucchini, corn, cabbage and potatoes.
Ingredients
12 cups water
6 bone-in chicken thighs, skin removed
4 cloves garlic, peeled
1 tablespoon kosher salt plus more to taste
2 medium potatoes, cut into eighths (Idaho, Russet or Yukon Gold)
6 frozen mini ears of corn
2 medium zucchini, cut in half lengthwise and then cut into thick chunks
4 medium carrots, sliced into thick coins
1/2 small green cabbage, cut into eighths
4 tablespoons lime juice (the juice of 2 limes)
1/4 cup chopped cilantro
optional mix-ins and toppings: white rice or mexican rice, tabasco hot sauce, lime juice, cilantro, jalapenos
Instructions
In a large Dutch oven or soup pot, combine the water, bone-in chicken thighs, garlic, bay leaves, and salt. Bring to a boil, cover, reduce heat to a low simmer and continue cooking for 1 1/2 to 2 hours until the meat is tender.

Skim off and discard any foam floating at the top of the pot as well as the bay leaves and garlic cloves. Transfer the cooked chicken to a medium bowl and set aside to cool slightly.

Add the potatoes, corn, zucchini, carrots and cabbage.

Bring soup to a boil, reduce heat to a low simmer and continue cooking for 15 minutes until all the vegetables are tender and cooked through.

While the vegetables are cooking, remove the bones from the chicken and discard. Shred or cut the chicken into bite-sized pieces.

When the vegetables are fully cooked, add the shredded chicken, chopped cilantro and lime juice. Stir everything together and taste. Season with salt and pepper, if desired.

Serve soup in large bowls, making sure that each bowl gets a little bit of everything. Top each bowl desired toppings and mix-ins like jalapenos, white rice, Mexican rice and a few dashes of Tobasco hot sauce. This really brings out the flavor of the broth!
Isabel's Tips:
For easier serving, remove the cooked corn from the soup, cut off the kernels and add them back into the soup. Discard the cobs.
Nutrition Information
Serving: 1serving Calories: 197kcal (10%) Carbohydrates: 21g (7%) Protein: 20g (40%) Fat: 4g (6%) Saturated Fat: 1g (5%) Cholesterol: 81mg (27%) Sodium: 1010mg (42%) Potassium: 835mg (24%) Fiber: 4g (16%) Sugar: 6g (7%) Vitamin A: 5354IU (107%) Vitamin C: 38mg (46%) Calcium: 73mg (7%) Iron: 3mg (17%)