Jump to Recipe
This Quinoa Enchilada Bake is a healthy Tex-Mex casserole that's easy to make and filled with lots of veggies! Made with quinoa, black beans, broccoli, enchilada sauce and more! (vegetarian, gluten free)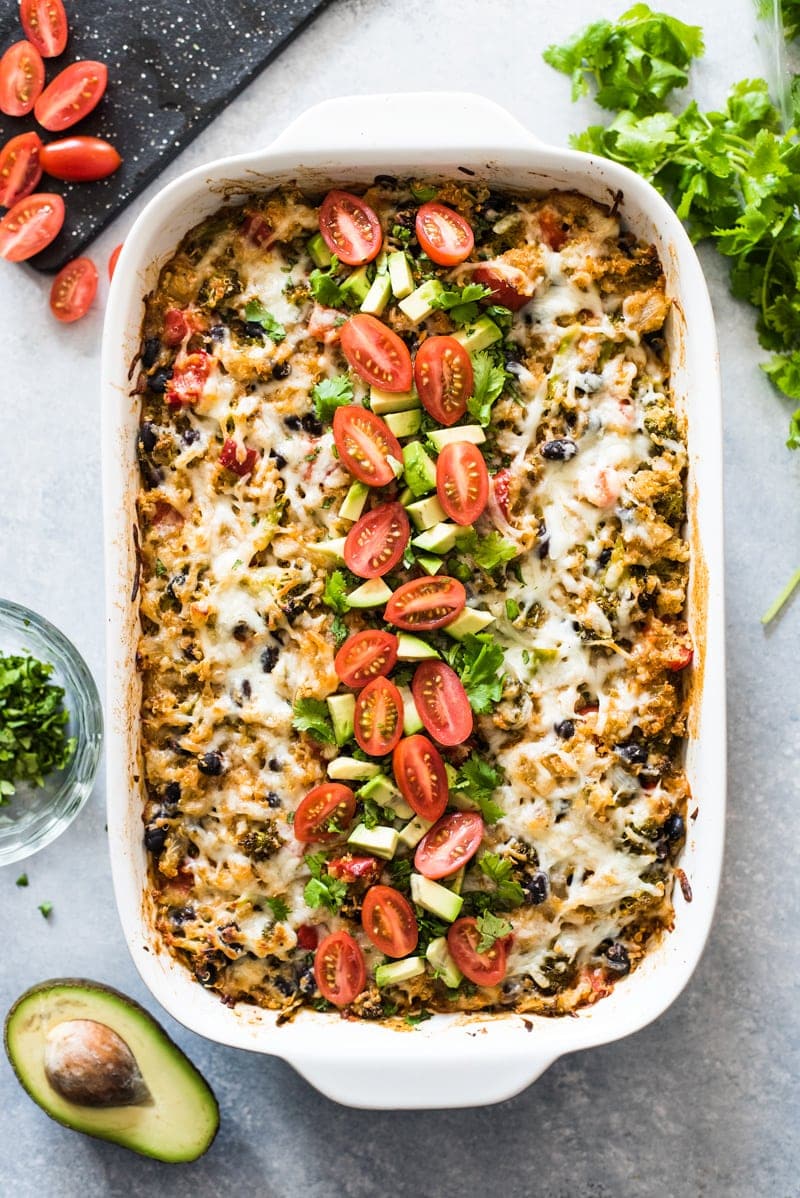 Question: how many healthy ingredients can I fit into this vegetarian enchilada casserole and still have it taste awesome? Answer: quite a bit!
Quinoa Enchilada Bake Ingredients
This recipe is packed with good-for-you ingredients like broccoli, bell peppers, onions, black beans and quinoa and topped with some of my favorites like cilantro, avocados and tomatoes.
Let's not forget the enchilada sauce – it's toootally a vegetable in my book. It's made with red chili peppers, some spices and water so it definitely still has all the nutrients from the chiles.
Some store-bought brands have fillers in their enchilada sauce to thicken them up, and I'm not a huge fan of that so make sure to check the label for the ingredients. I recommend making your own sauce because it's always full-flavored and doesn't taste watered down like some store bought brands do.
Here's a link to an Authentic Enchilada Sauce recipe that I recommend made from dried whole chiles and Mexican chocolate. Or you can make this Easy Enchilada Sauce made from easy-to-find pantry ingredients like chile powder and broth. However, if you'd rather buy it already made, I suggest looking for a sauce that has a medium heat instead of mild. I've found that medium heat sauces aren't as watered down as the mild ones.
And the pièce de résistance? Cheese! Melty, gooey, stringy mozzarella cheese. Most people probably don't consider cheese healthy, but you need a little something something to hold everything together and make it irresistible. For me, the answer is always cheese.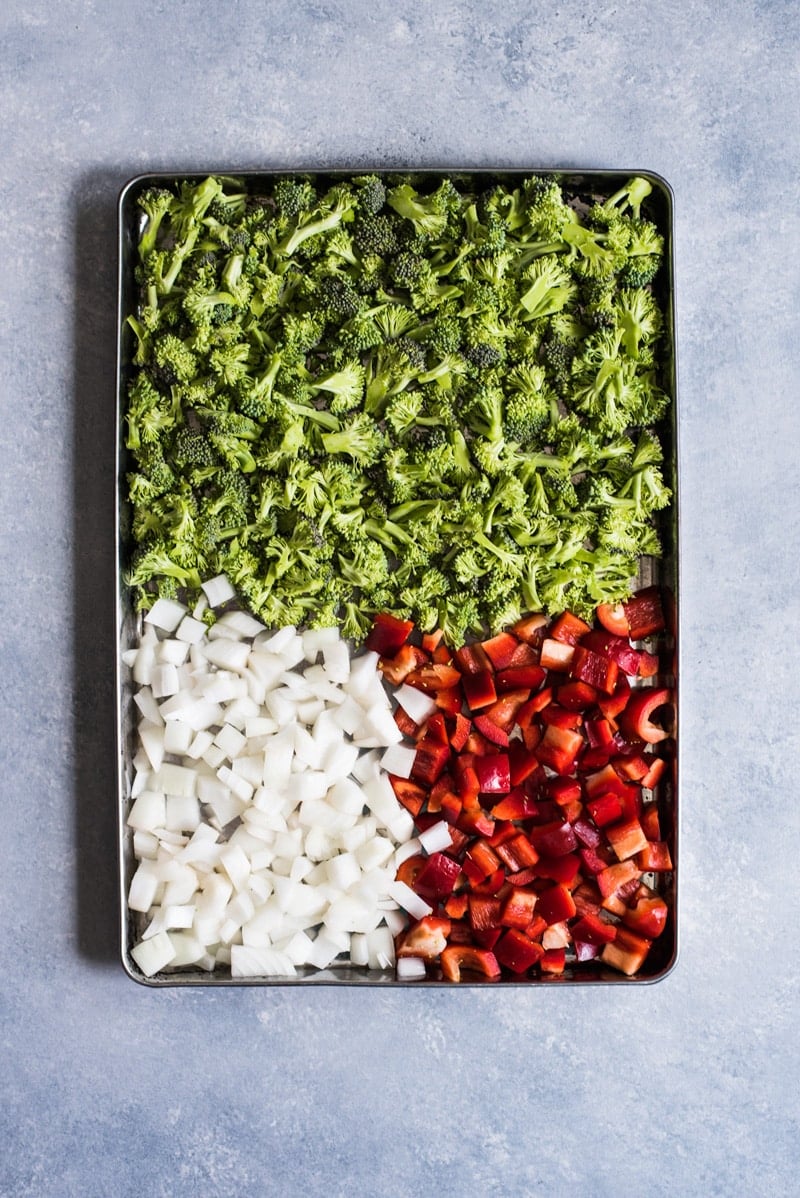 Aside from using spices, the secret to adding tons of flavor to this enchilada bakeis roasting the vegetables before mixing them in with the quinoa and other ingredients.
Roasting vegetables in the oven caramelizes their natural sugars and adds a greater depth of flavor. They become a little sweet and nutty which compliments the heat and spice from the enchilada sauce. Plus, roasting always creates those little toasty, almost burnt bits which are always my favorite part. 🙂
Oh, and one more secret! I'm full of secrets over here. Don't be afraid to use salt! Salt the veggies before roasting, taste them afterwards and add more salt if necessary. Salt helps bring out the flavor in all foods, so don't be afraid to add more if you think it needs a little something. 9 times out of 10, if I think something is missing from a dish, it's usually salt.
I mean look at that pan! I could just dive right in and eat those roasted veggies as is. I'd be such a happy lady.
But I've got to resist because good things are coming.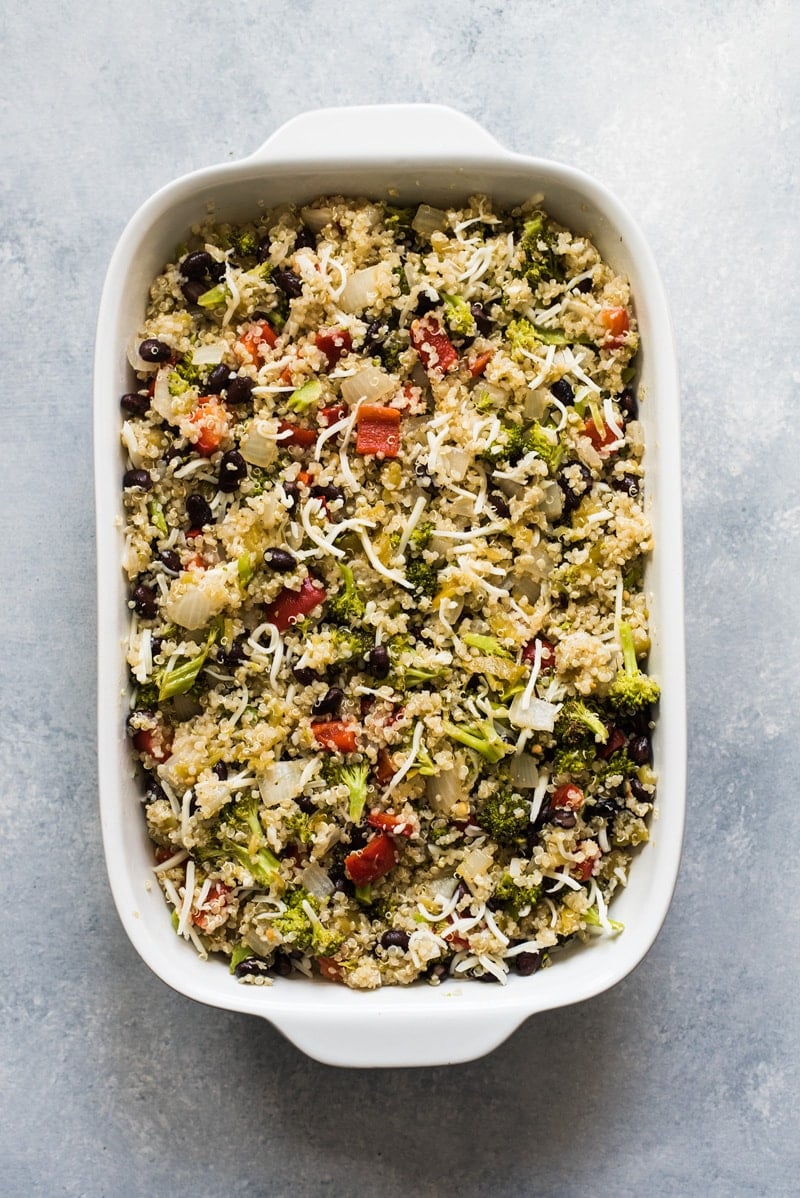 Once your roasted veggies are out of the oven, just mix all the ingredients together in a large baking dish with some cheese and enchilada sauce, cover the whole thing with more cheese, and bake! 20-25 minutes is all it needs, until all the cheese is bubbly and melted.
By the end, I was opening the oven door every minute to see if the cheese was bubbling. Is it done yet? How about now? Is it bubbling? I'm so inpatient. Plus I was super hungry and that's not a good combination.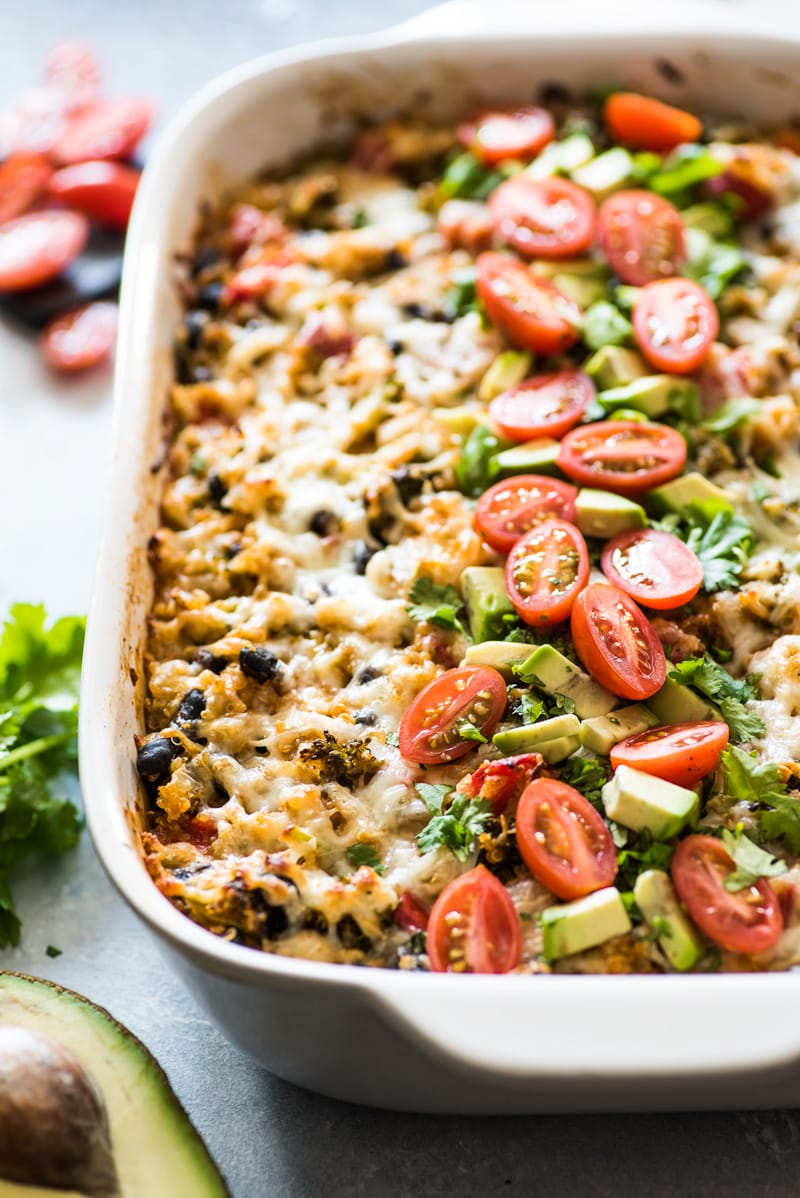 The final result was soo worth the wait. That's a good looking Quinoa Enchilada Bake if you ask me!
I made this recipe last week when John was out of town on a work trip and I ate it every. single. day. for 7 days. And I'm STILL not sick of it. I ate it as a main dish for some meals, but also as a side dish with a protein for others. It's super versatile and it reheats really well, making it a perfect addition to your meal prep menu.
Take a look at the recipe below, make it and dig in, friends! You won't regret it.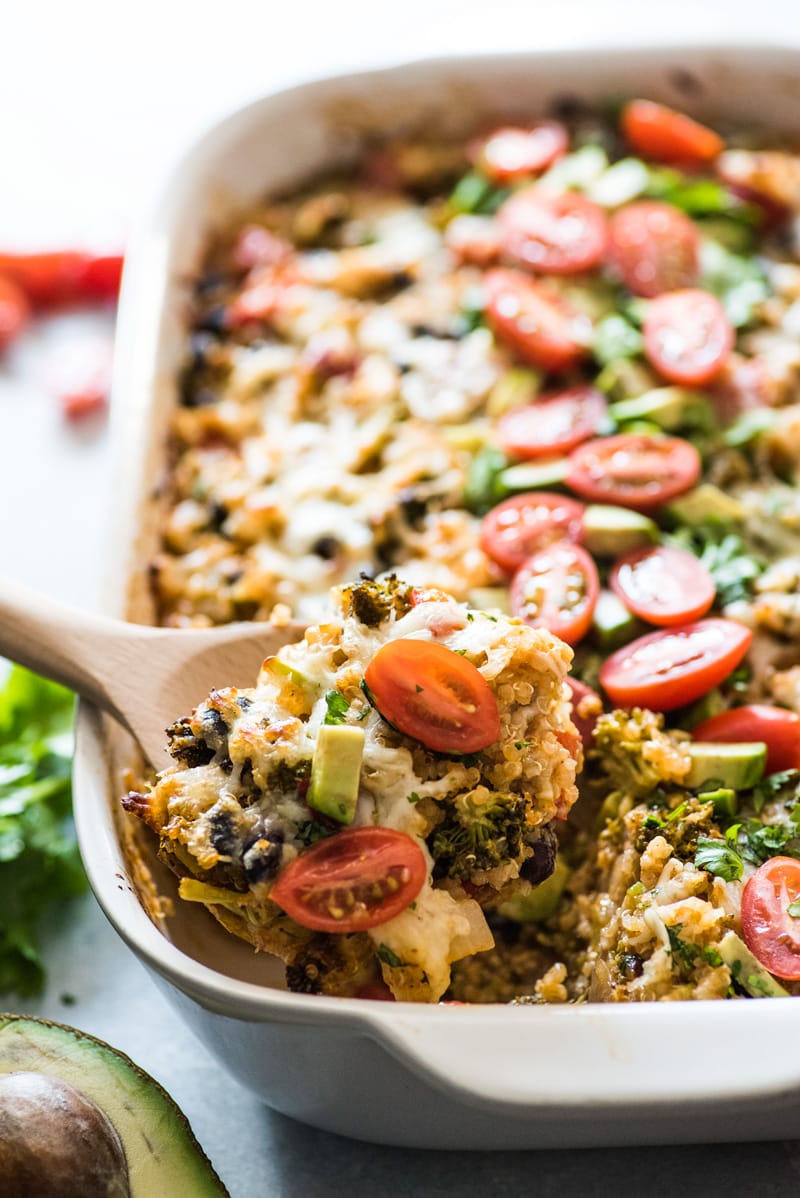 More healthy Mexican recipes you'll love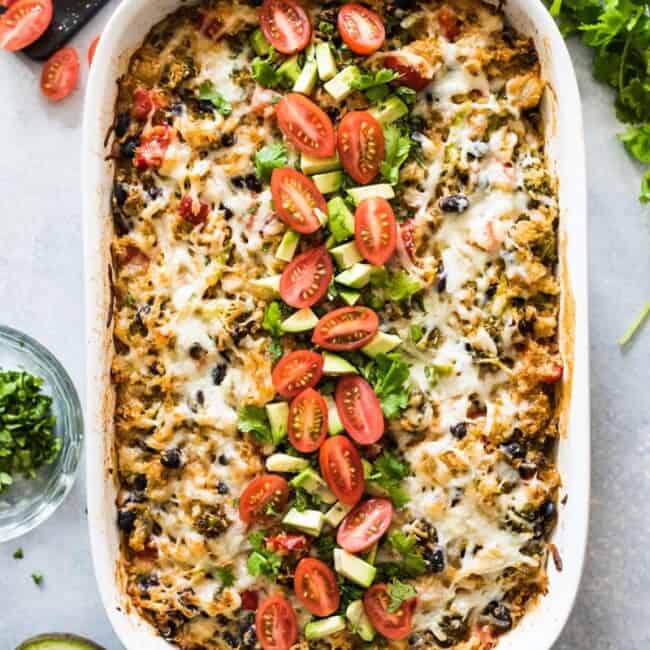 Prep: 15 minutes
Cook: 45 minutes
Total : 1 hour
This Quinoa Enchilada Bake is a healthy Tex-Mex casserole that's easy to make and filled with lots of veggies like black beans, quinoa and enchilada sauce!
Ingredients
4 cups chopped broccoli florets (about 1 large bunch, stalks removed)
1 large red bell pepper, chopped into chunks (about 1 1/2 cups)
1 large yellow onion, chopped
2 tablespoons olive oil
1/4 teaspoon garlic powder
1/2 teaspoon coriander
1/2 teaspoon cumin powder
salt and pepper, to taste
1 cup quinoa, uncooked (or about 4 cups cooked)
2 4-ounce cans chopped green chiles
1 15-ounce can black beans, drained and rinsed
1 1/4 cups enchilada sauce (authentic enchilada sauce, easy enchilada sauce, or a 10-ounce store-bought can)
2 cups shredded mozzarella cheese, divided
tomatoes, avocados and cilantro, for topping
Instructions
Preheat oven to 400°F. Place chopped broccoli, red bell peppers and onions on a large baking sheet. Drizzle with olive oil and add garlic powder, coriander, cumin, and a generous pinch of salt and pepper. Toss together with your hands until well combined and roast in oven for 20 minutes.

While the veggies are roasting, cook the quinoa by placing it into a large saucepan with 2 cups of water. Bring to a boil, cover and reduce heat to simmer. Cook for about 15 minutes until all the water is absorbed. Set aside.

Reduce heat in oven to 375°F. In a large 3-quart baking dish, add cooked quinoa, roasted veggies, chopped green chiles, black beans, enchilada sauce, a generous pinch of salt and pepper and 1 1/2 cups shredded mozzarella cheese. Mix together until enchilada sauce and cheese are evenly distributed in the mixture. Top with 1/2 cup remaining shredded cheese.

Bake for 20-25 minutes or until cheese is bubbly and melted.

Serve and garnish with avocados, tomatoes and cilantro, if desired.
Nutrition Information
Serving: 1/6 of recipe Calories: 367kcal (18%) Carbohydrates: 40g (13%) Protein: 20g (40%) Fat: 13g (20%) Saturated Fat: 4g (20%) Cholesterol: 20mg (7%) Sodium: 750mg (31%) Potassium: 278mg (8%) Fiber: 10g (40%) Sugar: 4g (4%) Vitamin A: 1400IU (28%) Vitamin C: 62.7mg (76%) Calcium: 340mg (34%) Iron: 4mg (22%)