Jump to Recipe
This Salsa Verde Breakfast Frittata is what breakfast dreams are made of. Topped with a salsa verde yogurt sauce, this vegetarian dish is perfect for brunch.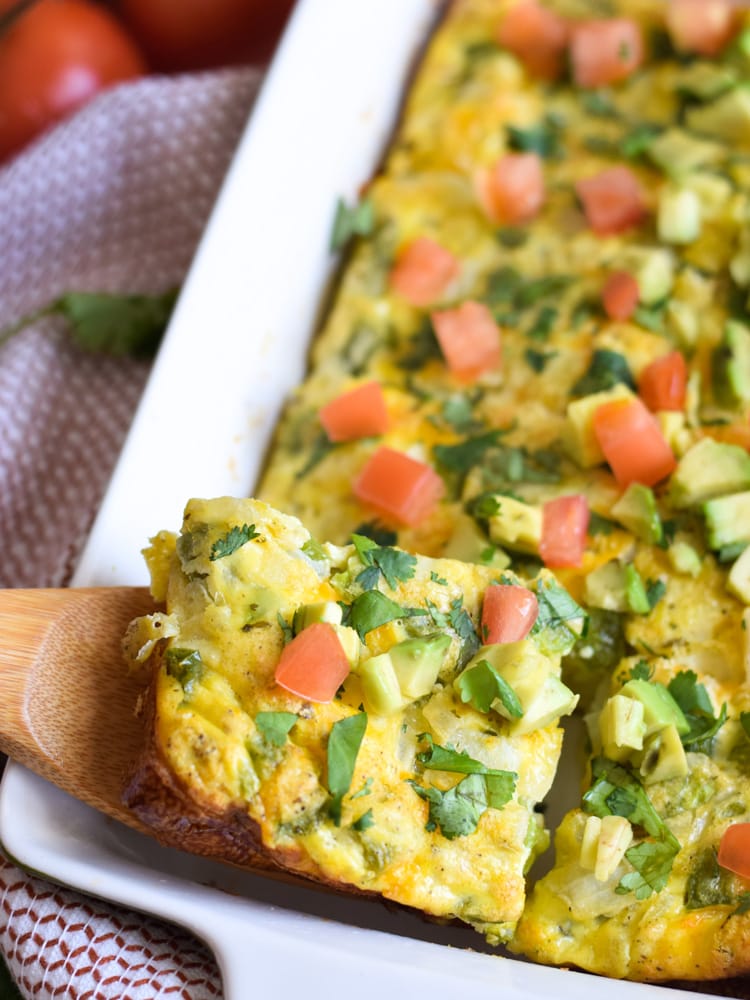 Why does breakfast, my fuuuhhaaavorite meal of the day, have to be traditionally eaten in the morning? I hate waking up early. I just do. Period. Which is why I love the weekends so much. I get to wake up late AND I get to eat breakfast.
Or should I say brunch.
Okay, let's be real. Brunch is WAYYY better than breakfast. Especially when it's as good as this salsa verde frittata.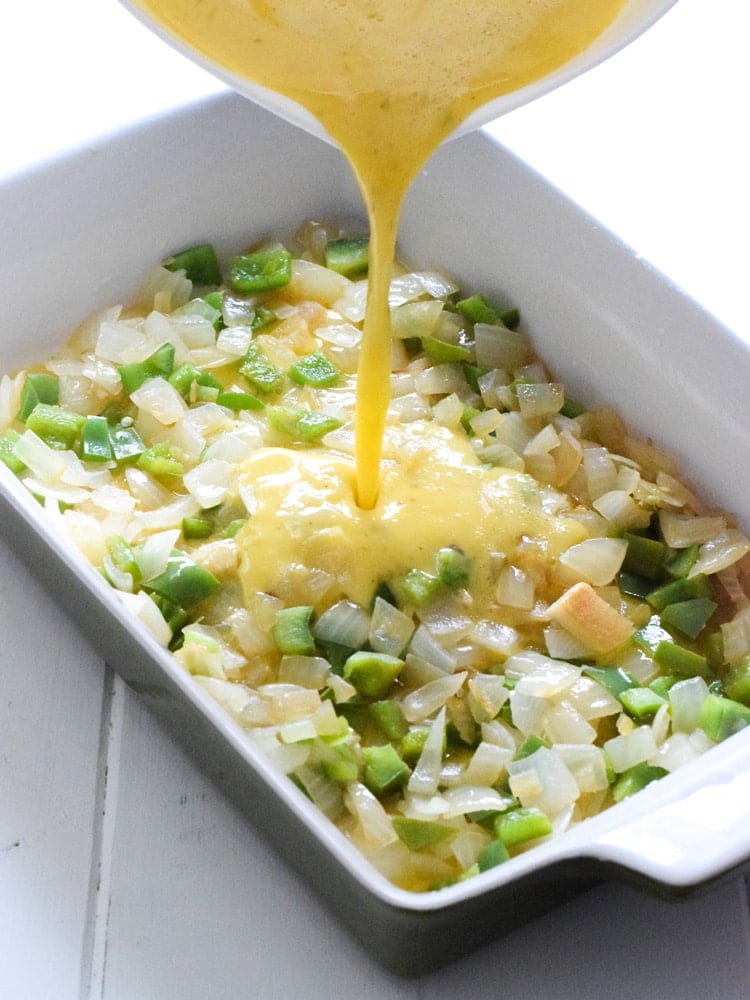 One of the best things about this dish, aside from all those hidden veggies ? , is the double layer of salsa verde flavor. That's right. DOUBLE. LAYER.
One – salsa verde in the actual frittata.
Two – salsa verde in an insanely easy yogurt sauce that will pretty much change your life.
All you need is Chobani plain Greek yogurt, some salsa verde and some cilantro. Blend until smooth and that's it. The perfect frittata sauce.
If you've been a longtime reader of Isabel Eats, you probably know that I love me some salsa verde. Here are just a few recipes I've made over the years featuring salsa verde:
If you're looking to make your own salsa verde, check out my post on how to make your own Easy Salsa Verde recipe. If you'd rather buy it at your local grocery store, some brands that I recommend are here, here and here.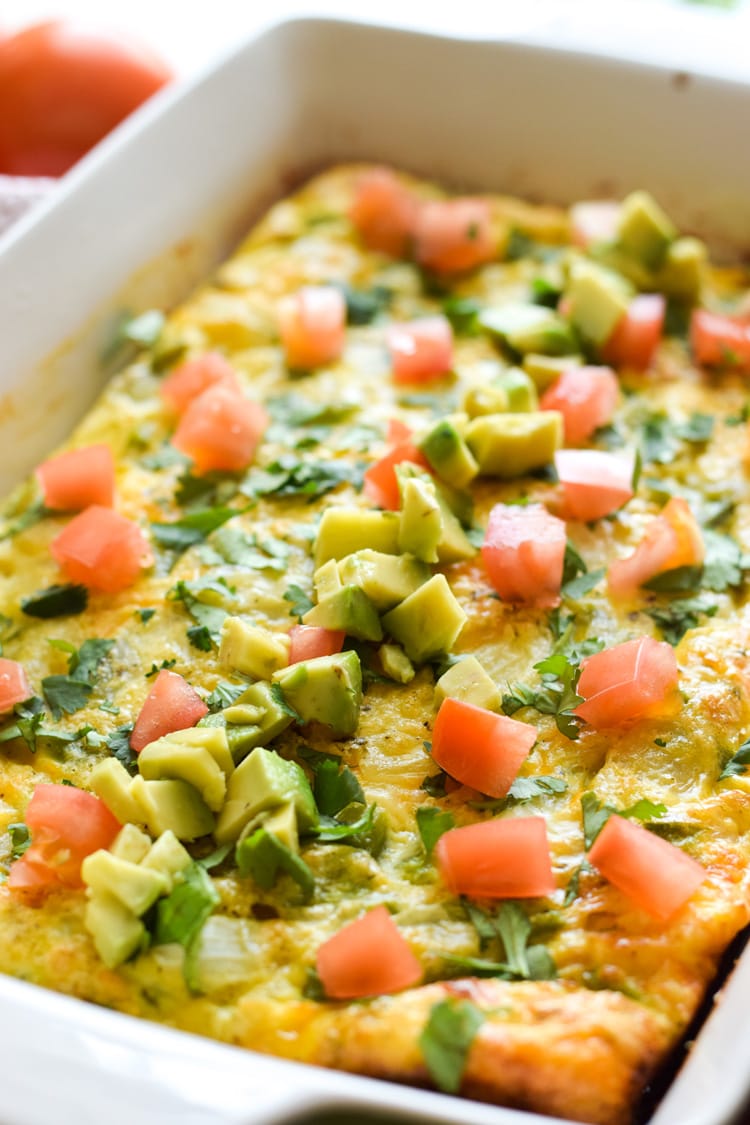 Once everything is done and the frittata has cooled slightly, top it with diced tomatoes, chopped cilantro and avocados.
Because avocados are never a bad idea.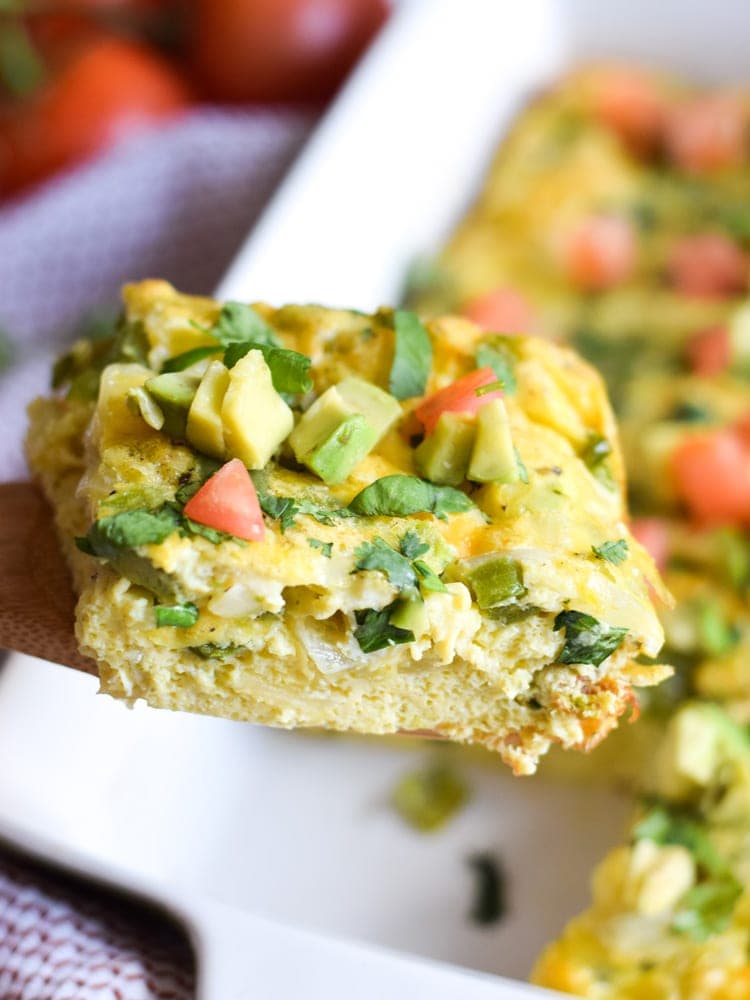 Seriously perfection.
This dish + two slices of really good buttered toast = heaven.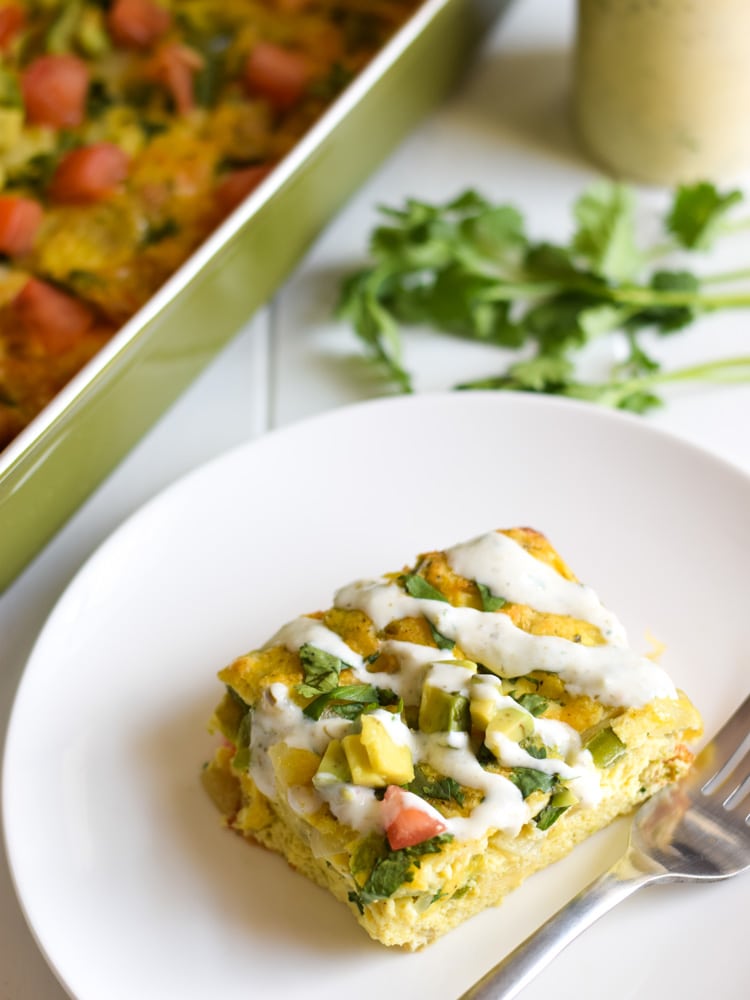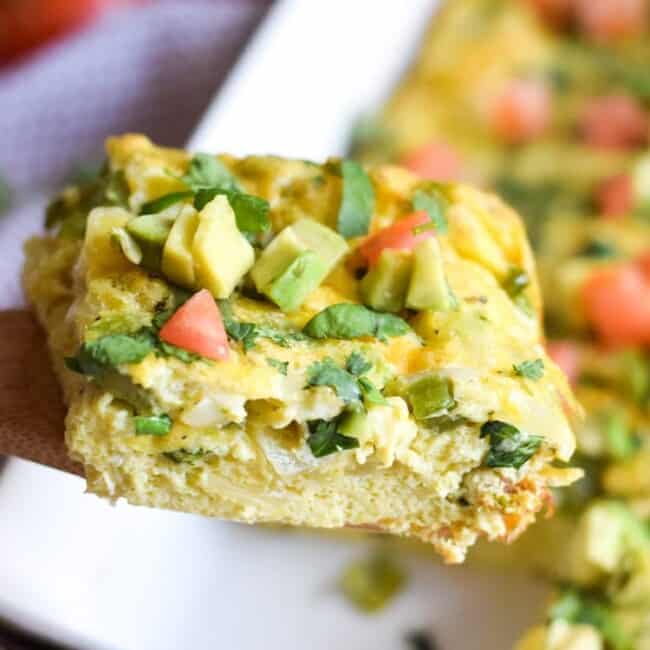 Prep: 10 minutes
Cook: 55 minutes
Total : 1 hour 5 minutes
This Salsa Verde Breakfast Frittata is what breakfast dreams are made of. Topped with a salsa verde yogurt sauce, this vegetarian dish is perfect for brunch on those lazy weekends.
Ingredients
For the frittata
2 teaspoons olive oil, plus more for greasing pan
1 large yellow onion, diced
1 medium green bell pepper, diced
12 large eggs
1/4 cup milk
1/4 cup salsa verde
3/4 teaspoon salt
1 pinch freshly ground black pepper
1/2 cup shredded Mexican blend cheese, optional
diced tomatoes, for garnish
chopped cilantro for garnish
For the salsa verde yogurt sauce
1 cup plain nonfat Greek yogurt
1/2 cup salsa verde
1/4 cup finely chopped cilantro
Instructions
For the frittata
Preheat oven to 350 degrees. Lightly grease a 2-quart baking dish and set aside.

Heat olive oil in a medium skillet over medium-high heat. Add onions, bell peppers and 1/2 tsp salt and cook for 10 minutes, stirring frequently. Onions will begin to caramelize. Remove from heat and pour mixture into 2-quart baking dish.


In a large bowl, whisk together eggs, milk, salsa verde, a pinch of black pepper and the remaining 1/4 tsp of salt. Pour egg mixture into baking dish.

Top frittata with shredded cheese and bake for 45 minutes, making sure the middle of the frittata is fully cooked through.

Let cool for 5 minutes, serve with Salsa Verde Yogurt Sauce and enjoy!
For the salsa verde yogurt sauce
Add Chobani plain Greek yogurt, salsa verde and chopped cilantro into a blender. Blend until smooth.
Nutrition Information
Serving: 1serving Calories: 249kcal (12%) Carbohydrates: 9g (3%) Protein: 19g (38%) Fat: 14g (22%) Saturated Fat: 5g (25%) Polyunsaturated Fat: 2g Monounsaturated Fat: 6g Trans Fat: 0g Cholesterol: 383mg (128%) Sodium: 742mg (31%) Potassium: 328mg (9%) Fiber: 2g (8%) Sugar: 6g (7%) Vitamin A: 850IU (17%) Vitamin C: 65.2mg (79%) Calcium: 180mg (18%) Iron: 2.3mg (13%)
This page contains affiliate links. If you make a purchase on Amazon after clicking one of my links, I may receive a small commission. The price of the item stays the same and any money I make goes to supporting this blog. I only endorse products and services that I fully believe in. Thanks for your support!