Made with only 5 ingredients, this Chile de Arbol Salsa is the perfect taco salsa. It's spicy, goes well with Mexican favorites like tacos, tostadas and gorditas and is even freezer friendly!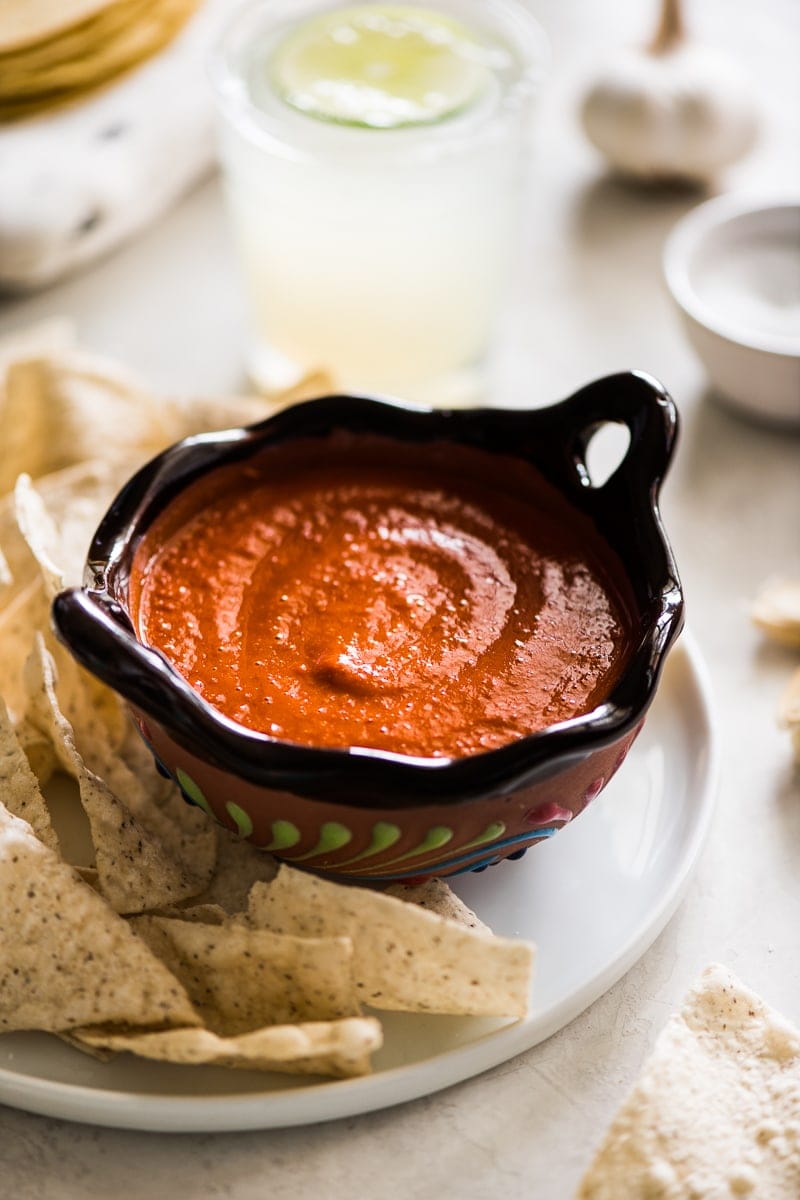 This Chile de Arbol Salsa recipe is my family's version of the quintessential Mexican taco salsa.
It's the salsa that's always on the table when we're serving tacos, tostadas, taquitos, sopes and gorditas. It's my dad's number one favorite condiment and will forever remind me of my family.
If you're not a fan of spicy food, this salsa probably isn't for you. Instead, you may want to try making my 5-Minute Fresh Homemade Salsa or this Easy Salsa Verde.
But if you love spicy food as much as I do, then keep on reading!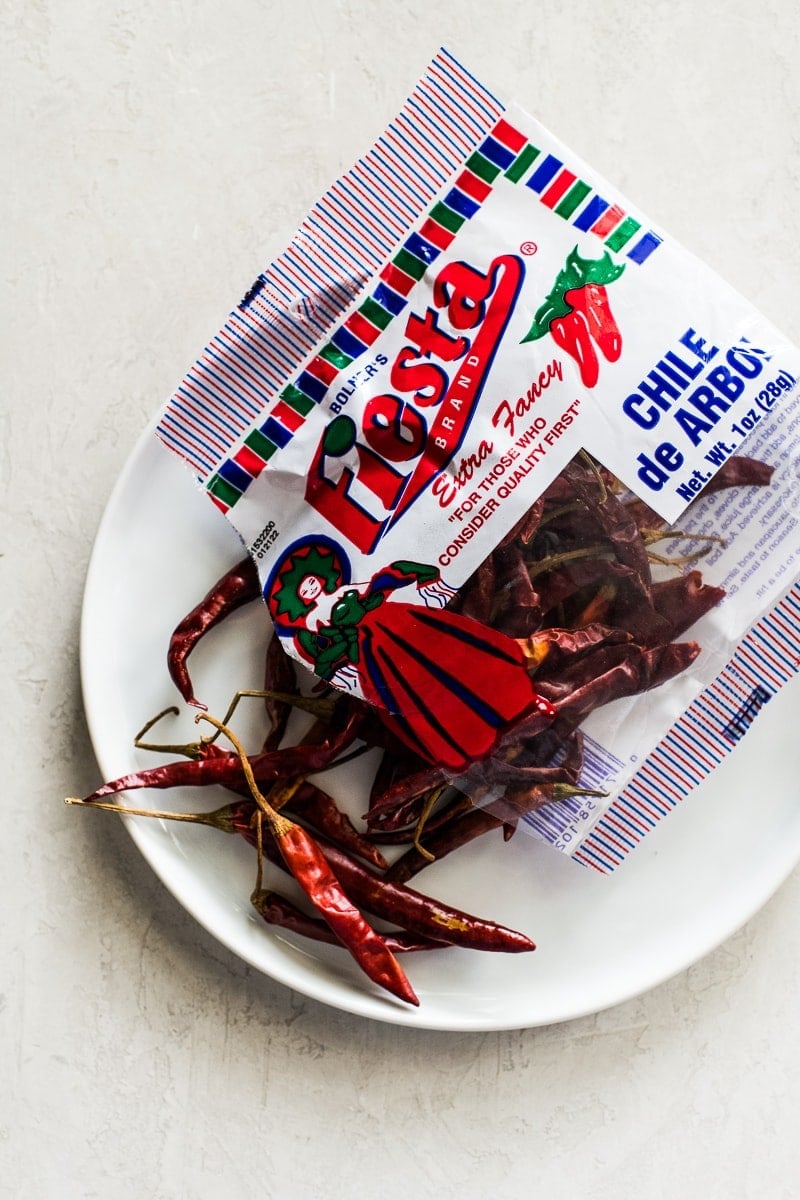 What is chile de arbol?
Chile de Arbol peppers are a type of red chile that's commonly used in Mexican cuisine. The chiles themselves are quite small, but they're very spicy, ranging from 15,000-30,000 on the Scoville Heat Unit (SHU) scale.
For reference, the average jalapeno pepper ranges between 2,500-8,000 SHU.
How to make chile de arbol salsa
Remove and discard the stems from the Chile de Arbol peppers. Place them in a bowl. (photo 1)
Cover the peppers with 4 cups of boiling water, then cover the bowl with a plate, aluminum foil or plastic wrap. Let them soak in the hot water for 15 minutes. (photo 2)
Soaking the peppers will soften the skins, making them much easier to blend and helps create a much smoother salsa.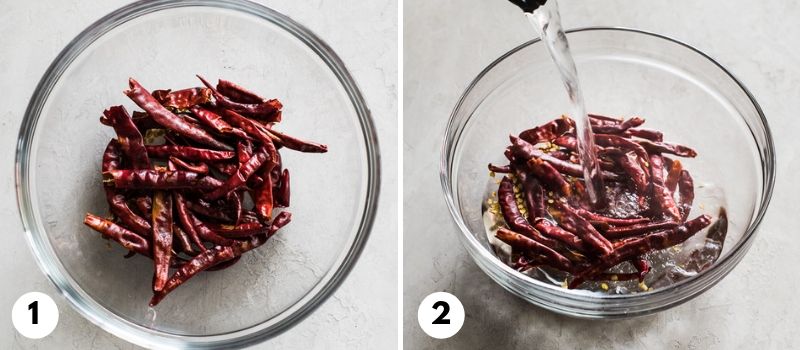 Uncover the bowl and drain the water from the peppers using a colander or slotted spoon. (photo 3)
Transfer drained peppers to a blender and add in tomatoes, garlic, salt and 3/4 cup of fresh water. (photo 4)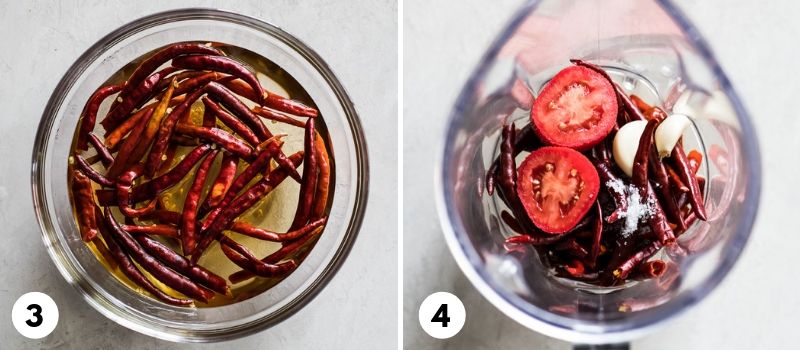 Puree all the ingredients in a blender until the salsa is completely smooth. (photo 5)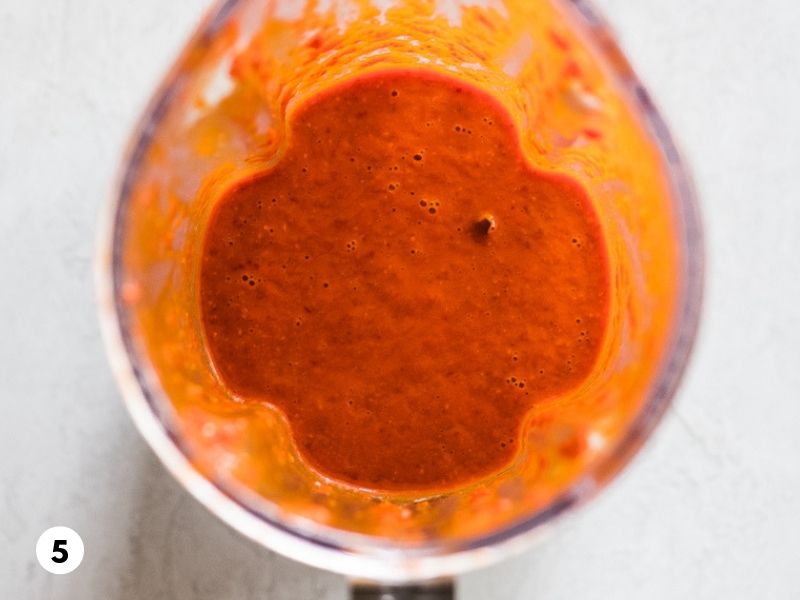 Tips and tricks
This salsa is meant to be spicy. That being said, if it's way too spicy for you, add one or two more plum tomatoes to the blender and puree until smooth.
This salsa should be completely smooth. Depending on the power of your blender, it can take anywhere from 1 to 5 minutes of blending time to get it looking like the salsa in the photos.
Ways to use chile de arbol salsa
Aside from eating this salsa with homemade tortilla chips (which I love!), here are a few of my favorite ways to eat it.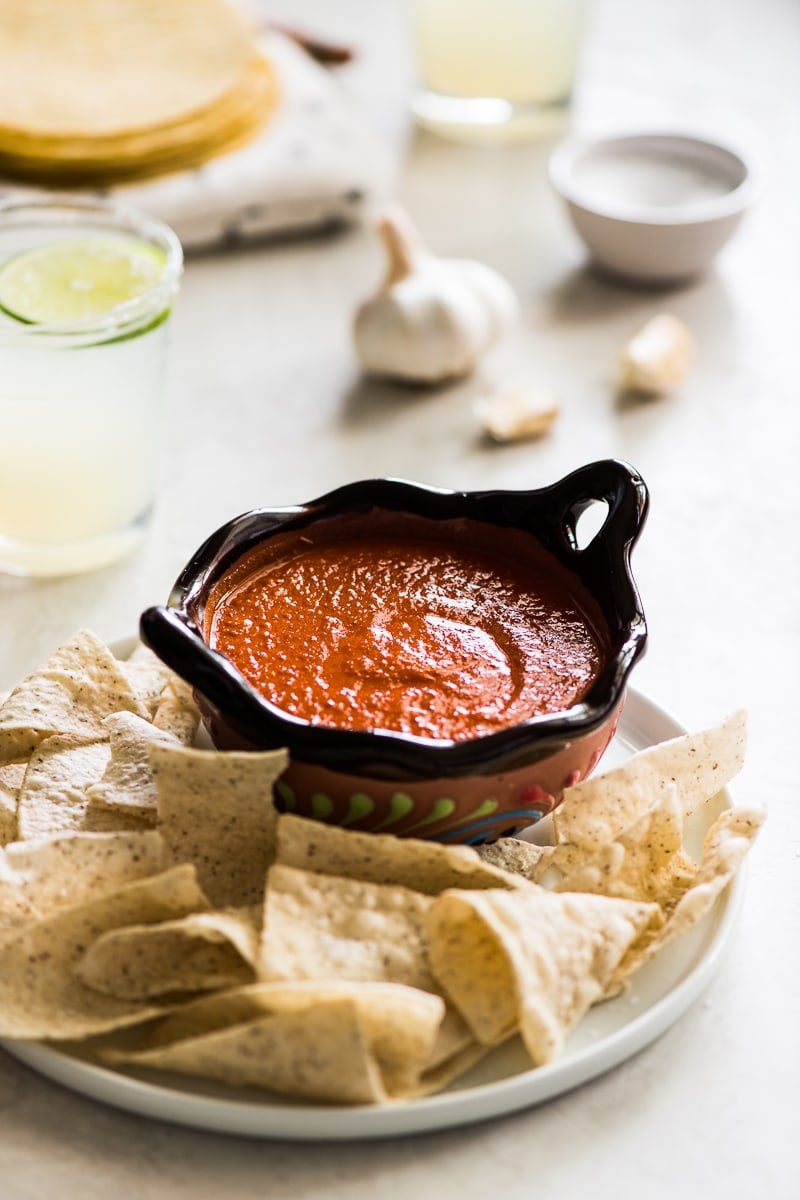 If you're anything like my dad and absolutely LOVE spicy food (the spicier, the better), then you may want to completely omit the tomatoes.
I modified this recipe to my taste, but when my dad makes it, he doesn't ever add tomatoes! So if that's you, go for it! You can always add in more tomatoes later.
I hope you love this recipe as much as I do! To get more easy Mexican recipes delivered straight to your inbox, sign up for my weekly email newsletter. You can also follow me on Facebook, Instagram and Pinterest!
INSTRUCTIONS
Pour 4 cups water into a small pot and bring to a boil over high heat.

While water is coming to a boil, remove and discard the stems from the peppers. Transfer peppers to a bowl.

Carefully pour boiling water into the bowl. Stir the peppers with a spoon to make sure they're all saturated with water.

Cover the bowl with a large plate, aluminum foil or plastic wrap. Let the peppers soak for 15 minutes until softened.

Uncover the bowl and transfer the softened peppers to a blender using a slotted spoon to drain out any water.

Add tomatoes, garlic, salt and 3/4 cup of fresh water. Puree until completely smooth.
ISABEL'S TIPS
This salsa is meant to be fairly spicy. If it's way too spicy for your liking, add in an extra tomato or two to help dilute the heat.
Storage: This salsa will keep in the fridge in an airtight container for 1 to 2 months.
Freezing: To freeze, let the salsa come to room temperature.  Place it in a freezer-safe storage bag or container and freeze for up 6 months. When ready to eat, remove the salsa from the freezer a day before and thaw in the fridge.
---
Nutrition Facts
Chile de Arbol Salsa
Amount Per Serving (1 tablespoon)
Calories 12
% Daily Value*
Sodium 60mg3%
Potassium 16mg0%
Carbohydrates 2g1%
Vitamin A 1650IU33%
Vitamin C 0.8mg1%
Calcium 10mg1%
Iron 0.2mg1%
* Percent Daily Values are based on a 2000 calorie diet.
Did you make this recipe?
Leave a comment below and tag @isabeleats on social media!