Make your life a little tastier with these cheesy Chicken Enchilada Roll Ups covered in an authentic red enchilada sauce. Plus, they're low carb and gluten free!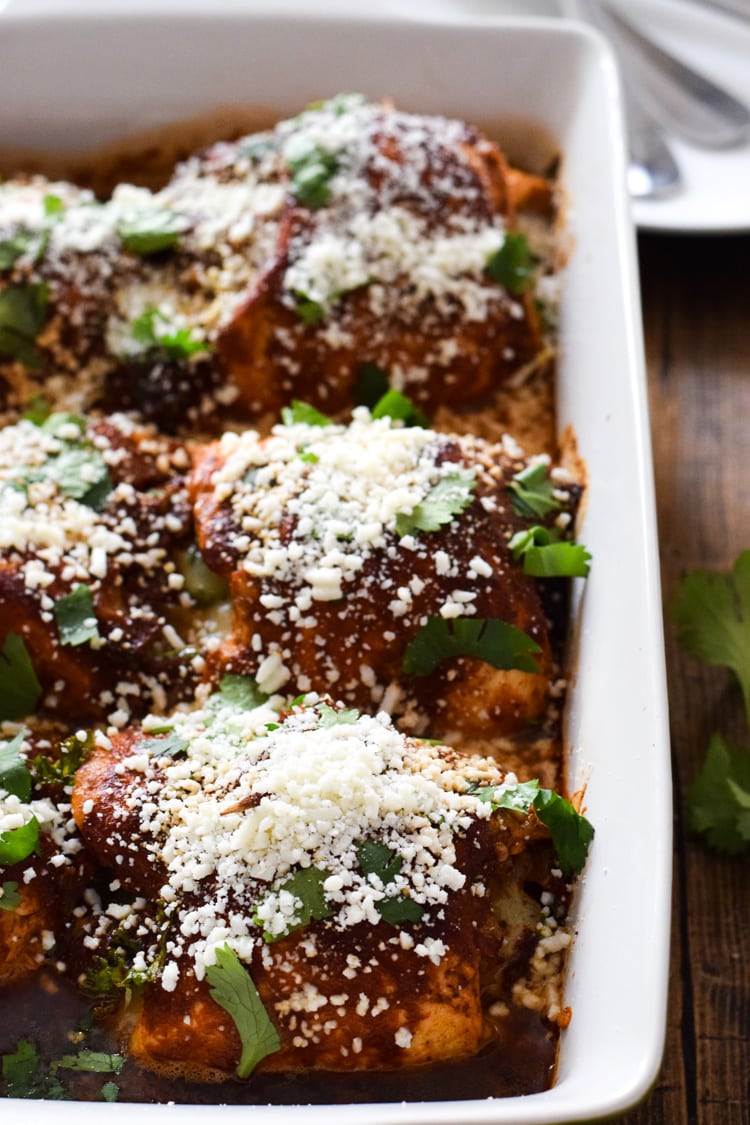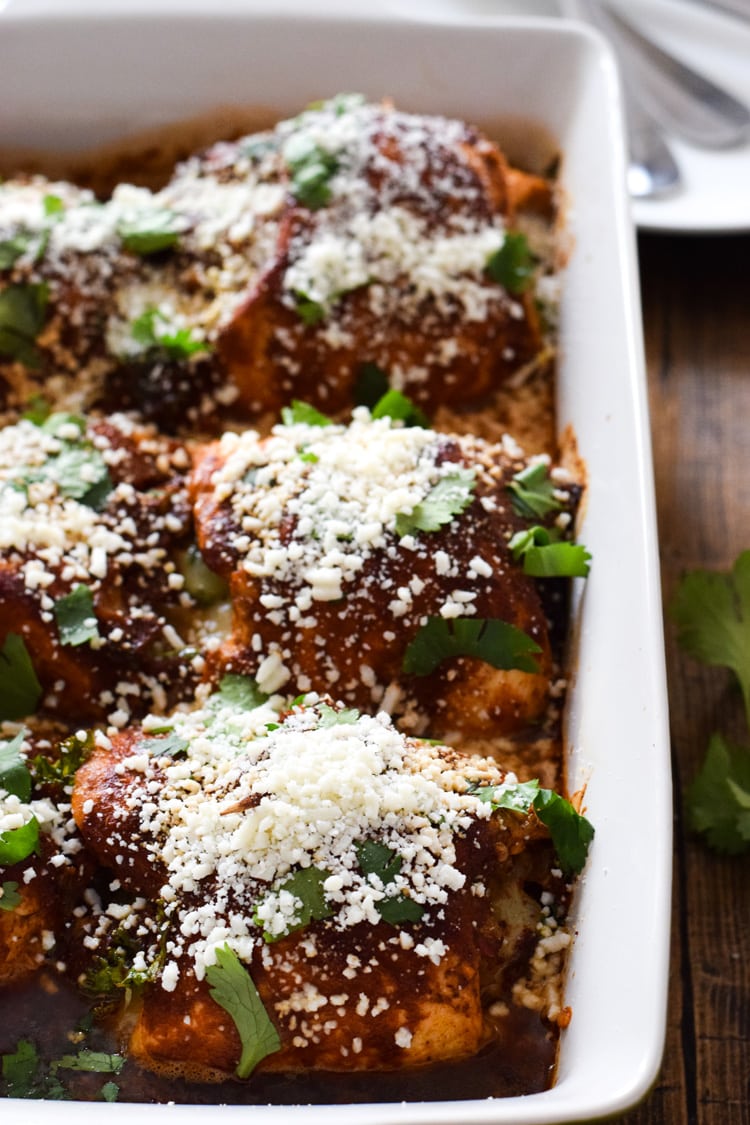 Welcome to another day in the life of an enchilada sauce lover. I love enchiladas SO MUCH that when I don't have tortillas in the fridge, I make tortillas out of chicken. Yup. That's right. I pounded out, rolled up and stuffed some chicken like I would a tortilla. Because let's be honest – I'm freaking addicted to this Authentic Red Enchilada Sauce recipe lately.
I seriously put the stuff on everything. On enchiladas (duh), on top of pretty much any meat, in tacos as a little sauce, and even a little bit in this Mexican Chicken Tortilla Soup. So I'm basically drinking the stuff.
You might think it's gross, but don't hate until you try it.


To get the meat ready, I let out a bit of anger and pounded out the chicken breasts with a meat tenderizer so they weren't so thick. You don't want them paper thin, but you want to be able to roll them up and stuff them with cheese and veggies.
Then, I made a simple marinade with spices that you probably already have in your pantry – cumin, chili powder, salt, olive oil, lime juice and garlic. Simple and delicious.
For the filling, I used a sautéed kale and onion mixture. Gotta get some healthy greens in there somehow.
Oh, and cheese. I also stuffed it with cheese.
I used a Mexican cheese that gets nice and melty – queso Chihuahua – but if you can't find that in your local grocery store, you could use a Monterey Jack or even Mozzarella. Or whatever you have, really. I don't discriminate against any cheese.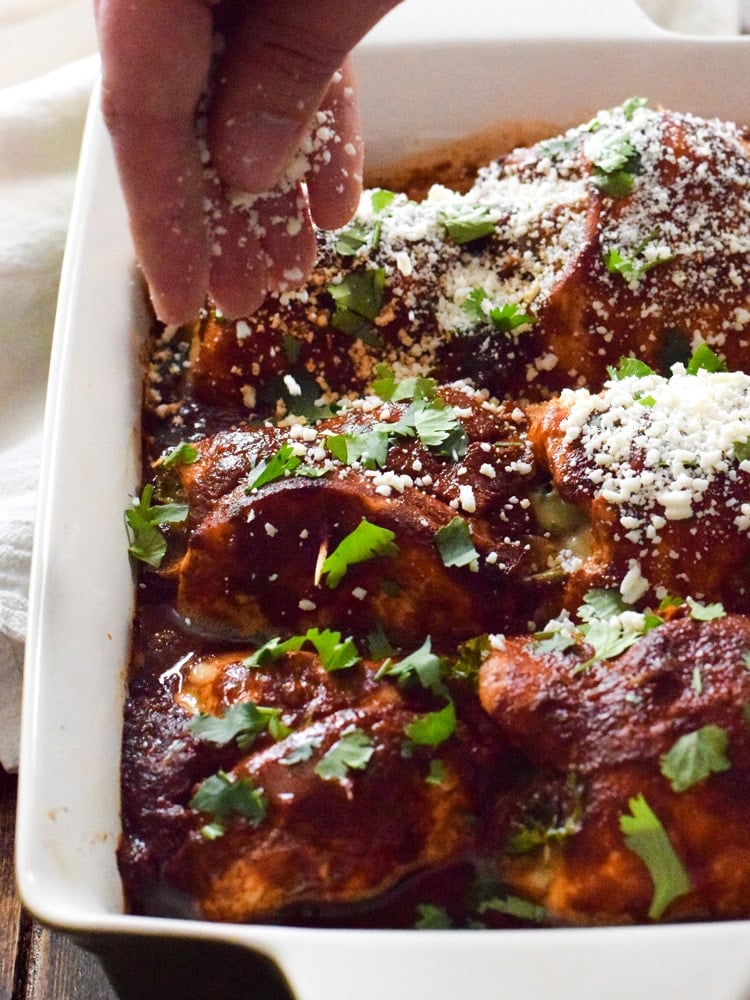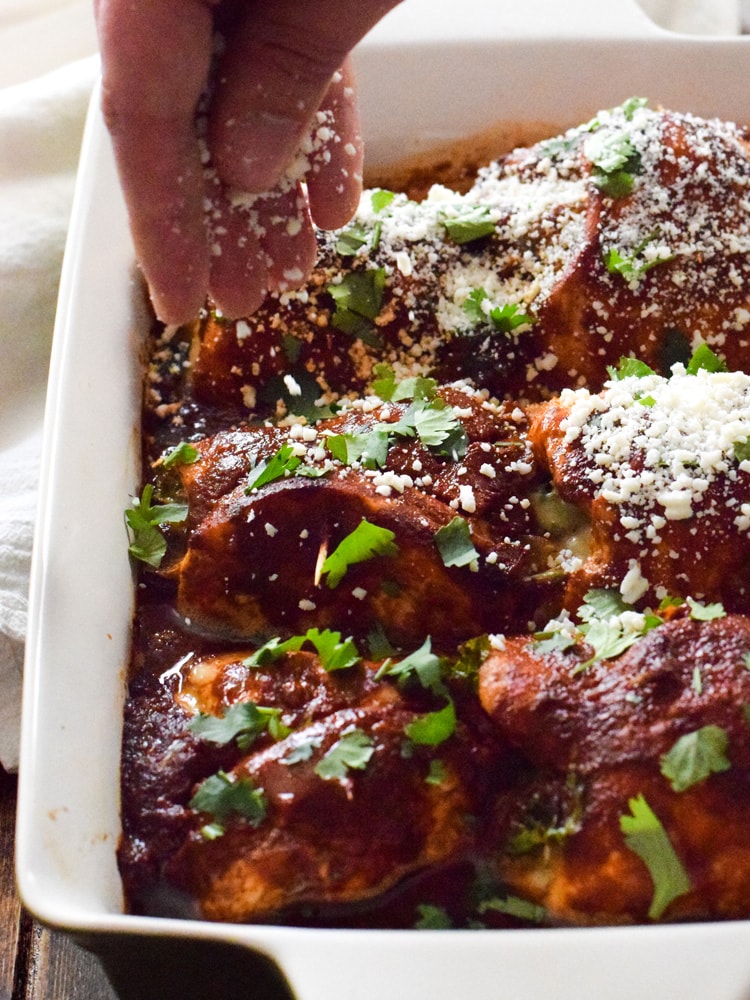 Once I topped it with my red enchilada sauce and baked it for 25 minutes, guess what I did?
Topped it with MORE CHEESE. This time, I used a salty Cotija cheese, but if you can't find that at your local grocery store, you could use crumbled feta or even parmesan.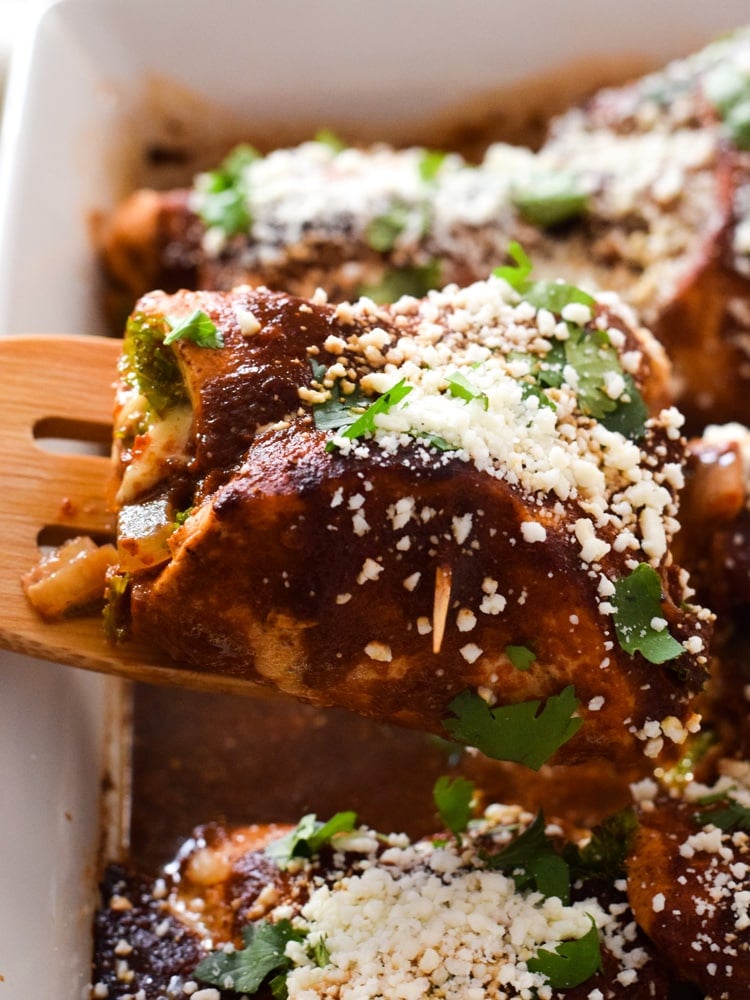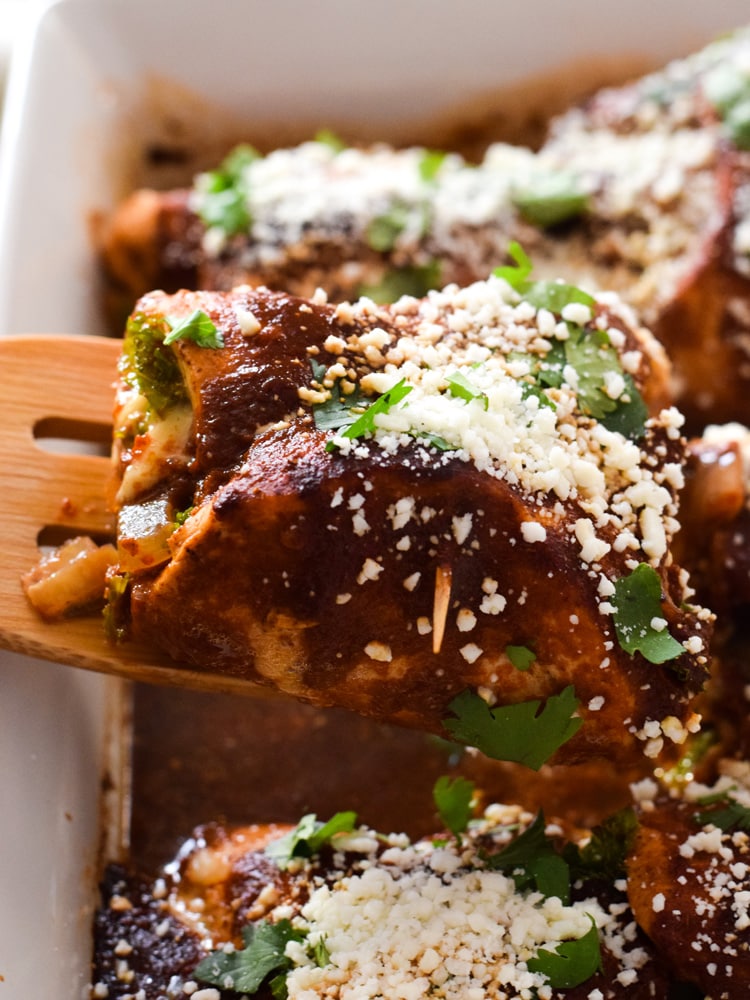 A note a caution. Remember to remove the toothpicks holding your roll ups in place before you eat them.
I had to learn the hard way.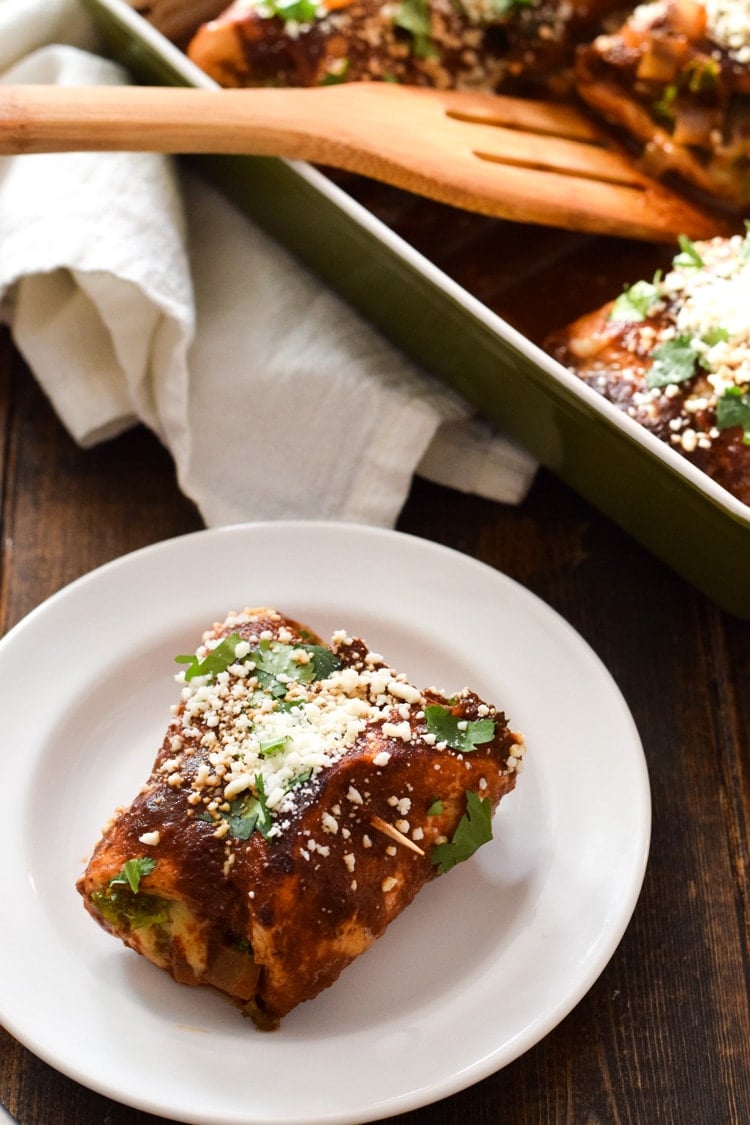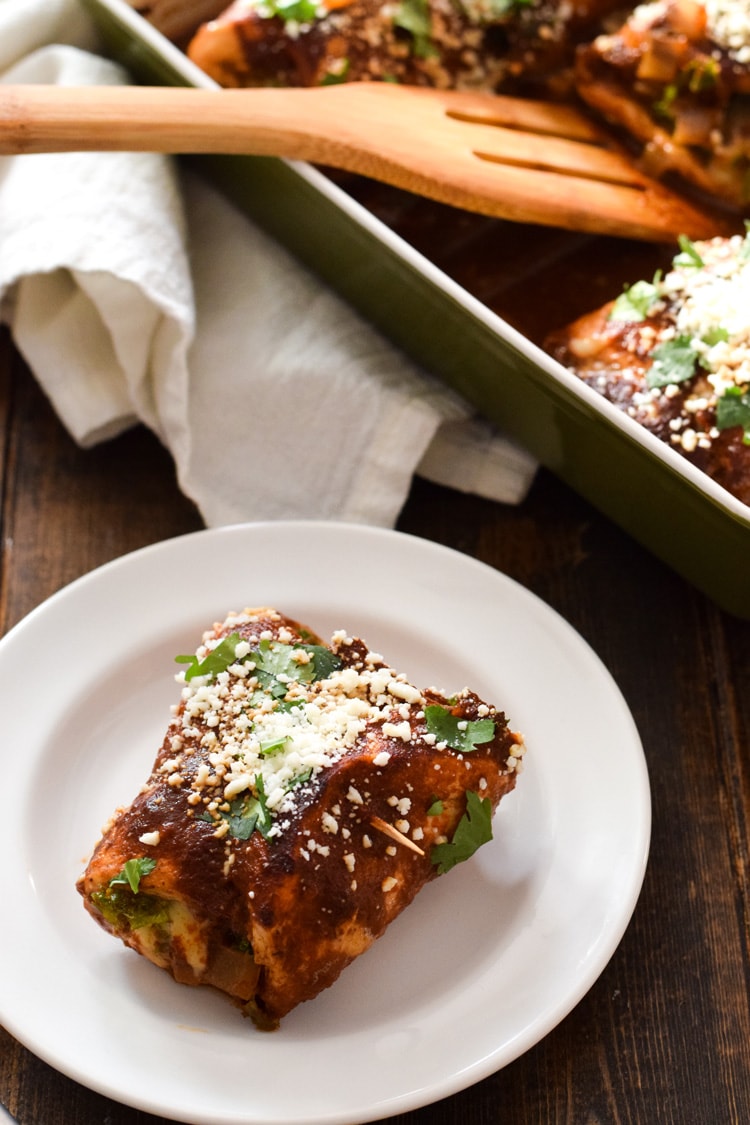 INGREDIENTS
2 1/2

lbs

boneless, skinless chicken breasts

(about 4 or 5 large breasts)

3

tbsp

olive oil

Juice of 1 lime

1/2

tsp

salt

1

tsp

cumin powder

2

tsp

minced garlic

1

tsp

chili powder

2 1/2

cups

chopped kale

1/2

large onion

diced

1

cup

shredded queso Chihuahua

(or Monterey Jack cheese)

1

batch

Authentic Red Enchilada Sauce

Cotija cheese

for topping

Cilantro

for topping
INSTRUCTIONS
In a large resealable freezer bag, mix together olive oil, lime juice, salt, cumin, garlic and chili powder. Set aside.

For the chicken breasts, slice them longways to get 2 thinner slices and firmly pound the chicken using the smooth side of a meat tenderizer. I was able to get a total of 7 chicken cutlets.

Place the chicken cutlets into the resealable freezer bag and shake to completely coat them in the marinade. Allow chicken to marinate for one hour.

While chicken is marinating, heat 1 tbsp olive oil in a skillet over medium-high heat. Add in onions, kale and a pinch of salt and pepper. Saute for 10 minutes until onions are translucent and beginning to caramelize.

Once chicken has marinated, preheat oven to 375 degrees.

Evenly place a scoop of the onion and kale mixture and a pinch of shredded cheese in the middle of the chicken cutlet. Roll up both sides and secure with a toothpick. Place roll ups into a 2-quart baking dish or larger. Repeat this step until all the cutlets have been rolled up.

Remove from oven and top with cotija cheese and cilantro. Enjoy!
Did you make this recipe?
Leave a comment below and tag @isabeleats on social media!