Jump to Recipe
Spice up your Thanksgiving feast with this chorizo stuffing recipe! Made by combining the bold flavors of chorizo with classic stuffing ingredients and fresh herbs, it's sure to be one of the most memorable holiday side dishes!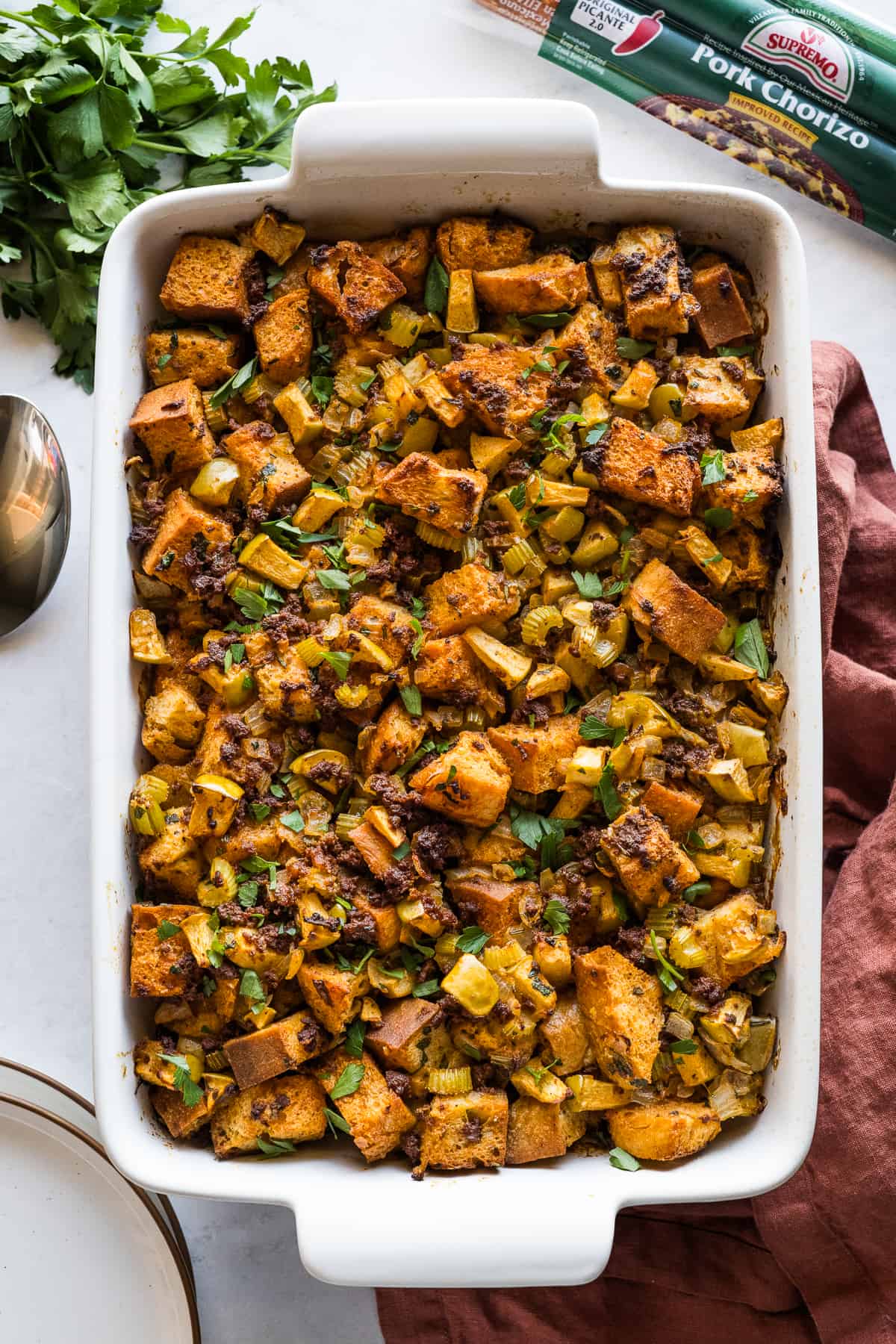 This post is sponsored by V&V Supremo®. All opinions expressed here are my own
This chorizo stuffing is one of my favorite Thanksgiving recipes I've ever made! It's the perfect blend of spicy and rich Mexican chorizo with the comforting flavors of a traditional Thanksgiving herb stuffing.
The chorizo gives the stuffing a beautiful golden brown and red color, and the flavor infuses into every single piece of bread. I've also mixed in some onions, celery, and green apples to compliment the richness of the sausage, as well as fresh herbs like parsley, sage, and rosemary.
It's the perfect side dish to serve alongside your holiday favorites, and I know you're going to love it!
What is Chorizo Stuffing?
Chorizo stuffing is a flavorful holiday dish made from Mexican chorizo combined with traditional stuffing ingredients like cubed bread, onions, celery, and various herbs.
It's typically served as a side dish and cooked in a stand-alone baking dish, not stuffed inside a bird or turkey.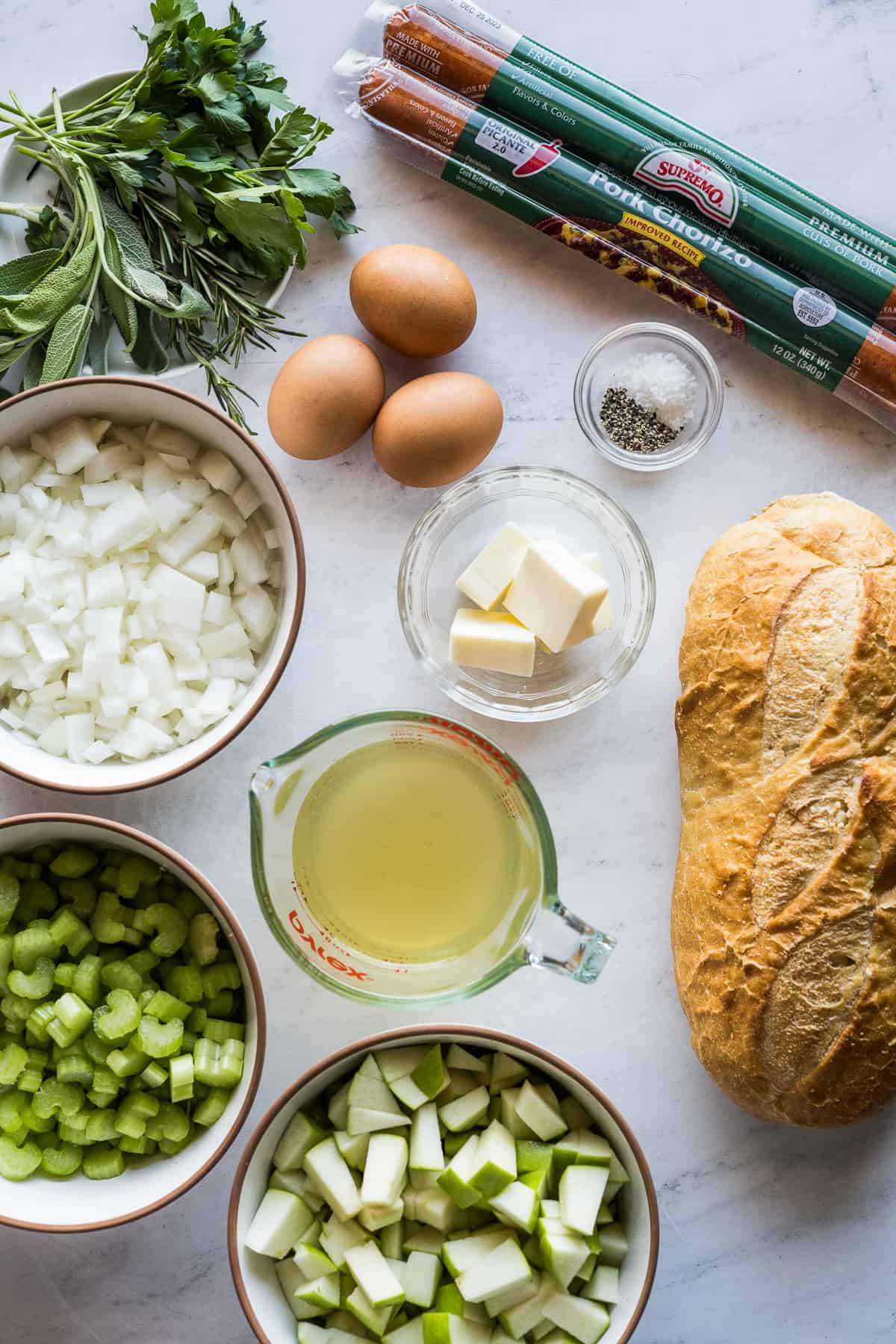 Ingredients
Chorizo: My go-to Mexican chorizo is V&V Supremo's Pork Chorizo. It's available in 2 different spice levels, is made without artificial flavors, colors, and fillers, and has that incredibly delicious and complex flavor that every good chorizo should have! This is one of the most important ingredients in this dish, so it's important that your chorizo is a good one!
Bread: I used a loaf of crusty sourdough bread because it holds up to all the other ingredients without crumbling, falling apart, or getting too soggy. It's my go-to bread when making a stuffing.
Vegetables: Diced celery and sweet onions are cooked down and mixed into the stuffing for flavor and added texture.
Apples: Granny Smith apples are cooked down with the veggies and give a little sweetness to the dish that offsets some of the rich and spicy flavors of the chorizo.
Herbs and seasonings: Fresh parsley, sage, and rosemary really pack a punch into every bite!
Butter: It just makes everything better!
Broth: I used chicken broth, but you can use vegetable or beef.
Eggs: A few beaten eggs help to hold the stuffing together when cooked.
How to Make Chorizo Stuffing
Prep the bread: Cut the sourdough into cubes and set aside in a large bowl. You can cut it into small or medium pieces, depending on your personal preference.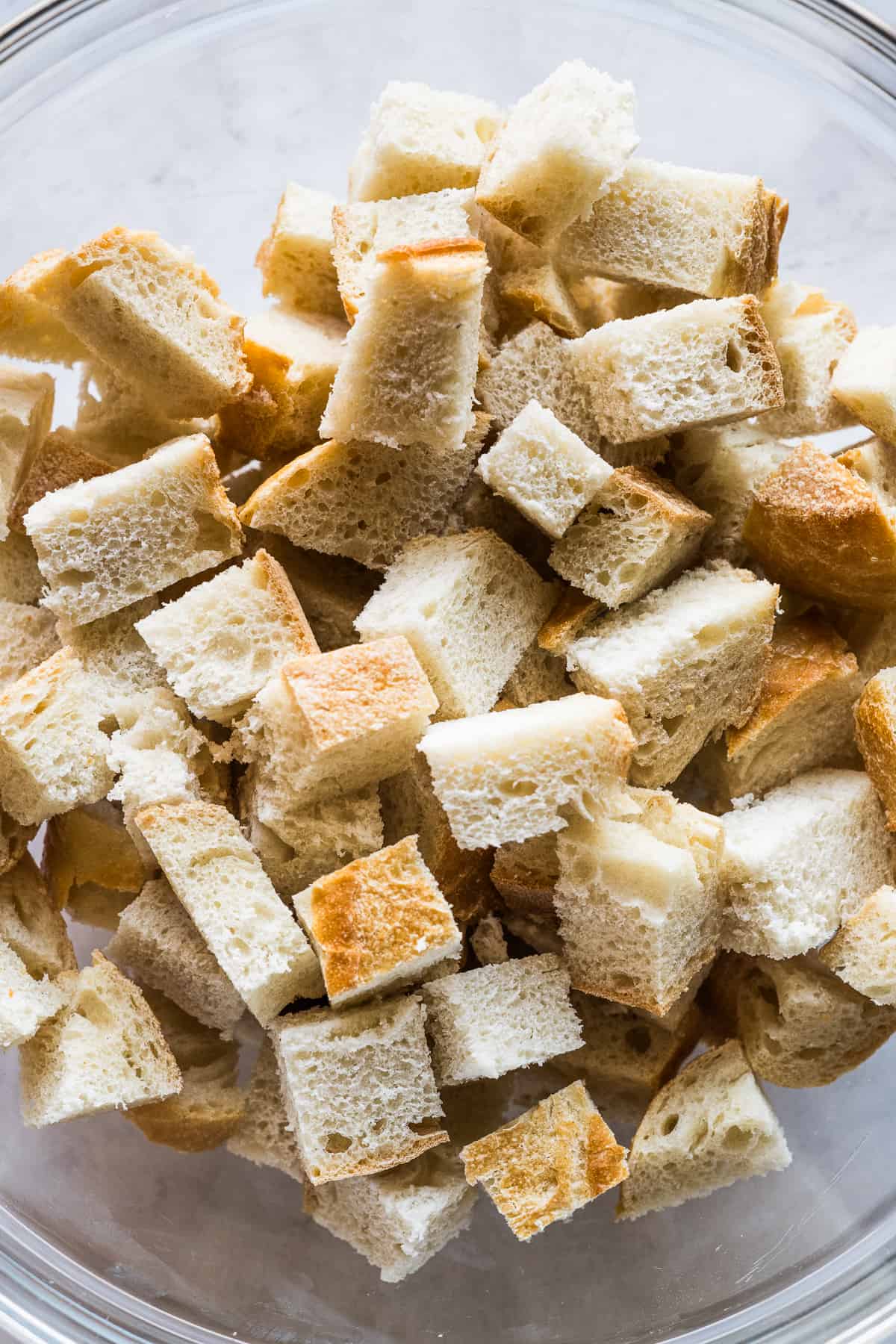 Cook the chorizo: Brown it in a skillet over medium-high heat for about 8 minutes, then transfer it to a small bowl and set it aside.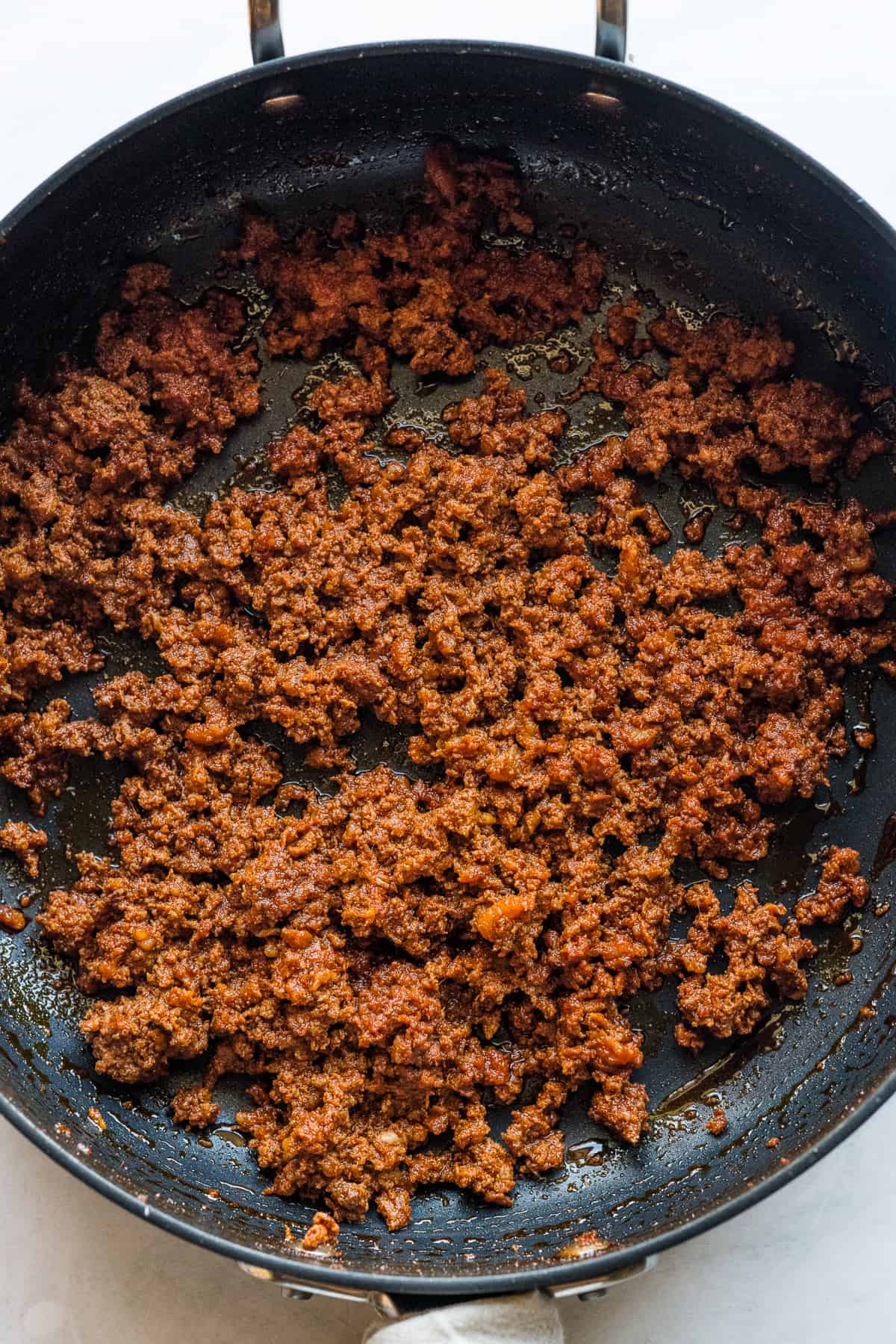 Cook the vegetables and fruit: In the same skillet, cook the celery, onions, and apples until tender. Remove the mixture from the heat, then stir in the freshly chopped parsley, sage, rosemary, salt, and black pepper.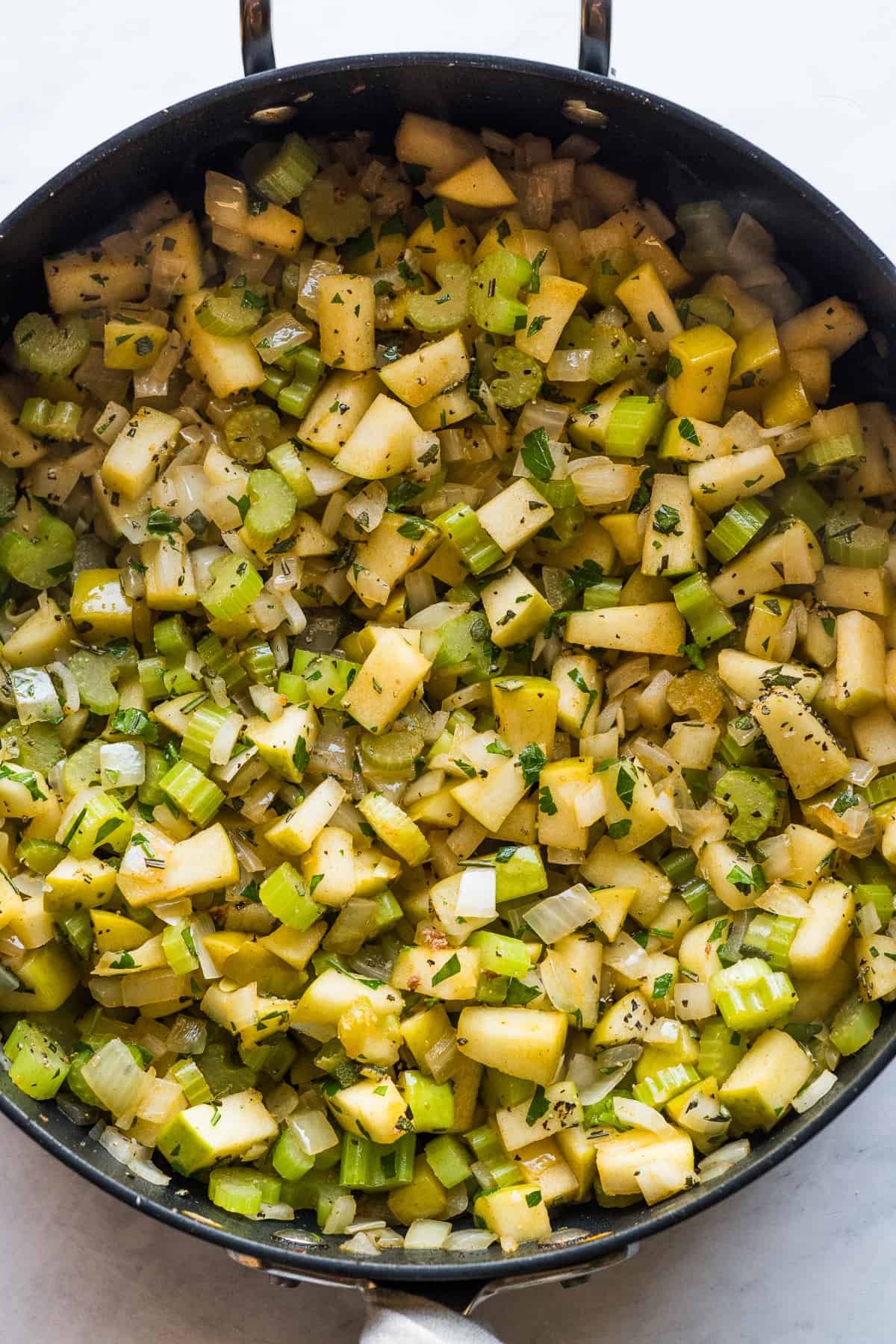 Combine: Add the cooked chorizo, vegetables, and fruit along with some melted butter, broth, and beaten eggs to the large bowl of cubed bread. Toss everything together until fully combined.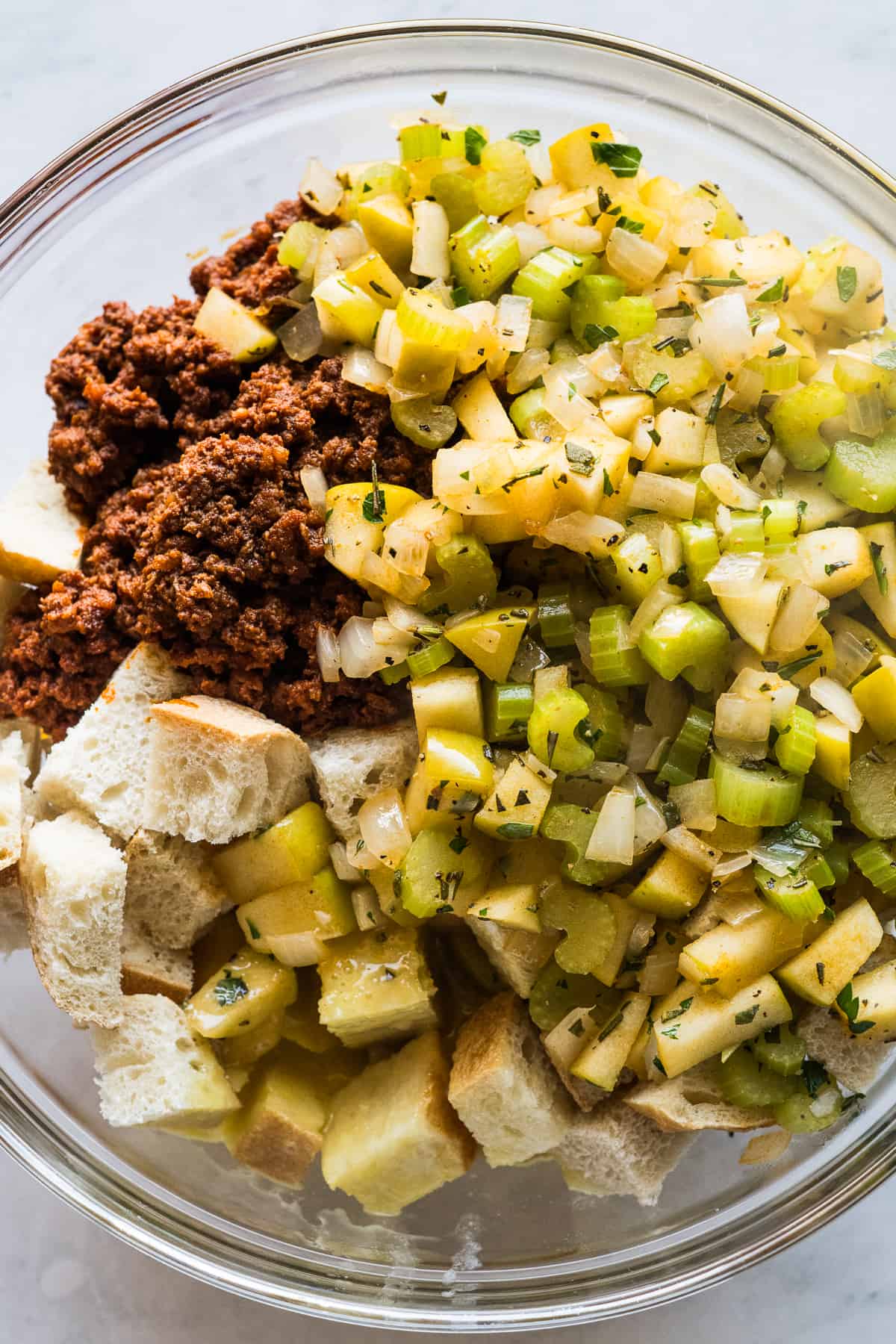 Bake: Transfer the stuffing mixture to a greased 9×13-inch baking dish and bake for 50 to 60 minutes until the top is golden brown and crispy.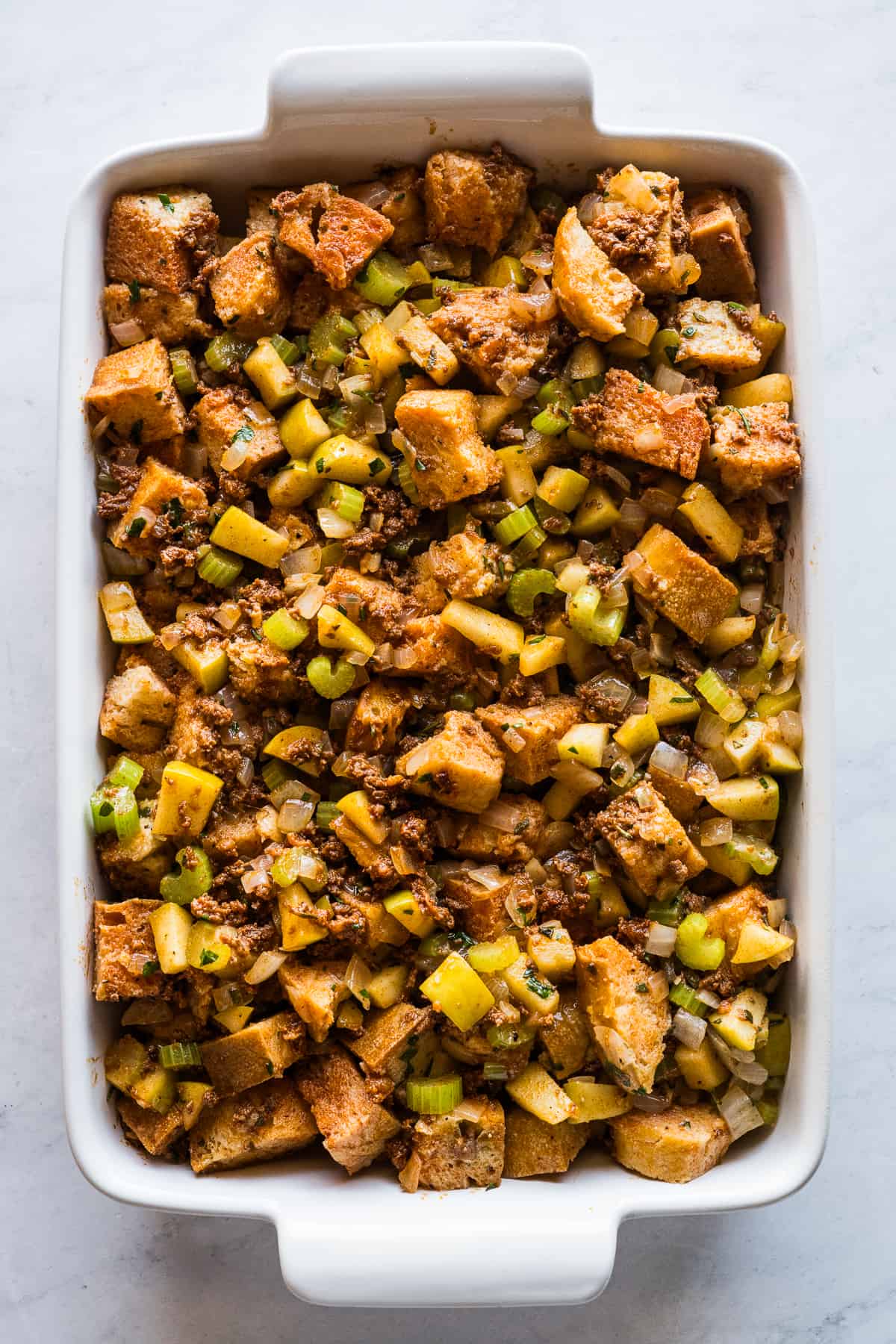 Serve: Garnish the stuffing with some fresh parsley and serve it alongside your other holiday favorites!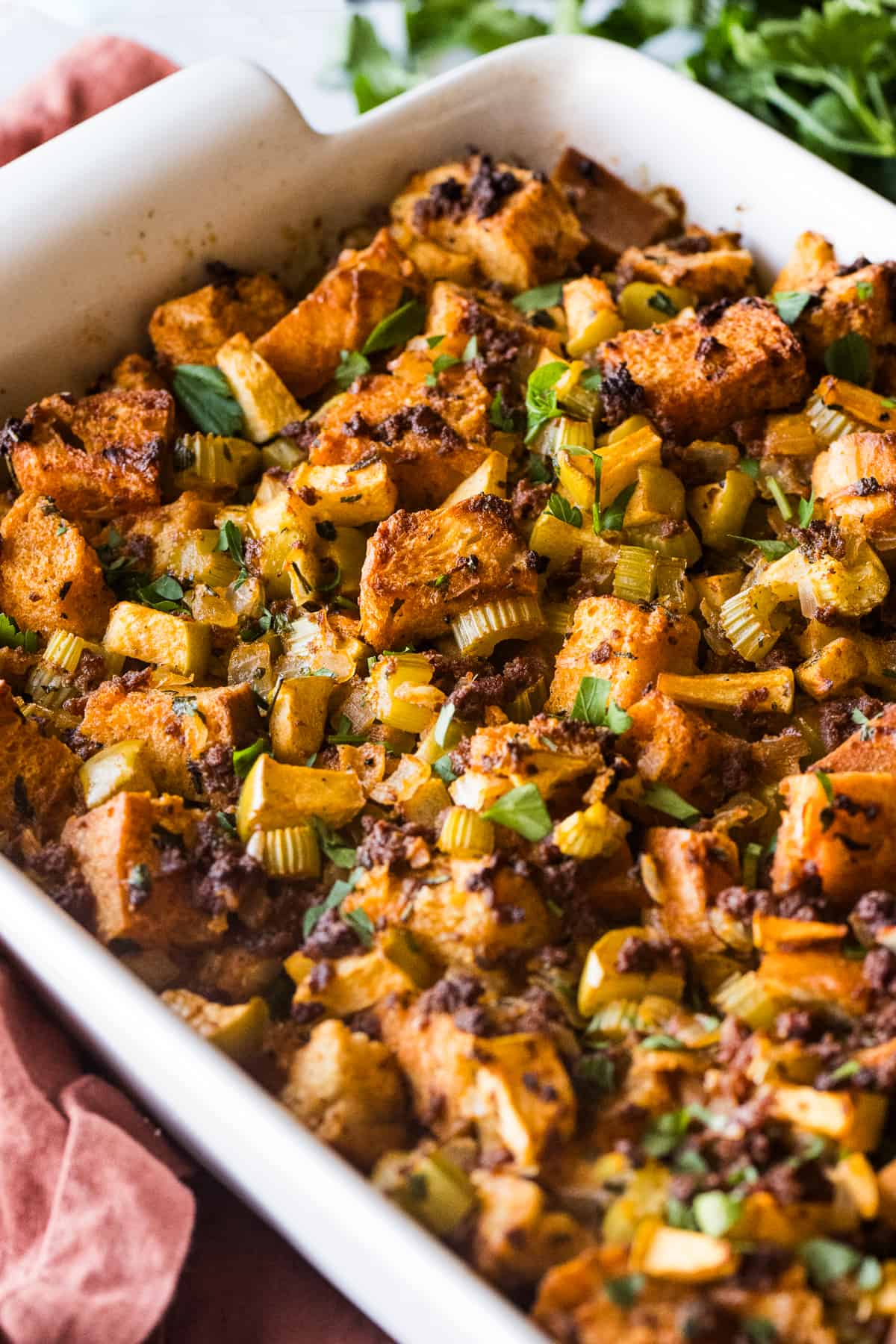 Tip
To ensure the stuffing stays moist without becoming soggy, mix together all the ingredients right before baking instead of mixing them together as they're prepped.
Recommended Tools
Large baking dish. Great for stuffing, casseroles, enchiladas, and so much more.
Cutting board. My favorite cutting board that's non-porous and doesn't dull your knife!
Bread knife. This serrated knife makes cutting bread super easy.
Make Ahead
Chorizo stuffing can be made up to 2 days in advance. I recommend baking the entire dish, then covering it tightly with foil, and storing it in the refrigerator.
To reheat, place the baking dish covered with foil in a 350°F oven and heat for 20-25 minutes until fully heated through. If the stuffing appears dry, add a splash of broth before reheating it.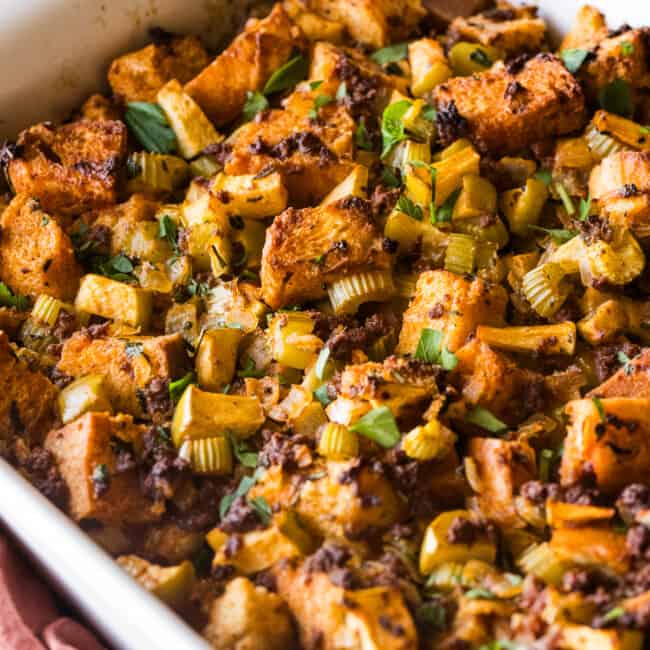 Prep: 15 minutes
Cook: 1 hour 10 minutes
Total : 1 hour 25 minutes
A flavorful chorizo stuffing made from Mexican chorizo combined with cubed bread, onions, celery, apples, and fresh herbs.
Ingredients
cooking spray, oil, or butter, for greasing
1 pound sourdough bread, diced into bite-sized cubes
14 ounces V&V Supremo Pork Chorizo
1 tablespoon olive oil
2 cups celery, diced
2 Granny Smith apples, diced
1 large sweet onion, diced
2 tablespoons chopped fresh parsley, plus more for garnish
1 tablespoon chopped fresh sage
2 teaspoons chopped fresh rosemary
1 teaspoon kosher salt
½ teaspoon freshly ground black pepper
4 tablespoons unsalted butter, melted
1 cup chicken broth
3 large eggs, beaten
Instructions
Preheat the oven to 350°F. Grease a 9×13-inch baking dish with cooking spray and set aside.

Add the bread cubes to a large mixing bowl and set aside.

Heat a large skillet or saute pan over medium-high heat. Add the chorizo and cook for 8-10 minutes, breaking it up into smaller chunks using a wooden spoon. Transfer the cooked chorizo to a separate small bowl and set aside.

In the same skillet or saute pan, heat the olive oil over medium-high heat. Add the celery, apples, and onion and cook for 8 minutes, until the onions are translucent and everything has softened.

Remove from the heat and stir in the parsley, sage, rosemary, salt, and black pepper.

Transfer the cooked onion, celery, and apple mixture to the large bowl with the bread cubes. Add in the cooked chorizo, butter, broth, and eggs. Toss everything together until fully combined.

Transfer the stuffing to the prepared baking dish and bake for 50-60 minutes until the top is toasted and browned.

Remove it from the oven and allow it to cool for 5 minutes. Garnish with fresh parsley and serve.
Nutrition Information
Serving: 1serving Calories: 442kcal (22%) Carbohydrates: 42g (14%) Protein: 17g (34%) Fat: 23g (35%) Saturated Fat: 9g (45%) Polyunsaturated Fat: 1g Monounsaturated Fat: 4g Trans Fat: 0.2g Cholesterol: 107mg (36%) Sodium: 1044mg (44%) Potassium: 290mg (8%) Fiber: 3g (12%) Sugar: 10g (11%) Vitamin A: 754IU (15%) Vitamin C: 6mg (7%) Calcium: 70mg (7%) Iron: 3mg (17%)