Jump to Recipe
These baked Chicken Taquitos are stuffed with seasoned shredded chicken, cream cheese, diced green chiles, black beans and corn. Perfect for any weeknight meal! (freezer friendly, gluten free)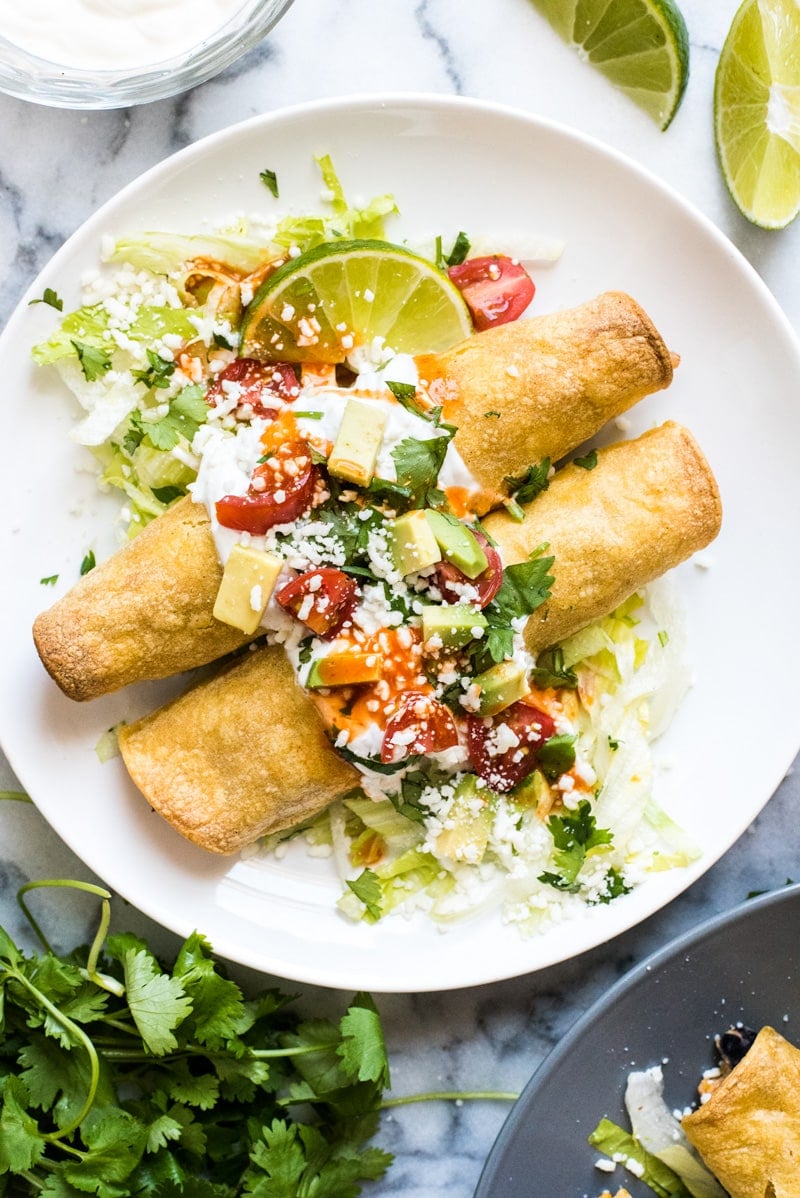 Can you believe these chicken taquitos are only the second taquito recipe ever on Isabel Eats?!
how is that even possible?
shame on me.
that totally needs to change.
My first taquitos were these Baked Chicken, Bean & Cheese Taquitos and they were an absolute hit, so it's time I listen to what you're telling me you love and give you more of it! Which means more chicken taquitos!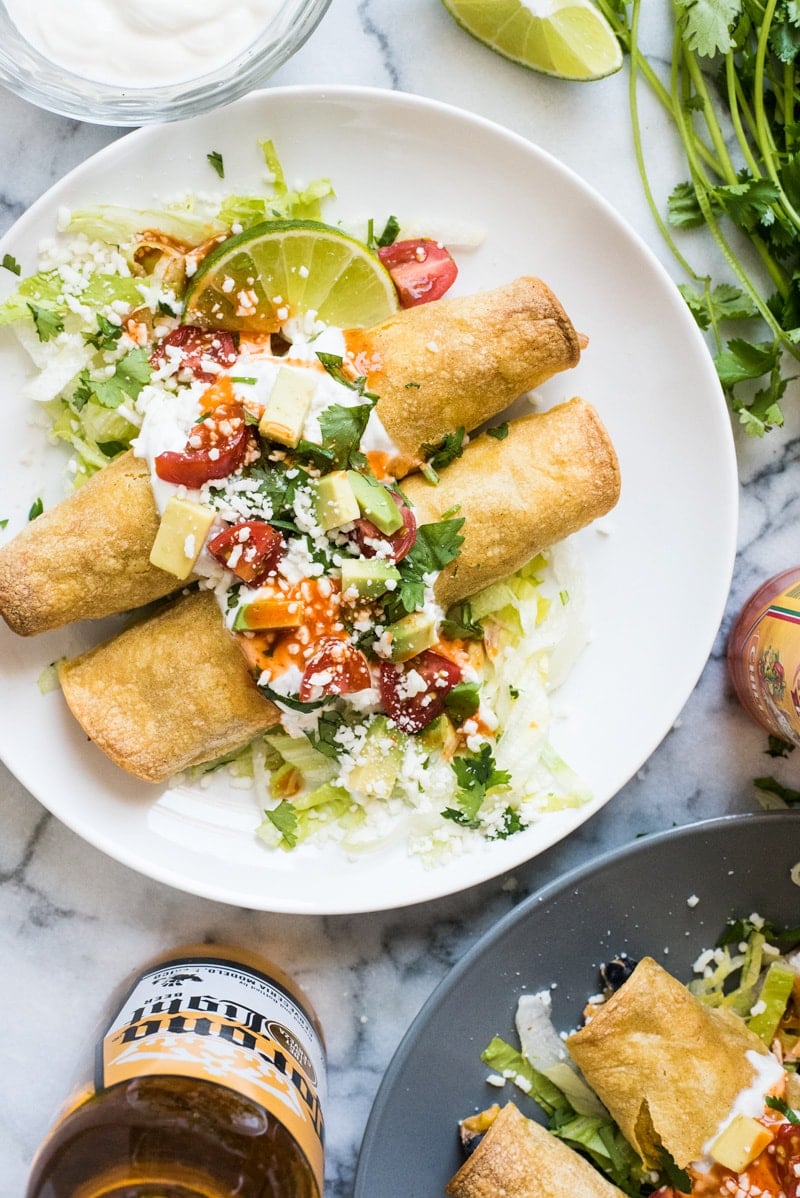 What is a taquito?
A taquito is a corn tortilla that's stuffed with some delicious filling (usually beans, cheese or meat) that's rolled up tightly like a cigar and baked or fried so the tortilla holds its shape. They're perfect for dunking in your favorite salsa or guacamole and can be stored in the freezer if you have too many leftovers. Traditionally, taquitos are made with corn tortillas. Those made with flour tortillas are called flautas.
These particular chicken taquitos are stuffed with seasoned shredded chicken, cream cheese, diced green chiles, black beans and corn. Cream cheese in a taquito may sound a little weird, but I promise the end result is a creamy, satisfying and addicting bite that will leave you wanting more. And more. And probably more.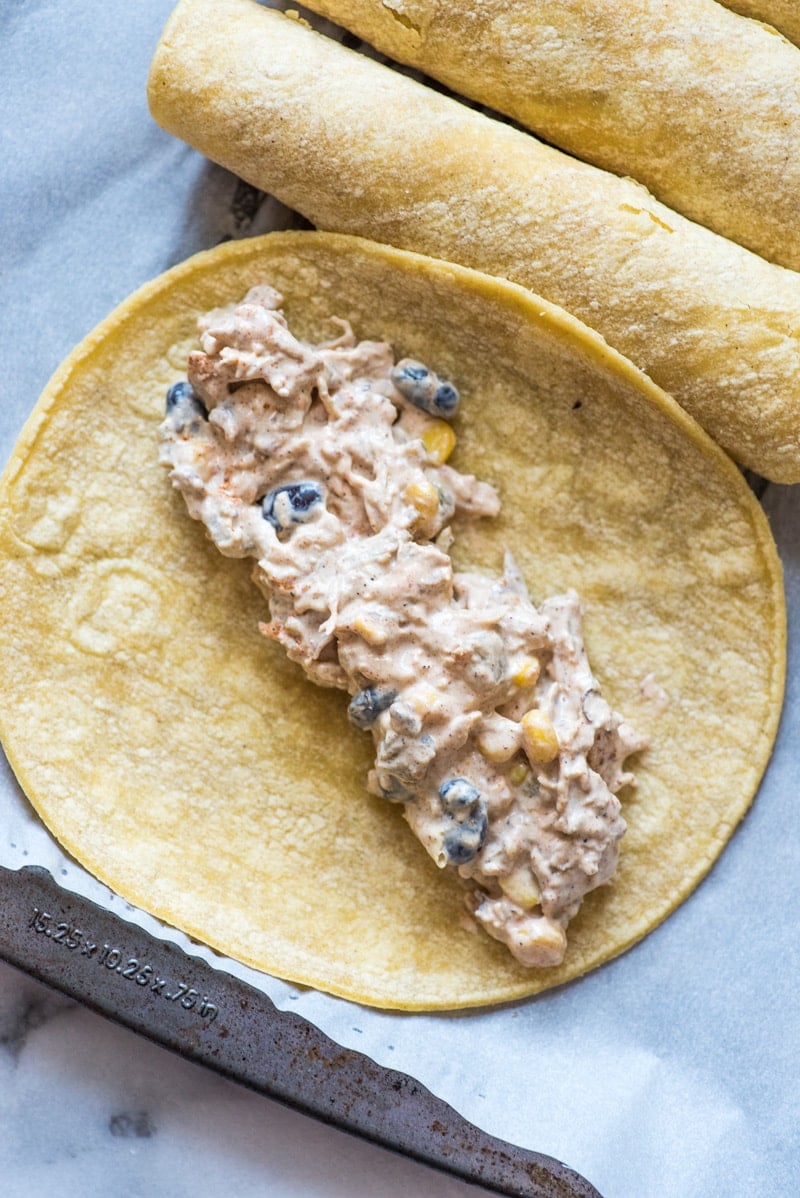 Which tortillas do I use for chicken taquitos?
You can use any corn tortillas you can find, but I recommend using these fajita-size corn tortillas if you can find them. These "Super Size" yellow corn tortillas from Mission are slightly bigger than normal corn tortillas which means you can add more filling to each one. I was able to make 12 taquitos using these corn tortillas, but if you use the regular-sized ones you'll get more than 12, probably closer to 20. And since they're smaller, you'll probably be able to eat more, so it all evens out in the end.
More taquitos is not a bad thing.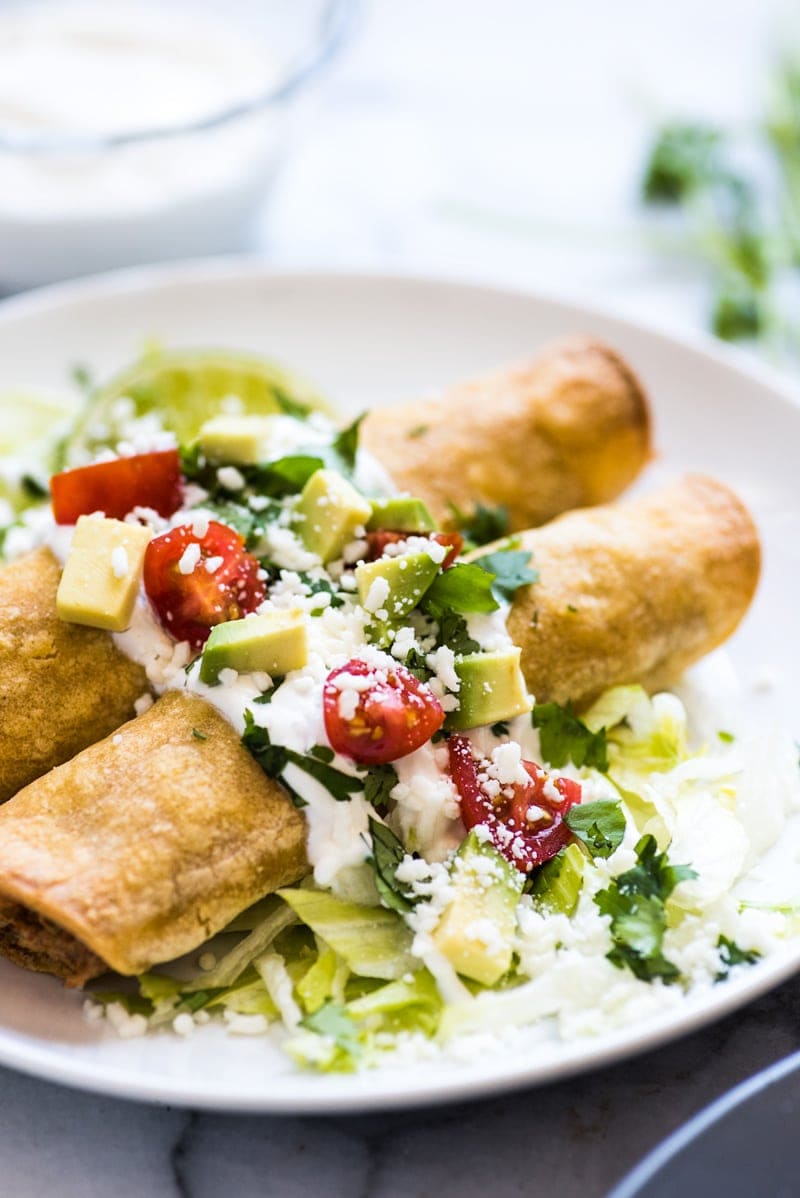 I try to avoid frying foods at home whenever possible because Lord knows I eat plenty of fried foods when I go out to eat. Who can resist french fries and chicken tenders, am I right?! Definitely not me. So instead of frying these suckers at home, I decided to bake them.
How to bake chicken taquitos
The trick to getting them crispy without frying is to brush them in olive oil using a pastry brush like this or to spray them with a cooking spray. Personally, I highly recommend getting a refillable oil sprayer that you can use with your favorite olive oil. I use the Misto at home, but I've also heard some great things about the Evo. Both are two really great options. And they'll save you money in the long run because it's way cheaper to use your own oil than buying the pre-filled spray cans every month.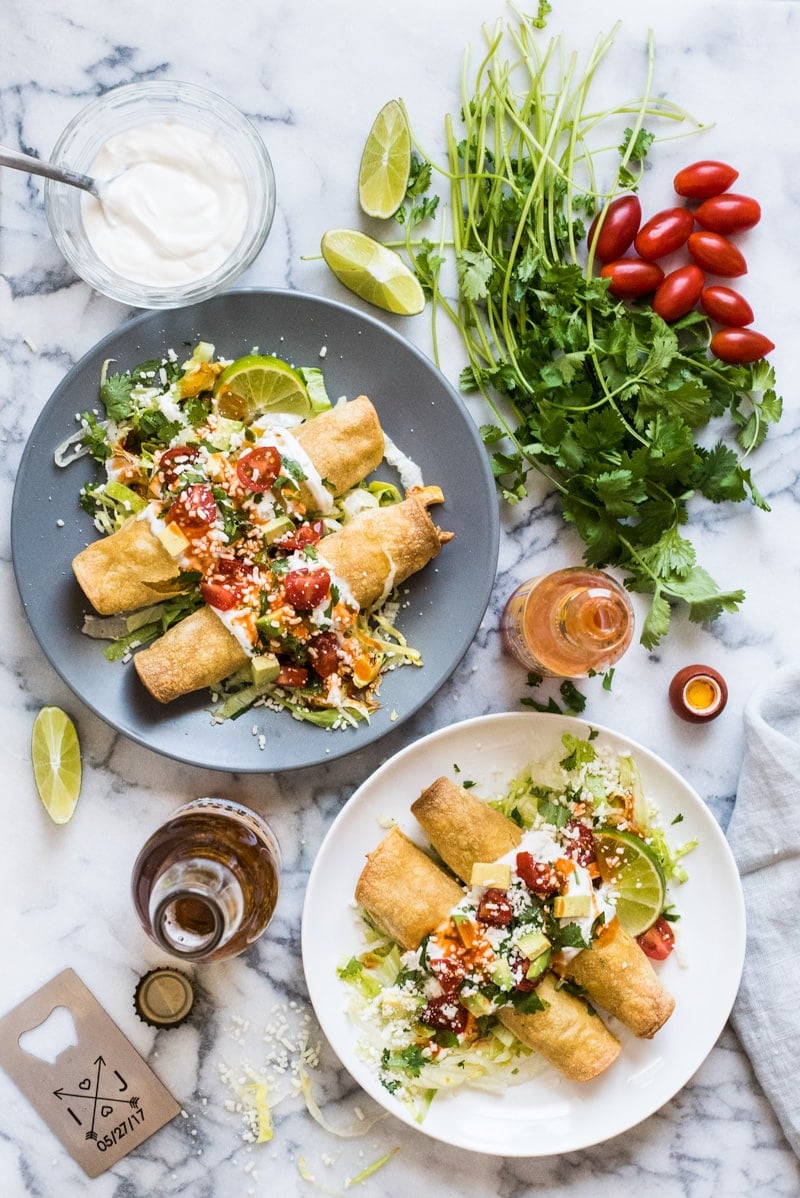 I ate my taquitos over a bed of lettuce and topped them with sour cream, cilantro, avocados, tomatoes, cotija cheese, a squeeze of lime juice and some hot sauce. Oh, and I may have had an ice cold beer because how can you NOT. Beer and taquitos are a great combo!
But in case beer and taquitos are your thing, here are some other dipping sauces that would be perfect.
Best dipping sauces and salsa for taquitos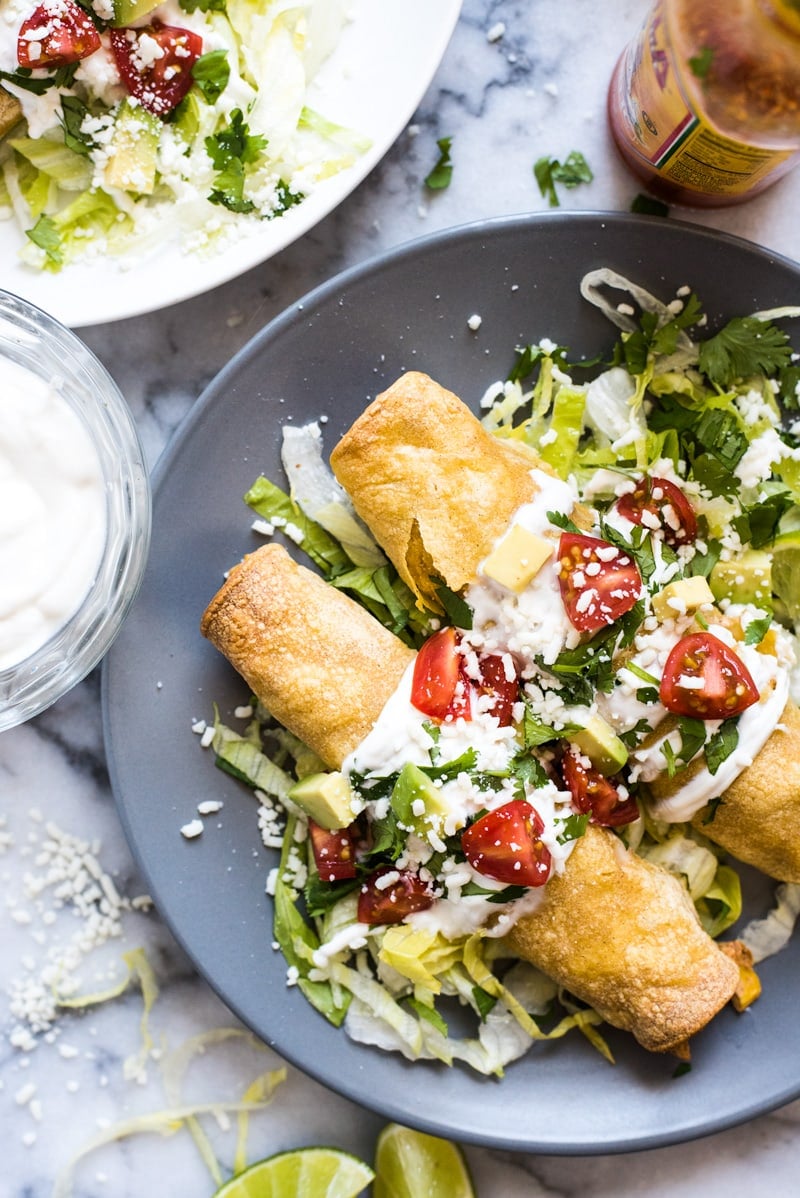 Just in case you have any leftovers (which is highly unlikely), these taquitos are freezer friendly!
How to freeze chicken taquitos
To freeze, let the taquitos completely cool. Then place them in a single layer on a baking sheet and put them in the freezer for 1 hour. Once they're mostly frozen, place the taquitos in a freezer bag and keep them in the freezer until ready to eat.
To reheat them, simply remove from the taquitos from the freezer bag and bake for 10 minutes at 400°F until they're hot and ready!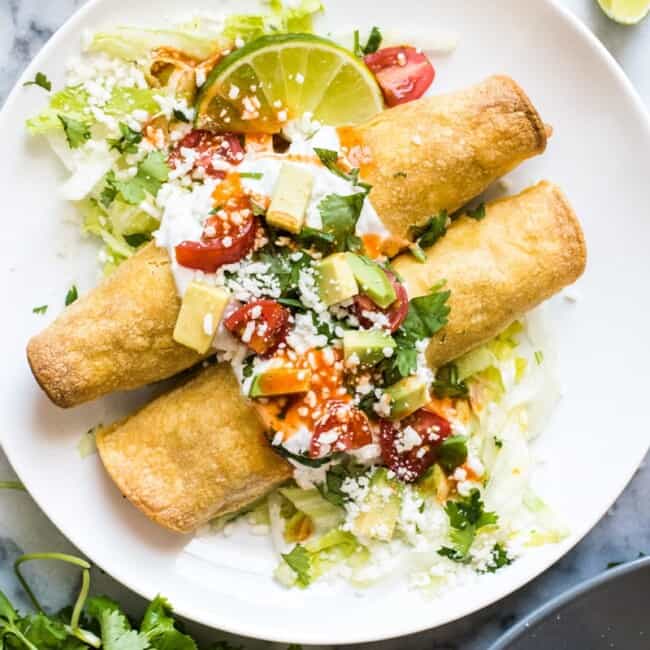 Prep: 10 minutes
Cook: 40 minutes
Total : 50 minutes
These baked Chicken Taquitos are stuffed with seasoned shredded chicken, cream cheese, diced green chiles, black beans and corn. Perfect for any weeknight meal! (freezer friendly, gluten free)

Instructions
For the chicken
Preheat oven to 350°F. In a large bowl or ziplock bag, add chicken breasts, olive oil, salt, coriander, chili powder and garlic powder. Toss together to coat.

Place coated chicken on a large baking sheet and bake for 25-30 minutes, or until fully cooked. Remove chicken from oven and shred chicken with a fork and knife. Taste and season with more salt if needed.
For the taquitos
Raise oven temperature to 425°F. Line a large baking sheet with parchment paper and set aside.

In a large bowl, add the shredded chicken, cream cheese, green chiles, black beans, corn and chili powder. Mix together using a hand held or stand mixer. Taste and season with more salt if necessary.

Heat the tortillas in the microwave in 30 second increments until they're warm and pliable. Place the warm tortillas in a tortilla warmer or cover with a cloth towel to keep them warm.

To assemble, lay the tortillas on a work surface and fill the bottom third of each tortilla with the chicken mixture. Roll the tortillas up as tightly as possible and lay on a baking sheet seam side down.

Lightly brush or spray the taquitos with olive oil. Sprinkle with some sea salt and bake for 12-15 minutes or until the edges of the taquitos are golden brown and crispy.

Serve topped with chopped onions, lettuce, red salsa, cotija cheese, sour cream, limes or your favorite dipping sauce.
Isabel's Tips:
To save time, use a store-bought rotisserie chicken and shred it at home instead of baking your own. Season the shredded chicken as instructed in the recipe.
To fry, pour enough oil in a fry pan or pot to cover halfway up the sides of the taquitos. Heat the oil to 350°F and add the taquitos in carefully. Fry each side of the taquitos until golden brown, about 2 minutes per side. Transfer to a plate lined with paper towels. Be sure to fry them in batches so as not to crowd the pot. Serve immediately.
To freeze, first make sure baked taquitos are completely cooled. Place taquitos in a single layer on a baking sheet and freeze. When frozen, place taquitos in a freezer bag and keep in freezer until ready to eat. When ready to reheat, remove from freezer bag and bake in 400°F oven for 10 minutes or until hot and ready!
Nutrition Information
Serving: 2taquitos Calories: 380kcal (19%) Carbohydrates: 36g (12%) Protein: 23g (46%) Fat: 15g (23%) Saturated Fat: 5g (25%) Polyunsaturated Fat: 1g Monounsaturated Fat: 3g Cholesterol: 67mg (22%) Sodium: 927mg (39%) Potassium: 96mg (3%) Fiber: 6g (24%) Sugar: 8g (9%) Vitamin A: 800IU (16%) Vitamin C: 5.8mg (7%) Calcium: 80mg (8%) Iron: 1.6mg (9%)
This page contains affiliate links. If you make a purchase on Amazon after clicking one of my links, I may receive a small commission. The price of the item stays the same and any money I make goes to supporting this blog. I only endorse products and services that I fully believe in.