Jump to Recipe
A Cucumber Jalapeno Margarita made with refreshing cucumber sparkling water, fresh jalapeños and organic agave nectar because it's 5 o'clock somewhere!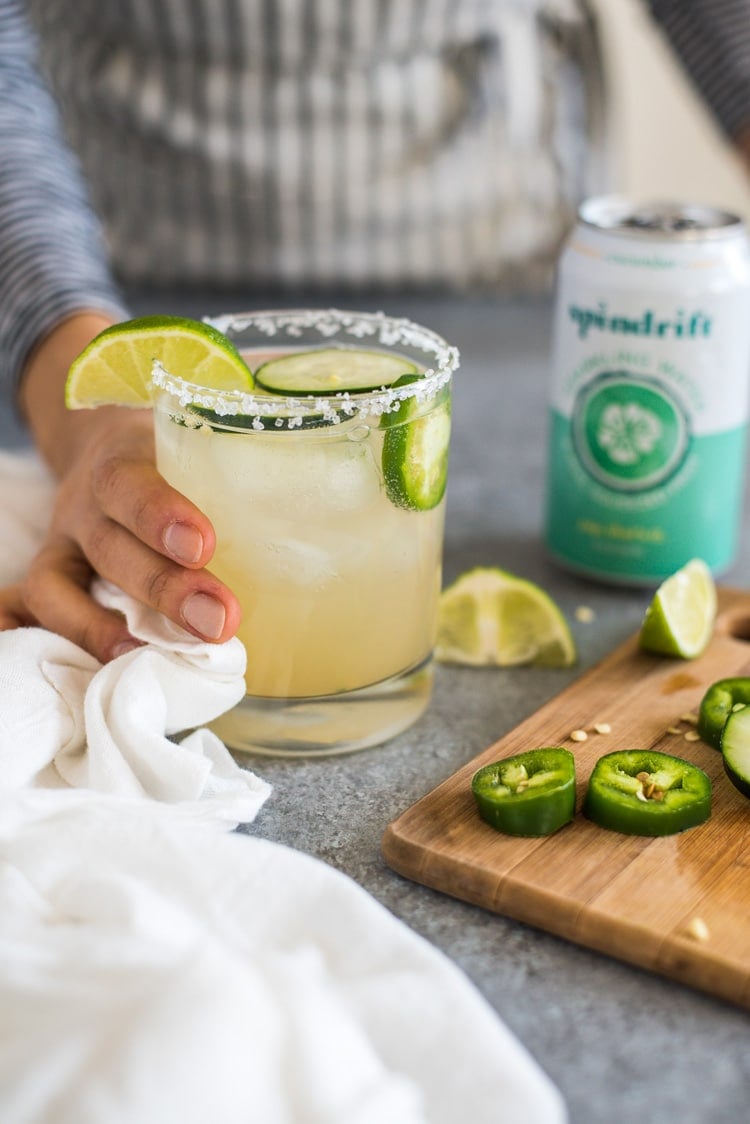 Let's take a trip to Margaritaville, shall we? Imagine lying on the beach under the shade of a huge umbrella. It's 85 degrees outside and you're completely and totally relaxed. You've got a great book in one hand and a cool and refreshing Cucumber Jalapeno Margarita in the other. Now that's the life.
Doesn't that sound absolutely amazing?
If only every day was like that. Meanwhile, as I write this in Pittsburgh, it's dreary, gray and rainy outside. At least it's not snowing. Scratch that. I don't want to jinx it.
But I'm not going to let that stop me. Just because it's not 85 degrees and sunny doesn't mean I can't be relaxed, read a book and enjoy myself a tasty little beverage.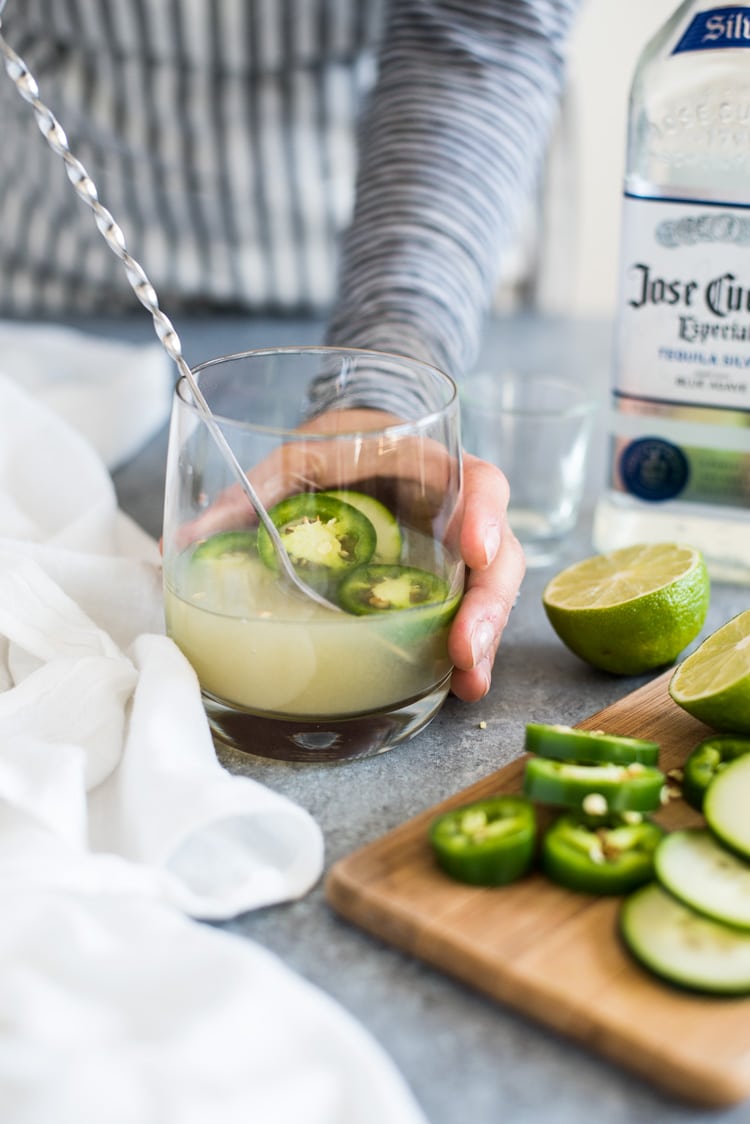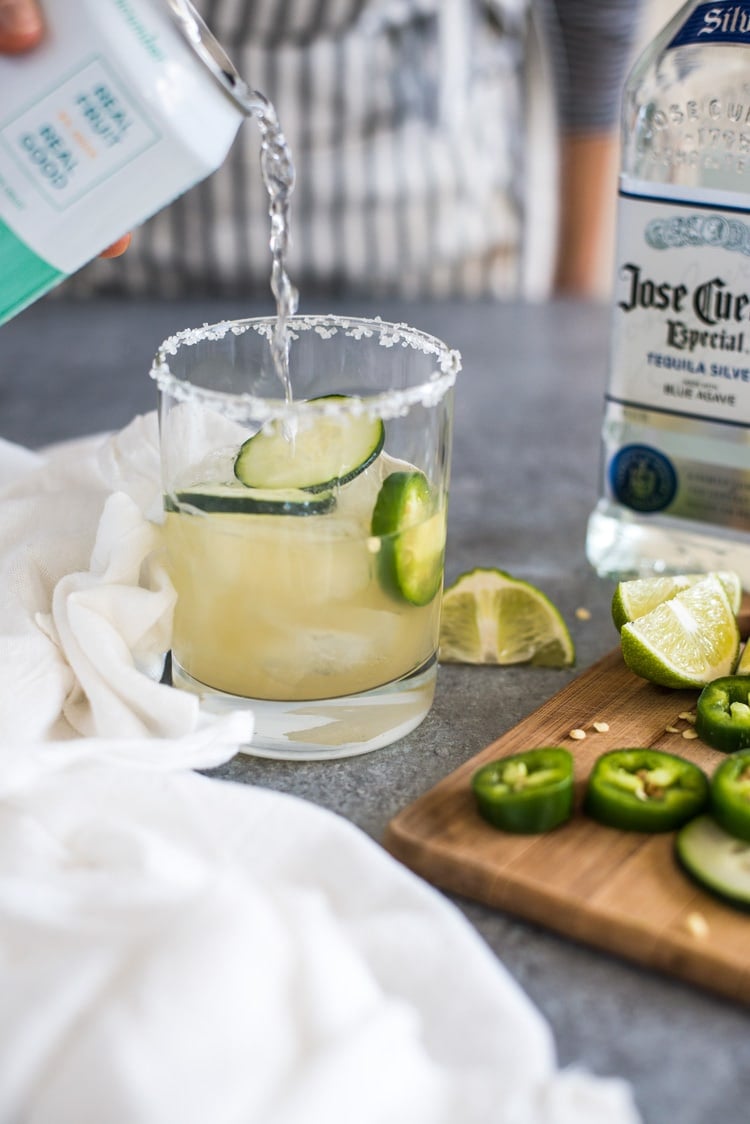 What's in this jalapeno margarita?
cucumbers
jalapeños
lime juice
silver tequila
agave nectar
triple sec
cucumber sparkling water
Which sparkling water is the best?
Now this is quite a bold statement I'm about to make, but I'm being totally honest here – Spindrift is the best-tasting brand of flavored sparkling water I've tried.
Hands. Freaking. Down.
They use real squeezed fruit as the only flavoring and I think that's what makes the drinks so damn tasty and refreshing. The cucumber sparkling water I used in this margarita tastes exactly like a cucumber. It's kind of mind-blowing actually. I highly recommend picking up a pack or two the next time you're grocery shopping. I purchased a variety pack at Costco a month or so ago, but I know they're also in Target and possible Trader Joe's. If you're not quite sure, here's a link to where you can find them near you.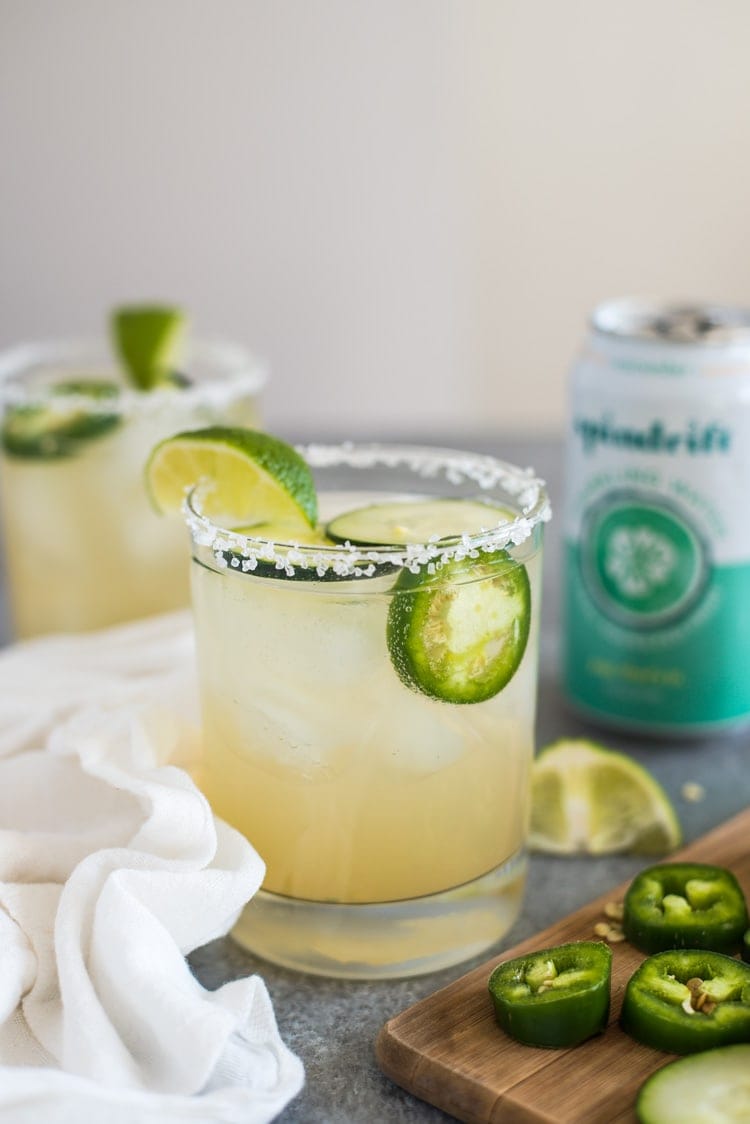 This drink makes me want to go to the beach so bad.
If only I knew how to swim. Now that's a story for another day. 🙂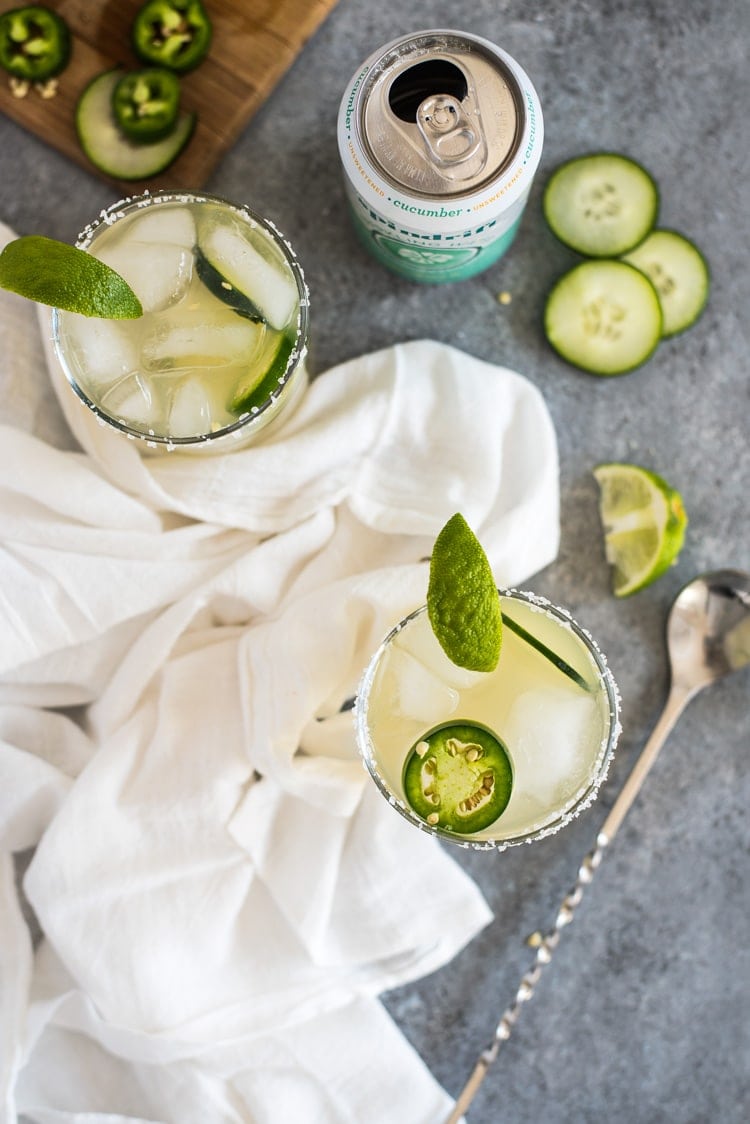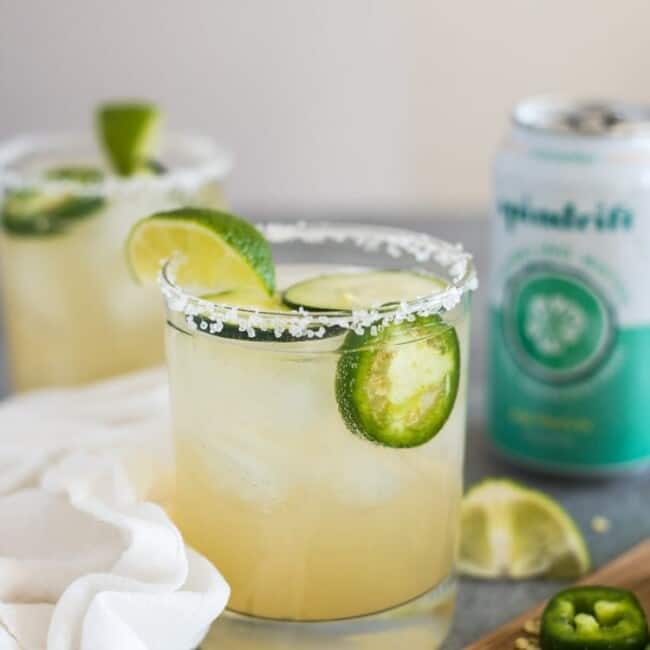 Prep: 15 minutes
Total : 15 minutes
A Cucumber Jalapeno Margarita made with refreshing cucumber sparkling water, fresh jalapeños and organic agave nectar because it's 5 o'clock somewhere!
Ingredients
3 ounces silver tequila (2 shots)
1.5 ounces freshly squeezed lime juice (1 shot)
1/2 large cucumber, sliced, plus more for garnish
1/2 jalapeño, sliced, plush more for garnish
1 tablespoon sea salt, for rimming glass
1 lime, cut into wedges
ice
2 tablespoons agave nectar or simple syrup
1.5 ounces triple sec
Instructions
In a cocktail shaker or tall glass, add tequila, lime juice, jalapeño slices and cucumber slices. Stir and slightly press the jalapeños and cucumbers with the back of a spoon to help extract some of the flavors. Cover and let it sit in the fridge for 10 minutes or longer, depending on how spicy you want it.

Pour the sea salt onto a small, shallow plate. Moisten the rim of two 8-ounce glasses with one of the lime quarters. Dip the moistened rims into the sea salt to coat with salt. Fill the cups with ice and set aside.

Fill the cocktail shaker with agave nectar and triple sec. Shake to mix.

Pour half the margarita into each of the salt-rimmed glasses and fill the rest of the glass with the cucumber sparkling water.

Garnish with the sliced jalapeños, cucumbers and a lime wedge. Taste and enjoy!
This page contains affiliate links. If you make a purchase on Amazon after clicking one of my links, I may receive a small commission. I only endorse products and services that I fully believe in. Thanks so much for your support!