Jump to Recipe
This Mexican Omelet is a quick and easy breakfast packed with beans, peppers, corn, tomatoes, and onions, then topped with chunky salsa, sour cream, and avocado.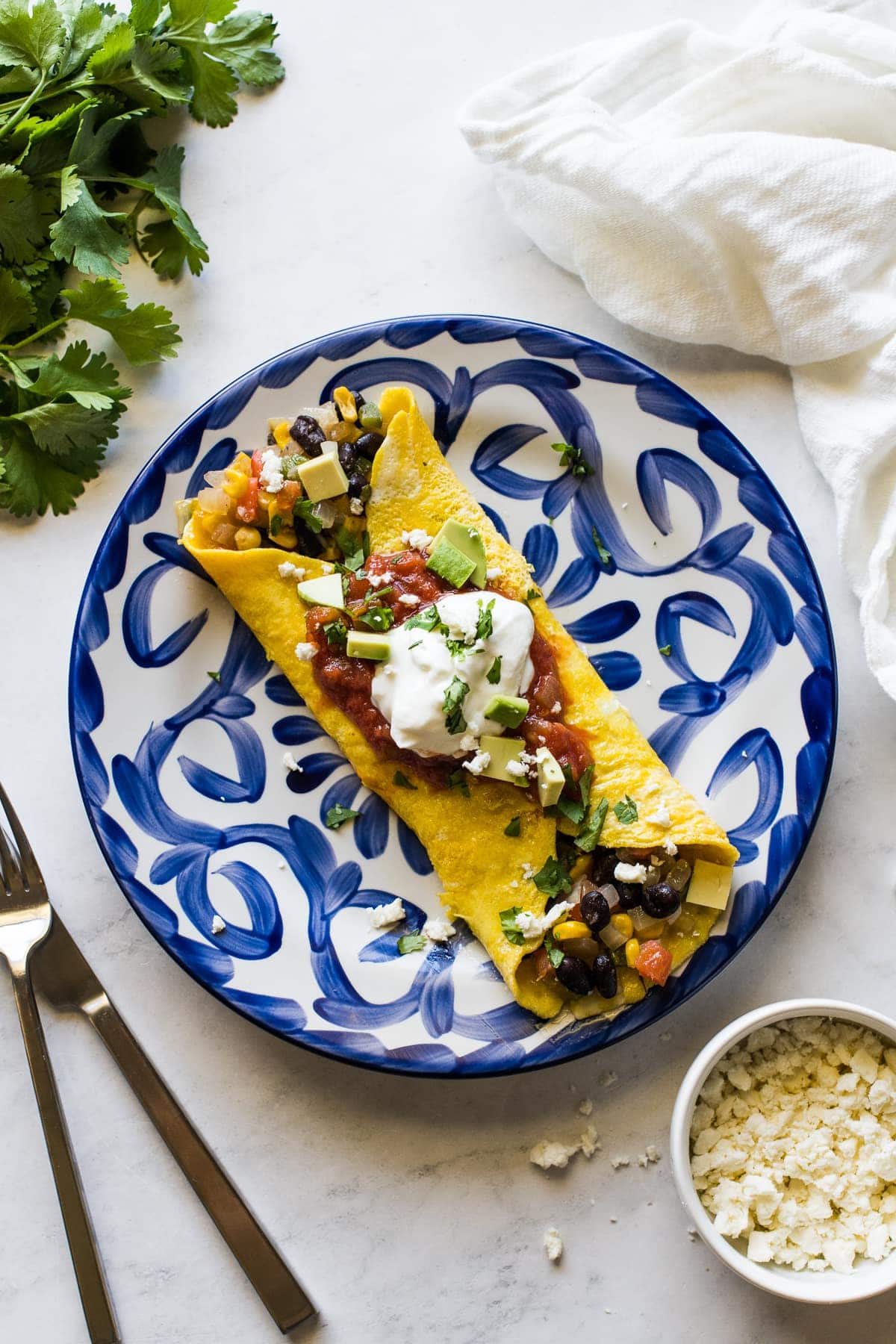 I absolutely love having eggs in the morning. Whether they're baked into avocados, in a breakfast hash, or scrambled with chorizo, they always keep me full and happy. One of my favorite breakfasts is this easy and loaded Mexican Omelet!
It may look look a little simple, but trust me when I say this omelet is super satisfying and full of flavor in every bite.
It's stuffed with black beans, corn, tomatoes, peppers, and onions to make it extra filling. After it's topped with sour cream (or Mexican crema), chunky salsa, avocado, and cilantro, there's no doubt that this recipe will become a go-to.
What is a Mexican omelet?
Unlike a traditional Western omelet, this Mexican omelet recipe cooks the vegetable and bean filling separately from the eggs. Topped with salsa, cheese, avocado, and cilantro, each bite has a mild heat and plenty of zest. Mexican omelets are just as flexible as the classic, so feel free to add as much or as little to it as you like!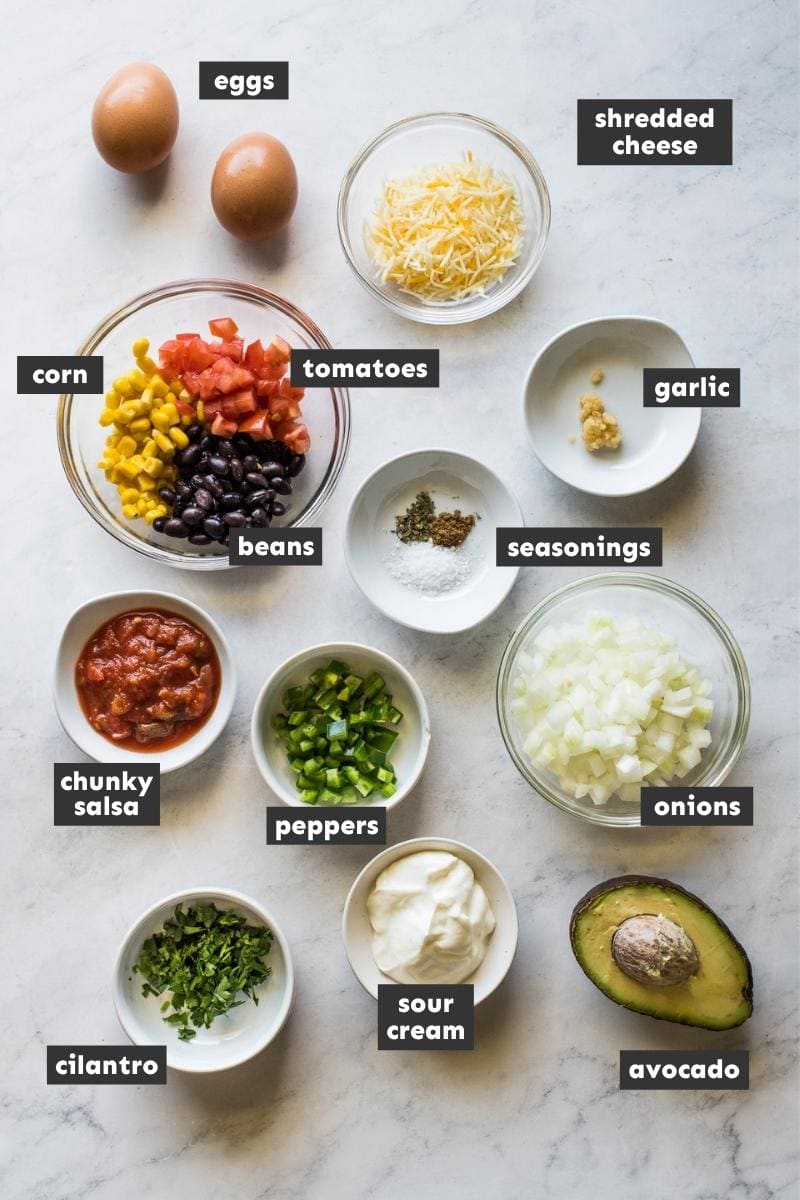 Mexican omelet ingredients
Eggs – Scrambled eggs poured into a hot skillet are cooked in an even layer to make up the base of this dish. Just like a pancake, the flat circle of eggs is filled with as many delicious Mexican fillings as you can fit. Feel free to use more eggs if you're serving a crowd.
Jalapeno – For a layer of heat in the filling. If you'd like it even spicier, swap the jalapenos for serrano chiles.
Mexican fillings – A mix of sauteed corn, beans, onions, and tomatoes are placed in the middle of the eggs just like a little "burrito."
Seasonings – Mexican oregano and cumin are used to flavor this breakfast. Regular oregano works in place of Mexican oregano, but I highly suggest you try to find some as it has a citrusy, more dynamic flavor!
Cheese – For traditional flavors, use a Mexican blend of shredded cheeses in the omelet like Oaxaca and Monterey Jack. If you can't find Mexican blend cheese, use Monterey Jack, cheddar, or mozzarella instead.
Toppings – I like to top my Mexican omelet with sour cream or Mexican crema, salsa, avocados, and cilantro.
How to make a Mexican omelet
Cook the onions, jalapeno, and garlic in a skillet over medium heat until softened.
Add the corn and black beans along with the seasonings. Saute for a few minutes to combine the flavors. Transfer the filling to a bowl, then wipe the skillet clean with a paper towel.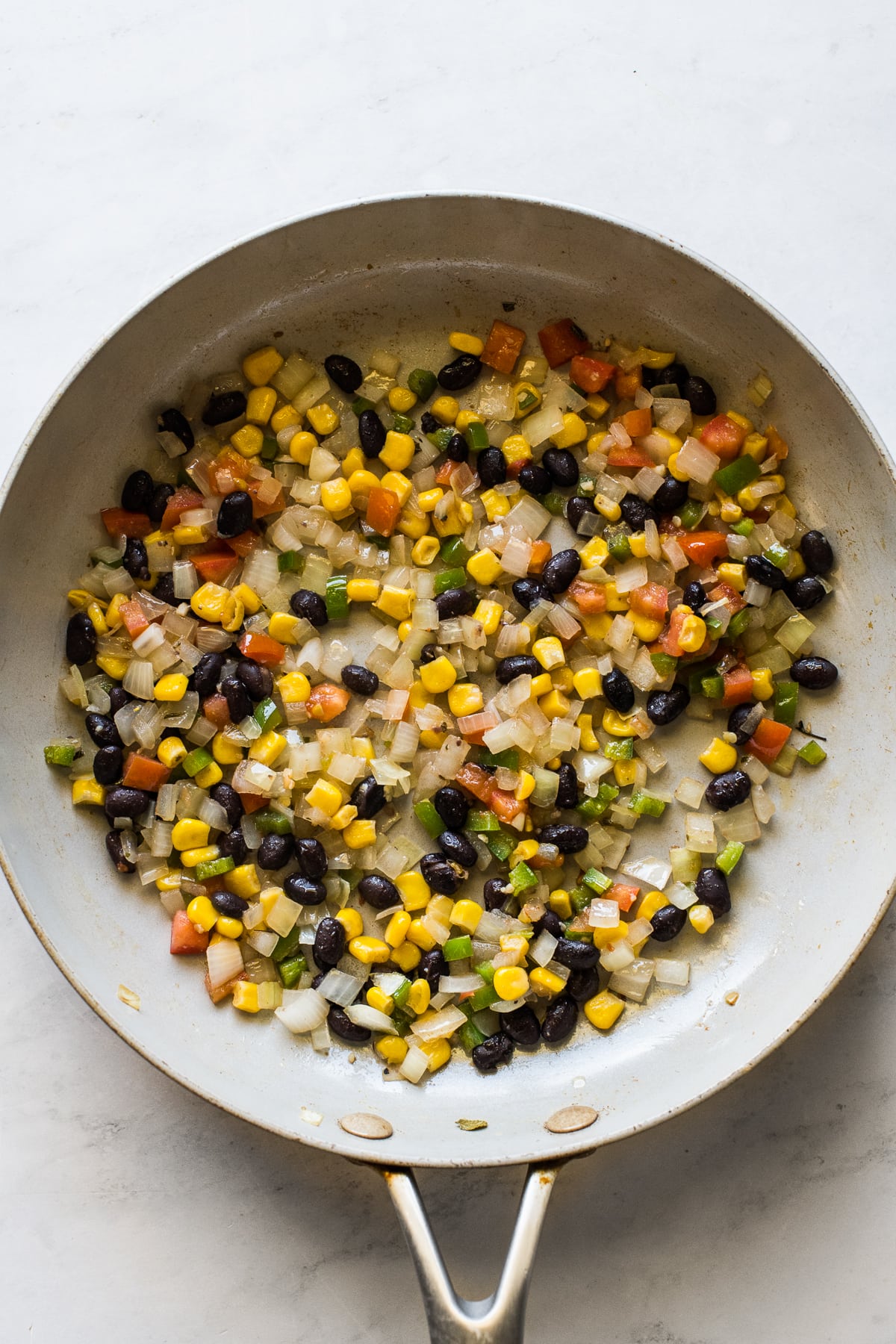 Add the scrambled eggs with a pinch of salt to the skillet. Let them cook for a few minutes until the eggs are set.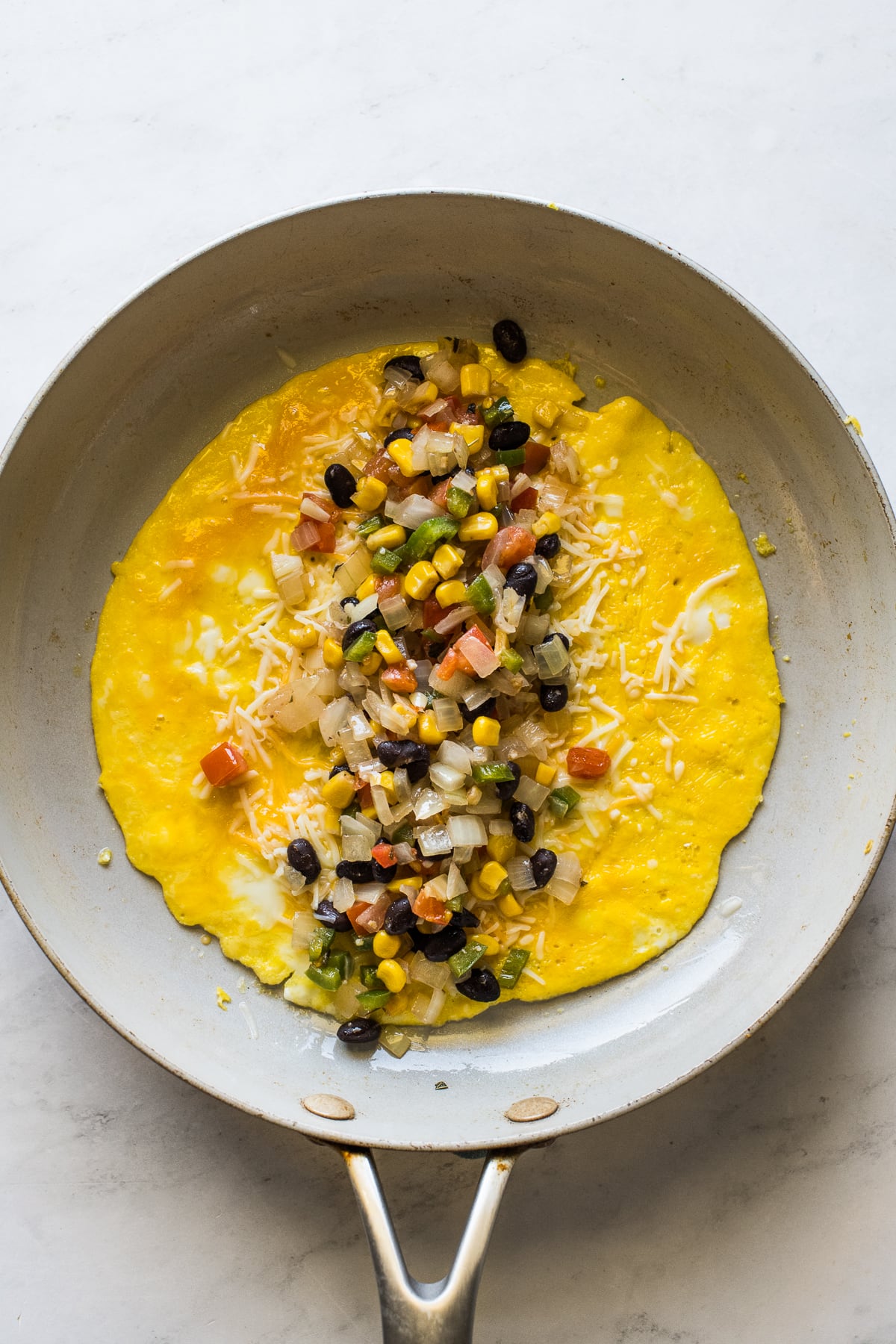 Place the shredded cheese and vegetable filling in the middle of the eggs. Fold one side of the omelette over the other, add any of your desired toppings, then serve.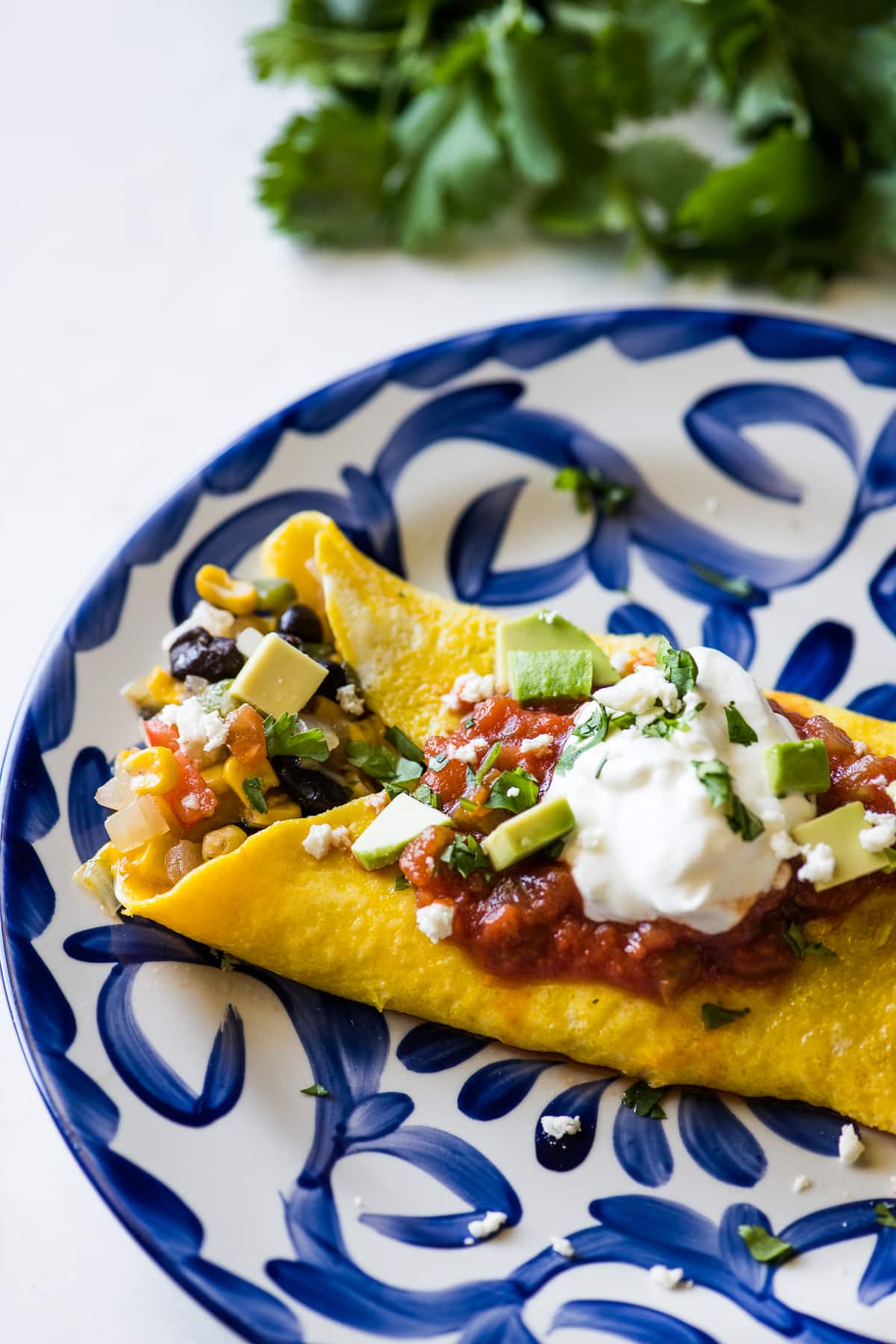 Tips and substitutions
For a fluffy omelet, whisk your scrambled eggs with a dash of heavy cream or milk.
Use medium heat to cook your eggs. A high temperature can cause the eggs to get rubbery.
Prepare your filling first. This way, the eggs won't overcook and you don't have to do too many things at once.
Use a rubber spatula to prevent the eggs from breaking when folding the omelet.
Other add-ins and toppings
This recipe is super versatile. Feel free to fill and top your Mexican omelet with as many other ingredients as you like! Here are some suggestions:
Chop up some extra veggies, like mushrooms, peppers, zucchini, or pinto beans.
Add meat like Mexican chorizo or bacon.
Top with your favorite hot sauce, guacamole, or salsa verde.
Prep: 10 minutes
Cook: 10 minutes
Total : 20 minutes
A quick and easy Mexican omelet packed with beans, peppers, corn, tomatoes, and onions, then topped with salsa, sour cream, and avocado.
Ingredients
1 1/2 tablespoons olive oil, divided
1/2 small yellow onion, diced
1/2 jalapeno pepper, diced (seeds removed if you don't want it spicy)
1 clove garlic, minced
1/4 cup yellow corn
1/4 cup black beans
1/2 Roma tomato, diced
1/8 teaspoon dried Mexican oregano,
1/8 teaspoon ground cumin
kosher salt, to taste
2 large eggs, whisked
1/4 cup shredded Mexican-blend cheese
2 tablespoons sour cream or Mexican crema
2 tablespoons chunky salsa
1/4 avocado diced or sliced, for serving
chopped cilantro for serving
Instructions
Heat 1 tablespoon of olive oil in a large nonstick skillet over medium heat. Add onions, jalapeno, and garlic. Cook for 3 minutes, stirring occasionally, until onions begin to soften.

Add corn, black beans, tomatoes, oregano, cumin, and a pinch of salt. Cook for 3 more minutes, stirring occasionally.

Transfer filling to a medium bowl, cover, and set aside. Wipe down the skillet with a paper towel to clean.

Heat the remaining 1/2 tablespoon of olive oil in the over medium heat. Pour in the whisked eggs, season with a pinch of salt, and cook for 2-3 minutes until the eggs have just set. Remove from heat.

Add the shredded cheese and the corn and bean filling mixture to the middle of the cooked eggs.

Carefully fold the omelet over on both sides using a spatula, transfer it to a plate, and top with sour cream, chunky salsa, avocado, and cilantro. Serve immediately.
Isabel's Tips:
Want it extra spicy? Use serrano peppers instead of jalapenos.
Don't have Mexican oregano? You can use regular oregano insead. I highly recommend you try to buy some Mexican oregano for next time as it has a different flavor than the typical oregano you can find in most stores!
Don't have shredded Mexican-blend cheese? You can use Monterey Jack, cheddar, or mozzarella.
Nutrition Information
Serving: 1omelet Calories: 646kcal (32%) Carbohydrates: 28g (9%) Protein: 26g (52%) Fat: 49g (75%) Saturated Fat: 14g (70%) Polyunsaturated Fat: 6g Monounsaturated Fat: 27g Trans Fat: 1g Cholesterol: 407mg (136%) Sodium: 814mg (34%) Potassium: 885mg (25%) Fiber: 8g (32%) Sugar: 5g (6%) Vitamin A: 1374IU (27%) Vitamin C: 24mg (29%) Calcium: 330mg (33%) Iron: 4mg (22%)