Jump to Recipe
These gluten free chicken meatballs are baked, covered in a red enchilada sauce and topped with cilantro, onions and cotija cheese for a fun spin on classic enchiladas!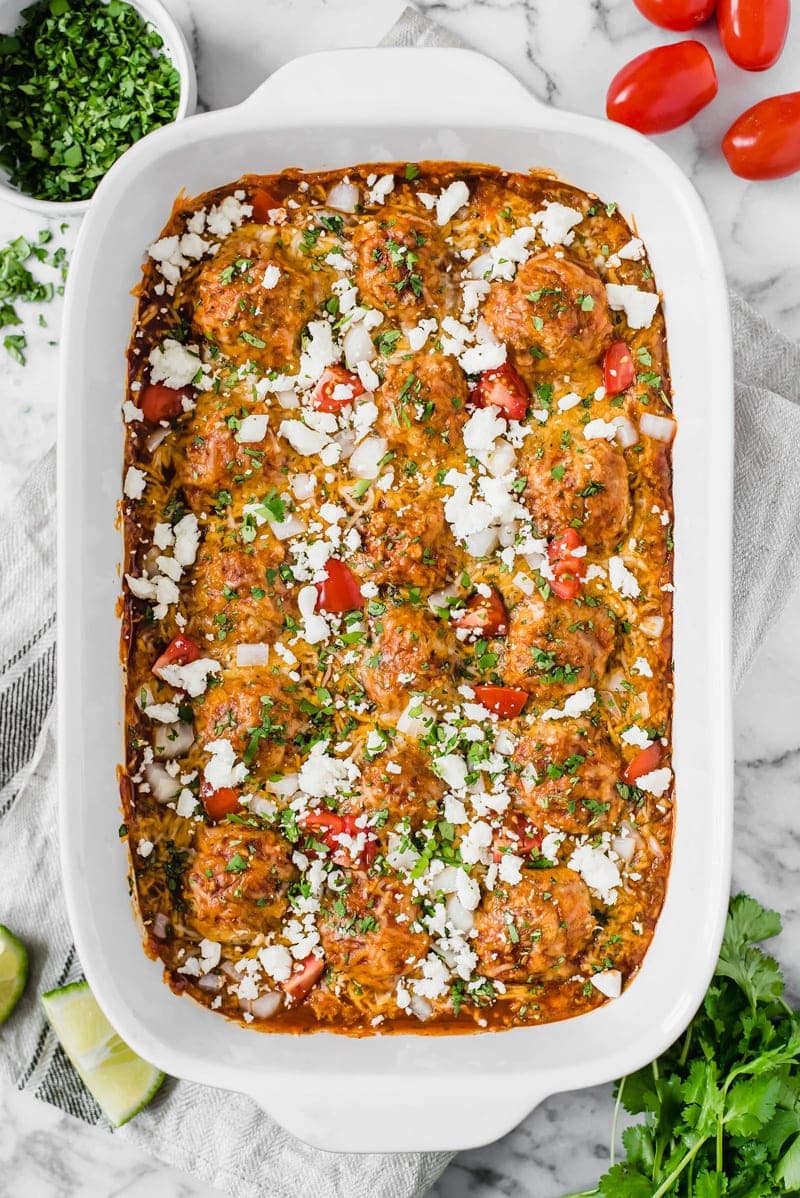 Gluten free chicken meatballs covered in enchilada sauce and topped with all my favorite things? Yumm!
I've really outdone myself this time. Not because I've come up with another recipe incorporating red enchilada sauce (I'm clearly obsessed), but because the actual chicken meatballs are delicious!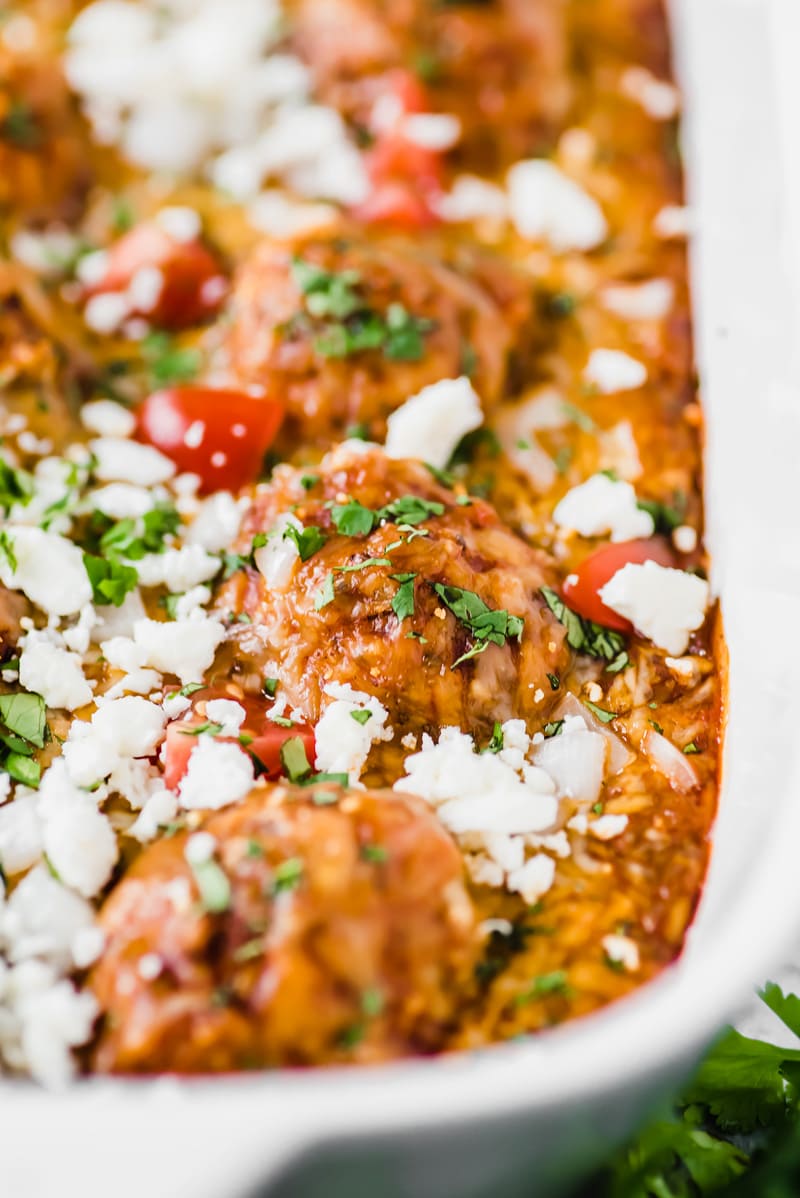 If you've ever made chicken or turkey meatballs, you know that getting them just right can be a challenge. The mixture has a tendency to be either too wet and hard to form into a ball, or too dry because of all the breadcrumbs and fillers you have to put in to get them to stick together. Well friends, I found an ingredient that's healthy, low in carbs and helps the meatballs stay firm yet juicy.
Want to know what the secret ingredient is?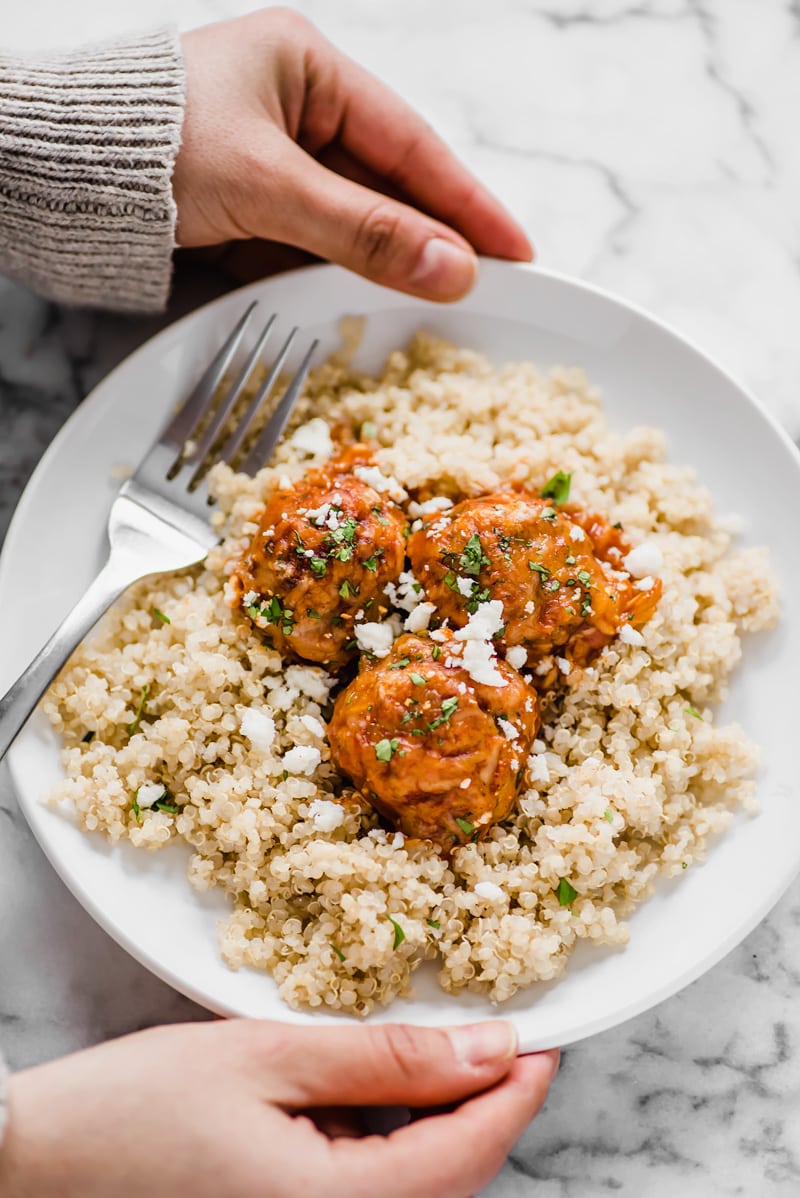 It's chia seeds!
One tablespoon of chia seeds in the chicken meatball mixture seriously works wonders. Because chia seeds can absorb up to 10 times their weight in water, they help soak up the excess moisture and firm up the meatballs.
Plus you get all the added benefits of chia seeds – they're full of fiber, healthy omega-3 fats, antioxidants and they're gluten free.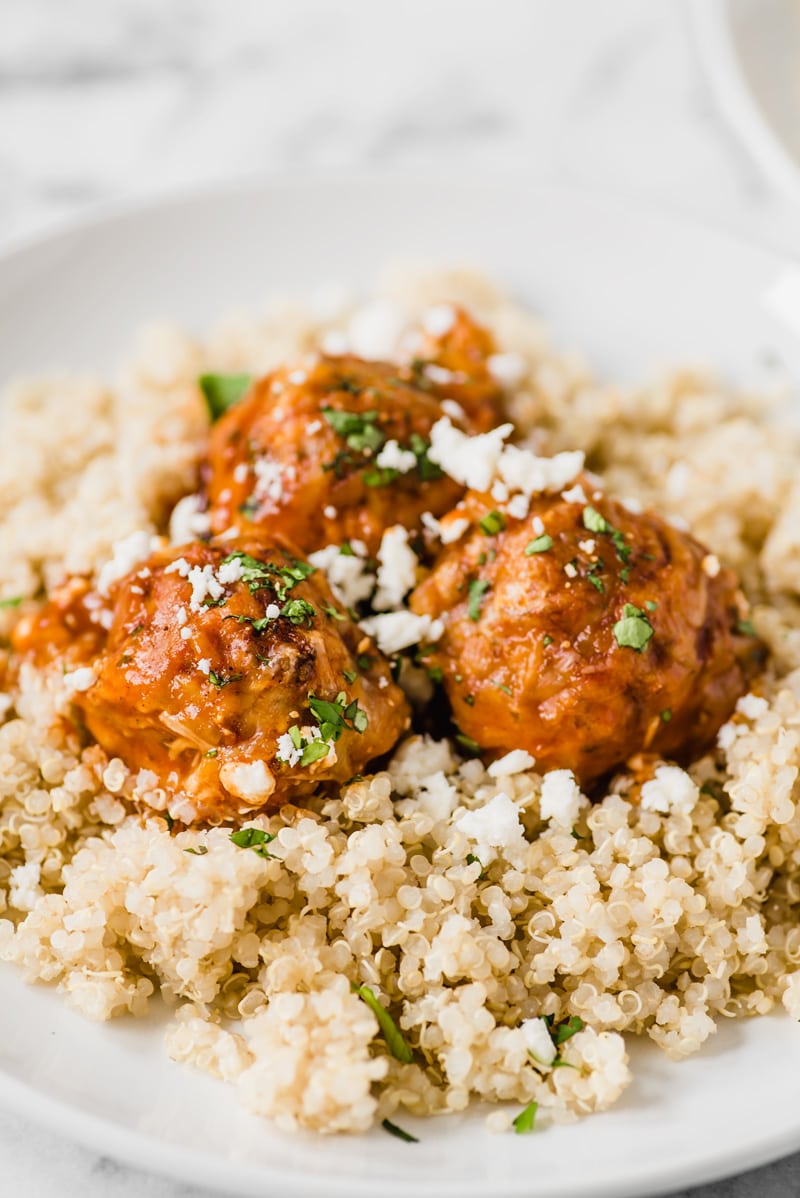 I served them with a some plain quinoa and garnished everything with a sprinkle of cotija cheese, cilantro, and diced onions.
Some rice and beans on the side would also work, or some green veggies like asparagus, green beans and broccoli would be great if you're trying to stay low carb.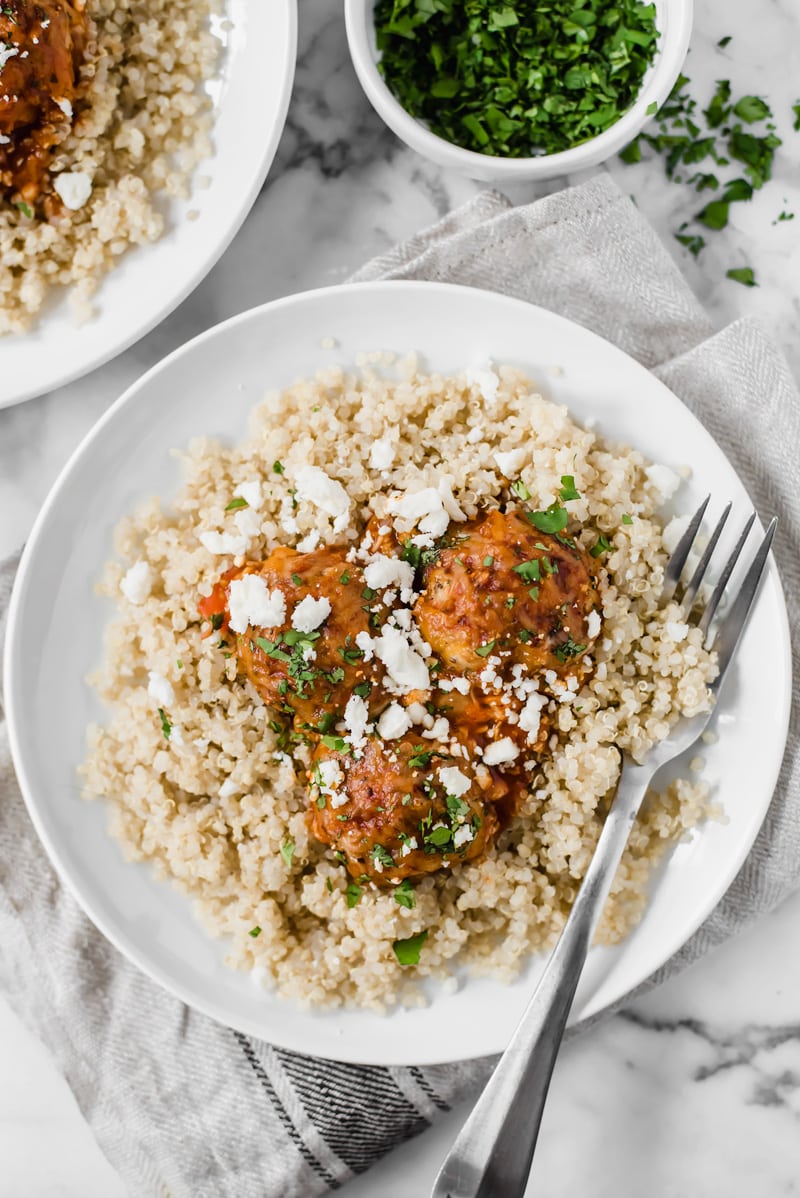 Looking for more recipes made with enchilada sauce? Try these!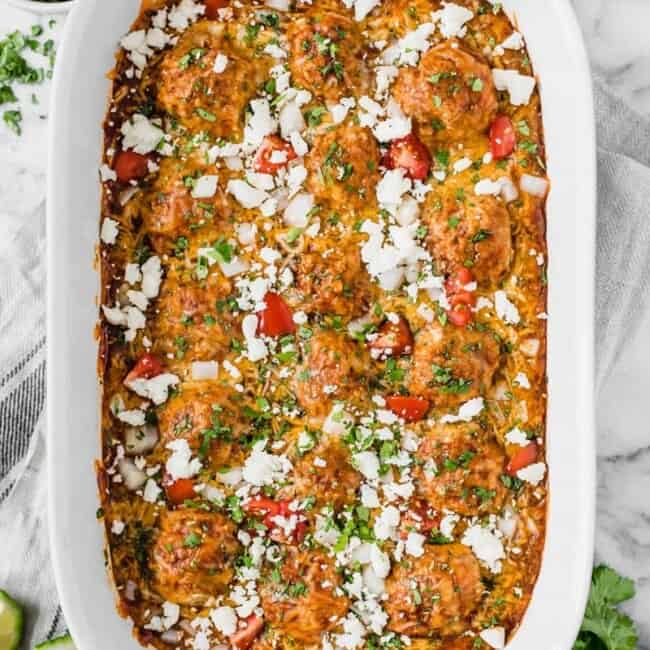 Prep: 15 minutes
Cook: 25 minutes
Total : 40 minutes
These gluten free chicken meatballs are baked, covered in a red enchilada sauce and topped with cilantro, onions and cotija cheese for a new spin on the classic enchiladas!
Ingredients
1 pound ground chicken
1 large egg
1/4 cup old fashioned oats, lightly pulsed in a blender
1 tablespoon chia seeds
1 teaspoon chili powder
1/2 teaspoon salt
1/2 teaspoon ground cumin
1/2 teaspoon garlic powder
1/2 teaspoon onion powder
2 cups red enchilada sauce, divided (or 2 10-ounce cans of store bought enchilada sauce)
1 cup Colby and Monterey Jack shredded cheese
optional toppings: cilantro, onion, tomatoes, sour cream or plain Greek yogurt
Instructions
Preheat oven to 375 degrees F. Line a large baking sheet with parchment paper and set aside.

In a large bowl, add the ground chicken, egg, oats, chia seeds, chili powder, salt, cumin, garlic powder and onion powder. Mix together with your hands and roll into 16 meatballs.

Place the meatballs on the baking sheet and bake in oven for 15 minutes. Remove from oven.

In a 3 quart baking dish, pour 1 cup of enchilada sauce. Place the meatballs in the dish and pour the rest of the enchilada sauce on top.

Cover the meatballs with shredded cheese and bake for another 10 minutes or until the cheese is melted and bubbly.

Remove from oven and garnish with toppings such as cilantro, onions, tomatoes, cotija cheese and more!
Nutrition Information
Serving: 4meatballs with sauce Calories: 377kcal (19%) Carbohydrates: 12g (4%) Protein: 30g (60%) Fat: 23g (35%) Saturated Fat: 9g (45%) Polyunsaturated Fat: 1g Monounsaturated Fat: 1g Cholesterol: 157mg (52%) Potassium: 310mg (9%) Fiber: 4g (16%) Sugar: 4g (4%) Vitamin A: 2150IU (43%) Calcium: 250mg (25%) Iron: 3.2mg (18%)