Jump to Recipe
This grilled romaine salad features charred romaine lettuce hearts and sweet corn, blistered grape tomatoes, and hearty toppings like bacon bits, cotija cheese and hard boiled eggs. Served with a creamy jalapeno ranch dressing, this salad pairs well with shredded chicken or shredded beef!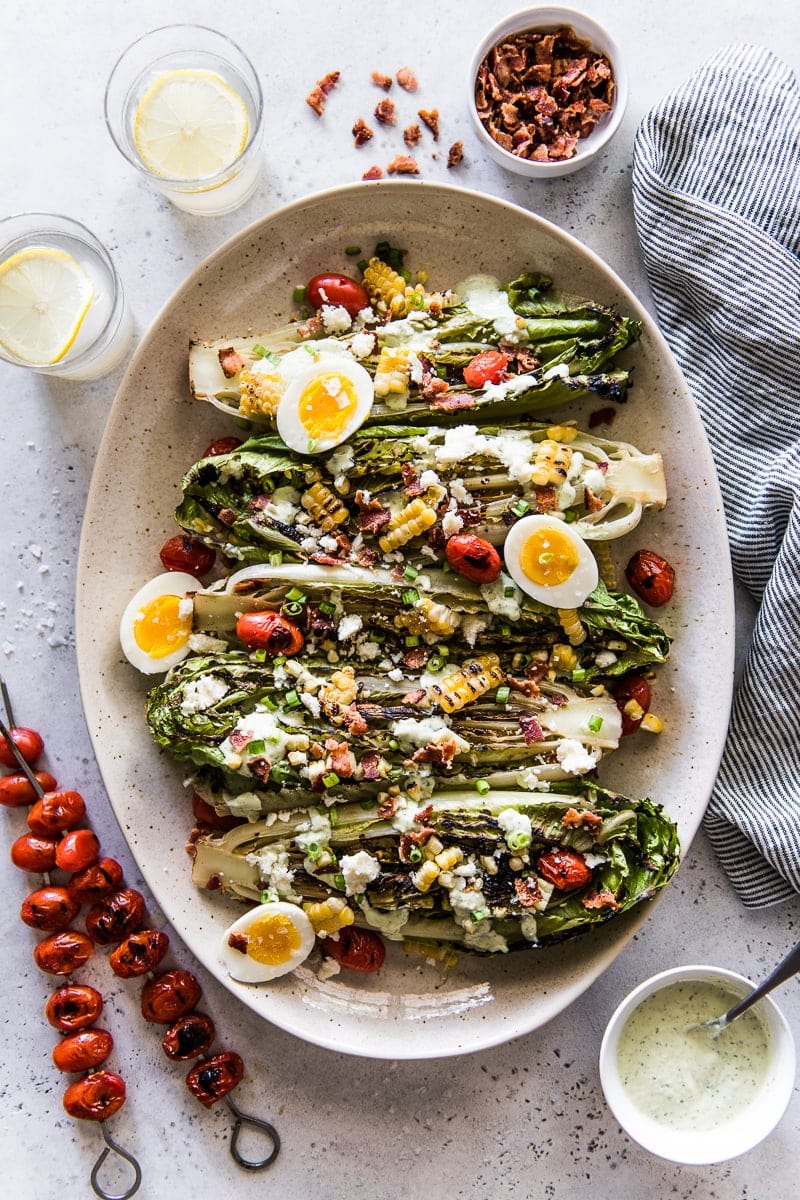 Today's grilled romaine salad recipe is sponsored by my friends at Char-Griller. All opinions expressed are my own. Thank you so much for supporting the brands that make Isabel Eats possible!
I've got to shout it from the rooftops – grilled lettuce is actually a thing and it's delicious!
Before making this grilled romaine salad recipe, I had never grilled lettuce before in my life. I knew that it could be done, but I wasn't sure if it was really worth the effort. Today I'm here to tell you that it's worth every single second and more.
Not only is the actual process of grilling lettuce super duper quick (like 3 minutes quick), but the end result is a warm and tender yet crisp and crunchy bite of romaine that has a smoky and charred flavor infused throughout.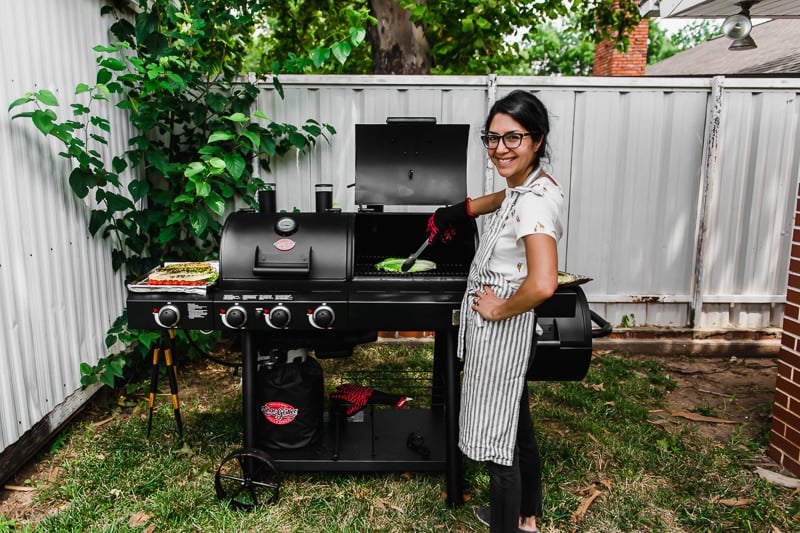 How to grill lettuce
To start, we're going to need some romaine hearts. Romaine hearts are perfect for grilling because they hold together beautifully when sliced in half lengthwise and gives us a nice flat surface to lay on the grill grates.
Spray or brush the cut side of the romaine with some cooking oil.
Grill the lettuce cut side down over direct medium-high heat for about 3 minutes. You want to get the lettuce a little charred, but be careful not to get it overly wilted. Just keep an eye on it and if you notice it getting a little limp, pull it off the grill.
That's pretty much all there is to it! I prefer to grill only the cut side because I've found that grilling both sides results in a soggier lettuce, which is not my favorite.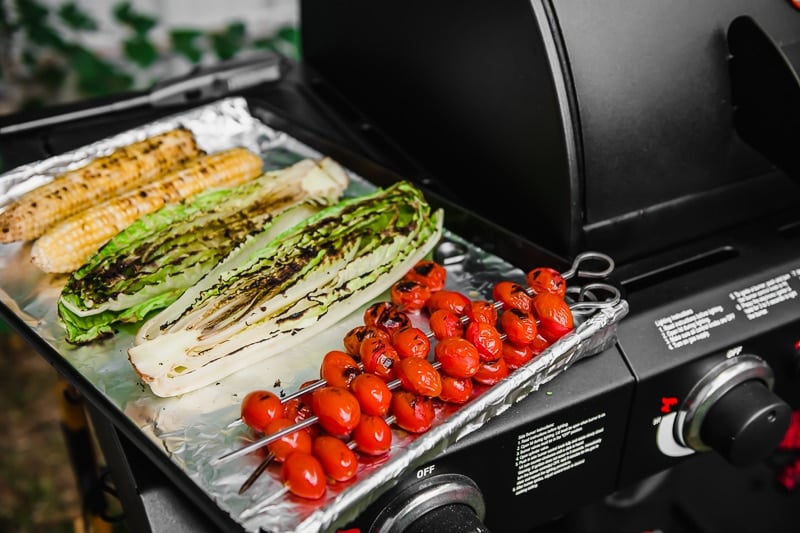 Grilled Romaine Salad with all the Fixings!
Though the star of this salad is definitely the grilled romaine, it wouldn't be complete without all the fixings! I'm a big fan of loaded salads and this one has all of my favorites:
crumbled bacon
blistered grape tomatoes
grilled corn
hardboiled eggs
homemade jalapeno ranch dressing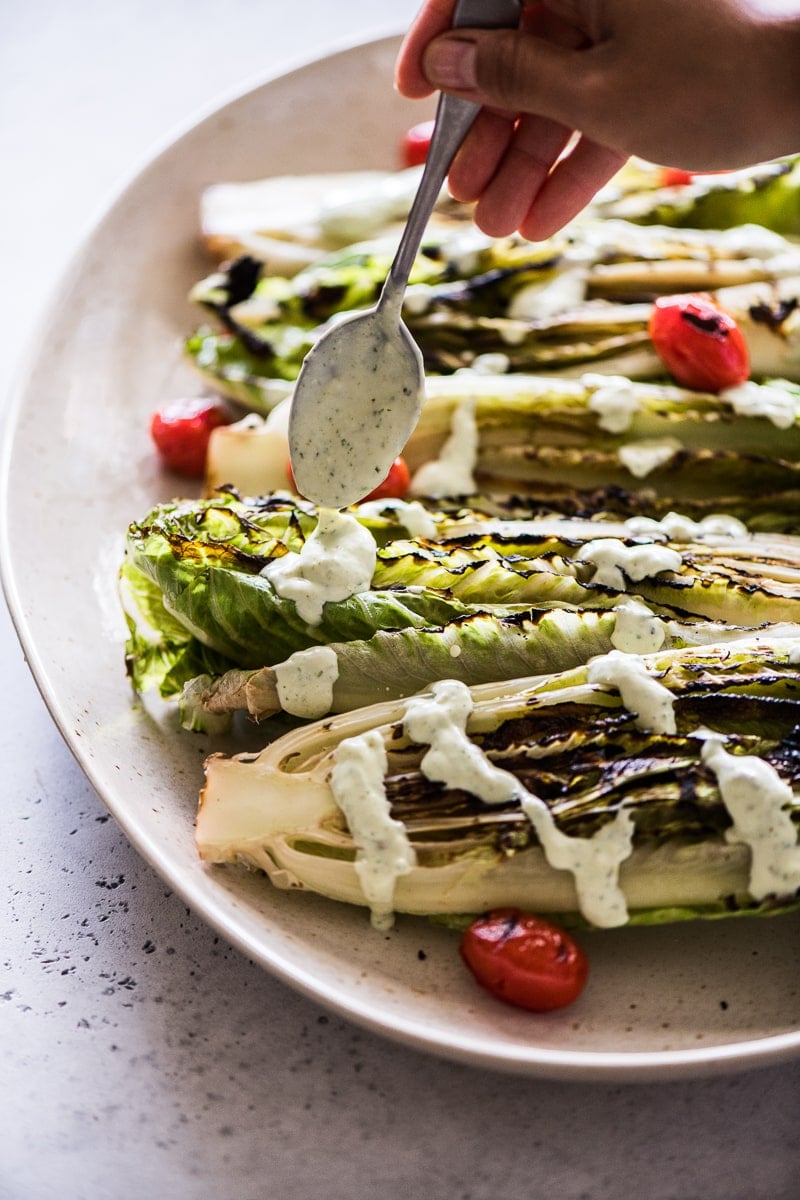 Gas or Charcoal?
I love grilling romaine over charcoal because of that extra rich smoky flavor that charcoal imparts on food. The lettuce absorbs all that flavor like a sponge and it completely transforms its flavor.
If you don't have a charcoal grill, a gas grill will work just fine. But if you do have the option of using a charcoal grill, I highly recommend it!
(In case you've never used a charcoal grill before, here's a step-by-step guide on how to start a charcoal grill the easy way.)
I was able to do all the cooking and grilling on my Char-Griller Texas Trio Gas & Charcoal Grill because of the handy dandy side gas burner that's perfect for dishes that have multiple components like this one.
I cooked the bacon and the hardboiled eggs on the side burner without having to go in and out of the house multiple times and it was oh-so glorious.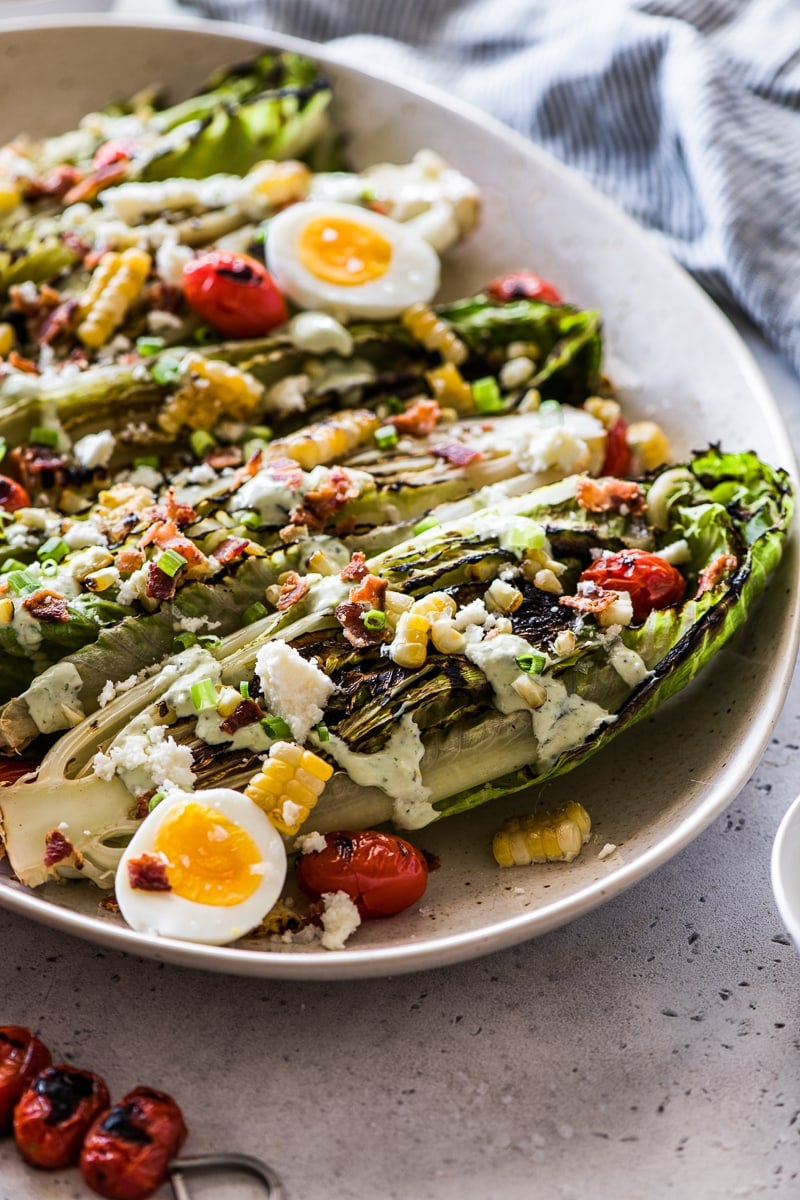 Once all the components are grilled, it's time to put everything together! You can either serve the grilled romaine halves as is and top with all the fixings, or you can chop them up and toss them in a bowl with everything.
Serving Suggestions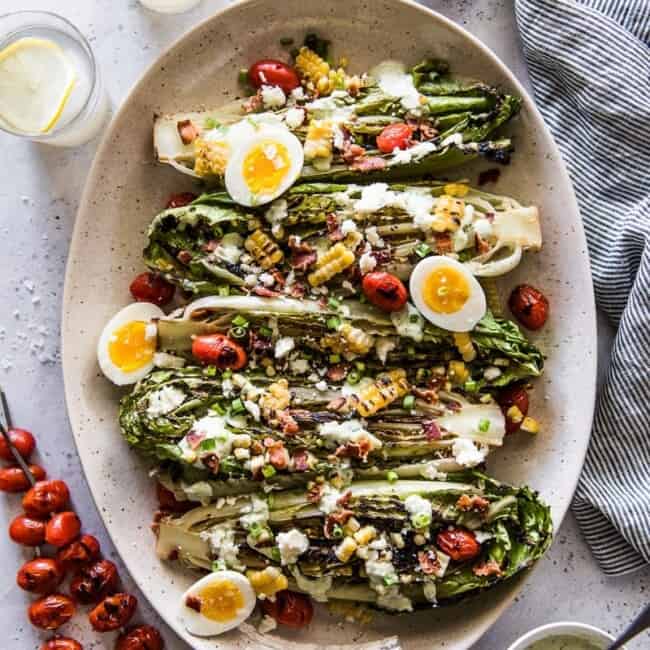 Prep: 30 minutes
Cook: 20 minutes
Total : 50 minutes
A grilled romaine salad made from romaine lettuce hearts, corn, tomatoes, bacon, cotija cheese and hard boiled eggs. Serve with jalapeno ranch.
Ingredients
For the salad
6 strips bacon
10.5 ounces grape tomatoes (about 36 grape tomatoes)
2 ears sweet corn, schucked
3 romaine hearts, halved lengthwise
olive oil or nonstick cooking spray, for greasing
1 cup crumbled cotija cheese
4 hard boiled eggs, halved
flaky sea salt, for finishing
freshly ground black pepper for finishing
For the dressing (makes 1 cup)
6 tablespoons mayonnaise
6 tablespoons milk
1/4 cup sour cream
1/4 cup cilantro
2 tablespoons lime juice
1 tablespoon chopped chives, plus more for garnish
1/4 teaspoon dried parsley
1/4 teaspoon onion powder
1/4 teaspoon kosher salt
1/4 teaspoon freshly ground black pepper
1 clove garlic
4 slices pickled jalapeños (I used mild)
Instructions
For the salad
Cook the bacon: Place bacon strips in a cold large nonstick skillet. Turn the heat to medium and cook for 8-12 minutes, turning occasionally, until brown and crispy. Transfer to a large plate covered in paper towels and set aside to cool.

Preheat grill to medium-high heat (about 400°F-450°F) for direct-heat grilling.(For gas grilling, simply light all the burners on high, close the lid and let the grill heat up for 5-10 minutes. For charcoal grilling, the process is a bit more involved. Here's a super-quick read showing you step-by-step how to start a charcoal grill.)

Skewer the tomatoes: While the grill is heating up, thread the grape tomatoes onto 4 large metal skewers. (If using wooden skewers, be sure to soak the skewers in water for 20 minutes beforehand so they don't burn on the grill.)

Prepare the remaining ingredients: Brush or spray the ears of corn, grape tomatoes and the inside of the romaine lettuce halves with olive oil or cooking spray.

Grill the corn: Grill the ears of corn with the lid closed for 10-15 minutes, turning occasionally, until corn is caramelized and dark brown spots appear on the kernels. Transfer to a large plate or baking sheet and set aside.

Grill the tomatoes and lettuce: Grill the tomatoes and lettuce cut-side down with the lid open for about 3 minutes. Turn the tomatoes occasionally and remove when charred and blistered. Remove the lettuce when the cut-side is slightly charred. Be careful not to grill too much or the lettuce will wilt. Transfer to a large plate or baking sheet and set aside.

Cut the corn and crumble bacon: Cut the grilled corn off the cob and crumble the cooled bacon.

Serve: Place grilled lettuce cut-side up on a large serving platter (or chop the lettuce into bite-sized pieces) and season with salt and pepper. Drizzle with creamy jalapeno ranch dressing and top with grilled corn kernels, grilled grape tomatoes, crumbled bacon, cotija cheese and hardboiled eggs.
For the dressing
Add all ingredients to a blender or food processor and blend until smooth.
Nutrition Information
Serving: 1serving with dressing Calories: 430kcal (22%) Carbohydrates: 22g (7%) Protein: 25g (50%) Fat: 28g (43%) Saturated Fat: 14g (70%) Polyunsaturated Fat: 3g Monounsaturated Fat: 2g Trans Fat: 0g Cholesterol: 177mg (59%) Sodium: 1330mg (55%) Potassium: 529mg (15%) Fiber: 3g (12%) Sugar: 9g (10%) Vitamin A: 40IU (1%) Vitamin C: 39mg (47%) Calcium: 8mg (1%) Iron: 8mg (44%)
More salad recipes