Jump to Recipe
This Mexican Chickpea Salad recipe is fresh, easy to make and packed with healthy ingredients. Ready in only 15 minutes! (gluten free, vegetarian, vegan)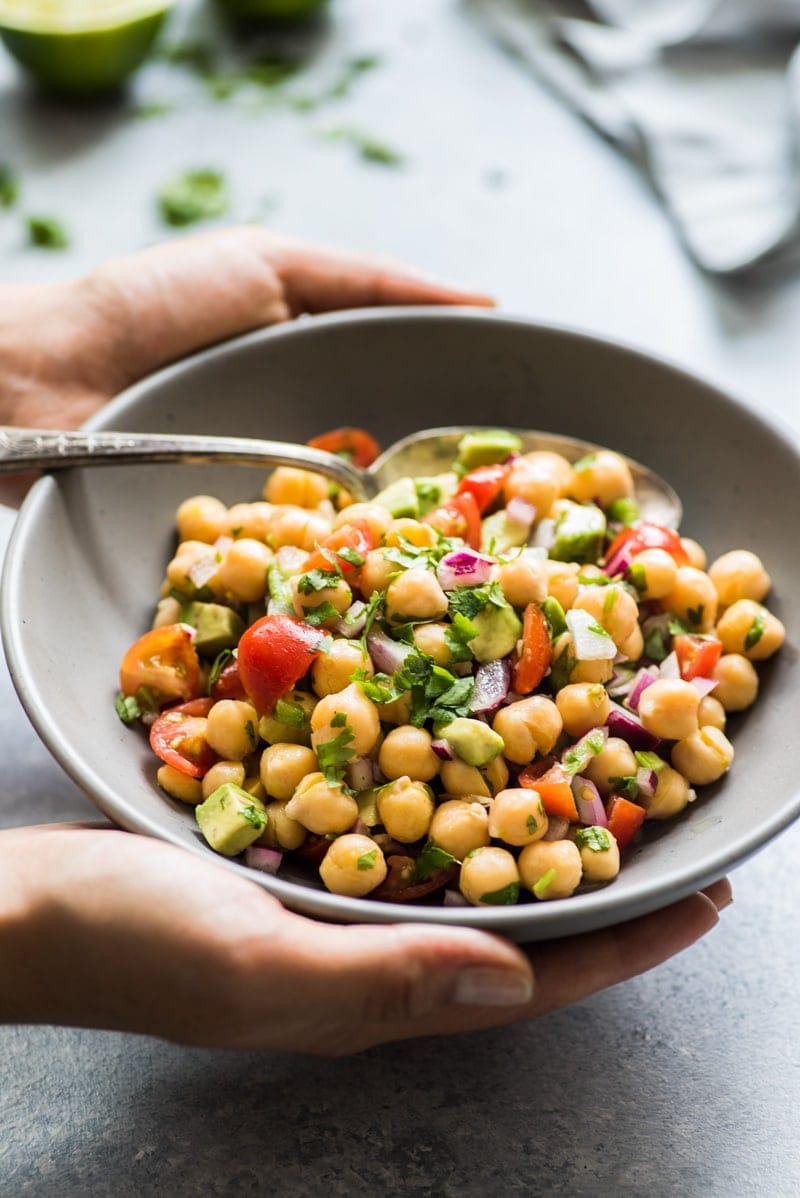 Hello healthy, fresh and delicious chickpea salad!
This is the side dish you've been waiting for. Whether you're looking for a simple side to pair with dinner tonight or you're going to a potluck/get-together/fun party this weekend, this chickpea salad recipe is the perfect dish to bring along.
Here's why.
it only takes 15 minutes to make
it's gluten free, dairy free, vegetarian and vegan
it's DEEELICIOUS
it's pretty damn healthy
it requires no cooking if you use canned chickpeas
I know there's got to be at least one or two things in that list that speak to you. Or if you're like me, all of them speak to you. Especially number 1 and 5. Those are clutch.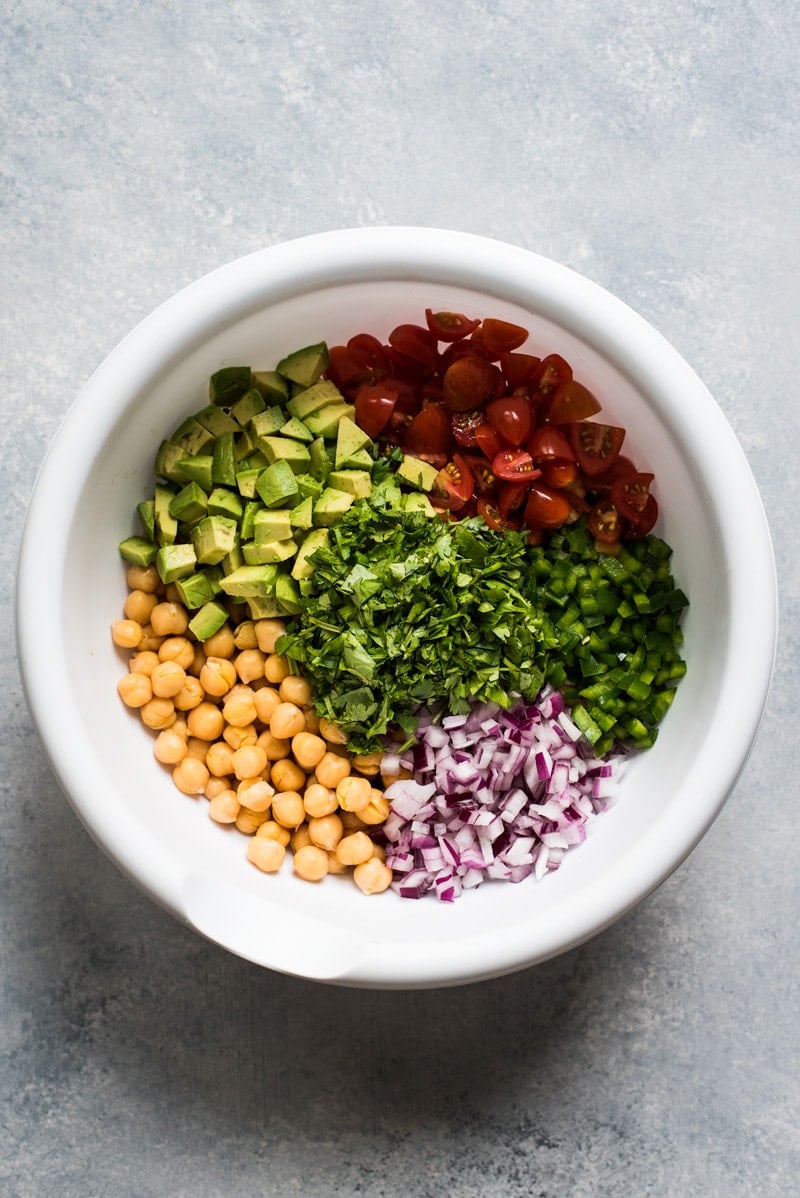 I made this recipe last weekend and took it with me to John's family reunion in Virginia. I don't know why but whenever I bring a dish to a potluck or a party, I always get a little nervous about other people eating or not eating my food. You'd think that with all the cooking I do, I'd be a little more confident than the average person.
Nope. I'm not. At all.
If anything, I'm probably even more self-conscious of my cooking, especially around people who know that I'm a food blogger. I definitely feel the pressure to deliver really amazing out-of-this-world food every time. And Lord knows that isn't always the case.
Let me give you a little example of my not-so-perfect cooking skills.
As a Mexican-American, you'd think that I'd be really good at making rice. Sure, that might be stereotypical, but it's true – Mexicans know how to make really good rice! My Mom's authentic mexican rice is amazing, everyone who cooks in my family has no problem making it and hell, even John makes a mean rice!
Me?
I either burn it and it sticks to the bottom of the pan
it's too mushy and forms into one big blob
it's underdone and somehow dry so I have to keep adding water to it, which ends up taking like an hour and a half to make
No clue how it happens, but it happens 90 percent of the time.
Moral of the story – I'm just like you. I'm just a home cook that's learning as I go, trying to get flavorful, fun and delicious food on the table that's easy to make and reminds me of my Mexican roots.
Sometimes I have terrible kitchen fails (that damn rice will be the death of me!) and sometimes everything falls perfectly into place.
Thankfully, this chickpea avocado salad is the latter.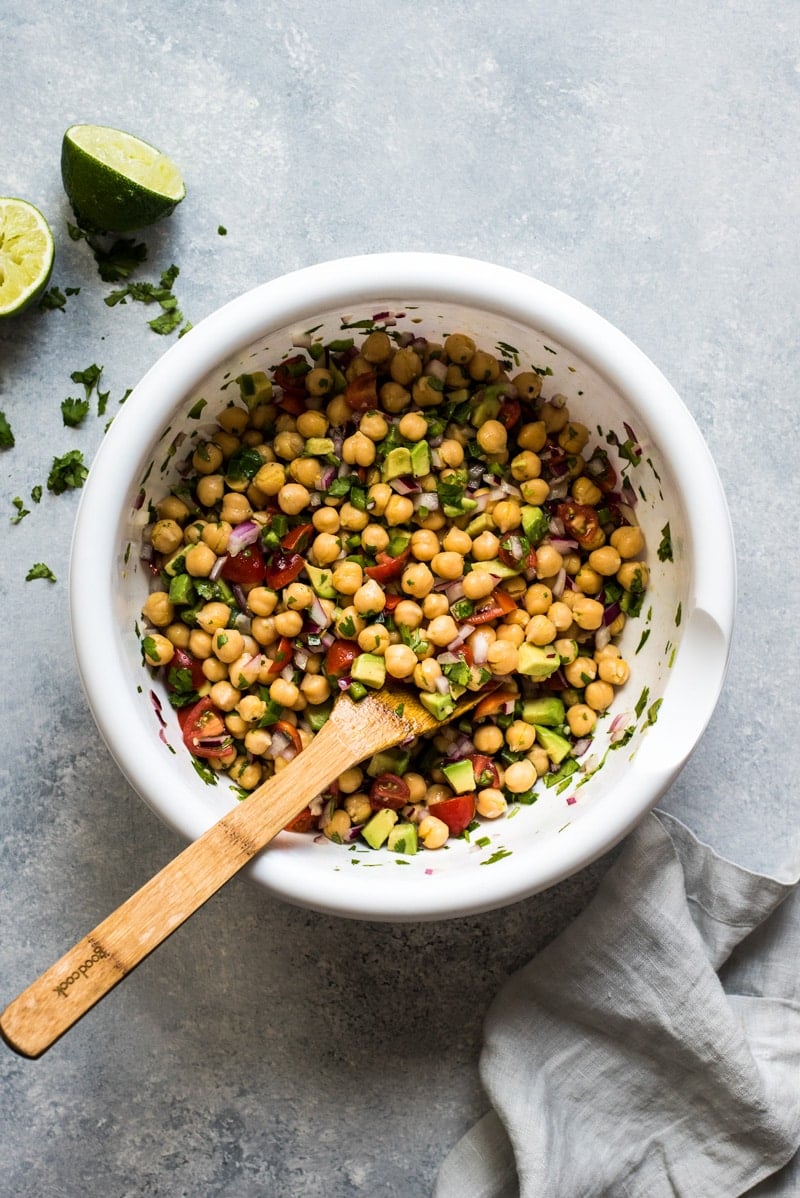 How to make Mexican Chickpea Salad
To make this no-fuss chickpea salad in only 15 minutes, I used store-bought canned chickpeas, sometimes labeled garbanzo beans. I mixed it in with some fresh ingredients like cherry tomatoes, crunchy diced jalapenos and creamy avocados.
To really bring out the flavors, I made a simple dressing made of olive oil, white white vinegar, lime juice and garlic.
Just mix everything together in a big bowl and that's it!
You can eat it immediately or you can put it in the fridge and serve it chilled. Leftovers will keep in the fridge for a week, making it perfect for meal prepping on Sundays.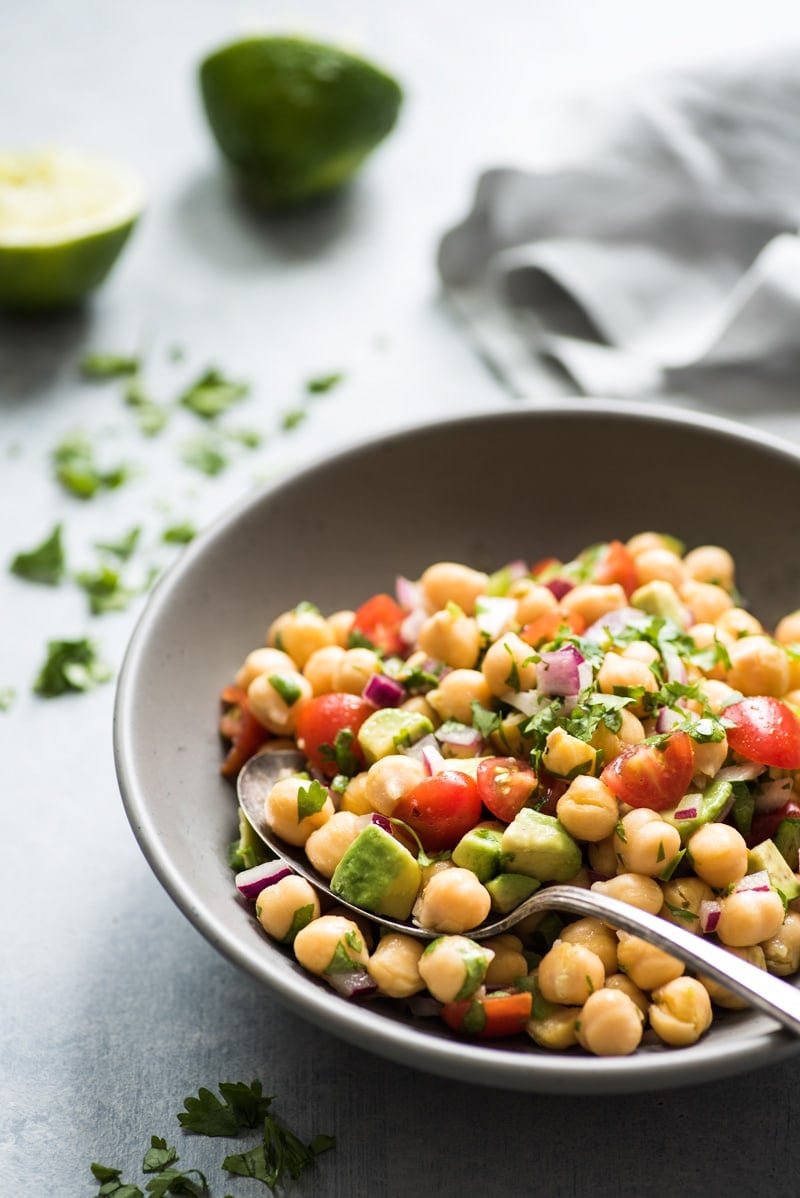 Whether you enjoy this chickpea salad at home or take it to a potluck, I know you're going to love it!
More healthy recipes you'll love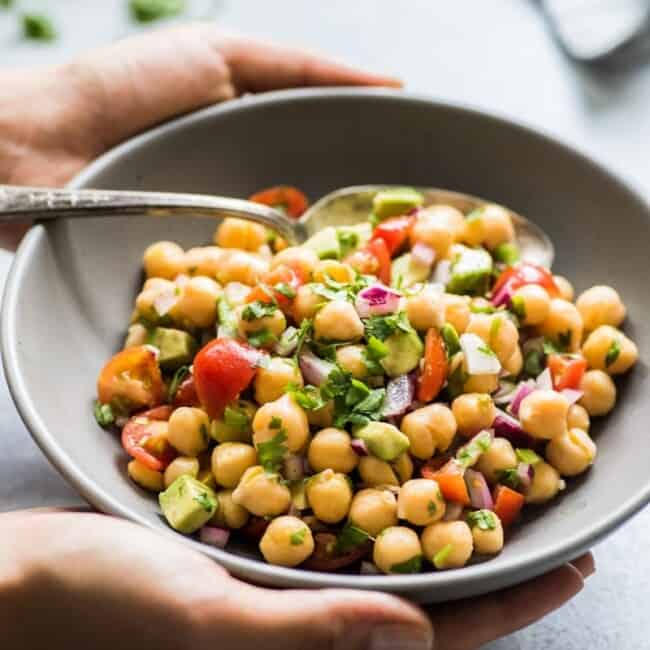 Prep: 15 minutes
Total : 15 minutes
This Healthy Mexican Chickpea Salad recipe is fresh, easy to make and packed with nutritious ingredients ready in only 15 minutes! (gluten free + vegetarian + vegan)
Ingredients
For the chickpea salad
2 15-ounce can of chickpeas, drained and rinsed (about 3 cups cooked chickpeas)
3/4 cup finely diced red onions (about 1/2 large red onion)
1 cup quartered cherry tomatoes
1 large jalapeño pepper finely diced
1/3 cup chopped cilantro
1 avocado diced
For the dressing
1/4 cup olive oil
2 tablespoons white wine vinegar
2 medium limes juiced (about 1/4 cup lime juice)
1 teaspoon minced garlic (about 2 cloves)
1 pinch of salt
1 pinch of black pepper
Instructions
In a large bowl, add chickpeas, red onions, cherry tomatoes, jalapeños, cilantro and avocados. Stir together and set aside.

For the dressing: in a small bowl, add olive oil, white wine vinegar, lime juice, minced garlic, salt and pepper. Whisk until combined.

Pour the dressing onto the mixed chickpea salad and stir to combine. Cover and refrigerate for 15 minutes until chilled, or enjoy immediately.
Nutrition Information
Serving: 1/6 of recipe Calories: 245kcal (12%) Carbohydrates: 16g (5%) Protein: 8g (16%) Fat: 14g (22%) Saturated Fat: 2g (10%) Sodium: 357mg (15%) Potassium: 236mg (7%) Fiber: 8g (32%) Sugar: 5g (6%) Vitamin A: 350IU (7%) Vitamin C: 19mg (23%) Calcium: 50mg (5%) Iron: 2.2mg (12%)