Jump to Recipe
A juicy and tender herb roast turkey recipe perfect for the best Friendsgiving celebration! It's quick brined for only 4 hours (no need to brine overnight) and slathered in fresh herb butter made from sage, thyme, rosemary, cilantro, parsley and garlic.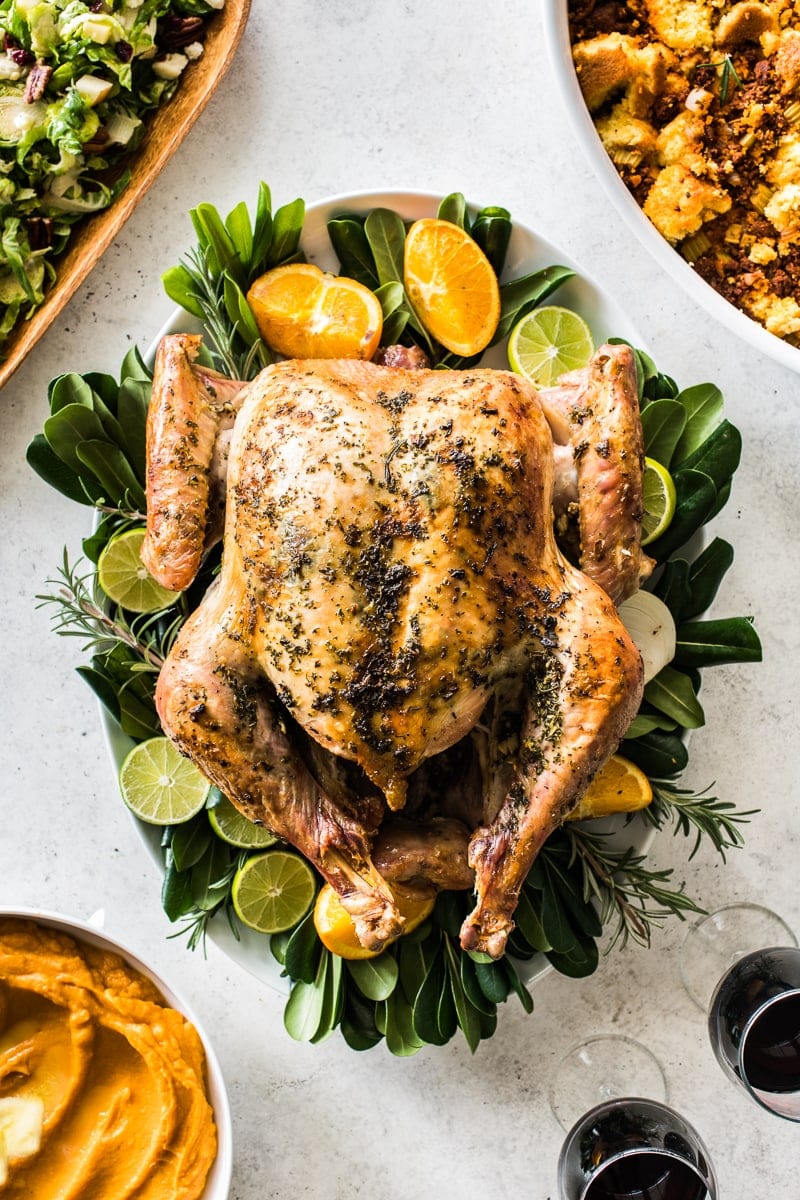 This recipe is sponsored by my friends at Honeysuckle White and Shady Brook Farms. All opinions expressed here are my own.
Who's ready for the most epic roast turkey recipe ever?!
We're talking flavorful, crispy skin. Tender and juicy meat. Savory traditional holiday herbs like sage, rosemary and thyme mixed in with some bright Mexican-inspired ingredients like cilantro and parsley.
This turkey is one of the best I've had and I know it will not disappoint this Friendsgiving and holiday season.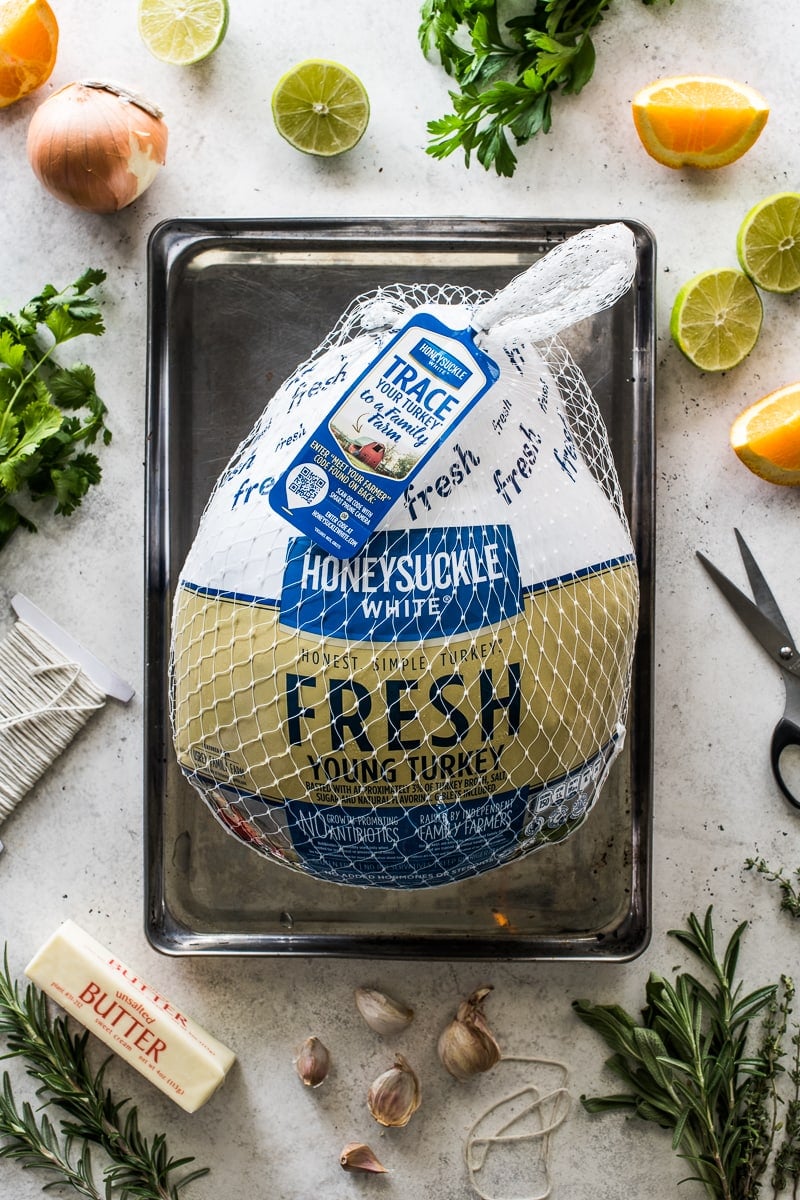 Choosing the right turkey
I'm so excited to be partnering with Honeysuckle White and sister brand Shady Brook Farms for the second year in a row to bring you another delicious turkey recipe perfect for the holidays.
(Take a look at last year's Chipotle Citrus Thanksgiving Turkey Recipe.)
Honeysuckle White and Shady Brook Farms hold a special place in my heart. Each of their turkeys is raised by independent family farmers who care about raising quality turkeys without growth promoting antibiotics, added hormones or steroids.
They're so proud of where their turkey comes from, they'll even let you trace your fresh whole turkey back to the family farm where it was raised! Just look for the blue tag at the top!
Click to find out where to pick up a Honeysuckle White or Shady Brook Farms turkey near you.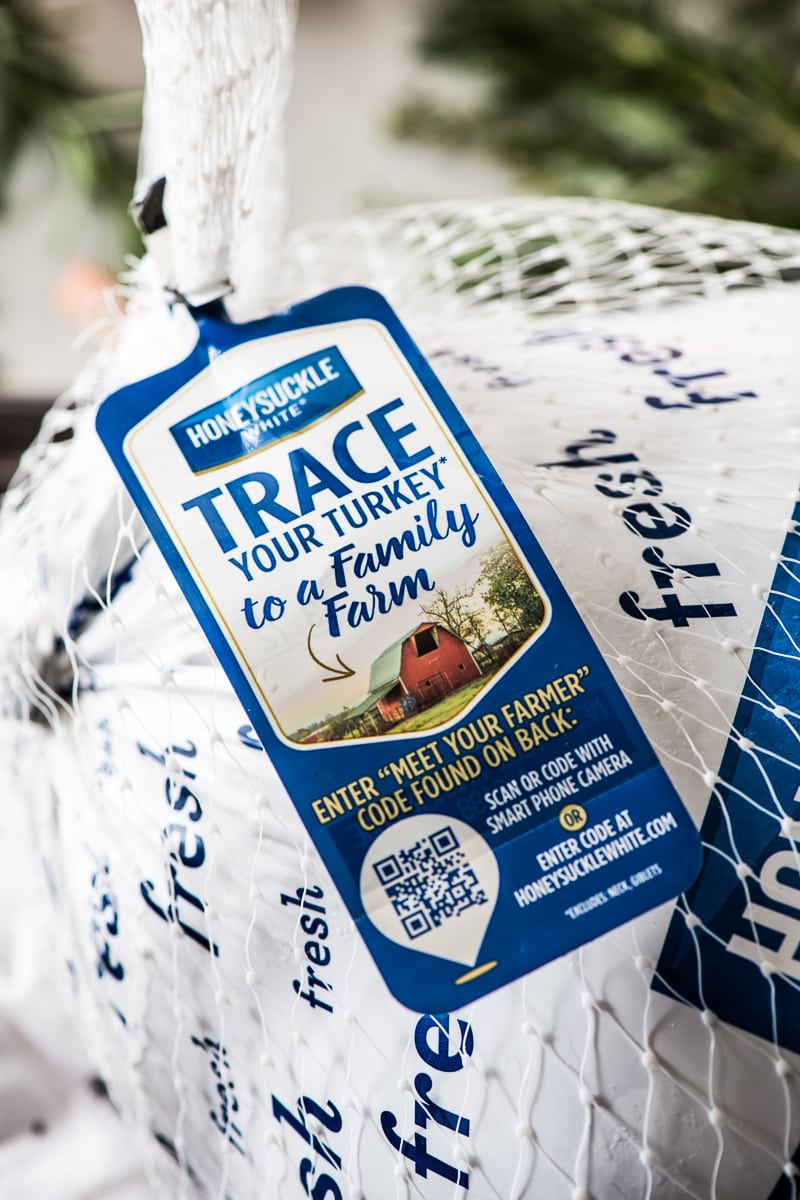 Quick brine for juicy and tender meat
The last thing you want to do on Friendsgiving is overcook and dry out the turkey. The answer to all your dry turkey prayers?
Brining, or soaking in a salt-water solution.
Brining not only tenderizes meat, but it also help it retain more moisture, making it juicy and moist, just the way we like it.
Most recipes you'll find require an overnight brine, but not this one. I've increased the amount of salt in the solution to cut down on the amount of brining time required. (Don't worry – brining your turkey won't make it salty.)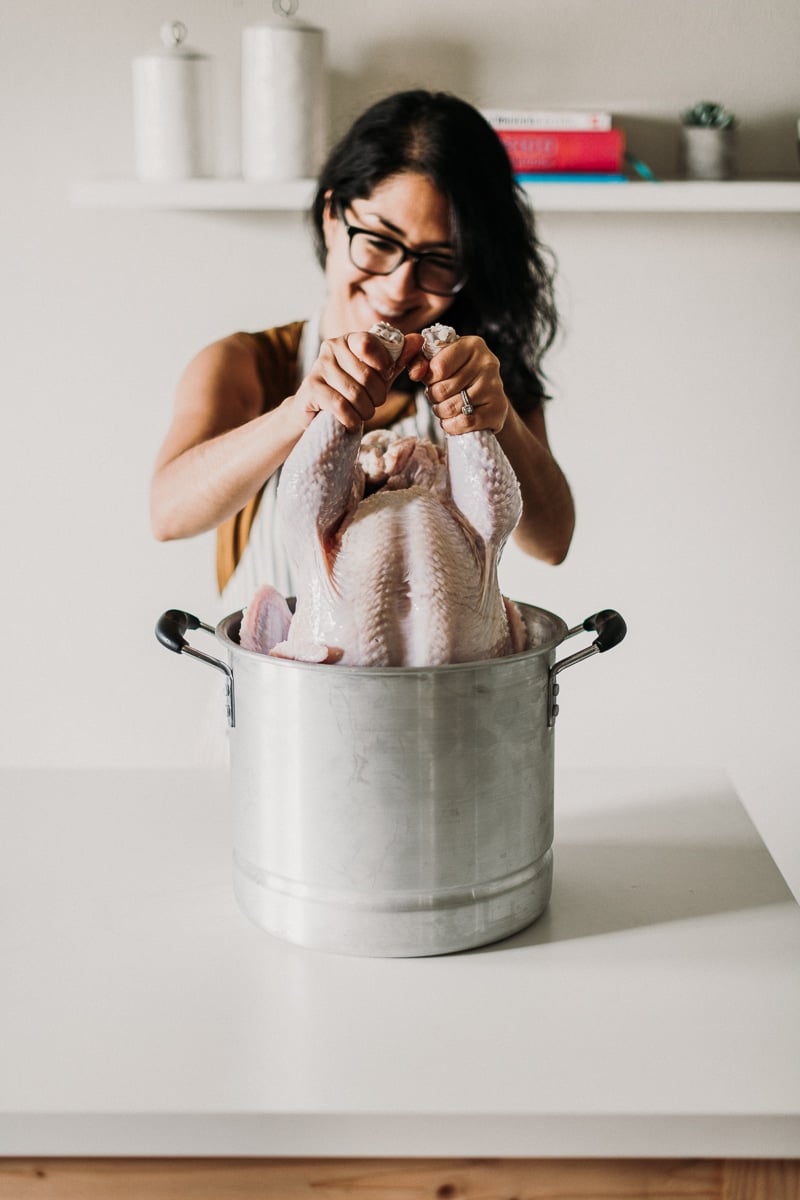 To brine a turkey up to 16 pounds, fill a large stockpot with 2 gallons of water and 2 cups of table salt. (I used a stockpot that was able to fit 16 quarts). Stir together until the salt has dissolved and submerge the turkey in the brine.
Cover and refrigerate for 4 to 6 hours.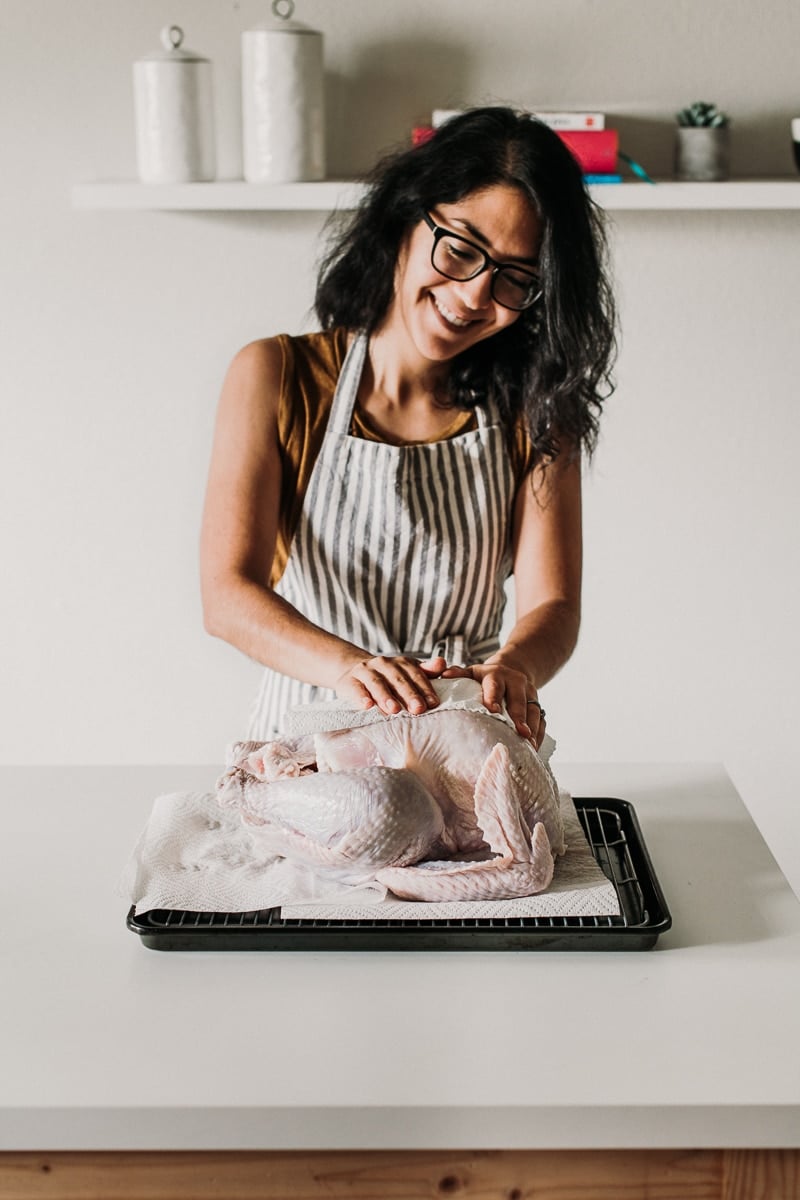 Next, remove the turkey from the brining solution and transfer it onto a large baking sheet with a wire rack.
Pat the turkey dry with paper towels inside and out until it's as dry as you can get it.
Refrigerate the turkey on the baking sheet for about 30 minutes, up to an hour, to let it dry out completely. Doing this helps to get rid of any excess moisture and will result in a crispier golden skin. The baking sheet will catch any liquid that the turkey releases while in the fridge.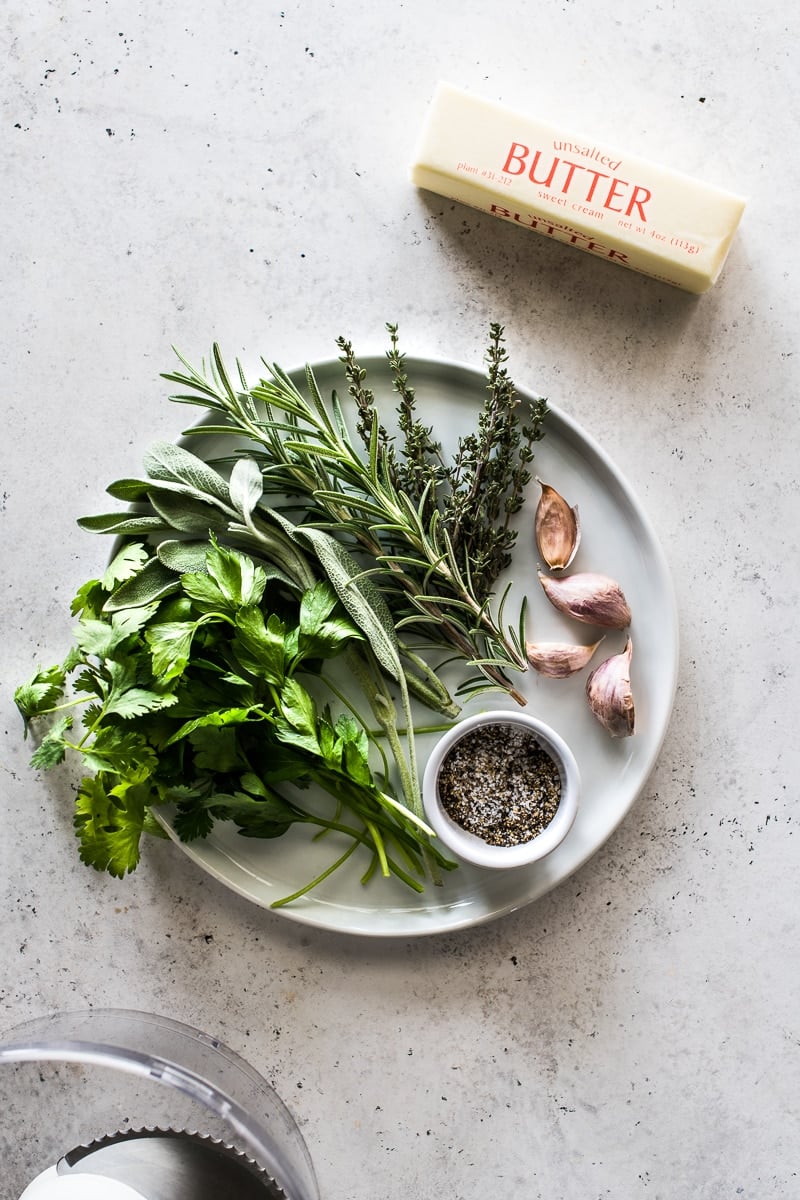 Flavorful Herb Butter
While the turkey is drying in the fridge, make the herb butter by placing softened butter, garlic cloves, thyme, rosemary, sage, parsley, cilantro and salt and pepper into a food processor.
Pulse until everything is mixed together into a paste.
Season and Roast
Now for the best part – seasoning and roasting the turkey! Place your turkey in a roasting pan with a v-rack to lift it off the bottom of the pan.
Fill the turkey cavity with onions, oranges, limes and sprigs of assorted herbs (sage, thyme, rosemary, parsley).
Tuck the wings behind the bird, tie the legs together and spread the herb butter under the skin as well as on the outside.
Bake at 450°F for 25 minutes to crisp the skin, remove it from the oven, loosely cover the top with a tent of aluminum foil, and place it back in the oven.
Lower the oven temperature to 350°F and roast for 2 1/2 to 3 hours, until the internal temperature of the meat reaches 165°F.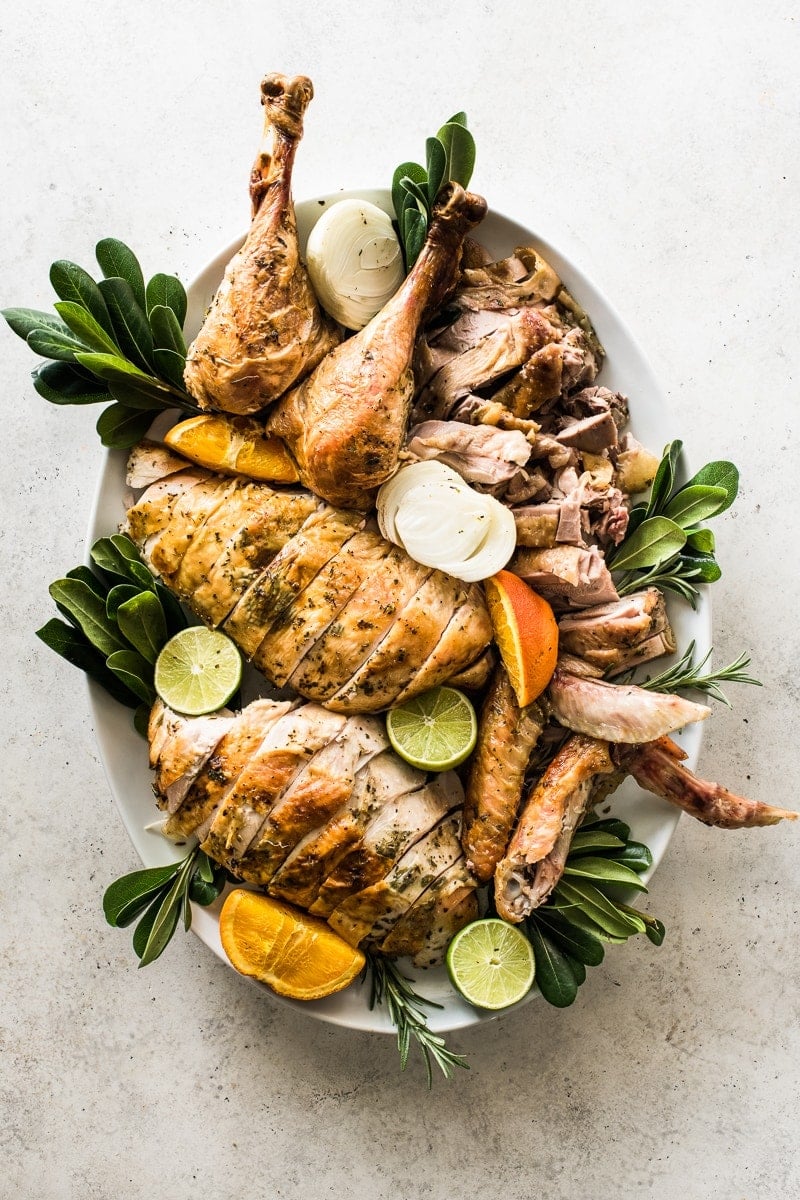 Let the turkey rest a full 30 minutes before digging in!
Related: How to carve a turkey
What size turkey should I buy?
Here's a handy little guide to how much you'll need depending on the number of guests.
2 to 4 guests — 8 to 12 pounds
5 to 7 guests — 12 to 16 pounds
8 to 10 guests — 16 to 20 pounds
11 to 13 guests —20 to 24 pounds
For reference, I served a 14-pound Honeysuckle White turkey for 6 people at a recent Friendsgiving party. At the end of the night, everyone was stuffed and two people were able to pack turkey leftovers for the next day!
Use a meat thermometer
A meat thermometer like this one is crucial to making sure your turkey isn't under OR over cooked. You want to make sure the temperature registers at least 165°F in various places.
The best sides!
While the turkey is the star of the show, the sides tie everything together. Here are some tasty side dishes that would go beautifully with roast turkey.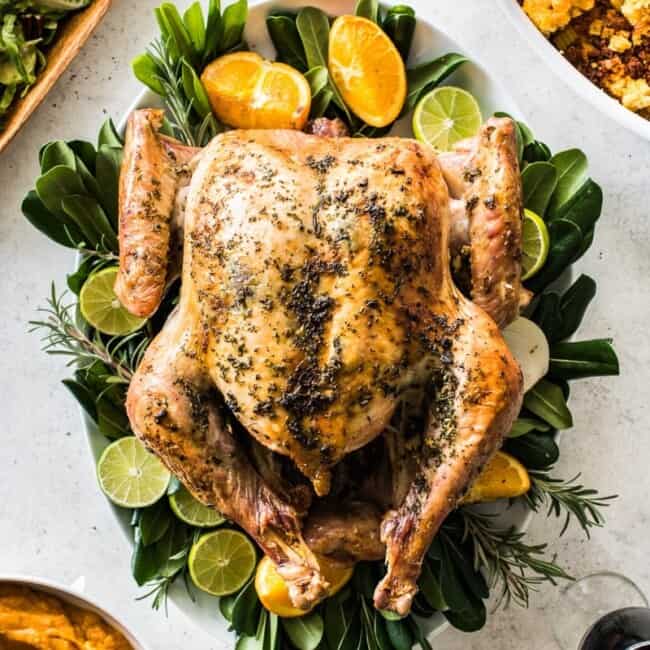 Prep: 14 minutes
Cook: 3 hours
Total : 7 hours 14 minutes
A juicy and tender herb roast turkey recipe perfect for the best Friendsgiving celebration! It's quick brined for only 4 hours (no need to brine overnight) and slathered in fresh herb butter made from sage, thyme, rosemary and more!
Ingredients
For the turkey
1 14-pound Honeysuckle White Fresh or Frozen Whole Turkey, thawed; giblets and neck removed and discarded
2 cups stock (turkey, chicken or vegetable all work)
For the quick brine
2 gallons cold water
2 cups table salt
For the herb seasoning
1 stick unsalted butter, softened and cut into 6 pieces
8-10 fresh sage leaves
4 cloves garlic
2 tablespoons chopped cilantro
1 tablespoon chopped parsley
1 tablespoon fresh thyme leaves
1 tablespoon fresh rosemary leaves
1 teaspoon kosher salt
1 teaspoon ground black pepper
For inside cavity
1 small onion, halved
1 lime, halved
1 orange, quartered
1/2 cup whole sprigs of assorted fresh herbs, tied together with kitchen twine
Instructions
Quick brine the turkey
In a large container or stockpot, add cold water and salt. Stir for 30 seconds to a minute until the salt has dissolved.

Add thawed turkey to the water so that it is completely submerged (add more water if it's not). Cover and refrigerate for 4 to 6 hours.

Remove turkey from the brine and rinse under cold water.

Pat turkey completely dry inside and out with paper towels.

Transfer turkey to a large baking sheet lined with a wire rack and refrigerate for 30 minutes, uncovered.
Prepare the seasoning
Add butter, sage, garlic, cilantro, parsley, thyme, rosemary, salt and black pepper to a food processor or blender.

Pulse until mixture comes together and resembles a paste.
Prepare the turkey
Preheat oven to 450°F.

Remove turkey from the fridge and pat dry one last time. Transfer to the roasting pan with v-rack breast side up.

Fill the bottom of the roasting pan with stock.

Carefully push your fingers under the skin of the turkey breast all the way to the back of the turkey to help separate the skin. Be careful not to tear the skin.

Spread the herb paste under the skin and all over the outside of the turkey.

Fill the inside cavity of the turkey with the onion, lime, orange and assorted herbs.

Tie the turkey legs together with kitchen twine to help the turkey cook evenly and for a beautiful presentation. Tuck the wings underneath the bird so they don't burn.
Roast the turkey
Insert an in-oven meat thermometer deep inside the breast of the bird. Make sure it's not touching a bone. Set the in-oven meat thermometer temperature to 165°Place the turkey in the preheated oven and roast for 25 minutes to crisp the skin.

Remove turkey from oven, lower the heat to 350°F, loosely cover the top of the turkey with a tent of aluminum foil and return to the oven.

Bake for 2 1/2 hours to 3 hours, until the temperature of the meat reaches 165°F.

Carefully remove from oven and check the temperature of the bird in different places to make sure everything is at least 165°If there are spots that are under, leave the thermometer in that spot and return it to the oven to roast until it reaches 165°F.

Carefully transfer the turkey to large cutting board and rest for 30 minutes. Slice and serve.
Video
Nutrition Information
Serving: 6ounces Calories: 255kcal (13%) Carbohydrates: 0g Protein: 30g (60%) Fat: 15g (23%) Saturated Fat: 5g (25%) Polyunsaturated Fat: 0g Monounsaturated Fat: 0g Trans Fat: 0g Cholesterol: 98mg (33%) Sodium: 105mg (4%) Potassium: 0mg Fiber: 0g Sugar: 0g Vitamin A: 150IU (3%) Vitamin C: 0mg Calcium: 0mg Iron: 1.6mg (9%)