Jump to Recipe
These Authentic Mexican Bolillo Bread Rolls are made with simple ingredients and easy to make. Enjoy them as a side dinner roll or as a Mexican torta!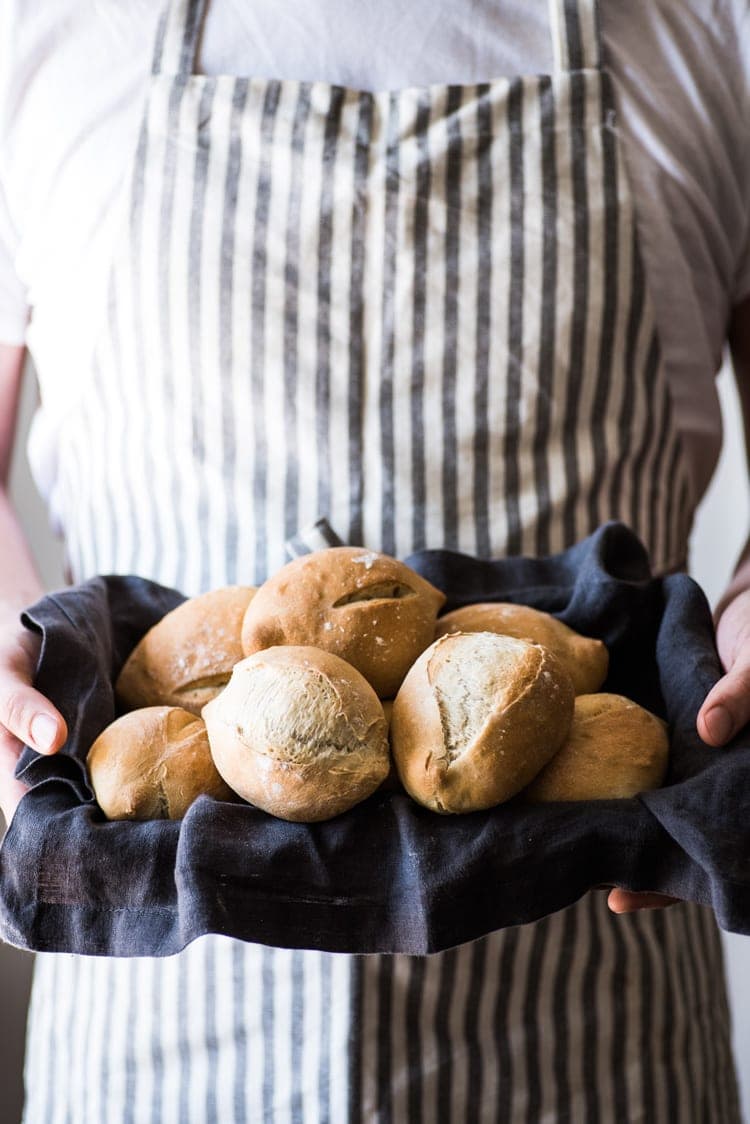 Real, authentic Mexican Bolillo Bread Rolls are finally here! This recipe has been on my to-do list since I first started Isabel Eats back in 2015. I keep a huge list of all the Mexican foods I ate growing up that I want to recreate and share with all of you, and these bolillo bread rolls were one of the first things I wrote down.
What are Mexican Bolillo Rolls?
A bolillo roll is Mexico's version of a crusty french bread that's oblong in shape, kind of like a football, and is often used to make sandwiches called "tortas."
I vividly remember the smell of fresh warm bread when visiting the local Mexican bakery with my parents every weekend. We used to pick up a half dozen of these bolillo rolls and other assorted sweet breads for lunch every Sunday. The smell of that Mexican bakery will stay with you forever.
I think it's about damn time I celebrate that memory by making my own Mexican Bolillo Bread Rolls right in my own kitchen. Let's do this.
How to make Mexican Bolillo Bread
Step 1: Make the dough by combining unbleached all-purpose flour, yeast, salt, honey, butter and water.
Step 2: Knead the dough by hand or with a stand mixer until it is soft and elastic, not sticky. Let it sit and rise until it has doubled in size.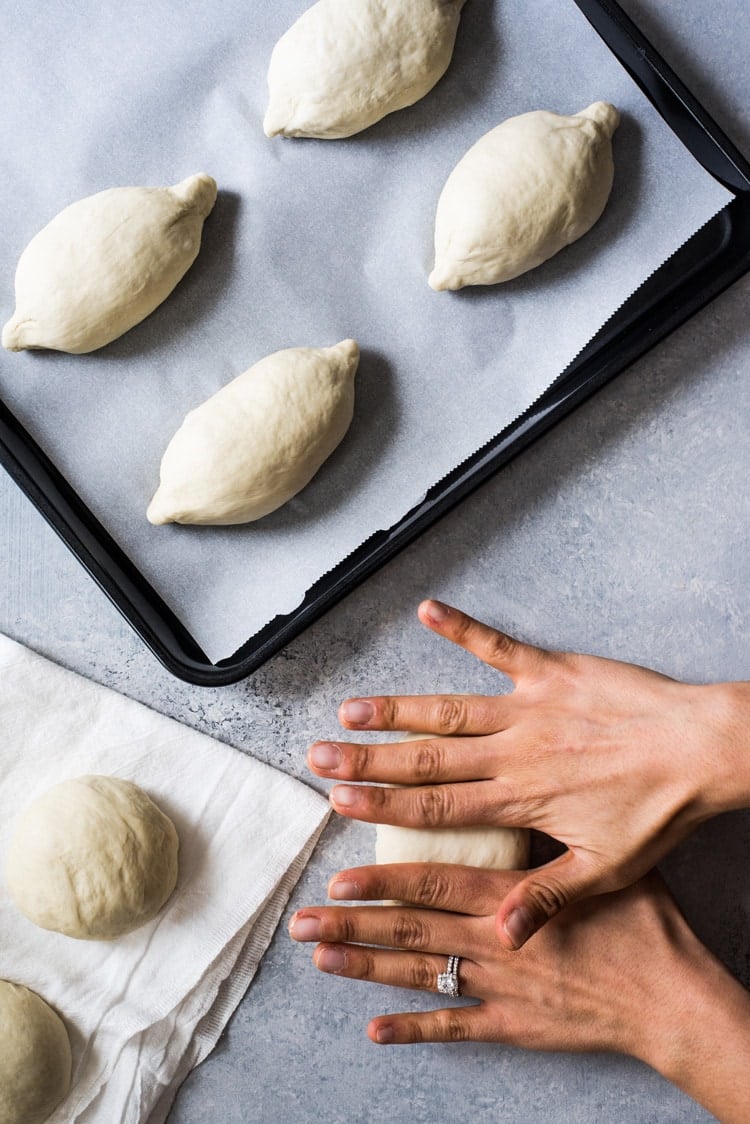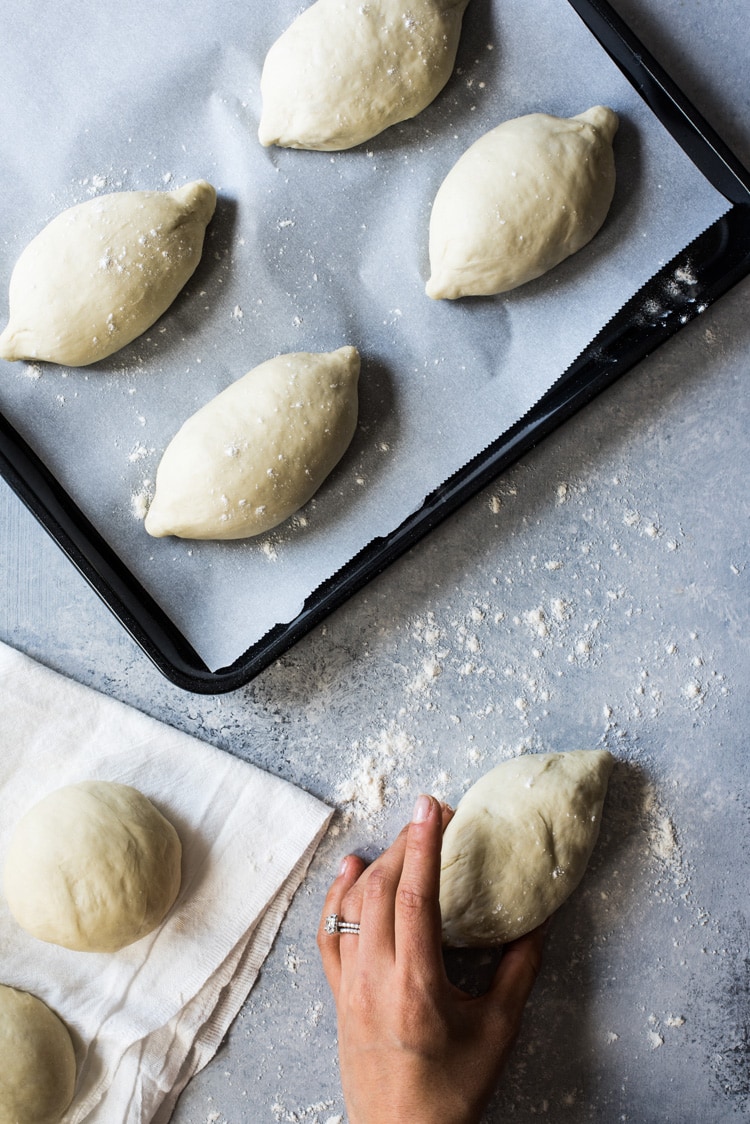 Step 3: Roll the dough into 8 football-shaped rolls and place them on a baking sheet lined with parchment paper. Cover and let sit for 45 minutes.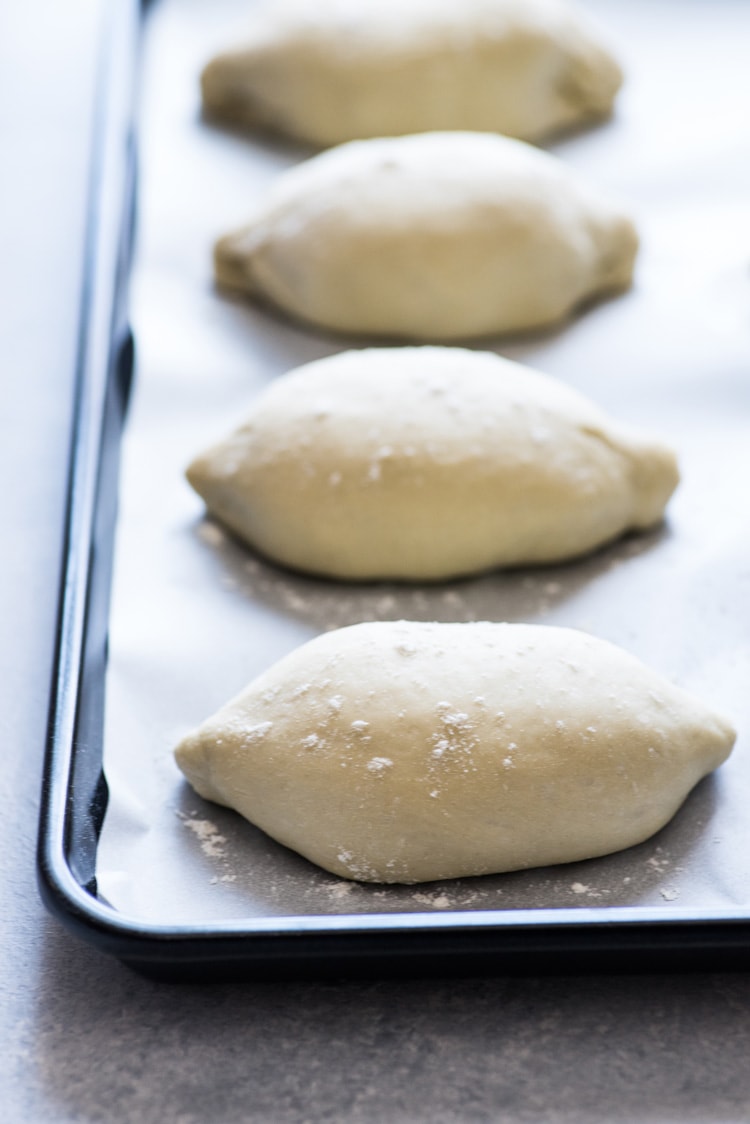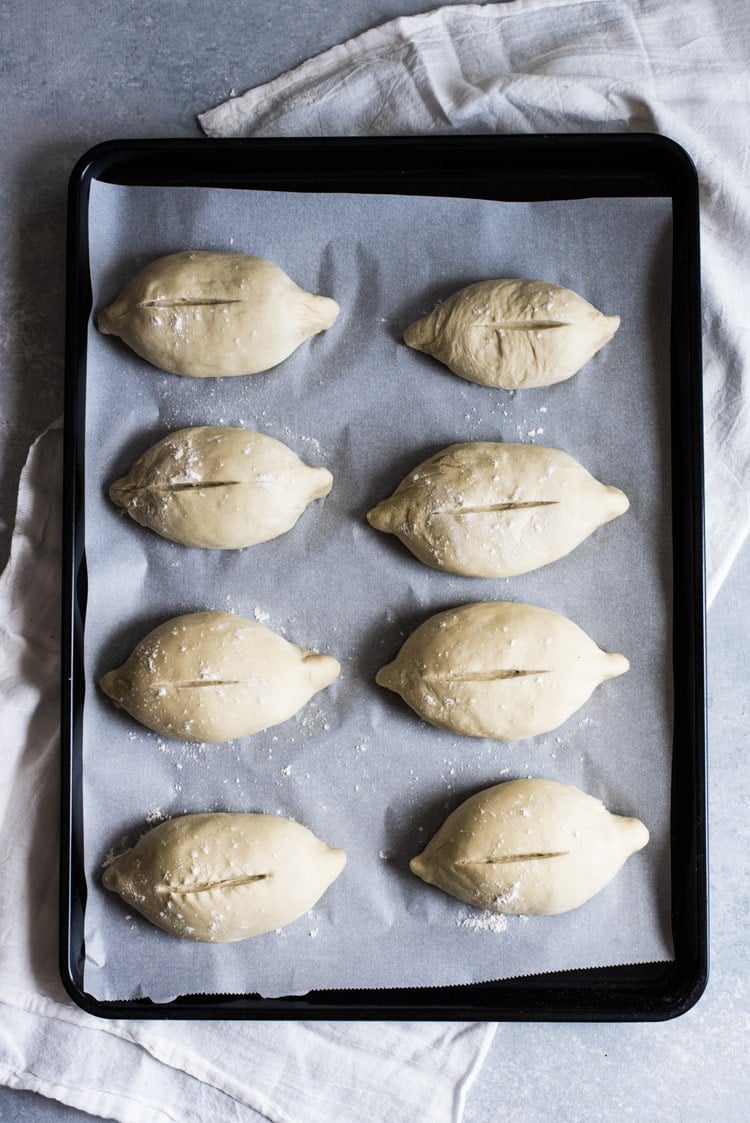 Step 4: Cut a slit lengthwise down the middle of each roll. Bake in a 375 degree oven for 25 to 30 minutes.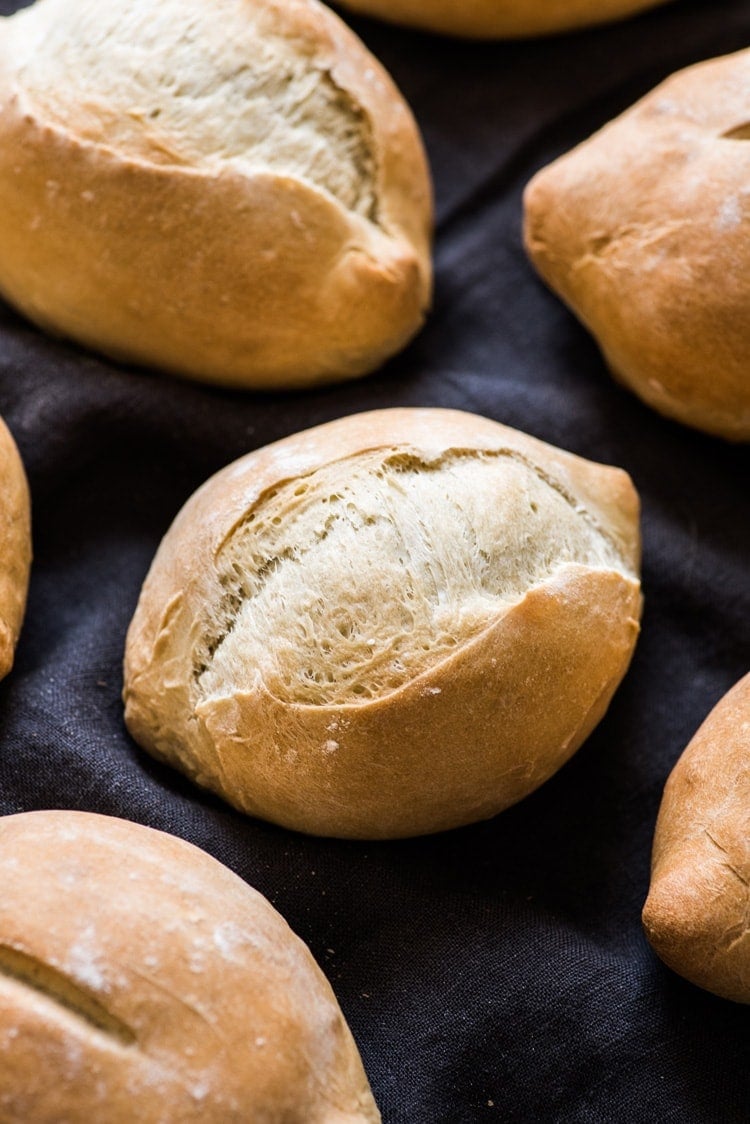 Step 5: Eat all the rolls!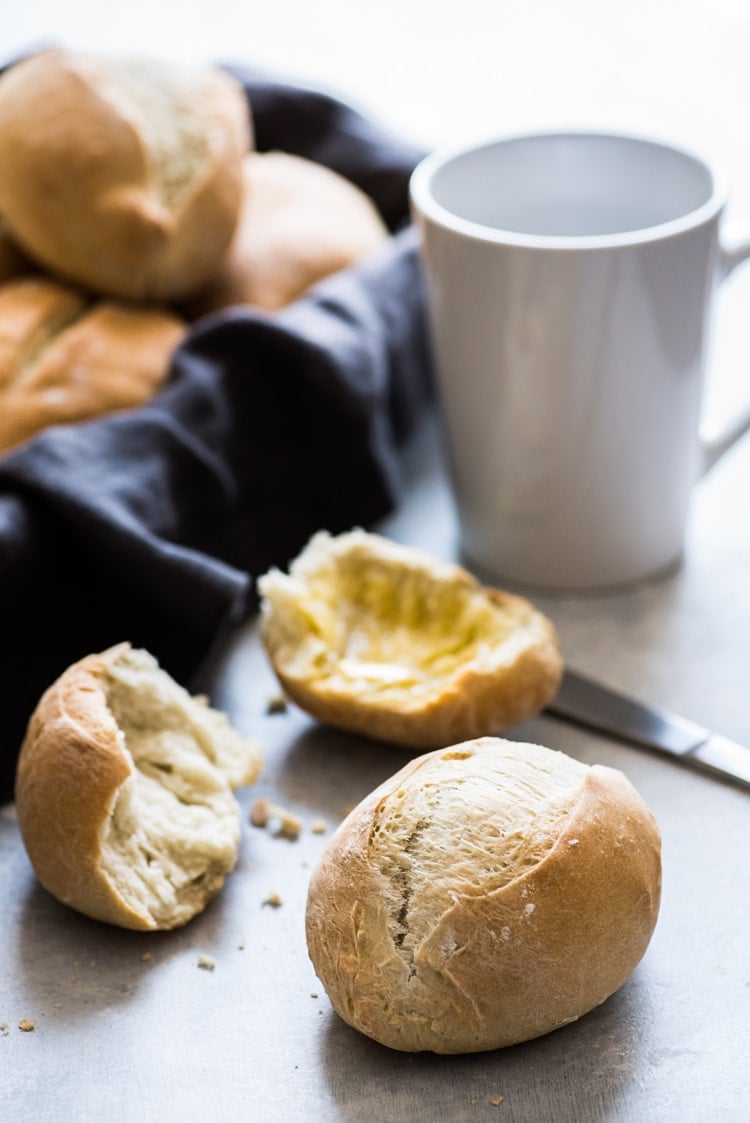 Now that I've made and documented this recipe (finally!), I see many torta recipes coming to the blog in the future. But for now, I'll just enjoy eating a bolillo roll smeared with butter and a hot cup of coffee.
Ways to Use Bolillo Bread
To make molletes
To make tortas (or sandwiches)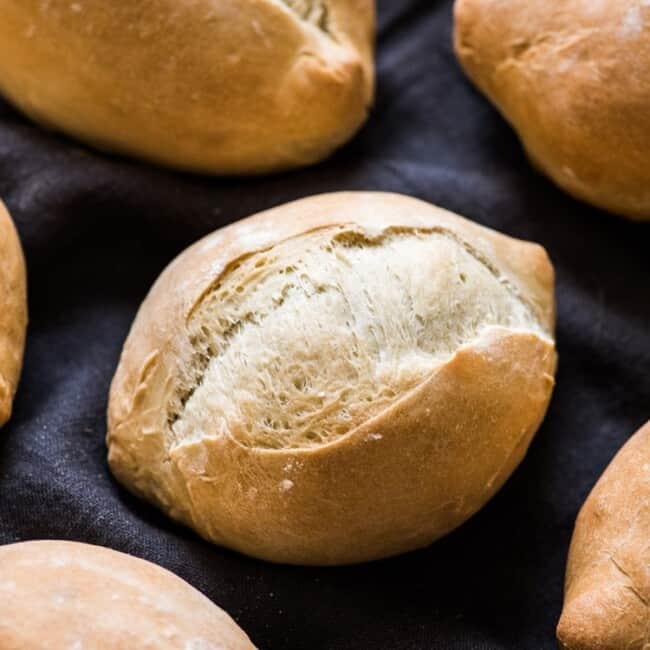 Prep: 1 hour 20 minutes
Cook: 25 minutes
Total : 1 hour 45 minutes
These Authentic Mexican Bolillo Bread Rolls are made with simple ingredients and easy to make. Enjoy them as a side dinner roll or as a Mexican torta!
Ingredients
3 1/2 to 4 cups all-purpose flour
1 1/2 teaspoons dry active yeast
1 teaspoon salt
1 tablespoon honey
1 tablespoon butter, melted
1 1/4 cups hot water, divided
Instructions
In a small bowl or cup, mix together 1/4 cup hot water and active dry yeast. Let sit for 5 minutes.

In a large mixing bowl or in the bowl of your stand mixer, add 3 1/2 cups flour, yeast mixture, salt, honey, melted butter and remaining 1 cup of hot water.

Knead dough using dough attachment for 4 minutes on low in a stand mixer. If the dough is too sticky, add in the remaining flour in 1 tablespoon increments until dough is dry enough that it doesn't stick to your fingers.

Knead for 11 more minutes on low until dough is smooth, soft and elastic. Cover the bowl and let the dough rise for 10-20 minutes, or until the dough has doubled in size. The dough will rise faster when the temperature outside is warmer. If you're making this recipe in the wintertime, a good place to let the dough rest is on top of the fridge.

Divide the dough into 8 pieces. Roll dough into football shapes and place on a baking sheet covered in parchment paper. Cover the 8 bolillo bread rolls and let rise for a second time for 45 minutes.

Cut a slit lengthwise down the middle of each roll using a very sharp knife. Bake in the oven at 375°F for 25 to 30 minutes, until the rolls are golden brown.
Isabel's Tips:
If you don't have a stand mixer, you can knead the dough by hand until the dough is soft and elastic. 
---
Nutrition Facts
Bolillo Bread Rolls
Amount Per Serving (1 roll)
Calories 227 Calories from Fat 18
% Daily Value*
Fat 2g3%
Saturated Fat 1g5%
Trans Fat 0g
Polyunsaturated Fat 0g
Monounsaturated Fat 0g
Cholesterol 4mg1%
Sodium 301mg13%
Potassium 3mg0%
Carbohydrates 43g14%
Fiber 2g8%
Sugar 3g3%
Protein 6g12%
Vitamin A 50IU1%
Vitamin C 0mg0%
Calcium 0mg0%
Iron 0mg0%
* Percent Daily Values are based on a 2000 calorie diet.
Nutrition Information
Serving: 1roll Calories: 227kcal (11%) Carbohydrates: 43g (14%) Protein: 6g (12%) Fat: 2g (3%) Saturated Fat: 1g (5%) Polyunsaturated Fat: 0g Monounsaturated Fat: 0g Trans Fat: 0g Cholesterol: 4mg (1%) Sodium: 301mg (13%) Potassium: 3mg Fiber: 2g (8%) Sugar: 3g (3%) Vitamin A: 50IU (1%) Vitamin C: 0mg Calcium: 0mg Iron: 0mg
This page contains affiliate links. If you make a purchase on Amazon after clicking one of my links, I may receive a small commission. The price of the item stays the same and any money I make goes to supporting this blog. I only endorse products and services that I fully believe in.