Jump to Recipe
Tortas, or Mexican sandwiches, are a popular lunch sandwich made from a crusty telera roll sliced in half and filled with seasoned meat, queso fresco, refried beans, avocado, salsa, and so much more. They're one of the best street foods in Mexico!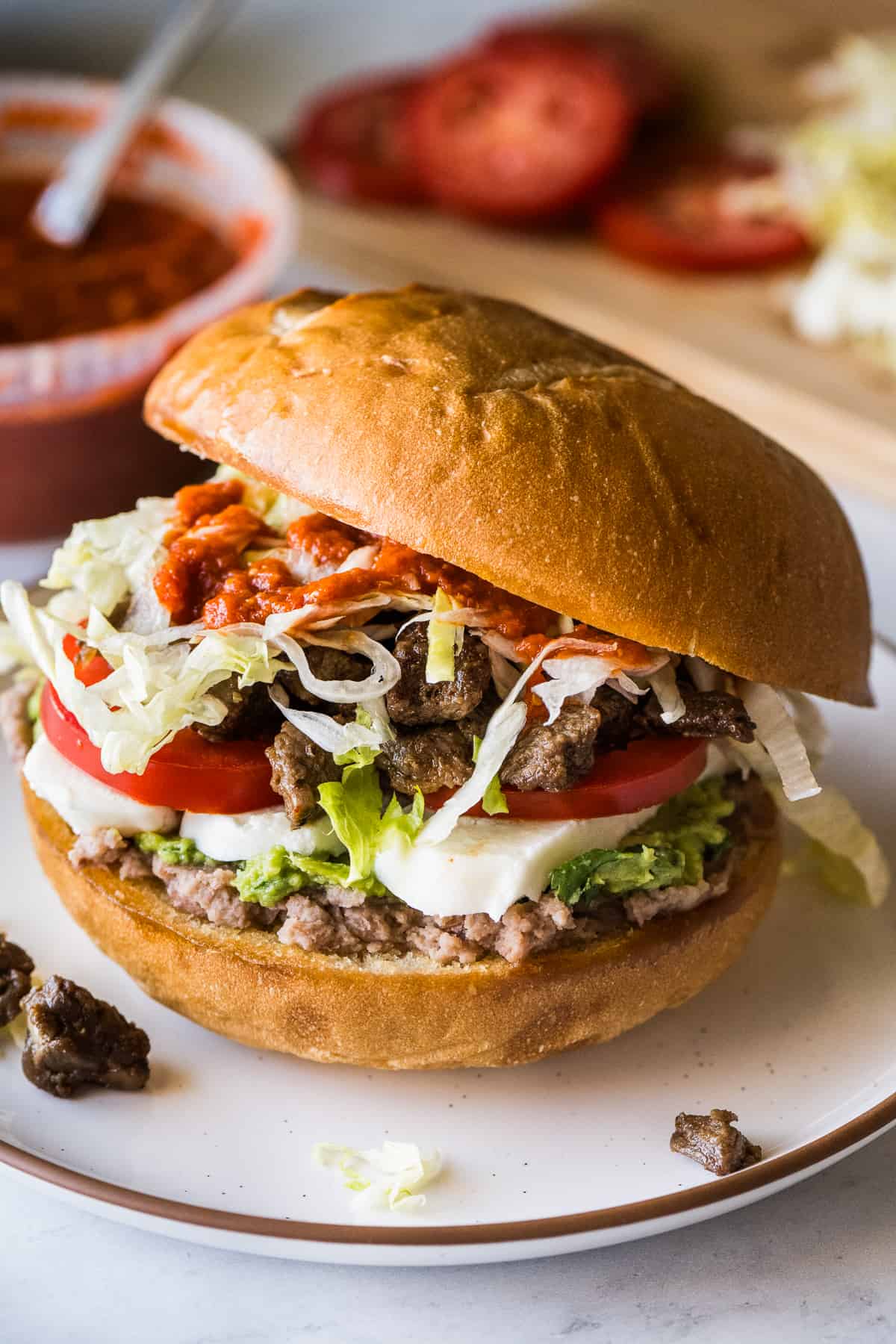 Tortas are the ultimate Mexican sandwiches that are easy to make, very filling, and super delicious! These sandwiches are packed with flavor and feature ingredients like refried beans, avocado, steak (or other meats), lettuce, tomatoes, cheese, and whatever else you prefer.
And the best part? It only takes 5 minutes to assemble once you have all your ingredients ready.
What Is a Mexican Torta?
A Mexican torta is a sandwich that originates from Mexico and is typically made using telera or bolillo bread. The fillings can vary widely, but common ingredients include a spread of refried beans, slices of fresh Mexican cheese, various meats, smashed avocado, mayonnaise, spicy salsa, shredded lettuce, tomato, and pickled jalapeños.
They're commonly sold throughout Mexico at street food stands, in markets, and at restaurants.
Tortas are a popular choice for those looking for a quick and satisfying lunch on the go, thanks to their filling and hearty nature. Whether you enjoy them on a sunny park bench or a busy city corner, you'll get a taste of the heart of Mexican cuisine with every flavorful bite!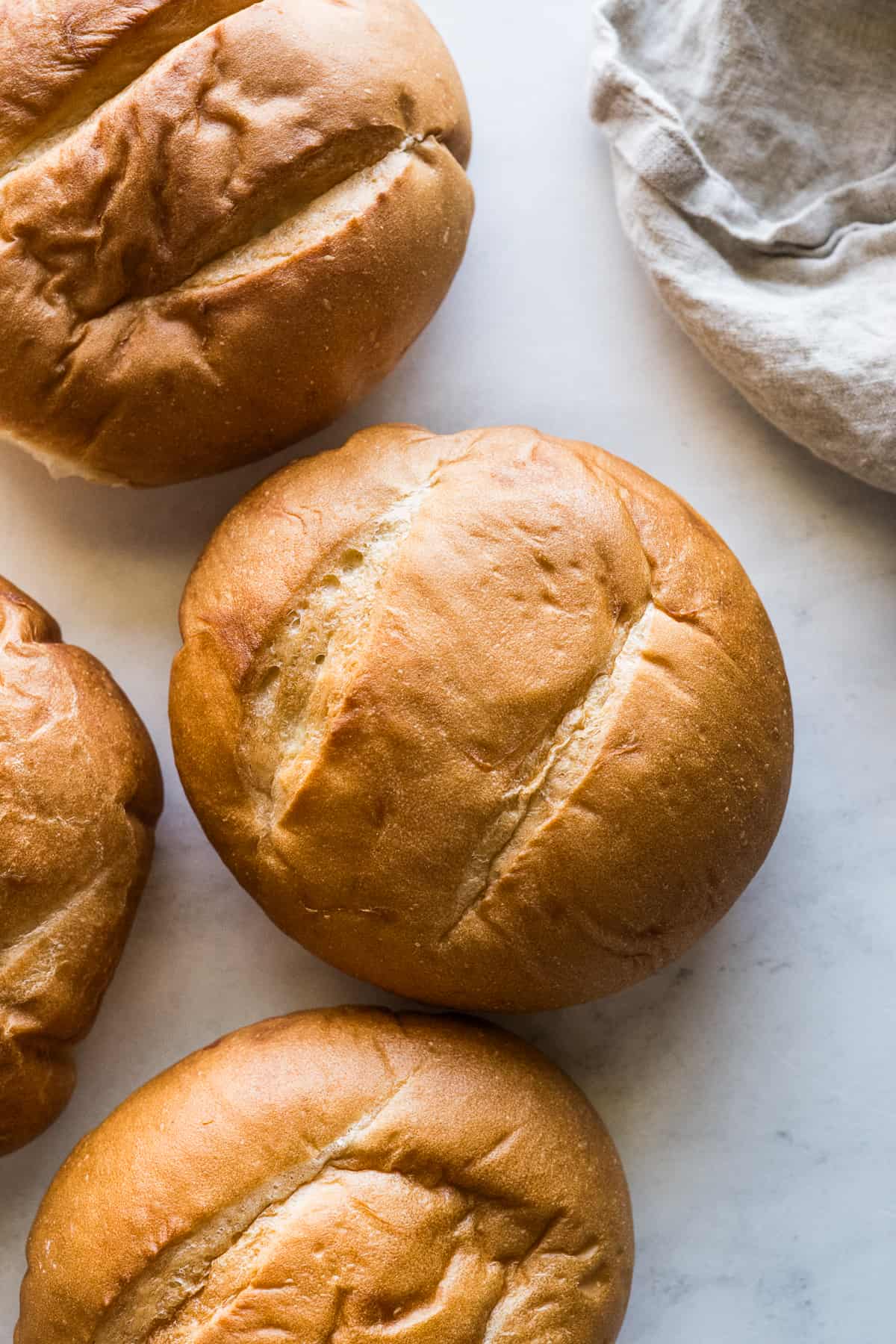 What Bread Is Used for Tortas?
Tortas are typically made using either telera rolls or bolillo bread. These breads are similar to French baguettes with a crispy crust on the outside and a soft and pillowy inside. Both types of bread work perfectly for tortas because they are strong enough to hold a variety of wet and dry fillings without collapsing yet soft enough to easily bite into.
Telera rolls: This is a type of white bread that is soft and round with a slightly crusty exterior. It is also somewhat flat and typically has two slight indentations or seams on the top. The bread's interior is soft and pillowy, which makes it a great option for holding the various fillings of a torta without getting too soggy too quickly.
Bolillo bread: This is similar in texture to telera but is more of an oval shape, resembling a small baguette. It has a crispy crust and soft interior.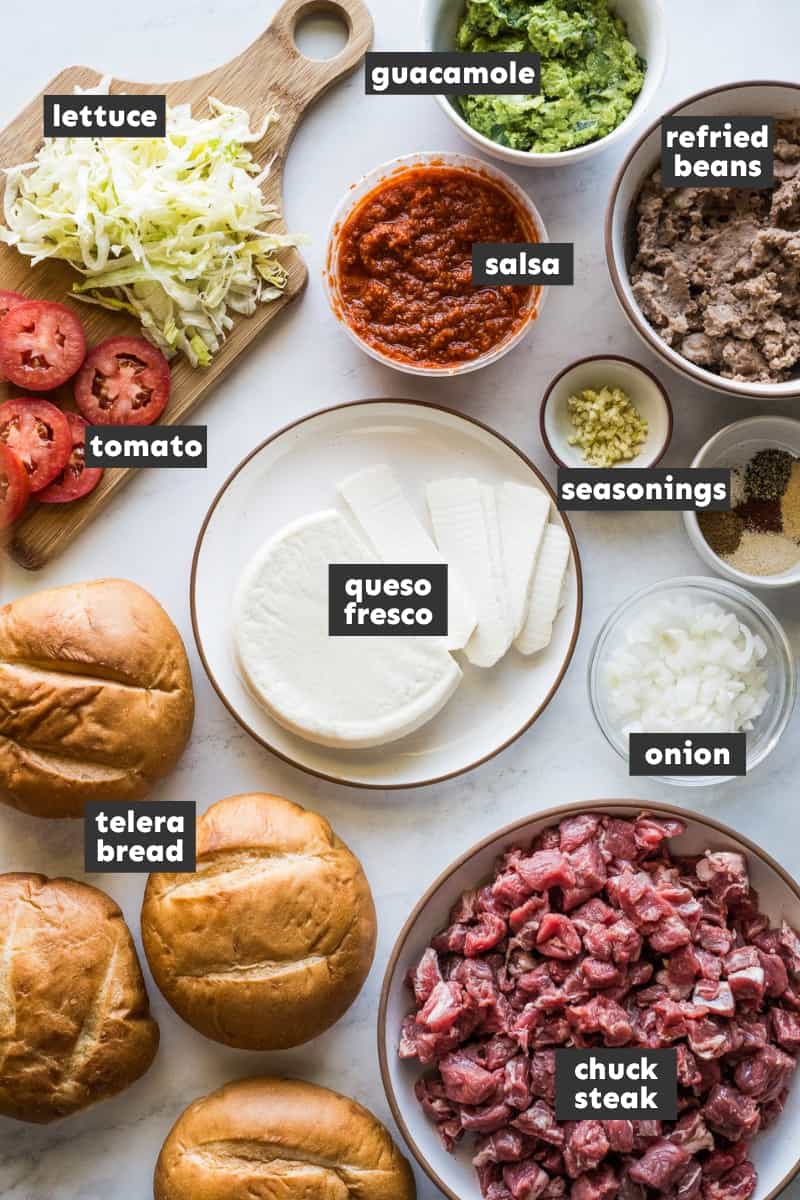 Ingredients
Bread: Telera bread is recommended for this recipe, but you can also use bolillo bread.
Steak: I used chuck steak and seasoned it well with a mixture of garlic, salt, chili powder, onion powder, and ground cumin. For other meat fillings, see the Suggested Fillings section below.
Guacamole: Mixing avocados, salt, lime juice, onion, and cilantro makes the perfect avocado spread and guacamole.
Beans: I used canned refried pinto beans to keep things super quick and convenient, but you can also make your own refried beans if you prefer.
Cheese: Slices of queso fresco add some freshness to this sandwich. You could also use panela, Oaxaca cheese, or mozzarella.
Tomato: Each sandwich gets a few slices of fresh tomato. I used a Roma tomato, but you could use any type of tomato you prefer.
Lettuce: Shredded iceberg lettuce for a little crunch.
Salsa: I topped mine with a spicy chile de arbol salsa, but a salsa verde or roasted tomato salsa would also be great.
How to Make Mexican Tortas
Make the meat. Heat oil in a large skillet over medium-high heat. Add the diced steak, all the seasonings, onions, and cook for 20 minutes. All the juices from the meat will cook down and help caramelize the meat for a crusty exterior.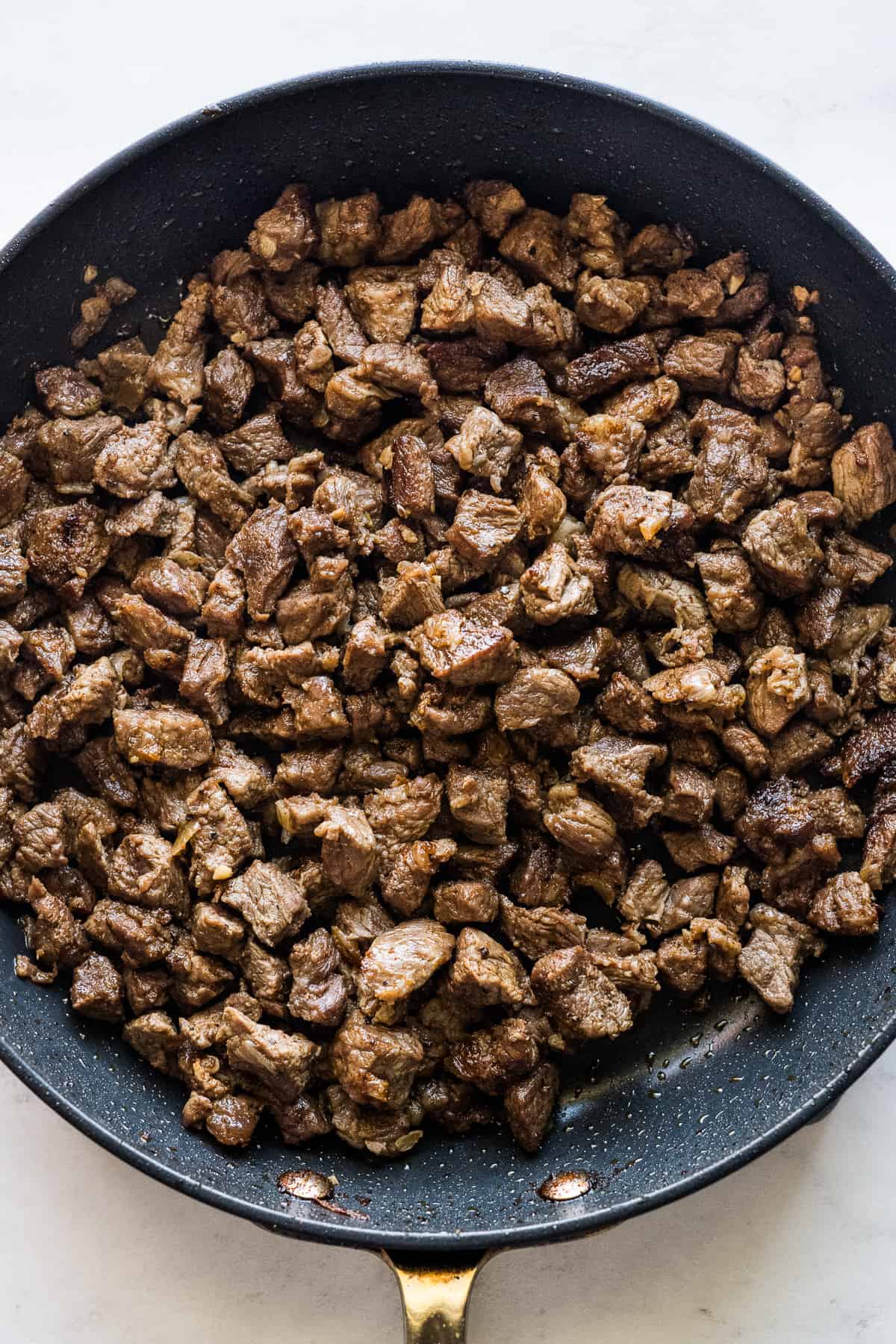 Make the guacamole. Add the avocado, onion, cilantro, lime juice, and salt in a mixing bowl. Mash with a fork and stir until well combined.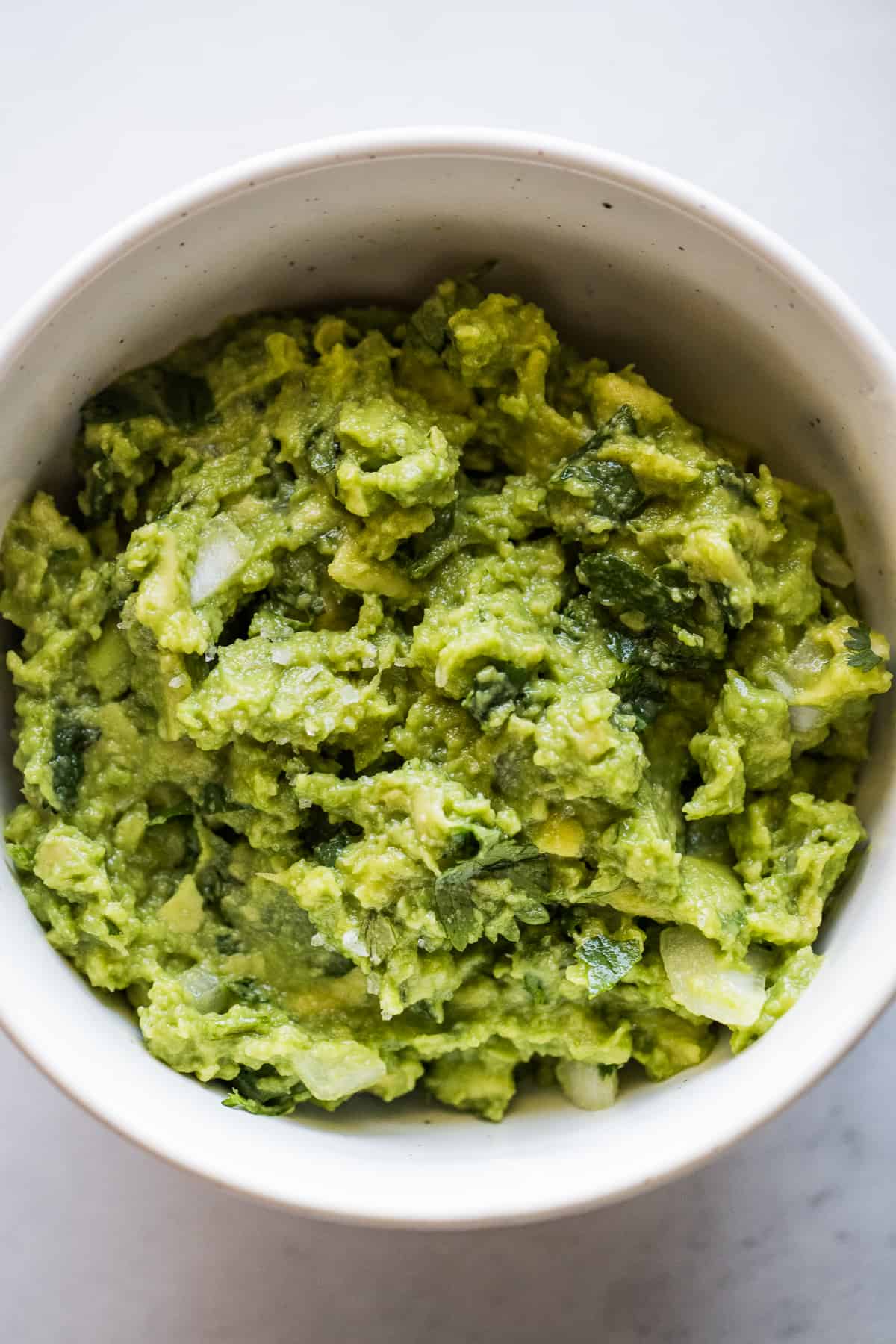 Toast the bread. Add a thin layer of butter to the inside of the telera bread and toast for a few minutes on a hot skillet until browned.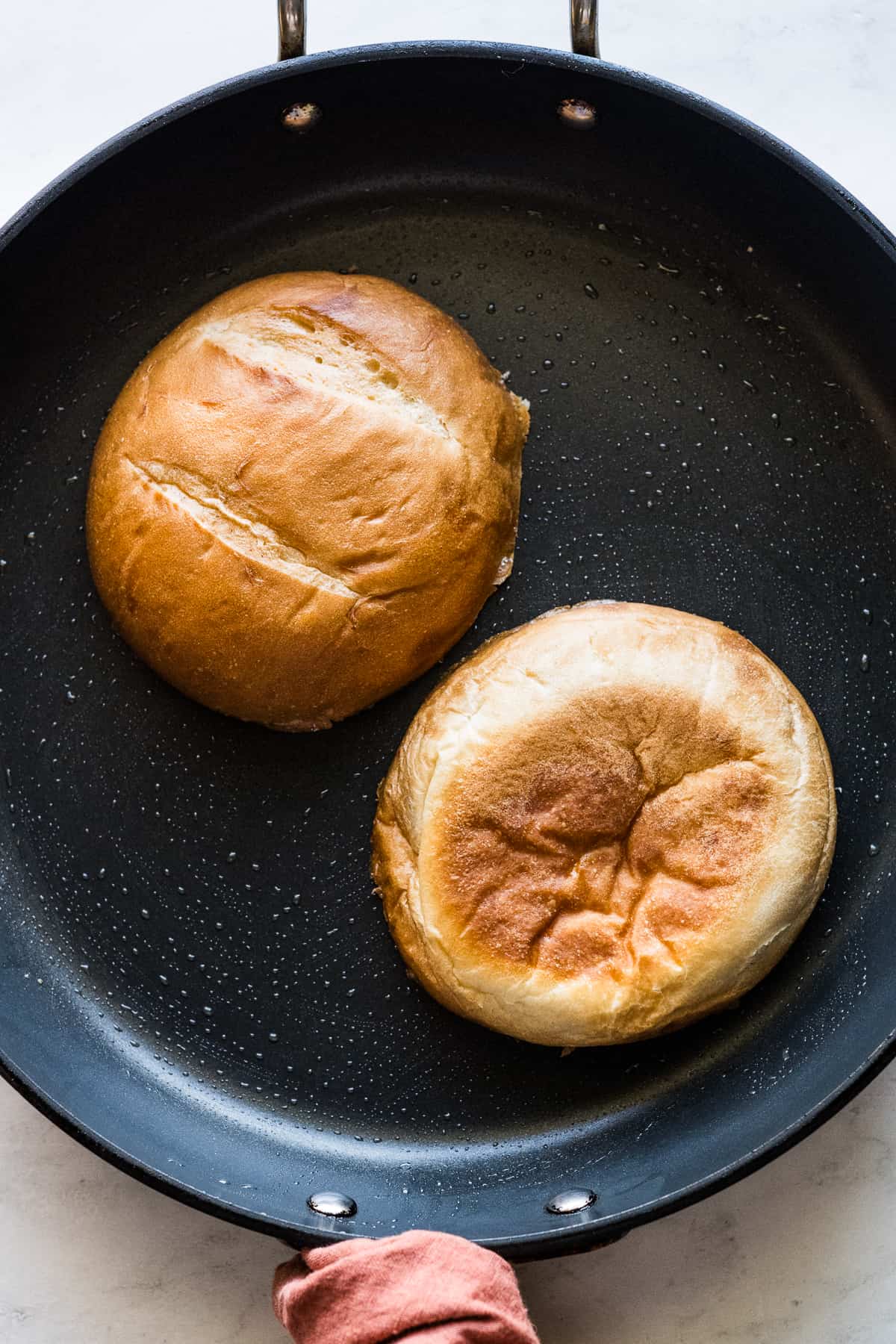 Assemble. Layer the ingredients in the following order: refried beans, guacamole, slices of queso fresco, slices of tomatoes, a generous amount of cooked meat, shredded lettuce, and a tablespoon or two of salsa. Gently add the top half of the telera bread on top, serve, and enjoy!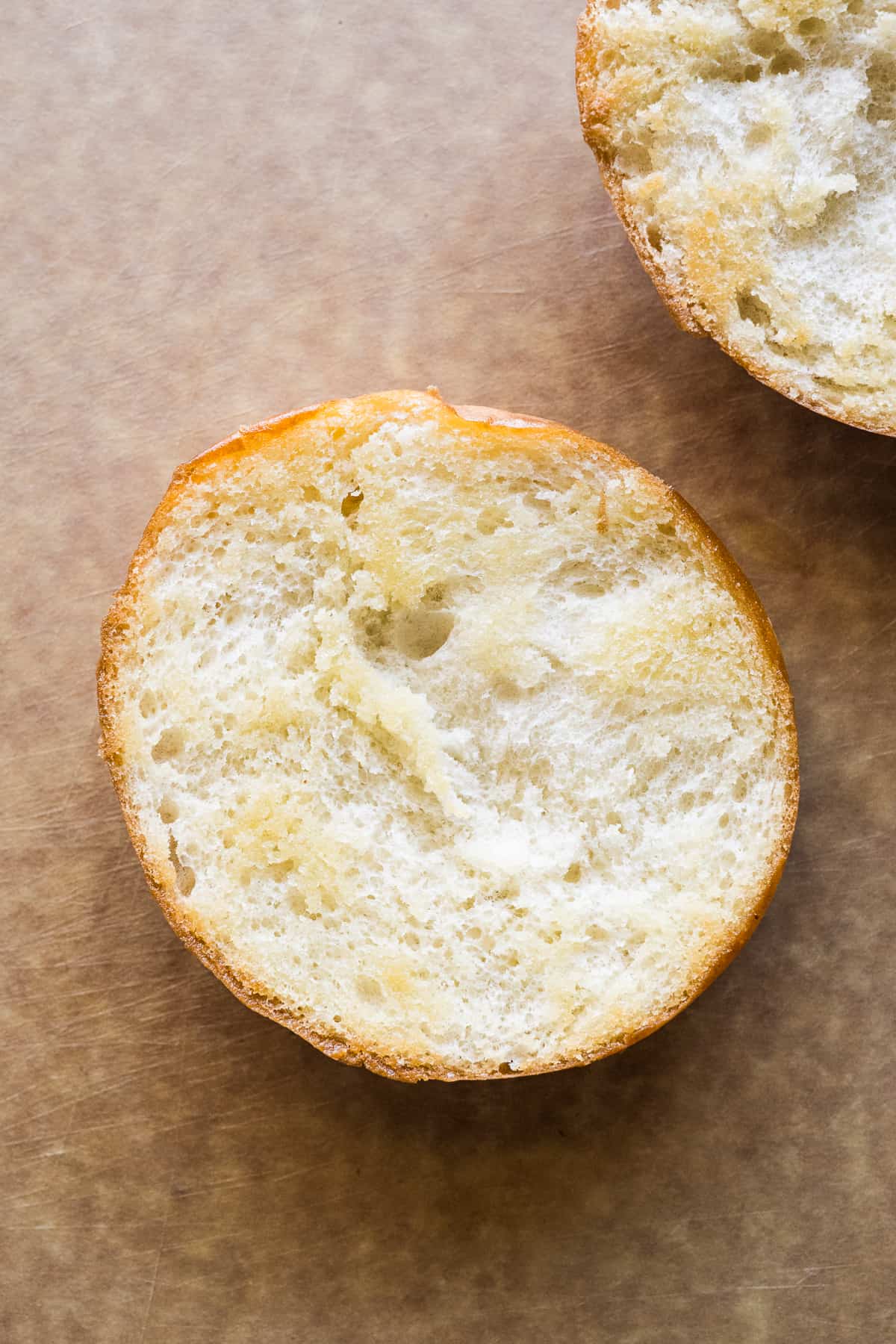 Suggested Fillings
My favorite part of Mexican tortas is the amount of freedom you have when making it. You don't have to make a torta the same every time. You can mix up the protein or the types of toppings you use! Here are a few filling ideas to try next:
Tips
I recommended chopping the steak into bite-sized pieces so the filling doesn't come out every time you take a bite.
Lightly toast the inside of the bread with a little butter in a skillet or on the grill. This helps prevent it from becoming soggy and adds a nice crunch!
Experiment with different salsas! Or, if you don't want to add any spice, add a generous smear of mayo.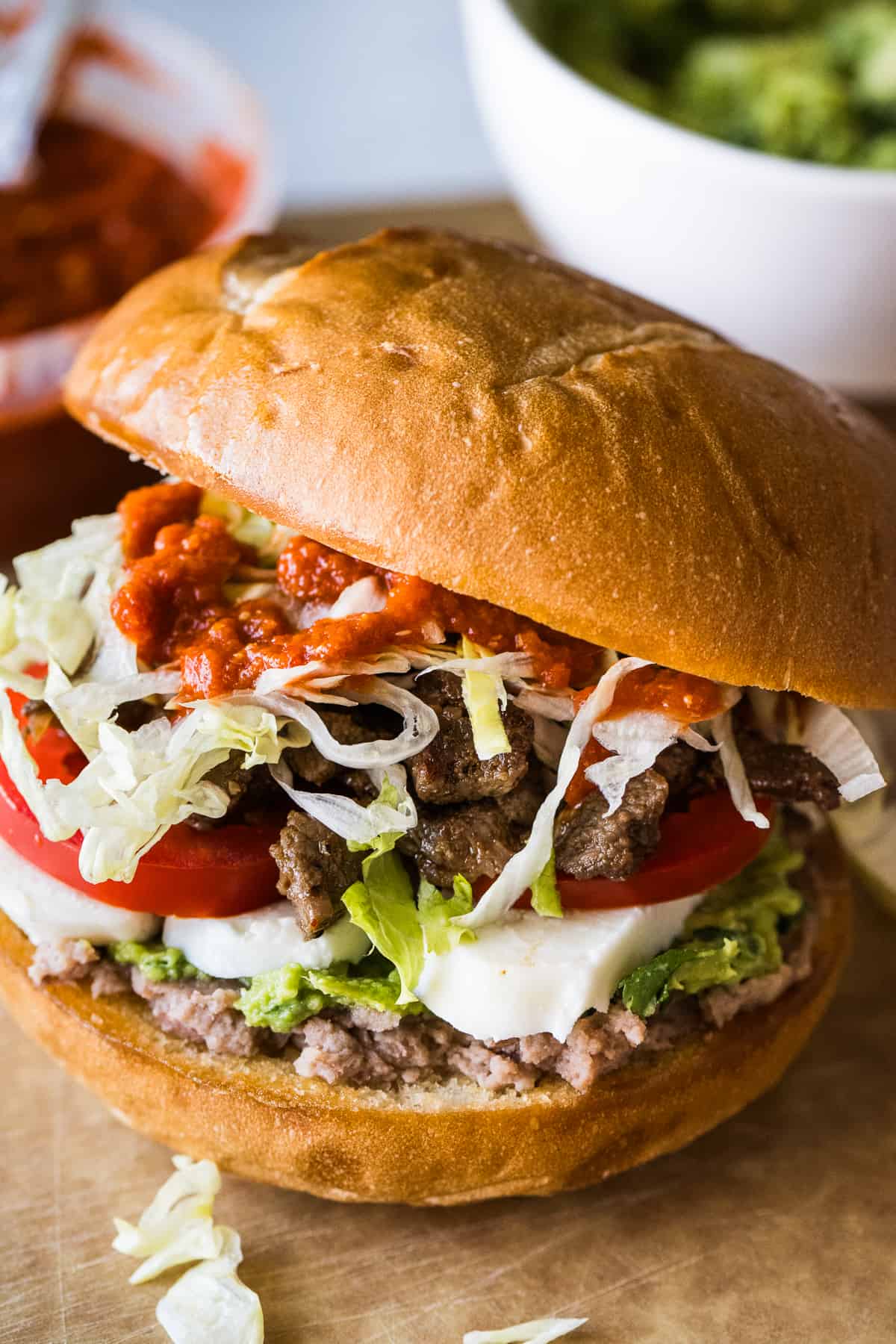 Recommended Tools
Nonstick skillet. These are my favorite everyday skillets. They're high quality, come in a set of 2, and are relatively inexpensive.
Cutting board. These are double-sided, have a non-porous surface that resists odors, and won't dull knife blades.
Heat-resistant spatulas. These non-stick pro-grade silicone spatulas won't scratch your expensive cookware. I use them every day!
Storing and Making Ahead
Telera rolls can be stored in an airtight container in a cool, dry place for 3 days.
Leftover torta filling and toppings can be stored in airtight containers in the refrigerator for up to 2-3 days.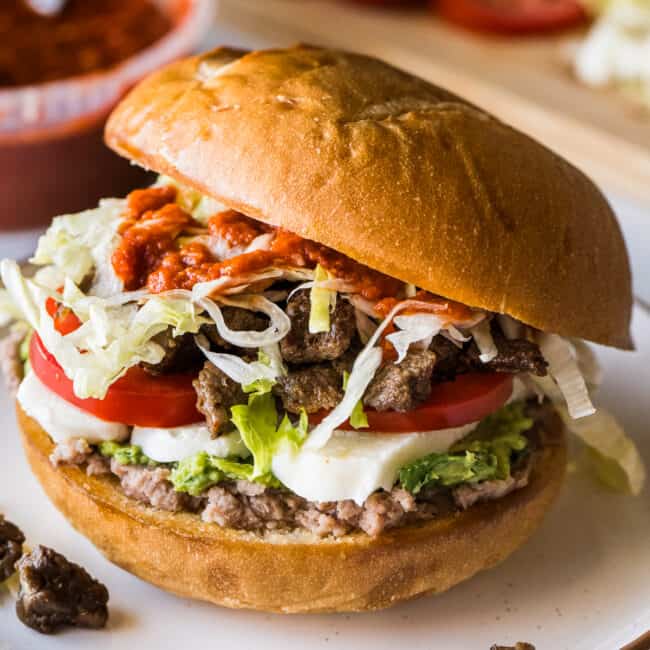 Prep: 15 minutes
Cook: 20 minutes
Total : 35 minutes
Tortas, or Mexican sandwiches, are a popular dish made from a telera roll filled with meat, queso fresco, refried beans, avocado, and salsa!
Ingredients
For the guacamole
2 medium avocados
2 tablespoons lime juice (about 1 lime)
¼ white onion, chopped
¼ bunch cilantro, chopped
½ teaspoon kosher salt
Instructions
Make the meat. Heat the olive oil in a large skillet over medium-high heat. Add the steak, onion, garlic, and seasonings, and cook for about 20 minutes, stirring occasionally, until the meat is browned and all the juices have caramalized. Remove from the heat and cover until ready to serve.

Make the guacamole. Add all the ingredients to a small mixing bowl and mash with a fork to combine. Cover and set aside.

Toast the bread. Add a thin layer of butter to the inside of the telera rolls and toast them cut-side down on a skillet over medium-high until browned.

Assemble. Assemble the tortas by adding a layer of the refried beans on the bottom half of the rolls, followed by guacamole, a few slices of queso fresco, tomatoes, the cooked meat, lettuce and some salsa. Gently press the top half of the telera over the torta and repeat until they have all been assembled. Serve and enjoy!
Isabel's Tips:
This recipe can easily be prepped ahead of time and assembled later! Simply prep the ingredients and store them in the fridge in separate airtight containers for up to 2-3 days. When ready to consume, assemble your tortas and enjoy!
Nutrition Information
Serving: 1torta Calories: 1064kcal (53%) Carbohydrates: 68g (23%) Protein: 59g (118%) Fat: 63g (97%) Saturated Fat: 26g (130%) Polyunsaturated Fat: 6g Monounsaturated Fat: 27g Trans Fat: 3g Cholesterol: 181mg (60%) Sodium: 1994mg (83%) Potassium: 1319mg (38%) Fiber: 10g (40%) Sugar: 9g (10%) Vitamin A: 1232IU (25%) Vitamin C: 13mg (16%) Calcium: 388mg (39%) Iron: 9mg (50%)